In this article, we'll look at how to start a T-shirt business online.
Did you know that as many as 2 billion T-shirts are sold worldwide, in a single year?!
T-shirts have always been a global fashion staple and its market is already an established and ever-growing one. In fact, such is the significance of this business that various researchers expect the T-shirt market to expand at a Compound Annual Growth Rate (CAGR) of 6% throughout the forecast term ranging from 2019 to 2027. Moreover, the custom printing T-shirt market is expected to reach a whopping 6.9 billion dollars by 2027 i.e a CAGR of 9.6%. In India alone, the T-shirt market is estimated to be at Rs 23,211 crore and is expected to touch Rs 61,954 crore by 2027.
You are probably looking at these numbers and wondering – "I should start a T-shirt business and now!" Or you probably have things planned and are looking at getting your very own T-shirt business to stand out in the market. Wait! Are you a step ahead already? Are you running an offline T-shirt business and are now looking to promote it online?
Well great! You seem to be at the right place because in this article we will show you how easy it is to start selling online today unlike a few years back.
Why Start A Tshirt Business?
This bit is for those who are still deciding on what business to consider while starting off online. Along with the above-mentioned encouraging projections, coupled with its universal appeal and the fact that T-shirt sales outclass every other attire, a T-shirt business is quite an easy and inexpensive venture.
All it requires is a limited set of skills and comparatively less investment – attributes because of which it is well known to be an experience-building business for entrepreneurial beginners. Not only do you learn practically about starting, launching, and growing your very own business but you also get to unleash your creativity and moreover, learn to strategize and play in the apparel market.
The latest tools and technology further make it easy to set up and launch a T-shirt business but profitability, just like every other business, requires you to play the right cards at the right time. Because of its popularity – you guessed it – the competition is very high. And that takes us to the next step!
Why Sell Online?
The Covid-19 pandemic changed the entire landscape of shopping, with the lockdowns that were imposed worldwide, people moved on to and relied on the digital world to fulfill their shopping needs. A survey conducted by the UNCTAD (United Nations Conference on Trade and Development), not only shows that online purchases have increased by 6 to 10% across most of the product categories but also highlights how changes in online activities and the online preference will most likely outlast the pandemic and continue in the future.
This has forced businesses and brands to turn their focus towards online opportunities. Zara, a popular fashion giant invested $1.7 billion in upgrading its stores to become more in line with its online platform, and many other fashion brands have taken the same online route to ensure they are staying and competing to thrive in the new normal. The trends clearly point to how significant an online business store can be and with the current global scenario, it is a brilliant time to launch your very own online T-shirt business.
How To Start a T-Shirt Business Online
"How do I get started with my T-shirt business and what should I do to stand out?". When it comes to a T-shirt business, there are various ways and avenues to get going about it, but before even kick-starting your business, here are some precious tips to keep in mind:
1. Identify Your Market
What does identifying the market mean?
T-Shirt business has an extremely vast market, from different fabrics to designs to styles, it can be a bit overwhelming for a newbie trying to start his/ her own business. Identifying your market means thoroughly establish what kind of T-shirt business will work best – considering the demand, target audience, and demographics. For example, what target audience would you like your T-shirts to be sold to. This will allow you to decide on the quality and fabric required and then accordingly adding your own unique twist and style to it.
For instance, say you want to target IPL cricket fans. You may want to design your T-shirts with the appropriate team slogans or maybe a player or team artwork and then decide on getting those printed on a jersey-type fabric. This process of strategizing allows you to find your own niche in the market which will eventually propel your sales by focusing and attracting a specific target audience.
2. Sourcing And Pricing
Another aspect to keep in mind is what primary resources you would need and from where and how will you source them, i.e. where would you buy your initial T-shirts from or fabric if you plan to start from scratch and where would you get them designed, printed, and tailored from? Once you decide on all these factors is when you are ready to put a price on your finished product – remember to be mindful of profits and not overextend financially.
3. Be Creative With Designs
When it comes to a T-shirt business, you are already talking about a niche. Your t-shirt design ideas could be crucial to your success.
Unleash your creativity and come up with unique designs that will help you stand out from the crowd. Knowing your target market will help you massively – what T-shirt designs do they usually tend to wear and what styles or colors are currently trending.
Answering these questions will allow you to unlock ideas in the form of artwork, graphics, and slogans that will reflect the personality of your potential customers. Also, many post their designs on online forums to gain validation before printing just to see the general public response, giving them an idea of what will do well and what won't.
4. Take Off With Marketing
Once you have an idea of the price and profit you could make, the final step would be to choose a business model that will suit your requirements the most. You could either do it all yourself – manufacturing, designing, and tailoring or partner with other businesses, be it a local printing business or online platforms.
Where do you sell is the next million-dollar question.
Many would advise starting off on social media platforms like Facebook and Instagram, but these platforms can be a massive trap.
Truth be told, social media may be a powerful element in the marketing mix, but you could easily be lost in its vastness. There are millions of brands and businesses competing on these platforms to get their products and voice, seen and heard respectively. With social media, you will be wasting precious time and resources trying to make your business seen rather than making it grow.
Social media platforms will come in handy at a much later stage – when the business has achieved a few milestones and must expand further through amplification.
The ideal way would be to either start off independently or to choose from the online stores that do the job for you. In the former case, you will have to take the trouble of hiring a web developer, designer, etc. to get your website up and running. But in the latter case, all the support-related hassles are taken care of by the various e-commerce platforms that are available to you today.
5. Choose The Right Platform To Sell Online
Choosing the right online platform can be instrumental in the success of your business. Knowing your target audience will give you a better idea of where and how you want to direct your business.
How do you then go about it? E-commerce is the best bet! With online stores like Dukaan, you couldn't have it any easier.
They act as a bridge between you – the online business, and your potential customers. They offer all the infrastructure to get a business up and running while you can focus solely on selling.
While it might all sound interesting, setting up your online business comes with its own set of challenges. For instance, getting on to one of these platforms can be quite a hassle.
Most of these platforms are complex and require a certain level of tech-savviness. And in the end, you tend to spend a considerable amount of money on these third-party specialists to help you manage your online catalog.
And if you happen to be completely new to the entrepreneurial world, all these external entities would just be an added stress – both financially and mentally.
This is where online stores like Dukaan take the center stage. Modern, extremely simple to use and manage, this platform looks to patch all the loopholes found in the above-mentioned complex platforms.
The platform aims to provide businesses, a simplified and streamlined path to set up, maintain, and grow their own online stores. They even provide the sellers with marketing collateral and basic business tools to support their businesses in a faster and an efficient way.
Starting your own online store on Dukaan is easy:
Step 1 – Sign up for Dukaan – Web Version | Android App | iOS App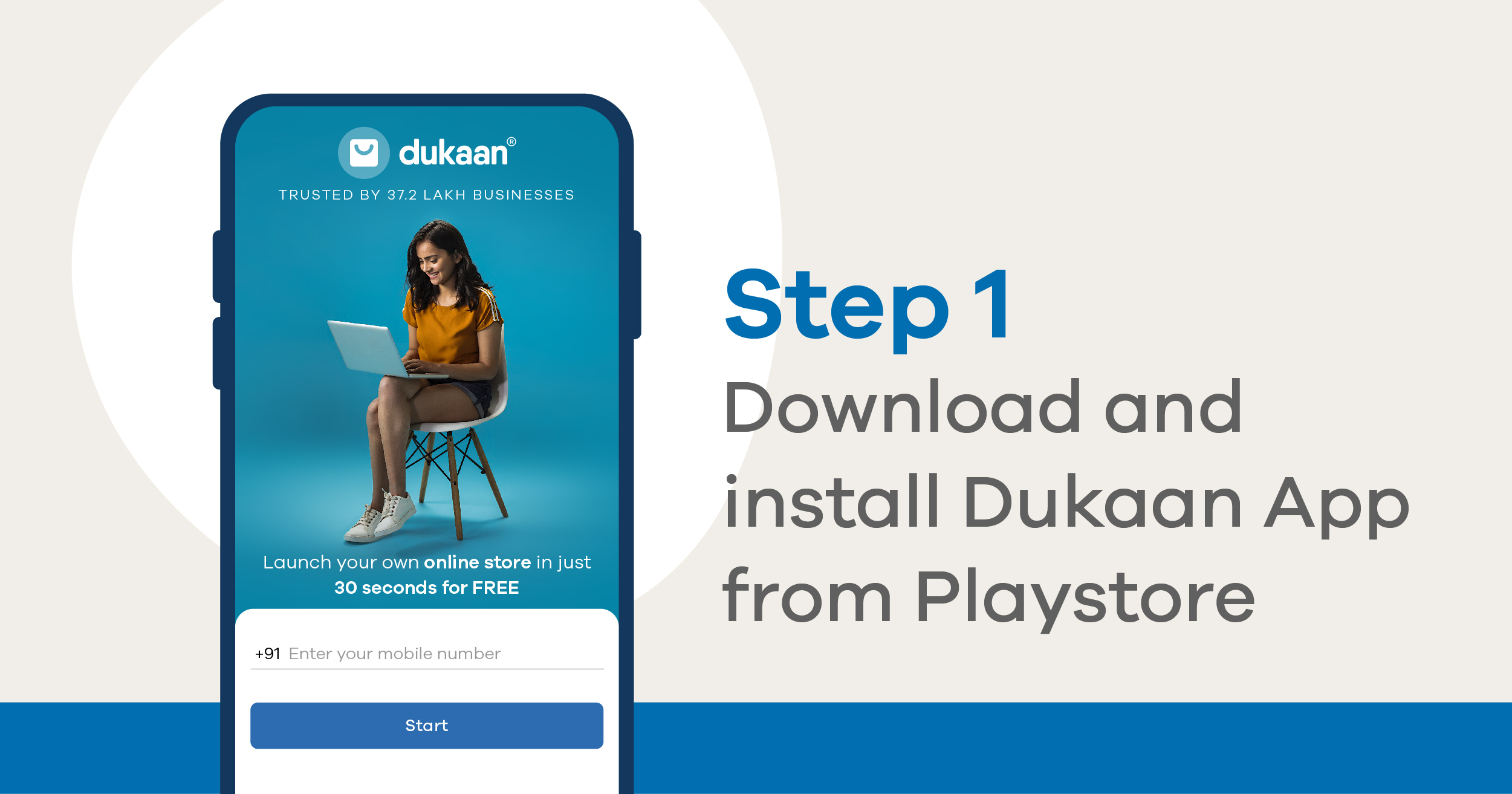 Just give your mobile number, verify OTP and you're in.
Step 2 – Choose your store name and category.
Step 3 – Upload your products.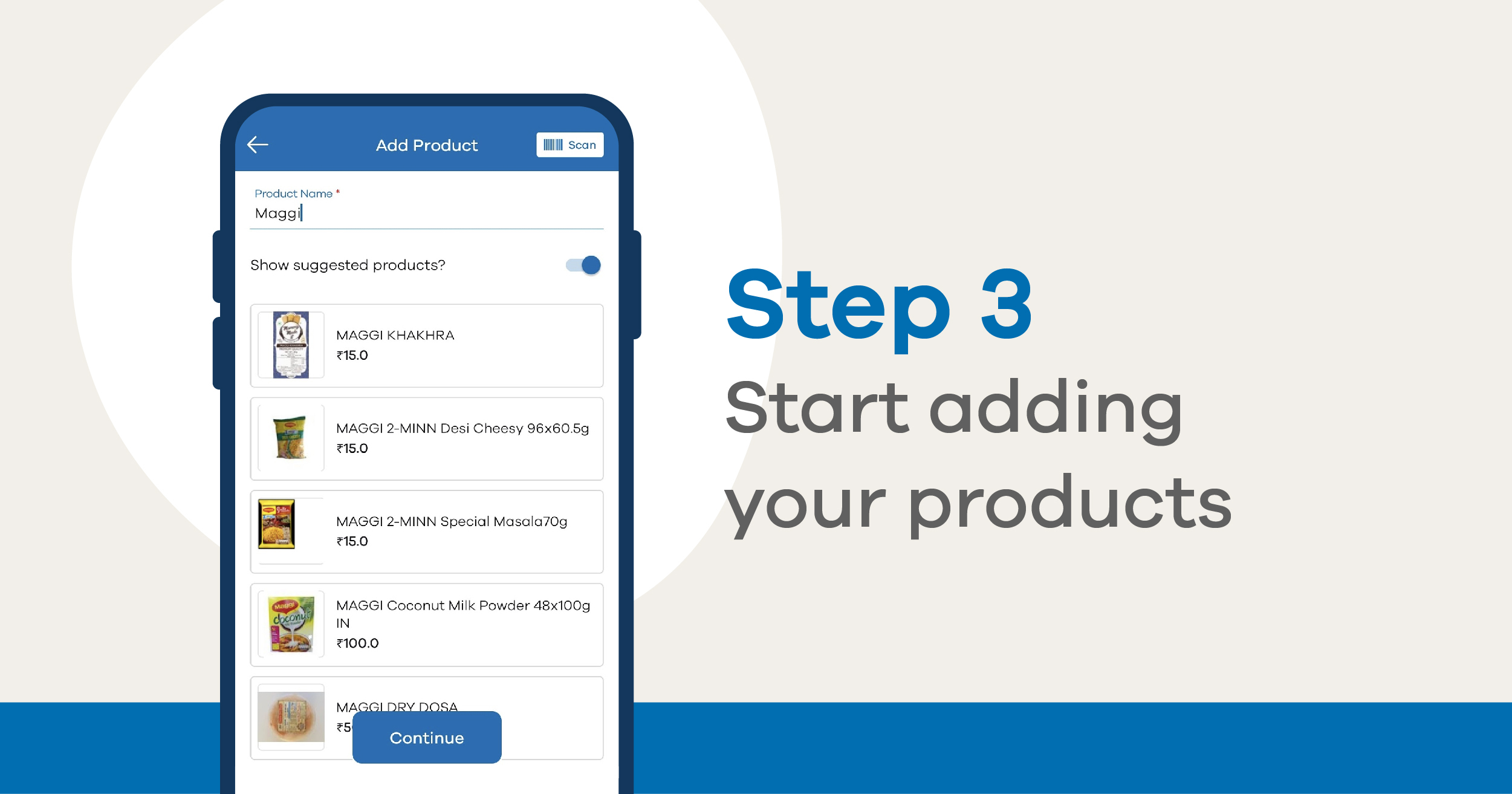 Step 4 – Share your Dukaan store link with customers.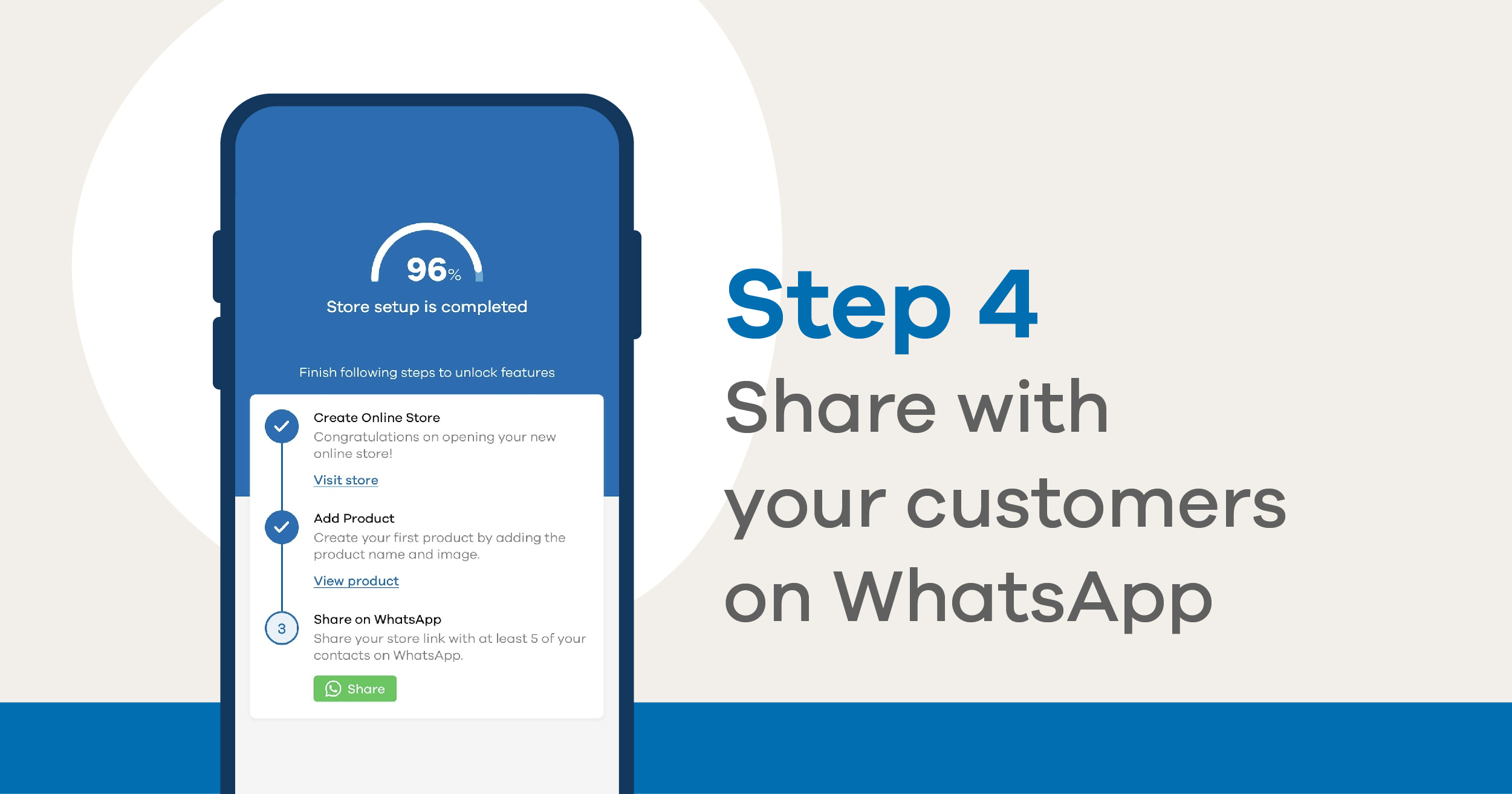 Dukaan also offers tools like Privacy Policy Generator, Free Slogan Maker, Terms and Conditions Generator, and Invoice Generator which comes in handy for store owners to run their business smoothly.
With Dukaan, you alone call the shots – from setting your product price to delivery charges, without spending a single penny on the platform – making it ideal for someone who is looking to start an online T-shirt business for free.
On Dukaan, even shipping and logistics are taken care of as you can use third-party integrations like Shiprocket and Dunzo, that offer anywhere India and local shipping respectively.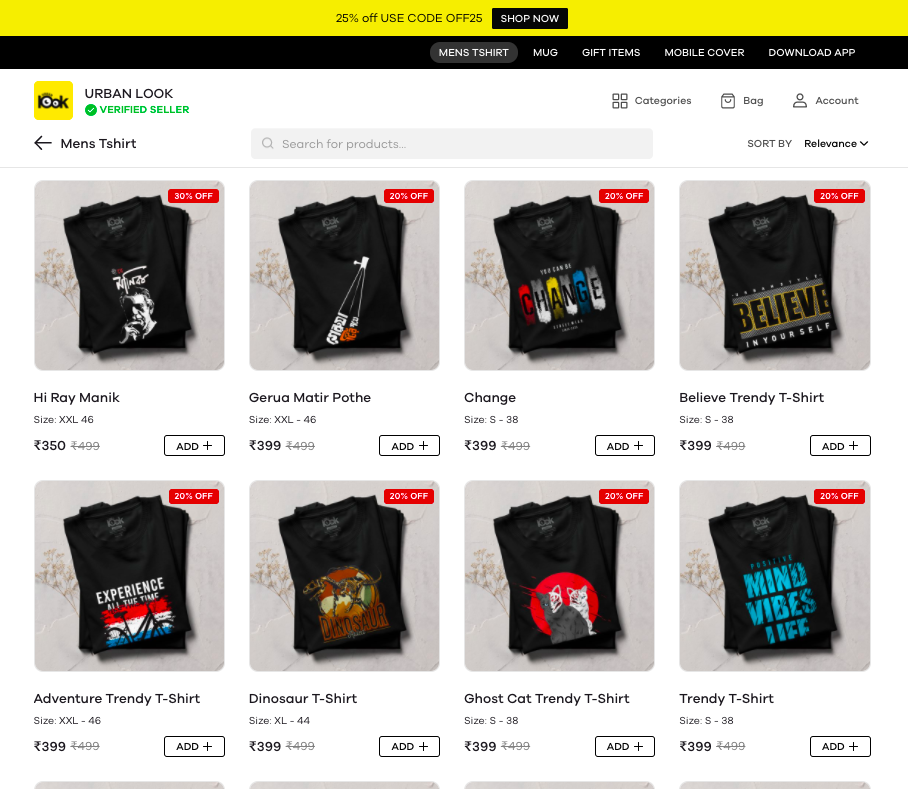 So, what are you waiting for? Get started on Dukaan and see your very own business dream turn into a reality in under 30 seconds!