If you are up to date with the latest fashion trends and looking to jump onto the trend-wagon, then you are probably searching for scrunchie shops online.
Believe it or not, these ruffled hair accessories are actually making a comeback from the 80s.
Over the years, a lot of fashion trends from the 80s have made a comeback, like the high-waist jeans, scarves, polka dots, etc. However, scrunchies are by far my favorite one of those.
You can see people of all ages and all genders use scrunchies these days, be it to tie their hair back or as a cute little accessory on their wrist. It is the simplest way to add some color to your ensemble.
What is Scrunchie?
Scrunchie is an elastic enclosed within excess fabric that is ruffled up to make it look fluffy, just like a cloud.
These hair accessories from the 80s have found a vast market in recent times.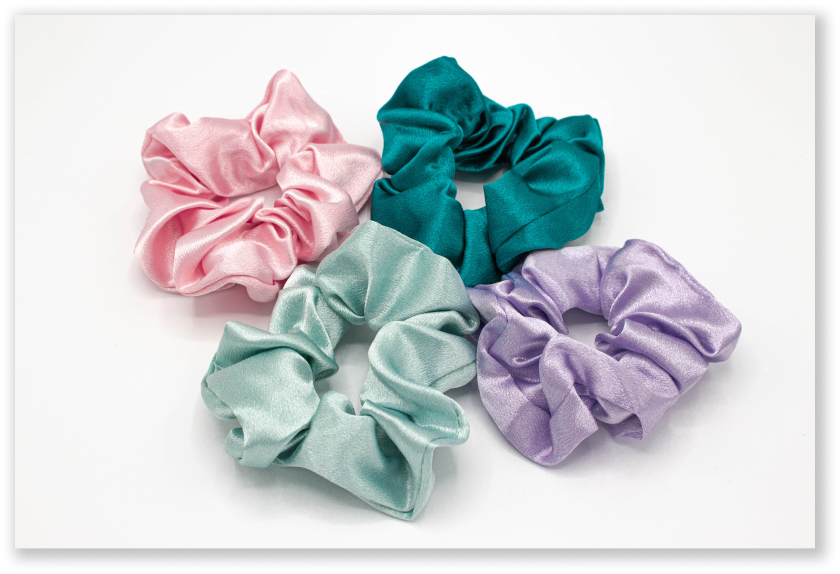 Scrunchies are available in a range of fabrics, colors and sizes. Since the jumbo size scrunchies sometimes look like a cloud, there are talks of rebranding them as "Hair Clouds" too!
How cute is that? Almost as cute as they look!
Why are Scrunchies so Popular?
Just for a second, let us forget how cute and colorful scrunchies look because there are many more advantages to using them.
I know how hard that is, but stay with me!
Scrunchies are very kind to all types of hair, be it straight, curly or frizzy.
A plain elastic can cause hair damage by getting tangled up with your hair. Since scrunchies are made by enclosing the elastic within a fabric, there is no chance of it getting tangled up with hair.
Scrunchies can add a fun twist to your outfit.
You can complement or contrast your outfit with a colorful scrunchie. Add a fluffy organza scrunchie and even your plain outfits look fancy! It is always nice to have a few satin scrunchies in neutral colors handy, be it for office or for college.
Scrunchies can be used as a fashion accessory.
When you want to leave your hair open, you can still wear a scrunchie on your wrist. It is a cute fashion statement and at the same time, it is right there for when you need to pull your hair back.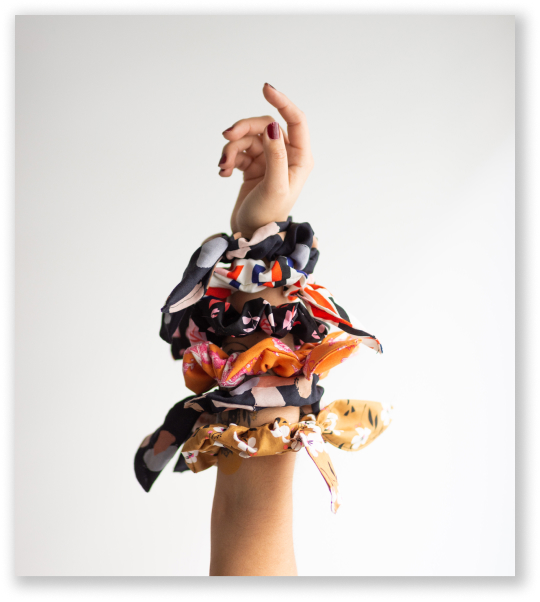 Scrunchies to the rescue during bad hair day.
Each and every one of us has had those bad hair days when nothing seems to work. Especially if you have curly hair, you will know what I mean.
On such days, a colorful satin scrunchie or a bouncy organza scrunchie could make all the difference.
So, now that you have seen these amazing advantages of scrunchies, let me just get back to how cute and cool they look!
Rise in the Scrunchie Business… 📈
Whenever there is a new trend, it raises the demand for that product in the market. Similarly, when scrunchies made a comeback, many people saw it as a business opportunity.
Especially for people who are already familiar with fabrics and stitching, making scrunchies is so easy and selling them is really profitable, considering their popularity.
Soon enough, from schoolgirls to millennial mothers, everyone who has a passion for business started opening their own scrunchie store online.
Either they hand-make the scrunchies on their own from scratch or hire someone to make them. They started using social media platforms and other online platforms for the sales and marketing of these scrunchies.
So naturally, if you open any social media right now, you are sure to see a post (or more) of these cute and colorful scrunchies.
This article brings together 25 such scrunchie businesses on Instagram, so that they are all in one place for you.
Check these stores out right away or save this post for later!
25 Scrunchies Shops To Buy Online
1. Blue Bear • Scrunchies

This store has a range of Lifestyle accessories, including quirky scrunchies, earrings, and more.
They have a selection of scrunchies made of lace, organza, chiffon, sequin, etc.
2. Your Scrunchie Stop 🌼

Run by Manjeet, this store is truly scrunchie heaven.
All the products sold in this store are handmade with love. You can also place orders for customized pillowcases and other hair accessories.
3. Ko Necessity

This store is run by Komal, who creates scrunchies and cute daily necessities.
For super soft and durable scrunchies, visit this store. They are all made using the best fabric and imported elastic.
4. 👩🏼‍🦱🚀 Lushworld By Debbie 🏴‍☠️🌼

This store is the best place to find super cute accessories and vintage stuff.
Their specialty, however, is scrunchies with zippers! These scrunchies are gaining popularity lately. So grab them before they are gone!
Here's what Debbie had to say about Dukaan:
5. The Scrunchie Shoppe ❤

Run by a young and creative fempreneur, this store has a range of scrunchies that are cute and in trend!
6. JD Selection – One Stop Store
This store has an amazing range of jumbo scrunchies that are simply too hard to say no to!
Also, you can find the cutest accessories and phone cases in this store.
7. 🦋 Art Abode 🌸 | Scrunchies 🐣

If you are looking for scrunchies that are quirkier than you, then this is the store you should head over to.
Owned and managed by Aditi & Nancy, this store sells the quirkiest scrunchies on Instagram. They are currently adding some really cool Fimo Bracelets too!
8. Scrunchies Malll – Rida

This relatively new Instagram store is owned by Rida, who hand makes all the scrunchies featured on the page.
You can check out this store, especially if you love floral hair accessories.
9. House of Scrunchies

If you are looking for handmade scrunchies at really affordable prices, this store is perfect for you.
At this store, you will find scrunchies starting from a price as low as Rs. 10/-
10. Scrunchie & Glamour Store🌙

This Instagram store has a vast collection of scrunchies made of organza and satin.
They sell scrunchies in so many colors, so you can match your hair accessory with your dress or your mood!
11. Scrunchies and Gifting

This store is run by Nishtha who creates and curates a range of colorful scrunchies and other accessories.
There are also affordable combo options to choose from, either for yourself or for gifting someone!
12. Scrunchies by Bunnies

This store has some of the best satin scrunchies in both neutral and bright colors.
You can also find the funkiest and quirky range of accessories in this store!
13. Scrunchies by Juhii

Do you like to color coordinate your scrunchies and your mask with your outfit?
Head over to this store to find a range of scrunchies and you can also place customized orders for matching masks.
14. Scrunchies by Mouli

Mouli is a young entrepreneur who started the scrunchie business after being inspired by some of the scrunchies she bought for herself.
In her store, you will find hand-sewn scrunchies made of Chikankari material which is their specialty.
15. Scrunchies By Sakshi

This budding scrunchie store is owned and managed by Sakshi. This store sells a range of scrunchies in multiple colors and multiple materials.
Check out this store to place your customized orders of scrunchies.
16. Heavenly Handmadee

Visit this store and you will not be able to get over their beautiful range of organza and floral scrunchies.
This store also has a range of cute and quirky jewelry that you can choose from.
17. Scrunchies_Obsession 🦋🧿

Head over to this store and you cannot have enough of their range of basic scrunchies. For a more festive look, check out their organza and lace scrunchies.
They also sell these combos of scrunchie and matching earrings that are to die for!
18. Ravishing Accessories

This store sells the cutest scrunchies and hair accessories like bow clips made of satin.
You can get your scrunchies customized based on color, material, and size!
19. Scrunchies by Kavya 🎀

Check out this budding scrunchie store for a range of basic, bright, and colorful scrunchies.
With scrunchies starting from just Rs. 29/- you do not need to splurge to look trendy!
20. Scrunchie Mania

This store is run by a mother and daughter duo, where the daughter is selling scrunchies handmade by her mom.
Their range of satin scrunchies is too good to miss out on. Check out their store ASAP!
21. Wholsale Scrunchie

This scrunchie store is owned and operated by Vishakha and she has proudly completed over 25,000 orders! 🥳
Check out this store for a range of colorful scrunchies, hair bands, and more. They also sell homemade candles in fancy shapes!
22. T&T's Store 🦋✨

This scrunchie store has the widest selection of cute and creative scrunchies and other hair accessories like bow clips.
The store also gives out freebies on bulk orders of scrunchies!
23. Scrunchies Made With ♥️

From jumbo size organza scrunchies that look like tiny pieces of cloud, to scrunchies with floral prints, you are sure to find your favorite scrunchie in this store.
24. Arya's Treasures

This is a fairly new scrunchie store run by Arya who is a young entrepreneur with a passion for business.
You can find a range of satin scrunchies in various color choices in this store.
25. Colourful Scrunchies

This store is managed by Zoti and it has a range of scrunchies and hair accessories!
Their organza double-layered scrunchies and woolen scrunchies can not be missed out on!
So, there you have it. 25 solopreneurs that have grabbed the opportunity at the right time and started a scrunchie business on Instagram & Dukaan.
How To Make Scrunchies At Home?
If you know the basics of stitching, making a scrunchie at home is an effortless task.
You can use the fabric of your choice, in the color of your choice, and make your own scrunchies at home.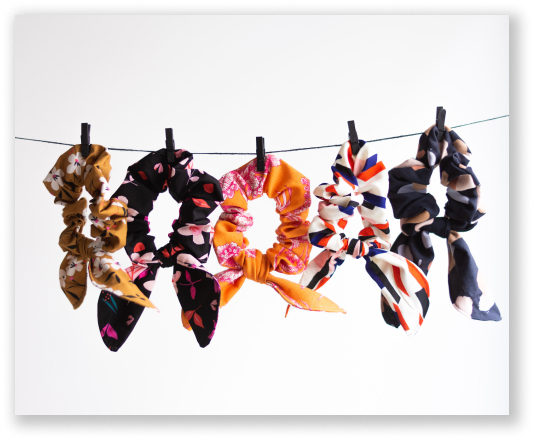 Cut out the fabric into a rectangular piece.
The width of this piece decides the size of your scrunchie. So if you want a jumbo scrunchie, make the length and width of the fabric bigger.
Fold and stitch the edges of the rectangular piece at its width.
Now fold the piece of cloth in half along the length of it and stitch the open edges together. See to it that you fold the fabric in the opposite direction, keeping the patterns or sequins on the inside. Why? I will get to it in the next step.
Now, pull the fabric inside out so that the right side is facing outwards. This ensures that the extra fabric during the stitching goes inwards and the stitch looks seamless.
Take a string of elastic and thread it through the stitched piece of fabric. Ruffle up the fabric to your heart's content.Then tie up the two ends of the elastic.
Finally, stitch up the two ends of the fabric, concealing the elastic within.
VOILA, your scrunchie is ready!
If this seems hard to follow, then watch this video and you will see how easy it is to make scrunchies.
Sell Scrunchies Online With Dukaan
Now that you have checked out all these scrunchie stores on Instagram & Dukaan as well as learnt how easy it is to make scrunchies at home, are you inspired to start a scrunchie business yet?
Yes?
Now that I have inspired you, let me also show you how you can easily start a scrunchie business online in under 30 seconds.
Dukaan is an online platform where you can sell anything, from apparels to accessories, from fruits and vegetables to groceries.
In 4 easy-peasy steps, you can set you can take your business online. Even if you have a lack of sufficient know-how on making a website or adding payment gateways, fret not. We've got you covered.
Step 1 – Sign up for Dukaan – Web Version | Android App | iOS App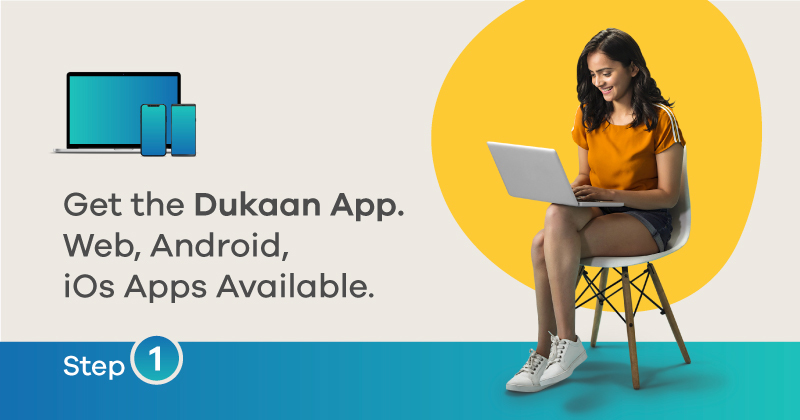 Just give your mobile number, verify OTP and you're in.
Step 2 – Choose your store name and category.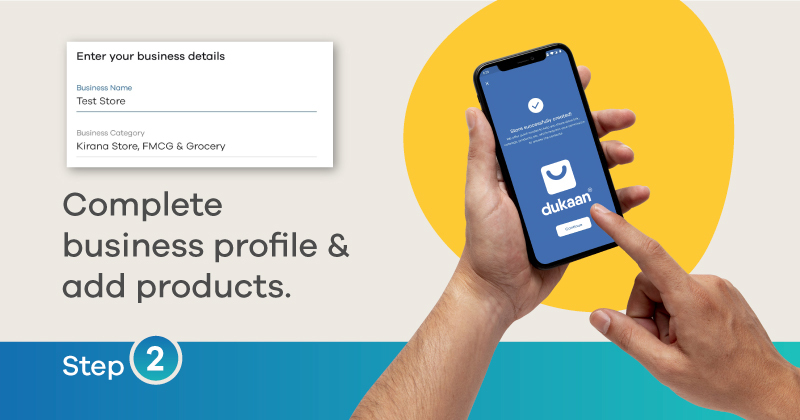 Step 3 – Upload your products.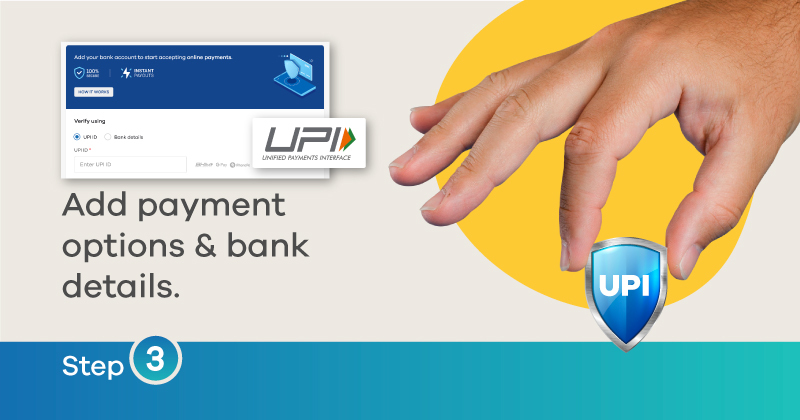 Step 4 – Promote your Dukaan store.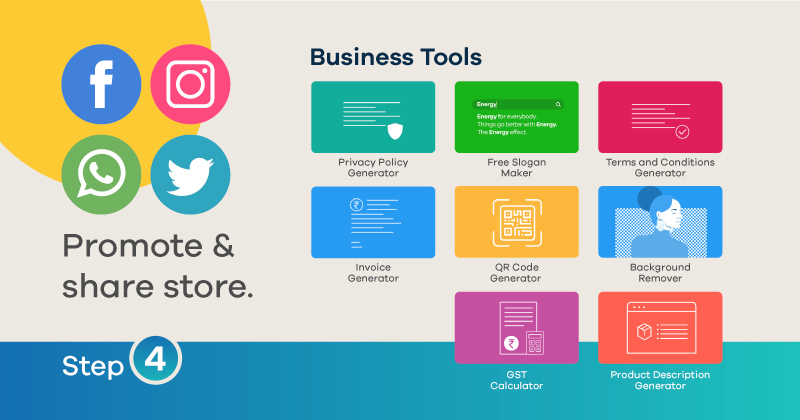 Simple! Isn't it?