How do Dukaan and Bikayi compare to each other? Which is the better app for business owners? Let's cut through the noise and figure out the truth.
At a Glance: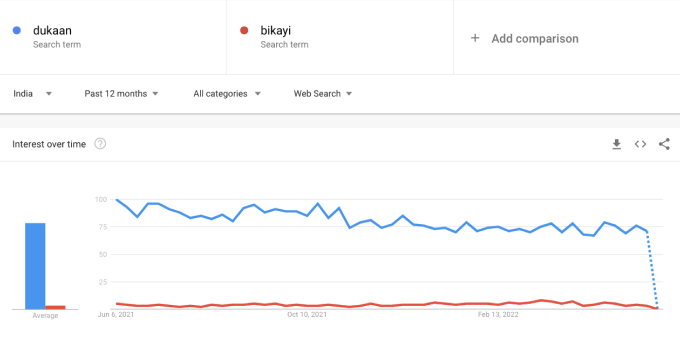 The pandemic and the series of lockdowns have changed the way people look at shopping. Online shopping is now the new normal, period.
Up until the pandemic hit us, perhaps online shopping was a luxury to most Indians.
Currently, it is estimated that 60% of internet users prefer online shopping and visit online stores on a regular basis.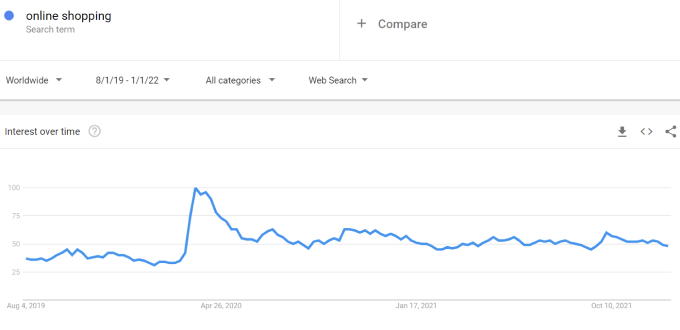 With the Indian eCommerce market expected to be over $100 billion by 2025, I would say that the lockdown has surely pushed us in the right direction!
During the lockdown though, businesses were forced to make the decision of going online. But then, it wasn't easy.
Websites, hosting, payment gateways – there were so many jargons and challenges thrown at businesses that wanted to go online.
If a Kirana store owner had to take her/his shop online, it would have cost a cool 1 Lakh plus, in investment.
Enter online eCommerce.
Dukaan launched in the early lockdown days, and hit 4.3 Million downloads in 6 months, pioneering the online eCommerce space in India.
What came later, is a flurry of look-alike apps and clones.
Dukaan sits at a comfortable market-leading 45 Lakh + businesses making it the obvious choice for businesses to go online. And the love we have from our users is incredible!
@digital_gurukul since 2015 used to provide training in E-Commerce module in @WooCommerce , @PrestaShop .

But due to its complex features & process – very few students could complete his/her e-commerce website.

(2/5)

— Raj Padhiyar (@rajpadhiyar_) January 5, 2022
One of our student – @yashaja43811871 who built her dream online store on Dukaan told us –

"सर पहले बता दिया होता तो काम कितना easy हो जाता मेरे लिए,
मेरा सपना अब पूरा हुआ"

Thanx @suumitshah & entire Dukaan team for building this gem of a product.

(5/5)

— Raj Padhiyar (@rajpadhiyar_) January 5, 2022
What is Dukaan?
Dukaan is an all-in-one platform that helps business owners take their business online in the easiest way and run it efficiently.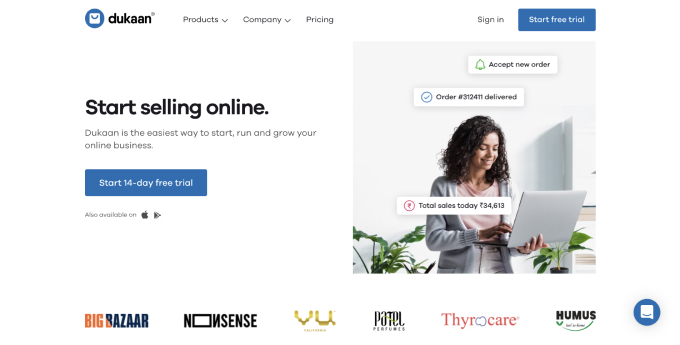 When it comes to going digital, the biggest fear faced by business owners all over the country is the technical skills required to run an online store.
Dukaan is an app that is absolutely easy to use and merchants do not need any technical or programming skills to set up their online store.
Our mission is to enable each and every small retailer to launch, compete and grow their business online, without ever worrying about technology.
Suumit Shah, CEO - Dukaan
Though the app may have been launched on a whim, it garnered attention from business owners all over the country. In a matter of days, thousands of merchants started their online store on Dukaan, successfully selling products too.
This growth trend pointed at one thing clearly, Dukaan was significantly benefitting these business owners and merchants. It was addressing all of their pain points and providing them with solutions!
Dukaan is available on both mobile and desktop to make it easy for merchants to manage their business on the go!
Dukaan vs Bikayi – Why businesses love Dukaan!
As Dukaan rose to fame among businesses of all sizes and types, even with their minimal spending on marketing, other developers started to see an opportunity here.
Soon enough, many other apps started popping up all over the internet that promised to offer merchants the same benefits as Dukaan does. Some of these are Bikayi, Online Dukaan app, Krishify Dukaan app, Ghar ki Dukaan app, and so on!
But entrepreneurs keep flocking to Dukaan and we love being with the hustler community, helping them chase their dreams.
We host the "Inspiring Small Businesses" series on social media and in a recent episode, we chatted with Chaahat Pahuja and Sanskar Mishra of Farda Clothing (a custom fashion store run on Dukaan), the duo who won funding from Shark Tank India.
And here's what they had to say.
Launching an online store couldn't get easier!
EASE OF USE & USER FRIENDLYNESS
Both Dukaan and Bikayi are available on app stores for Android as well as iOS.
But getting started on Dukaan is easier than creating a WhatsApp group. You can have your online store launched in under a minute, no kidding!
All you have to do is download the app, signup with your phone number, and choose your business category.
Step 1 – Signup with Phone number and OTP.
Step 2 – Choose Name & Business Category.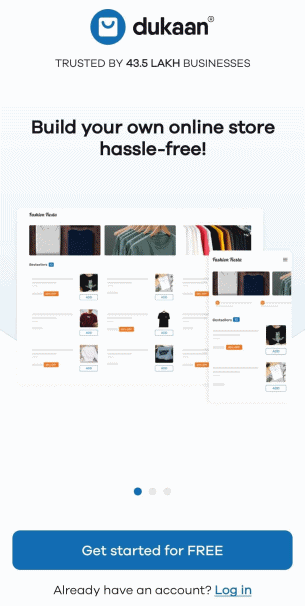 Click Finish and you're done. Your online store is now ready for the world!
Dukaan makes it super easy to launch your online store, by offering ready-made product lists, and business categories, so that you don't have to go through the painful setting up process yourself.
Do you own a Grocery store? Sure, just choose your business category and your product list magically appears like this.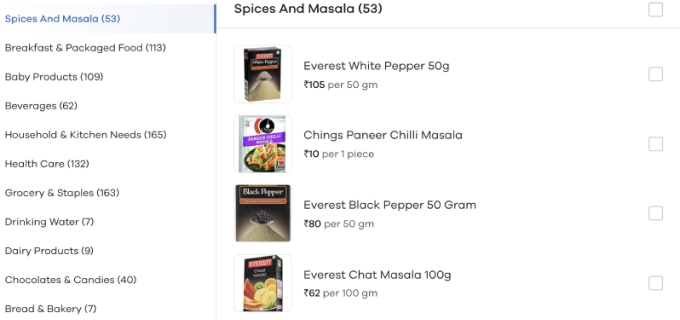 On Bikayi, the steps to log in are similar. You have to download the app and log in using your phone number. You will receive an OTP on the registered number.
Enter the OTP and then enter a name for your online store. This will take you into the app where you can add the products to your catalog.
Value-loaded, economical plans from Dukaan!
In a price-sensitive market, Dukaan has won the game, and how!
We at Dukaan strongly believe that India's true potential lies in her "gullies" and "corners", which is why we built an app that works for remote villages and cities alike. At the same time, Dukaan has the power to work in just about any market that demands an eCommerce platform.
Whether it be technology or price, neither should be a barrier to entry for the "first-time internet user" in India.
Dukaan offers paid plans to its users that are not only super cheap but value-loaded.
Dukaan Lite membership starts at INR 1999/- per year which is about INR 166/- per month! That is less than what we would spend on a pizza!
The all-inclusive Dukaan Premium membership is priced at INR 6999/- per year.
Bikayi VIP plan starts at INR 699/- per month. The annual subscription of the Bikayi VIP is priced at INR 5999/- which adds up to INR 499/- per month.
The Bikayi Ultimate membership is priced at INR 1500/- per month, billed on an annual basis. If you choose this plan, you will be paying a whopping INR 17,999/- for your membership on Bikayi.
🏆 Dukaan clearly wins on the cost front. Whether it be for first-time entrepreneurs or large-scale B2B businesses, Dukaan has a price that fits all.
Dukaan – Made for businesses, small and big!
While most popular eCommerce features are available across both platforms, Dukaan has its focus on the seller and the business.
It offers features that anyone from a Kirana store owner to a large-scale custom boutique can start, run and scale their business at ease.
For businesses to go online, the appealing factor isn't features or technology, but how easy it is to use the app and how effortlessly you can manage your business.
Dukaan has all the essential features every type of business needs to run its business online, small and big businesses alike.
Example: Gini and Jony and Vu Televisions.
Congratulations Devita for the launch of VUs D2C platform with a vision to do 500 crs by 2022

For inspiring over 15,000 entrepreneurs at Indian's largest D2C summit

This is by far the most dhamakedar entry in D2C space by far@mydukaanapp is happy to be a part of the journey pic.twitter.com/8xrCD4Kq2D

— Suumit Shah (@suumitshah) December 4, 2021
From the get-go, Dukaan makes it easy for business owner to launch their online store in the easiest way possible.
From choosing products from pre-built product catalogs, to bulk adding, adding variants, and effortless inventory management Dukaan does the heavy lifting and makes it a pleasurable experience for the end-user.
Bikayi on the other hand follows the age-old method of entering extensive details for every product which includes product name, product description, images, size and color variants, etc.
If not for this, you can choose their 'Ready to use' option that has cataloged products under 40+ categories.
Dukaan's one nifty feature that I love is, it automatically generates pictures of products when you type in the product name.
For example, when setting up an online clothing store, just type in "Black T-shirt" as your product, and Dukaan will automatically load black T-shirt pictures from Google for you. All you have to do is select it and you're good to go!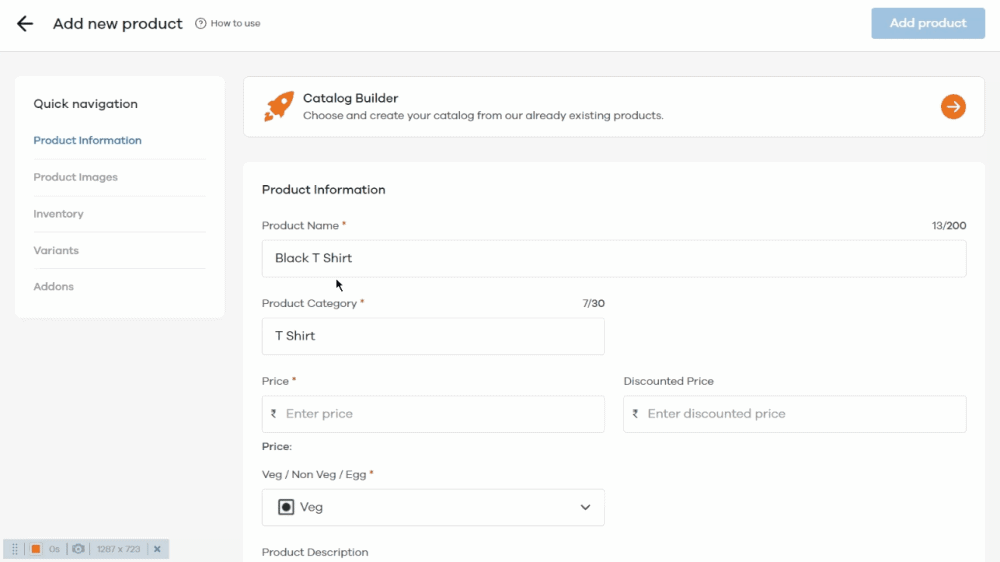 Also, let's say you're running short of words to describe your product.
Dukaan's AI based description generator tool will automatically generate a product description for you, that you can copy-paste to your store.
Simple things that bring a smile to your face, are what Dukaan users love it for.
Complete eCommerce website, with customization option!
Dukaan stands out from the rest of the clones in that it helps business owners create their own full website, instead of just a product catalog.
On Dukaan, you can add custom pages to your online store, like an About Us page. This helps businesses add context and add a personal touch to the stores. Not to mention, the SEO benefits to the store.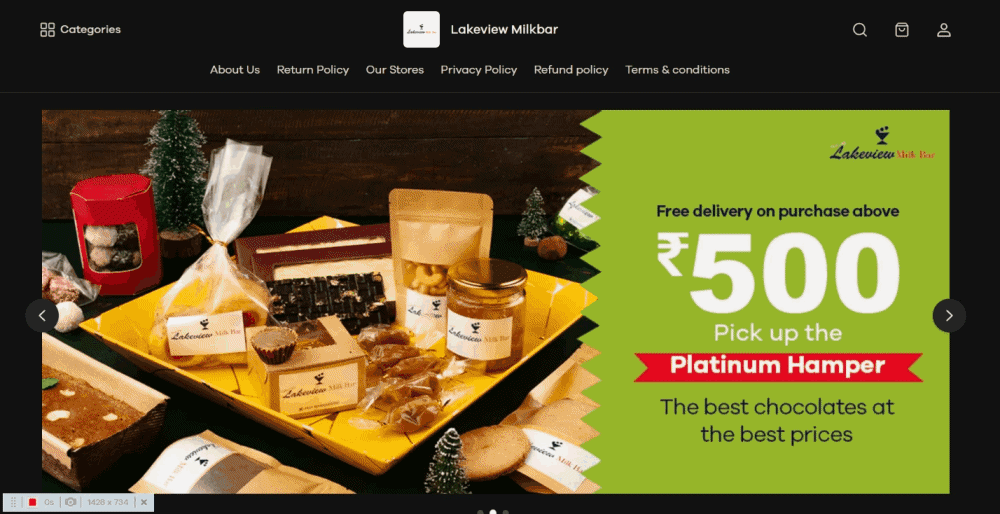 Dukaan also lets you customize your store with custom themes of your choice.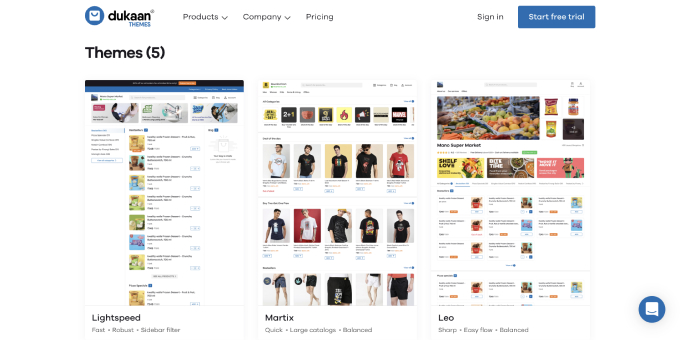 Bikayi ends up as a simple product catalog at the end of the day and offers nothing close to a complete eCommerce website.
Business tools for modern businesses!
BUSINESS TOOLS AVAILABILITY
Dukaan focuses on offering businesses a wholesome business experience that would let them manage their entire business from one place and not fragmented.
Dukaan offers free business tools like GST calculator, Slogan Maker, Privacy Policy Generator, Invoice Generator, QR Code Generator, background Remover, Terms and Conditions generator, Product description generator, etc that helps businesses support their business functions from generating a simple product description to GST bills management.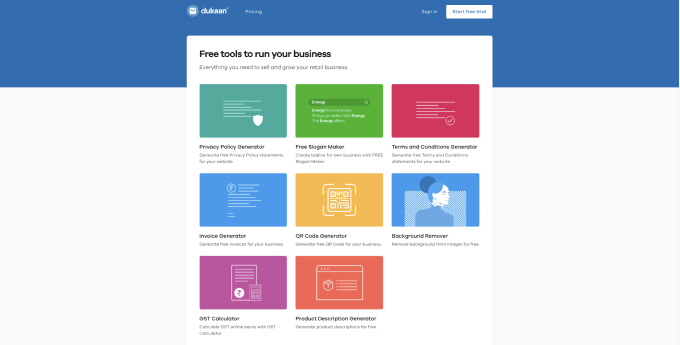 "Business owners need support on all aspects of business management and it cannot be silo'd. Dukaan focuses on providing an ecosystem for business owners where they don't have to step out for any particular need"
Bikayi does not provide any such support and ends up being a product catalog generator at the end of the day. This is a painful experience for their users (as is obvious from the user reviews)
Third-party plugins to scale your business easily!
Imagine this.
A business owner wants to send emails to their customer base. What do you do?
On Dukaan, you can integrate seamlessly with third-party plugins like MailChimp, where your user base is shared/imported to the MailChimp email tool, and email sequences are sent effortlessly.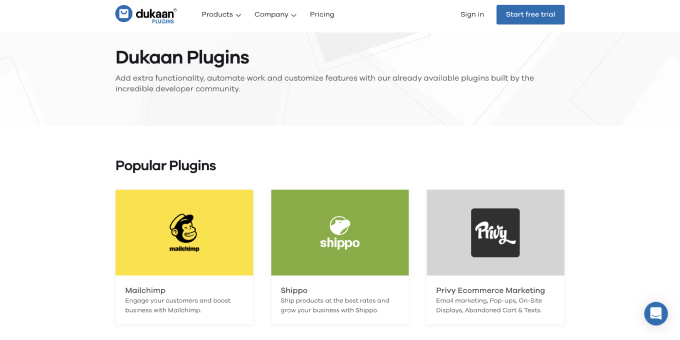 Dukaan has a host of third-party plugins that helps business owners to do other business functions in sync with Dukaan.
Email applications, Search Engine Optimization tools, Facebook Advertising options… The list is huge.
You do not have to switch to other apps often and struggle with integrating data between platforms.
Your business works from a single hub at Dukaan, and with third-party app integrations, extending to other functions that you need.
Customer success at all costs
One look at customer reviews of Dukaan and Bikayi will show you things in black and white.
Creating an app is one thing, and customers using it is another.
What separates Dukaan from Bikayi and other clones, are not the features, not the tech. But the users and their love.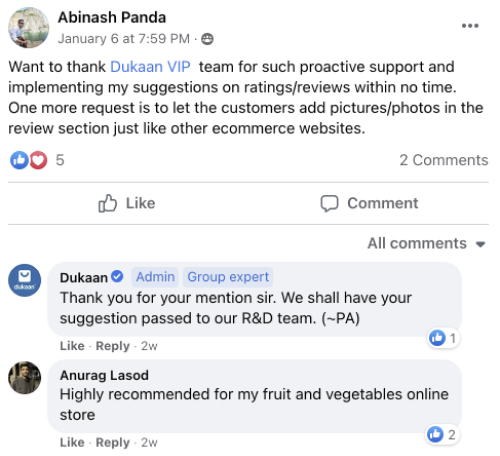 The biggest team within Team Dukaan is their wonderful customer support folks. That tells a lot about how important customer success is, for the team.
Customer support team handholds new customers along with setting up their online stores, adding products, managing them, and all the way up to helping them with marketing their brand online.
Bikayi's reviews on the other hand are swamped with customers complaining about how irresponsive their customer support is to how they feel lost, and everything else in between.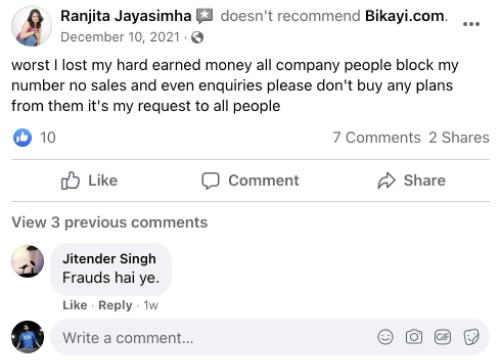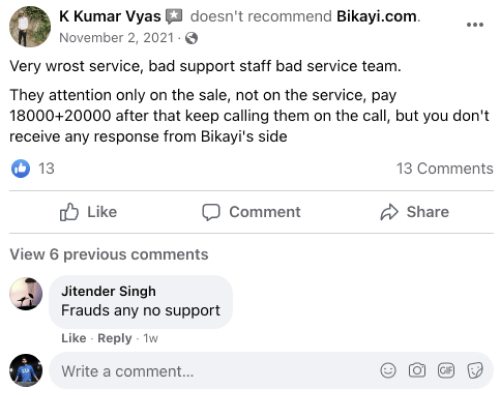 Growth like no other!
Everything said and done, it's the numbers that matter. Isn't it?
Dukaan's growth numbers are nothing less than envy to look at.
From the most sought-after competitive keywords to backlinks (other websites referring) and first-page results on Google, Dukaan has nailed it like a champ!
Currently, Dukaan is suggested 100X more by Google than Bikayi for some of the most searched keywords. (See screenshots below)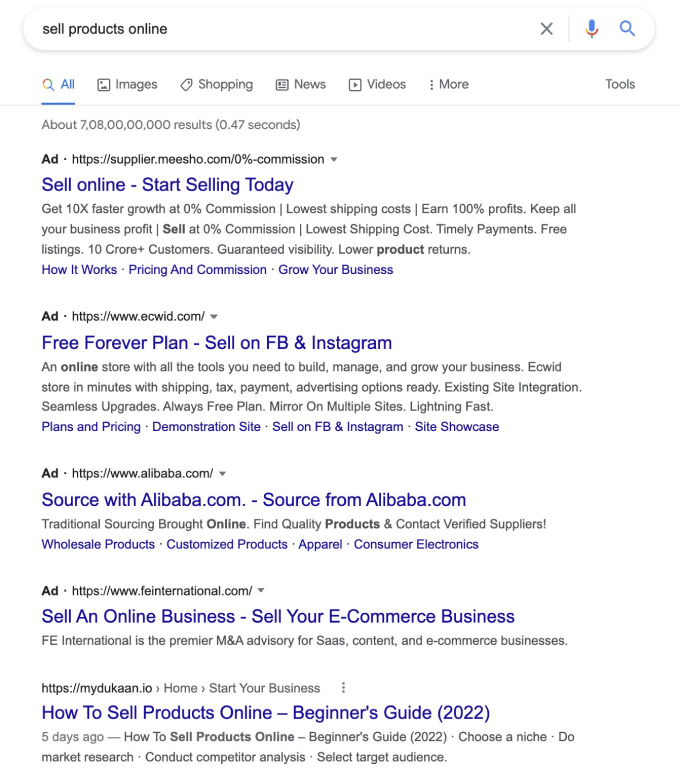 And here's a sneak into the top "high-value" keywords Dukaan ranks for on Google!


On social media too, the distinction is clear! On all social media channels, Dukaan has been garnering eyeballs and growing consistently.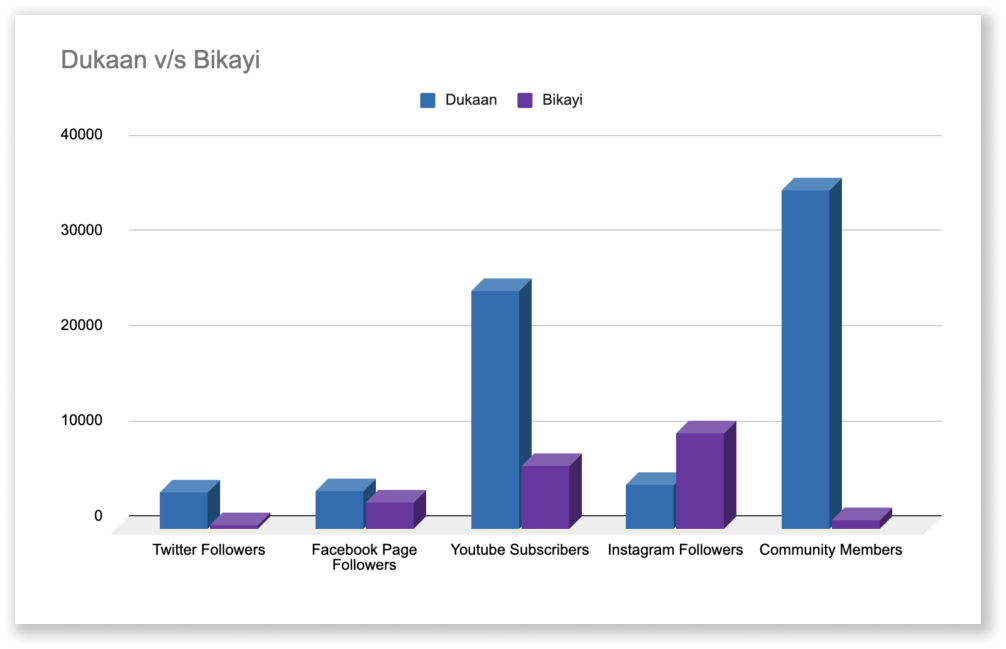 Here are Dukaan's social media channels – YouTube | Twitter | Facebook Group | Instagram
SEO Backlinks Comparison
The difference in organic traffic and backlinks on Dukaan and Bikayi is like the sun and moon. Adding screenshots here, no explanation is required.


Summary
Comparing Dukaan v/s Bikayi, it is evident that Dukaan is far ahead in it's game. Be it cost, ease of use, friendliness, and business features, Dukaan offers a better ecosystem to be in for businesses small and big alike.