Print on demand is the new rage for printing and designing products, and rightly so. It enables customization and makes products more special for customers. So if you've made the decision to start your own store of print on demand products, here are the top print on demand companies that you can use.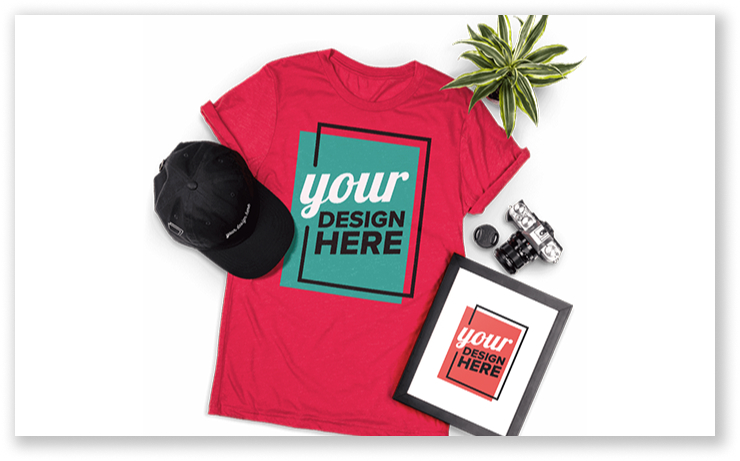 First things first. Let us talk about what print on demand actually is. (You must have done your research and are clear on the concept, I'm just leaving this here for anyone who might want it.)
Print on demand is a printing and designing process that, as the name suggests, supplies products on a per-demand basis.
Let me explain this with an example. For instance, a writer needs a few copies of her book to be published and distributed among readers. She can ask the print on demand company to publish those books as and when the demand arises. The company will print the required number of copies after they get the order, and supply them.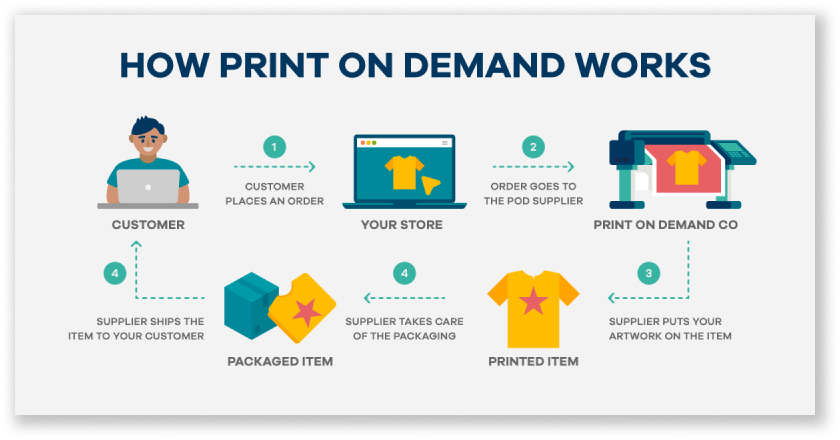 These companies usually work with a small number of products rather than printing in bulk, and charge accordingly.
This technique was mostly used for books earlier, but now, it has evolved and expanded into multiple products, like mugs, clothing, art, bags, etc.
The print on demand business works something like this.
You contact a supplier who keeps white-label products. Then you design trendy, printable designs on those products digitally, and upload those designs to your online store.
When a customer orders a particular product, the supplier receives the order. Once the products are ready, the supplier ships them and the customer receives them.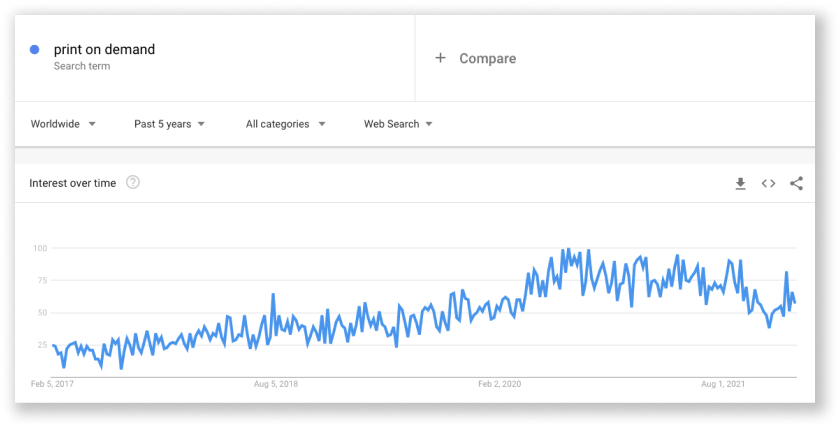 This is proof of the ever-increasing popularity of print on demand companies all throughout the world.
Before moving on, let's clarify a couple of things-
Yes, this sounds a lot like a dropshipping business.
No, you do not need to hold inventory for a print on demand business.
You do not pay for anything unless a design is sold.
Yes, you do not need to handle shipping, or even printing. It's all taken care of by your supplier.
Moving on,
White-label products are those products that a manufacturer makes, without any label, so that other brands can use them and sell them as their own.
Any product or service that you rebrand and sell as your own, was originally a white-label product.
So a print on demand business seems like a pretty lucrative business idea.
📌  Tip – You can use this to test your product before you launch it in the market.
This is becoming a very profitable business venture these days, and many players have entered the market as well.
So naturally, we did the grunt work for you and have made a list of the top print on demand companies there are in the market.
Let's have a look.
The Best Print On Demand Companies
The following companies are our favourites, and you can use them to grow your business!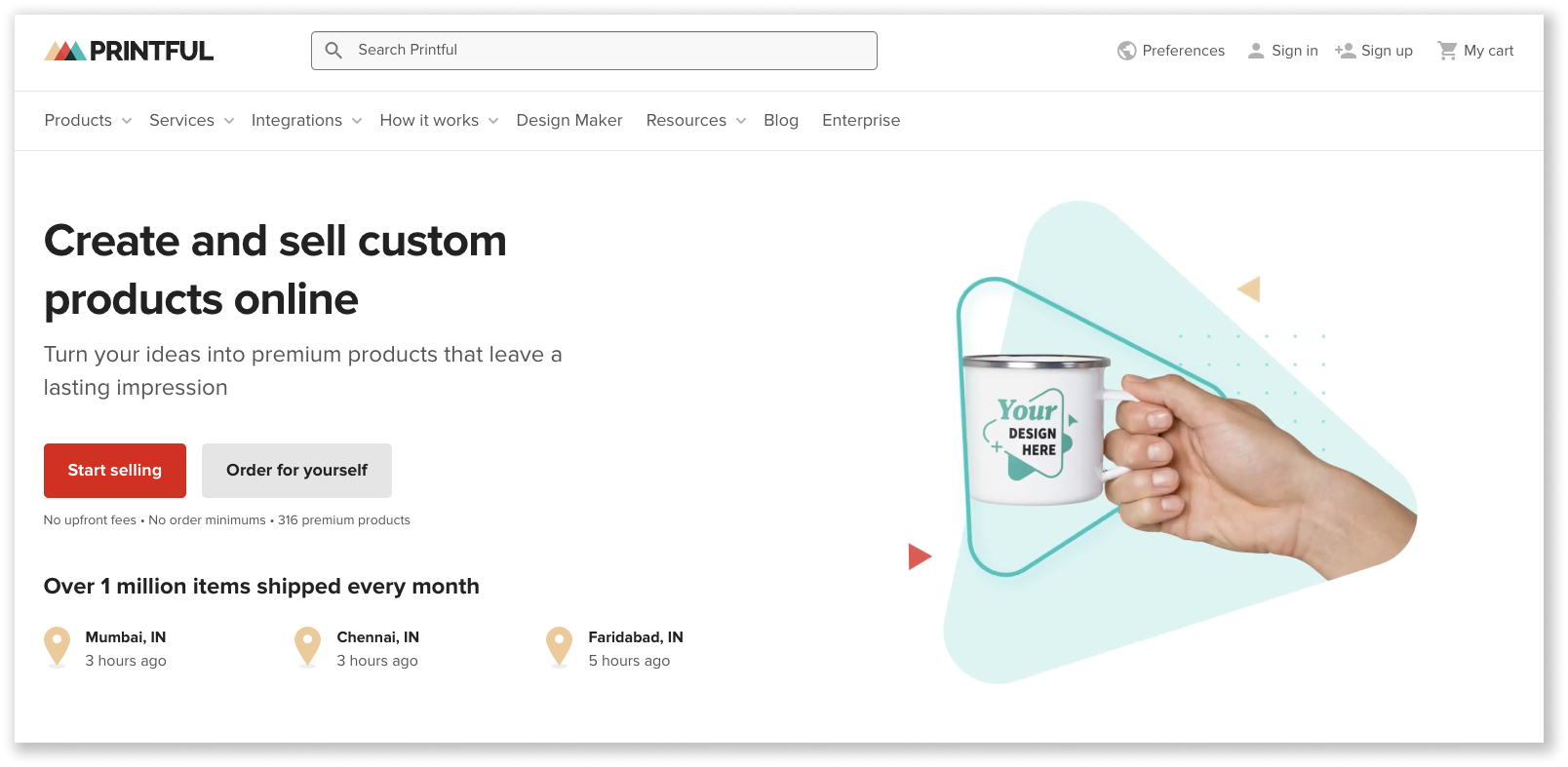 One of the top print on demand companies, Printful offers a huge catalogue of products that you can customize and sell on your website.
With the primary focus on entrepreneurs, Printful provides you with your own storefront and integrates with other platforms and marketplaces as well, enabling you to have multiple stores across different platforms.
It has amazing features to help you get started like mockups, and logo design, apart from marketing services like graphic design and marketing videos, etc.
You can easily customize any product from mugs to clothing, bags and chairs here.
If you want to sell these products under your own brand, though, you will need to pay extra charges for that.
👍  Unique feature – Free to use platform with no minimum limit on design and product. Same-day shipping is possible as well.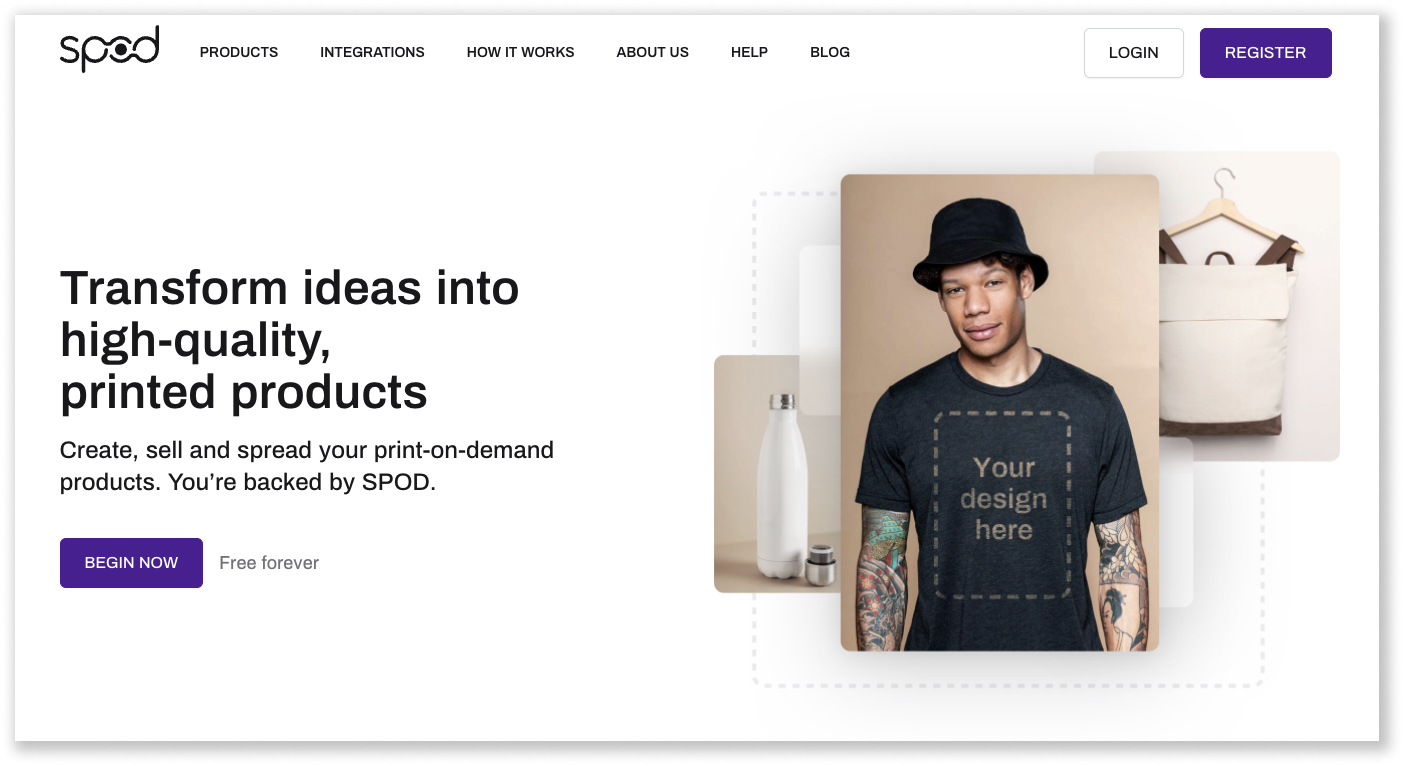 Known as one of the fastest fulfillment print on demand companies, SPOD ships 95% of its orders within 48 hours.
Not only this, they have one of the strongest customization games in the industry.
While they offer a limited range of products to choose from, their customization features more than make up for it, combined with their extremely competitive prices.
Additionally, their shipping prices are based on the price of your order, so that incentivizes customers to buy more, while keeping the shipping cost easier to calculate.
👍  Unique feature – Customers can personalize their purchases with their own designs, making customization possible on the buyer's end as well.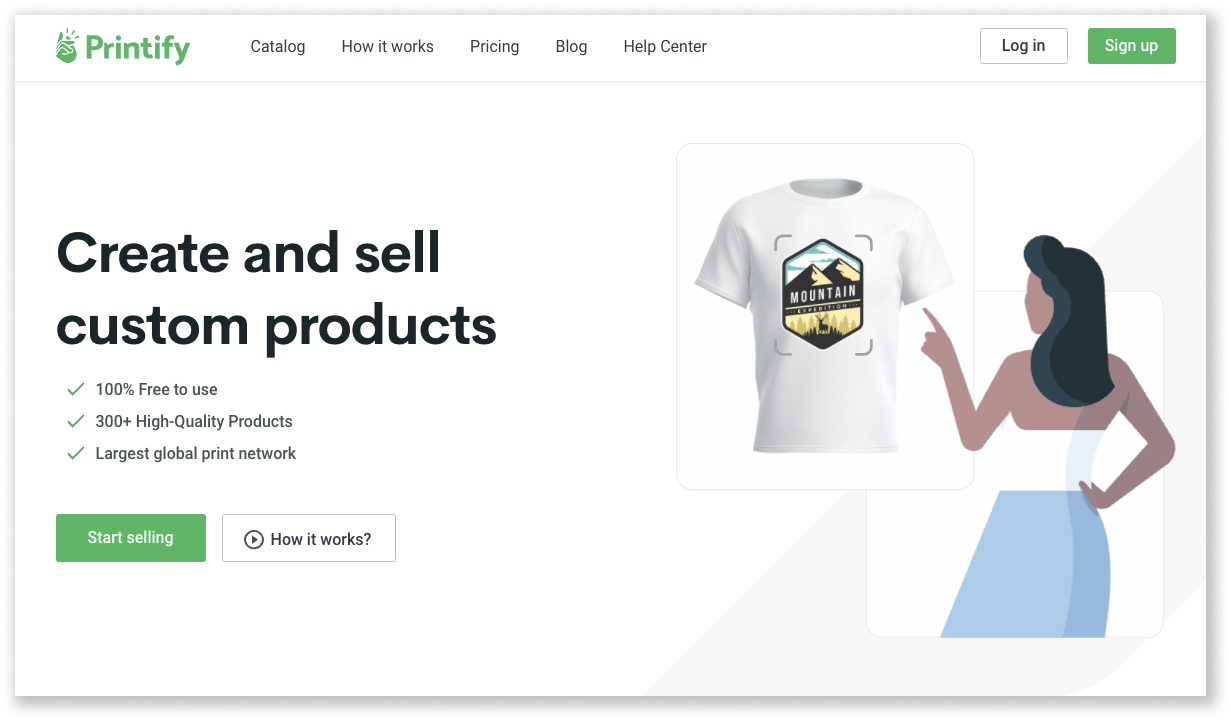 Printify's vendor network is based all over the world.
This means that you get access to all those vendors if you work with them. It also entails that your shipping time, cost, and product cost might vary according to the vendor you deal with.
Although, you can figure out a workaround for the shipping duration issue, by choosing a vendor from the same country that you wish to ship to, and enjoy faster and more affordable shipping.
With Printify, you get a much wider range of products and the best profit margins to choose from, owing to its huge network of suppliers.
👍  Unique feature – Printify has vendors scattered across the globe, so you have access to a larger market and supplier base.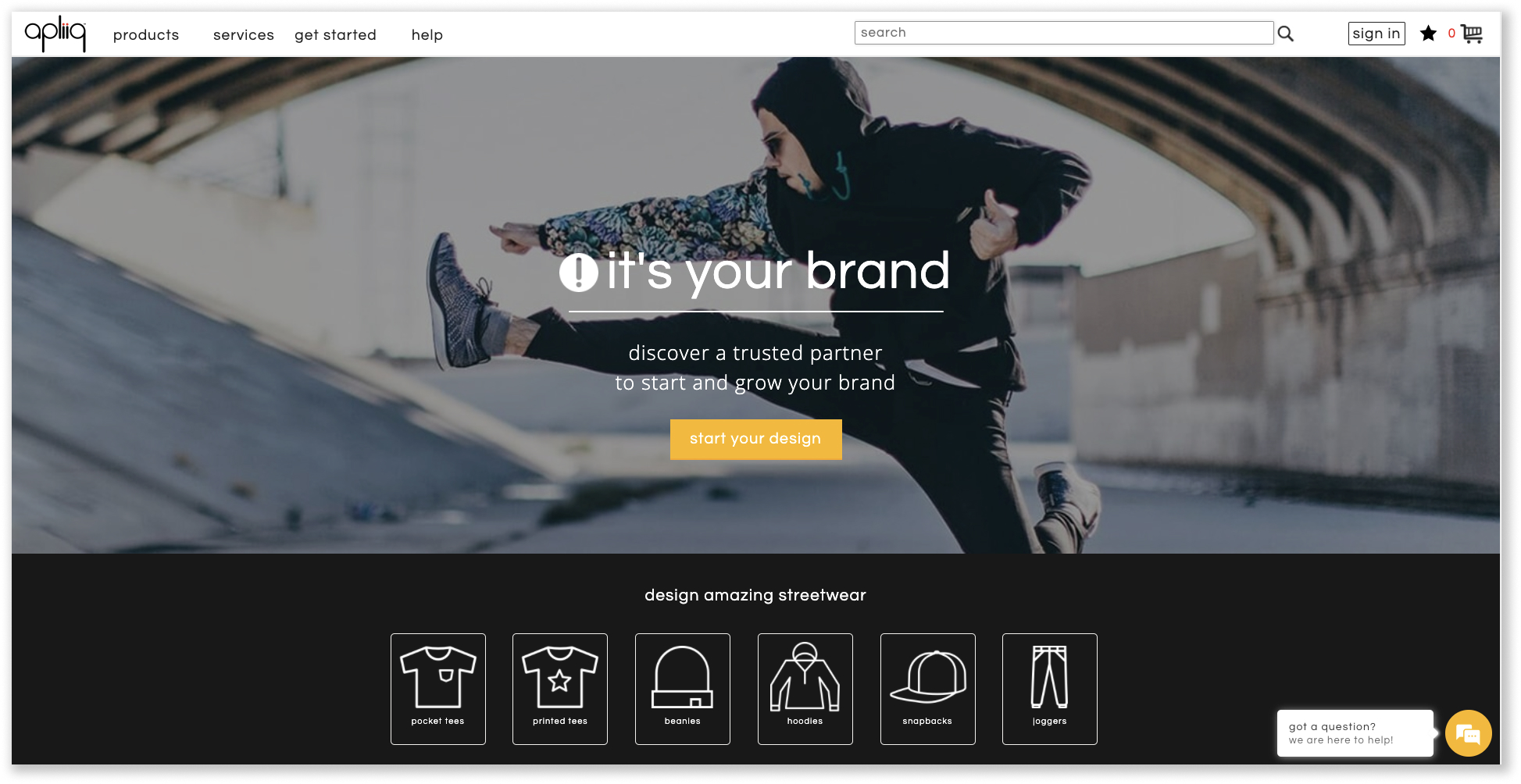 This one is for those who prioritize the design and quality of the products over everything else.
This company deals primarily with clothing, and offers such a strong set of customization features that you can use them to start your very own private label.
They also have a very interesting marketing strategy.
Instead of giving discounts on their product samples, they provide you with services like custom labels that are sewn in your products, or a dedicated in-house artist who will ensure that only the best quality products reach your customers, by improving your designs and checking your product quality.
👍  Unique feature – You can brand your products by adding custom labels, tags, etc. You also get the option to design the inner linings and add pockets to your garments with Apliiq Dropship.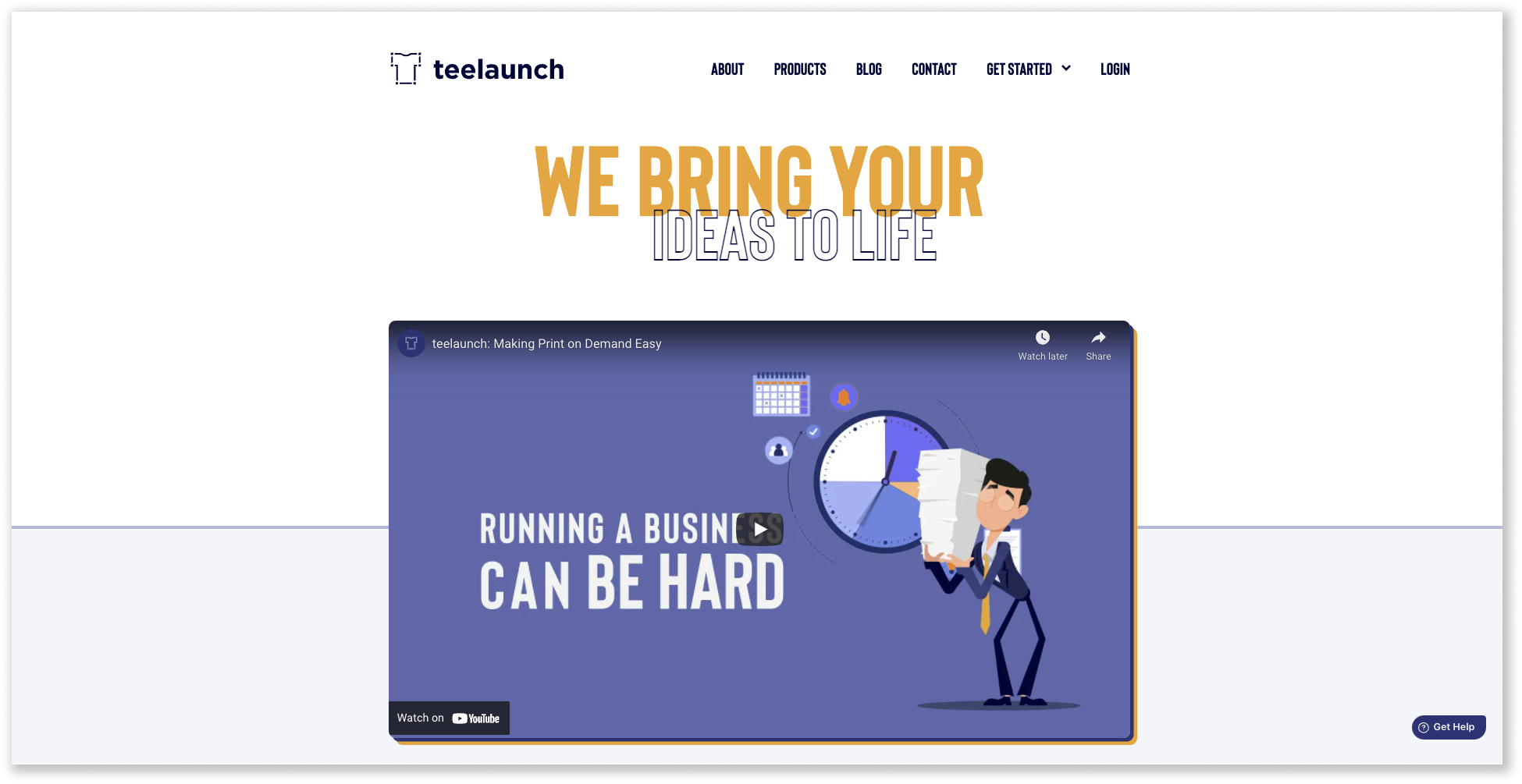 Teelaunch is a company that can customize you from head to toe- literally, from your caps to tees, bags to mugs and shoes, even your headphones.
Their versatility is only increased by the next-level quality of mockups they provide you to use for marketing and in your store.
Their package of reasonably priced products, with fast shipping and a supportive customer service team, is good enough for any business owner to trust their business with Teelaunch.
👍  Unique feature – Teelaunch provides customers with the feature to customize the products with their design and name. They also provide high-quality mockup images.
This is one of those large-scale companies that offer the biggest product catalogue (550+ products).
They offer a simple design tool and a wide range of products to work with. Along with this, their prices are pretty competitive and fulfillment is quick.
Even on the competitive landscape, they provide an unbelievably low price range on all their products!
👍  Unique feature – With an optional additional charge of $30, CustomCat gives you the lowest prices on their products!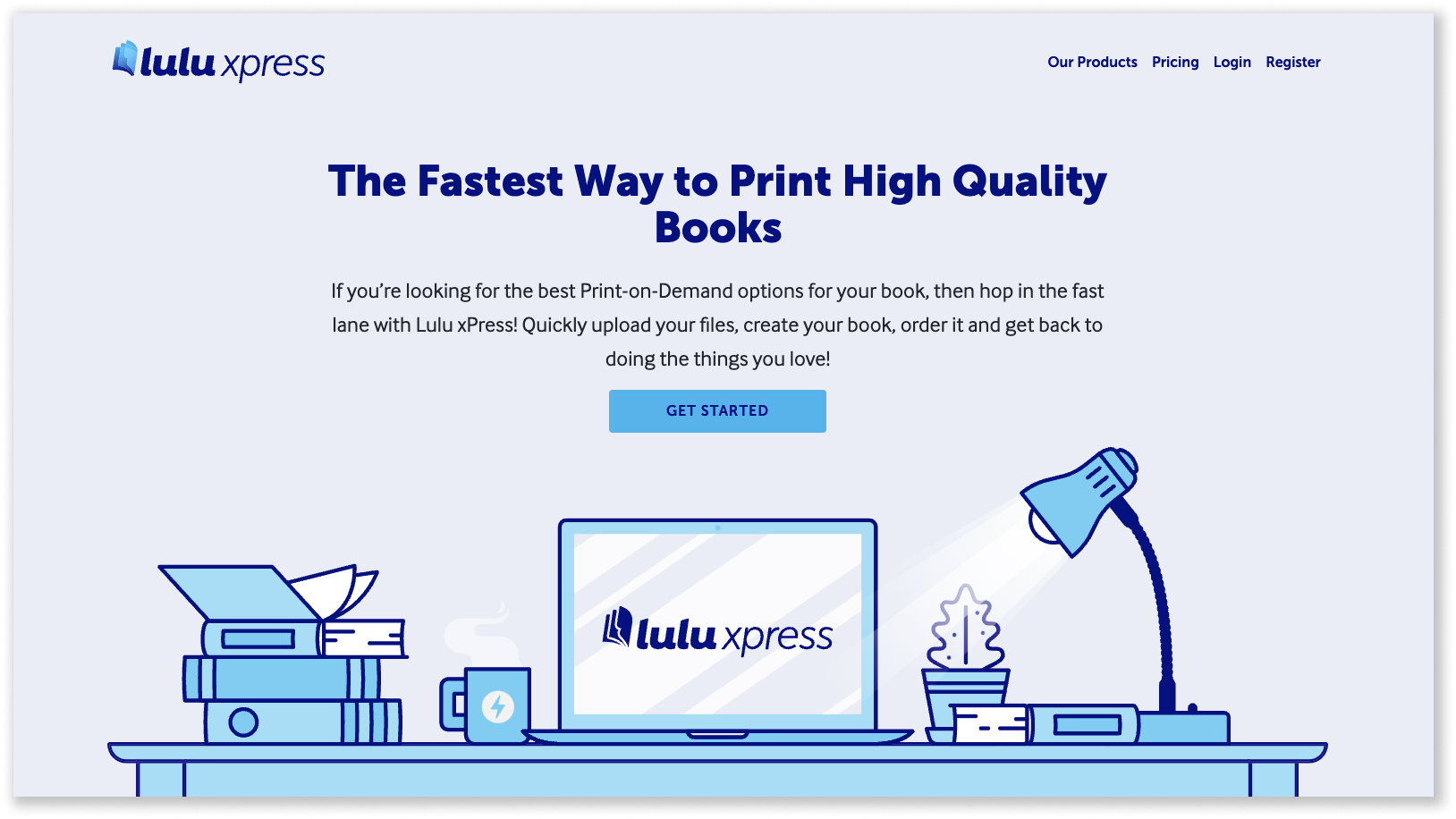 This one is for the book publishers and writers.
Lulu Xpress is the print on demand platform from Lulu. They offer services to self-publishers and artists who wish to work with books, journals, comics, magazines, calendars, etc.
It is a great platform for any creative person, be it writers, artists, photographers, illustrators, etc., who want to share their art with the public and monetize their skills.
With the designs that you create on Lulu Xpress, you can sell your products on many platforms like Amazon, as an e-book, and also on Lulu's own marketplace.
👍  Unique feature – You get the customization option to select the paper type, size, finish, binding and even print quality and colour of your books!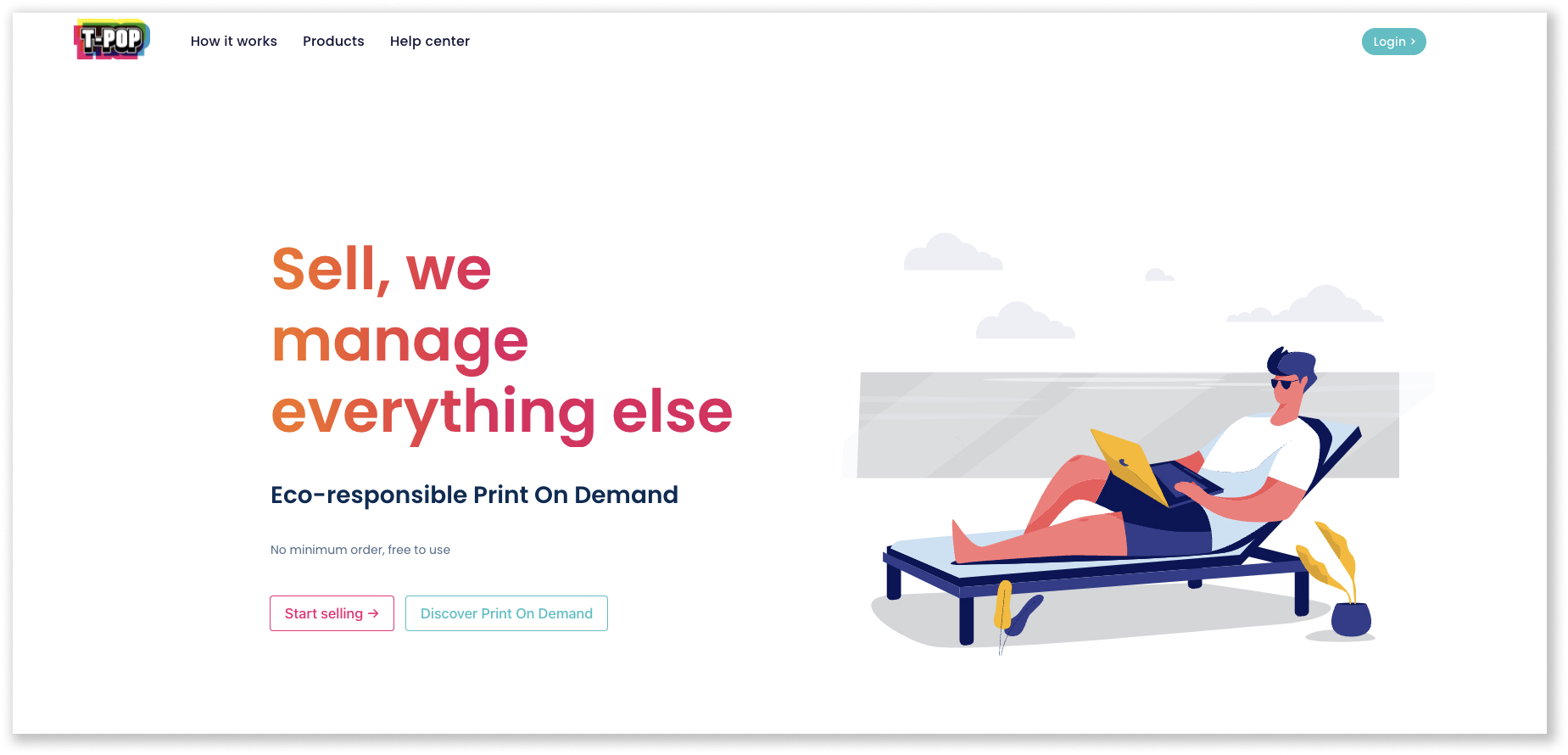 T-Pop is a print on demand company that will give you credit for your work.
How? By adding your logo to the packaging and products that get shipped from them to your customers. For an added charge, you can also have the logos sewn on the insides of your products as well.
They deal with clothing and accessories, and are big on ethics.
They have a zero-plastic policy, they use recycled paper to package their orders, and even make sure that their suppliers are also ethically responsible as well.
👍  Unique feature – T-Pop is an environmentally responsible company and has a zero-plastic practice that attracts many designers and customers.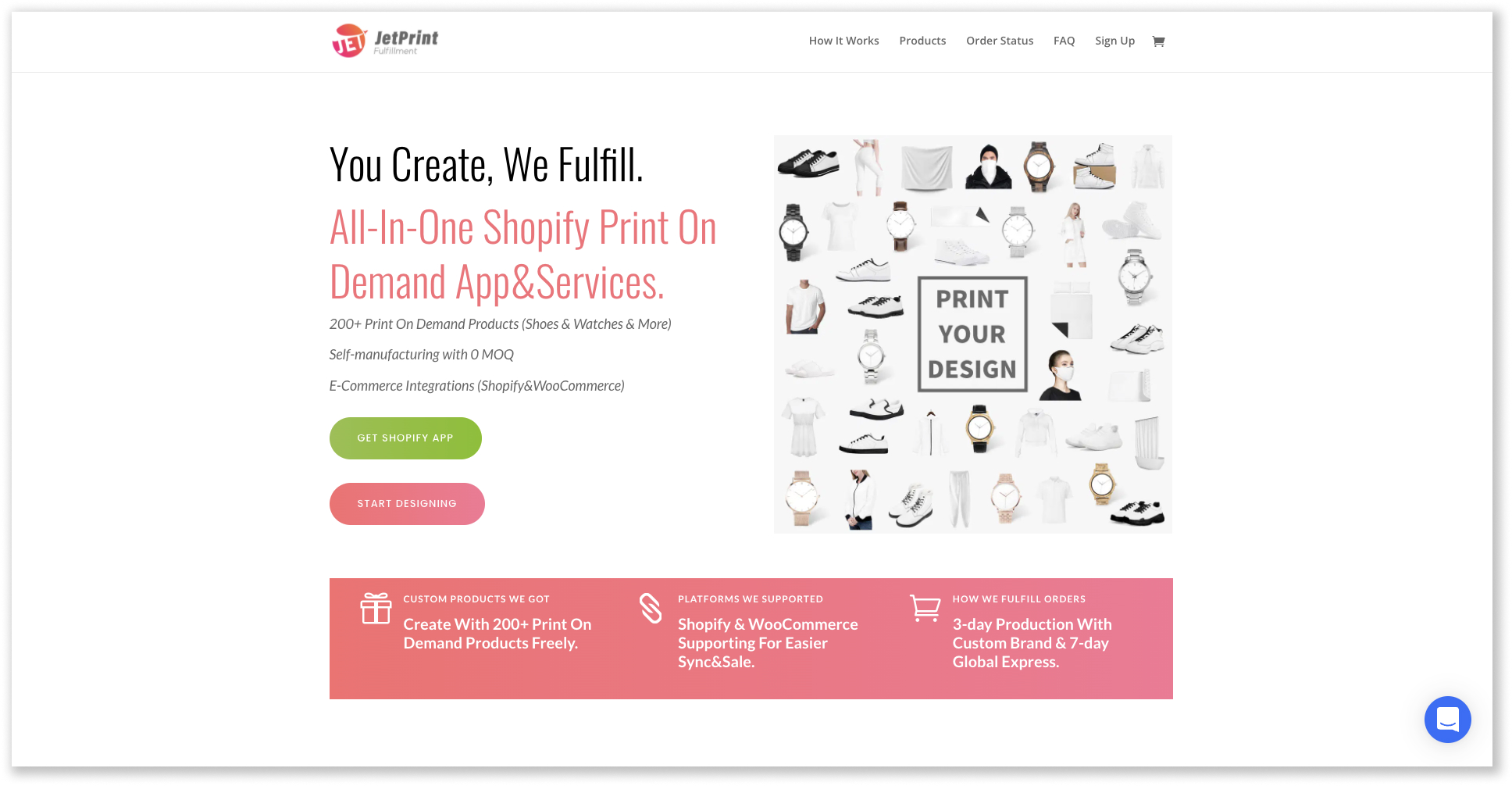 JetPrint is a unique print on demand company that designs an equally unique product- watches.
This company lets you design your own watches and sell them online, with another unique feature, which is free or express international shipping. This free shipping feature enables you to market your product in an enticing way to your customers.[/su_note]
Once your design is complete, they automatically generate high-quality product images for your watch design that you can use.
Now, this company is expanding its range from watches to home and phone accessories.
👍  Unique feature – The product itself is unique here. Not many companies deal with the customization of watches. Apart from this, they also provide free shipping!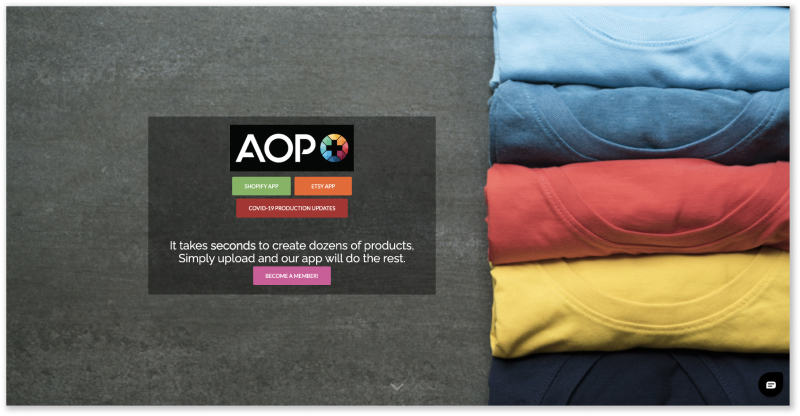 AOP+ or All Over Printing is a company that specializes in all over printing. All you have to do is design something and choose a product to print it on.
It is one of the fastest platforms to start with, and because of its in-house printing, the quality is great as well.
They offer both free and paid plans, and with their paid plan, they provide better discounts, customizations, and much more.
👍  Unique feature – You can add packaging stickers and private labels, etc., with the paid plans on AOP+.
Gelato is a print on demand company that boasts of having 100 partners all over the world.
Even with a wide range of products, from apparel to stationery, they have a fulfillment duration of only 72 hours!
It can also seamlessly integrate with top eCommerce platforms such as Shopify.
👍  Unique feature – There is no subscription cost, and your profit is the difference between Gelato's cost and your selling price.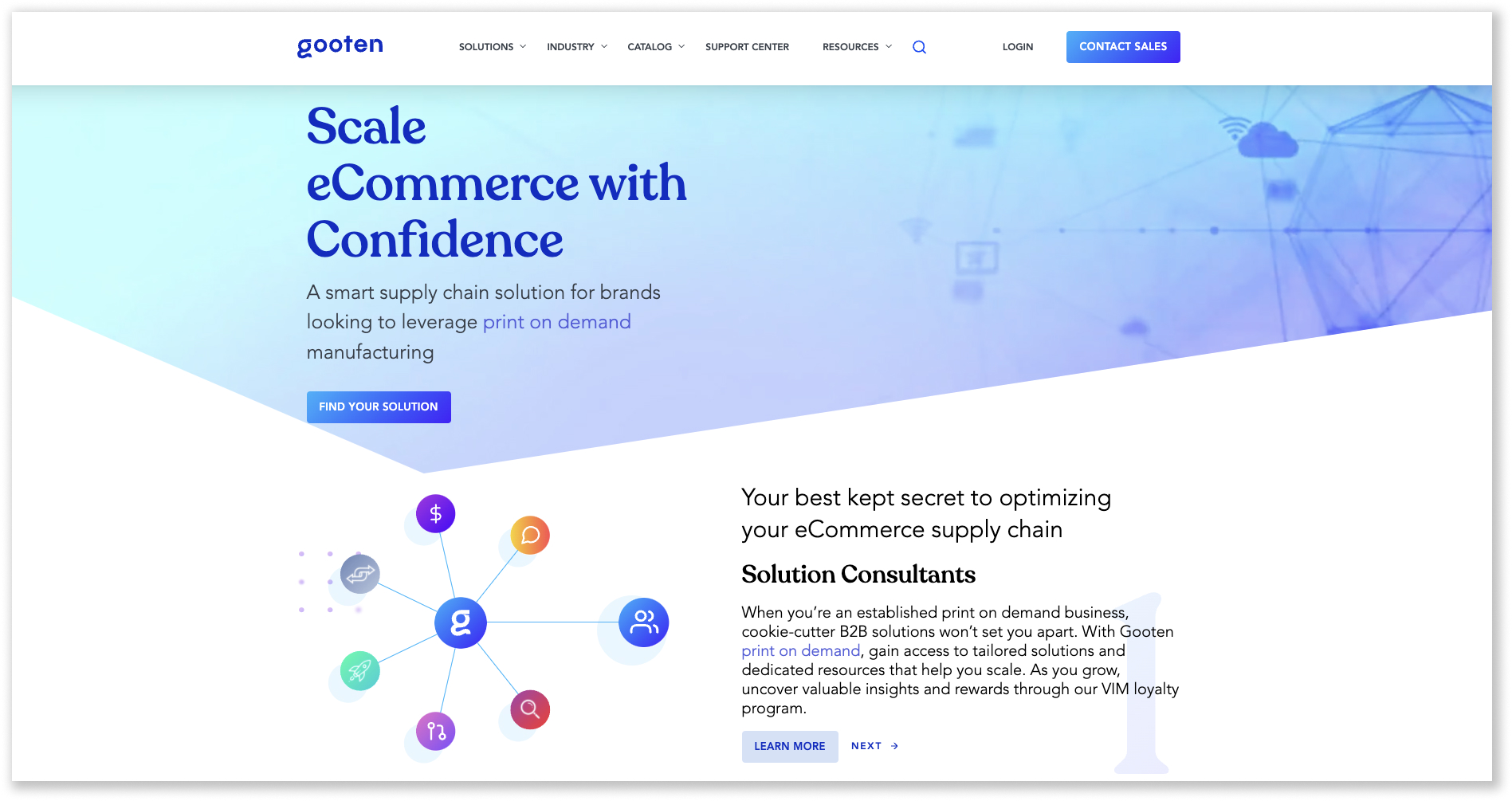 Gooten also offers a wide range of products as well as printing options, and they usually get shipped between 1-6 days.
This platform's programming interface and integration with other software are a bit complicated, but it also means that the platform is more flexible to use.
👍  Unique feature – Gooten makes it easy for you to handle the multiple orders you receive by consolidating your store operations.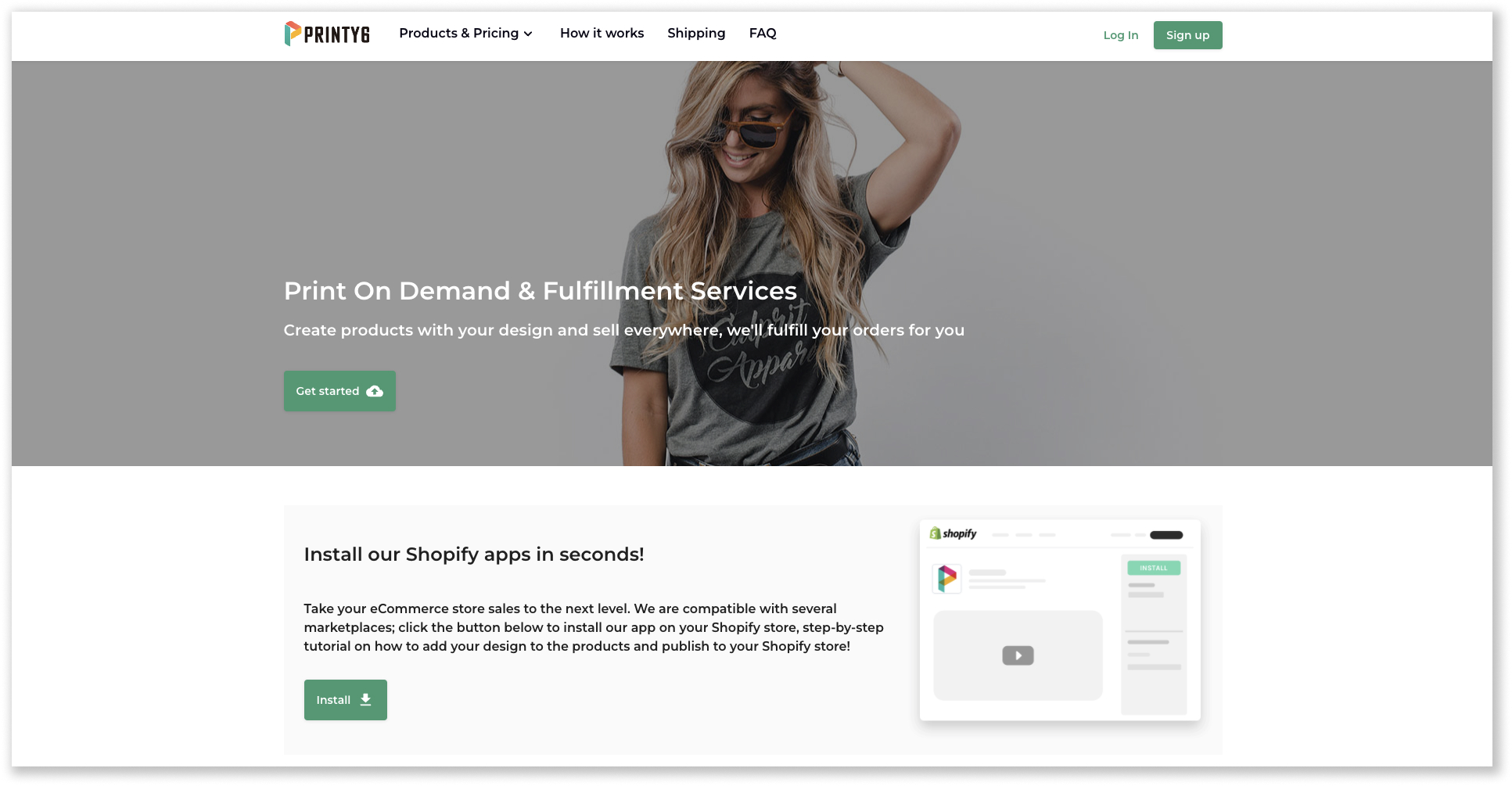 Printy6 is a print on demand company for Shopify.
Based in China, it provides custom printing services for many products, like apparel, homeware, etc.
Although, it costs more than other print on demand platforms and takes longer to ship too.
👍  Unique feature – The production on this platform only takes 1 to 3 days.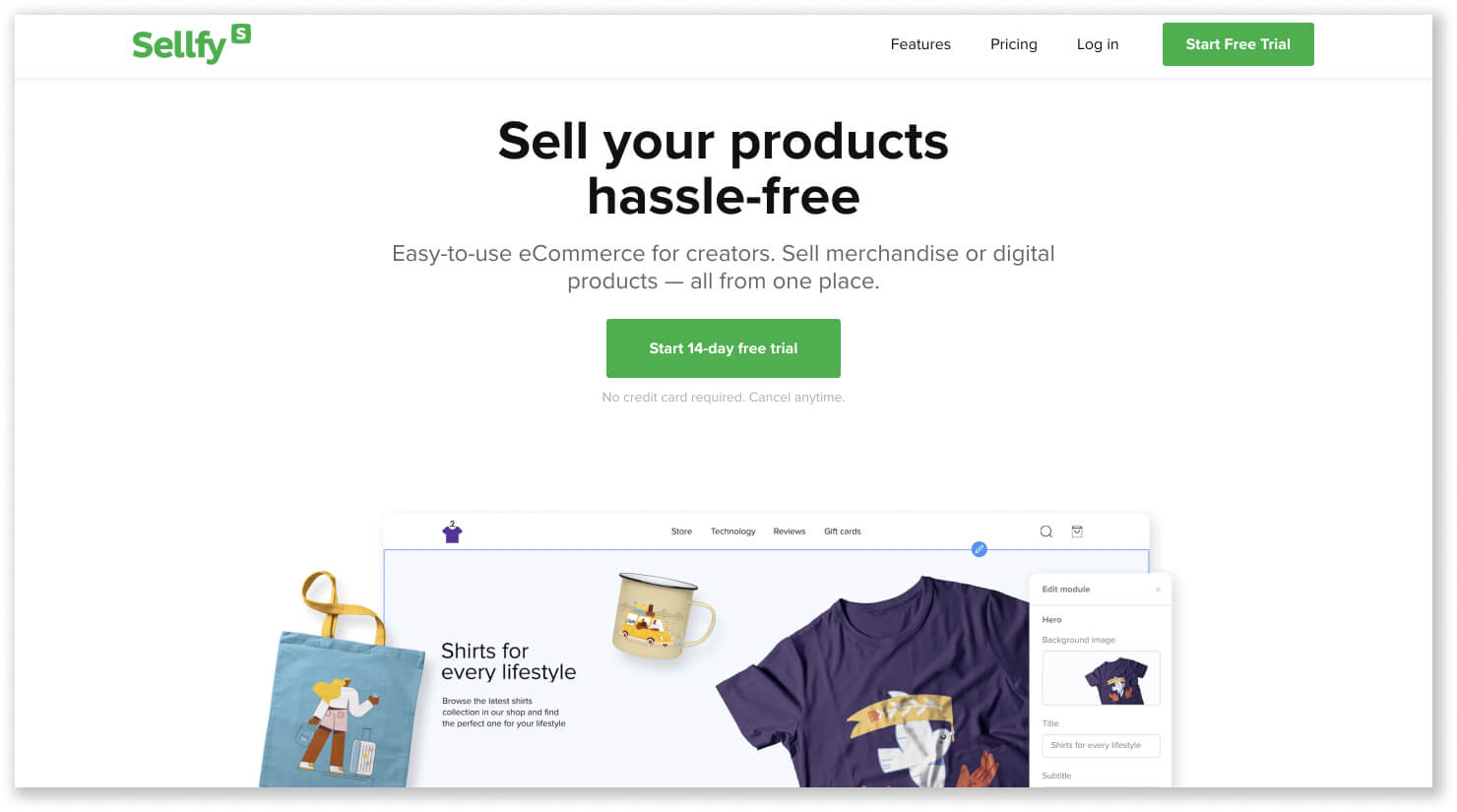 Sellfy is actually an eCommerce platform, but it serves as a print on demand platform as well.
So, you can print and sell a wide range of products like apparel, phone cases, bags, mugs, etc., right there on Sellfy itself.
It also integrates with Wix, but not with any other platform.
👍  Unique feature – This platform provides you with a free account forever.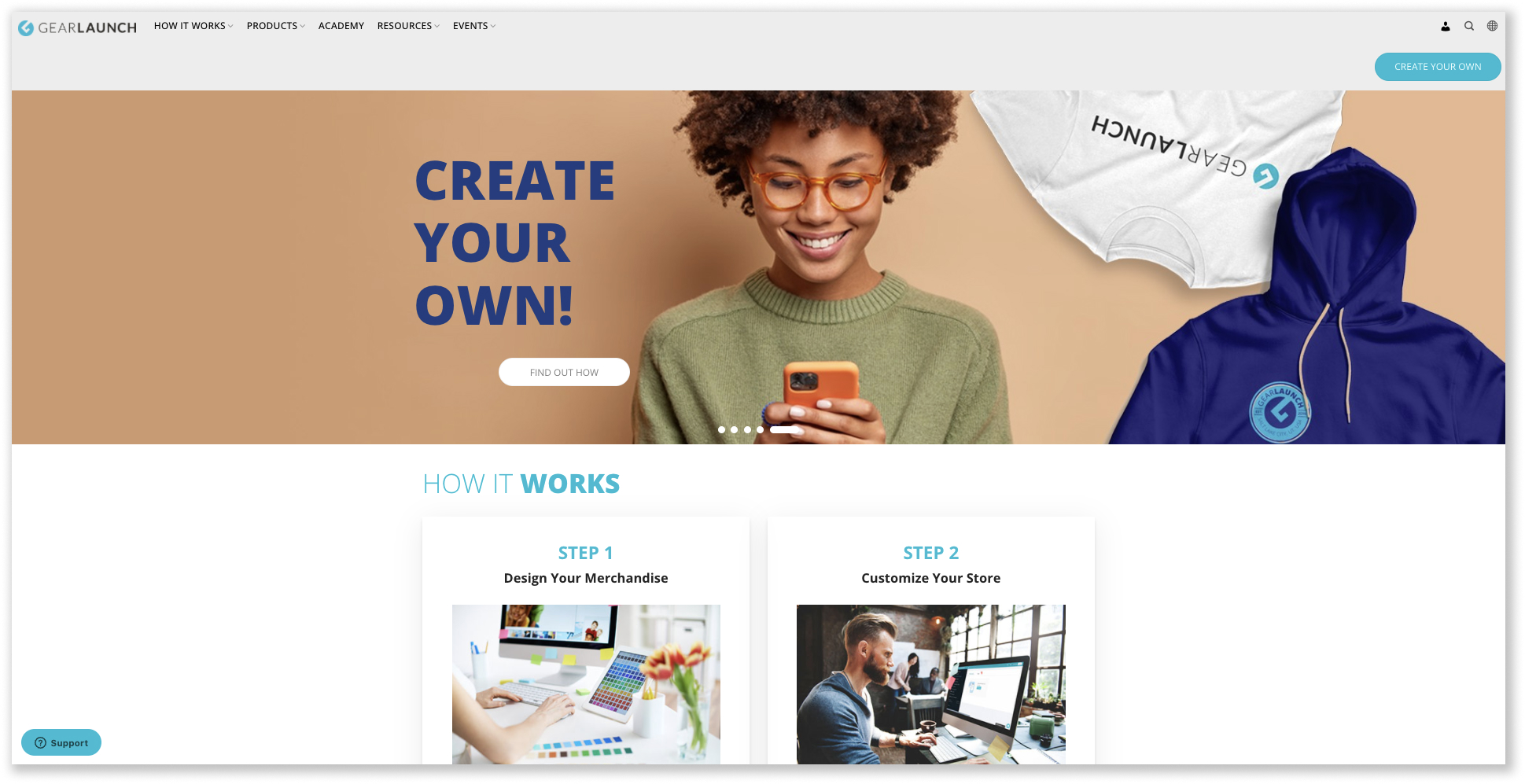 GearLaunch is a one-stop shop for your printing, packaging and shipping needs.
It has an easy-to-use platform that also integrates with Shopify, which enables you to build your business easily.
👍  Unique feature – GearLaunch provides you with all-inclusive services regarding your products and designs.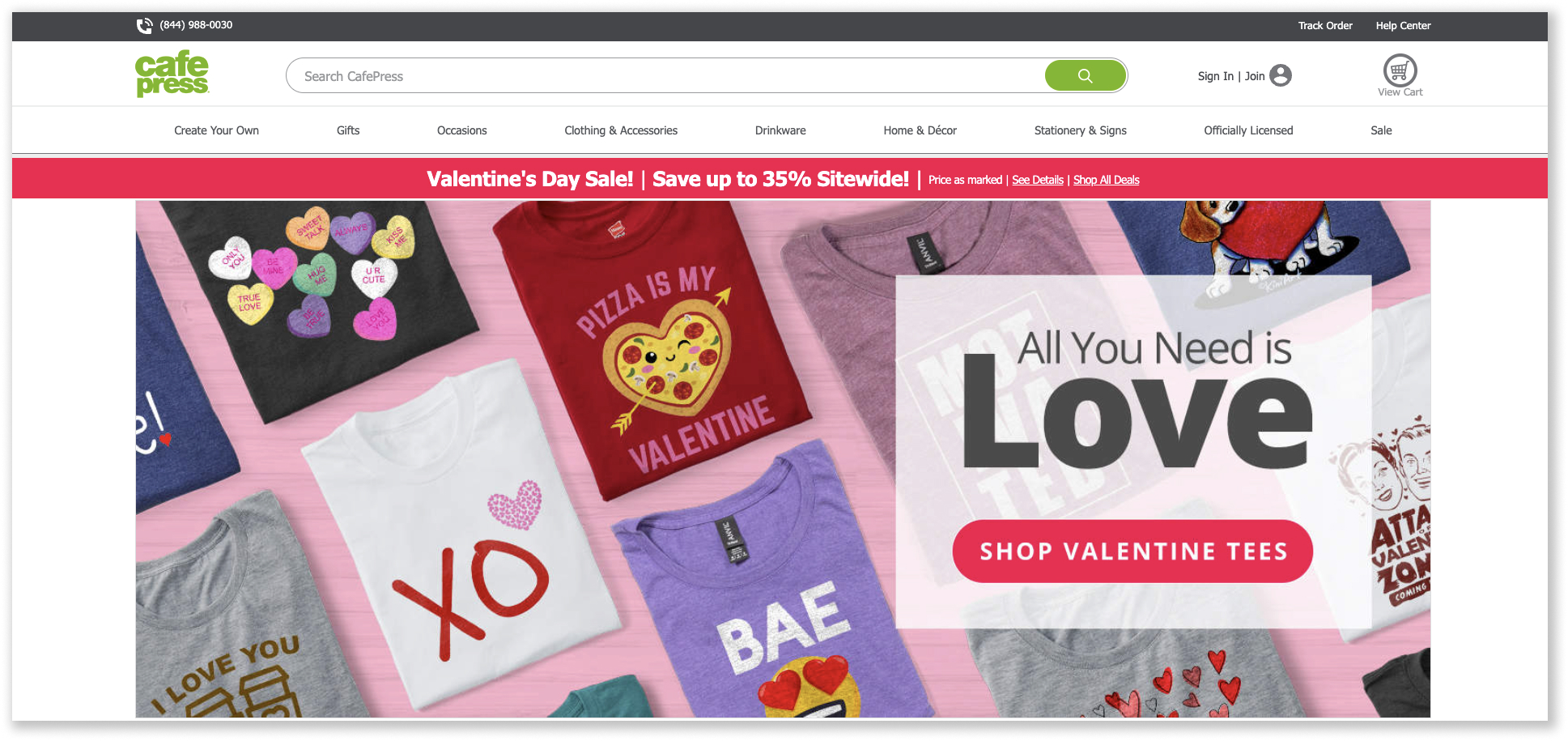 CafePress is one print on demand website that stands out from the competition.
Apart from the long list of products they offer, CafePress does things differently by getting permission to use copyrighted material from the owners.
This enables you to print designs from TV series, movies, music, and others, and that too at your own marked up price.
👍  Unique feature – You can create copyrighted designs of TV series, movies, cartoons, and such. The platform takes care of the permissions.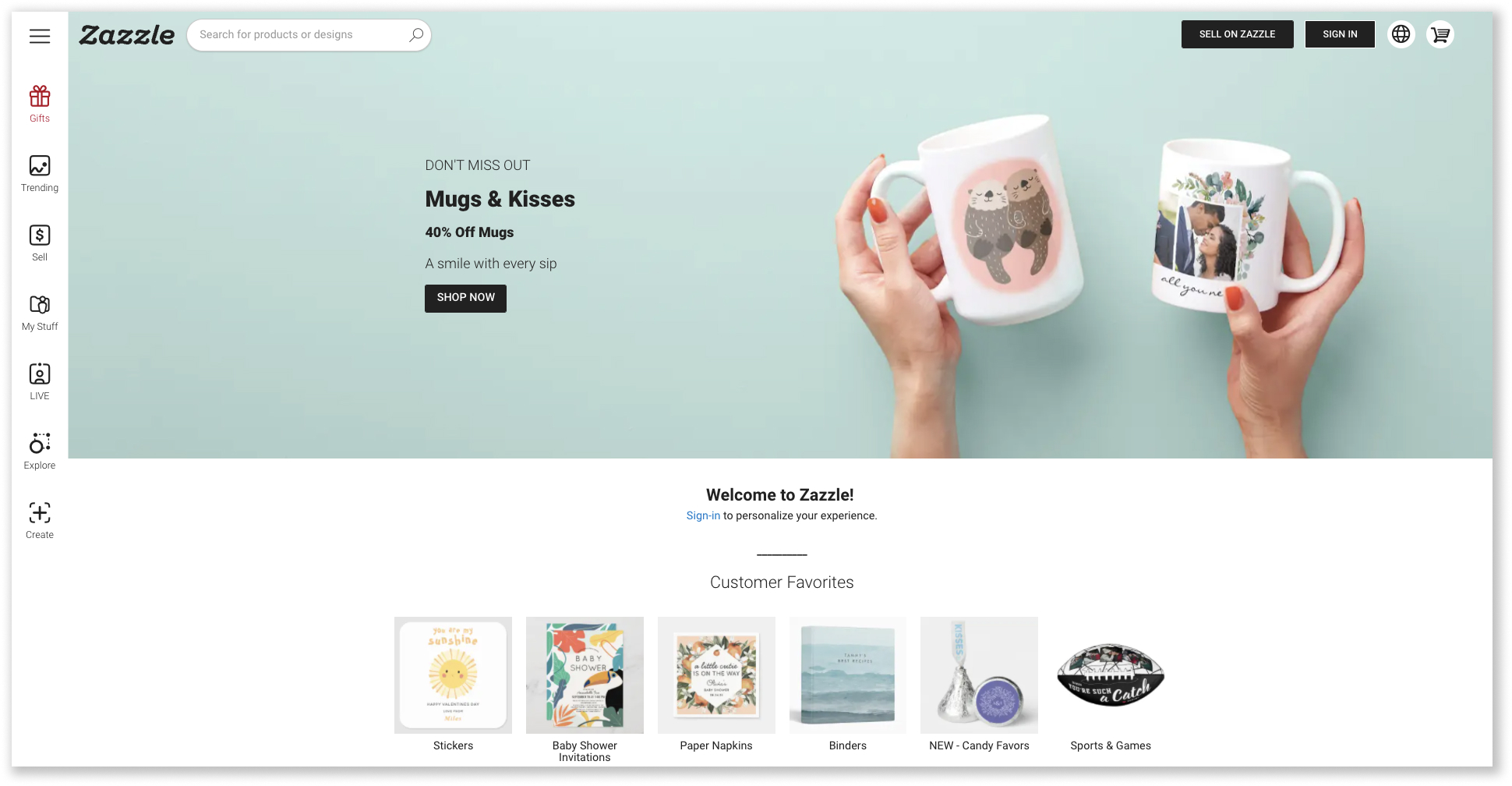 Zazzle is an online print on demand marketplace, which is highly popular among customers and lets you customize and sell around 1,300 products.
From clothes to home decor, invitation cards, accessories, and even electronics, you can find almost anything on Zazzle.
When you choose this platform, you also get the benefit of manufacturing, shipping and printing services.
Apart from that, you can take advantage of the site's traffic and decide your profit margin. Although, this platform doesn't integrate with others and you can only sell through this site.
👍  Unique feature – This platform lets customers customize their products before they purchase them.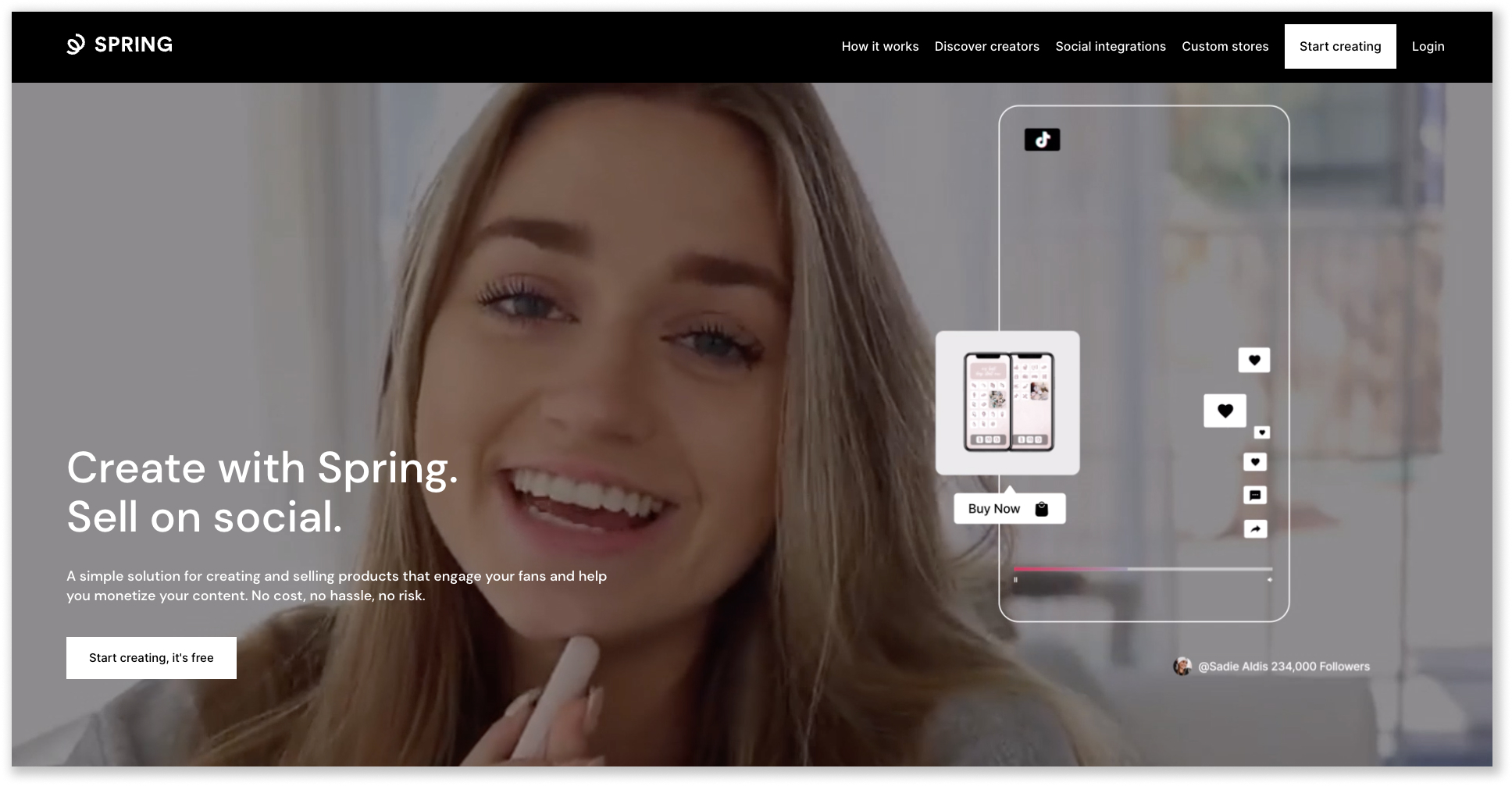 Spring or TeeSpring as it was formerly known as, is a very popular print on demand platform.
It began with t-shirts, but now has branched into other products like mugs, tote bags, and socks as well.
It has a simple payment model, wherein you only have to pay for your material and keep the rest of the profit (which you set, by the way).
👍  Unique feature – Spring is free to use and you set your profit margin.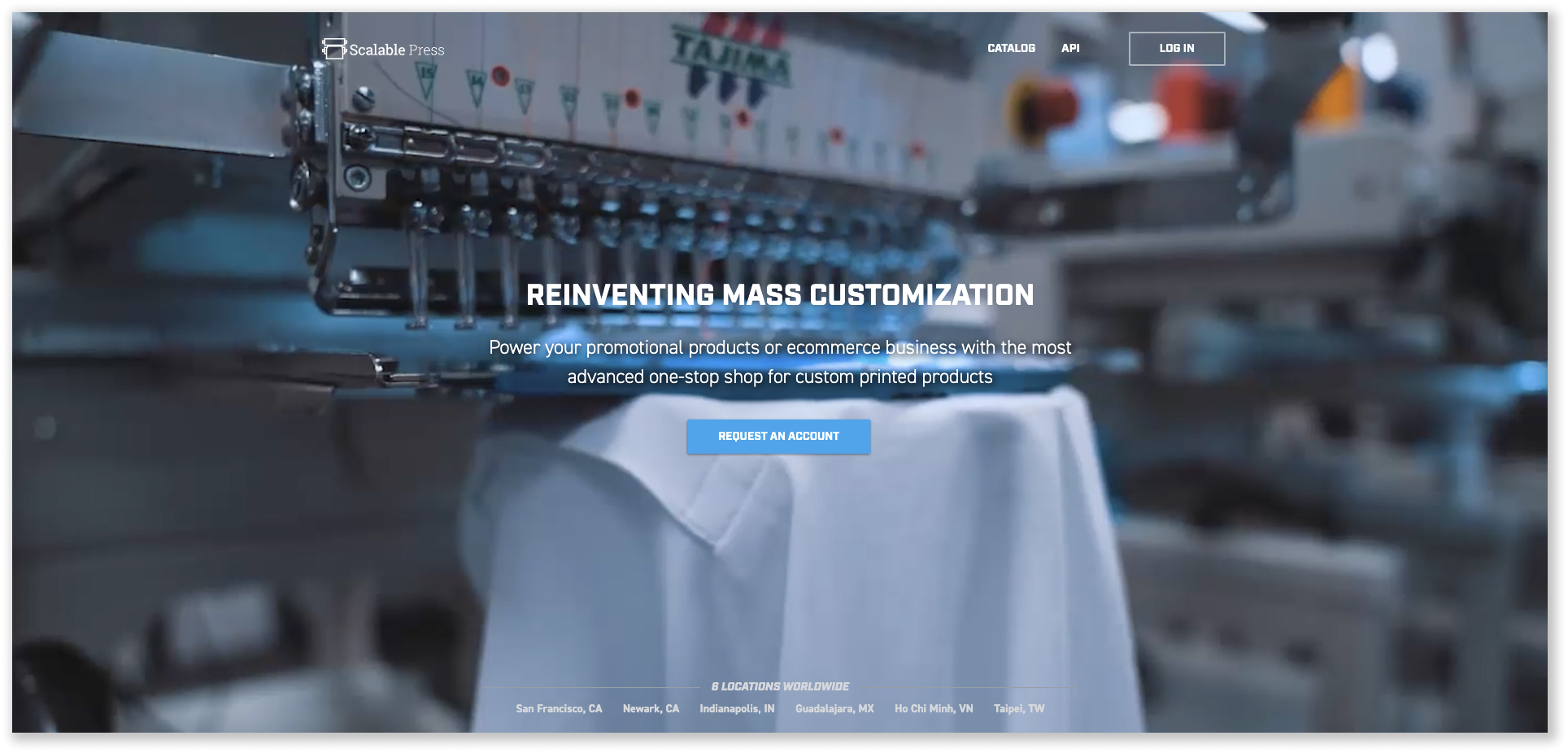 Scalable Press is another big-time print on demand platform that helps you design, print, and even procure white-label products for your business.
It's a highly advanced platform, which makes it super easy and convenient for you to customize your products on a big scale.
You also have a huge product range to customize at a competitive price and sell at a high profit.
👍  Unique feature – This platform is technologically advanced and has the advantage of better and faster performance as compared to its competitors.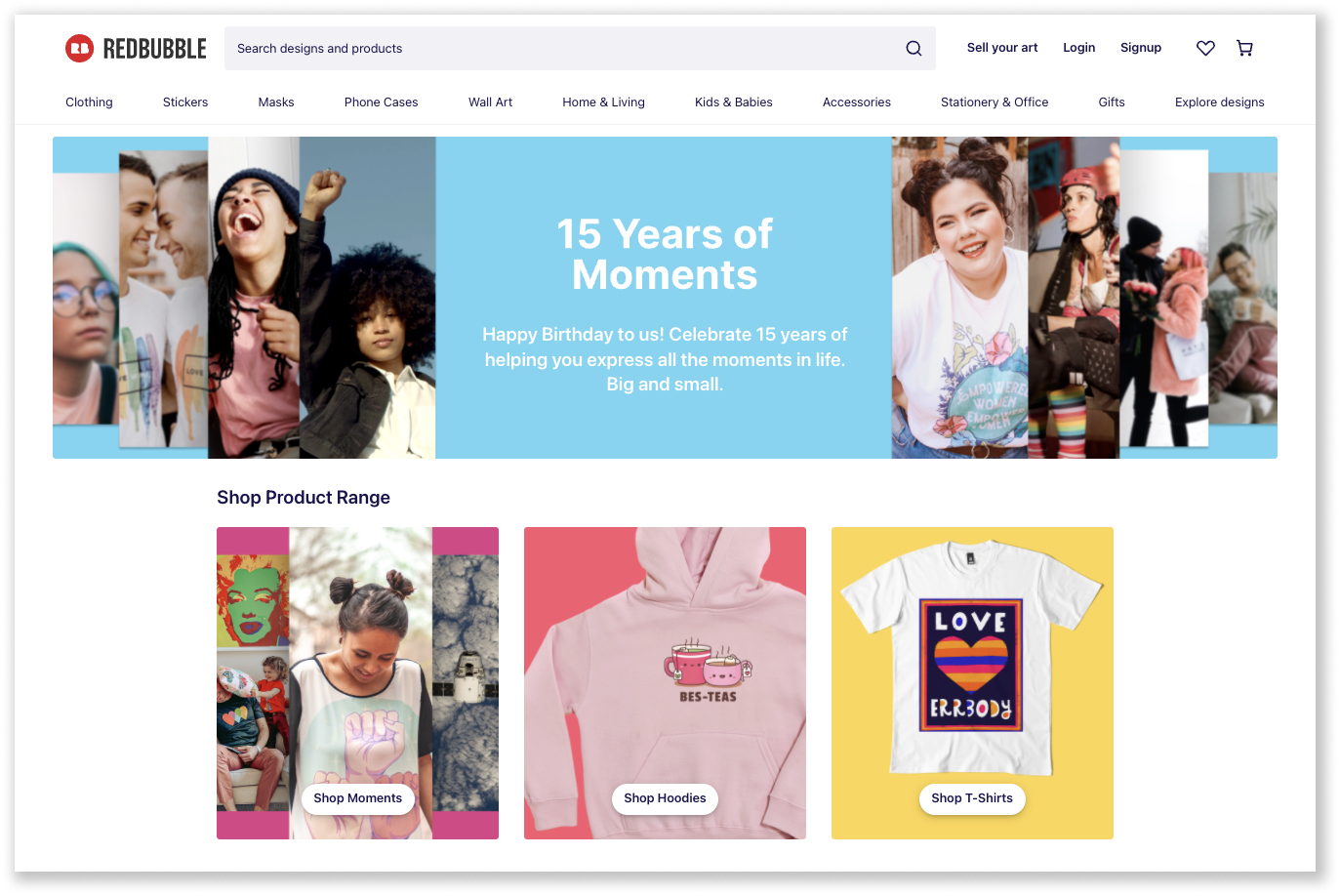 RedBubble is a well-tailored platform for artists and new entrepreneurs, with printing services, as well as an in-built marketplace for your designs.
You get a storefront for your business as well, on the platform itself, and you can customize it to suit your needs.
Along with a decent catalogue of products to design, from clothes to homeware appliances, gifts and such.
You can sign up for free, and decide your own profit percentage, and you get paid after you've made a sale. Another attractive feature of RedBubble is that they give you full ownership of your designs.
This platform does not, however, integrate with other platforms like Amazon, Shopify, Etsy, etc., so if you're looking to sell on multiple platforms, this might not be for you.
👍  Unique feature – This platform gives you an opportunity to be noticed by your customers, by making them visible to the customers who are scrolling through the general marketplace.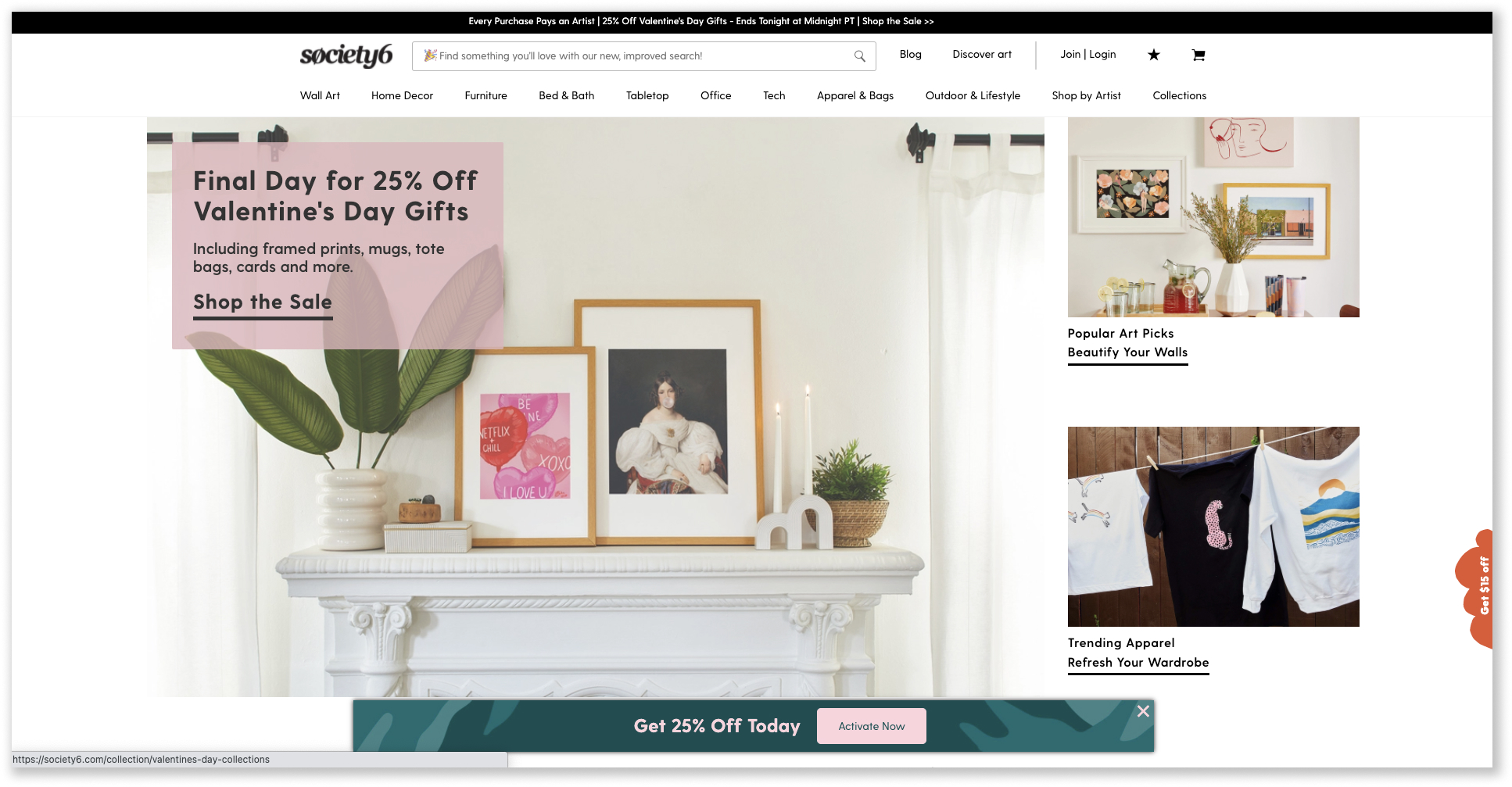 This print on demand site is different from the others because it focuses on the art and the artist. It also handles the printing, storage, and fulfillment of your orders.
It is similar to RedBubble in the aspect that it has its own marketplace, doesn't integrate with other platforms and provides you with your own storefront.
This is also a free platform where you can sign up easily, create your own designs and sell them. Although this platform may use your designs to promote their brand, you still have full ownership of your work.
One thing to note is that you do not control your profit. The platform sets the price, out of which you get 10% when the product is sold. This does not include printed art though, there you can set your own price.
👍 Unique feature – Society6 provides more printed art options as compared to its competition, like stretched canvas, apart from the normal options.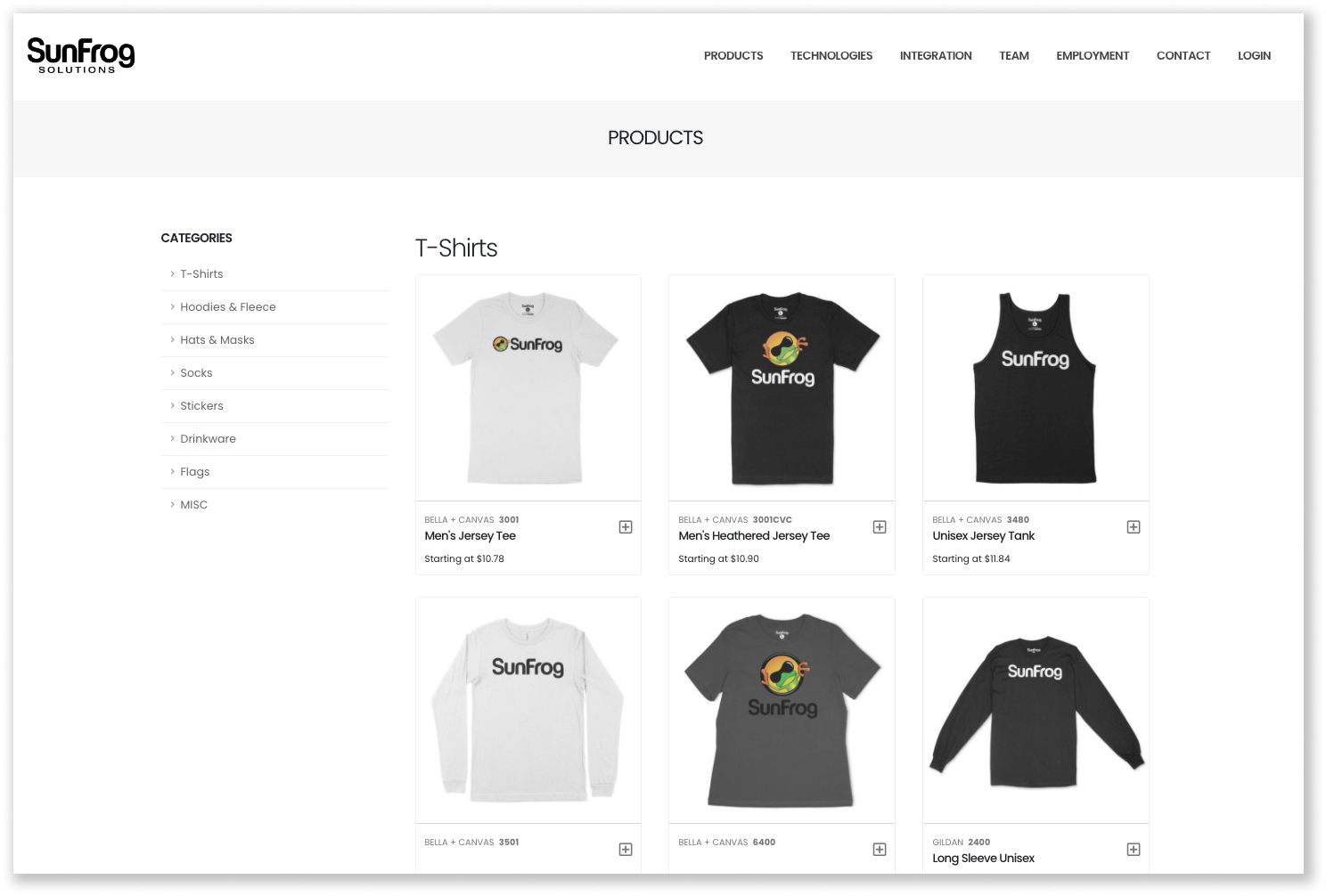 SunFrog, being a huge platform for t-shirt designs, receives the highest traffic in the print on demand industry. They carry products like clothing, mugs, & posters.
This platform also has a marketplace of its own and does not integrate with other platforms or marketplaces. It provides you with a design tool of its own so you can design t-shirts without much effort.
This platform is unique in the way that it lets you promote other artists' designs as well. Signing up is free and once you do so, you can then start your own collection. This is your store.
You can see promo images to check how your store (or collection) would look like. You can set your own price, but from a provided range.
About your pay- on every sale, you get 10% of the price of the design that you own. Although for every sale you make on another person's design, you get a commission of 15% and if you sell your own designs, the commission becomes 25%.
👍  Unique feature – SunFrog lets you track your visitors and conversions. You can even plan marketing campaigns.
Final thoughts
The biggest selling point of the print on demand business is that you can create freely, and can run a low-risk high reward business with ease.
Now that you have all these great POD companies, it's time to make your decision about which of these you would like to use for your business.
All of the above listed service providers have their own set of unique features that cater to different businesses.
Mostly, any of these companies would be sufficient for your needs if you need to design apparel and other common products, and would also do a great job at it.
But, there is still one that would suit you the best.
You can start with one unique product and one company (like watches and JetPrint), or take advantage of the dropshipping model of business and mix and match as many products and companies as you want!
Just remember to stay creative!