Have you ever wanted to start your own business but didn't know where to start? If so, a dropshipping business may be a great – and convenient – option for you. Read on to know how to start a dropshipping business.
Anyone who's looking to start a dropshipping business is more likely after generating money in a more convenient and "passive" way.
Yes, doing business is hard. But dropshipping makes starting a business a whole lot simpler. It requires low startup and maintenance costs, and it's easier to scale. You'll see later.
No wonder about 33% of online stores have adopted the dropshipping model.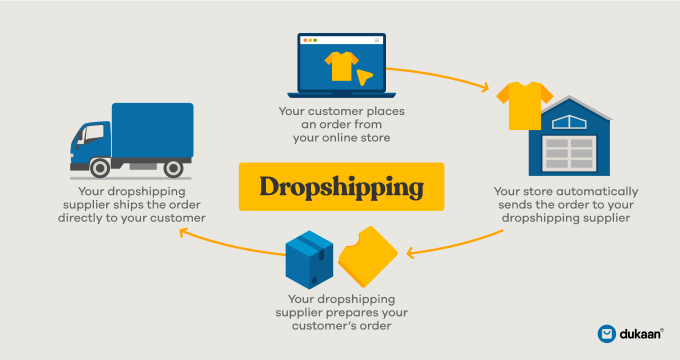 Now, you can spend your money on the best dropshipping books to absorb the wisdom from the successful dropshippers who have come before you. Or you can bookmark this free article.
It'll give you a blow-by-blow account of how you can start a dropshipping store even if you're a newbie entrepreneur.
Let's get to it!
Introduction: Why start dropshipping?
Google Trends shows the search term "how to start dropshipping business" is quite popular.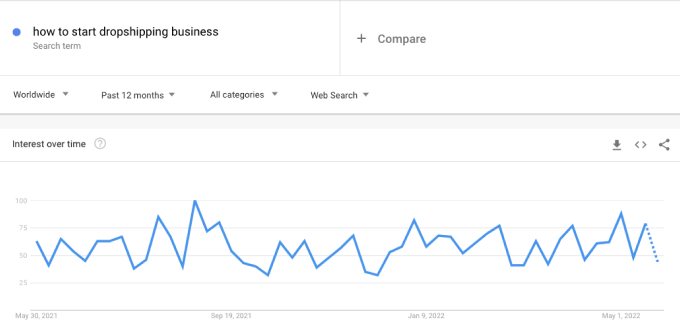 This means you're not the only one thinking of starting a dropshipping eCommerce business anytime soon. So why join the bandwagon?
Well, here are four reasons:
1. Lower startup and maintenance costs
Again, the dropshipping business model is easy to start. A realistic figure for starting a dropshipping business is a mere $288, which includes: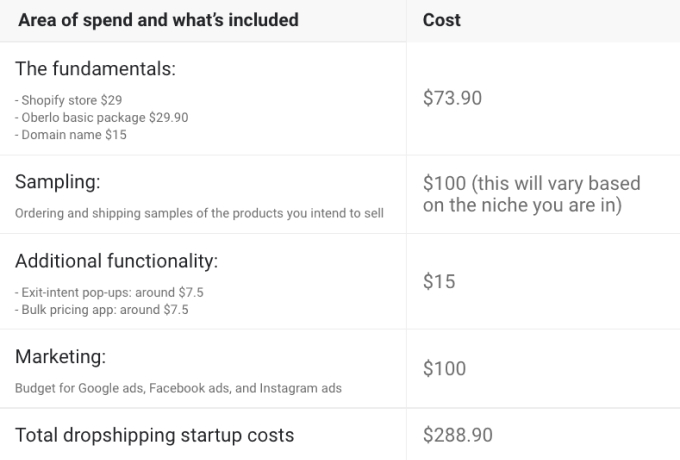 You won't be dipping too much into your finances to start.
And because you're drop shipping, you're not manufacturing products. You don't have to pay for packaging, storage, and warehousing. You can just set up a website, let's say on Magento, get managed Magento hosting, and start selling!
A low capital means you have a higher potential of having a profitable business.
2. Location-independence
Once you create your store on a platform like Dukaan, you can start selling immediately. If you have an Internet connection and a laptop, you can fulfill orders.
Also, the products don't have to be in the same country as you. As long as you have reliable suppliers, you're good.
3. Product flexibility
With dropshipping, you can sell whatever you want in your online store. And, you can easily change what you're selling when the markets crach or the demand change.
A successful dropshipping business can pivot with the times!
4. Low time commitment
When it's your first time setting up an eCommerce platform, it's going to take some time.
But once you've got your system down pat, you can relax and watch your profit margins grow steadily.
At most, you'll spend time dealing with customers that ran into logistics problems (which you'll need to settle with your supplier). That's why you'll have to vet your suppliers real good.
Is dropshipping right for your business?
Before you start, you have to ask yourself first if dropshipping is indeed right for you.
So… how do you know?
Dropshipping is ideal for:
First-time small business owners who can't afford to risk a great deal of startup capital
Entrepreneurs who want to sell a variety of products (if you can't niche down)
Traditional businesses who want to expand to new markets without investing in inventory
If you're an established business that already has a name and has known products, this might not be for you.
Why?
Due to the nature of dropshipping, you might have your products being sold with unrelated ones. This will only confuse your customers.
The pros and cons of dropshipping
Dropshipping is not all about fun, games, and counting your money. Let's take a look at the good and not-so-good things about it.
Pros of dropshipping
You don't need a lot of capital to begin and maintain your business.
Since you don't need to stash inventory, you'll avoid known issues like obsolete inventory and low inventory.
You'll be able to sell and test products with less risk. For example, you've heard of a product doing well for another drop shipper. You can immediately offer that same product to your customers — just update your eCommerce website with that item and you're good to go.
You don't have to think about storage, organization of items, tracking, labeling, and so on. Your suppliers will take care of all that. Your only job is to pass on the orders to them.
Cons of dropshipping
You can't expect higher profit margins right away. You'll make less because you're paying for each item you sell, instead of getting a wholesale price. If you want to make more money, you're going to have to sell… a lot.
Because you're reliant on suppliers, you might run into bad-fit and unreliable suppliers. So if they make a mistake, you'll end up dealing with angry customers.
You don't control product quality. That means if your suppliers' product quality drops, your brand takes the blame.
You'll deal with a lot of back-and-forths. If issues occur, you'll need to talk to your customer first, wait for your supplier to get back to you, then talk to your customer again. Playing middleman can be tedious.
If you're still solid in your resolve in making a dropshipping business model work, then read on.
How to start a dropshipping business in 2022
Every business needs a plan and a guide on how to start and how to run it effectively. The same goes for dropshipping business too.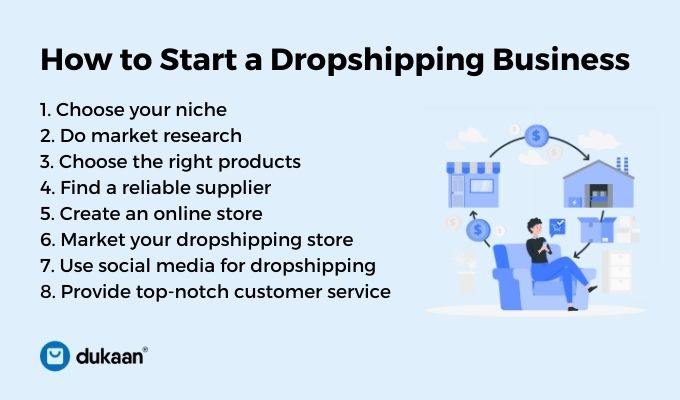 Below is an 8-step guide on how to start a dropshipping business from scratch.
1. Choose your niche
Typically, every business plan starts with finding your niche. Of course, there are general stores that sell a lot of random products.
However, when you are starting out, it is better if you narrow down your target market and focus all your efforts on gaining an upper hand there.
A lot of young entrepreneurs prefer the dropshipping model since the overhead costs are low and you do not need to handle inventory or shipping of the products.
That said, the competition is pretty high and unless you find your competitive edge; it is hard to survive in the market. If you are confused about what your niche is, this quick method can help you out.
Say you are planning to sell coffee makers using the dropshipping method, the first thing you do is to find the demand for coffee makers and there is no better source than Google to find this!
So, when we look at the search for the term 'coffee maker', Google comes back with almost 1.9 Billion search results. So the competition here is too high.

But when you narrow your search to say 'drip coffee maker', the search results are about 86 Million, which is a huge difference!

Narrow is further down to 'single cup drip coffee maker' and the search results reduces furthermore to 8 Million.

And there is your niche.
It will be easier for you to rank for this search term with the right marketing techniques.
Even if you choose to run a paid ad, the cost per click for this keyword will be lower compared to the term 'coffee maker'.
So that is basically the easiest way to find your niche based on demand and competition.
However, when you are closing in on your niche, ensure that it is not too narrow either.
Even if you are planning to sell a single drip coffee maker, try to offer at least 5-6 variations on your store. These variations may be based on the look or the price of the product.
As your business grows, you can add more products to your store that are still in theme with your main product.
Example: If you are selling a Single-cup drip coffee maker, you can add products like coffee mugs, travel mugs, coffee filter sheets, or even coffee beans, if you find the right supplier! ☕
2. Do market research
The entire dropshipping business model depends on your ability to find a product at a lower cost and sell it to your target market at a higher price so that you can make as much profit as possible.
Which, in theory, may seem like an easy task. However, if you are going to be selling a product at a marked-up price, you should also make sure that your target market is willing to pay that price for your product.
This requires you to do some market research at every step of finding your product and your target market.
Since eCommerce has made it easier for people to sell their products from anywhere to customers all over the world, you have a huge market for sure.
Your target market, however, is a narrower version of the market in its entirety, and this section should be filled with people who have a higher chance of buying your product.
Example: If you are dropshipping winter jackets, your target market should be people living in colder regions rather than people living in tropical regions! 🧥
Google Trends for winter jackets in Malaysia – show very irregular trends which cannot be banked upon.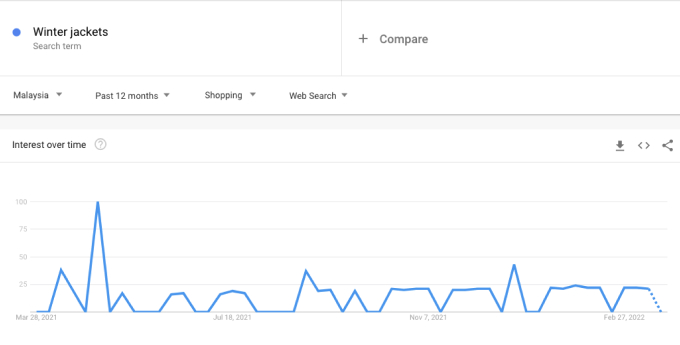 Google Trends for winter jackets in Canada – show a constant increase in trends, especially during the winter months (Sep-Dec).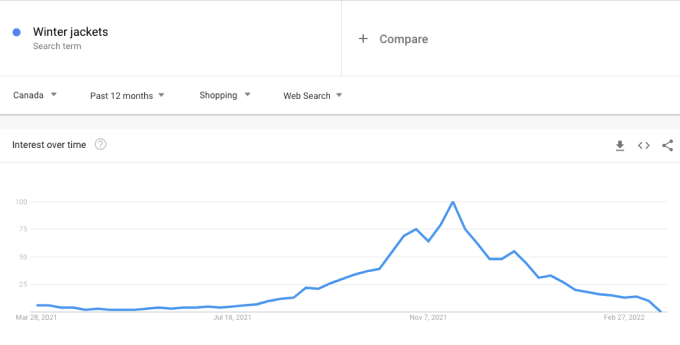 Google Trends can be of huge help in identifying the search trends for your product in your target location.
While you are starting a business, your market research should ideally start with identifying and studying your competitors.
Who are they targeting?
How are they getting in customers?
How do customers behave in their store?
What are their marketing strategies and much more.
With all this information, it will get easier for you to find your target market and your potential customers. Now, you have to do one better than your competitor and you are good to go.
3. Choose the right products
Good news: you can be flexible when starting a dropshipping business in terms of choosing which products to sell. However, you have to remember that not every product will sell and make you money. It's better if you start selling products people will buy.
You'll need to do market research for this. Let's take a look at some considerations before you start selling anything.
1. Find products that are trending
If you're not sure yet what to sell, why not check out trending items? That way, you can capitalize on them still being hot.
There are many ways to find trending items:
Get inspiration from the best dropshipping products to sell here.
Visit websites Kickstarter, Wish, AnswerthePublic, Trendhunter, and Google Trends. These websites can tell you, well, what inquiries or products are trending. Find ones that are suitable for your niche.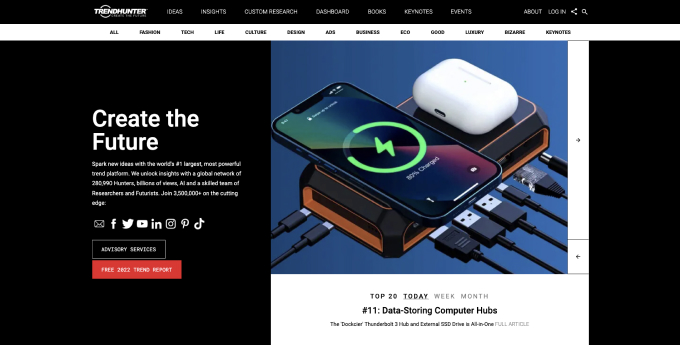 Research hashtags on Instagram, such as #viralproduct. We suggest you go to the Most Recent section. From the results, you can find ideas for your products. You do the same for other apps that use hashtags like Pinterest and Twitter.
Use Google. Type in queries like "Most interesting items in 2022", and you'll get plenty of answers. Go through the search results and you're likely to find some great products you can sell. Case in point:
Join online communities related to your niche. Discord, for example, has dedicated servers for gardening alone. So if that's your niche, that's a gold mine for product ideas.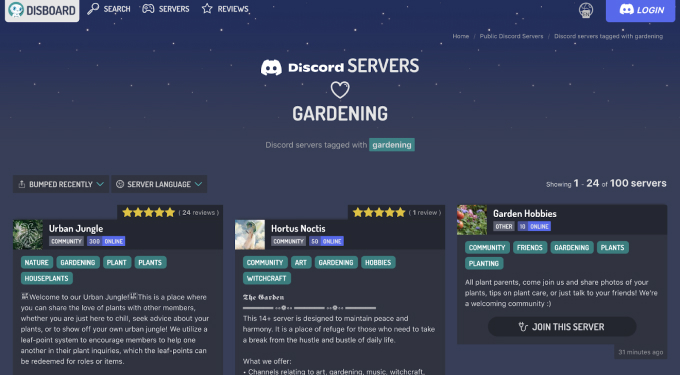 2. Sell a product that solves a problem
Let's say your niche involves people who cook a lot and also have plenty of kids underfoot. What do you think one of their problems can be?
Well, we say it's keeping their knives and other metallic utensils within easy reach, but not accessible enough for kids. So what's the solution? A magnetic bar like this: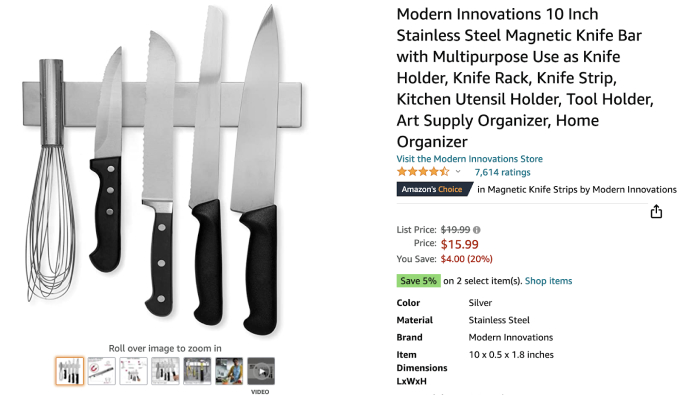 The bar keeps knives within reach. The magnetic property also allows for quick storing and retrieval.
In other words, your product doesn't have to solve A BIG problem. As long as it can solve A problem, it will sell. Make sure to find the pain points of your niche to find out what problems they have and what products you can sell as solutions.
3. What are your competitors selling?
Face it, the niche you thought of? You're not the only one selling to them. You have competitors for that niche.
So why not just check out what they're selling? Try to discover how your top competitors source and sell their products, as well as their pricing strategies. You can use competitor tracking tools to discover patterns faster, maybe you can even uncover new products they plan to sell and beat them to it.
Of course, in no way are we encouraging unethical marketing practices. Competitor research is more of just going to their online stores, checking out what they're selling, and deciding what you can sell as well based on their products.
Businesses do market research all the time. Why not you?
4. Use a product research tool
Simply put, a product research tool is a tool that helps you with finding winning products for your store with data sources from different marketplaces. It evaluates the sellability potential of different items based on order volumes, sales history, and other data.
There are many in the market like Sell The Trend, Niche Scraper, Split Dragon and Dropship Spy.
5. Make sure you have reliable suppliers of that product
The only time you can truly say that you have a winning product is if you have dependable suppliers. Even if you've decided on a product, if your suppliers are giving you the runaround regarding shipping times and availability, then it's a problem.
Don't worry about looking for good suppliers: read our list of best dropshipping suppliers here.
4. Find a reliable supplier
Now that you have a winning product in hand and a target market to sell it to, the next step is to find a reliable supplier.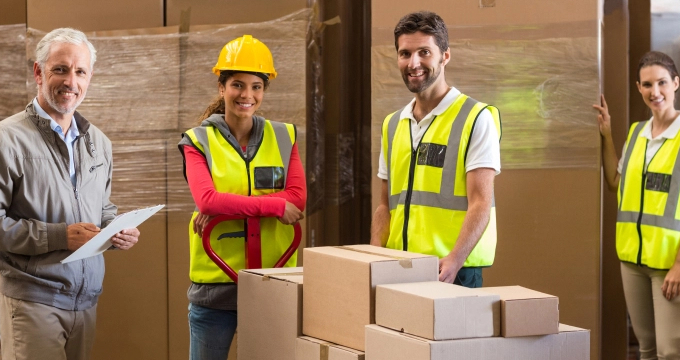 As mentioned above, Aliexpress is by far the most trusted supplier when it comes to dropshipping.
A lot of entrepreneurs run a profitable business by finding products on Aliexpress for a cheaper price and selling it through their online store at a higher price.
Another advantage of choosing Aliexpress as your supplier is that they are an established eCommerce company and have a potent customer service team in place.
In case of issues like the wrong shipment, damaged product delivery, return, or refund, it is easier to handle them through Aliexpress compared to other small-scale suppliers.
However, you can always go with a local vendor or supplier that can supply products at competitive prices so that you can dropship them with a profit margin.
This system might work great if you were selling local handicrafts and cultural items to customers in other countries.
Example: People from all over the world are crazy about Pashmina shawls, which is basically a trademark product of Kashmir. So, if you are looking to sell authentic pashmina shawls, finding a local supplier becomes a necessity.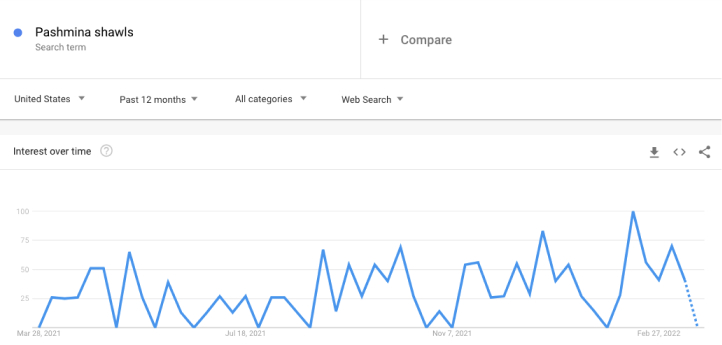 5. Create an online store
Creating an online store is a must if you are planning to start a dropshipping business.
Since you do not have a physical inventory of the products that you are planning to sell, it is impossible to have a brick-and-mortar store.
Dropshipping business runs entirely on the internet. So you understand the importance of having a professional and presentable online store for your business.
However, we are here to make it a lot easier for you to decide on the right platform. The biggest advantage of choosing a dropshipping business model is the low investment to start the business.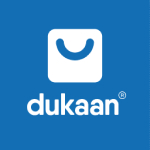 Launch, scale and manage your online business with just $14.99 on Dukaan. Annual plans start at $149.99 only.
Creating your online store on Dukaan is as easy as starting a WhatsApp group. You do not need any technical or coding skills. This Video can guide you through the process.
Once you have created your online store, you can start adding products to your online catalog and provide SEO-friendly product descriptions to help people discover your products more easily.
Make sure to give accurate information about the product as much as possible. Marketing basically starts with your product image and product description. So, learn to click better product photographs.
Once your store is all set, you can go ahead and spread the word about your store and start bringing in traffic to your store.
6. Market your dropshipping store
Any good dropshipping business plan involves plenty of marketing. Like we said earlier, you may have a dropshipping store running, but if no one knows it exists, you're not going to have any buyers!
Here are some ways that can help you get the word out about your store.
1. Build a high converting dropshipping website
A high converting website is attractively designed, has a clear message and value proposition, and has plenty of noticeable call-to-action buttons. These factors work together to make website visitors into paying customers.
Rookwood is one of the websites that can be considered a high converting one because if you browse through the site, you'll see it hitting all the mentioned elements for conversion.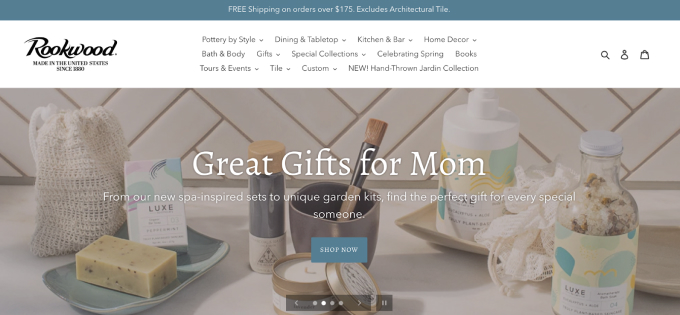 And if you invest in your website, make sure to invest in your product photography as well. You can't have an attractively designed website with poor-quality photos, right?
While we're still on the topic of a website, don't forget to also invest in search engine optimization or SEO marketing.
What you want is for your website to be on the first page (or even better, the first result) when buyers do a Google search for the items you sell.
And when you do that, that gives people more reasons to stay and explore your site further. That can eventually lead them to buy!
SEO marketing might not be the fastest way to get potential customers, but it's a good long-term investment.
To summarize, an attractive website gives people a reason to visit. Giving them information that's relevant to them via blogs makes them stay.
2. Do email marketing
Studies show that the average website conversion rate of eCommerce websites or online stores is 2.86%.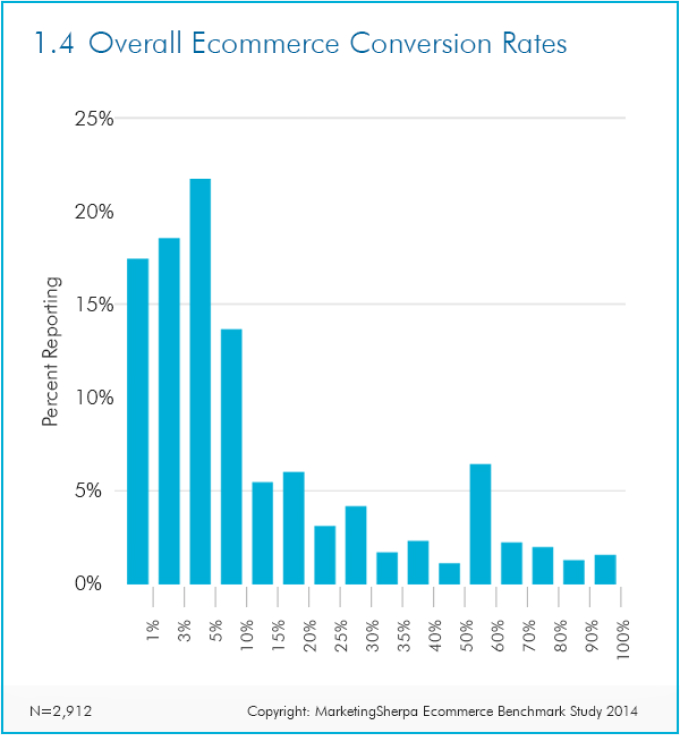 That means the first visit of potential customers won't immediately mean that people will buy. They might find your content interesting too, but again, won't buy immediately.
So when you've worked on getting visitors to your website, you don't want to lose touch with them when they're done browsing your website. That's where the power of email marketing comes in.
How do you get their email addresses, though? Invite them to sign up for a newsletter in exchange for a discount. See Whyte Moka Hair's method as an example: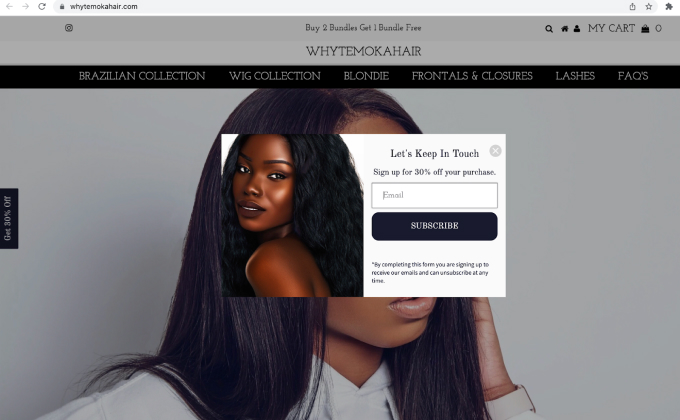 If a customer was interested in wigs, why wouldn't they sign up and get a huge discount for the products, right? Plus, when you have their email address, you can keep reminding them of your products and update them on your offers.
Not only will you have a way of contacting your customers, but you'll also be able to convert them as well eventually.
3. Choose what social media platform you should use for marketing
Plenty of marketing strategies out there that will always say use social media. (Hey, we did that too in an earlier part of this article.) But just because there's plenty to use, and a lot of them are free, doesn't mean you should use them all.
It is best to focus on one or two platforms where your market hangs out. For example, if you're selling clothes, it's fine to cultivate an audience on Facebook or Instagram. But if you're dropshipping furniture or arts and crafts, it might be better to devote more time to Pinterest.
Also, consider which social media platform you're very familiar with. Time is of the essence, after all, and having to take time to learn a new app takes time away from you selling and marketing. Plus, constant updates to all platforms means more studying and less time for other parts of your business.
Find out which platform will help you achieve your goals the best – which ones will help you get more sales and help build trust between you and your customers.
4. Join online communities that would be interested in your products
‍Have you heard of the saying, "Fish where the fish are"?
It only makes sense for you to hang out in places where your audience hangs out. And in the online world, it means finding communities with the same interests. For example, Reddit has a community that is specifically dedicated to embroidery.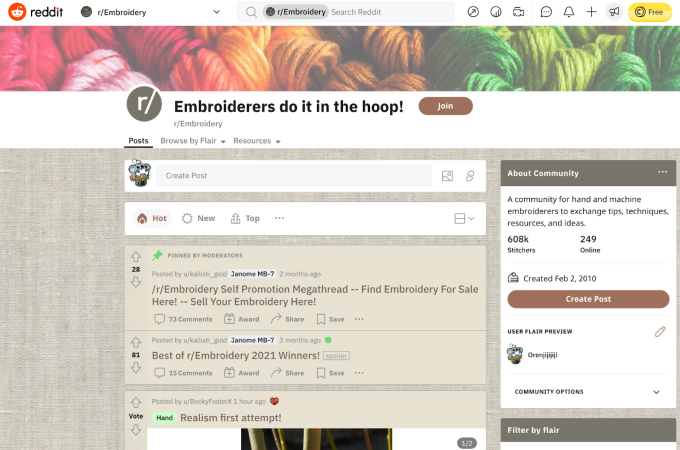 So if your products are embroidery products, wouldn't it make sense for you to look for potential clients here?
And it's not just Reddit. There are Facebook groups, Discord communities, forums like Quora, and so on.
Get involved and become trusted for information and suggestions. Trust us, it will be worth your time to be a frequent contributor. Nurture relationships, find out what they need, and eventually, you will gain new clients.
5. Start YouTube marketing
Did you know that 90% of people make purchase decisions based on embedded videos? It's also been found that videos can increase user engagement and even makes people stop scrolling past products!
So if your products can be demonstrated on video, why not make videos? And it doesn't even have to be professionally made. For example, Naturally Nanyamka sourced a video from one of its reviewers and placed it on their official YouTube channel.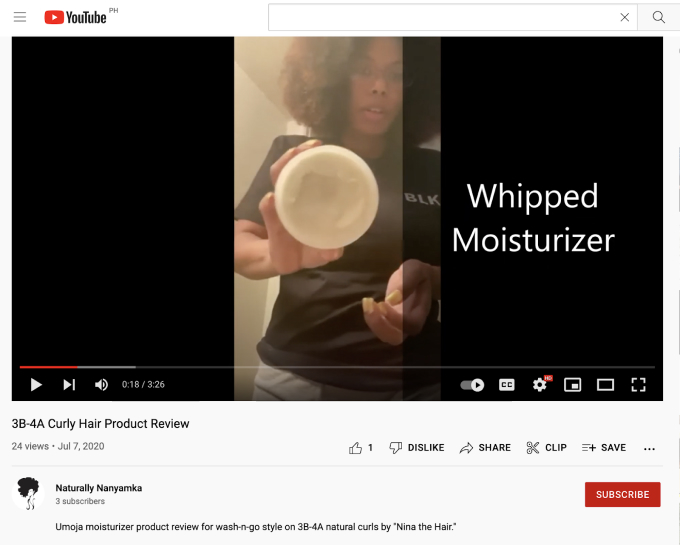 Videos can give people a better sense of what you're selling and how to use it. That makes people trust you more and want to buy what you're selling.
Plus, what you can do is what Naturally Nanyamka did, ask YouTubers to review your products. Since these YouTubers are trusted by their audience, their confidence in your product will be doubled. For added incentive for these video creators, promise them an affiliate fee every time someone buys because of their product review.
Make sure to study the YouTube marketing trends that work to have a fully effective YouTube strategy.
6. Invest in advertising‍ your store
The above tactics are all that are called organic marketing. You're generating traffic to your business over time. but this is a very slow method.
If you want faster marketing results, you'll have to use Facebook, Instagram, or Google ads. They help get the eye on your products immediately. Take this Google ad example: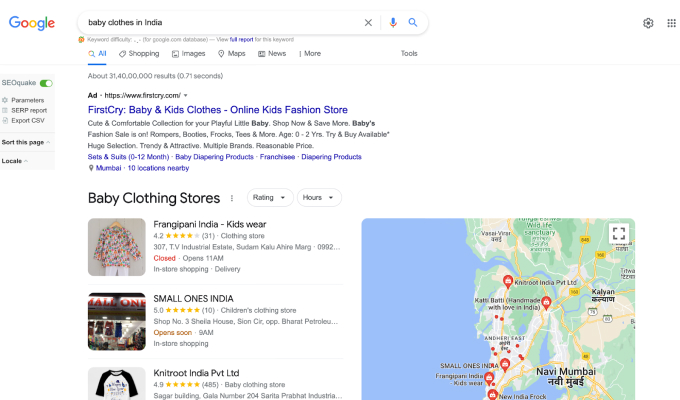 Ads allow your website to be at number one immediately. Who wouldn't want that, right?
Same for Facebook ads.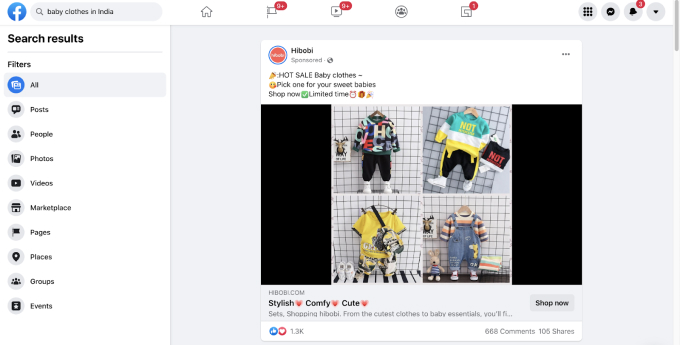 Plus, Facebook and Google also offer retargeting, meaning you can remind potential customers about your products long after they've left your website.
Of course, just because you've run an ad doesn't mean you're just going to leave it alone. It's not a guarantee that it will work. You have to test and tweak your ads, as well as run multiple ads to see which ones work the best.
It's better to study how to get sales via Google ads or via Facebook ads to make sure that you have a good conversion rate, and that you're not wasting money on ads.
We always say how you can promote your store via social media.
Here are 5 popular social media platforms. Let's take a look at how you can use each one.
1. Facebook
Facebook is a good place to start as it has 2.93 billion monthly active users.
Create a Facebook page so that people can find you there. You can post more about your products and services so your followers can keep updated with your latest item.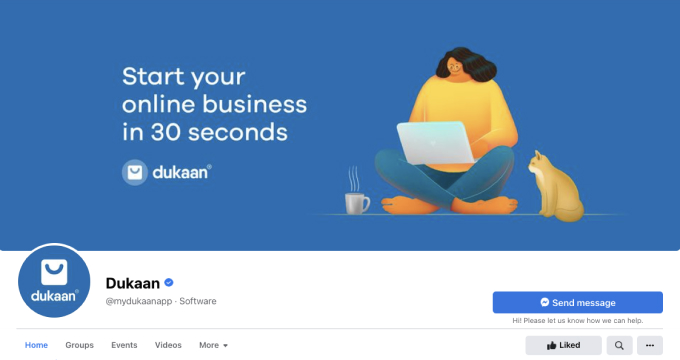 You can also make a Facebook group exclusive for your customers so they can directly connect with you. Share exclusive deals or insider info for your new products so they feel special.
Finally, you can use the Facebook Ads Manager to run ads to increase your reach.
2. Instagram
Instagram has around 1.386 billion users, making it the 4th most used social media platform worldwide.
Instagram is a highly visual platform, letting you post photos, stories, and videos or reels for your eCommerce store. It's best used if your products in your dropshipping business are visually appealing or luxurious items like clothes or jewelry. Take @shopvalley.in for example.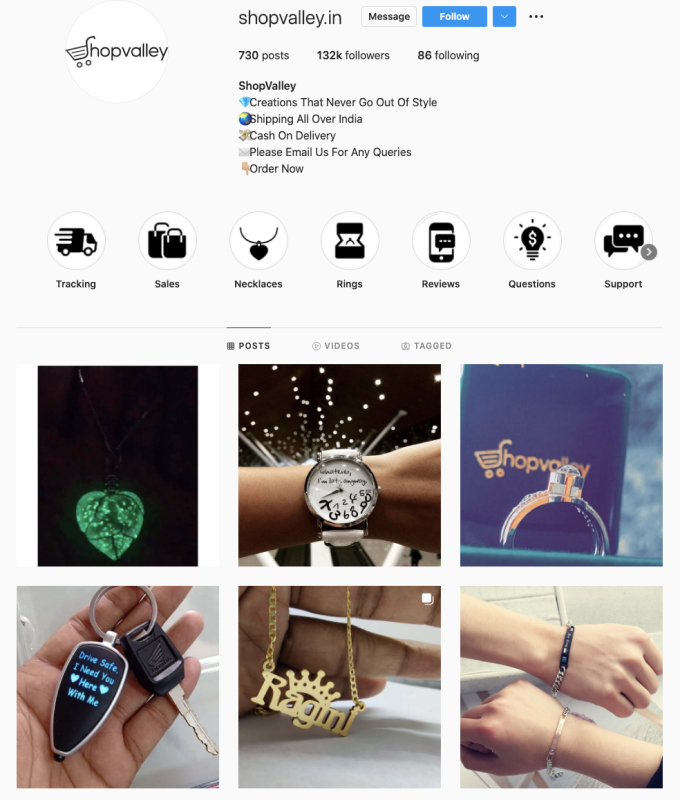 And while there are many ways to sell on Instagram such as using hashtags, the most well-known aspect is working with Instagram influencers. Work with them to drive even more traffic to your Instagram page, and increase trust in your brand.
3. Pinterest
Just like Instagram, Pinterest is a visual platform.
Users go through it for inspiration for clothes, jewelry, furniture, and even food. And that means if your visuals can attract their attention, they'll be clicking on your account to see more.
Let's say your customer is searching for "streetwear inspiration", and this particular photo grabs their attention.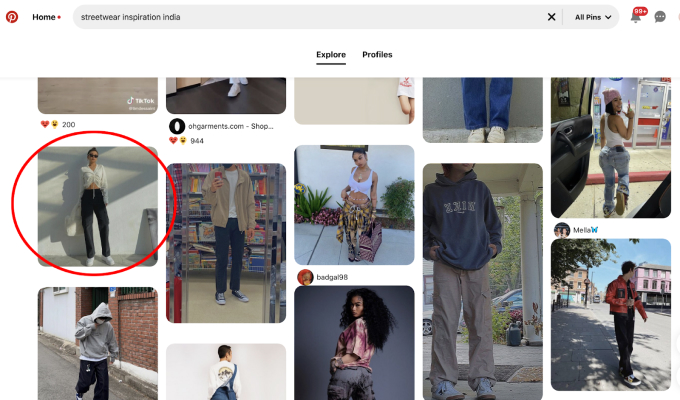 Your customer will then click on it, and they'll be taken to this: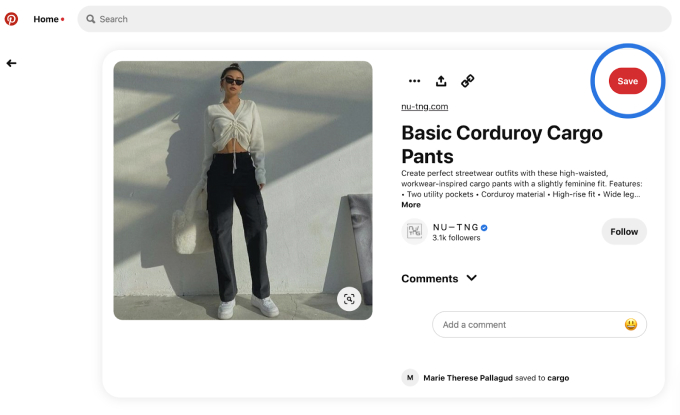 You'll see the owner of the photo, NU-TNG. If the user wants to get their hands on the clothes or if they just want to see a bigger photo, they'll go to your website to buy. Or see what other styles you have.
You practically led them to your online store, all by creating a nice-looking image.
Of course, this is only one aspect of Pinterest marketing. You can also create videos and run ads on this platform.
Finally, it is worth noting that Pinterest users are 77% women, so if you are after the female market, Pinterest is worth pursuing.
4. YouTube
YouTube has certainly evolved. Before, it was just a video-based website where people uploaded videos of themselves for fun. Now, it's a place people visit for both entertainment and for serious learning.
YouTube has 122+ million active users daily. And hey, video marketing is increasingly becoming part of the marketing plans of big companies, so there's no reason why you shouldn't get in on it as well.
The best videos to make are product videos that show how your products are enjoyed. If you can address customer concerns and entertain them through those videos, that would be great too.
For example, our YouTube channel talks about things like digital marketing or how to sell online. It's centered on helping them and not on selling our platform.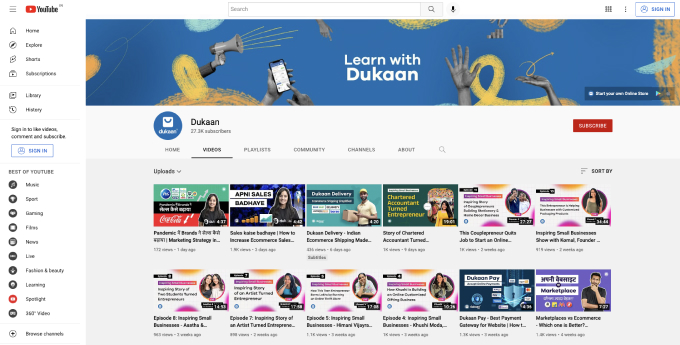 Make sure to end videos with a call-to-action to make people visit your store.
5. Twitter
Microblogging site Twitter has a lot of traction too. It's a busy place where entrepreneurs make money too.
That's because 53% of people on Twitter are more likely to be the first to buy new products!
Also, most Twitter users are those with above-average income, and plenty of users are not based in the US alone. That just means another opportunity for you to get your products out all over the world.
Just in case you were wondering, we believe in the power of Twitter too. That's why we have an account.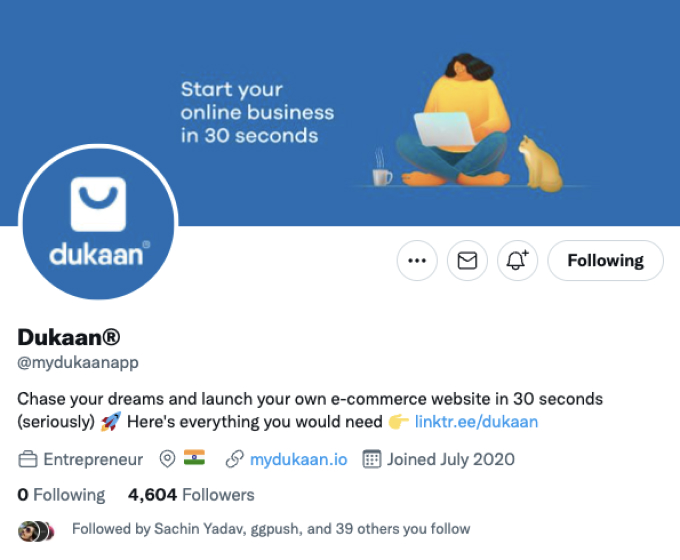 While you can easily launch a Twitter ad to start, you can also just as easily do organic marketing on Twitter if you don't have the budget for it.
There are many ways to get traffic to your store via Twitter, but start with these:
Have a well-thought-of bio with a link to your main eCommerce site
Have good or even professional-grade visuals which should include in your Tweets
Include product links
Use hashtags to be discovered
Tweet valuable and entertaining information
Retweeting others' Tweets that are still relevant to you and your users
Pin the most important Tweet
Follow potential customers so that they see who you are and check out your profile
Whatever social media platform you plan to use, you can drive organic traffic to your store and generate sales. And when you build an engaged and loyal audience, you'll get amazing word-of-mouth marketing, as long as you deliver good products and service, of course.
8. Provide top-notch customer service
One of the biggest drawbacks of using the dropshipping business model is the longer shipping and delivery time. In the current eCommerce market where orders are being delivered in a day, this could be a huge problem.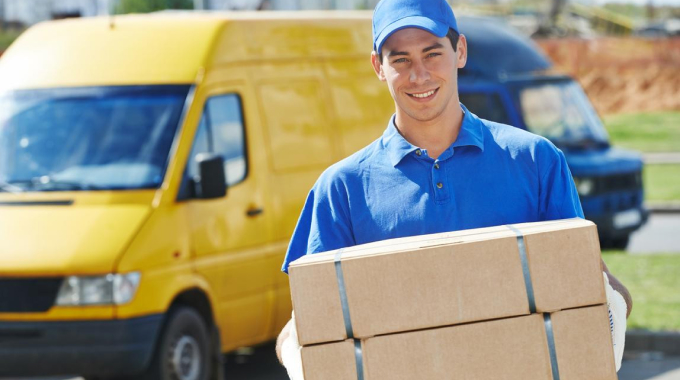 However, if there is a way to make up for this drawback, it is to provide top-notch customer service.
In any kind of business, the customer is the king and you need to make sure that they feel like royalty. This applies more so in the dropshipping business model than any other!
Providing good customer service may involve:
Answering ‌questions or queries
Providing tracking details
Providing regular updates about the shipment
Make sure the order is received by the customer
Ask them to share their reviews
Handle after-sale queries as well
In case of an incorrect or damaged product delivered, which can be quite common when you are not involved in the packing or shipping process, handle the return and refund professionally.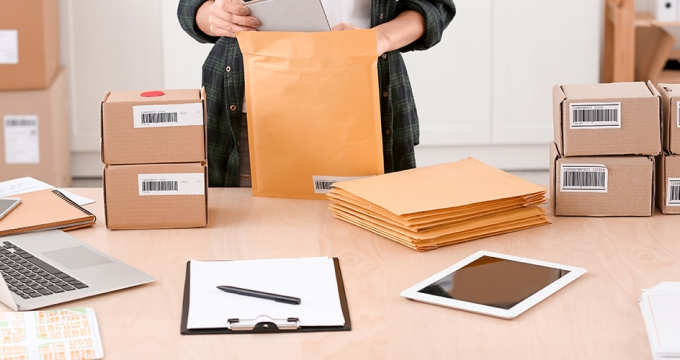 Dropshipping makes running a business easier and hands-free, however, you should never overlook the fact that it is still your business. You can grow and scale your business up, building an entire brand out of it.
If that is your business goal, then taking responsibility for the orders and keeping your customers happy will take you a long way.
So those are the 8 simple steps to start a dropshipping business and manage it like a pro.
Conclusion
So, now that you know all about dropshipping and how to start your own dropshipping business, what is keeping you waiting?
If you think you have a passion for business and an entrepreneurial drive, starting a dropshipping business could be the easiest way to put it to the test.
In less than 100 dollars, you can set up your online store on Dukaan and get started with your business.
FAQs about dropshipping
What does dropshipping mean?
Dropshipping is a business model where you run a store without actual physical products. As soon as you've made a sale, your supplier will send the item straight to your customer. You won't have to worry about storing, packaging, and shipping.
How can I start a dropshipping business?
You first need to decide on what products to sell. After that, you look for potential suppliers of those products. Once you've made a deal with the vetted ones, you can start making your online store. Finally, list your items on the site, then start marketing your shop to get customers.
Can I make money with dropshipping?
Dropshipping can be profitable, as long as you work on it. Since you don't have to worry about inventory, you have extra money for other stuff like marketing. As long as you keep your profit margins in check, you can make money.
Do I need to purchase and stockpile products?
No, you do not. The only time you have to buy anything is when you get customer orders.
Do I need to register this as a business?
Yes, especially when you're making sales. If you're looking to get paid online, most providers will ask for your business registration anyway, so register your business for peace of mind.
How much money do I need to start dropshipping?
Not much. All you need to spend money on is your dropshipping platform and marketing.
Should I go for a market niche or should sell general items?
For beginners, sell something niched first. This way, you won't fully jump into the pool of dropshipping, but you'll get enough experience. When you niche down, you'll also have less competition.
Should I put up many products at once?
Since it's going to be your first time, try uploading flagship products first. Maybe start with 10 to easily spot which sell and which don't. You can then replace low-selling items with new ones.
Can I use my supplier's product pictures?
Ask your supplier to be sure. However, your suppliers sell to other vendors like you, so to stand out, take your own photos.
How can I make sure I get sales?
There are plenty of ways to get sales. You can use social media platforms like Facebook, Twitter, and Instagram to drive people to your store once it is set up. You can also try influencer marketing, or run Facebook ads or Google ads.
As long as you're constantly putting in the effort to drive the right traffic to your store, sales will occur.
What if my supplier ships the item late to my customers?
If you were able to manage your customers' expectations about shipping times, then they probably won't react. If you were not able to, however, expect some annoyed and angry customers. The best way to go about this is just to underpromise and overdeliver.
Can I sell my products everywhere I want to?
Sure, if you want to. That's the beauty of dropshipping. But since it's your first time, we recommend that you focus on 1 to 2 countries. It'll be easier to project your costs, design a good marketing plan, and build a loyal following.