Are you an aspiring dropshipper? Hello there. In this article, we'll give you ample information on how to start your dropshipping business in 2021.
P.S. Guess what? We didn't waste any time getting started. You got one of your first lessons already.
Don't give any room for a visitor/customer to bounce; especially due to a poor website.
Probably why you shouldn't waste any time in setting up your online store with popular platforms, such as Dukaan.
I'm sure you must have already researched what dropshipping is. Nevertheless, let me give you a small overview.
What is Dropshipping?
Dropshipping is a retail strategy where an e-commerce store owner has no inventory of products, instead, they ship it on demand from a supplier/wholesaler. The product reaches the customer directly from the wholesaler and the order is complete!
For any entrepreneur who's setting out, it's always a safe option to start with dropshipping strategy.
With that said, we've interacted with many business owners who felt pretty much like this gentleman when they wished to start dropshipping.
Ouch!
We solemnly swear this guide will serve you well to understand How to Start a DropShipping Business in India.
How to Start Dropshipping Business in India
You already learned one of the initial steps of starting dropshipping- setting up an online store.
There are cost-effective platforms that value your dream over their profit- pick one such and set it up in minutes.
Although you can start dropshipping without an online store as well, the returns you get out of it wouldn't be impressive. Moreover, your store is the way for people to find you, learn about your brand, and showcase your credibility.
Let's move on.
1: Let your Business Idea Float
When you look at some of the most successful dropshippers, one pattern is clear. They don't spend time dealing with mainstream products.
They dig the borewell of niche products in certain categories and thwarts competition.
Kiai-yah!
Apologies, my inner Bruce Lee sprung into action.
Let's take some examples. A dog pool for pet lovers, wooden cutlery, eco-friendly grocery bags, beeswax wrap instead of plastic cling wraps, phone covers for specific models of phones.
Dropshipping will give you the flexibility to test how these products sell and based on the performance you can always change and choose a new product. No hoarding up one kind of product that never sells and losing money over it.
Bonus: In addition, you can make use of Google Trends to grab what's trending, browse through Amazon's best-selling products, and even keep a watch for 'People Also Ask' sections in Google search results pages.
2: Know Your Suppliers/Wholesalers
Your store is ready. You have an idea about the products you can test and sell.
The next obvious step is to find suppliers who can give you these products at a profitable rate and have a credible & reliable background.
You can go about finding your suppliers in two ways:
Directly reach out to them
Make use of a platform to connect with them
A simple Google search will help you find suppliers/wholesalers who handle a certain niche of products. For instance, we came across Printrove who specializes in women's clothing, men's clothing, hoodies, pop grips, phone cases, notebooks, etc.
While looking out for wholesalers through platforms, you can check out DropnShop, AliExpress, Megagoods, etc.
In both cases, we'd like to stress the fact that you have to cherry-pick suppliers. Any faulty product, and you'll be the one answerable to customers. Moreover, if your suppliers are into some shady stuff, you could get pulled into the puddle too! Let's not add unwanted risks to your business.
3: Fix the Financials
We've covered this section in our beginner's guide to dropshipping. However, since this is a crucial part of starting, we're enunciating it again here with fewer words.
Pick a business model by registering your dropshipping business as a sole proprietorship, LLC, or S Corp. Don't be stingy to take legal advice from a layer for this purpose. Have an accountant on standby mode to sort Licenses, taxes, and registrations such as Taxpayer Identification Number (TIN) & Employer Identification Number (EIN).
4: Spread the Word
Don't be shy! Market your online store like crazy. I don't have to repeat by saying how important it is for people to find you. If you're looking to open a clothing store, Instagram could be a great place.
On platforms such as Dukaan, customers can place orders through WhatsApp on your store. E-commerce is literally at a customer's fingertips. Use it well!
You can make use of Google Ads, IG Ads, or Facebook ads to give that initial push for traction. Influencer marketing is getting a lot of attention as well. However, this amount will add to your overall costs and you can decide what amount you'd like to cheque in.
Bonus: Invest in SEO or search engine optimization. I cannot stress this enough, call it a bias even. Your ads sustain as long as your pour in.
However, SEO is slow at first but will give you results for a lifetime. For this matter, you can even hire a marketing consultant or use platforms such as Rankz for this very purpose.
5: Maintain an active social presence
It's not the time to be invisible. A customer can look you up before purchasing to know you are legit. Use social presence as a part of brand building, customer service & support, and for making sales/offer announcements. All of this is free of cost and will help you tremendously!
How Much Money Should I Invest?
Let's extrapolate the 4 steps discussed above to understand the kind of money we're looking at to invest.
Setting up an Online Store
For setting up an online store, you can either use platforms such as Shopify or Amazon or set up your own store.
However, the cost of purchasing a Shopify plan, a custom domain for your business will come around to…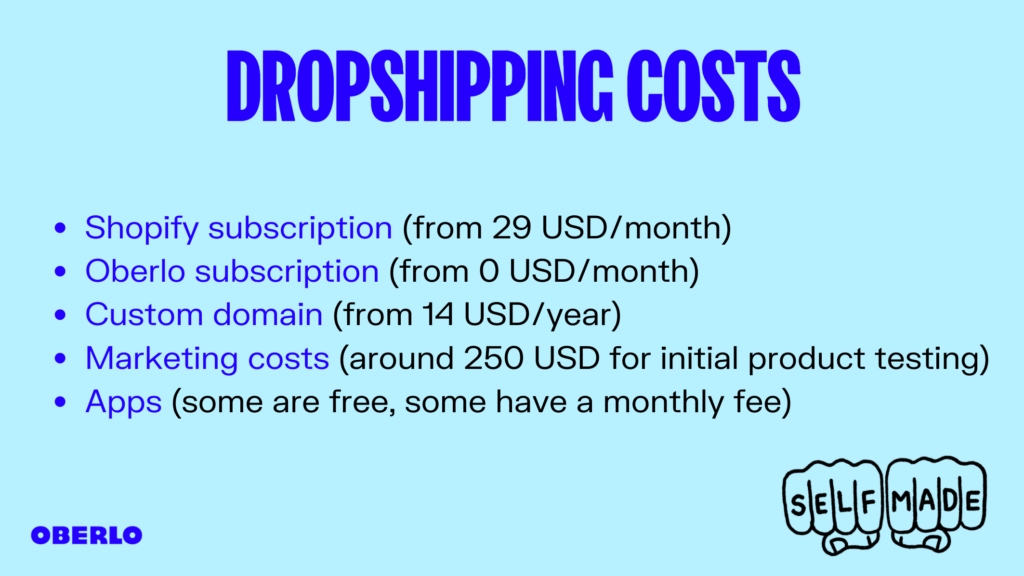 Source: Oberlo
i.e., Rs 5,379.39. 😬
However, setting up a store on Dukaan is totally free, and if you decide to go premium, you only need Rs.5,000 yearly and the best part is, you needn't go hunting around domain name providers and pay a hefty sum.
Dukaan comes with a custom domain feature to white-label your online store.
Striking a deal with Suppliers
If you're reaching out to suppliers via platforms, you may have to pay for their recurring subscriptions. In the alternative case, you can strike a deal with suppliers and come at a mutually agreeable amount.
Do note that since wholesalers ship the products to customers, they will include this along with the price.
The total cost of production and shipping will depend on the niche you pick. But broadly, the statistics show that performing dropshipping products will have a price range between $20-$200 ie., at most 14,000.
Marketing budgets
Running ads across different channels is again your choice. However, you can start off by keeping a budget under Rs 2000 and see how it fares. On the other hand, if you're planning to invest in SEO, you may require a consultant, especially in the beginning. If you're investing in email marketing, you may have to get a platform such as Moosend, to automate emails and share them with your customers alerting them about flash sales and new offers.
Customer service investments
We'd like to call this an investment rather than a cost. One of the primary reasons why a customer drops a brand is the poor experience they receive. For instance, it would be a good choice to have a support chat or widget in your website addressing commonly asked questions and reaching out to any questions a customer has. This shows your accountability and will build trust since a customer will know you are just a chat away if something goes wrong. Literally. These tools can come free of cost too, Tawk.to for example.
Overhead expenses
These expenses could be related to legal aid, accounting assistance, getting licenses, registrations, and paying taxes.
Is Dropshipping Profitable In India?
This question must have crossed your mind a million times while debating using dropshipping. We know.
It would be unfair to say the amount depends on you and then skip to the next sections. Let's try to pick a scenario and work out some math.
In India, the profit margin seen for drop shippers could be as low as 10% or as high as 40%. Let's take a mean amount of 25%. Let product A cost Rs 500, after all the inclusive amounts such as shipping.
If you sell 20 such products on a single day then,
Products sold = 20
Sale= Rs 20*500= Rs 10,000
Profit= 25% of 10,000= 2500
Profit in a month= 75000
The variables will vary greatly based on the market condition, the products you sell, and the number of customers who make a purchase. Therefore, it is important to make your customers happy and to offer them a great experience. Experiment with your product offerings and drop the non-performing ones.
How to Manage Shipping Costs
Let's address the elephant in the room- shipping charges. This can be taken care of by the supplier when they directly send the product to a customer, or they can pass on this to you. Let's take a look at the second scenario.
When you start off, Free Shipping may work to get initial traction. However, this will burn a lot of money in the long run. Some of the commonly used methods to incorporate shipping charges are these.
Including it along with MRP – 
Many dropshippers add the shipping charge along with the final price of the product. In one way, it gives a sense of relief for customers as they think there are no shipping fees involved. On the other hand, the price of your product may be higher compared to competitor products due to the same reason.
Adding it separately – 
Based on the location of the user, you can add a shipping charge. However, it's best to standardize the amount to prevent cart abandonment issues.
Variable shipping – 
Yet another method is to charge a higher shipping charge for best-selling items and to charge a lesser amount for the others. Consequently, you can boost the sales of the slow-moving items and break even when it comes to shipping costs at the same time.
Can You Lose Money With Dropshipping?
Absolutely.
While dropshipping may look like a no-risk model, it's just a lower-risk model, to be honest. There are many parameters to think about that could possibly incur losses for your dropshipping business.
Refunds & Returns – 
When customers demand a refund, the hassle associated with picking it up and then processing the fee isn't exactly peachy. You could lose your profit margin, or worse, incur losses. At times, if the package is not picked up, you'll end up giving away a product for free.
Transaction Disputes – 
Happens when a customer calls up a bank and disputes the transaction made to you. Possibly could be because they never received the product due to shipping issues or customers holdups, or simply because they want to scam you. Running behind this is super hard and will drain you of a lot of time and worse, money too.
No profit margin – 
The obvious loss you know about. When the cost doesn't add up to bring profit in any way.
Platforms could shut you down – 
There have been instances where e-commerce platforms have shut down the accounts of dropshippers and in the process held on to the last transaction into the account. Many dropshippers have lost their money in this process.
Supplier Scam – 
Bad quality of products, misleading/fake products, shipping discrepancy, the list goes on when it's about shady suppliers. Don't believe me? Let's meet some customers who regretted their online purchases.
Beauty has no respect now? Got to give her kudos for perseverance. Even though her head is bright, I doubt if the future of that dropshipper is.
Oh, wow! So this is the much-hyped 50 Shades of Grey! I'm at a loss for words.
Digital Danish on how shopping behavior has changed post-pandemic?
Pandemic has changed the way we looked at the world. This change has been seen in consumer's behavior too. 60% of people have shifted their base from local to online shopping.

First-time consumers for digital shopping have increased to 50% since July 2020. 30% of people have also started shopping from local brands and businesses to support their community.

A boom in health and hygiene products has been seen. The buying behavior has shifted to more essential buying and product stock-up. The consumer is becoming cautious of their spending. The consumer today has become a more disciplined buyer than before.

– Digital Danish – Dropshipping Expert, India
Who is the Richest Dropshipper?
According to CrazyLister, the #1 dropshipper is Irwin Dominguez who made $1Million within one year.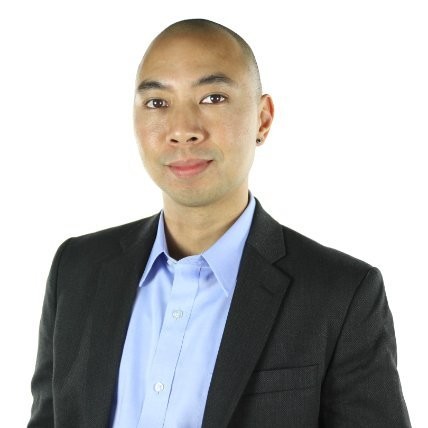 His tips for aspiring dropshippers include:
Before dealing in large quantities of products, validate your product idea by making a few sales before jumping in headfirst.
Be prepared when the floodgates open! Once you find a super popular product, make sure you have a mechanism in place to deal with the demand.
His first sale came from Facebook ads 3 days after launch. His only wish is that he had started the process sooner.
Dropshipping vs Affiliate Marketing: Which One Is More Profitable?
In affiliate marketing, you make a commission out of every sale that happens through you. In most cases, this percentage is not a high number. Definitely not comparable to the average profit margins of dropshipping.
The per-day sale or number of products you need to churn out is high. Moreover, affiliate marketing requires you to invest in form of marketing assets and full disclosure while interacting with customers.
When you think of it, the efforts could be much more compared to the returns you get for affiliate marketing.
And, with that, we're wrapping this blog. We hope you got a complete picture of dropshipping, and not just the dreamy version that promises unicorns and rainbows.
Run test, give trials, and it's sure to pan out in your favor. We'd love to be a part of that journey with you!