SamCart is hailed as an excellent tool for digital marketers looking to maximize profits, but its limitations are driving people away from the platform. If you are among the people looking for SamCart alternatives, read on to discover 9 worthy options.
Don't have time to read an entire article? Take a look at our quick recommendation.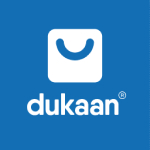 Launch, scale and manage your online business with just $14.99 on Dukaan. Annual plans start at $149.99 only.
SamCart has a bunch of amazing features like one-click upsell, single-page checkout, etc., but they do not make up for the issues associated with the platform's functioning.
A lot of sellers have migrated to SamCart alternatives citing poor customer response, high subscription rates, and unstable platform functioning. Surely, running and scaling an eCommerce business is not easy over an unreliable platform.
Let's take a closer look at what is driving people away from SamCart.
3 Reasons Why You Should Look For SamCart Alternatives
Here are the major reasons why sellers are exiting the platform for better alternatives in masses:
1. SamCart's unresponsive and poor customer service.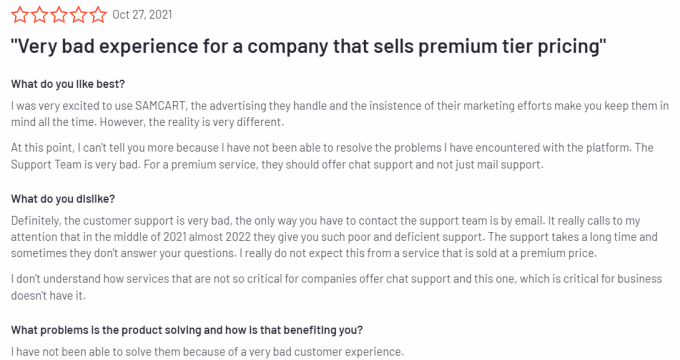 By far, customer support is the biggest downside of the platform. Sellers constantly complain about SamCart's finicky customer support.
Imagine how unnerving it would be to run your business on a platform where it is always uncertain if you will get any resolution for your problems. No wonder sellers are seeking out other SamCart alternatives.
2. SamCart keeps charging subscription fees.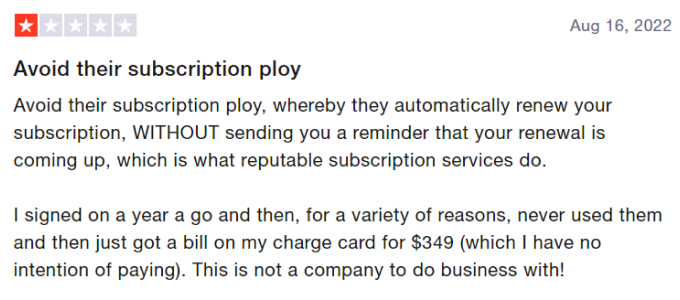 It is not justified on any level that SamCart continues to charge sellers fees even after they have terminated or abandoned their accounts.
Sellers feel cheated that the platform keeps charging money inconspicuously without any prior information or reminder.
3. SamCart offers mediocre functionality for a high price.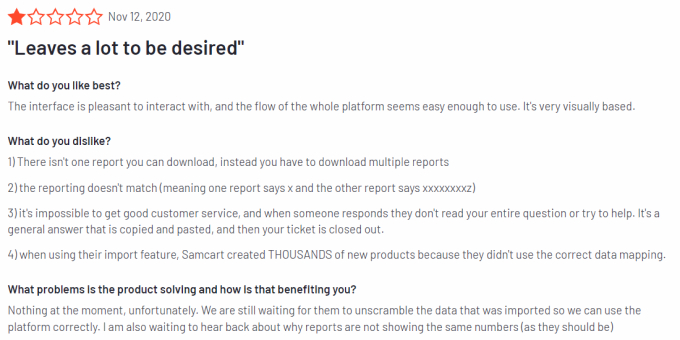 The biggest reason why sellers are leaving SamCart is how unreliable the platform has been in problem resolution. SamCart is notorious for being unpredictable and inconsistent.
No seller will stay with a platform if they are facing massive problems with something as ordinary as importing products onto it.
Best SamCart Alternatives to Try in 2022
Without further ado, here are the best alternatives to SamCart in 2022.
Best for B2C and D2C businesses of all scales
Paid plans start at $14.99/month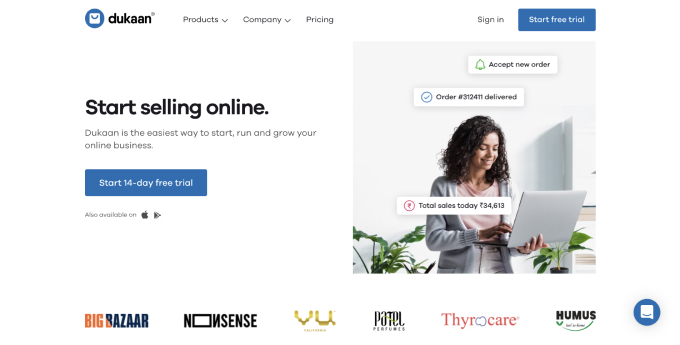 If you are looking for an eCommerce platform that aids you in converting sales with the added functionality and convenience of a dedicated eCommerce platform, Dukaan is the perfect platform for you.
How does Dukaan compare with SamCart?
| Features | Dukaan | SamCart |
| --- | --- | --- |
| Customer support | 24/7 customer support available. | Poor customer support. |
| Pricing plans | Pricing plans are very economical. Basic subscription starts at $11.99/ month. | Very expensive pricing plans. Basic subscription starts from $59/ month. |
| Features | Contains all essential and advanced eCommerce functionalities. | Is a shopping cart software. Only basic eCommerce functionalities available. |
| Value for money | Basic eCommerce features available in all plans. | All essential eCommerce features are only available in the highest plan. |
| Abandoned cart recovery | Available in all plans. | Available only in the highest plan. |
| Payment methods | Integrates seamlessly with multiple payment gayments. Flexible payment option also available. | Supports few payment integration methods. |
| Customization | Complete store customization is possible. | Very limited customization possible. |
| Scalability | Best for scaling businesses. | Not suited for small businesses. |
Features
One of the best SamCart alternatives, Dukaan has all the features needed to optimize sales and manage customers.
Dukaan contains a plethora of powerful eCommerce features like abandoned cart recovery, RTO optimizer, auto sales tax calculator, multiple payment gateway integrations, flexible payments, wishlist feature, etc.
You also get advanced analytics and marketing tools to manage your customers and track the growth of your business seamlessly. The platform also has an integrated blog section.
Coming to its upselling capabilities, you can add product descriptions and videos to pages, customize your order form, create discount coupons, quickly search for products, and set limits to the shopping cart. These unique features set Dukaan apart from all the other platforms mentioned in the article.
Design
The platform comes with pre-built themes and a design library. Their themes are all optimized for speed and are fully mobile-responsive.
The themes can be customized with one click. You can alter the theme's font, color, and style. For those with coding knowledge, there's also a provision for adding CSS to your storefront.
You also get a vast library of marketing resources like marketing promotional banners, store banners, business cards, social media templates, etc. which can be altered to suit your brand's aesthetic.
Ease of use
Dukaan is built keeping the seller's convenience in mind. The platform is extremely intuitive to use and has no learning curve attached to it.
Dukaan also comes with a "dynamic dashboard", which you can customize to suit your business needs. All of Dukaan's functionalities can be accessed through it.
It also comes equipped with tons of in-built tools and integrated plugins. Any other functionality that you might require can be easily integrated through third-party apps.
Price
For the features that Dukaan offers, it is priced very modestly. Take a look at what their subscription plans look like:
| Plan | Monthly | Yearly |
| --- | --- | --- |
| Entrepreneur | $14.99 | $149.99 |
| Agency | $49.99 | $499.99 |
| Enterprise | Custom | Custom |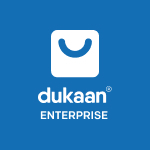 The Dukaan enterprise plan helps you scale your business with advanced features and more controls.
2. Thrivecart
Best for digital marketers selling physical and digital products
Paid plans start at $495 (lifetime access)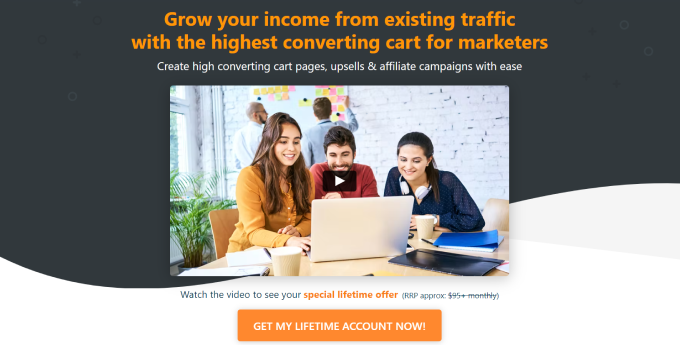 ThriveCart is a great alternative to SamCart in the sense that it contains almost all the functionalities that attract people to SamCart in the first place. What it misses out on can then be easily integrated using third-party apps.
Features
ThriveCart is popular because of the following offerings: it's funnel builder that allows upselling and bump offers and its affiliate management center. It is great for selling both physical and digital products alike.
It offers a lot of powerful eCommerce features. In-built sales tax calculator, flexible subscriptions, recurring sales, split payments, and discount offers to name a few.
Another arena where it competes directly with SamCart is the "learning" feature. Like SamCart and Podia, "Thrive Learn+" is where you can upload your courses and content for selling.
This can be availed by paying a one-time fee. We'll talk more about that in detail later.
Design
With ThriveCart, you can fully customize your landing pages to enhance your customer's shopping experience.
They've newly added the drag-and-drop editor to make the customize process easier. With this addition, you can now fully tailor your businesses' landing pages.
There's also a provision to share your premade templates with others for them to use.
Ease of use
ThriveCart is a fairly easy-to-use platform. It has a clean and intuitive UI that can be easily navigated by everyone.
And since you do not need to possess any technical skills to use ThriveCart, it does not have any learning curve attached to it. Just follow the simple setup instructions, and your store will be ready in a matter of minutes.
Price
Pricing is where ThriveCart differs greatly from every other platform on the list. Instead of a subscription model, you can buy a lifetime subscription of either.
ThriveCart offers the following two plans: ThriveCart Standard and Pro.
Here's what the platform will charge you:
| Plan | One time charge |
| --- | --- |
| ThriveCart Lifetime Standard Account | $ 495 |
| ThriveCart Lifetime Pro Account | $ 690 |
There's one more catch: You can permanently upgrade to the pro version by paying $195 on top of the standard plan. We'd recommend this deal considering the difference between the features offered in both.
Why choose ThriveCart over SamCart?
1. Lifetime access to the platform.
2. Great affiliate marketing program.
3. No monthly payment for the "Learn" feature.
3. Paykickstart
Best for rapidly growing businesses
Paid plans start at $99/ month (14-day free trial)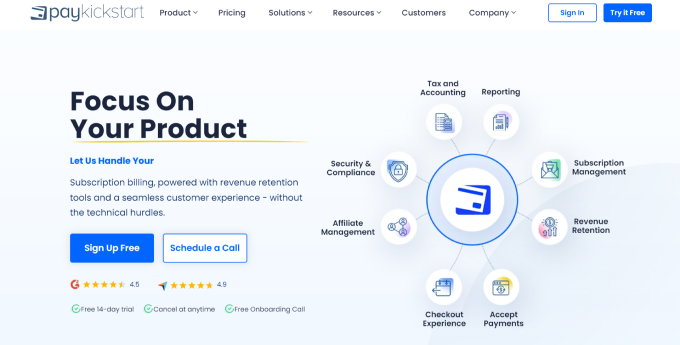 For sellers that are seeking a flexible and feature-dense eCommerce platform, Paykickstart is the best SamCart alternative.
Features
There are plenty of features that compel people to opt for Paykickstart. It is a comprehensive eCommerce platform that enables businesses to handle all aspects: from accepting orders to handling taxes and shipping management.
Here are the exciting eCommerce features that Paykickstart offers: Lead conversion, data security, refund management, affiliate partner tracking, multiple payment gateway integration, sales and funnel builder, and commission management.
Design
PayKickstart comes with a design library. Although its themes aren't the most aesthetically advanced, they can be fully customized to suit your preferences.
For the sake of customizability, you get the option of choosing between templates offering single-step and multi-step page checkout.
Ease of use
Owing to its complex features, it has some learning curve attached to it. So, if you are new to eCommerce, you will need to dedicate time and effort to get the groove of the platform.
Nevertheless, PayKickstart has taken steps to ease novice entrepreneurs into the platform. Vendors get access to a tutorial video to ease their onboarding process. And the platform is populated with instructions to help people find their way.
Price
PayKickstart offers the following three pricing plans.
| Plans | Monthly | Yearly |
| --- | --- | --- |
| Standard | $99 | $948 |
| Growth | $199 | $1908 |
| Scale | $299 | $2868 |
A point to note is that the lowest-priced plan does not offer any affiliate marketing features (which is the USP of the platform), so you are looking at $119 / month as your base price.
Why choose Paykickstart over SamCart?
1. Custom payment integration.
2. Uptime monitoring.
3. Usage-based billing feature available.
4. SendOwl
Best for affiliate marketers and scaling businesses
Paid plans start at $19/ month (30-day free trial available)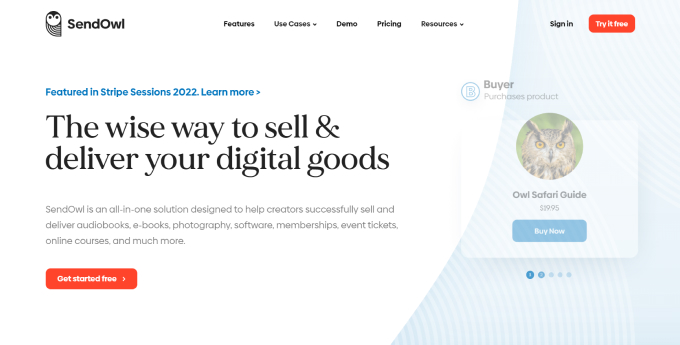 If you are looking for a platform that is solely focused on helping sellers make quick sales, SendOwl seems to be a good choice.
Features
SendOwl helps sellers create their own storefronts quickly. With SendOwl, you can sell digital and physical products and subscriptions. Its USP is that the platform is focused on increasing conversions.
SendOwl has a plethora of great eCommerce features that put it at par with SamCart: flexible payment options, on-site checkout, an in-built affiliate system, abandoned cart recovery, upselling features (both pre and post-checkout), and automated e-mails.
Design
SendOwl falls flat in the customization department. There are very limited customization capabilities available on it. Only very minimal customization can be done.
The saving grace is you can tailor your shopping cart to provide your customers with a seamless shopping experience, thanks to its clean UI.
Ease of use
SendOwl is an extremely beginner-friendly platform. Its navigation is highly intuitive. From the platform's clean UI to its easy-to-find product pages, you'll find it convenient to browse through the platform.
With SendOwl, you also get "drip" functionality. Additionally, the platform also offers detailed analytics and advanced reporting to track your business' growth accurately.
Price
For the features that the platform provides, it is reasonably priced. It does have a free plan, but  it charges transaction fees on sales in it. Let's take a look at what their pricing plans look like.
| Plans | Pricing |
| --- | --- |
| Free | $0 + 5% of sales |
| Growth | $19+ 1% subscription fees |
| High-volume seller | Custom quote |
Why choose SendOwl over SamCart?
1. A/B testings available.
2. Highly customizable.
3. Accepts multiple currencies.
5. BigCommerce
Best for rapidly scaling businesses
Paid plans start at $29.95/ month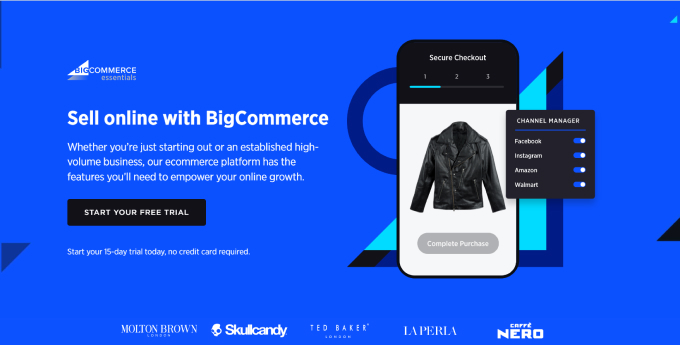 BigCommerce is a fully-hosted, open SaaS platform perfect for businesses that need a strong and robust platform to support their growing needs. With BigCommerce, you can quickly create your custom store and start selling.
Features
True to its name, BigCommerce has a "big" list of eCommerce features: multi-channel selling, store analytics, inventory & catalog management, abandoned cart recovery, multiple payment gateway integrations, etc.
It also houses a plethora of tools that support SEO, marketing, advertising, and account conversion.
Design
BigCommerce is aimed at people with no minimal design skills. The platform's intuitive UI helps the sellers create powerful and feature-dense websites with no coding involved.
Having said that, it is not highly customizable. The platform favors usability over aesthetics; meaning the themes are more eCommerce focused and often end up looking similar to each other.
The aesthetic themes that the platform offers can be modified using its drag-and-drop editor.
Ease of use
BigCommerce is not the most beginner-friendly platform on this list. Novice sellers will encounter problems navigating through the platform.
But if you have developer skills (especially HTML and CSS), it only has a slight learning curve attached to it. Your technical expertise will help you in handling the site and keep up with its updates.
Price
Undeniably, BigCommerce lies on the pricier side of the spectrum. Take a look at different pricing plans that the platform offers:
| Plan | Monthly (when billed monthly) | Monthly (when billed yearly) |
| --- | --- | --- |
| Standard | $29.95 | $29.95 |
| Plus | $79.95 | $71.95 |
| Pro | $299.95 | $269.96 |
| Enterprise | Custom | Custom |
Why choose BigCommerce over SamCart?
1. In-built blogging functionality.
2. Unlimited staff accounts.
3. Affordable pricing plans.
Further reading
6. Kartra
Best for small-scale businesses
Paid plans start at $99/ month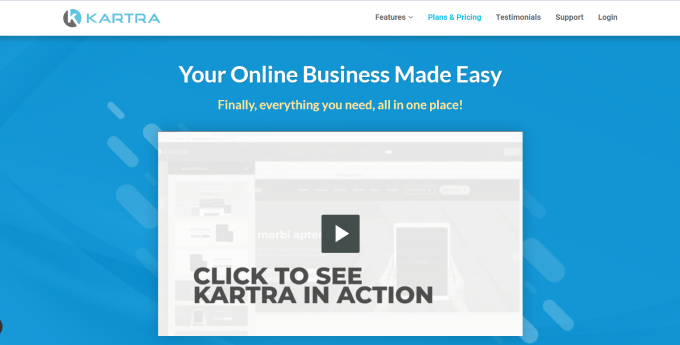 You should choose Kartra from this list if you are looking for an all-in-one cloud-based platform with integrated internet marketing channels. You can sell both digital and physical products on it.
Features
Kartra has plenty of features that make it good at what it is meant for: closing sales. You get all the features that support upselling, down selling, bumping offers, and creating discounts, along with the necessary customer management tools.
The platform also accepts multiple currencies and languages and offers split testing features, and e-mail marketing and campaign creation assistance.
Design
Kartra comes with an in-built theme library consisting of 500+ templates. You also get a WSYIWYG page editor with can be used to change the color, font, and style of the theme or add new blocks. And you have developer skills, you can use HTML, CSS, and JavaScript to alter your pages.
The downside is, the page builder is not the most intuitive to use. Even though you can customize everything on Kartra, such as the landing page to the checkout page to the order form, it will take some time to understand how customization works.
Ease of use
Kartra has a steep learning curve to it. The platform's other features will also require your attention and effort, just as its design editor does.
Apart from this, the platform that an extensive list of marketing plugins that leaves nothing more to desire. It integrates seamlessly with many payment gateways, membership platforms and e-mail service providers.
Price
Kartra's main advantage is its excellent lead management system. Along with its extensive feature list. That does justify its pricey subscription rates, but it still is too steep for businesses that are just starting out.
Here are their pricing plans:
| Plans | Monthly pricing | Yearly pricing |
| --- | --- | --- |
| Starter | $99 | $948 |
| Silver | $199 | $1788 |
| Gold | $299 | $2748 |
| Platinum | $499 | $4548 |
| Enterprise | Custom quote | Custom quote |
Why choose Kartra over SamCart?
1. Built-in appointment booking app.
2. Integrated video hosting feature.
3. Premade marketing campaign templates.
7. Podia
Best for content marketers
Paid plans start at $39/ month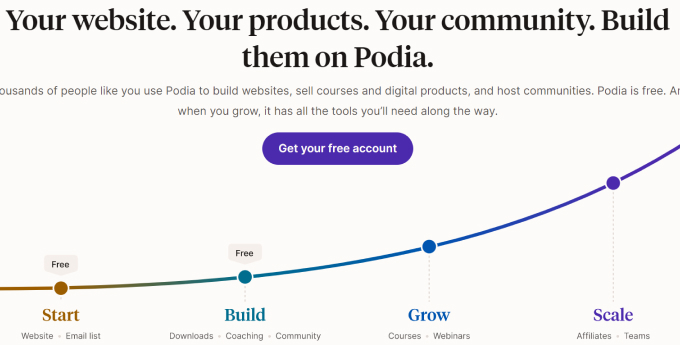 If you are on the lookout for a platform that places prime focuse on increasing the sales of memberships, courses, webinars and digital products, Podia is a good SamCart alternative for you to consider.
Features
Podia's main attraction is its strong email marketing feature, which helps you create both regular and drip campaigns, based on your marketing strategy.
Other great eCommerce features that Podia offers are sales funnel creation, upselling, product bundles marketing and sales, analysis and reporting tools, affiliate marketing and coupon creation.
Design
Podia houses a very basic page builder. It offers very limited freedom when it comes to designing storefronts and sales pages. Additionally, it does not have any premade themes or templates.
The page builder can be used to create any custom page as needed. You can only alter the text, images, color and font of the product pages. The good news is you get the option of adding popup scripts and product banners onto your stores.
Ease of use
The platform has a very easy-to-use interface and does not require any technical knowledge. With a clean UI, its setup process will feel highly intuitive to you.
You'll easily find all its functions on the platform's dashboard. Even the process of creating and importing courses is very simple. It also integrates with third-party apps (payment gateways, streaming services, calendar apps, etc. ) seamlessly.
One major downside to this platform is that it doesn't have a mobile app yet.
Price
Although Podia has a free plan, it is not feature-rich and also charges a hefty transaction fee of 8%.
Check out the prices of their other subscription plans:
| Plans | Monthly Pricing | Yearly Pricing |
| --- | --- | --- |
| Free | $0 + 8% transaction fees | $0 + 8% transaction fees |
| Mover | $39 | $33/ month |
| Shaker | $89 | $75/ month |
| Earthquaker | $199 | $166/ month |
Why choose Podia over SamCart?
1. 24/7 customer support available.
2. Free migration assistance.
3. In-built email marketing.
8. Sellfy
Best for content creators
Paid plans start at $29/ month (14-day free trial available )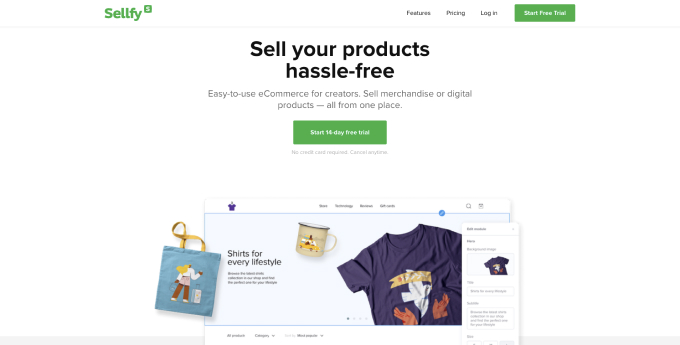 If you are searching for a platform that lets you sell both physical and digital products in a hassle-free manner, Sellfy is a good option for you.
Features
Sellfy is a fully-hosted eCommerce platform that has made a name for itself in the subscription and print-on-demand niche with its simple and effective functionalities.
Like SamCart, Sellfy also enables upselling & cross-selling, one-click upsells, and discount and coupon creations. Other eCommerce features among the likes of easy product search, SEO tools, multiple payment gateway integrations, and 24/7 customer support are also available.
With Sellfy, you can set up your own store from scratch and start selling in under 5 minutes. It also boasts of interesting eCommerce marketing features like upselling, pixel tracking and e-mail marketing.
Design
Sellfy's themes are mobile responsive and fully customizable. You can modify the color, layout, menu item structure, and font of the website with a few clicks. You can also add your brand's logo and social links to the website. And even with all these alterations, its websites load 2x times faster.
Additionally, if you have your own domain, you can link it to your Sellfy store, free of cost!
Ease of use
Sellfy has a smooth setup process. It is easy and intuitive to use and even has a quick setup guide. You do not need any developer skills to sell using Sellfy.
The platform takes care of all aspects of running a business: hosting, security, marketing, analytics & tracking, third-party integrations, etc. It also offers 24/7 customer care support.
Price
Although Sellfy offers a free plan, we wouldn't recommend it for running a business owing to its multiple limitations.
For serious entrepreneurs, it offers the following subscription plans:
| Plan | Monthly | Yearly | Two Year |
| --- | --- | --- | --- |
| Free | $ 0 | $ 0 | $ 0 |
| Starter | $ 29 | $ 22 | $ 19 |
| Business | $ 79 | $ 59 | $ 49 |
| Premium | $ 159 | $ 119 | $ 99 |
Why choose Sellfy over SamCart?
1. No transaction fees.
2. End-to-end eCommerce features.
3. Popular in the POD niche.
9. Shift4Shop
Best for medium and large businesses
Paid plans start at $29/ month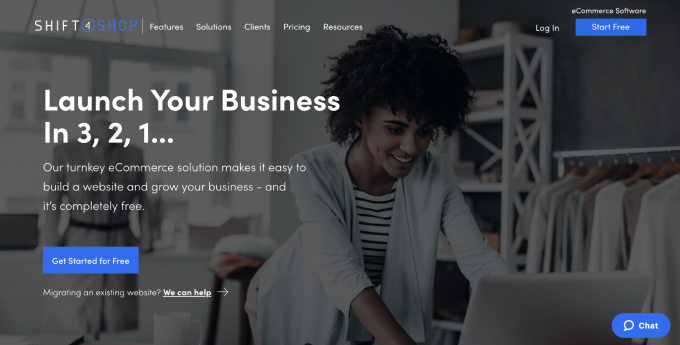 Shift4shop (formerly 3d cart) is a fully-hosted comprehensive all-in-one eCommerce solution. It focuses specifically on scaling medium and large businesses that need a feature-dense eCommerce platform.
Features
Shift4Shop comes loaded with standard eCommerce offerings like SEO tools, blog integration, coupons and discounts creation and so forth, all of which can be accessed from its dashboard.
What makes the platform stand out is the plethora of features that make it a worthy alternative to SamCart- single page checkout, smart categories, advanced reporting etc., along with other standard eCommerce features.
Most importantly, it also comes with upselling and cross-selling features that give SamCart a run for its money.
Design
The platform is equipped with a theme library that contains 100+ responsive and mobile-friendly themes. (both free and premium)
You can easily customize the themes' color, font, and layout with the core theme builder. There's also a provision for editing the website's code for those who want to take things to the next level.
Ease of use
You'll find that it is easy to build a shop on Shift4Shop, even with no technical knowledge. Navigating the platform is fairly intuitive.
Choosing and customizing a theme is easy, especially with its simple template editor and design bar.
Coming to accessibility, the platform easily integrates with third-party integrations and tools to accommodate any additional functionality you might need.
Price
The platform has a catch when it comes to pricing. There is a free end-to-end eCommerce plan available, only for US-based sellers. However, you have to agree to use Shift4Shop payments as your payment processor. With this plan, you will get exclusive access to all the pro plan features. The best part is you'll only end up paying a meager transaction fee of 2.9%+ 30 cents.
For the rest of the world, here's the breakdown of their pricing:
| Plan | Monthly Price | Includes |
| --- | --- | --- |
| Basic Store | $29.00 | All the essential features |
| Plus Store | $79.00 | Complete marketing suite |
| Pro Store | $229.00 | eCommerce automation |
Why choose Shift4Shop over SamCart?
1. AI-driven fraud protection feature.
2. Migration assistant.
3. Supports dropshipping.
Final Words
Whether you are scaling a nascent business or managing a flourishing one, you need the support of the right tool to grow your business online.
We've provided both shopping carts and eCommerce platforms in this article, so you can decide what works best for you. While a shopping cart is useful for converting sales, an eCommerce platform will help you transform your business into a brand.
Take your time and decide what's best for your business. Make sure you factor in your current needs and future objectives. We hope the SamCart alternatives listed in the article will help you make a better decision.
FAQs
1. Is SamCart an eCommerce platform?
No, SamCart is a web-based shopping cart solution that contains tools that are helpful in selling digital products and is optimized for the sales funnel.
2. Is SamCart a sales funnel?
SamCart has all the tools you need to optimize sales funnels. It is a platform that acts as a standalone shopping cart and landing page generator meant for quick sales and conversion.
3. What is similar to SamCart?
Platforms like Dukaan, ThriveCart, SendOwl, Kartra, etc. are great SamCart alternatives. They provide the same functionality without the issues that SamCart has. For the entire list, read our article.
4. Can you make money with SamCart?
Yes, you can make money by selling digital products and/ or services on SamCart. It has tools that support sales conversion, upselling etc.
5. Is SamCart the same as Shopify?
No. While SamCart and Shopify are both eCommerce platforms that have marketing and selling tools, dedicated eCommerce platforms like Dukaan and Shopify are well-suited to turn your business into a brand and scale it.