This YouTube Marketing guide will help you boost your business in no time!
If you think YouTube is just a platform to view pranks to LOL all the way from dusk till dawn then you've been tricked.
It's one of your fellow entrepreneurs' top sales channels (even the B2B ones). They're fishing clients there, making their bank accounts balloon:
40% of shoppers said they purchased products that they had discovered on YouTube
2 out of 3 buyers said they watch YouTube videos to get ideas and inspiration before making purchasing decisions
In contrast to TV ads that only get 45% of audience attention, YouTube ads garner audience attention and are 50% less likely skipped
If you're feeling FOMO about not being on YouTube, it's never too late to keep up.
Before you go there and create a channel, read our YouTube guide.
Should I be on YouTube?
It's a big yes! Actually, YouTube marketing works easier than you think.
If you're already on the platform, congratulations.
If not, then you're probably here right now because you've been wanting to learn how to navigate your business in a world with 2 billion active users (about ¼ of the total world population).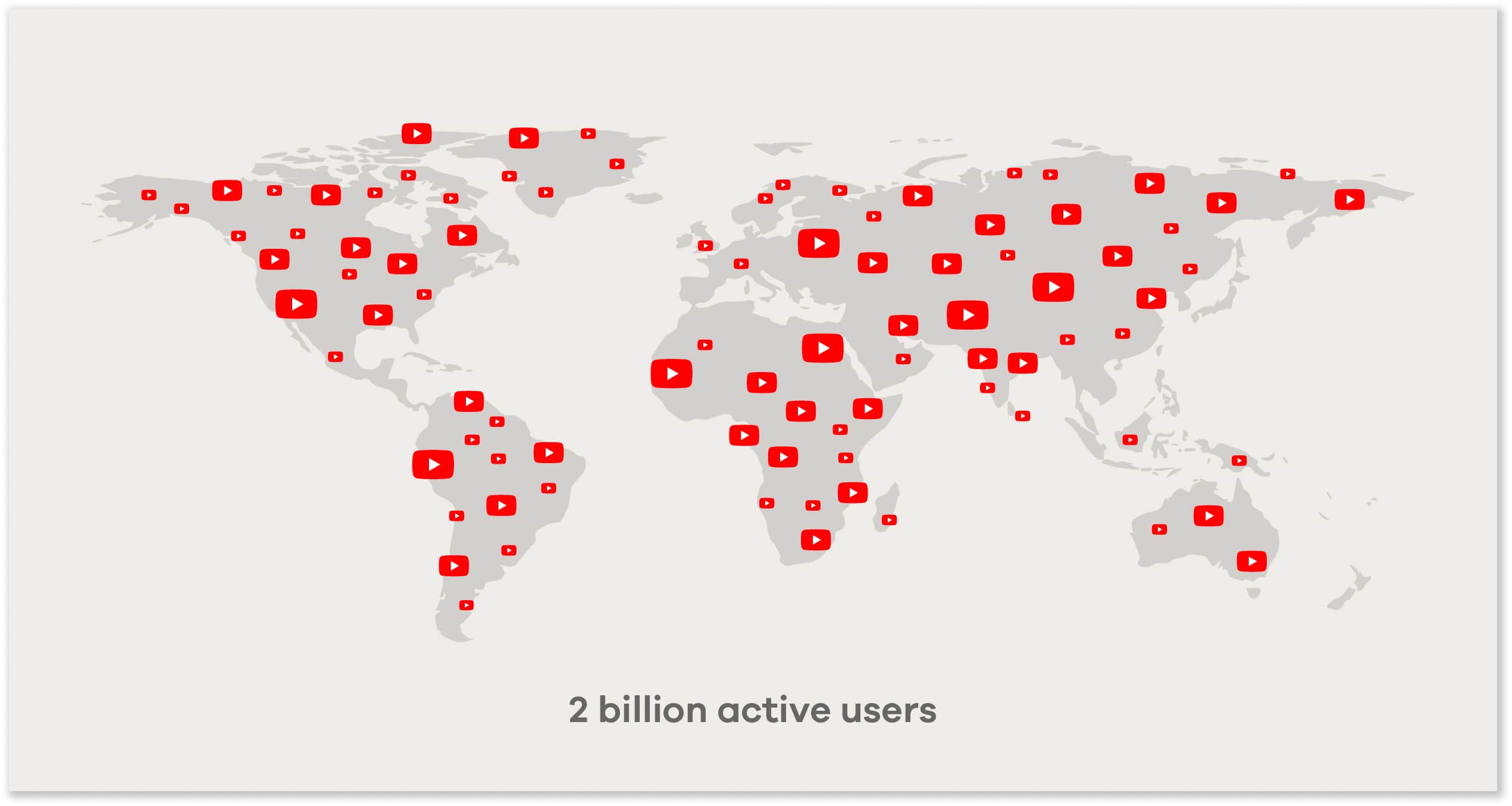 It can be a bit intimidating, but kudos to you for not giving up.
Things are only overwhelming when we see them as a humongous block of intimidation. When we shred it into smaller pieces of actionable actions, it'll be easier to follow.
Let's start right here, right now.
How to start YouTube Marketing (it's easier than you think)
While there may be gazillion things that you should do, going on YouTube boils down to these 3 things:
The Prep work
The (Non-stop) Optimization
The Promotion
Let's go into each one.
The Prep Work
The heavy lifting comes in the planning stage. You should do these things so you stay on brand, become consistent, and strategic.
1. Define your Ideal Customer Persona
Personas help you better understand your customers' needs.
When you create buyer personas for your business, you target specific customer segments leading to more successful marketing efforts.
Defining your ideal customer persona gives you a better understanding of your audience so you can create more effective campaigns. It allows for higher conversion rates because personas are tailored based on buyer needs.
Just a reminder, creating different customer personas is entirely different from making up an imaginary human being in your mind.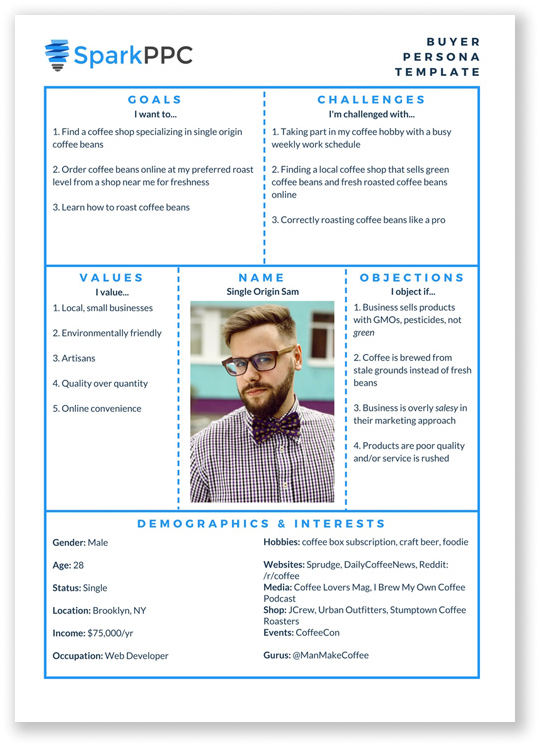 Personas are based on research, not imagination.
Here are some simple ways to help you create your own client personas:
Set up interviews
Survey ahead
Stalk prospects
To speed up the process, you can also find free and paid small business buyer personas all over the internet. Here's one that you might want to download.
If you're not already using customer personas to create your marketing strategies, then you're wasting time and money on ineffective marketing. Just saying. ✌️
2. Use tools like TubeBuddy for research
Stop messing around with hours of backend work that no one will even see. Cut it short with TubeBuddy.
TubeBuddy is a browser extension that makes it easy to develop your YouTube content.
It's a toolkit that helps you find high-performing video topics and most-searched keywords. It can even coach you on how to write clever video titles, tags, and descriptions.
Take a Buddy along with you to make your YouTube marketing life a breeze. After all, its goal is "to make you and the rest of the YouTube Community a happier, more productive bunch."
3. Create a YT channel and nail the layout
Since YouTube is owned by Google, you can already create your own YT channel if you have an existing Gmail ID.
Next, it's time to set up your YT channel. Bear in mind that it's better to open a brand account than settle with the one you're using for your Google account.
Brand accounts can be more powerful than regular channels. They allow you to manage editing permissions and give the viewer a better sense of what your brand is all about.
Here's how to set one up:
Click Customize Channel and optimize your video spotlights for new and returning subscribers.
Put your channel banner and profile picture up.
Embed your company's email address, website, and social media platforms in the About section of your channel.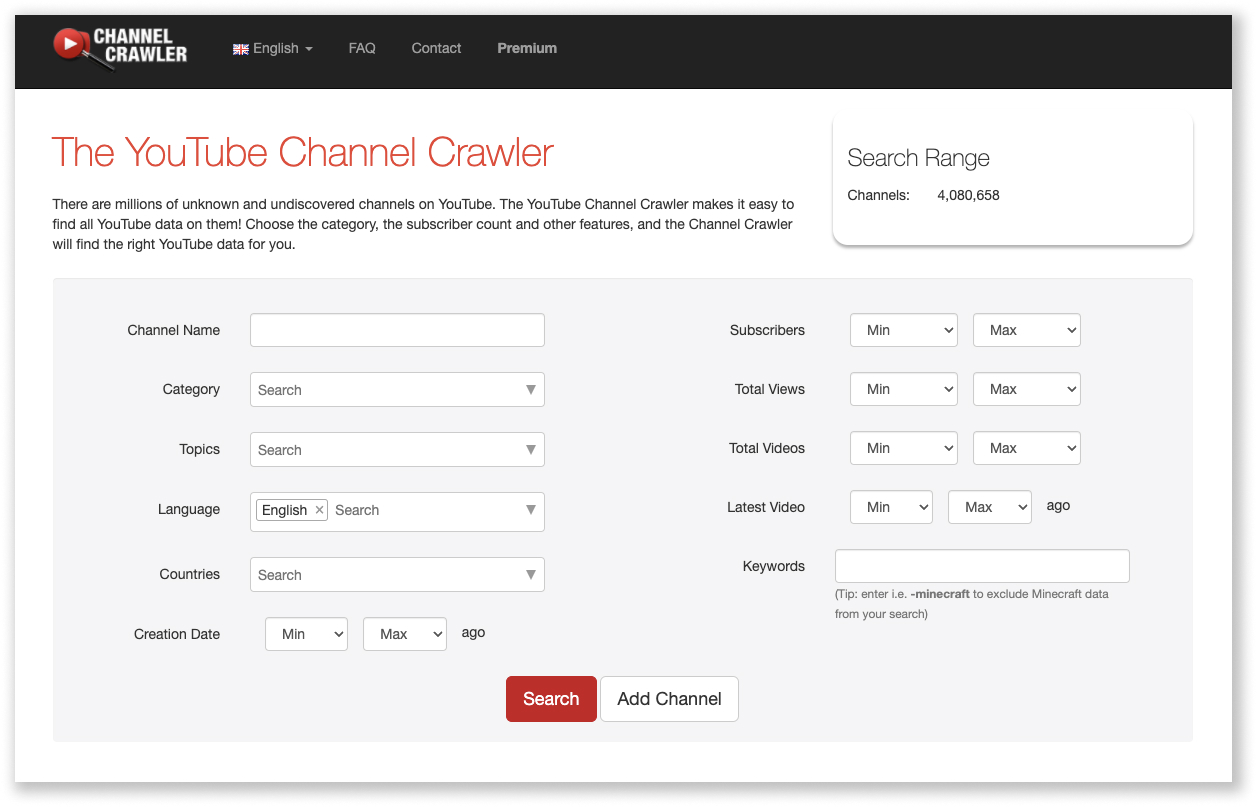 When you're done setting up a brand account, be mindful of your YouTube layout:
The best way to get people subscribed is to have a great channel layout that completely speaks for what you're about and what type of videos you show.
Take a look at this example from The Cooking Foodie.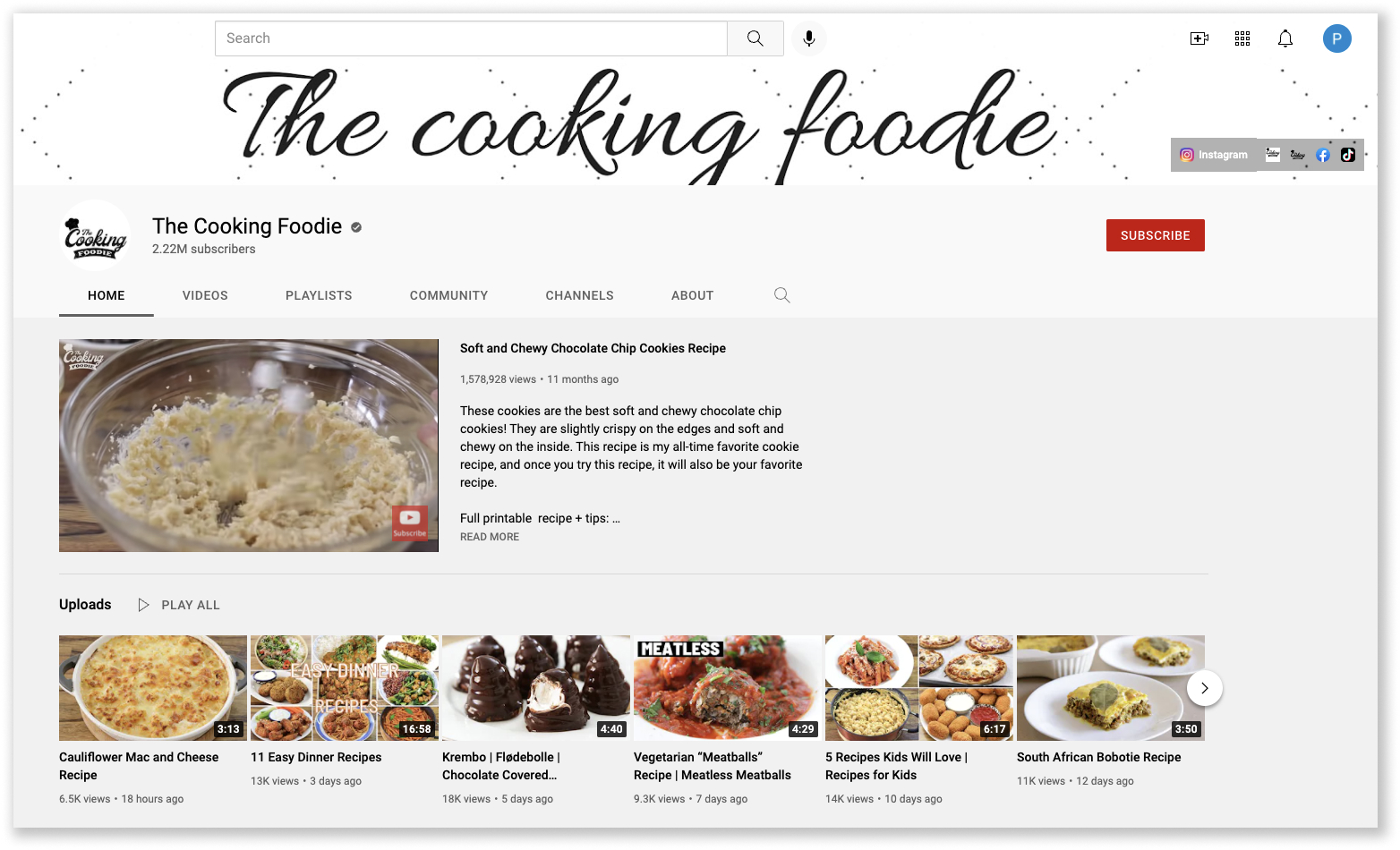 Notice how the process of setting up your brand's YouTube channel involves similar steps as opening the multitudes of other social media accounts you own.
Why worry now?
4. Generate and organize ideas
Now you're all set to make some dough out of your content!
The next step is to brainstorm (with your team or by yourself 🙂) good content ideas.
You may now take out that pen and paper, or better yet use free Google scheduling templates to ease your pain.
You can also go to Trello yourself to help you and your coworkers coordinate and collaboratively visualize their projects. Or you may also check out these helpful apps to pick you up from your messy (biz) life in general.
The (Non-stop) Optimization
Now that we've done the heavy stuff, time for some action. Before publishing your first video, here are optimization tips that you need to follow if you want to get free traffic to your channel.
1. Writing YouTube titles
Coming up with video titles can be tough and might squeeze your creative juice out. You must create catchy, compelling titles to make your content stand out.
Here's a hack: be sure to include Search Engine Optimized titles that pop with keywords. Make your titles clear and compelling to capture prospects' interests.
And because people love to think about themselves most of the time, always show titles about how your product will help them. Some examples to jog your creativity:
YouTube Kit For Beginners – Cute, Clear, and Concise Guide for Creating a Successful YouTube Channel
How to create a youtube channel (+ tips for growing your Youtube Channel)
How to Start Your Own YouTube Channel #AskMeHow
2. Writing YouTube descriptions
When you're finished thinking about the mind-boggling YT video title, it's time to ponder on the description.
When coming up with your video descriptions, see to it that it will compel viewers to click and watch the rest of it (and what you want them to do after watching).
Also include links or CTAs at the beginning of your web page or YouTube videos, so that all they have to do is scroll down and find it. Here are some.
So you're thinking of starting a Youtube channel. Good on ya, champ! But before you start making videos, watch this video first to make sure your channel is going to be the best it can be.
Try and try until you succeed. Creating effective descriptions can be a trial and error process, but practice makes perfect. Okay, enough with the clichés.
3. Designing the thumbnails
Highly targeted videos on your YouTube channel? Sounds like you'll need some quality thumbnails.
When you've uploaded your video, YT will generate three thumbnails for you. But, you have the option to stop trying to make sense of the thumbnails YouTube suggests and create a custom one.
Thumbnails are usually the first thing people see when they land on your channel or see one of your videos. Plus, 90% of the best-performing YouTube videos have custom thumbnails. Like this.

After all, it's the little things that matter most. It's nice to look at them, right?
4. Outlining the script
The first 15 seconds are crucial for your content, so be sure to magnet your audience by planning and outlining your script. Never start a video without a hook that captures your viewers' attention.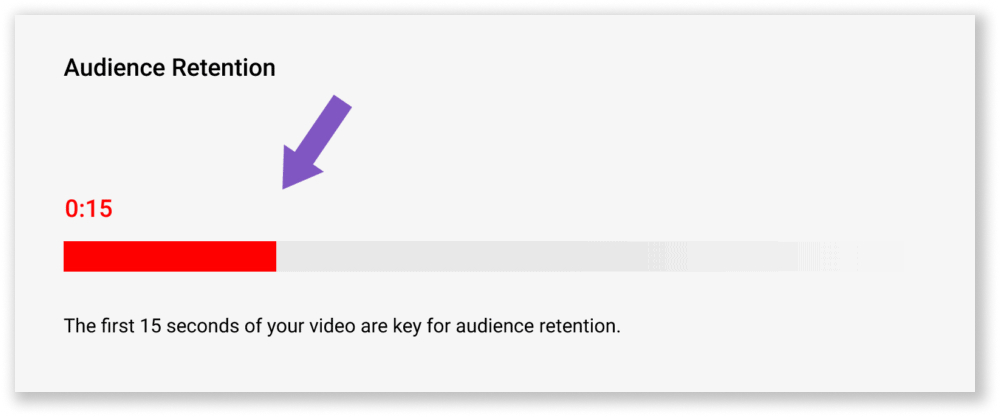 Starting a business is 1% thinking about the business name (and colors) and 99% hooking customers to buy your product.
With this skill in your YouTube scripts, you'll definitely captivate people in less than 15 seconds.
To outline your script, start with the basics: a catchy intro, an interesting body, and a striking ending. The three most important letters in marketing are C-T-A (or Call-to-Action).
So be sure to add it to your content…always.
5. Adding the captions
Be inclusive in your content and for sure, it'll be a win-win.
Subtitles and captions let you share your videos with a larger audience. Even those who are deaf, your hard-of-hearing viewers or viewers who speak another language.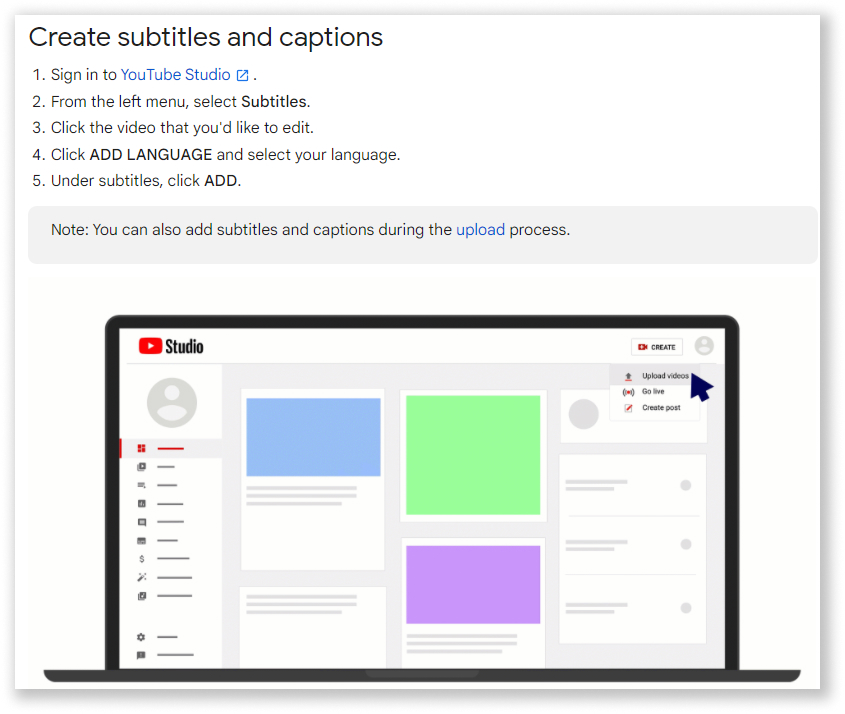 You can also use captioning tools like Rev, Amara, and Subtitle Horse for your YouTube videos.
💡 Tip: machine learning algorithms are used to generate them, so captioning results may differ due to vocal nuances, word pronunciations, or sound obstructions.
6. Optimize playlists
Playlists aren't only meant for Spotify.
They're perfect for organizing your YouTube channel. Build one that has content that really resonates with your target audience. Your viewers will be able to easily find videos on topics related to their interests.
To build your business playlist, start here.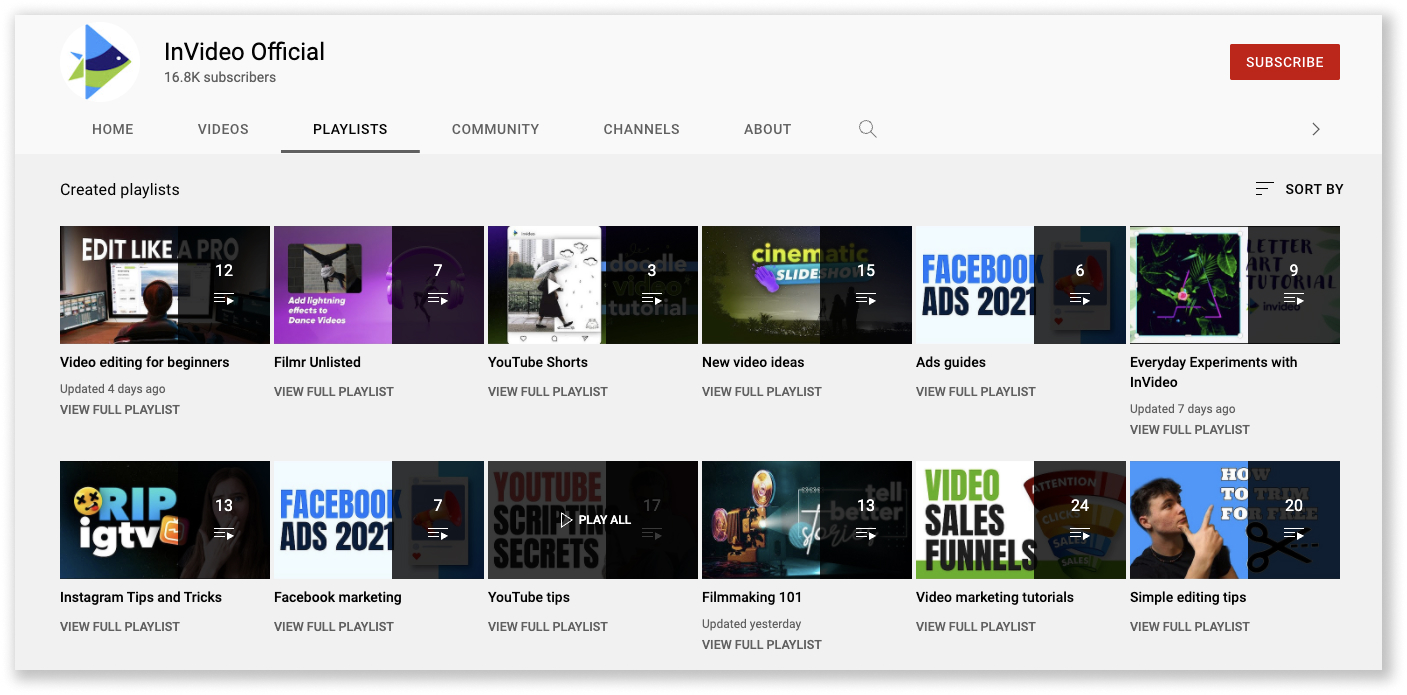 The Promotion
1. Distributing your content
You can't just upload videos, optimize them, and then watch Netflix and chill. People won't just come to you. Keep your marketing efforts consistent with YouTube and use the following tactics to distribute your videos:
Send emails whenever you upload a new video
Start an ambassador group on Telegram or WhatsApp groups
Hold a contest and giveaway and let your audience do the sharing
Join live streams and have your channel reviewed on platforms like vidIQ
Post on all your social media channels (try TikTok, reach is crazy there)
2. Collaborate with other YouTubers, influencers, and other YouTubers
YouTube has the largest audience of any video site, so it's an ideal platform for collaboration. Collabs will increase your visibility and expose your content to new audiences.
Use Collabspace to find your first (or next) collab opportunity. Or use The YouTube Channel Crawler to hunt a collab partner.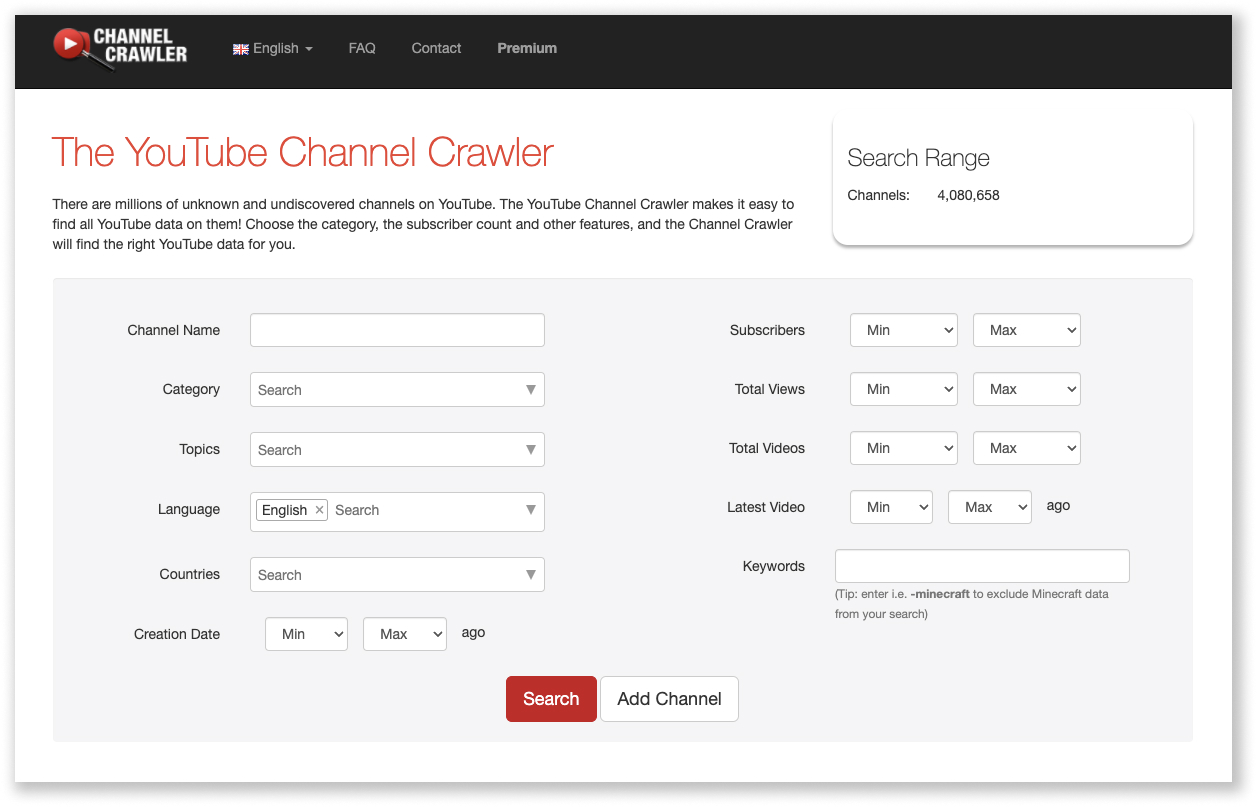 Another sure-fire way to grow your subscribers and build relationships for a future collab is this.
Find YouTube channels that are a good match to your content. Sweet spot is those that have 100-500 followers already. Like their videos and leave comments. It's a good way to attract their following.
3. Get YT SEO right
YouTube is just like Google. It's a search engine for videos. No wonder Brian Dean also takes advantage of his SEO power there.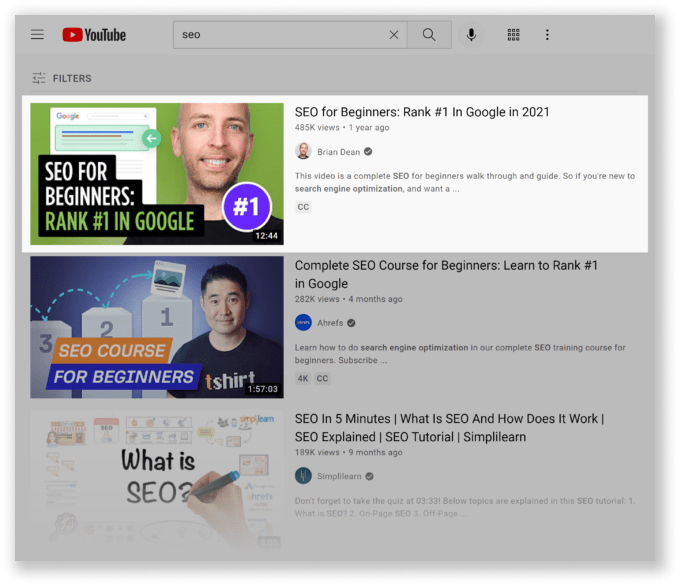 If you know how to rank your videos, you can generate thousands of subscribers every month. Here's how you can get started with YouTube SEO:
1. Find out the most searched keywords in your niche.
2. Target the low-competition ones.
3. And create your videos around these keywords (Google loves them):
How-to keywords ("how to start an eCommerce store")
Reviews ("online store reviews")
Tutorials ("Setting up an eCommerce website")
Anything fitness or sports-related ("yoga")
Funny videos ("Cute cat")
4. Remind viewers to like, share, and subscribe
Okay, maybe you hear that influencer voice when you read this phrase but liking and subscribing is essential to your business.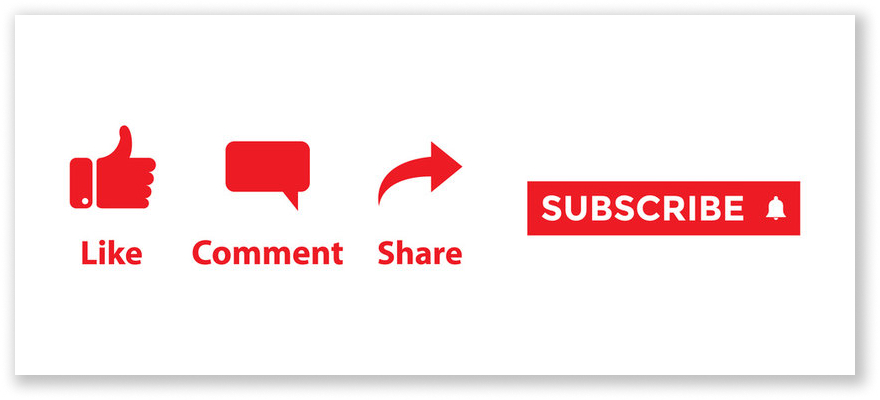 Make sure that their click is worth it so that your viewers will share your video and spread the news for views. It's unlikely that you can coerce somebody to share your YT videos… except maybe when you can come up with a $1,000,000 raffle jackpot at stake by sharing your video.
5. Engage with commenters
Show your viewers that your YouTube page is more than just a reel of recordings.
Be human. When people see you responding in the comment section, they'll engage more.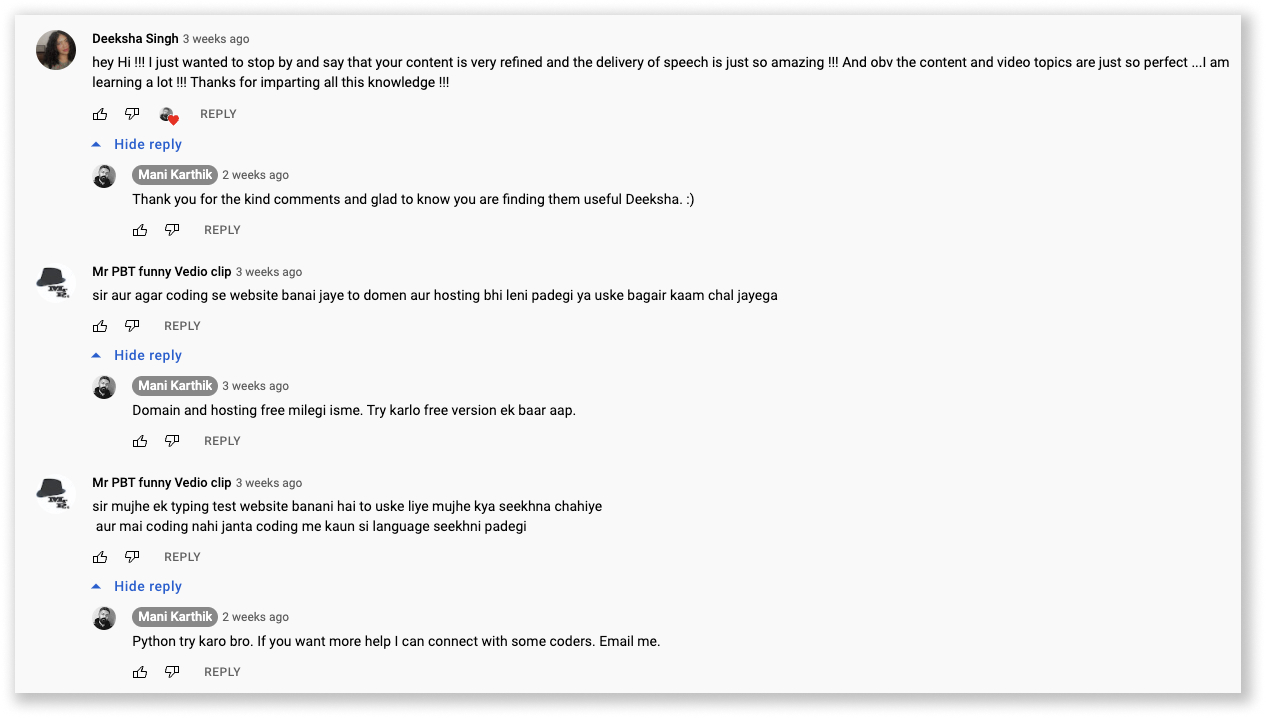 So unleash your inner celebrity. Connect with and acknowledge all your avid supporters out there.
6. Try YouTube advertising
You might be cringing right now thinking that you could've just skipped all those steps above and proceeded directly to getting paid advertising for your content.
Optimizing has been a recurring nightmare/strategy in pushing your content on top. All of these optimizations are useless because there's this instant advertising…or not.
YouTube advertising is just another way to boost your online presence for your target audience to find you. Keeping them interested and hooked to your content is still entirely up to you. There's that big difference.
If you want to dig in and try YT advertising, here's a guide for beginners.
YouTube Marketing Trends That Helped Small Business Owners Go Big
Meet ordinary people who have made it big in the YouTube space.
The Freelancer Mogul
The Freelance Movement is spearheaded by Mr. John Pagulayan who is also known as 'the guy who writes emails for a living'.
He is a freelancing coach, "a mentor and a source of inspiration for the freelance community, and has shared his vision to uplift the Filipino freelance community to higher heights."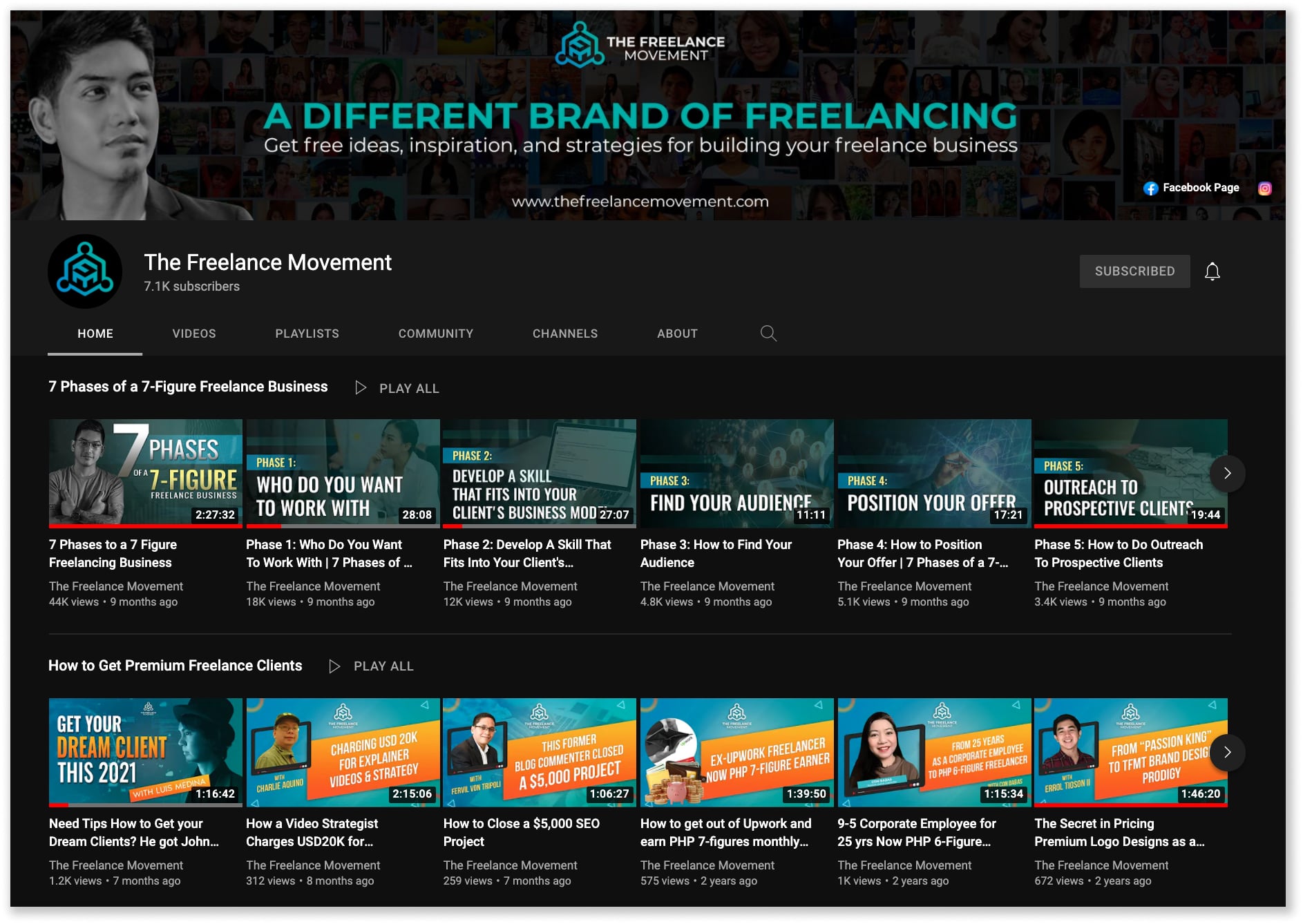 Do check out his cohesive layout and thumbnail design which, at first glance, lets you know that he means business.
YT Marketing trend he used: Mini-course in his playlist.
What got him a huge following though is his free mini-course that he has uploaded to his channel. To show that worked, he has a series of interviews of ordinary freelancers who have become 6-figure business owners.
The eCommerce & Real Estate Magnate
Charlie Chang is a young entrepreneur in Southern California. He runs multiple businesses ranging from eCommerce to a real estate brokerage. He puts out videos about personal finance, earning money online, investing, and entrepreneurship.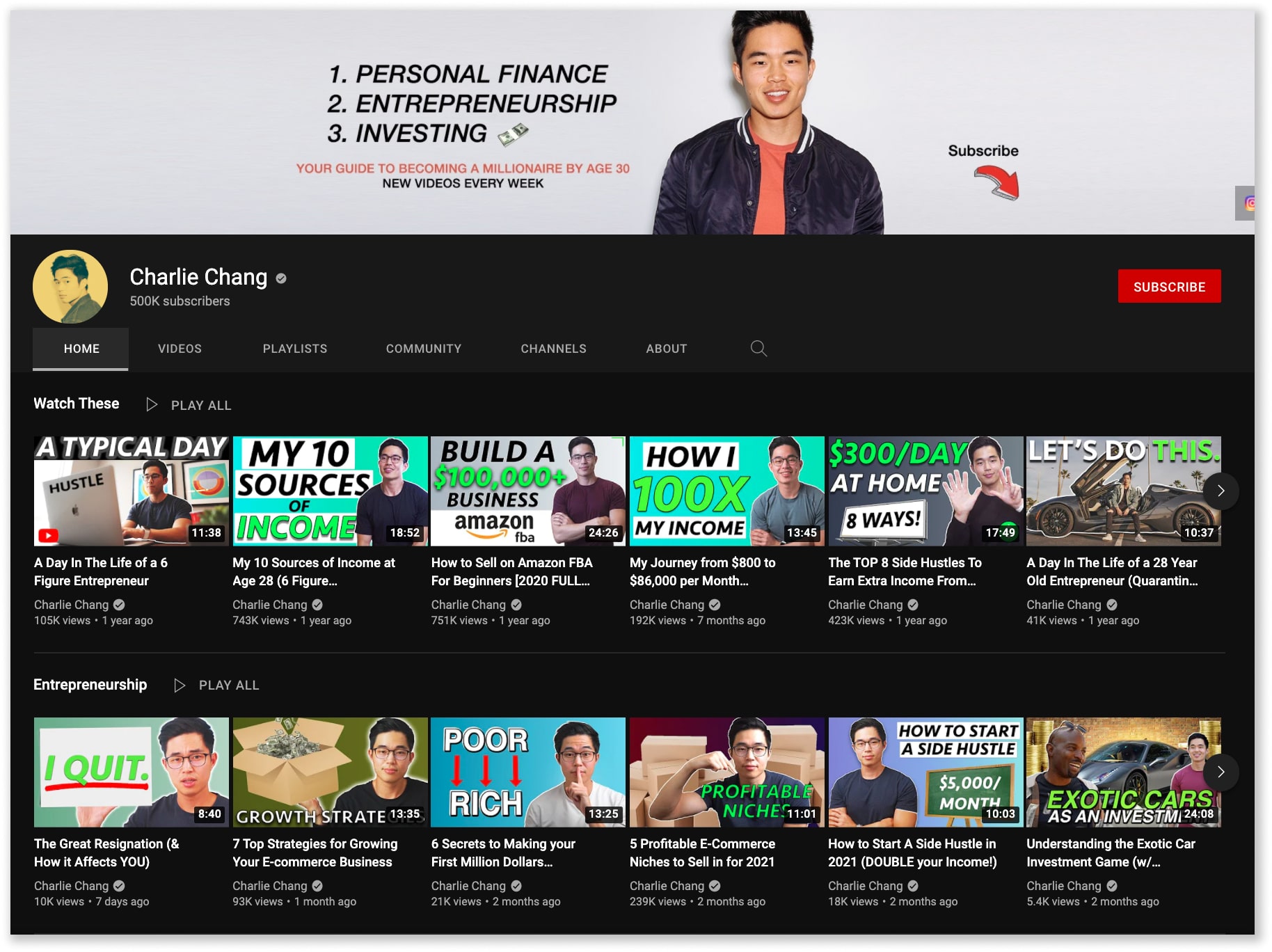 YT Marketing trend he used: Lots of how-to videos based on his own experiences.
He puts out a lot of videos that teach newbies how to be successful in entrepreneurship. His videos are mostly step-by-step videos, full guides, or free courses. He even has productivity videos to help viewers achieve the same success that he has.
The comments on his videos prove it:
"Thank you for uploading this video! It's such a gem for youngsters who are considering becoming an entrepreneur, it captivates how an entrepreneur day could be."
"Best Value of information on time accountability I've seen in a while. Much needed and appreciated! I will watch this again every time I get that lazy feeling."
"I like the way you divide your day into productive chunks, very motivating!"
The Stationery Tycoon
The Journaling Tale's channel is all about how-to's and DIY's, perfect for those who want to start a stationery and crafts business.
She has also created a playlist of her journaling journeys. She has also been setting up raffle draws to make some noise on the Tube and entice fellow crafts enthusiasts, but her most viewed videos are…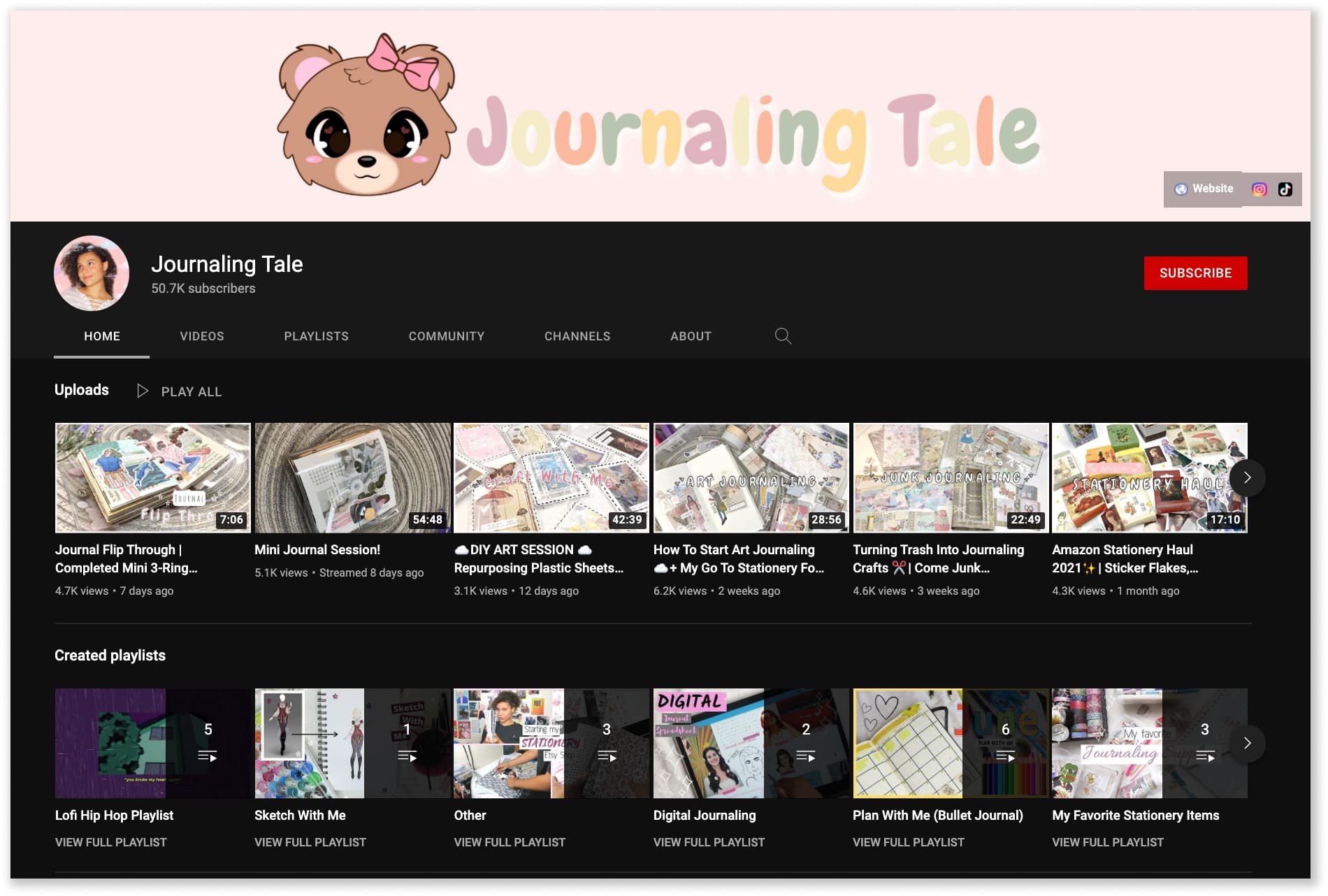 YT Marketing trend she used: Video shorts.
Her video shorts (or videos that are less than 1-minute long) got excellent engagement with her viewers. These quick ASMR vids indeed drew more audience. If you want to replicate her success, learn how you can
create Tiktok-like videos on YT
.
Youtube, Your Latest Source Of Sales
At this point, it should be obvious that YouTube is more than just an extension of the celebrity/influencer/flashy brands kind of video-sharing platform. It is an extension of reality that can be used by anyone, given that you have a camera and Internet subscription.
Since it's the second largest search engine platform, it is a smart idea to be there to get in front of your market.
But if you already have tons of social media profiles, have no time to create (and edit) videos, you might want to have your own business platform instead.
Take Dukaan, which can help you set up a brand in just 30 seconds.
With Dukaan, there's no more worrying about editing videos, building an online store from scratch, or designing your online storefront (there are plenty of templates!). All that's left is to open an account and start uploading pictures of your products. Try it for free.
Now you can work smarter, not harder, with Dukaan's fully integrated system.