Affiliate marketing can give your online store explosive growth.
That's why a lot of stores are investing in it. In fact, Statista predicts that business spend on affiliate marketing will hit more than $8 million by 2022. And that's in the US alone.
Affiliate marketing is an amazing way to grow since your publishers will do the marketing for you. Their motivation? They got no product to sell, but they can earn just as much.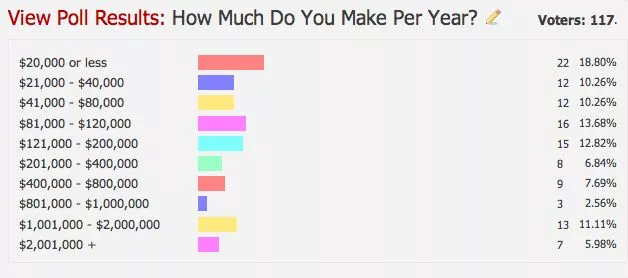 Source: STM Forum
Of course, success doesn't come instantly. You need to learn about the best practices and right strategies so you can go about it flawlessly.
If you're curious to see what affiliate marketing can do for your store, then this is the right guide for you.
We put together all the information you need so you can get your affiliate marketing strategy up and running.
Let's get started!
What is Affiliate Marketing?
Affiliate marketing is the process of earning by promoting a product from a store. Think of it as a relationship between two websites: an online store and an affiliate.
Here's an illustration. Your store sells products. An affiliate, also called a publisher, promotes these products. Then they earn a commission for every sale.
Stores often work with other publishers who create relevant content or review similar products. By doing so, they can leverage a publisher's traffic and influence to pull in more sales and orders.
What Are the Benefits of Affiliate Marketing for My Store?
To understand why affiliate marketing is a big deal, here's a quick rundown of the many benefits of affiliate marketing for your online store.
1. Execution is not rocket science
Paid ads strategies like Google Ads or Facebook Ads require experts and additional costs. SEO is a long-term game that requires consistency. Funnels take time to set up.
Affiliate marketing is simpler in both setup and maintenance. You will still need to put in the work—but you'll be able to get the program up and running faster than other strategies.
2. Low costs and low risk
Diving into a new marketing strategy is like starting a business due to upfront costs.
For example, the average cost per click (CPC) of Facebook ads is $0.97 (₹73). Social media strategists recommend a daily Facebook ad budget of at least $5 (₹375). That's $1500 (₹112,600) in a month already.
Here's a comparison on the click costs on several paid channels.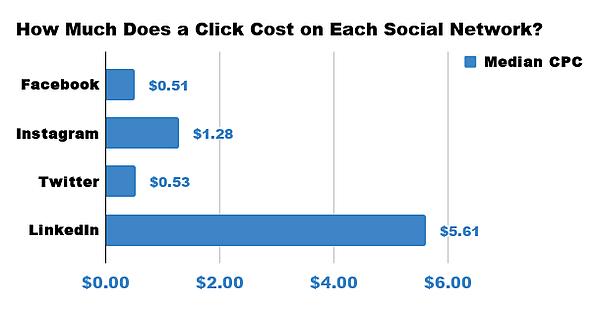 Source: DigitalMarketing
With affiliate marketing, you only need a website to start. Plus, you don't need additional resources for marketing assets. Let your publishers own content creation and marketing!
Once your affiliate program is already up and running, you only dole out payment to publishers when they make a sale.
The risk is extremely low. You're not paying for empty clicks, only on sure purchases.
3. High ROI
For most marketing campaigns, return on investment (ROI) is the name of the game. After all, you want to get as much as you possibly can from the efforts and budget you're putting in.
But determining ROI is challenging and unpredictable. PPC specialists, for example, aim for more conversions and sales at lower costs. That's why they check how much they're spending on ads every now and then.
Affiliate marketing is more "performance-based", meaning it's based on actual profit and sales. This is why small businesses reach out to affiliates. At a much lower cost, you are able to reach your affiliates' network of people who are more likely to buy.
4. Easy to scale
99% of people jumpstart their businesses using affiliate marketing. This is especially true for expanding businesses because they can scale at speed and with minimal cost.
You can focus on testing new products and audiences through your affiliates without the burden of additional marketing costs.
Sure, you will have to select and expand your affiliate list. Build your affiliate marketing system. Spend time creating educational and marketing assets for your affiliates.
But other than that, you don't need to put so much effort into the marketing side of things—especially when your affiliate system is set up.
5. Boost in social proof
People trust other people.
That's why 70% of online users trust online reviews from actual product buyers compared to branded content. 31% of consumers also shared that user-generated content (UGC) ads were more memorable than traditional ads.
In case you don't know, UGC ads are ads produced by people, not brands. Like this one. Starbucks shared the pic by @utdallasdining on their feed.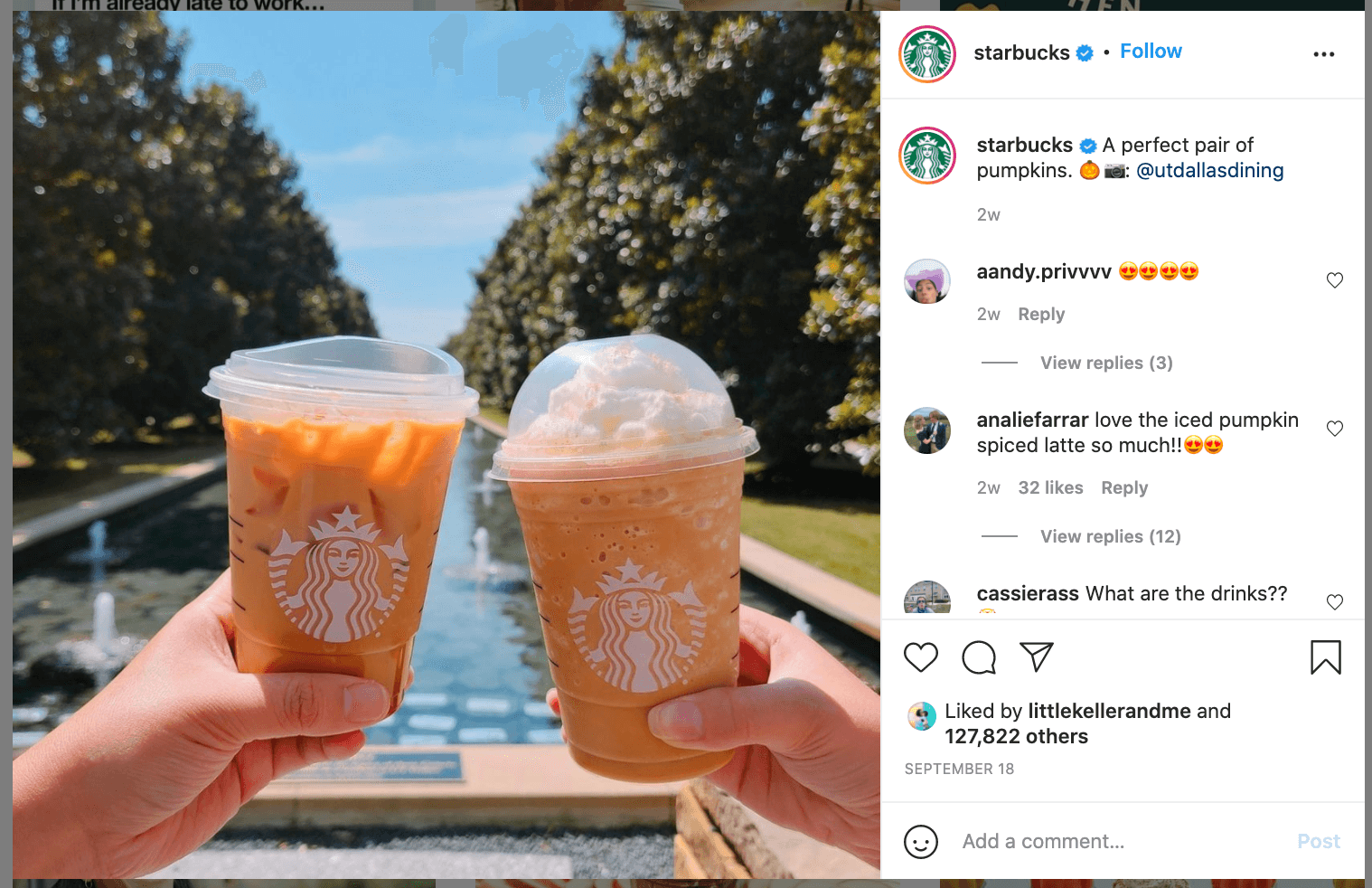 Should I Start Affiliate Marketing for My Business?
The quick answer is yes.
All the benefits mentioned above emphasize that affiliate marketing is both lucrative and easy to dive into.
It will help your store scale in terms of traffic and sales without having to pay huge fees or give up resources upfront. With a solid setup like this, you can focus on growing your product base or trying our new markets.
How Does Affiliate Marketing Work?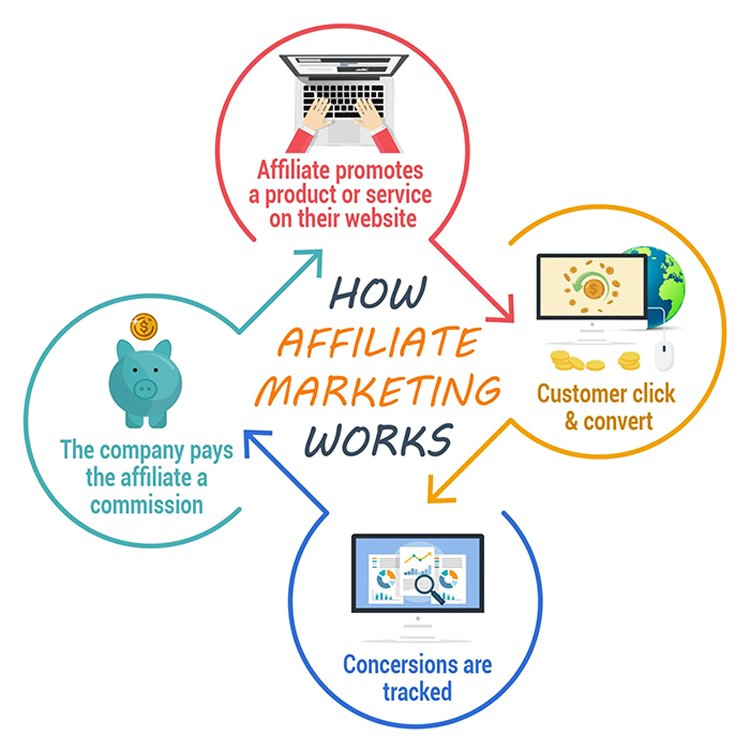 With affiliate marketing, you'll have people to promote your products for you. You don't even have to pay them upfront. They just earn a commission for when they make a sale.
To understand how affiliate marketing works, we need to take an in-depth look at each player and the role they play in the process.
Affiliate marketing has the following key players:
Advertisers
Publishers
Customers
Advertisers (this is YOU as the business owner) are the merchants. They are basically the seller or owner of the store. They reach out to publishers or affiliates to do marketing initiatives in exchange for a commission.
Affiliates can be single individuals or a group. The affiliates promote any product from the store and try to attract potential buyers. They can do this through a blog, a review, or a social media post. There is a unique link (called an affiliate link) connected to the affiliate.
This is an example of a blog reviewing 6 coffee makers. Each coffee maker featured is an affiliate link.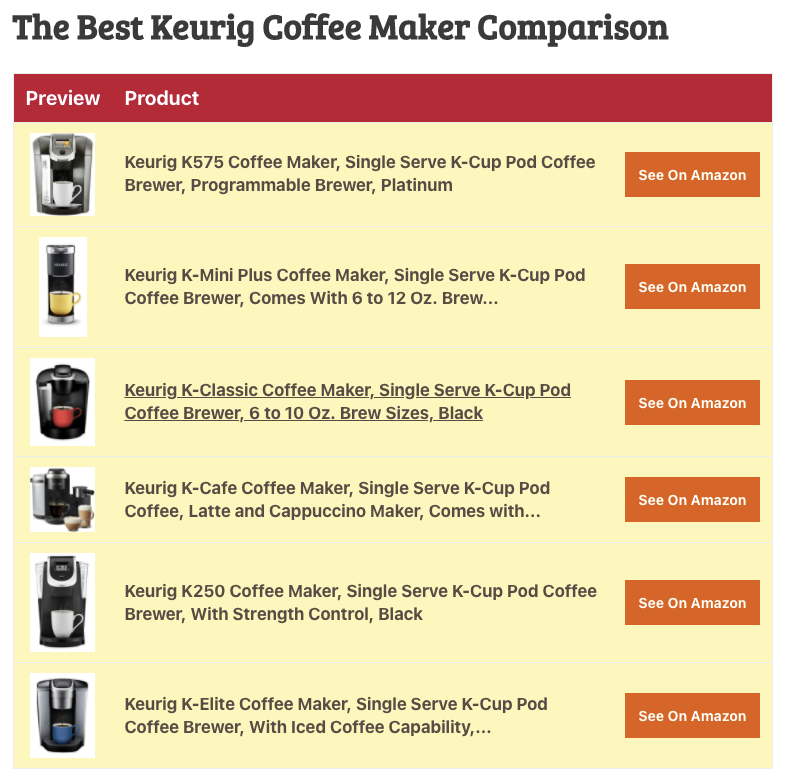 Customers or consumers are people who click on affiliate links and buy the product.
In the example above, let's say a reader of the blog clicks on one of the dry bags and ends up buying it. The affiliate then gets a commission from the advertiser for that sale and any other sale coming from the affiliate link.
The steps can be broken down like this:
An online store has a number of affiliates.
Each affiliate is assigned a unique link called an affiliate link. This can also be a coupon code in some cases.
The affiliate makes a blog, a post, or videos. He/she posts it on social media or any other online platform.
A random Facebook user sees the post and clicks on the affiliate link in the post.
The person decides to try out the product and goes ahead to buy it.
The purchase is confirmed by the store.
The affiliate gets a commission. Commission rates vary per store and per arrangement with the affiliate.
The affiliate marketing process is simple, straightforward, but very rewarding.
To execute a winning affiliate marketing program, you need to know the best practices that will help you.
Affiliate Marketing Trends to Watch Out for
With affiliate marketing increasing in popularity, here are trends you ought to know to stay up to speed on:
Influencers will become even more influential
The average online user today is bombarded with paid ads and social ads every day. They prefer authentic content because they stand out and adds to a store's credibility and trust factor.
An estimated 90% of consumers shared that UGC influences their buying decisions more than promotional emails or even Google search results.
What does this mean?
Influencers are becoming more and more powerful in the age of digital media. While this is an advantage for stores with affiliate marketing programs, the challenge is finding the right affiliates who will bring in actual business.
Some things you need to consider when vetting affiliates:
Their network and industry
Their influence and engagement levels
Marketing skills and techniques
Think of it this way. You're leaving the marketing up to affiliates. They should be bringing in the sales. And though you don't have to shell out commission until an actual sale is made, it would be beneficial if they consistently pull in sales on a regular basis.
Localization of affiliates
Similar to the first point above, you have to put in time and effort in selecting your affiliates. Localization is diving deeper into your audience's culture, industry, or niche.
The more you understand them, the better you will identify affiliates who will resonate with your different audience segments.
Video content will be more favored
84% of people are convinced to buy a product after watching a video. Plus, they prefer the videos to be short. What does this have to do with affiliate marketing?
Your potential customers are most likely on platforms that serve video content. You need to branch out and make sure you have affiliates in those spaces. That way, your target audience can easily find your store.
Affiliates who create content like YouTube vlogs, Instagram reels, or TikTok videos can maximize your store's reach on those platforms.
How to Start Affiliate Marketing?
Great! You've decided to go for affiliate marketing for your online store.
You can follow this guide to make sure you don't miss anything crucial.
Step 1: Create an affiliate program
First, determine the commission rate you're willing to go with. The average affiliate commission rate is between 5-30%.
Next, choose which platform you want to use for your affiliate program. This is a crucial step because the program should be easy to use for both your store and your affiliates.
Depending on what platform you are using for your online store, there are a lot of options, with the most popular ones being:
What if you don't have the budget to spend on an affiliate program? You can still start your affiliate program for free by doing any of the following:
Use special coupon codes instead for each affiliate that comes on board. Buyers can input the code when they check out their order so you can track which affiliate contributed to the sale.
You can also give them a personalized bit.ly link to track where their audience is coming from
Step 2: Choose a niche market
Next, choose the niche market you want to target first. A niche market is a smaller segment of a much larger market. It has its own unique needs, behavior, and preferences.
An example of the larger segment can be the market for beauty products. One niche in this market can be ladies who prefer cruelty-free beauty products.
To determine your niche market, you can look at any of these consumer characteristics:
Price (Are your products on the low end of the spectrum or are they considered luxury products?)
Demographics (gender, age, education level)
Values, interests, and attitude
Location (Are they coming from a specific state or city?)
Step 3: Find your first promoters
The more you know about your target niche market, the better you can pinpoint the affiliates who will pull in more sales. Let's say your niche market is teenagers or young adults who are always on Instagram.
You need to determine the top influencers or content creators in that niche and that space. You can do this manually especially if there are top influencers you really want to get on board.
But other than those VIP influencers, there are other ways to find affiliates:
Work with an affiliate recruitment agency. These agencies focus on finding and recruiting affiliates. This is the best arrangement if you prefer to manage the entire affiliate program, but lack bandwidth for recruiting. Some of these agencies also provide best practices and tips for negotiating with and onboarding affiliates.
Join affiliate networks and directories. Stores and brands usually use these networks to list their products. Meanwhile, affiliate marketers regularly check networks and directories to look for new products to promote. So if you list your products in directories, there is a good chance that promoters will come to you instead of the other way around.
Inform your existing customer base. It's also a good idea to reach out to your existing customers through an email campaign. After all, they already experienced buying your product which makes them credible sources. Inform them about the program and encourage them to join and spread the word.
Announce via your website or social media channels. A simple announcement on your social media platforms can bring in interested affiliates who have existing networks in that space. Make sure to mention the compensation in order to attract them.
Step 4: Support your affiliate marketing community
Make it a pleasant experience for your affiliates to be a part of your network. Make them feel welcome by treating them as collaborators.
Here's something you can do.
Upon signing up, prepare a welcome packet for them or an onboarding video. The onboarding process must include the following snippets:
Welcome them into the fold
Talk a little about your brand identity and goals
Mention how excited you are to have them as part of the team
Run them through the process, how their commissions can be tracked, as well as the payout process
It's important to be a strong support system for your affiliates to maintain a good working relationship.
Another thing you can do is to provide them with some ready-made assets and branding collaterals you already have. They can repurpose these or use them in their promotional efforts:
Banners for their blog
GIF or a short video sequence they can insert in their videos
Product shots
Video reels
Step 5: Track and monitor
Tracking affiliates' commissions can easily be done through any software of your choice. Most of these platforms also have robust onboarding systems to make sure you're set up smoothly.
However, it's no secret that we are approaching the cookie-less future. More than anything, this means tracking will be difficult. Plus, Apple's new update makes tracking on iPhones optional.
Thankfully, there are solutions.
Tracking without cookies is still possible because there are a lot of ways to track sales.
Another solution is to focus on connecting with affiliates who have a really engaged network. Essentially, with third-party cookies out of the picture, marketing initiatives need to stand out more by going more personal.
While tracking will be challenging, affiliate marketing itself will be more rewarding than ever. If you have the right affiliates in the right niches, your store will still be able to reach your target audience.
How to Make Money With Affiliate Marketing?
Affiliate marketing can also be a lucrative source of passive income for publishers who know how to play the game right. Ryan Robinson of ryrob.com makes mid-five figures a month from affiliate marketing.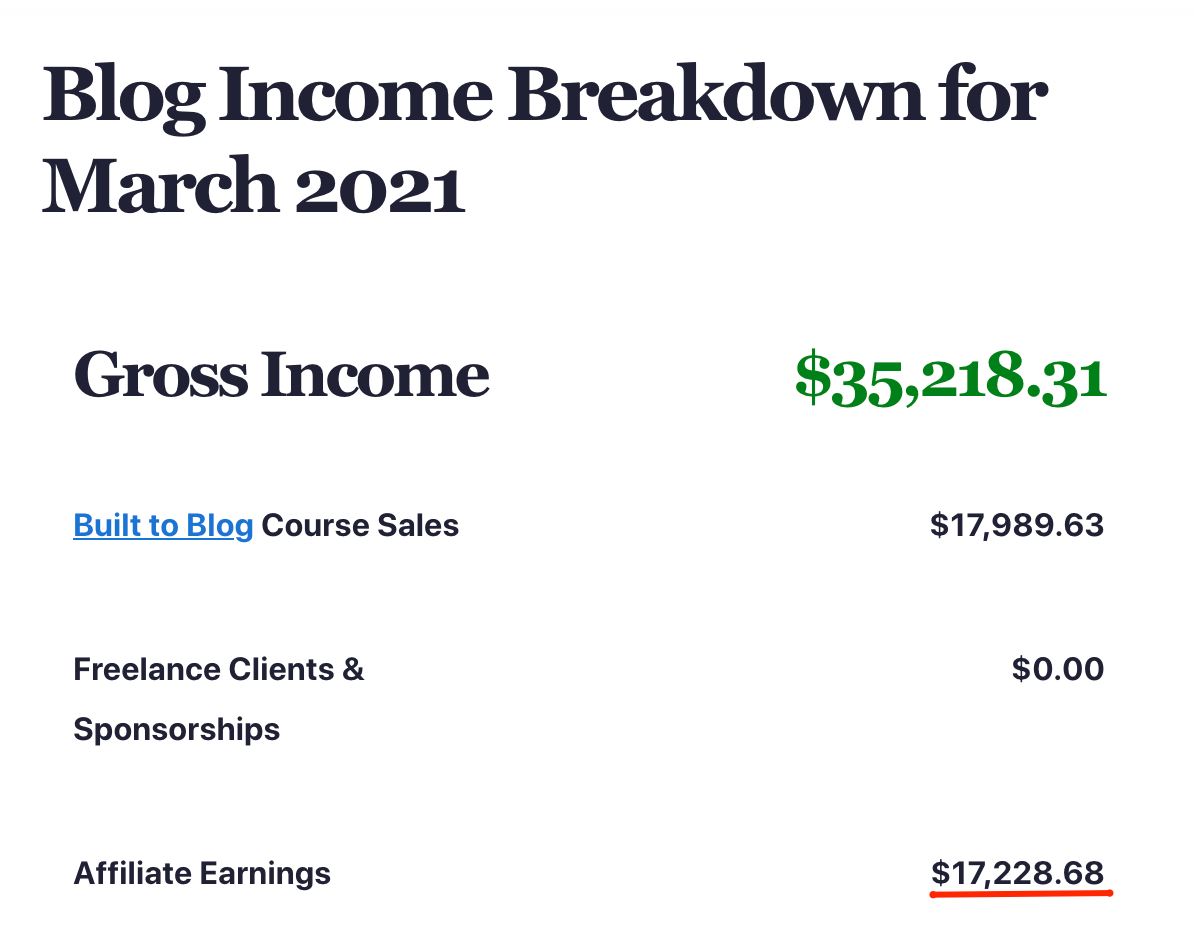 The reason why affiliate marketing is a great strategy for online stores is that it's basically a win-win situation for both the merchant and the affiliate.
Affiliates who are really good at creating content and engaging with their network can experience a rewarding affiliate marketing career. And if they earn through their affiliate links, it just means that the stores are also drowning in revenue.
The focus of a publisher is creating content that sells. Depending on the product or the store, the different types of content can be any of the following:
A blog or review comparing different products from different stores
An unboxing video of a product
Product demo video or a "how-to" tutorial
Real-life applications of the product
The beauty industry leverages DIY makeup tutorials. The toy industry highlights kids playing with the toys or building something using the kit. These are all content that can generate interest and eventually sales.
How to Promote Your Affiliate Program
The work doesn't end after you onboard your affiliates. You have to continuously promote your program to create a sustainable loop of affiliates and income.
Here's a quick punch list of how to get your affiliate program out there.
Directories and networks. Not only will this give you more exposure as a brand, you'll also be discovered by affiliate marketers looking for their next projects. Make sure to mention your program's process and compensation packages to attract quality publishers.
Email marketing campaigns. Most online stores have existing email marketing strategies. You can include an automatic email that goes out to your most high-value customers. Invite them to be affiliates—your customers make the best promoters, after all.
Social media advertising. You will have to invest in advertising costs, which is the opposite of affiliate marketing. This may not be the best fit for you if you're on a tight budget.
It's Time to Dive Into Affiliate Marketing!
If you haven't started yet, this is your sign. Do it right and affiliate marketing can be a rewarding source of traffic and income for your store. Aside from providing you with a solid source of revenue, affiliate marketing is also your gateway to creating stronger relationships with your customers and community.
As Cole Hernandez, founder of Pink Graffiti said,
It [affilaite marketing] is a booming opportunity, especially considering the rise of freelancers and solopreneurs with online businesses. As we look ahead, the millennials and post-millennials, who are actively benefitting from the sharing economy, understand the power of passive income, and as businesses are formed, they are actively integrating affiliate marketing into their business models. Why? Simply because the numbers make sense. Ten voices vs. one voice actively sharing and promoting a product leads to accelerates awareness and profit.
Now that you know the basics of how it works, you are more than ready to begin. Just remember that the best practices center around knowing your target audience and your niche.
It's time to try out affiliate marketing for your store. You'll be surprised at the results. The digital marketing world will always be fast-paced. But a solid affiliate marketing program will help you stay on top of the odds.