If you are wondering whether to go ahead with Big Cartel or Shopify for your business, pause a second and give our Big Cartel vs Shopify article a read to make a well-informed decision towards your business.
Big Cartel and Shopify are great e-commerce platforms enabling businesses to build online stores. However, each platform has its own set of distinct features and different user bases.
Both platforms have grown rapidly over the years. While Big Cartel stores witnessed an increase of 10% year-on-year in the second quarter of 2022, and are thus, rapidly increasing, Shopify has already carved an enormous market share for itself with approximately 5.6 million online stores present as of May 2022.
The two online-store building platforms differ in terms of their ease of use, e-commerce features, analytical tools, and so much more. Deciding on the most suitable platform for your business is crucial to ensure your business's overall success.
Big cartel vs Shopify: An Overview
So, without further ado, let us analyze the key differences between the two!
| Big Cartel | Shopify |
| --- | --- |
| Best suited for artists and jewelry makers. | Caters to a wider customer-base, including larger enterprises. |
| Features low-cost plans. | Relatively more expensive, it comprises a two-week free trial accompanied by a variety of plans. |
| Limited customization options featuring approximately 19 free themes. | Wide variety of customization options and premier design capabilities; 17 free themes and around 79 paid themes. |
| Built-in payment processors are not available. Paypal and Apple Pay can be used. | Features a built-in payment processor. Also accepts all major credit and debit cards. |
Big Cartel vs Shopify: Key Features
Let's get into the nitty-gritty of the differences that set the two platforms apart. Take a look at the parameters that we will be considering for our Big Cartel vs Shopify comparison.
Ease of Use
Design Flexibility
eCommerce Features
Marketing Features
Analytics & Reporting Tools
SEO Strength
Blogging Features
Integration & Add-ons
Mobile Applications
Payment Gateways
Security
Customer Support
Pricing
1. Ease of Use
Since most people aspiring to set up online stores are not coders, the "host" e-commerce platform must have easy accessibility and usage. Setting up an online store can be a daunting task, but with the right platform, the task becomes rewarding and enjoyable.
Big Cartel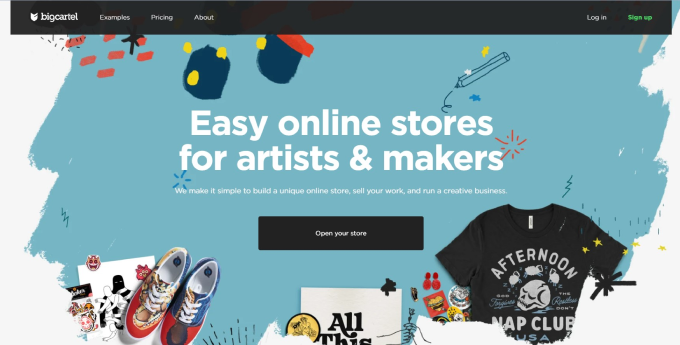 Big Cartel offers a much simpler experience. With a relatively easier onboarding process, Big Cartel offers numerous tips and suggestions on moving around and making the most of the platform.
The overall interface of Big Cartel is quite easy to navigate, and most of its features are easily accessible; however, to make advanced edits, one needs to have some coding experience.
Shopify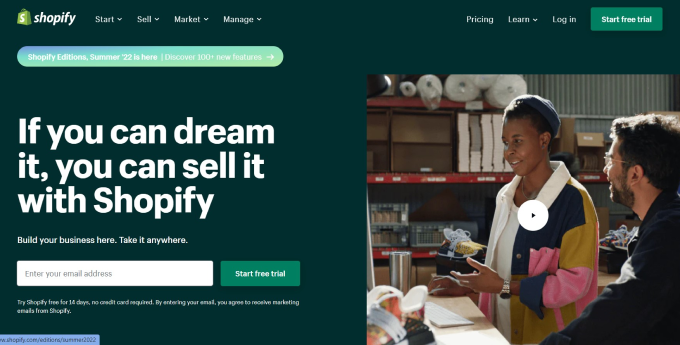 Shopify has a neat interface that features a menu on the left side of the interface, which comprises a list of clickable links to the different features offered by the platform. Upon accessing the features on the left-handed menu, the user is presented with all the relevant information, allowing merchants to edit their store content and add products to the platform.
Shopify also features a new drag-and-drop editor, which offers immense flexibility to its users regarding the layout of their pages.
Since Shopify offers a wider range of features, the platform's dashboard is slightly more complex; thus, getting the hang of the platform might take longer.
Our Verdict for Ease of Use:

Big Cartel
2. Design Flexibility
While opting for an e-commerce platform for your online store, analyzing the design features offered by the platform is equally important. You want your store to look attractive, so you would need a platform that provides a range of features and ample flexibility. So, Big Cartel vs Shopify, which one's better?
Big Cartel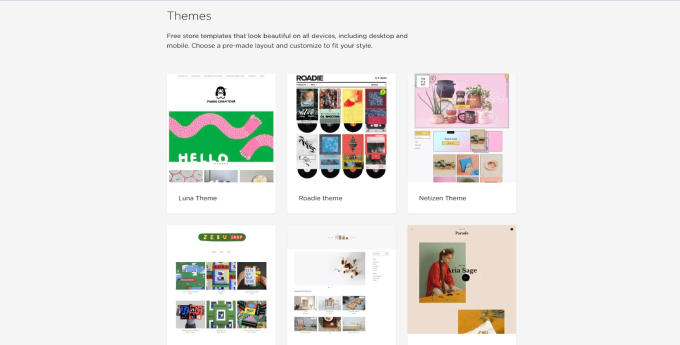 Although Big Cartel offers sweet and simple designs, which have an overall clean appearance, its design capabilities are limited. Big Cartel has a limited number of themes to choose from.
The platform also lacks important features, such as product videos and image zoom. Lastly, it is harder to personalize the themes on the platform; editing images can become a task if you don't know how to code.
Shopify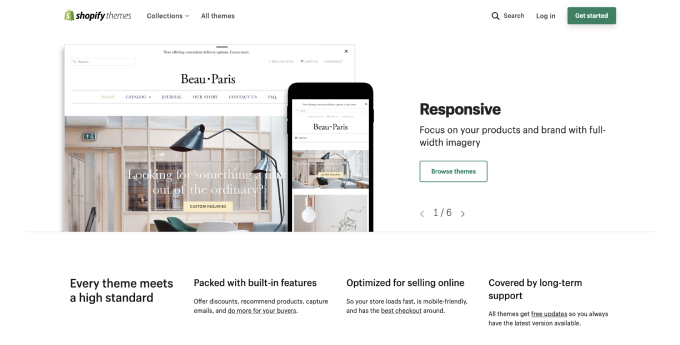 Shopify comprises numerous features that help your website stand out. From gorgeous themes to complete mobile optimization, Shopify constitutes designer prowess. In terms of greater design flexibility, Shopify wins over Big Cartel.
You can also edit the mobile version of your site, thus, making sure your store appears great on different screens.
Our Verdict for Design Flexibility:

Shopify
3. eCommerce Features
An expansive range of e-commerce features provides a better customer experience and makes your customer revisit your online store, thus, improving your sales. So, Big Cartel vs Shopify – which one offers more e-commerce features?
Big Cartel
In contrast to Shopify, Big Cartel has a limited range of features. However, these are sufficient for most independent artists and small businesses. From free themes to shipment and inventory tracking options to discount codes, Big Cartel offers ample space and growth opportunities to small businesses.
Shopify
Shopify has a list of remarkable features that allow businesses to offer their customers an overall positive shopping experience. Featuring an app store, businesses can easily add products to their online store. The e-commerce platform also offers numerous payment options to its customers.
From discount codes to customer support to finance reports, Shopify has an enormous list of e-commerce features that make it a scalable platform and a fit for big brands.
Our Verdict for E-Commerce Features:

Shopify
4. Marketing Features
You have your business website, but you need to market it properly to make it stand out from its competitors. Both Big Cartel and Shopify offer marketing features that can help you lead your business with an edge over your competitors. Read on to analyze the marketing features of both platforms and decide which one's best for your business.
Big Cartel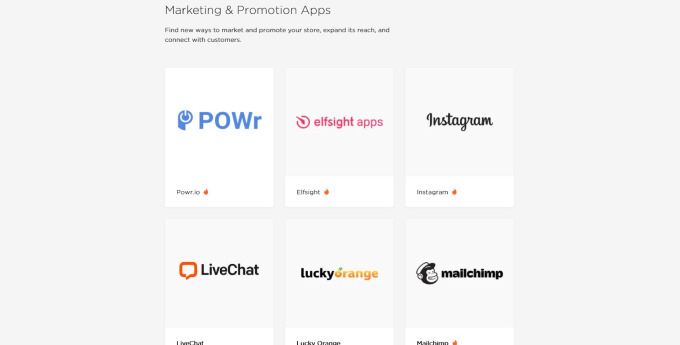 Big Cartel also offers marketing apps to its users; however, these are limited in number. Although the platform features a handful of marketing apps, it can be integrated with numerous apps to automate marketing functions through a third-party app named Zapier.
Regarding email marketing, Big Carter has no built-in email tool, due to which users have to rely on third-party apps such as Mailchimp, etc., to communicate with potential customers.
Shopify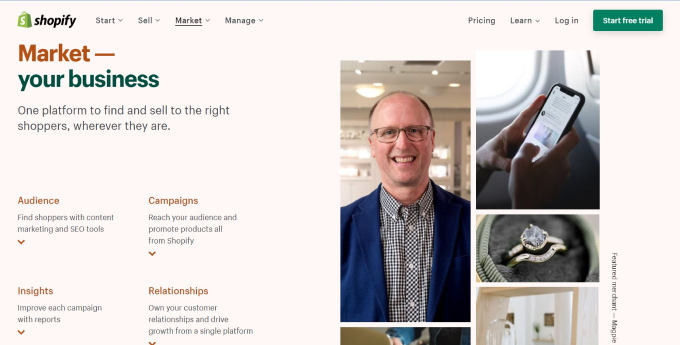 Shopify features a list of marketing-related apps that helps businesses stand out. From social media platforms to landing page builders to all-in-one marketing apps, the platform offers numerous marketing apps to help enterprises fulfill their objectives.
The platform also has an integrated email and text marketing app and features a built-in email marketing solution that lets you send content to your business subscribers.
Our Verdict for Marketing Features:

Shopify
5. Analytics & Reporting Tools
Analyzing your business and how your customers engage with it is one of the essential steps toward building a solid brand strategy. Analytics and reporting tools help businesses analyze their offering and upscale it if required.
Big Cartel
Big Cartel features a simple reporting feature, offering a brief overview of the sales and customer visits. The platform has no in-built analytics feature for detailed business reporting but uses Google Analytics, a third-party service.
Users can access and connect their online store to Google Analytics if they have purchased a paid plan.
Shopify
Shopify has in-built reporting and analytics features that give you a detailed insight into your business. Offering different types of reports amongst a plethora of categories, including finance, sales, customer, and behavior, Shopify provides a holistic view of your business.
Although Shopify offers a wide variety of analytics reports to its users, these reports are not inexpensive. Access to these reports can be costly.
Our Verdict for Analytics & Reporting Tools:

Shopify
6. SEO Strength
Optimizing the content of your online store is crucial to maintain its presence in the digital landscape. So, if you are wondering, Big Cartel vs Shopify -which platform has robust SEO features, dive further!
Big Cartel
Big Cartel also provides many features to optimize your online store for search engines. However, the platform has a complex system for editing the URL structure and creating redirects. Other than this drawback, Big Cartel offers plenty of functions to fulfill the SEO objectives, including clean URLs, the option to edit alt text, valid HTML markup, and a fully responsive website.
Shopify
Shopify offers an array of SEO features, including adding and changing meta descriptions, changing product and page URLs, modifying the speed of your website, and so much more. With its comprehensive list of SEO features, the platform lets you fully optimize your website for search engines.
Our Verdict for SEO Strength:

Shopify
7. Blogging Features
Blogging is a part of the marketing activity that attracts new customers and engages patrons. Quality content can attract visitors to your website, which can ultimately lead to an increase in potential customers and business growth.
Big Cartel
Big Cartel has no in-built blogging tool. Users have to access third-party blogging tools to run a blog on their website. With third-party blogging services, merchants can access numerous blogging features.
Shopify
Shopify features an in-built blogging tool. The tool has some basic features that let you add tags to your blog posts; however, advanced features such as SEO plug-ins are unavailable. To tap into additional features, like SEO post analysis, users can access third-party services.
Our Verdict for Blogging Features:

Shopify
8. Integration & Add-ons
Integrating your store with add-on apps enables you to access different features that can upgrade your website. Both Shopify and Big Cartel have an app store that features apps related to payment gateways, marketing, store management, and so much more.
Big Cartel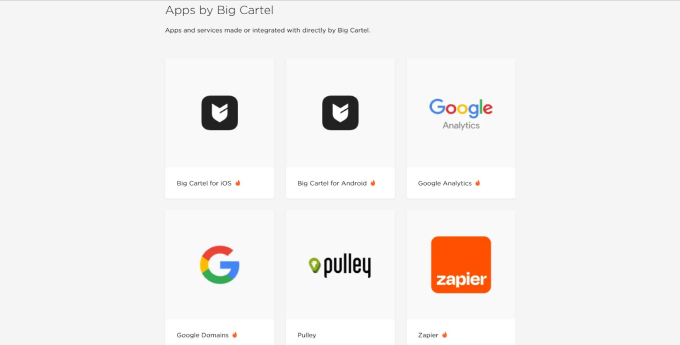 Big Cartel has 27 apps on its app store, which vary across different functions, such as payment processing, shipping, marketing, promotion, etc. Besides this, the platform also integrates with Zapier, adding 5,000 more apps under its belt. The only drawback is that synching with Zapier levies an additional monthly fee on the users.
Shopify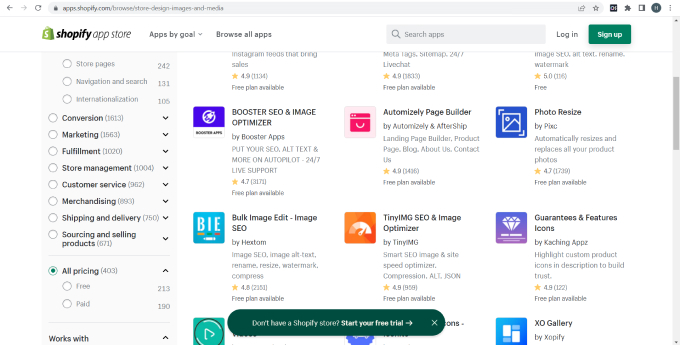 Concerning integration options and add-ons, Shopify wins over Big Cartel, and this is because the platform features around 8,000 apps on its app store. The apps range across various categories, such as email marketing tools, CRM tools, social media apps, etc.
Our Verdict for Integration & Add-Ons:

Tie
9. Mobile Applications
Big Cartel vs Shopify- for determining which platform is optimal for your business, you also need to analyze the mobile applications offered by both platforms. Both platforms provide mobile applications for iOS and Android, but the apps vary in their features. Let's explore:
Big Cartel
The Big Cartel app allows users to add and edit products along with its images. The app offers additional features, including a cash-on-delivery option, and allows you to track the orders. However, these features are quite basic compared to what Shopify's mobile app has to offer.
Shopify
Shopify features different apps to fulfill different needs of businesses. Along with its primary app, the platform also has a customer chat app, a logo-making app, and an app offering live chat service to your customers.
The main Shopify app allows merchants to manage their orders and sales channels. Additionally, there is also a POS app that provides extensive features, including the collection of customer information, to businesses selling in physical locations.
Our Verdict for Mobile Applications:

Shopify
10. Payment Gateways
As the name suggests, payment gateways are gateways to accepting payment online. They are software that allows for online payments of your products and services. Providing a range of payment gateway options offers ease and convenience to your customers and ensures you don't lose out on business.
Big Cartel
Unlike Shopify, Big Cartel has no in-built payment gateway. It solely relies on external payment gateways to accept payments. The platform integrates with two payment gateways- PayPal and Stripes and does not charge transaction fees on accepting payments. However, merchants are still required to pay a fee to their chosen payment gateway.
Shopify
The platform has an in-built payment gateway that allows customers to make payments. Along with this, Shopify also offers approximately 100 external payment gateways.
The platform offers a range of payment options but also levies transaction fees on external payment gateways. Apart from paying the required fee to the payment gateway, merchants are also charged an additional transaction fee by Shopify.
Our Verdict for Payment Gateways:

Shopify
11. Security
While choosing an e-commerce platform for your business, it is essential to consider security. Both Shopify and Big Cartel are secure platforms but have specific security differences that need to be considered while making a choice.
Big Cartel
Big Cartel lags in both the above-mentioned aspects of security. While Shopify features two-factor authentication, Big Cartel has no feature providing the same. Also, Big Cartel is not PCI compliant. The platform uses third-party payment gateways, such as PayPal and Stripes, which are PCI compliant.
Shopify
Shopify offers two-factor authentication, which provides additional security for your account. A security key or SMS authentication is used to verify your identity. Additionally, Shopify is also wholly PCI compliant, thus, securing all credit card transactions happening in your online store.
Our Verdict for Security:

Shopify
12. Customer Support
Offering quality customer support is highly important in running a business. Hence, it is crucial to analyze the customer support provided by your e-commerce platform. Big Cartel vs Shopify- which platform has the better customer support? Let us find out!
Big Cartel
In terms of customer support, Big Cartel has a couple of drawbacks. Even though the platform offers numerous informative articles on its functionalities, its real-time customer support system is feeble. For starters, the company has a limited number of customer support staff, and service is solely provided in English. Furthermore, the customer support network can only be reached via email and is available only on weekdays.
Shopify
Shopify offers a comprehensive customer support system, wherein service is provided via chat, phone, and email. Customer support is provided in different languages and can be availed 24*7.
Although Shopify provides a comprehensive support network to its customers, users can only access customer support once they have searched for the answers on the help page. The platform also features support material in 20+ languages.
Our Verdict for Customer Support:

Shopify
13. Pricing
Both Shopify and Big Cartel have various plans with different pricing models. Businesses can choose a plan according to their store's needs and budget.
Big Cartel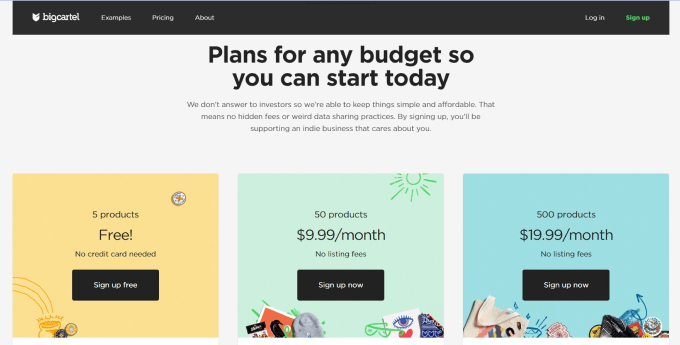 The pricing of Big Cartel is quite competitive. Primarily, the platform has a free plan with no hidden costs. Big Cartel also offers a Platinum and a Diamond plan, which gives inventory tracking and Google Analytics access. The pricing for the same is $9.99 and $19.99, respectively.
While the platform offers competitive prices, it has an inventory limit of 500 products, making it an ideal fit for small businesses with limited products.
Shopify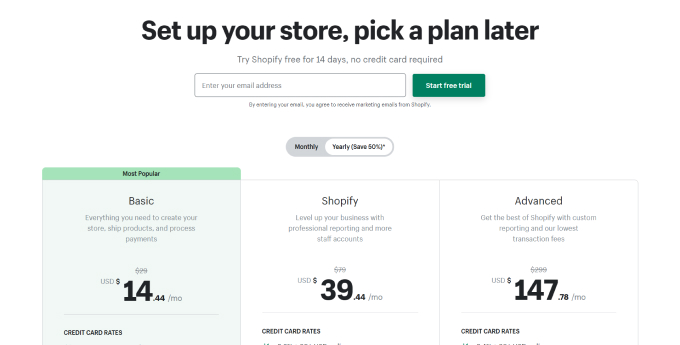 Shopify offers five different pricing plans, starting with the starter plan, which is $5 per month. Shopify's Plus plan costs around $2000 per month, and users can reduce this price by purchasing an annual plan. The platform also offers a 14-day free trial period and imposes no limits on the number of products one can sell on their online store.
Our Verdict for Pricing:

Big Cartel
Conclusion
Now that you have understood the key differences between Big Cartel and Shopify, it would become easier to choose a platform keeping your business model and requirements in mind. For a more customized store experience, Shopify is the better choice as it offers many customization options and features. Shopify is also better than Big Cartel if you have many products to sell.
However, Big Cartel is the obvious choice for artists and small businesses, as it offers competitive prices. Since Big Cartel also provides a free plan, it is best for companies just starting and wanting to get the lay of the market.
The fact is that both platforms are different from each other and have carved a niche for themselves in the market. The most suitable of the two depends on your business needs and budget.
Further Reading
While both the platforms offer ample benefits to their users, if you are looking for something more from your website builder, make sure to visit Dukaan.
An eCommerce enablement platform, Dukaan allows you to set up your online store in just 30-seconds. With our platform, you can get access to several business tools that can offer a customer-centric shopping experience.
Visit Dukaan, and avail your 7-day free trial!
FAQs
1. Is there any coding required for using Big Cartel or Shopify?
Neither Big Cartel nor Shopify requires any coding. Users can create their websites with zero programming skills with a finger click. With Shopify, one can make advanced edits even with zero coding knowledge. However, if you are looking for an eCommerce platform that's both highly intuitive and requires no technical coding skills, try
Dukaan
.
2. Which platform offers better value for money, Big Cartel or Shopify?
Shopify is more expensive than Big Cartel but offers users a wide variety of features, whereas Big Cartel is a low-cost solution that also offers a free plan. Although Big Cartel is relatively less costly, it has an inventory limit and a limited range of customization features.
3. Do Big Cartel and Shopify charge transaction fees?
Big Cartel does not charge transaction fees but uses third-party payment gateways such as Stripes and PayPal that charge transaction fees. Shopify has its payment gateway- Shopify Payments, for which there is no transaction fee except for merchants residing in Austria, Belgium, and Sweden.
4. How many businesses access Shopify's services?
As per data, approximately 5.6 million businesses access Shopify's services and have their online stores on the platform.
5. What makes Big Cartel perfect for small businesses?
Big Cartel limits the number of products businesses can sell on its platform. The platform's inventory limitation, along with its competitive prices, makes it perfect for small businesses. Big Cartel also features a free plan for its users, making it an ideal choice for companies with low-operational costs.