Many moons ago, everyone used Shopify to take their business online. Since then, the platform has been plagued by a number of issues that have made it less than efficient. If you too are seeking other options, read on to discover the best Shopify alternatives available in the market today.
Don't have time to read an entire article? Take a look at our quick recommendation.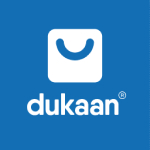 Launch, scale and manage your online business with just $14.99 on Dukaan. Annual plans start at $149.99 only.
At the time of its launch 16 years ago, Shopify was one of the first eCommerce platforms of its kind. Since then, a platform that once set the tone in the virtual market is now slowly losing out on its users. That's because the needs of online sellers seemed to have evolved, and many jump ship for better performance and efficient functioning.
This is clearly reflected in the multiple negative reviews online from sellers who are not too happy with the platform.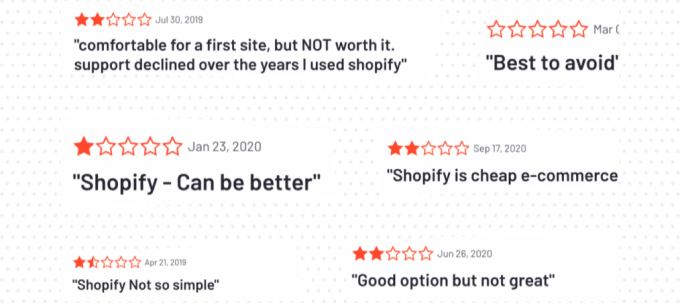 To put things further into perspective, here is what a seller who recently switched his store from Shopify to Dukaan says about this transition.
A couple of updates about @DotCompanyIn
We have officially switched from Shopify to MyDukkan @mydukaanapp
Reasons?
– MyDukaan offers cheaper plans and better features
– Built-in Payment Gateway
– Dukaan Delivery App

Also COD is now available! Happy Shopping 😀 pic.twitter.com/j3OZUuFYVY

— Harsh Punjabi (@technolobeYT) October 10, 2022
And that's not all. Some sellers say that Shopify's not user-friendly and has a steep learning curve. Others report problems keeping it in the long term, budget-wise. And then there's also a section who says they don't get the support they used to.
Reasons Why Sellers Are Looking for Platforms Like Shopify
1. Shopify is NOT as intuitive as it seems.
The key functionalities—which you might expect to be provided—often require the installation of third-party software, a little knowledge of coding, and patience to set up.
A Shopify customer said: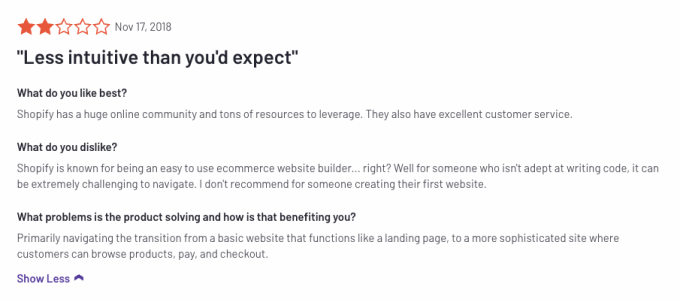 If you have no coding skills, chances are you will only enjoy the free templates.
2. Shopify can get expensive over time.
The Shopify starter fee is cheap to start and is comparable to that of other eCommerce platforms.
However, it gets expensive over time.

As your business grows, you'll be prompted to pay more.
You'll need additional, important features and integrations like international pricing, checkout analytics, and sales channels (i.e., Amazon).
3. You can't use Shopify Payments in certain countries.
Shopify accepts most major payment methods including credit cards, Apple Pay, and Google Pay. However, sellers in certain countries don't get to use Shopify Payments.
If you happen to live in countries, you'll have to find a workaround for this.
If you feel like Shopify isn't for you as well, we got you.
These other marketplaces might be a better fit for you.
Let's dive in.
Shopify Alternatives (Free, Paid, and Open Source)
Best for B2C and D2C of all scales
Pricing starts at $14.99/ month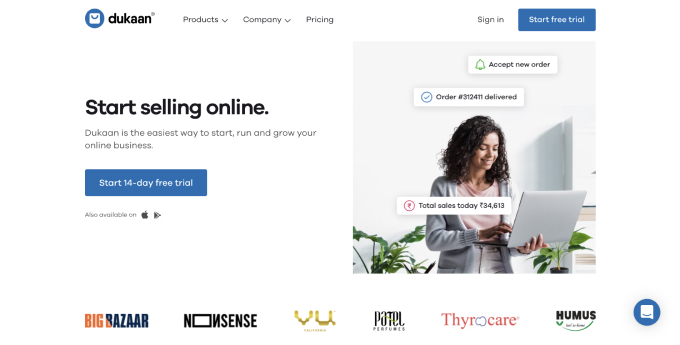 Unlike Shopify which has a steep learning curve, Dukaan is its perfect alternative: packed with sophisticated eCommerce features, highly intuitive to use and scalable.
With Dukaan, you can launch your own eCommerce store in under a minute, with only your business name, product catalogue and contact details being the prerequisite.
How does Dukaan compare with Shopify?
| Features | Dukaan | Shopify |
| --- | --- | --- |
| Best For | Businesses of all scales. | Medium to large businesses. |
| Pricing | Starts at $11.99 per month. | Starts at $29 per month. |
| Branding | Provides custom domain and app. | Provides custom domain. |
| Getting Started | Setup your store in under a minute. | Takes up to 60 minutes to set up store. |
| Ease of Use | Very simple and straightforward to customize your store and manage your business with dynamic dashboard. | Steep learning curve involved with store customization, and maintenance . |
| Page Loading Speed | Page loading time within 70 to 80ms for online store of any scale. | Gets bulky and slow with the addition of apps and extensions. |
| Apps and Integrations | Range of in-house plugins to add basic functionalities. | Even basic integrations come at extra cost. |
| Payment Gateways | Integrates with important payment gateways as well as wallets. | Integrates with payment gateways but not wallets. |
| Customer Support | Available in chat, email, and phone. | Available in chat, email, and phone. |
| Security | Provides free SSL certificate. | Provides free SSL certificate. |
| Taxes Calculator | Available on all plans. | available only on the highest paid plan. |
| RTO Optimizer | Available on all plans. | Not available |
| Multi-store Setup Based on Locations | Available on all plans. | Not available. |
Features
As an eCommerce platform, Dukaan comes equipped with all the features, business tools and plugins needed to run, manage and scale your business.
Dukaan offers a plethora of advanced eCommerce features like:
Abandoned cart recovery
Dynamic dashboard,
RTO optimizer,
Create discount coupons,
Store locator,
Auto sales tax calculator,
Multi-warehouse management among many more.
Additionally, it also integrates with multiple payment getaways (Stripe, PayPal, Xendit, dLocal etc.), supports flexible payments and allows for and wishlist creation.
Moreover, the platform constantly rolls out new features to make your selling experience even more convenient.
Design
Theme and design libraries are built-in into Dukaan. All their themes are mobile-optimized, fully customizable and optimized for speed. You can easily alter the theme's color, font and style. Moreover, all of Dukaan's themes are free to use.
And if you have coding knowledge, you can also add custom CSS to your storefront to modify it further.
You also get access to the platform's vast inbuilt marketing resources like promotional banners, business cards, store banners, social media templates that you can fully alter to match your store's aesthetic.
Ease of Use
Dukaan's USP is its highly intuitive user interface. Unlike Shopify, you don't have to dedicate time and effort to understand its working. All of the platform's functionalities can be conveniently accessed with its dashboard. There are also prompts to guide you along if you feel stuck.
Dukaan also comes out of the box with tons of in-built business tools and integrated plugins. Any extra functionality that you might require can be easily integrated through third-party apps.
Whether you need to promote your store, analyse its growth or better your customer support capabilities, you can choose from plugins like Privy, MailChimp, Google analytics, Kommunicate chatbot etc. from the platform's 60+ options.
Pricing
Compared to the functionalities that the platform offers, it is priced rather modestly. Take a look at its different pricing plans.
| Plan | Monthly | Yearly |
| --- | --- | --- |
| Entrepreneur | $14.99 | $149.99 |
| Agency | $49.99 | $499.99 |
| Enterprise | Custom | Custom |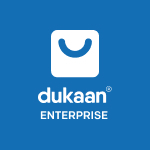 The Dukaan enterprise plan helps you scale your business with advanced features and more controls.
2. BigCommerce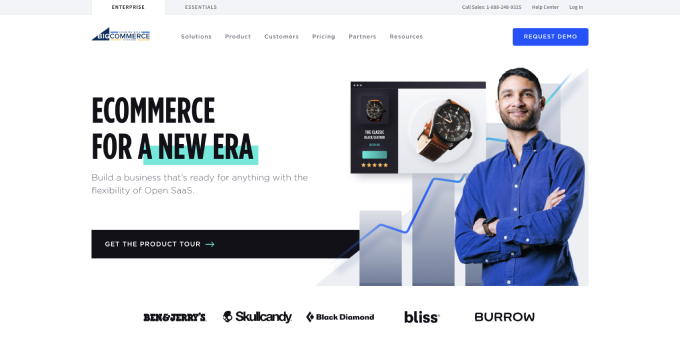 BigCommerce is an Open SaaS platform that helps merchants scale their online business real fast.
It has powerful tools that enterprises can use to adjust business processes quickly. This way, business demands are met as they arise.
With in-depth support, you can get a complete solution experience. The team can help with setup, data migration, and account management.
BigCommerce is best for…
BigCommerce is best for growing businesses that are moving fast. When you need an extremely agile environment to quickly meet demanding business needs, this is the best option.
If you've grown big enough for your current platform, you can migrate to BigCommerce to grow without complexity.
BigCommerce pricing
To start selling online, you can start at $29.95 per month. If you want to grow with marketing features like automated cart recovery, it's at $79.95 per month.
Features like dynamic filters take the shopping experience to a whole new level. If you want to invest in this, be ready to shell out at least $299.95 a month.
Third-party payment gateways start at 2.9% and $0.3 per payment.
| Plan | Monthly (when billed monthly) | Monthly (when billed yearly) |
| --- | --- | --- |
| Standard | $29.95 | $29.95 |
| Plus | $79.95 | $71.95 |
| Pro | $299.95 | $269.96 |
| Enterprise | Custom | Custom |
Why choose BigCommerce over Shopify?
Advanced features come built-in.
Over 1000 apps and built-in tools.
Allows you to send transactional emails.
Further reading
3. WooCommerce
WooCommerce is a free WordPress plug-in that helps you create a customizable online store on your website.
It lets you set up a new store in minutes, gets secure payments, and configure shipping options. It's a practical way to maximize your current reach and boost sales. It also doesn't require coding knowledge so a non-technical person can set this up.
However, they leave the security up to you so you'll have to do a few things yourself to keep your store secure.
WooCommerce is best for…
Since WooCommerce works perfectly with WordPress, it's the best choice when you want to manage your shop using this platform.
If you already have an established WordPress site and you want to start selling products to your audience, WooCommerce is the practical choice.
WooCommerce pricing
| | Low Pricing Range: | High Pricing Range: |
| --- | --- | --- |
| Hosting | $6.95/month | $12.95/month |
| Domain Name | $15/year | $25/year |
| Theme | Free WooCommerce theme | $35-129 professional theme |
| Plugins | Free | $100-150/year |
| Security | $10/year | $150-450/year |
| Dev Fees | Free | $1,000-6,000 |
Why choose WooCommerce over Shopify?
Covert WordPress site into an online store.
Build an advanced eCommerce store.
Over 50,000 apps and extensions.
Further reading
4. Wix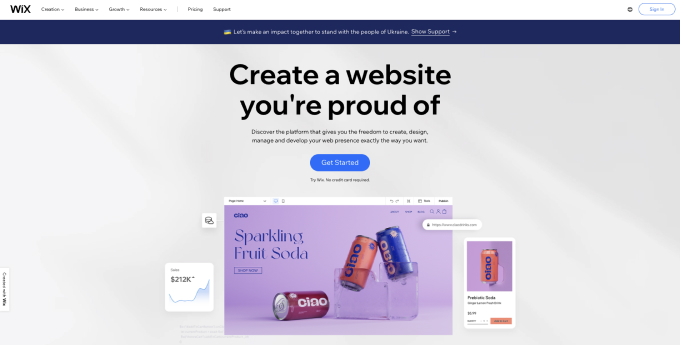 Wix is a drag-and-drop site builder that lets you create websites for photography, education, design, and more. It has 1000+ templates that provide a fundamental structure that can be cosmetically customized.
It's firstly a website, but you can easily transform it into an eCommerce platform with its online store templates.
Wix is best for…
Wix is best for those who are looking for an easy-to-manage platform for their online stores. It has beautiful templates, marketing features, and eCommerce tools that you need to start selling online.
However, customization is limited. You just can't add your tracking pixel, integrate sophisticated user flows, or migrate your online store (or content) elsewhere in the future.
Wix pricing
The most basic eCommerce plan starts at $17 per month, providing unlimited bandwidth, 20GB storage, and all the things you need to sell online (i.e., domain, secure payments, customer accounts, and more).
If you offer subscriptions or you want to sell on social channels, you'll need the Business Unlimited Package, which is at $25 per month.
For serious entrepreneurs who want to see customized reports, sell more than 250 products, or offer rewards to loyal customers, the Business VIP Plan at $35/month is recommended.
| Plan | Monthly | Yearly |
| --- | --- | --- |
| Combo | $23/month | $16/month |
| Unlimited | $29/month | $22/month |
| Pro | $34/month | $27/month |
| VIP | $49/month | $45/month |
| Business Basic | $34/month | $27/month |
| Business Unlimited | $38/month | $32/month |
| Business VIP | $64/month | $59/month |
Why choose Wix over Shopify?
Can build individual pages for products.
Very innovative website builder.
Dedicated customer support team.
Further reading
5. Squarespace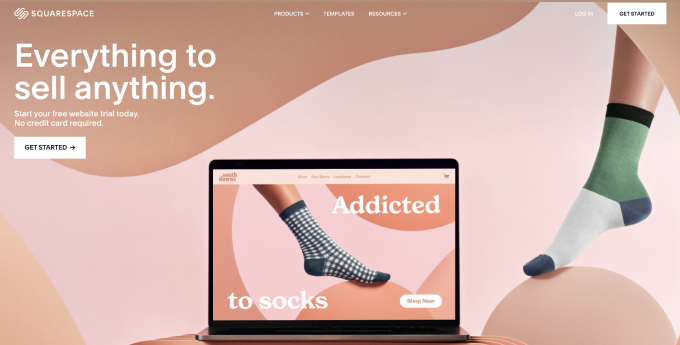 Squarespace is an all-in-one website builder that makes you stand out from the assemblage of online stores.
How?
With its best-in-class, stylish, and expressive designs. With Squarespace, you can showcase your products (or your services) at their absolute best.
Yes, Squarespace lets you sell your services too.
It has a booking function so whether you're a restaurant in need of a booking system, an online magazine that wants to sell subscriptions, or an artist ready to drop your latest work, SquareSpace can support the way you do business.
Squarespace is best for…
Squarespace is best for creative entrepreneurs who value aesthetics the most. It is a "type and goes" web creation platform perfect for those who want to leave a bold first impression on their customers.
Thanks to the award-winning web store templates.
Squarespace pricing
The Business Package (the most popular) is offered at $18 a month. It already has a fully integrated eCommerce store with robust order, inventory, and catalog management.
If you want to avoid the 3% transaction fees and access core marketing features, POS, customer accounts, checkouts, and the likes, go with the Basic Commerce Plan at $26 a month.
Need subscriptions, abandoned cart recovery, and the whole eCommerce enchilada? The Advance Commerce package provides unlimited access at $40 per month.
| Plan | Monthly | Yearly |
| --- | --- | --- |
| Personal Plan | $23 | $16 |
| Business Plan | $33 | $23 |
| Ecommerce Basic Plan | $36 | $27 |
| Ecommerce Advanced Plan | $65 | $49 |
Why choose Squarespace over Shopify?
Website builder with strong eCommerce features.
Sleek and well-designed website themes.
High-quality eCommerce features.
Further reading
6. Volusion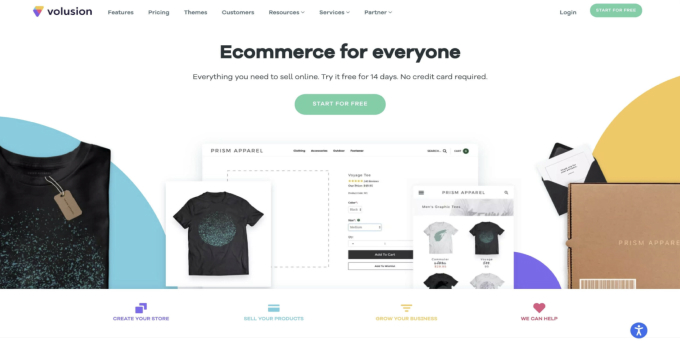 Volusion promises to provide everything you need when you're just getting started with eCommerce.
So far, it delivers.
It has an intuitive store builder, an eCommerce solution, and a marketing platform.
With its all-in-one eCommerce solution, you don't need to buy expensive add-ons. You can create, manage, and expand your store easily without breaking the bank. SEO, integrations, and eCommerce features are easily accessible on the dashboard.
Plus, their customer support is helpful so if you need extra hand-holding when installing plugins, get Volusion.
Volusion is best for…
Volusion makes a great tool for newbies in the eCommerce business. It can help you get started without a bloated budget.
The features are built into the dashboard so you won't have to purchase (or install) add-ons. This makes it a practical choice when it comes to budget and implementation.
Volusion pricing
The personal plan starts at $29 per month for limited features, 100 products, and a 1-man team (you can't add team members).
In addition, you would have to pay $79 per month if you want to access online and phone support and other additional features. To list unlimited products and add up to 15 team members, it'll cost you $299 per month.
| Plan | Monthly | Yearly |
| --- | --- | --- |
| Personal | $35.00 | $31.50 |
| Professional | $79.00 | $71.10 |
| Business | $299.00 | $269.10 |
| Prime | Based on GMV | Based on GMV |
Why choose Volusion over Shopify?
Best set of analytics and data tools.
Includes all advanced features.
Provides mobile app to manage on the go.
7. Weebly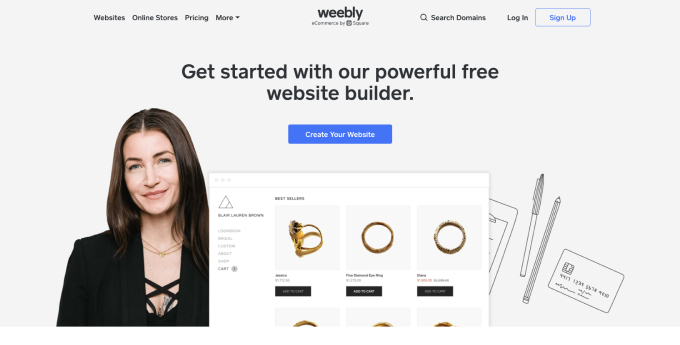 With Weebly, you can create your online store and grow your e-com business as you please. Not all platforms can cater to startups and support them as they grow, but Weebly says they can.
Even with 100 pages in, your website will load fast. Plus, you can choose from Weebly's native applications or 3rd party software for additional features.
Weebly is best for…
Weebly is best for entrepreneurs who want to build their online store and grow it from one place. If you want to avoid future inconveniences of store migration, start with Weebly.
It's a one-stop shop for small businesses, so you'll get all the things that you need from the platform. It's just challenging to migrate to other platforms in the future, so keep this in mind.
Weebly pricing
For a basic store with your own domain, it'll cost you $12 per month. If you need inventory management, coupon codes, and other fancy ecom features like shipping calculators on your site, there's the Business Plan at $25.
Power Sellers can enjoy abandoned cart emails and real-time shipping for $38 per month.
Plan
For websites
(when billed yearly)
For online stores
(when billed yearly)
Free
$0
-
Pro
$5/month
$12/month
Business
$12/month
$25/month
Business Plus
$25/month
$38/month
Why choose Weebly over Shopify?
Very simple and easy to set up a store.
Best for budget-conscious businesses.
Create an aesthetically pleasing store.
Further reading
8. Big Cartel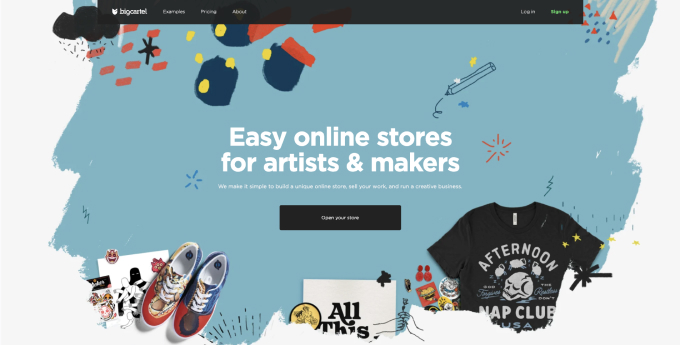 Big Cartel focuses on creating a platform where artists can showcase and sell their stuff online.
It provides easy-to-use shopping cart software, shipment tracking, discounts & promos, sales tax autopilot, and more—the stuff that makes selling an absolute breeze.
Since Big Cartel supports budding artists, there are no hidden fees or strange data-sharing practices. Plus, you get to enjoy the platform for free if you only have up to 5 products to sell.
Big Cartel is best for…
Big Cartel is best for artists, makers, and creatives who are just getting started in selling their pieces of art.
If you want to focus on your artsy side and not let online selling drain your creative juices, Big Cartel is the way to go.
You can sell up to 5 products for free and even offer discounts and promo codes to your patrons.
Big Cartel pricing
Big Cartel plans start for free, but it's limited to listing 5 products only. Still a good start for artists looking to launch their brand—no need to pay any listing fee!
For bulk editing, shipment tracking, and sales tax automation, upgrade to the next plan, which sells at $9.99 per month. If you want to post up to 500 products and offer a variety of features, you will have to pay $19.99 per month.
| Plan | Monthly | You can list |
| --- | --- | --- |
| Gold | Free | 5 Products |
| Platinum | $9.99 | 50 Products |
| Diamond | $19.99 | 500 Products |
Why choose BigCartel over Shopify?
Suited more for artisans and creatives.
Niche platform for handmade products.
You can sell online for free.
Further reading
9. Sellfy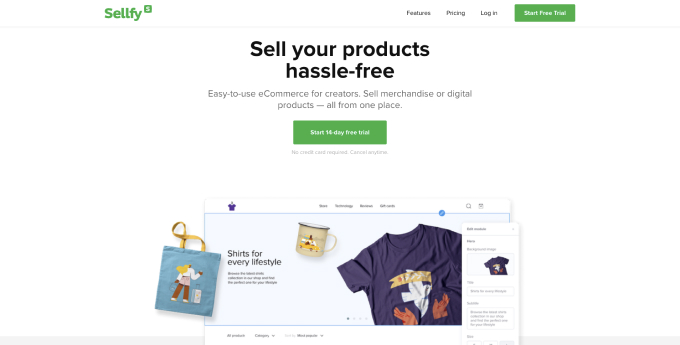 Planning to sell digital products on top of your merchandise? Check out Sellfy.
It's an online platform that helps influencers easily monetize their following. Use it to sell print-on-demand merch like shirts or mugs, digital goods like filters or social media templates, and even subscriptions to whatever it is you're offering to your avid followers.
It takes the complexity away from running an online store so you can focus on generating entertaining content.
Sellfy is best for…
Sellfy is best for content creators who want to start monetizing their following. It lets you sell digital products, online merchandise (they even offer Print on Demand), and even subscriptions.
Sellfy pricing
| Plan | Monthly | Yearly |
| --- | --- | --- |
| Free | $0.00 | $0.00 |
| Starter | $29.00 | $264 |
| Business | $79.00 | $708.00 |
| Premium | $159.00 | $1,428.00 |
Why choose Sellfy over Shopify?
Can add sales features to an existing website.
Great platform to sell digital products.
Very simple and easy to use for beginners.
10. Squareup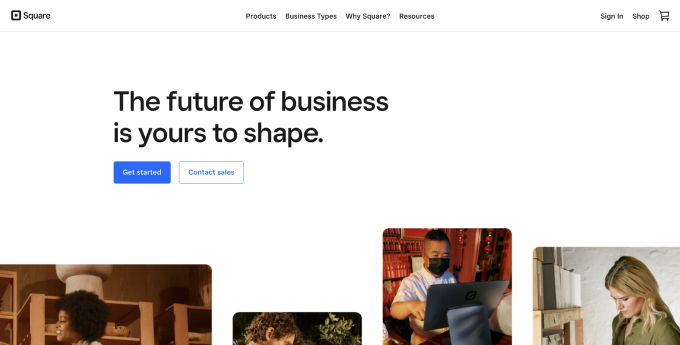 Square's mission is to help businesses of every size succeed. At first, they gave small businesses a way to take credit card payments, but they've built more tools ever since.
They're also heavily integrated with hundreds of 3rd party technologies (including the online stores mentioned here like Woo and Wix).
So if you're looking for a way to streamline your entire business process, save time, and still use the existing tools that you've grown to love, go with Square. Run your business your way with the tools that already serve you, not the other way around.
Square Online is best for…
Square Online is best for established businesses that want to reach more customers in new channels. It's best known for its 3rd party integrations so you can easily connect with your existing tools.
This way, you run your business your way with the variety of tools you already love.
Plus, Square Online provides free services up until your first sale so if you're experimenting with online marketing for the first time, it helps you acclimate.
Squareup pricing
You can use Square for free until your first sale. Your only cost comes when you make a sale—just 2.9% + 30¢ per transaction. If you want to elevate your brand, remove the Square branding, and have a custom domain, it will cost you $12 per month.
Having more support and additional features like abandoned cart emails would cost you $26 per month. But if you've grown bigger and would benefit from bulk discounts on transaction fees, the Premium Plan at $72 per month is ideal.
| Plan | Monthly | Yearly | Transaction Fee (Per Transaction) |
| --- | --- | --- | --- |
| Free | $0 | $0 | 2.9% + 30¢ |
| Professional | $16 | $12 | 2.9% + 30¢ |
| Performance | $29 | $26 | 2.9% + 30¢ |
| Premium | $79 | $72 | 2.6% + 30¢ |
Why choose Squareup over Shopify?
Cloud-based POS system.
Cheaper subscription plans.
Sell simultaneously on social media.
Shopify Stores That Moved to Dukaan
If you're still not convinced about switching from Shopify to Dukaan, here are examples of people who have done it, and successfully.
Carrying the most trendy casual outfits for one and all, from track pants to scuba jackets, this store is a huge success on Dukaan. They were the first-ever store to shift from Shopify to Dukaan.
The issue they faced with Shopify was that no matter what they did, their page wouldn't get indexed on Google. Shopify's SEO just didn't work for them. Not being indexed means not being seen, and in turn not being able to sell.
Following in the footsteps of Stylozap, Dandyroad also found its home at Dukaan. With Shopify, they had to pay a huge subscription fee, which did not include any other services.
Being a start-up, it wasn't feasible for them to dish out huge amounts of money for everything separately, but with Shopify, they had no other option.
Shopify Alternatives in various countries
Here we have listed the top Shopify competitors in different countries like India, Australia, the UK, and Canada, based on the preference of entrepreneurs in the respective countries.
Shopify Alternatives in India
BigCommerce
WooCommerce
Wix eCommerce
Squarespace
Dukaan is the best Shopify alternative in India. It tackles one of the major issues with Shopify, which is its steep learning curve. With Dukaan you can create and manage your online store in the easiest way possible.
People also prefer WooCommerce because it's free, but only those with web design skills can create an online store. Also, what is saved in the membership fees will be added to web design and development.
Shopify Alternatives in the UK
EKM
ShopWired
The eCommerce industry in the UK has been on the rise for some time now, making it the 4th largest eCommerce market in the world.
Consumer eCommerce accounts for over 36% of the total retail market in the UK (up from 20% in 2019) with over $3 billion spent weekly in the UK internet retail market.
EKM is the top player here for eCommerce and caters to multiple businesses of all sizes.
Shopify Alternatives in Australia
WooCommerce
Wix
BigCommerce
WordPress
Squarespace
Australia is currently the 10th largest eCommerce market in the world by revenue, the market value being at $33.1 billion, with a growth rate of 8.9% by 2021.
WooCommerce is one of the top Shopify alternatives in Australia, along with Wix, BigCommerce, and WordPress.
Shopify Alternatives in Canada
Square Online
Squarespace
Wix
BigCommerce
Ecwid
Canada has seen tremendous growth in recent years, in the eCommerce industry, much like the rest of the world.
In 2021 there were over 27 million eCommerce users in Canada, accounting for 72.5% of the Canadian population and is expected to grow to 77.6% in 2025.
Square Online is one of the most popular eCommerce platforms in Canada, among others like Squarespace, Wix, BigCommerce, and Ecwid.
Last Words
Well, we talked about everything, from why you should look for Shopify alternatives, to providing an exhaustive list of options that you can try.
In our opinion, Dukaan and BigCommerce have proven to be the most popular alternatives for businesses by properly catering to their ever-growing needs.
Although you might find different platforms on different sites, what matters most is whether your business needs are met.
The "best Shopify alternative" for you is the platform that can perfectly match your needs, budget, and skills. So do your own research, and keep in mind what your end goal is. The rest is easy.
FAQ's
1. What are the best Shopify alternatives?
Businesses need a platform that is user-friendly, convenient, and scalable. We recommend
Dukaan
for all businesses to launch and manage their online store. It is intuitive, needs no technical know-how, and comes with advanced eCommerce functionalities needed to grow one's business.
2. What are the best Shopify alternatives for large businesses?
Dukaan
is the best Shopify alternative for large businesses. It offers a plethora of advanced functionalities required by large corporations to manage and track their business operations. The platform offers custom enterprise plans for large businesses that are tailored to fit the individual needs of the business.
3. Are there any free alternatives to Shopify?
Yes, there are free Shopify alternatives like WooCommerce that are available instead of Shopify. WooCommerce is a free WordPress plugin. You will need to self-host, though. This means that you will need to pay for hosting your site on WordPress. If you are looking for a cheaper option that offers the same functionality as Shopify, try
Dukaan
.
4. What is a cheaper Shopify Alternative?
Dukaan, Weebly, and WooCommerce are cheaper alternatives to Shopify.
Dukaan's plans are Lite ($26.36 per month) and Premium ($92.30 per year).
Weebly has 2 plans- Pro ($9 per month) and Business ($16 per month).
WooCommerce is a free WordPress plugin but you need to pay website hosting fees.
5. Who are Shopify's competitors?
Platforms like BigCommerce, Wix, Dukaan, WooCommerce, and Squarespace are some of the top Shopify competitors in the market.
You can consider any of these options while you look for Shopify alternatives, according to what fits your needs the best.