Anybody can start selling online. One can just go to Shopify and start a business from anywhere in the world. But, Shopify is NOT for everyone. Here are ten best Shopify alternatives to start your online business.
What is Shopify?
Shopify is the leading eCommerce platform. About 1.7+ million global merchants use it to sell their products online.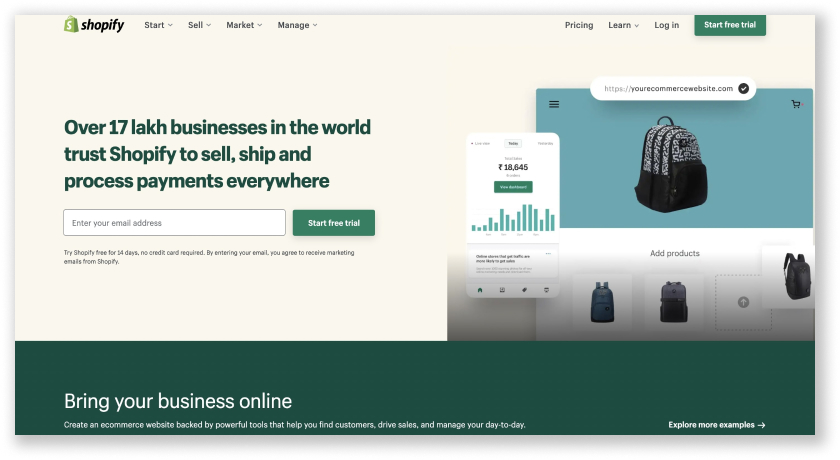 The company has grown to 86% in revenue since the pandemic started. At the same time, they've helped their consumers grow by 52%..
(Source — Shopify)
With Shopify, you can build your store from scratch or create from templates. You can also use it to manage product inventory, shipping, payments, and more.
Shopify has set the tone in the virtual market.
But the needs of online sellers seemed to have evolved, and many are looking for alternatives.
Look at this.
According to Google Trends, the search volume for Shopify has decreased over time.
Has Shopify's popularity peaked?
We also stumbled into reviews from online sellers who are not too happy with the platform.
Most say that Shopify's not easy to use and that it has a steep learning curve. Some have problems keeping it in the long term, budget-wise. And some say they don't get the support they used to.
There are other reasons, but we highlighted the top three.
3 Things to know before using Shopify
Shopify is NOT as intuitive as it seems.
The key functionalities—which you might expect to be provided—often require the installation of third-party software, a little knowledge of coding, and patience to set up.
Well for someone who isn't adept at writing code, it can be extremely challenging to navigate.
If you have no coding skills, chances are you will only enjoy the free templates.
Shopify can get expensive over time. 🤑
The Shopify starter fee is cheap to start and is comparable to that of other eCommerce platforms.
However, it gets expensive over time.
As your business grows, you'll be prompted to pay more.
You'll need additional, important features and integrations like international pricing, checkout analytics, and sales channels (i.e., Amazon).
You can't use Shopify Payments in certain countries.
Shopify accepts most major payment methods including credit cards, Apple Pay, and Google Pay. However, sellers in certain countries don't get to use Shopify Payments.
If you happen to live in countries, you'll have to find a workaround for this.
If you feel like Shopify isn't for you as well, we got you.
These other marketplaces might be a better fit for you.
Let's dive in.
Top 10 Shopify Alternatives in 2022
Dukaan helps entrepreneurs build their digital storefronts easily and sell online using social media (like WhatsApp and Instagram). They have helped lakhs of businesses from going bankrupt during the pandemic.
With Dukaan, you can have your online store in less than a minute. After listing the products, you can share links with customers via WhatsApp/social media to start selling.
Unlike other platforms, Dukaan has made its platform easy and simple to use. More than helping clients build digital stores, Dukaan is in the "business of building entrepreneurs" chase their dreams!
How it looks inside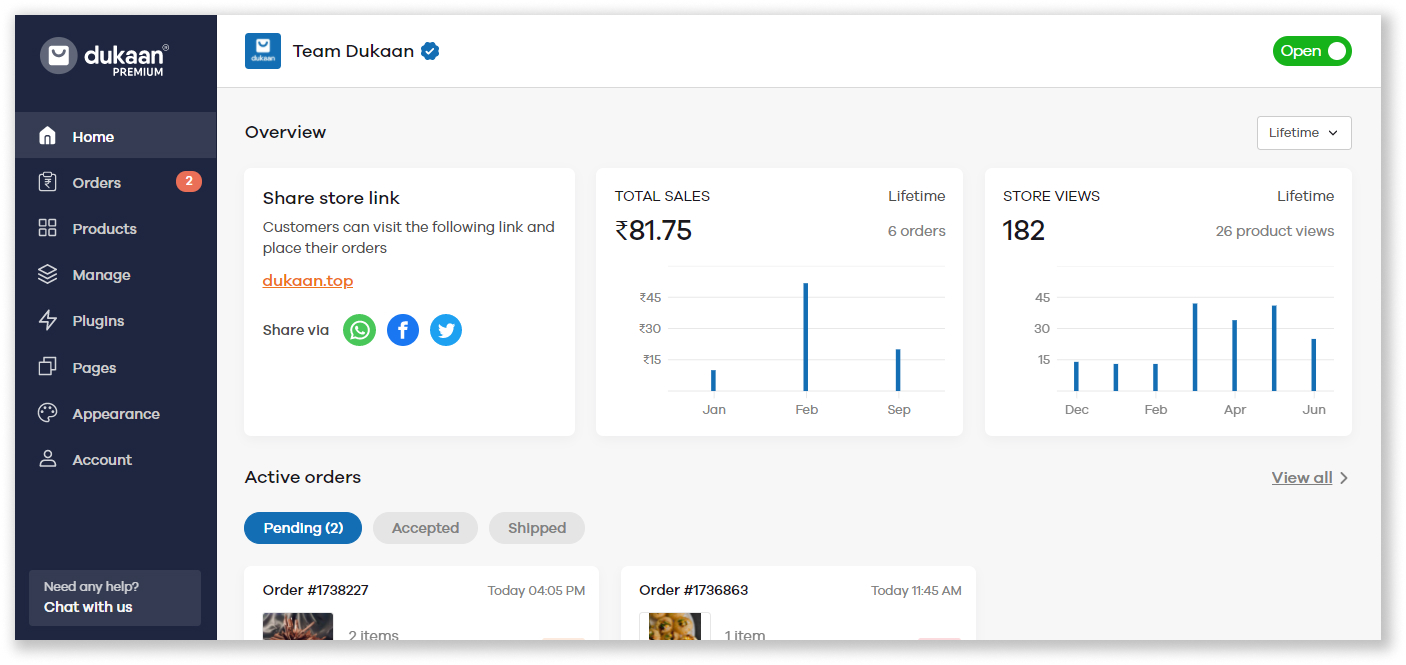 How much does it cost?
Dukaan Premium offers a limited-time offer of 80% off in order for you to benefit from exclusive features like custom domains and 24/7 customer support.
Instead of ₹24,995, it would now just cost you ₹4,999 or around $69 per year. Dukaan offers free set-up, hosting, and SSL certificate, among other services.
Dukaan is best for…
Dukaan is best for entrepreneurs who needed to take their business online yesterday. It's ideal for traditional businesses that want to establish an online presence to reach more customers.
Apart from it being easy to start and maintain, it's convenient for businesses as Dukaan does NOT take any commission on orders.
BigCommerce is an Open SaaS platform that helps merchants scale their online business real fast.
It has powerful tools that enterprises can use to adjust business processes quickly. This way, business demands are met as they arise.
With in-depth support, you can get a complete solution experience. The team can help with setup, data migration, and account management.
How it looks inside
How much does it cost?
To start selling online, you can start at $29.95 per month. If you want to grow with marketing features like automated cart recovery, it's at $79.95 per month.
Features like dynamic filters take the shopping experience to a whole new level. If you want to invest in this, be ready to shell out at least $299.95 a month.
Third-party payment gateways start at 2.9% and $0.3 per payment.
BigCommerce is best for…
BigCommerce is best for growing businesses that are moving fast. When you need an extremely agile environment to quickly meet demanding business needs, this is the best option.
If you've grown big enough for your current platform, you can migrate to BigCommerce to grow without complexity.
WooCommerce is a free WordPress plug-in that helps you create a customizable online store on your website.
It lets you set up a new store in minutes, get secure payments, and configure shipping options. It's a practical way to maximize your current reach and boost sales. It also doesn't require coding knowledge so a non-technical person can set this up.
However, they leave the security up to you so you'll have to do a few things yourself to keep your store secure.
How it looks inside
How much does it cost?
Woo's Start-up Plan begins at $4.99 per month which comes with its standard features. Its bestseller, GrowBig, includes unlimited websites, 20GB webspace, and 25,000 monthly visits at $7.99 per month.
GoGeek is offered at $14.99 and it lets you white label clients, use more server resources, and access priority support.
WooCommerce is best for…
Since WooCommerce works perfectly with WordPress, it's the best choice when you want to manage your shop using this platform.
If you already have an established WordPress site and you want to start selling products to your audience, WooCommerce is the practical choice.
Wix is a drag-and-drop site builder that lets you create websites for photography, education, design, and more. It has 1000+ templates that provide a fundamental structure that can be cosmetically customized.
It's firstly a website, but you can easily transform it into an eCommerce platform with its online store templates.
How it looks inside
How much does it cost?
The most basic eCommerce plan starts at $17 per month, providing unlimited bandwidth, 20GB storage, and all the things you need to sell online (i.e., domain, secure payments, customer accounts, and more).
If you offer subscriptions or you want to sell on social channels, you'll need the Business Unlimited Package, which is at $25 per month.
For serious entrepreneurs who want to see customized reports, sell more than 250 products, or offer rewards to loyal customers, the Business VIP Plan at $35/month is recommended.
Wix is best for…
Wix is best for those who are looking for an easy-to-manage platform for their online stores. It has beautiful templates, marketing features, and eCommerce tools that you need to start selling online.
However, customization is limited. You just can't add your tracking pixel, integrate sophisticated user flows, or migrate your online store (or content) elsewhere in the future.
Squarespace is an all-in-one website builder that makes you stand out from the assemblage of online stores.
How?
With its best-in-class, stylish, and expressive designs. With Squarespace, you can showcase your products (or your services) at their absolute best.
Yes, Squarespace lets you sell your services too.
It has a booking function so whether you're a restaurant in need of a booking system, an online magazine that wants to sell subscriptions, or an artist ready to drop your latest work, SquareSpace can support the way you do business.
How it looks inside
How much does it cost?
The Business Package (the most popular) is offered at $18 a month. It already has a fully integrated eCommerce store with robust order, inventory, and catalog management.
If you want to avoid the 3% transaction fees and access core marketing features, POS, customer accounts, checkouts, and the likes, go with the Basic Commerce Plan at $26 a month.
Need subscriptions, abandoned cart recovery, and the whole eCommerce enchilada? The Advance Commerce package provides unlimited access at $40 per month.
Squarespace is best for…
Squarespace is best for creative entrepreneurs who value aesthetics the most. It's is a "type and go" web creation platform perfect for those who want to leave a bold first impression on their customers.
Thanks to the award-winning web store templates.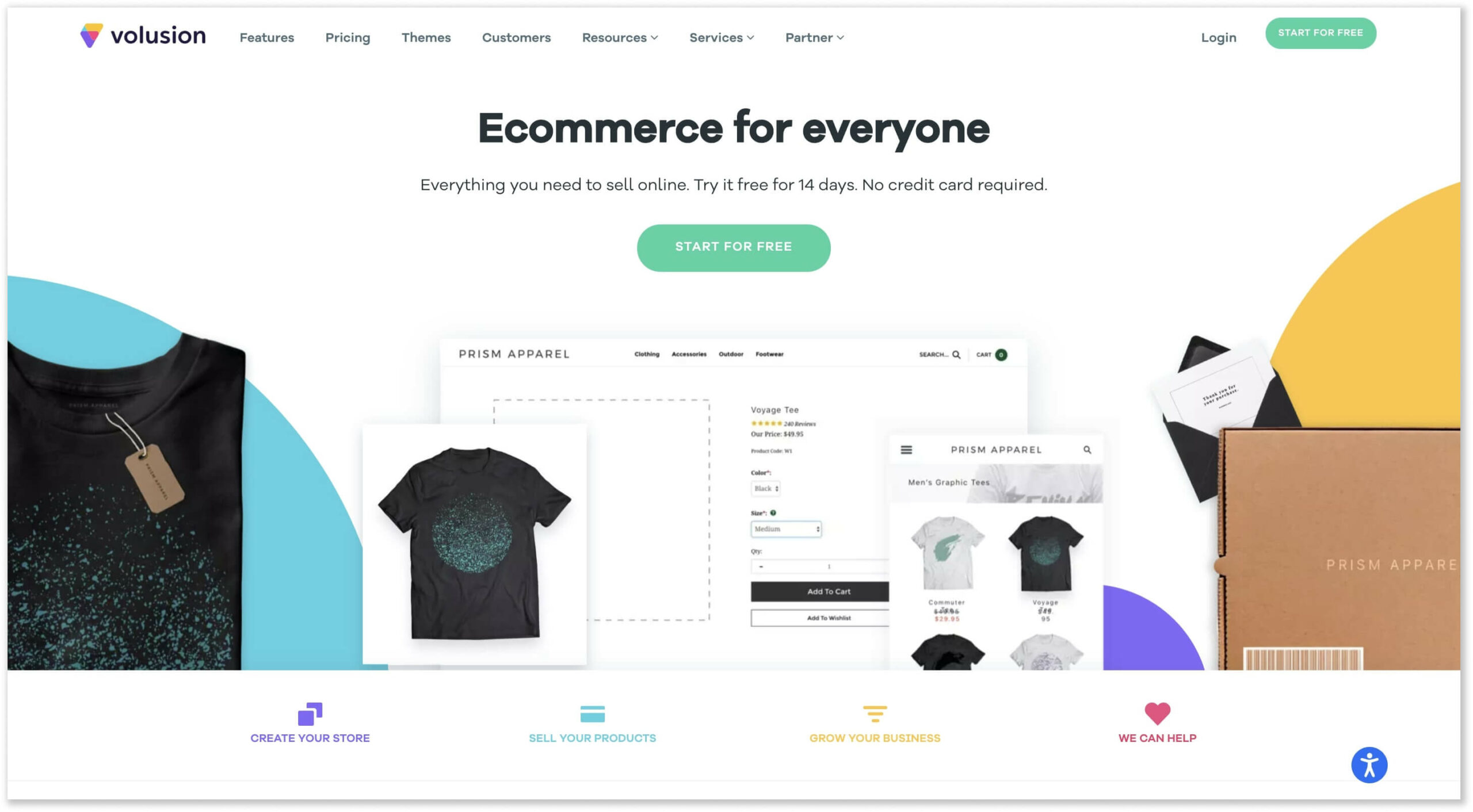 Volusion promises to provide everything you need when you're just getting started with eCommerce.
So far, it delivers.
It has an intuitive store builder, an eCommerce solution, and a marketing platform.
With its all-in-one eCommerce solution, you don't need to buy expensive add-ons. You can create, manage, and expand your store easily without breaking the bank. SEO, integrations, and eCommerce features are easily accessible on the dashboard.
Plus, their customer support is helpful so if you need extra hand-holding when installing plugins, get Volusion.
How it looks inside
How much does it cost?
The personal plan starts at $29 per month for limited features, 100 products, and a 1-man team (you can't add team members).
In addition, you would have to pay $79 per month if you want to access online and phone support and other additional features. To list unlimited products and add up to 15 team members, it'll cost you $299 per month.
Volusion is best for…
Volusion makes a great tool for newbies in the eCommerce business. It can help you get started without a bloated budget.
The features are built into the dashboard so you won't have to purchase (or install) add-ons. This makes it a practical choice when it comes to budget and implementation.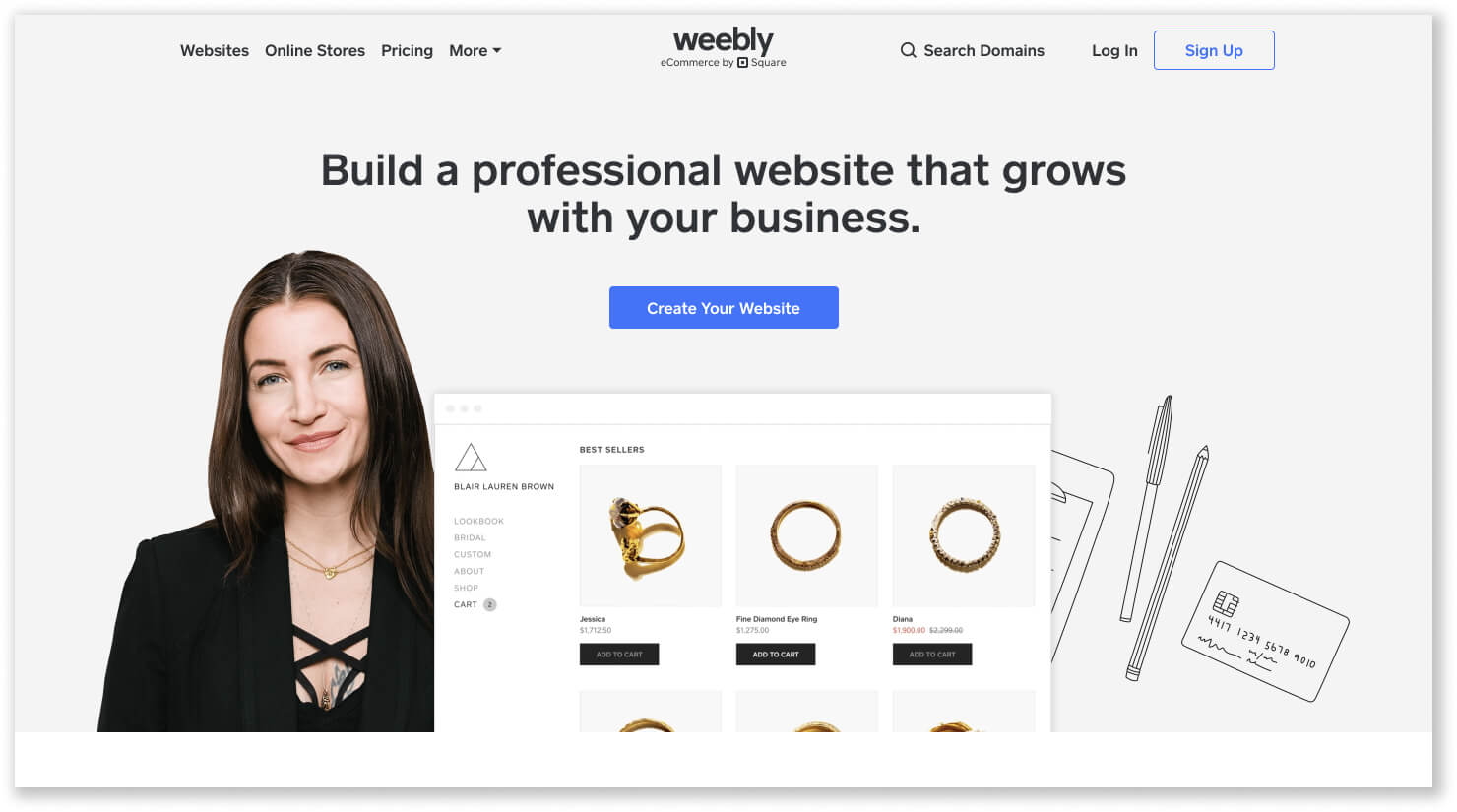 With Weebly, you can create your online store and grow your e-com business as you please. Not all platforms can cater to startups and support them as they grow, but Weebly says they can.
Even with 100 pages in, your website will load fast. Plus, you can choose from Weebly's native applications or 3rd party software for additional features.
How it looks inside
How much does it cost?
For a basic store with your own domain, it'll cost you $12 per month. If you need inventory management, coupon codes, and other fancy ecom features like shipping calculators on your site, there's the Business Plan at $25.
Power Sellers can enjoy abandoned cart emails and real-time shipping for $38 per month.
Weebly is best for…
Weebly is best for entrepreneurs who want to build their online store and grow it from one place. If you want to avoid future inconveniences of store migration, start with Weebly.
It's a one-stop shop for small businesses, so you'll get all the things that you need from the platform. It's just challenging to migrate to other platforms in the future, so keep this in mind.
Big Cartel focuses on creating a platform where artists can showcase and sell their stuff online.
It provides easy-to-use shopping cart software, shipment tracking, discounts & promos, sales tax autopilot, and more—the stuff that makes selling an absolute breeze.
Since Big Cartel supports budding artists, there are no hidden fees or strange data-sharing practices. Plus, you get to enjoy the platform for free if you only have up to 5 products to sell.
How it looks inside
How much does it cost?
Big Cartel plans start for free, but it's limited to listing 5 products only. Still a good start for artists looking to launch their brand—no need to pay any listing fee!
For bulk editing, shipment tracking, and sales tax automation, upgrade to the next plan, which sells at $9.99 per month. If you want to post up to 500 products and offer a variety of features, you will have to pay $19.99 per month.
Big Cartel is best for…
Big Cartel is best for artists, makers, and creatives who are just getting started in selling their pieces of art.
If you want to focus on your artsy side and not let the online selling drain your creative juices, Big Cartel is the way to go.
You can sell up to 5 products for free and even offer discounts and promo codes to your patrons.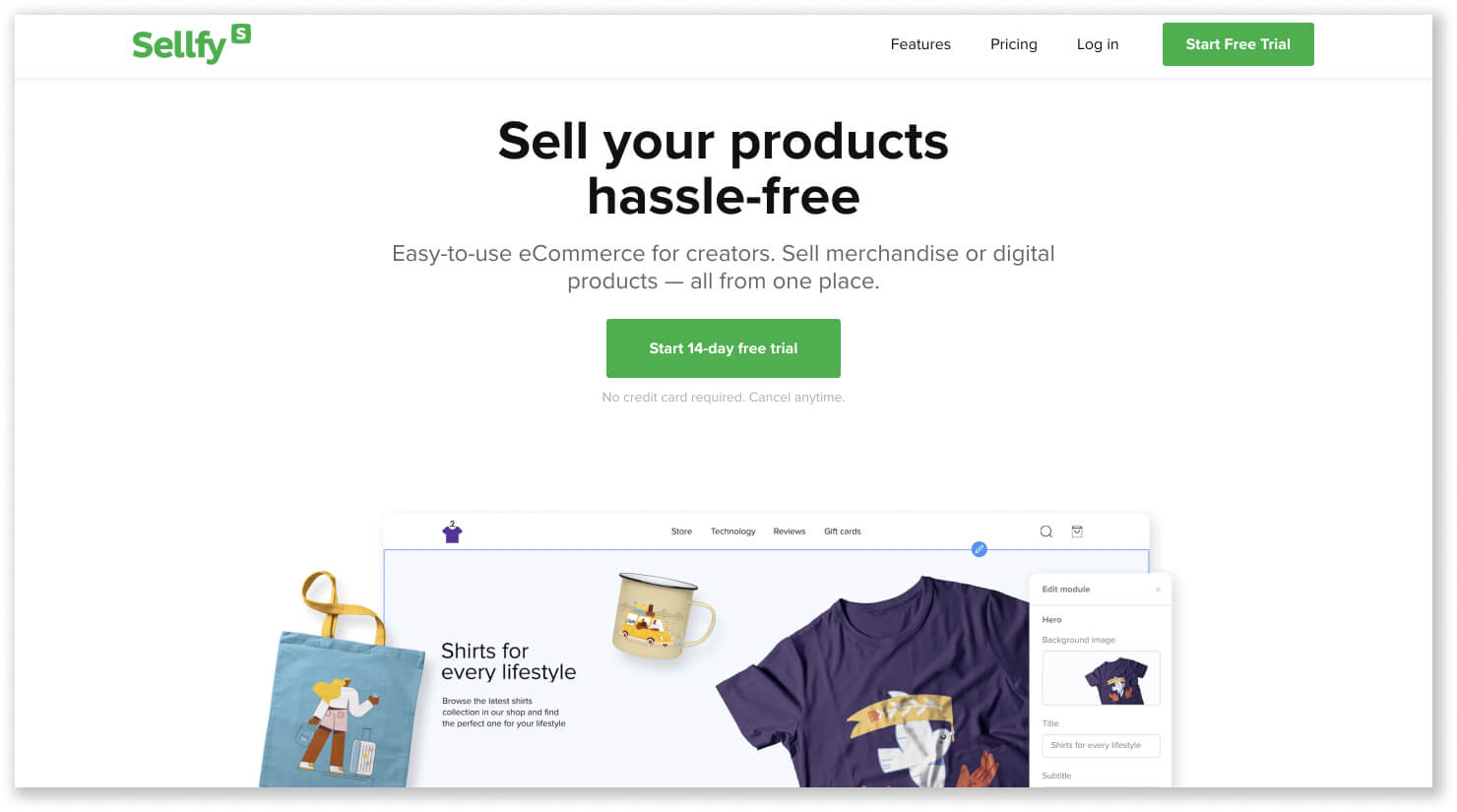 Planning to sell digital products on top of your merchandise? Check out Sellfy.
It's an online platform that helps influencers easily monetize their following. Use it to sell print-on-demand merch like shirts or mugs, digital goods like filters or social media templates, and even subscriptions to whatever it is you're offering to your avid followers.
It takes the complexity away from running an online store so you can focus on generating entertaining content.
How it looks inside
How much does it cost?
The basic plan starts at $29 per month and you get store customization, subscription products, discount codes, print on demand, your own domain, and more.
Upgrading it to a Business Plan at $59 per month gives you product upselling, cart abandonment, 10,000 email credits, and more. For priority support and 50,000 email credits, you have to pay $129 per month.
Sellfy is best for…
Sellfy is best for content creators who want to start monetizing their following. It lets you sell digital products, online merchandise (they even offer Print on Demand), and even subscriptions.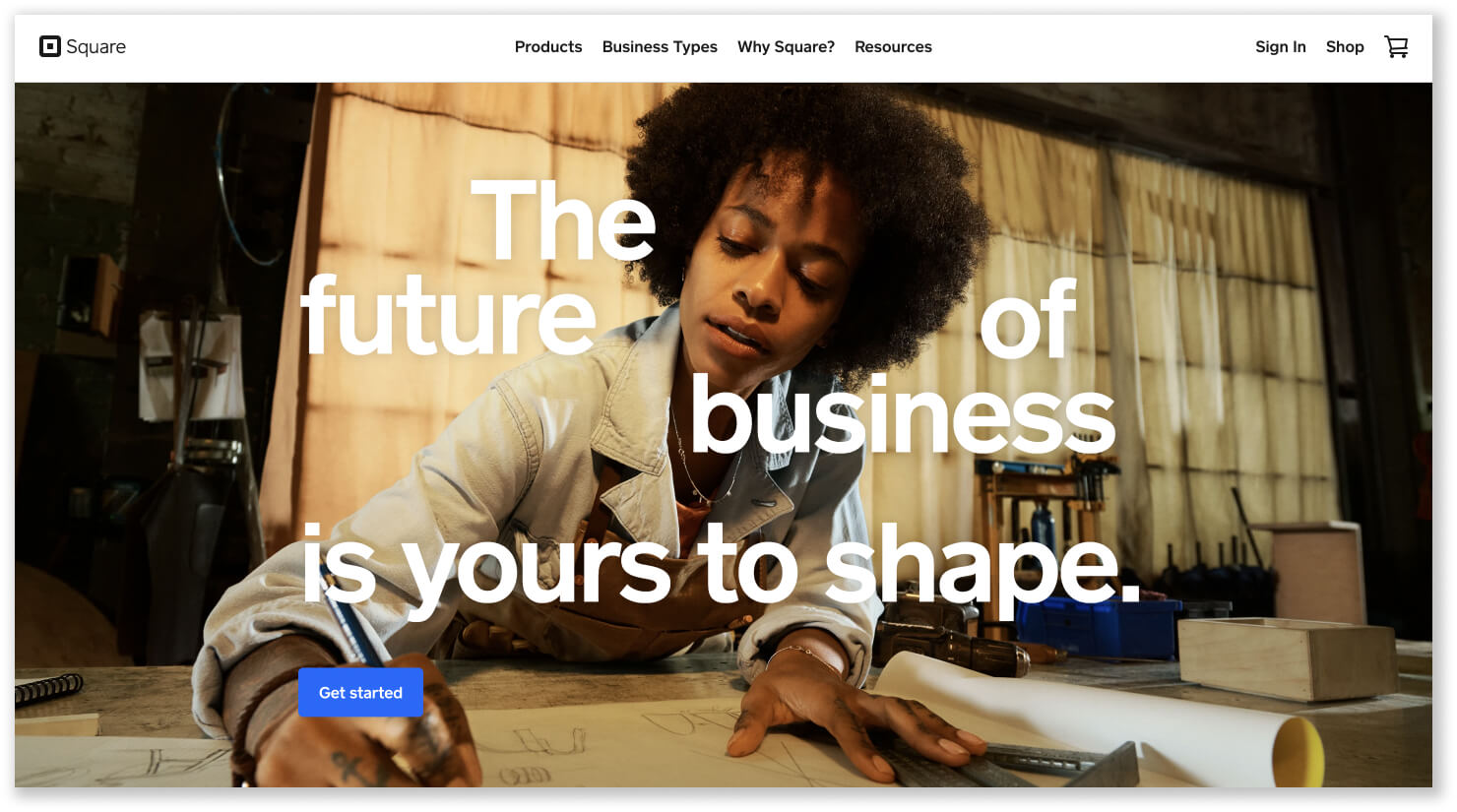 Square's mission is to help businesses of every size succeed. At first, they gave the small businesses a way to take credit card payments, but they've built more tools ever since.
They're also heavily integrated with hundreds of 3rd party technologies (including the online stores mentioned here like Woo and Wix).
So if you're looking for a way to streamline your entire business process, save time, and still use the existing tools that you've grown to love, go with Square. Run your business your way with the tools that already serve you, not the other way around.
How it looks inside
How much does it cost?
You can use Square for free until your first sale. Your only cost comes when you make a sale—just 2.9% + 30¢ per transaction. If you want to elevate your brand, remove the Square branding, and have a custom domain, it will cost you $12 per month.
Having more support and additional features like abandoned cart emails would cost you $26 per month. But if you're grown bigger and would benefit from bulk discounts on transaction fees, the Premium Plan at $72 per month is more ideal.
Square Online is best for…
Square Online is best for established businesses that want to reach more customers in new channels. It's best known for its 3rd party integrations so you can easily connect with your existing tools.
This way, you run your business your way with the variety of tools you already love.
Plus, Square Online provides free services up until your first sale so if you're experimenting with online marketing for the first time, it helps you acclimate.
4 Examples of Shopify Stores Who Have Shifted to Dukaan
There are a lot of reasons that make a platform great. Shopify has proven that it is a huge success for businesses worldwide.
It still does not ensure that any one platform is the perfect one for all businesses.
New, dynamic platforms like Dukaan are proving to be more suited to the needs of budding entrepreneurs.
If you have tried Shopify but had to stop midway on your online business journey due to any reason, shifting to a platform like Dukaan just might be the solution to all your problems.
If you're still not convinced about switching from Shopify to Dukaan, here are examples of people who have done it, and successfully.
Carrying the most trendy casual outfits for one and all, from track pants to scuba jackets, this store is a huge success on Dukaan.
They were the first-ever store to shift from Shopify to Dukaan.
The issue they faced with Shopify was that no matter what they did, their page wouldn't get indexed on Google. Shopify's SEO just didn't work for them.
Not being indexed means not being seen, and in turn not being able to sell.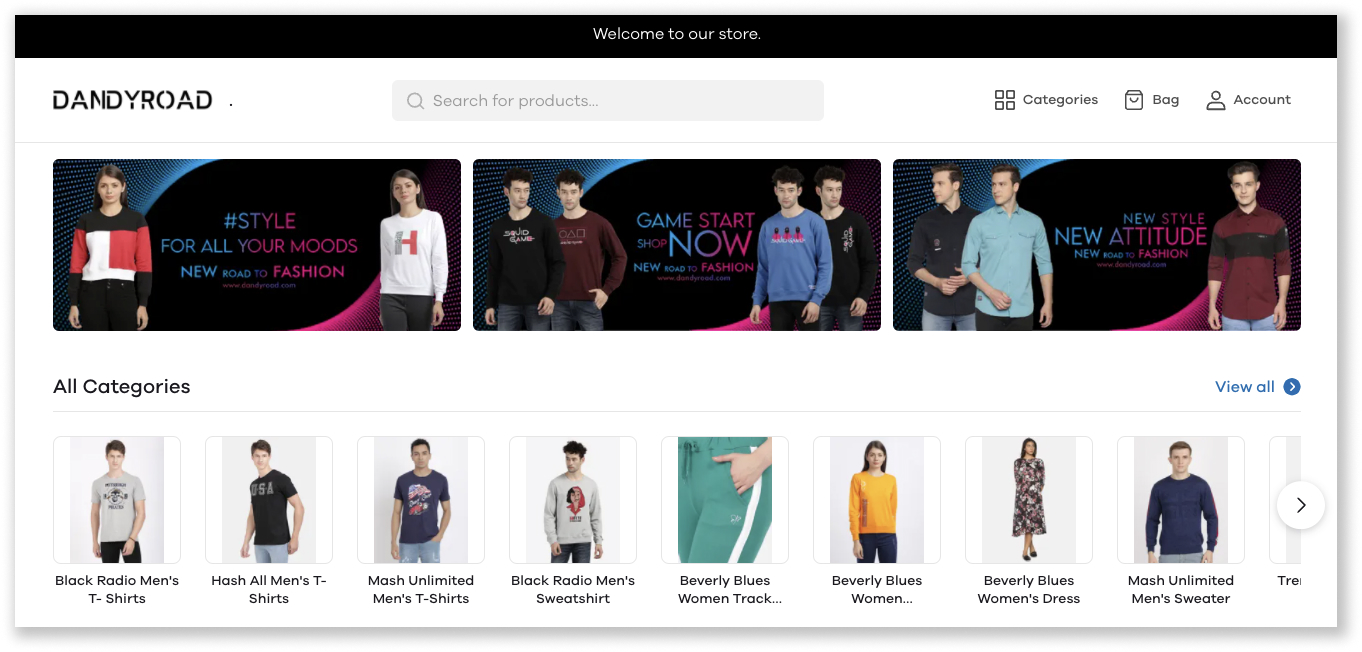 Following in the footsteps of stylozap, Dandyroad also found its home at Dukaan.
With Shopify, they had to pay a huge subscription fee, which did not include any other services.
Being a start-up, it wasn't feasible for them to dish out huge amounts of money for everything separately, but with Shopify they had no other option.
With Dukaan, they did not need any third-party agencies to help them with their marketing and growth strategies.
Dukaan's Infinity program, just like Shopify's partners program, enables sellers to focus on their products and business operations. Everything else is taken care of, by their Dukaan Infinity partner. 😉
This shift helped Dandyroad manage their resources better, and boost their sales substantially.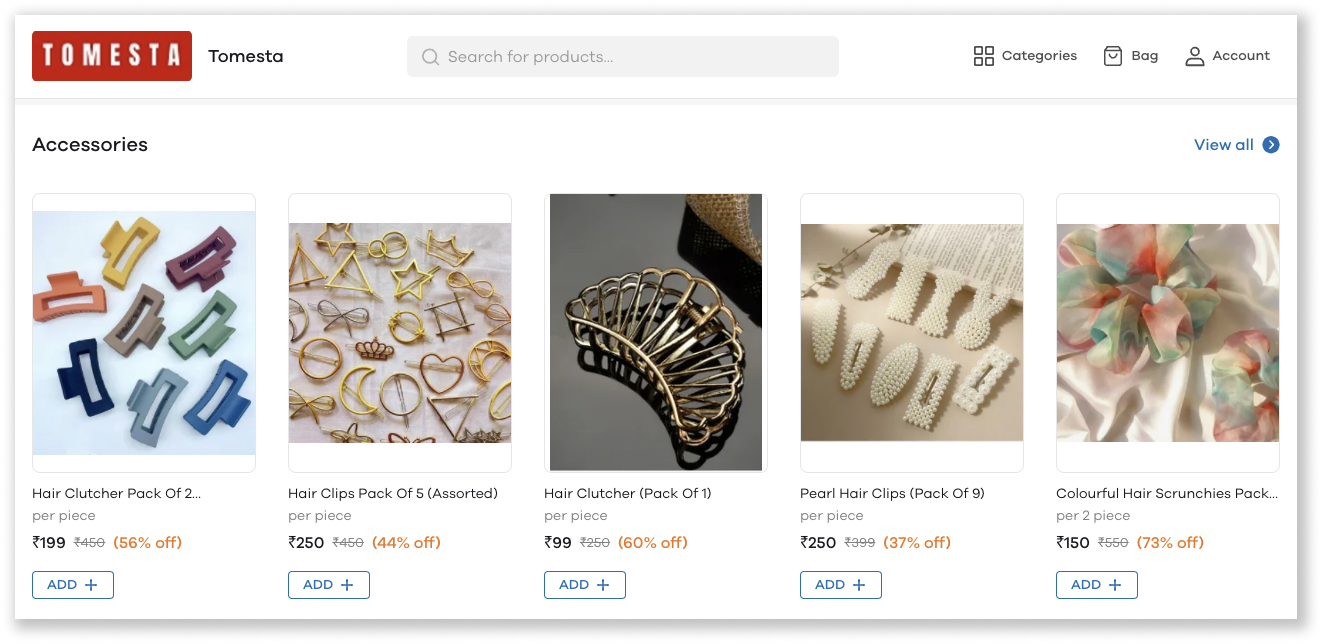 Tomesta shifted to Dukaan purely for pricing issues.
It's no secret that Shopify charges humongous amounts of money from sellers in order to be able to use their platform with all its features.
Even then, you need to be more than a little familiar with writing code, and be a technological savant if you want to make the most of your Shopify store.
If you think this is enough, let me correct you. It isn't.
You still need third-party help to get your own app developed for your store. AND for every update after that, you will need a separate team of developers.
Sounds like a huge task, right? That's because it is one.
With Dukaan, you get your own app for both android and iOS. This enables you to drive your customers directly to your store without having to go through any middleman, and also immensely increases your brand recognition and popularity.
Well, we don't need to tell you how amazing it is to have your own app; you know that.
Or you can ask Tomesta how amazing their experience has been on Dukaan.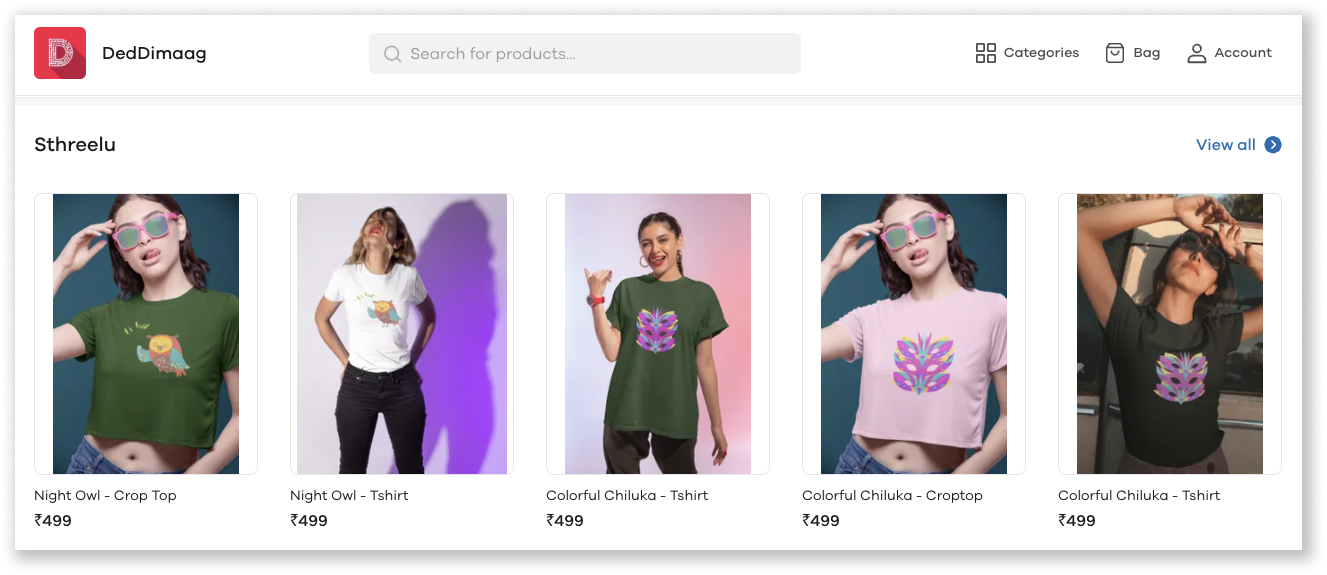 DedDimaag has a huge inventory.
And with a huge inventory, comes the difficult task to manage it, even more so, when you want to manage it by yourself.
With Shopify, they faced the challenge of managing their inventory on the go. They needed a marketing team just to work on inventory management.
Being a fashion brand, their inventory is dynamic and needs constant attention as well.
With Dukaan, sellers get inventory integration, which allows them to keep track of, and manage their inventory pretty easily.
Dukaan is a mobile-first platform, so that adds to the ease by enabling sellers to manage their inventory on the go, from their mobile phones itself.
Where Shopify has been created with the assumption that people are tech savvy and know their way around a computer, Dukaan has been created with the goal of empowering entrepreneurs to go online without much effort.
The level of digital literacy in the two halves of the world has a stark difference. Dukaan helps people from all fronts to create their online presence and grow their business.
While reading this, if you felt like these problems are relatable to you or your friends, try out Dukaan today!
Which is the best Shopify alternative for me?
We've compiled the best use cases for each marketplace so you can easily find the best option for your unique needs.
1. Dukaan: Best Shopify alternative to those who need to launch an online store right away
Contending as the easiest-to-use eCommerce platform, Dukaan makes building, launching, and running your own online shop easy for anyone.
Since the platform enables anyone to quickly set up an attractive storefront with minimal effort, traditional business owners with limited tech knowledge will love it.
On top of being easily accessible and fast, Dukaan provides its sellers with a wide range of tools to enhance their day to day operations, making managing an online business simple and fun!
Equipped with Marketing tools, plugins, and many many amazing features, Dukaan just might be your first step in the right direction to realize your online business dreams.
Try it out and you can be a proud owner of an online store in just 30 seconds!
2. Big Commerce: Best Shopify alternative for fast-growing businesses
BigCommerce provides a versatile platform where partners and developers can innovate on. It's the platform to go with if you've outgrown your current platform and you need to migrate fast to meet the demands of your e-commerce business.
3. WooCommerce: Best Shopify alternative for WordPress users
If you're running your website on WordPress and you want to add an online store to it, then look no further. WooCommerce is your practical choice. It's also recommended if you have a tight budget.
4. Wix: Best Shopify alternative for non-technical solopreneurs
If you just need a place to sell your stuff and you really don't care about customizing your shop up to the last pixel or adding your own tracking, Wix is the easiest way to manage your store.
It has beautiful templates, marketing features, and e-commerce tools—basically, everything that you need to get an online business going.
5. Squarespace: Best Shopify alternative for creative entrepreneurs & businesses
Got a creative endeavor? Whether it's selling unique physical products, your graphic design services, or your photography portfolio, Squarespace is your best bet.
Its award-winning and beautifully designed online stores will make a fine first impression on customers.
6. Volusion: Best Shopify alternative for eCommerce newbies
Volusion makes a great tool if you're just starting out in the eCommerce business. With it, you can easily get started without a bloated budget.
It already has an intuitive store builder, an eCommerce solution, and a marketing platform.
7. Weebly: Best Shopify alternative for entrepreneurs who are serious about growth
Weebly is best for entrepreneurs who want to build their online store and grow it from one place. Meaning, they know they will grow in the future and they want to avoid future inconveniences of migrating once they get there.
8. BigCartel: Best Shopify alternative for artists & makers
Big Cartel makes online selling easy for artists, makers, and creative entrepreneurs so they can focus more on creating.
As they'd say, if you're selling art, merch, jewelry, and other weird but wonderful stuff, Big Cartel is your perfect choice.
9. Sellfy: Best Shopify alternative for influencers & creators
Sellfy makes it easy for influencers to market their products easily and fast. It lets content creators sell their digital products, merchandise, and subscriptions from one place.
It takes the complexity out of running an online business, making it easy for creators to market their products fast and sell to their followers directly on social media.
10 Square Online: Best Shopify alternative for established businesses
Square Online is best for established businesses who want to discover a new way of reaching new customers online.
Square integrates with popular apps that most merchants use like LinkTree, WooCommerce, Acuity, GoDaddy, and more. This helps you run your business your way, using the tools that already serve you.
Shopify Alternatives India
Let's take a look at the top 10 Shopify alternatives in India.
BigCommerce
WooCommerce
Wix eCommerce
Squarespace
Volusion
Weebly
Big Cartel
Sellfy
Square Online
Cost and ease of setup are the two main factors people consider when starting an online store in India.
If you are looking to start an eCommerce site in India immediately, there are two options. One, go for expensive legacy solutions like Shopify that will cost you a fortune and need you to take a course on eCommerce.
India, is a very different market. What works in US, may not work in India, if transplanted. Well, this is why we have Maharaja burgers and Mc Aloo Tikkis in Indian McDonald's.
The second option is to adopt Indian bred solutions like Dukaan, that is built inside out keeping the Indian entrepreneur in mind.
Having helped lakhs of businesses set up shop online, Dukaan is rapidly becoming the go-to option for business owners, primarily because of its reasonable yearly subscription fee, ease of use and that you can set up your store in less than a minute without technical experience.
Dukaan helps you set up an eCommerce store quickly, without having any prior technical knowledge. Unlike legacy platforms like Shopify, Dukaan is easy to use and doesn't cost a fortune.
At this point, we hope you have picked the right Shopify alternative that will move you forward in your e-commerce journey.
Whether you're just starting out today or looking to scale, there's an online platform that could meet not just your unique needs, but also your customers. Don't forget to read out detailed guide on how to sell online.
Overall the web is pretty sloppy, but an online store can't afford to be.
Paul Graham
If you want customers to trust you with their credit cards, you have to pick an eCommerce software partner that could support your exact needs.