Brick by brick (metaphorically), you've built your business from the ground up, and now is the time to go online and scale things even further. Confused about which platform to choose for your business? Take a look at the 8 best enterprise eCommerce platforms we've listed in this article.
Choosing the right enterprise eCommerce platform can be confusing, especially when there aren't many options for enterprises compared to SMBs and MSMEs. And there's no denying that there's a lot riding on what platform you choose. Thus, starting with an efficient platform becomes all the more critical.
You're in luck, for this article enlists the 8 best enterprise eCommerce platforms that you can take advantage of.
Things to Consider Before Selecting an Enterprise eCommerce Platform
A good enterprise eCommerce solution should be comprehensive in its offerings: from inventory and order management to high security and reliability, your choice of eCommerce platform should have it all.
There is no one-size-fits-all eCommerce platform for an enterprise. Analyzing your business needs and the platform's capabilities thoroughly before choosing one is the smartest course of action.
Statista reports that the eCommerce sector is expected to reach $6.3 trillion by 2024. When that happens, you'd want your business to be a part of this rapidly growing ecosystem.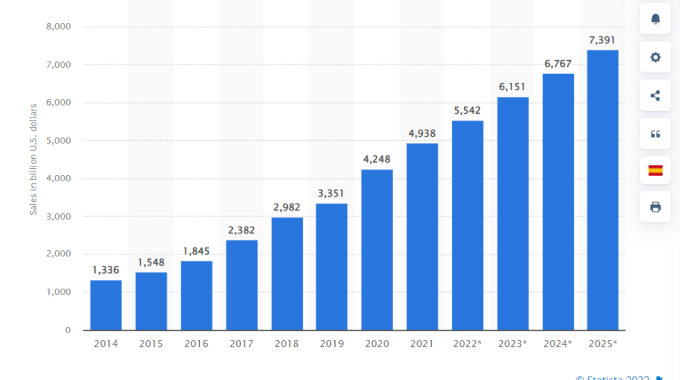 And what are the basic requirements that any enterprise eCommerce platform must fulfill? Here's the rundown.

Great UI and UX design
High scalability
Flexibility
Customer support
Security
Seamless shopping experience
Versatility
Marketing and analytics tools
Third-party integrations
Omnichannel sales support
8 Best Enterprise eCommerce Platforms
Whether you are considering taking your business online or looking for a platform switch, here are 8 platforms that should be on your radar.
1. SAP Hybris Commerce
Best for large, well-established enterprises
Pricing starts at $54,000/ year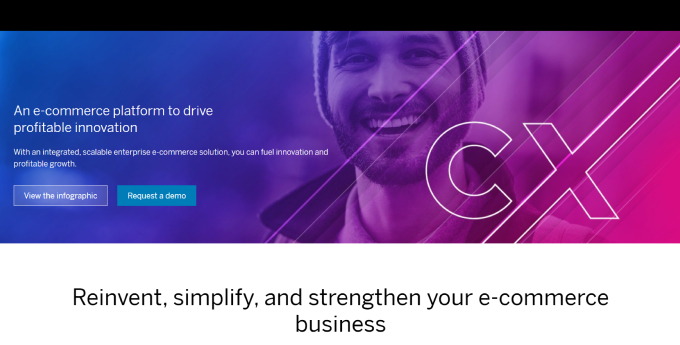 If you are looking for an end-to-end solution for your enterprise, SAP Hybris Commerce promises safety, reliability and versatility all bundled in one.
Features:
SAP Hybris Commerce packs a punch of all essential enterprise eCommerce tools and functionalities needed to manage their everyday operations effectively.
On top of the generic eCommerce features, it also offers complex eCommerce functionalities like omnichannel marketing, customer service, multi-language, multi-currency and multi-currency support, subscription order management, multiple catalogue integration, marketing automation etc.
Design:
The platform features a drag-and-drop editor to design everything: from building banners to creating promotions to constructing websites.
If you have the coding chops required to manage the platform, you'll have a lot of fun tweaking the design elements present in the platform's design library.
Pricing:
SAP Hybris works on a quote-based model. Meaning you have to reach out to them with your requirements, and they'll get back to you with a quote.
The base price starts at $54,000 per annum (licensing fees), which is a little steep compared to the other alternatives mentioned in the list. You can imagine what level this cost will reach when you add in the costs associated with data migration, training, hardware, maintenance etc.
Ease of use:
Since SAP Hybris Commerce is a headless eCommerce platform, it is designed to be handled by expert-level coders. So, if you do not have the technical know-how yourself, you'll need the support of a coder to make any and every change to your store's aesthetics.
2. Magento Commerce
Best for mid-level to large enterprises
Offers custom pricing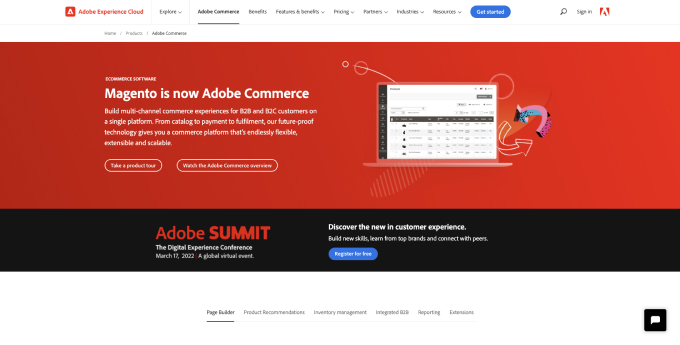 If you are looking for a highly scalable platform and have some coding skills at hand, Magento can be a perfect fit for your business. An Adobe-owned self-hosted open source eCommerce platform, Magento is a comprehensive platform that can perfectly support the requirements of B2B and B2C enterprises.
Features:
Magento has a range of excellent enterprise eCommerce features: multisite management, cross-channel B2B & B2C commerce support, AI-based customized shopping experiences, requisition lists etc.
It also features other standard eCommerce features like quick checkout, order & inventory management, shared catalogue, accepting quotes from businesses, among many others.
Any additional functionality you need can be easily added by integrating third-party extensions, even with knowing coding.
Design:
The platform has been built keeping developers in mind, and thus it gives them complete authority and flexibility to handle the design as they like.
Magento utilizes the drag-and-drop tool for customization. You can modify your webstore's every little aspect with their custom design tool and also tailor specific pages to your preference.
It also gives you access to a vast library with multiple website themes. You also also download and install third-party website themes for your online store.
Pricing:
Every self-hosted platform comes with additional costs. When it comes to the requirements of an enterprise, the prices will surely not be low.
Magento Commerce charges anywhere between $22,000–125,000/year as licensing fees. There's also a flat charge of 2.9% + $0.30 per transaction levied.
Apart from this, you will have to individually invest in hosting, domain name, website development costs etc.
You can take an estimate of what Magento commerce is going to cost you based on the pricing table given below:
| Plans | Yearly |
| --- | --- |
| Open Source | $12,000 to $57,000+ |
| Magento Commerce | $43,000 to $1,89,000+ |
| Magento Commerce Cloud | $60,000 to $2,47,000+ |
But to know your exact cost for running your business on Magento commerce, you'll have to reach out to their team.
Ease of use:
Magento, as an eCommerce platform, is loaded with useful functionalities. However, it can only be effectively leveraged by someone with advanced developer-level skills. So, be ready to hire external resources if you lack technical skills yourself.
One more aspect to consider: Magento has a fairly steep learning curve attached to it. Invest some time and patience in the platform, and you will be rewarded with its capabilities.
Further Reading
3. Salesforce Commerce Cloud
Best for B2C and hybrid businesses
Pricing model based on sales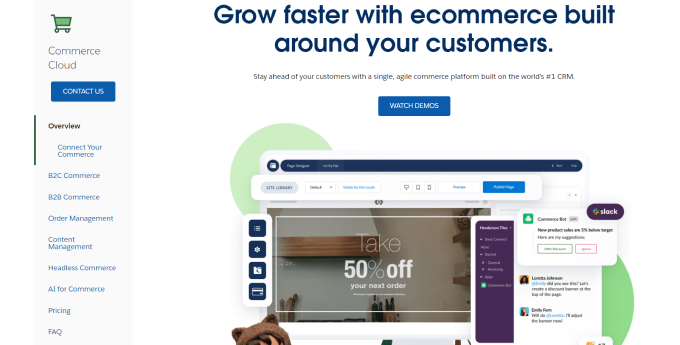 If your business needs include combining both your physical and online sales channels, Salesforce Commerce Cloud is the platform for your enterprise.
You need to own more than five stores to get started with Salesforce Commerce Cloud.
Features:
Salesforce offers powerful features that are essential to large enterprises like omnichannel sales, 24/7 customer support, unlimited customization, easy third-party integrations etc.
But there's one aspect that truly sets it apart from all the other alternatives listed in the article: its customer behavior analysis and content personalization ensure every shopper gets a customized shopping experience. Salesforce gets this expertise from its background in CRM, in which sphere it is a known name, and it is known to help increase conversion rates.
Design:
The sky's the limit when it comes to the platform's customizing abilities. It gives you endless personalization options to implement.
Having said that, designing in Salesforce is not as intuitive as it is in other platforms mentioned in the article. You'll struggle if you don't have the necessary coding skills it takes to handle a platform like Salesforce.
Pricing:
Unlike other platforms listed in the article, Salesforce follows a sales-based pricing model instead of charging a monthly subscription. This means that the more you sell, the more money the platform will make off from you.
How much you pay for using Salesforce will depend on the magnitude of your sales, the plan you choose and the nature of your business.
For B2B businesses, the platform charges per transaction. Meanwhile, B2C businesses end up paying a fixed percentage out of their Gross Merchandize Value (GMV).
The contradiction is for D2C (or B2B2C) where the platform takes a flat charge of 1% on GMV.
Let's take a look at what you would be investing if you decide to go ahead with this platform.
| Plan | B2B (per order) | B2C (per GMV) | D2C |
| --- | --- | --- | --- |
| Starter | $4 | 1% | 1% |
| Growth | $6 | 2% | 1% |
| Plus | $8 | 3% | 1% |
Ease of use:
Truth be told, selling with Salesforce demands that you dedicate time and effort into learning how the platform works. Only people with years of technical expertise (mainly web development skills) and past experience handling enterprise eCommerce platforms will find Salesforce easy to handle.
But this platform is a godsend for enterprises that deal with different selling channels, sometimes even distributed across various geographies. It is the perfect platform for streamlining selling processes.
4. Dukaan
Best for B2C and D2C businesses
Pricing starts at $119.99/ year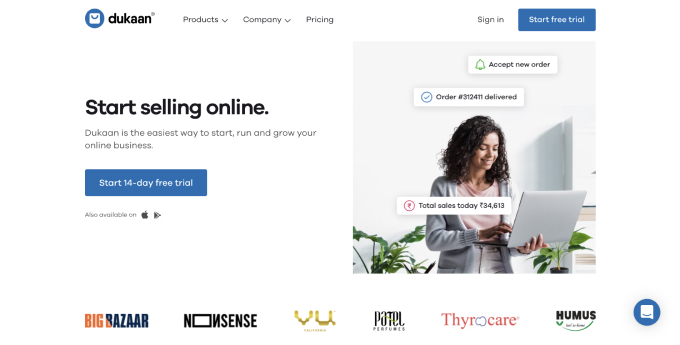 Just because you are handling a big enterprise does not mean you have to spend big bucks on your enterprise's eCommerce solution.
For businesses looking for a dynamic, versatile and efficient platform, Dukaan is a perfect match.
Features:
Dukaan's USP as an eCommerce platform is its intuitive design, ease of use and proactive customer support.
While many platforms in this list might require you to sit and understand their working, with Dukaan you can start selling from the get-go.
Every Dukaan-powered store comes equipped with integrated plugins, in-built tools, marketing, multi-store support, multiple payment gateway integrations etc., all accessible from an intuitively designed dashboard.
What sets Dukaan apart from all the personalized support their in-house customer support team gives to every enterprise with marketing endeavours like running ads, launching campaigns, promoting schemes etc. We'll touch base with this again shortly.
Design:
Dukaan comes with pre-built and fully-responsive themes that are customizable from head to toe. You can change the color, font and text of the templates as per your preference.
All the themes share the following common functionality: they are mobile-responsive and provide a seamless checkout experience.
The platform also has a vast marketing template library with a wide range of social media marketing templates like WhatsApp stories, promotional banners, store banners etc.
Pricing:
For the functionality it offers, Dukaan is priced very modestly. It has a variety of plans with varying functionalities to offer since it caters to businesses of all sizes.
However, for enterprises, they offer a custom plan that can be tailored to suit the needs of your business. You can get in touch with them to firm out further details.
Here are their pricing plans:
| Plan | Monthly | Yearly |
| --- | --- | --- |
| Entrepreneur | $14.99 | $149.99 |
| Agency | $49.99 | $499.99 |
| Enterprise | Custom | Custom |
Ease of use:
Dukaan is designed in a way that it can be used by anyone- even people with no technical skills at all!
The user interface of the platform is extremely easy to navigate. All the platform's functionalities can be accessed easily through the dashboard. It also contains helpful prompts for easy onboarding of users.
5. BigCommerce Enterprise
Best for cloud-based B2B platform
Paid plans start at $29 per month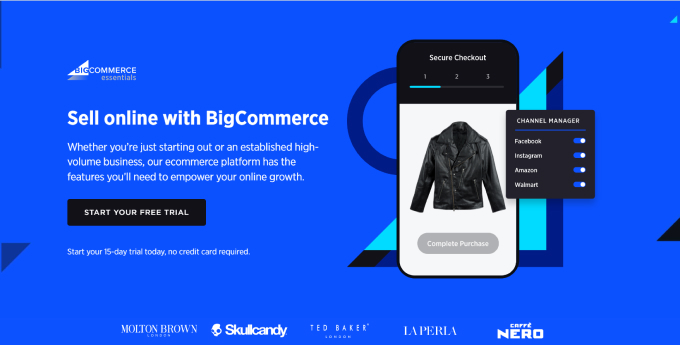 If a user-friendly and fast-loading eCommerce store is what you need, BigCommerce is the perfect solution to all your platform woes!
Just like its name, BigCommerce is a renowned name in the world of eCommerce. Being one of the popular eCommerce solutions, it houses a mix of native and advanced essential enterprise functions.
Features:
BigCommerce has many features that will drive you in its directions: it offers headless eCommerce and content delivery, a comprehensive dashboard to navigate all its functions, easily integrates with various APIs, supports multiple payment gateways, etc.
And to help your enterprise store rank better, BigCommerce also offers great SEO features.
But there's one unique detail that attracts users to BigCommerce: it takes care of all the needs of its customers switching from other platforms by offering personalized enterprise customer onboarding and catalogue transfer services.
Design:
Design on BigCommerce works on the principle of local staging, meaning you can make all the tweaks you want in your design and view all of its applications in real-time before finalizing anything.
However, you don't have access to a lot of plugins and apps, and hence your options are limited to the ones that come with the platform. The platform also houses a design library, in which most of the premium templates are paid. The good news is that all of them are fully customizable and can be edited using the platform's drag-and-drop editor.
Pricing:
BigCommerce does not have a fixed pricing model for enterprises. You need to reach out to them with your requirements for their custom quote.
If you still want to check out what their other pricing plans look like, here's the quotes:
| Plan | Monthly (when billed monthly) | Monthly (when billed yearly) |
| --- | --- | --- |
| Standard | $29.95 | $29.95 |
| Plus | $79.95 | $71.95 |
| Pro | $299.95 | $269.96 |
| Enterprise | Custom | Custom |
Ease of use:
BigCommerce's WYSIWYG content management system is widely recognized as a great content delivery system.
Coming to its ease of navigation and overall usage, BigCommerce requires more effort to understand, in addition to technical know-how to use efficiently. For this sole reason, it offers specialized training during onboarding.
Further Reading
BigCommerce is not the only way to go if you aren't fully convinced with what the platform offers. If you are interested in reading about its alternatives, here's an article we recommend.

6. Shopify Plus
Best for mid-level enterprises
Pricing starts from $2,000/ month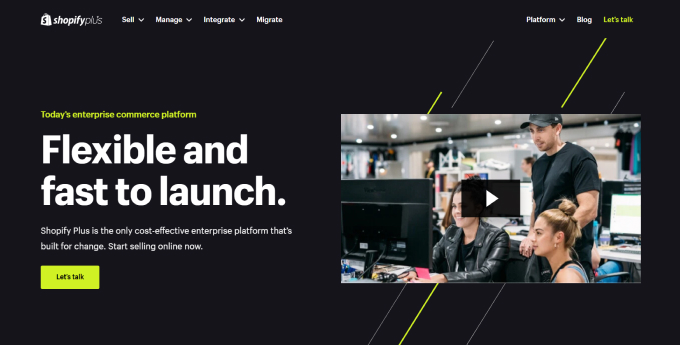 A well-known name in the eCommerce circuit, Shopify extended into the enterprise sphere in 2014 and has continued to strengthen its roots there ever since.
Features:
Shopify Plus is a fully-hosted Saas platform that offers customizable checkout, secure storefronts, multi-channel sale support, integrated plugins and tools, priority customer service, eCommerce automation etc.
All stores created using Shopify plus are also optimized for mobile viewing.
With Shopify plus, enterprise customers get more than just the usual set of features. They also get powerful features such as merchant success manager, launch manager, and catalogue management apps, among others.
Design:
Shopify plus comes with a design library containing well-designed and mobile-responsive themes. However, there is limited flexibility when it comes to designing your own storefront from scratch.
If you still want to go that route, you will have to buy from third-party extensions (which will cost you extra)
Pricing:
Shopify Plus plans start from $2000 per month, but it only covers the basic requirements. To gauge how much you will end up paying with Shopify plus, you will have to reach out to their expert for a custom quote.
Also, bear in mind that your overall expenditure will also depend on what and how many integrations and extensions you've added as per your preferences. Plus, there is also an additional transaction fee of 0.15% if you use a third-party payment processor for your store.
Curious about what their other pricing plans look like? Here's the pricing table:
| Plan | Monthly | Transaction Fees |
| --- | --- | --- |
| Shopify Starter | $5 | - |
| Shopify Lite | $9 | 2.7% per in-person transaction |
| Basic Shopify | $29 | 2.9% + 30 cents per online transaction; 2.7% per in-person transaction |
| Standard Shopify | $79 | 2.6% + 30 cents per online transaction; 2.5% per in-person transaction |
| Advanced Shopify | $299 | 2.4% + 30 cents per online transaction; 2.4% per in-person transaction |
| Shopify Plus | Starting at $2000 | 0.15% per transaction (for third-party payment processors only) |
Ease of use:
The basic navigation over the platform is relatively easy however, to fully leverage all of its capabilities, you need to give time and effort to learning the platform. With the onboarding guide that comes with the platform, this process is made easy.
Shopify Plus also gives you the freedom to seamless integrate with multiple third-party plugins to extend the capabilities of the platform.
Further Reading
7. Oracle Commerce Cloud
Best for B2B & B2C enterprises
Offers custom pricing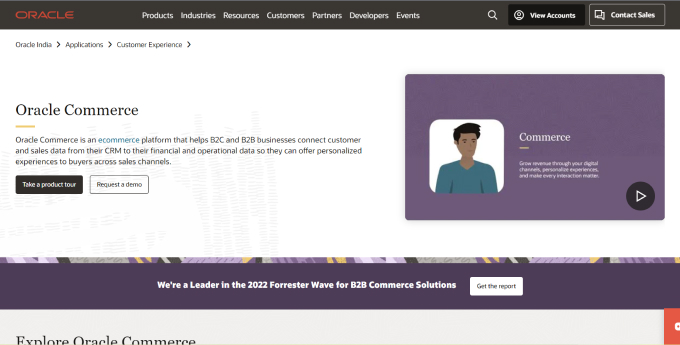 Oracle is a cloud-hosted eCommerce solution known for its highly flexible and AI-based eCommerce capabilities. If you are an enterprise that has the budget to spare for your eCommerce solution, Oracle is a good option to consider.
Features:
Oracle is built on an API-first architecture logic. It is what makes the platform highly flexible in both its capabilities and customization.
It also boasts of AI-based analytics, enables content personalization, supports multi-channel strategies, provides multiple customer service tools, and supports multi-currency and multiple languages, among other core eCommerce features.
And best of all, you can easily integrate your core ERP and SCM operational systems with your Oracle-powered eCommerce storefront.
Design:
Oracle comes equipped with everything you'd need for designing and customizing your webstore.
Its design library consists of pre-built and responsive page layouts and widgets that can be easily personalized with the platform's drag-and-drop builder.
Pricing:
To know how much it will cost you to use Oracle as your preferred eCommerce platform, you need to reach out to them and request their product demo to obtain their custom price.
Ease of use:
The platform has a unified admin panel from which you can access and control the design, merchant and developer studio. This panel is intuitive to use and does not require any significant time and dedication when it comes to its learning curve.
Oracle enables an enterprise to effectively manage a customer's complete life cycle – from acquisition to retention. The simplicity of its base features, as well as its comprehensiveness, makes it easy to use.
8. Squarespace Enterprise
Best for well-designed and aesthetic stores
Pricing starts from $26 per month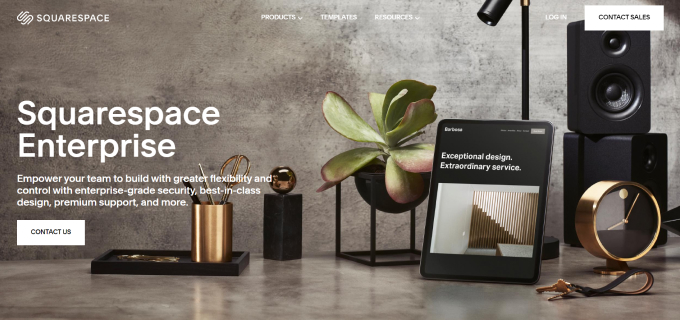 If you are looking for an all-in-one eCommerce platform that creates aesthetically pleasing storefronts and empowers you with powerful marketing tools, Squarespace is your best bet.
Features:
Even though Squarespace still primarily caters to small and mid-sized business owners, it has added a range of eCommerce features that makes it a good fit for enterprises.
Squarespace comes loaded with many in-built plugins, widgets and features. Squarespace offers the following features: free domain, real-time carrier shipping, abandoned cart recovery, automatic discounts, SSL security, blogging module etc.
You also get an option to accept credit cards, and it allows for flexible payment methods as well.
Design:
Squarespace is known for its ability to create beautiful websites quickly and efficiently. Its design library is one of the most extensive out of all the platforms mentioned in the list. It even has fully-responsive themes for all business niches!
And here's the best part: you don't need coding knowledge to create and edit the look and feel of your website.
Pricing:
Squarespace is not known to be a budget platform, and it also shows in its pricing plans. Its premium pricing can be attributed to its high-quality templates and the features it offers.
If you want to go ahead with Squarespace, you need to contact their sales team for an exact estimate.
But if you are curious what their other pricing plans look like, here is what they charge:
| Plan | Monthly | Yearly |
| --- | --- | --- |
| Personal Plan | $23 | $16 |
| Business Plan | $33 | $23 |
| Ecommerce Basic Plan | $36 | $27 |
| Ecommerce Advanced Plan | $65 | $49 |
Ease of use:
If all you are concerned with is building a website or an online store, then you'll find Squarespace a pretty straightforward platform to work with. The dashboard is intuitive to use and navigate.
And there's scope for a lot of customization within the platform itself.
The problems arise when you try to go beyond the basic functions. There is not much that you can do out of the ordinary without coding.
Further Reading
Roundup Of The Enlisted Platforms At A Glance
1. SAP Hybris Commerce: Best for large, well-established enterprises.
2. Magento: Best for mid-level to large enterprises.
3. Salesforce Commerce Cloud: Best for B2C and hybrid businesses.
4. Dukaan: Best for B2C and D2C businesses.
5. BigCommerce Enterprise: Best for cloud-based B2B platforms.
6. Shopify Plus: Best for mid-level enterprises.
7. Oracle Commerce Cloud: Best for B2B & B2C enterprises.
8. Squarespace Enterprise: Best for well-designed and aesthetic stores.

Posts you may like to read… 📚
Quick Word Of Advice
Choosing a suitable eCommerce platform for your enterprise platform is a big decision. Not only do you have to factor in your current and future business needs, but you also need time to learn how to navigate it properly.
In addition, switching platforms and getting your system back up and running takes time.
That's why we've laid down 8 great alternatives for you to consider. As long as you carefully assess the current and future needs of your business properly, we're sure you'll find the perfect solution for your business.
If you are on the fence about starting with an expensive solution (and then regretting the costs attached with it months later), we recommend you try Dukaan. As an enterprise eCommerce platform, it is modestly priced, comes ready to use out-of-the-box, has an intuitive design and all the features you need to seamlessly run your business.
Best of all, you can launch your online store with Dukaan in under 30 seconds. Wondering how that is possible?
Watch this video to find out!
FAQs
1. What is an enterprise eCommerce platform?
An enterprise eCommerce platform is a solution that is well-equipped to handle the vast requirements of an enterprise selling via both offline and online channels, in addition to other its commerce needs.
2. What are the core functions of enterprise eCommerce platforms?
Content management and facilitating multichannel sales is the core function of enterprise eCommerce platforms. Ensuring that the client data is collected and processed using suitable tools to optimize conversion rates is why enterprises prefer to sell with eCommerce platforms.
3. What is the most important benefit of an enterprise application?
The most significant benefit of using an enterprise solution is that it seamlessly coordinates between all selling channels and helps an enterprise identify and better serve its key audience.
4. Why is enterprise application necessary?
An enterprise eCommerce application is necessary for selling because of how effortless it makes collecting and managing both user and sales data. This information can then further be used for marketing and promotional endeavours.