Do you wish to learn how to start an online boutique? Your search ends here.
If you are known as the stylish one in your group, and more often than not, people come to you for reliable advice about fashion, then opening a boutique might just be the perfect business idea for you!
Or, if you are already running a successful offline boutique, you can still take it to the next level by going online with your business.
Google trends for 'Boutique' shows a steady search volume, which only goes on to prove that the business idea is well-backed by constant demand too.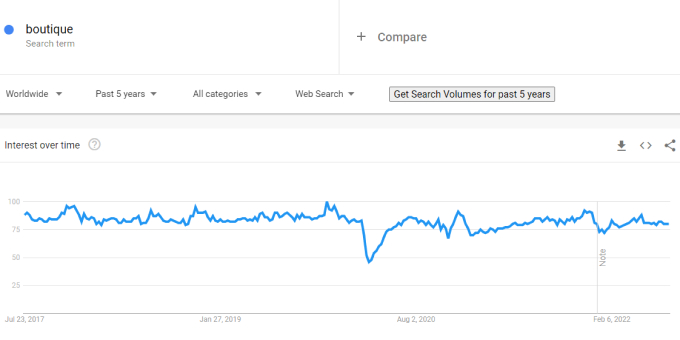 In this article, we will hold your hand through the whole process of how to start an online boutique, step by step.
Why should you start an online boutique?
Well, if we have to tell you in the simplest way, the numbers are on your side.
A study of the global apparel and accessories market showed a 4.4% CAGR growth rate, and a forecast based on this number further showed that in the next decade (2021-2031), the market will grow furthermore at a 6% CAGR growth rate.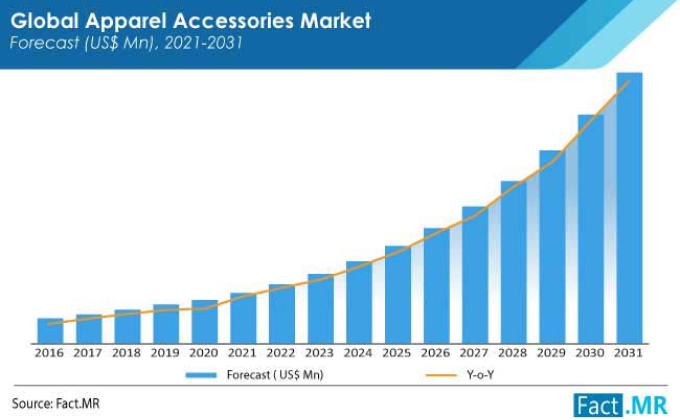 As we mentioned above, even Google Trends agrees that the demand for apparel and accessories is going to increase consistently. Look at the interest people have shown in online boutiques!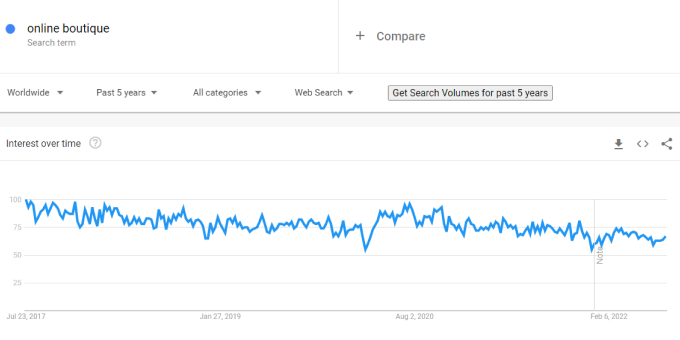 These stats are enough evidence to support our claim that an online boutique is a very smart idea.
Even if we put aside the stats for a minute, it is always a good idea to bet on your skills, and an online boutique is a great way to show off your skill set.
How does an online boutique work?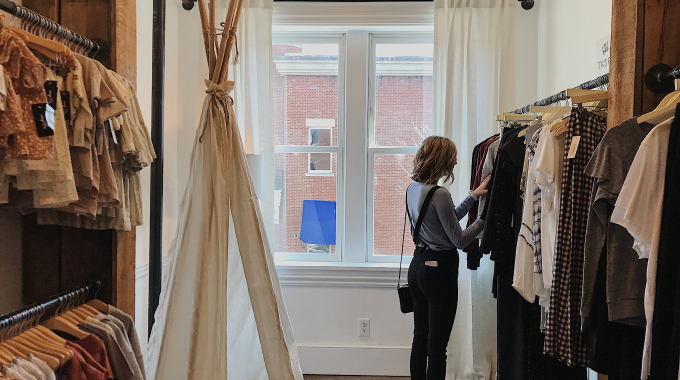 A lot of people struggle to understand the difference between a boutique and a regular apparel store.
If you thought of this, be assured that it is a valid question.
Well, general clothing stores are larger, with generic mass-produced products and a bigger inventory, whereas. a boutique has a finite number of products designed/ curated by the owner or the designer.
Think of it like this.
An apparel store is your run-of-the-mill common shop that has a bigger range of products.
A boutique, however, is like your personal stylist, which helps you identify your individual style and find products that suit your specific taste.
Now let us move on to the difference between offline boutique and online boutique.
A traditional boutique is generally a small, niche-driven business that specializes in products like fashion, jewelry, and accessories.
They hold a selected inventory of designer products that include outfits complete with accessories and everything.
An offline boutique is a designer's own collection of outfit designs, right from clothing to accessories.
However, the offline boutique is limited to where it is located. Even in the most prime location, the boutique is dependent solely on footfall.
Even with marketing and promotions, you can attract customers a little farther than the location of your boutique. It is unlikely for someone to travel across cities just to visit your boutique!
With an online boutique, you can still showcase your highly selective and curated outfits, jewelry, and accessories. The best part, when you sell online, you can to customers across boundaries.
You can easily market your online boutique and attract customers across cities. When a customer makes a purchase in your online boutique, you can ship the products to their address via a trusted logistics partner.
Is Running an Online Boutique Profitable?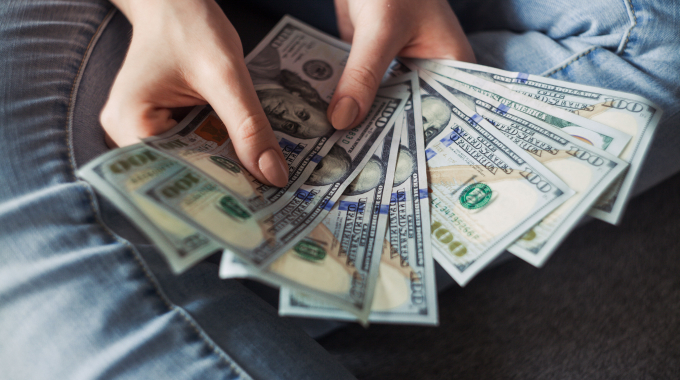 There are a lot of online business ideas, but if you choose the boutique business, then it should not be an 'out of the blue' decision. It should be something you are very passionate about and you also possess the required skills.
Dipping your toes into the apparel industry is surely a great decision as multiple studies have shown that it is a fast-growing industry.
However, if you want to start a business and grow it to see profits, then your choice should be well backed by passion and skill.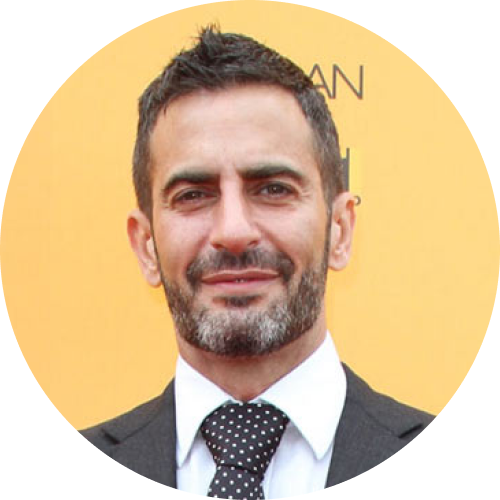 Let's do what we love and do a lot of it.Marc Jacobs
Firstly, running a traditional boutique will need a higher investment and overhead charges. All that is null with an online boutique. You can start your online boutique with much lesser investment.
For this reason and more, an online boutique is surely a profitable business idea. In the world of mass-produced, generic clothing, if you are able to bring unique, and one-of-a-kind pieces to customers, it will surely be welcomed.
You can run an online boutique as a full-time job, or as a home business for passive income. Except for curating the products in your boutique, you can delegate and outsource all other aspects of your business.
With a smart business plan and the right eCommerce platform, it is possible to start bringing in profits on your online boutique business pretty quickly.
Things to do before opening your online boutique–Checklist
You see, starting any business takes some level of planning and skill.
The same goes with a boutique as well.
For starting an online boutique, ‌you should start with creating some designs and preparing customized looks to add to your catalog.
Apart from this, there are a few other preparations that need to be done before you open your boutique up to the public.
We have created a simple checklist that you can tick off and be prepared.
However, even before we get started, keep in mind that opening a boutique takes a lot more work than your average store. It can be very stressful and time-consuming.
That said, if you are up for creating your own brand, here's a small checklist to ease things for you.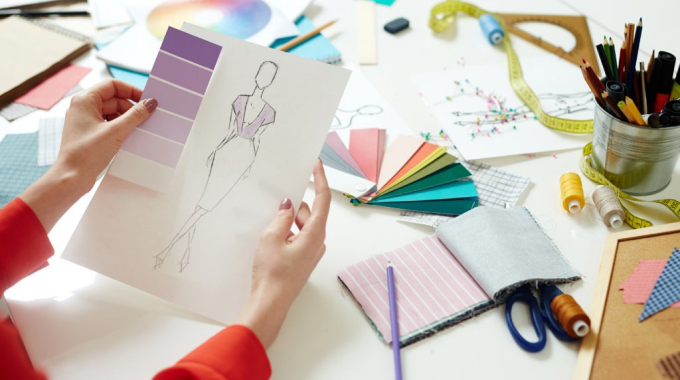 1. Hone your skills
Dust off the sketchbooks, charge your iPads, and get started with some new designs.
If you need some refreshers, then you can also take some courses on new techniques and learn new ways to create unique designs.
Running a successful boutique depends solely on how skillful the designer is. Hence, it is important to hone your skills as a designer. Identify any gaps in your knowledge and seek to fill these gaps through workshops and masterclasses.
If you are really passionate about starting your own boutique, then this process will be full of fun while you acquire new skills.
2. Create a portfolio
When you have a few designs created, put them together into a portfolio.
Your portfolio is your chance to showcase your talent and versatility, in terms of both people and occasions.
Having a portfolio will give your customers a chance to access your skills and connect with your business on a personal level. Since boutiques carry products that are unique, people need to connect with them on a personal level.
Along with your portfolio, you can also start spreading the word about your new venture among family and friends. Try to get feedback from them on your initial designs and improve accordingly.
3. Hire a team
As we have mentioned above, as a designer, your major task is to curate unique and attractive products for your store. For other tasks, you can delegate them to your staff.
Other aspects of running a boutique include communicating with suppliers and handling inventory, managing orders, packing and shipping, finances, customer care, etc.
You can go solo too, but it's always nice to have some help.
To start with, it is always better to hire one or two personnel with whom you can share the responsibilities.
As your business grows, you can take a step back and hire a few more people to handle other aspects of the business except the designing and product curation.
4. Procure raw materials
Unless your designs are transformed into tangible products, they do not have any value. So, you'll need to pull up your sleeves and work on clothes and accessories.
The fabrics make a lot of difference when you are creating the clothing line for your boutique. You need to find a supplier who can offer high-quality fabrics that fit perfectly well with your designs.
Apart from the right fabrics, you will also need threads, needles, buttons,  embellishments, etc. Procure all the necessary raw materials that can transform your sketches into products.
Putting these materials together is again your task as a designer. However, you can hire skilled tailors to stitch them into a completed outfit.
Once you have the outfits ready, curate accessories and jewelry that follow a similar theme and you are all ready to get started on your online boutique.
How to start an online boutique in 2022
Let's walk you through the basic steps involved in opening an online boutique.
1. Define the niche of your boutique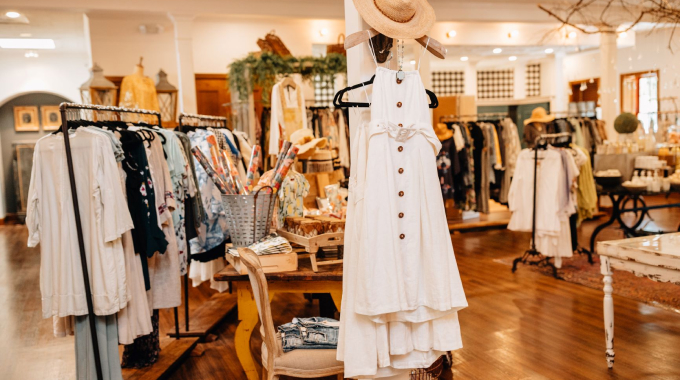 A boutique is typically a balanced combination of these four elements,
Apparel:
This is the major part of any boutique. You can choose from different categories of apparel like vintage clothes, formal wear, custom clothing, handmade clothing, etc.
Accessories:
Depending on the kind of apparel you are showcasing in your boutique, you can choose to offer a range of bags, purses, sunglasses, shoes, hats, scarves, etc.
Jewelry:
Jewelry is not gender-specific anymore. You can choose from customized necklaces, bracelets, handmade jewelry, metalwork, etc., and ensure you have enough choices for both men and women.
Luxury products:
Luxury products point at high-quality branded, one-off products that are unique and made for a specific taste. These may be products made on demand for a particular customer too.
However, you still cannot simply fill up your boutique with random products from these categories and call it a day!
You need to set your online boutique aside with a specific niche.
If you have followed the above checklist before getting started on your online boutique, then this first step is easy. All you need to do is to define your niche!
When you are experimenting with your designs, you should have sketched at least a dozen different outfits. Based on the feedback you received from your friends and family, you'll be able to identify the area in which you specialize.
It can be anything from casual outfits to wedding dresses, from suits to sundresses, and everything in between. You can also experiment with themes like modern, minimal, bohemian, etc.
If you are finding it hard to zero in on a niche, these questions may help:

What inspired you to own a boutique?
What are your skill sets?
What are the resources you have?
Are your designs minimal or extravagant?
Do you want to curate products for daily use or special occasions?
Are you sensitive towards a particular cause or community?
With every answer, you will get a step closer to finding the niche for your boutique!
Pro Tip 💡
Start big. Write all your ideas down and funnel them according to your skills, budget, size, etc. You can also deep dive into your ideas and explore them better when you see them all in one place.
2. Identify your customers and market
Once you have identified your niche, the next step is to identify your ideal customer and the market that you wish to target.
At this point, you know what you are good at, your skill, and your niche. So now all you have to do is find out who is willing to buy your product.
These are the people who have high intent to buy your product. Rather than promote your product randomly, you can target your marketing activities at these people.
Creating buyer personas of who you presume to be your ideal customer will help make this step a lot easier.
A buyer persona usually consists of details about your ideal customer, like their gender, age group, location, occupation, interests, hobbies, etc.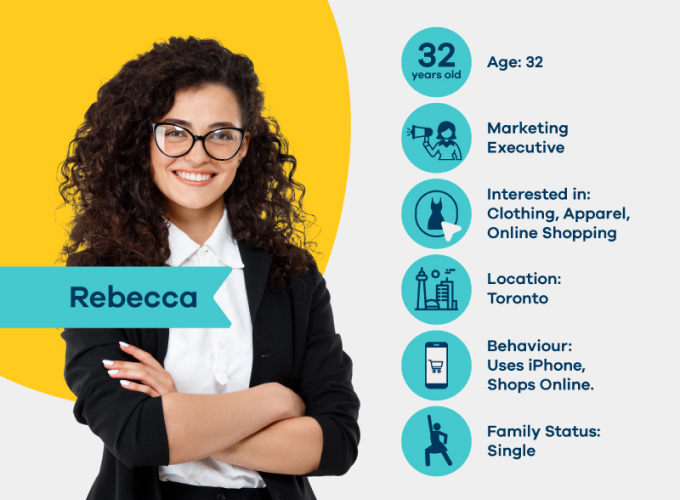 When you know exactly who you want to sell to, you can create a more suitable catalog for those customers and target your marketing activities accordingly. This will save you a lot of time, money, and effort.
You can be as specific or as versatile as you want once you have identified your target market and what is the best way to serve them.
This way, you can reach your potential customers more easily and generate more business.
Pro Tip 💡
You can find a gap in your target market with thorough research. For example, your niche is wedding outfits, but these days people are more into destination weddings. You can create a collection with a twist, specifically for beach weddings. Breezy dresses that are made from light fabrics for the bride, groom, bridesmaids, etc.
3. Create a business plan for online boutique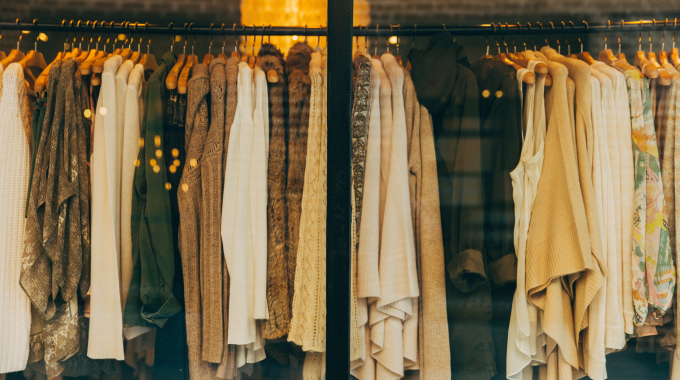 A business plan is a document that enlists your business' core objectives, activities, goals, and the plan to reach those goals.
It is a complete roadmap that will help your boutique stay on the right track for growth.
Think of it like this.
Imagine a written document that explains in proper detail what is your investment, where you get your funds from, how your business is going to function, etc.
You can use this paper for various purposes, like attracting investors, and business partners, applying for loans, etc. apart from keeping your business on the right path towards achieving its goals.
One document that covers every important thing about your business isn't that a pretty useful one to have?
It installs confidence in your investor's and stakeholders' minds about your online boutique. Being an exhaustive document, it has everything you can think of, which is important.
However useful it looks, it also sounds like a huge task, doesn't it?
Don't worry. It's worthwhile.
For your boutique, you can create a business plan that covers all the aspects of your business, right from the procurement of raw materials, your products, services, marketing plans, revenue, cost, and everything else that is essential to your business.
Here is a quick list of things that can go into your business plan:

An overview of your business, your boutique. This will include your mission, vision, and short-term and long-term business goals.
Details about your target market. Who your ideal customers are, what is the market size, who are the major players in the market, etc.
The SWOT analysis of your business. This is a very important segment for you as well as your investors.
The competitive advantage of your business. What sets your boutique apart, what problems/ gaps are you solving, etc.
Your marketing plan. This will include details about the 4Ps- Price, Product, Promotion, and Place.
Operations plan of your business. Where are you going to run your business out of, your staff, your raw materials, inventory, etc.
The logistics part of your business. Shipping plan for your raw materials, semi-finished goods, and finished goods.
Financial plan for your business. This includes your investment, loans, income statement, expense sheets, etc.
Your business plan is your own and even though it looks intimidating at first, remember that it is to facilitate your business growth and should make sense according to your goals.
4. Finalize the branding elements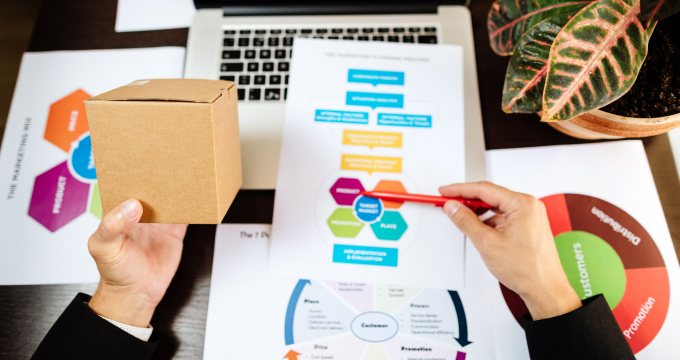 After you've done all the research and laid out your business plan, now is the time to decide on your branding elements.
Branding helps people recognize your business immediately and also increases their loyalty. Everyone wants to consider themselves a part of something cumulative, and branding provides your customers with a chance to do just that.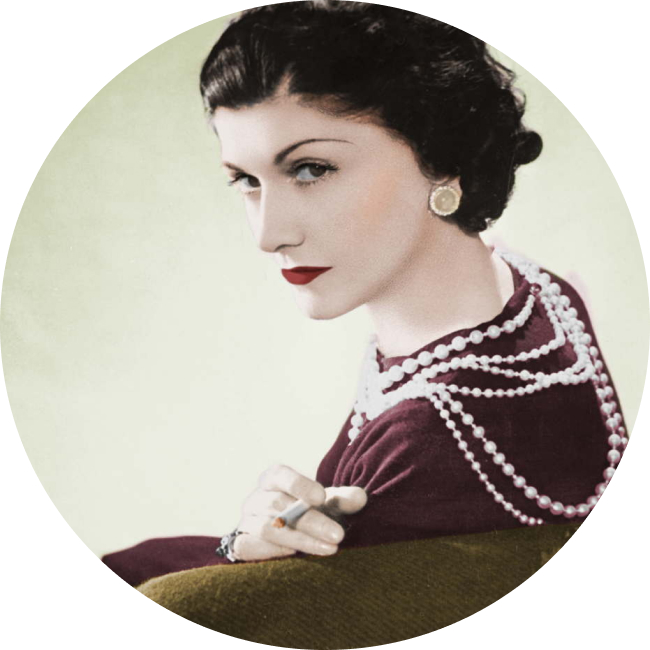 In order to be irreplaceable, one must always be different.Coco Chanel
Identify what sets you apart from your competitors and create your branding elements around that USP.
Brand name:
Branding always starts with a brand name. What you have decided to call your business matter a lot.
Most of the top fashion designers like Ralph Lauren, Calvin Klein, Coco Chanel, etc. have chosen to use their names ‌to brand their businesses. You can follow in their footsteps and name your business around your own name!
Brand colors:
The next important element of your branding is the colors. You need to choose a palette for your brand that you will be using for logo, website design, product packaging, shipping box, business cards, and more!
Boutiques usually go for cool and neutral colors for their branding. You can find a palette that you like using tools like Coolors, Canva, etc.
Brand logo:
A brand logo is essentially a combination of your brand name and colors. You can choose a mascot for your brand if you want to, but it is not really a necessity.
You can design the most professional-looking and impactful logo using just the first letters for your business name and the primary colors of your brand.
Brand Tagline:
Every brand needs an impactful tagline that immediately attracts people to your store. It can be something sassy, humorous, witty, etc. or something just plain relatable.
Try Dukaan's free slogan generator to come up with fun and catchy taglines for your store.
Did You Know 🤔
Ralph Lauren
's tagline is
"Made to be worn"
. It is simple, straightforward, and lays out the brand's intention!
5. Find a suitable eCommerce platform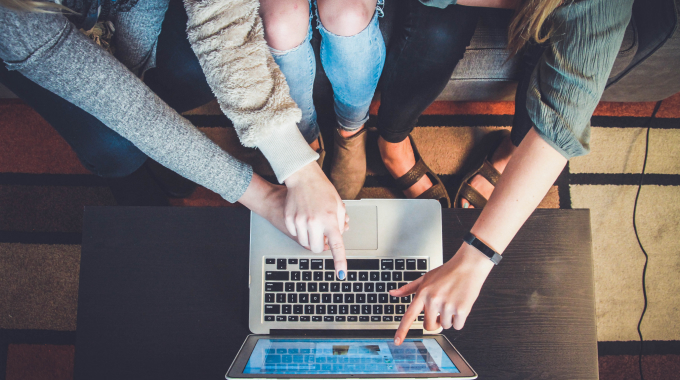 This is one of the most important steps in the process of building your online store.
The eCommerce platform you choose lays the foundation of your business, and enables you to do everything, from creating a storefront, and managing daily operations, to managing your inventory, and marketing your store.
You can go in two directions to choose the eCommerce platform for your online store:
1. SaaS eCommerce Platforms
Best for sellers with very less or no technical knowledge.
SaaS or Software as a Service is the simplest way to get started on your own online store.
These are the eCommerce software that provides you with a holistic platform where you can create your online storefront, customize it, list and price your products, set up secure payment gateways, and much more.
These platforms integrate a lot of tools and plugins that help with not just the creation of your store but also with running your business seamlessly.
For all that is offered by the platform, you will have to choose one of their subscription plans. These are mostly recurring subscriptions on a monthly basis or annual basis.
2. Open source eCommerce solution
Best for sellers with technical expertise and coding skills.
These eCommerce solutions are mostly free to download and install, and they convert your website into an eCommerce store.
Open source eCommerce software gives you a world of choices in terms of everything, from website themes and templates to extensions and plugins.
With an open-source eCommerce platform, you can build an online store that is completely unique, aesthetically pleasing, and professional.
However, to make the most out of it without spending a lot of money, you should have a lot of technical knowledge and coding skills.
There are plenty of options available in the market that fall under one of these two categories. You can research and try out a few of these platforms before you choose the one that suits you best.
However, to make things easier on you, we will let you in on an eCommerce platform that will fit your business perfectly!
If you are an up-and-coming entrepreneur with little to no coding skills, Dukaan is surely the best way to go!
To give you a quick look at everything you will get with Dukaan:

Set up your online boutique in under a minute
Pick from free themes and customize them easily
A custom domain that you can activate yourself in half an hour.
A custom app so that you can direct your customers to your store
A range of plugins that extends the functionality of your online store
A range of free business tools to help with various aspects of your business
Powerful tools for eCommerce SEO, email marketing, social media marketing, etc.
All this and much more at really affordable subscriptions that start at $9.99 per month!
Sweet, right?
6. List your products and price them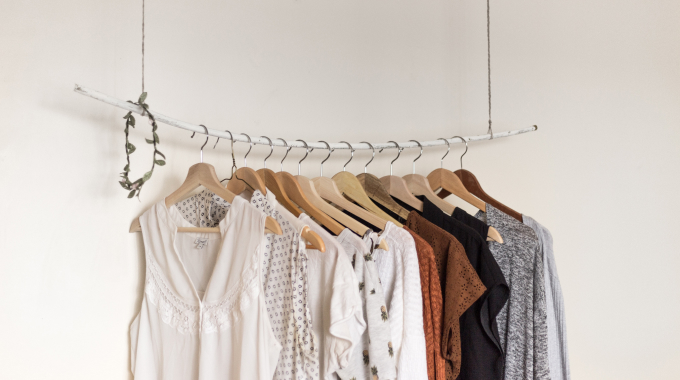 At this point, you should have a bunch of designs that have received appreciation within your trusted circle, a set of unique products that target your ideal customers, and a fully functional eCommerce website.
The next obvious step is to list your products in your online store in the best way possible.
Product image:
Capture your products in the best way possible to showcase your designs and variety of products.
Experiment with different backdrops, lighting, props, etc. to ensure that your products are displayed in the most enticing way.
Think from your customer's point of view when you are photographing your products.
You can read our product photography guide to learn more about how to click amazing pictures from home.
Product description:
Once you have great images of your products, the next step is to pair them together with suitable product descriptions.
Product descriptions are a way to describe your product in detail while making them seem enticing enough to your customers. It should be completely legit as well as SEO-friendly.
This may seem like a hard thing to do and we understand that. That's the reason behind our free product description tool that comes up with AI-generated descriptions that are simple and SEO-friendly.
Product pricing:
The final piece of the puzzle is your product pricing. Pricing your products smartly can be the make or break of your online boutique.
If you want to turn profits on your business, then that starts with your pricing strategy.
Unlike other businesses, you do not have to take a lot else into consideration while pricing the products in your boutique.
Base your pricing strategy on the unique designs, your skills, and efforts, raw materials, labor charges, logistics, etc. along with a considerable profit margin.
When you have calculated your prices, just run research on your competitors for quick validation and you are good to go!
7. Figure out the logistics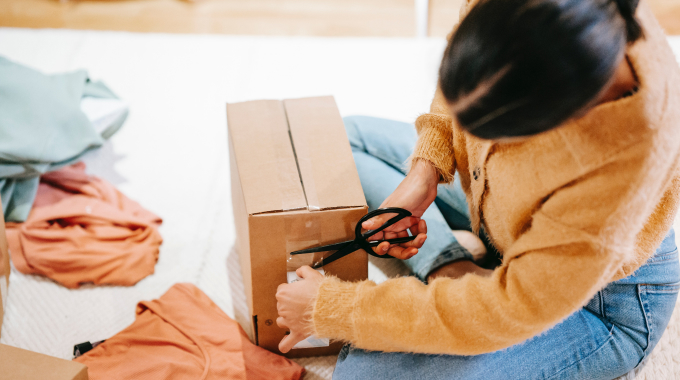 You are almost done with the major legwork of building your own online boutique. Before you launch your boutique, one last task you have to do is to figure out logistics.
You should always assume that the moment you launch your store, someone is going to love what you are selling and will place an order.
And when that happens, you should have everything in place to pack and ship the products to your customer.
Since the essence of a boutique is in its unique products that can be customized for a customer's taste, quick delivery of the order is not possible and even your customers will understand that.
When you mention the expected delivery time, just make sure to take into account:

Time to stitch an outfit or personalize a product
Time for quality check and packaging
Shipping and delivery time
Coming back to choosing the logistics partner, in this case, it is all about ensuring that the customer receives their order without any damage to the product or the packaging.
When you are running a boutique, branding plays a very important role in satisfying and retaining customers.
Just think, what if a customer receives a damaged product that they so lovingly personalized. You can always offer to refund or replace the product, but the impression is made!
Building a cordial relationship with your logistics partner will help in ensuring that your products are packaged and shipped with utmost care.
8. Create a marketing strategy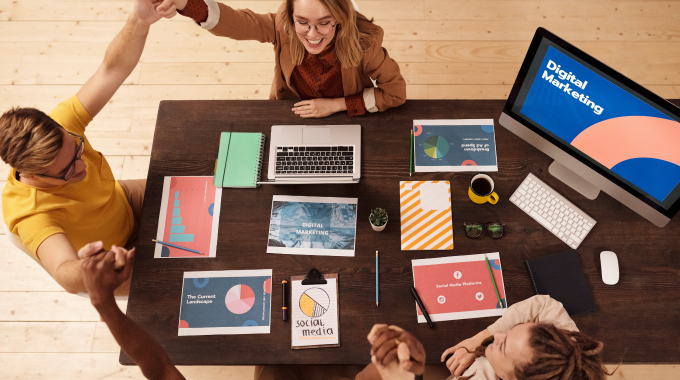 You can create a brand within a day or two, but establishing the brand, takes a lot more time and effort.
You should start by increasing awareness of your business through a solid marketing strategy. Only after the traffic starts rolling in, you can use your branding elements to increase recognition and loyalty.
This is what you can do to market your online boutique:
Search Engine Optimization (SEO):
Be it a website, a blog, or an online store, if you want to gain recognition on the internet, then SEO is your first step.
List out the keywords that describe your business the most, and what your target customers are searching for on the internet.
Start by optimizing your eCommerce website around these keywords. Organic optimization will surely take some time. Alternatively, you can run Google ads for ranking on top of the search results quickly!
Promoting on social media:
Social media has a lot of potential when it comes to promoting your online boutique.
Not just by uploading the images of your products, you can also create some interesting content about your business, BTS videos, and reels to garner a following for your business.
Just like in SEO, if you want to gain immediate attention and awareness for your boutique, then you can run paid advertisements like Facebook ads.
Influencer marketing:
Another powerful way of using social media to promote your business is through influencer marketing.
Find the top influencers in your niche and reach out to them to market your products. If you are short on budget, you can reach out to budding influencers who may not have a huge following but still have some authority on the platform.
Email marketing:
Though this may seem a little outdated, email marketing is still a great way to engage your potential customers as well as existing ones.
Build an email list of anyone that visits your online boutique. You can use a pop-up plugin for this.
Once you have the list, you can start sending them newsletters, promotional offers, a list of new arrivals, etc. to increase their curiosity and encourage them to make a purchase in your boutique.
Customer reviews and feedback
The smartest way to market your online boutique or any business for that matter, is to leverage your existing customers and their experience.
It costs you nothing at all and at the same time, it will give your customers a sense of importance to know that their experience and their reviews are valued by you.
Request your customers to leave feedback on your social media handles as well as in your online boutique.
When potential customers see positive reviews on the products that they are interested in, it will silently validate their taste and they will be more convinced to buy the product.
And those are some ways that you can market your online boutique to bring in new customers and increase awareness of your business.
Investment For Your Online Boutique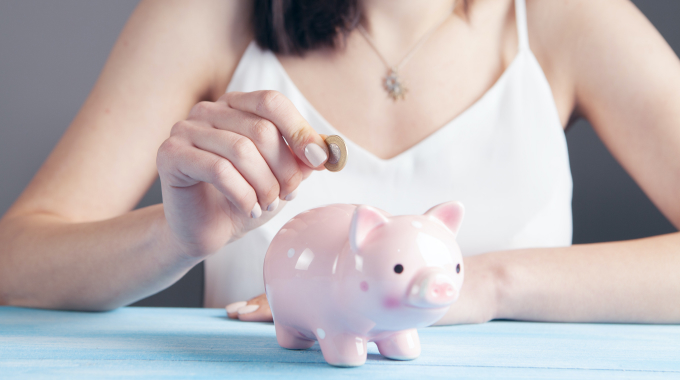 We have seen a detailed guide on how to start an online boutique, and at this point, you should have the motivation and a solid game plan to start an online boutique.
However, all that means nothing if you do not have the required investment and funds to start an online boutique.
Unlike a general apparel store, you need to have only the best products in your online boutique. These need to be carefully curated, quality checked, and personalized on request before you can sell them.
If you want to start and run a successful online boutique, you need to have enough funds to put together an inventory of the products that you are going to sell in your boutique.
Here are some quick suggestions on how to fund your online boutique.
Dip into your personal savings:
The first obvious suggestion for funding your online boutique is dipping into your savings. This way you won't have to worry about paying interest and repaying loans.
If your business does not work out, then you have lost your savings, but your risk ends there!
Borrow money from family/ friends:
If you do not have enough savings to set up your online boutique, then you can try pitching your business idea to your friends, family, and other people in your inner circle.
Ensure to strike a professional deal with them rather than a personal one. Create an agreement that works with your lender and you.
Strike a deal with your supplier/ vendor:
This is not really about receiving funds for starting your online boutique. It is more of being a middleman between the products and the customer.
You can strike a deal with your supplier/ vendor where you will market and sell their products. You will then share the profits with your vendors.
Apply for a business loan:
you can apply for a business loan, where you will present your business plan and forecasts to the bank and ask them for a loan.
The process of applying for a business loan varies depending on your location. Make sure to collect all the necessary information before you take a business loan.
Conclusion
So there you have it. A guide on how to start an online boutique in 8 easy steps.
Here is a quick recap of these steps:

Define the niche of your boutique
Identify your customers and market
Create a business plan for online boutique
Finalize the branding elements
Find a suitable eCommerce platform
List your products and price them
Figure out the logistics
Create a marketing strategy
We hope that now you have a sense of direction about where to begin and what to do, to make the world a more stylish place with your skills!
An online boutique requires lower investment, runs on lower risk, and is more convenient for you and your customers.
So, whether you're planning to take your existing business online, or looking to create a big brand for yourself (put that fancy fashion degree to use!), an online boutique is definitely a step in the right direction.
And if you need an eCommerce platform to build your store, try Dukaan today!
This video will give you more information to get started:
FAQ's
1. How much does it cost to start an online boutique?
To start an online boutique, you need to factor in the cost of your eCommerce platform along with the regular costs of a boutique, like raw materials, manufacturing, shipping, marketing, etc.
2. How to get inventory for an online boutique?
Find reliable suppliers who can provide you with good quality raw materials at an affordable price. You can also buy those products in bulk which you use regularly and can store easily.
3. How to start an online boutique for free?
Using Dukaan, you can set up and launch your online boutique for free, and that too, in under a minute. It offers a free trial period of 7-days after which you have to go for one of its subscription plans that start at less than $10 per month.
4. Are online boutiques profitable?
Yes, online boutiques are highly profitable businesses if you have right the skills. You need to create new styles from scratch and customize them based on your customer's requests. With the help of a good team of talented people, you can earn handsomely with this business.
5. Do I need a business license to start an online boutique?
Put it simply, yes! If you are setting up a business, then you need to acquire the necessary licenses in order to avoid any legal complications.