Wondering how to start an online boutique business and struggling to find your way around? Here's a step-by-step plan to set up a flourishing boutique business.
If you are thinking of starting a boutique business, I'd say you are already on the right track. The fashion/ boutique business is one of the most lucrative online businesses today. Here are some promising numbers to validate. The global apparel market is projected to grow in value from 1.5 trillion U.S. dollars in 2020 to about 2.25 trillion dollars by 2025, showing that the demand for clothing (and shoes) is on the rise across the world.
Let's dive straight into what it takes to build and establish a boutique business online.
How to Start an Online Boutique
Step 1: Pick your niche
From sustainable linen clothing to terracotta jewelry, your niche could be anything. Picking your niche is important as going all out in the very beginning could be a tad bit overwhelming. Trying to sell everything (all sorts of clothing and jewelry) could pose a challenge from a sourcing perspective. It means a lot of work while you are trying to set up and establish your business online.
On the other hand, if you choose a niche – cotton/ linen sarees for instance – it might be easier for you to work with select manufacturers/ wholesalers. It also makes planning and managing logistics easier. Once established, you could always widen the categories.
Tip – Ask the following questions to zero in on a niche:
What is it that you like about owning a boutique?
Are you sensitive towards a particular cause or community?
What are your skill sets?
What are the resources you have?
Step 2: Chalk out a plan
A good plan could be key to the success of your business! A business won't thrive on passion alone. One needs to be pragmatic and organized to be able to convert one's passion into a profitable business. That's where a business plan comes in.
A good business plan entails market research, target audience identification, SWOT analysis, competitor analysis etc. Investing time in chalking out a detailed business plan is half the battle won.
There are many free business plan templates available online that you could use in a DIY manner. LawDepot, Score, and IncvoiceBerry are a few examples.
Step 3: Choose a name and structure for your business
Once the plan is made, the next step is to decide on a name for your business and its operating structure. Think of a catchy name – ensure there is no other business already registered under the same name. The structure of your business could be any of the below:
Sole proprietorship – This is the easiest entity to set up. As the name indicates, in this structure, you'll be the sole owner of your business and will report your business income and losses on your personal tax return. You will be solely responsible for your debts and legal obligations as well.
LLC – A limited liability company, or LLC, is a flexible business structure that separates your business's liabilities from your personal assets. LLCs are treated by default as pass-through entities for tax purposes; however, you can choose for your LLC to be taxed as a corporation.
Pvt Ltd – A private limited company is a privately held business entity. It is held by private stakeholders. The liability arrangement in these is that of a limited partnership, wherein the liability of a shareholder extends only up to the number of shares held by them.
Step 4: Register your company
The next logical step is to register your business/ company. Registration is normally a 4-step process that includes the following:
Acquire a digital signature certificate (DSC)
Get your director identification number (DIN)
Create an account/ register on the Ministry of Corporate Affairs website
Incorporation of the company post approvals
For expert help through the process, you could either approach a CA firm or third-party vendors VakilSearch and VenturEasy who manage everything from registration to account keeping and filing.
You will also need to buy a domain in the name you have chosen. Platforms like GoDaddy are popular.
Step 5: Figure out sourcing & selling
When it comes to sourcing and selling the options are plenty! You could pick and choose based on your convenience, preference, and feasibility.
If you are passionate about designing your own label, you could source the fabrics and other materials directly from a weaver/ wholesaler and make your own designs. This would mean investing in a unit and tailors.
Another way of doing this is bulk-buying from a wholesaler, rebranding it, and selling it at a marginalised price. This would mean investing in a warehouse where you can stock the products safely.
Yet another and popular way is to dropship. This works well for many who don't wish to invest in a manufacturing unit or a warehouse space. The products are shipped directly to the customer from the wholesaler. All you have to do is price and promote the products.
Now that you're all set to kick-off, what next? Now comes the easier part – going online! Why is it easier? Because we make it easy for you. Dukaan helps sellers like you get onboard and sell online in just 4 steps! Here's how.
Step 6: Setting up your online store
You can set up your own online store on Dukaan by entering some information about yourself and your store. You need to have methods of payment to make it easy for you to conduct your business and for sellers to buy your products.
The way you organize your products and categories are two of the most important parts of your online store. Make sure to add more products to increase the chances of getting orders. Add relevant product information that will make it easier for customers to make decisions and buy from your store.
4-step store organization
Add your products
Organize your products into categories
Download Store QR Code
Use Order Form to collect specific information from customers
List your products
Once you have set up your store, it's time to start adding or uploading your products. Make sure the pictures of your products are clear and closely represent your products. This avoids any escalations at a later point and will help retain customers.
With features like catalog maker offered by Dukaan, uploading products is now super easy. The smart feature helps you to add multiple products in just a few clicks.
Payments & Shipping
The most critical aspect of your business – how do you accept payments online? There are multiple options when it comes to transacting online. The two most popular payment methods are cash on delivery (COD) and online payments via UPI/ Debit/ Credit Cards/ Net Banking.
For shipping, you could either tie up with courier service providers who offer special services and discounts based on the order volumes. You could also explore services like Dunzo for same-city deliveries to ensure faster and hassle-free delivery.
Promotion
However good your products or store is, your revenue depends a lot on how you promote your brand online. Social media is a great place to do so. Ensure your brand has visibility across platforms like Facebook, Instagram, Pinterest, and Whatsapp. You could also opt for paid ads across social and offline platforms.
With Dukaan, you could choose from a range of social media and sales promotion templates to create online ads within seconds!
Also, check out Wow Trends – a boutique set up on Dukaan that's made the most out of all the products and features the platform offers.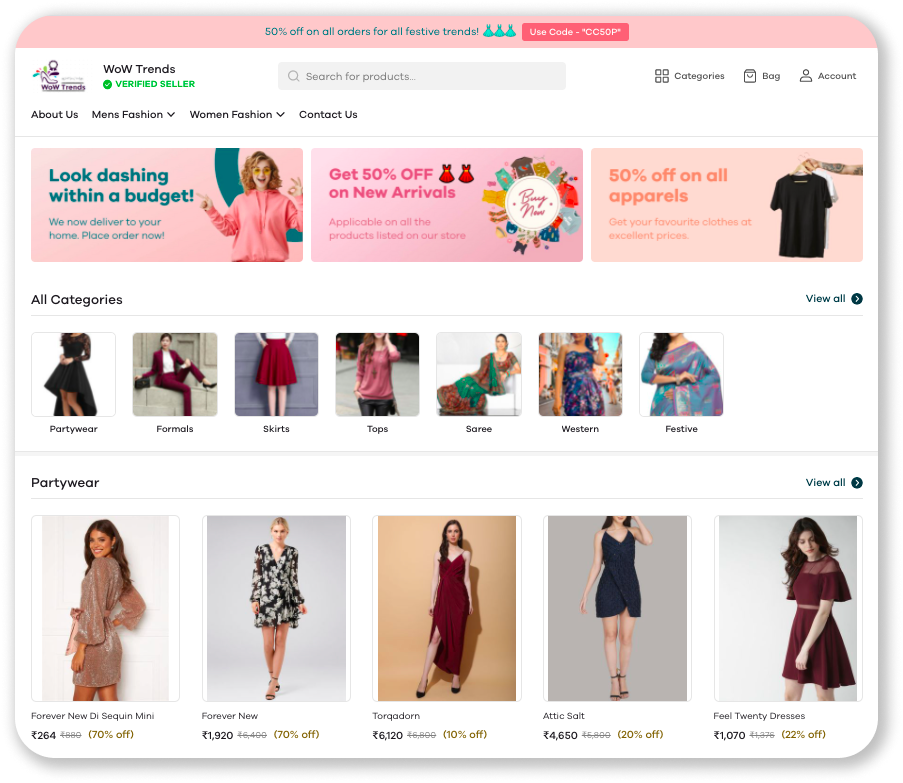 FAQs
How much does it cost to start an online boutique?
Starting an online boutique business can cost anywhere between INR 2-5L if you consider the registration, sourcing, production, shipping, promotions, website building etc. But with Dukaan, you could start an online boutique with absolutely no cost - that's if you choose the drop-shipping model. One doesn't even need to register the business to be a seller on Dukaan.
Is an online boutique profitable?
Yes, an online boutique business is profitable. The profits however vary based on the business model you choose and the platform you choose to sell on.
How do I get inventory for an online boutique?
You can get your inventory from online wholesalers, trade shows/ marts, offline wholesalers, or even directly from the weavers/ artisans.
How do I register my boutique?
A company can be registered online today. Registering a company is normally a 4-step process that includes receiving a digital signature certificate (DSC), director identification number (DIN), registering on the official website of the Ministry of Corporate Affairs, and finally the incorporation. The faster and hassle-free of completing the legal formalities is to take help from CA or CA aggregator firms like the ones mentioned above.
Which is the best platform to start an online boutique with zero or no investment?
Many people make the mistake of starting their boutiques on social media platforms like Instagram and Facebook as it involves zero cost. But with time and scale social media platforms become infeasible to sustain. It is ideal to start a business on a platform like Dukaan where all aspects of a business can be managed in an organized manner - be it catalog management, order processing, shipping, or accepting payments. And social media channels can be used to promote your business.
Final Words
If planned well, an online boutique business can be a great success and can reap good profits. A lot will depend on how you go about building and promoting it and more importantly the platform you choose to promote.
With Dukaan, you could simply choose a dropshipping model and run a boutique as a side hustle – creating an extra channel of income with zero investment and minimum effort!