Looking to start start online tuition at home and make some money? Here's your full guide.
It is 2021. The pandemic is spreading and more and more businesses are moving to work from home mode.
Movie theaters have closed. Schools are closed. Startups, companies, and even hotels are closed. Every business, every organization is struggling to work from home.
Not all news is depressing though. Amidst all this chaos, opportunities have arisen.
Home-based businesses have begun to sprout up. Teachers have started to go online with online tuition classes. Even entire startups have begun.
The opportunity is huge. But how to start online tuition at home without any investment and technical knowledge?
Let's find out.
How To Start Online Tuition At Home Without Investment
To start an online tution business, you need the following.
Expertise in any topic or teaching experience.
Time/availability.
A laptop/mobile phone
An online meeting platform.
A way to accept payment from anyone, anywhere.
A list of tuition packages/slots.
That's it.
With just the above-mentioned requirements, anyone can start an online tuition business. We shall get into details of each requirement, in this article.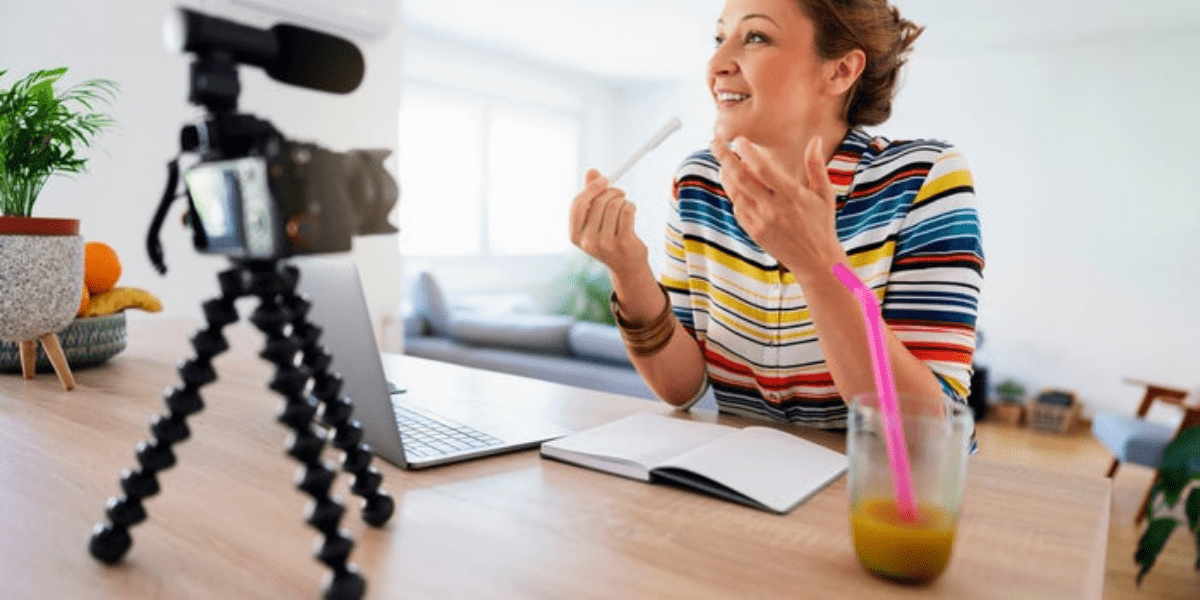 1. Tools You Need To Start Online Tuition
The main tool you need to start an online tuition business is online meeting software.
Worry not. There is everything from free to paid software available today to choose from.
For example, here are some of the best online meeting tools you can choose from.
As you can see, different tools have different features and values.
But considering the popularity and features, we recommend using Zoom for online tuitions.
The reasons are that Zoom's video and audio quality is superior to any other online meeting tool out there. It offers a free 40-minute session, beyond which you'll need to re-login. If you do not want to go through the hassle of logging in again, you can buy their premium version at around Rs.3,500 per month.
There are many tuition coaches in India who are running online tuitions with Zoom's free service. So, you can imagine why. But don't take our word for it. Explore and find out a meeting tool that works for you.
How to choose an online meeting software for online tuitions?
Make sure that it can allow enough participants (students).
Make sure the time limits are within your expectations.
When buying paid versions of the product, you compare monthly v/s yearly prices.
Ensure that there are no regional restrictions to participate for students.
Take a free demo and check the video/audio quality.
If you need note-taking/whiteboard features, try them.
Ensure that students can participate from mobile as well as laptops.
2. Create Tuition Packages
Once you have the tools you need, you need to figure out what tuition packages will you be selling.
This could be based on your availability, your student's preferences and other such factors.
If you are planning to take tuition for one subject, create a timetable for it.
If you are planning to take tuition for several subjects, create a timetable accordingly.
For example, Maths (Morning 9 – 10), Biology (Afternoon 4 -5).
Ideally, students should be able to choose their desired tuition packages. This is where you will need a website.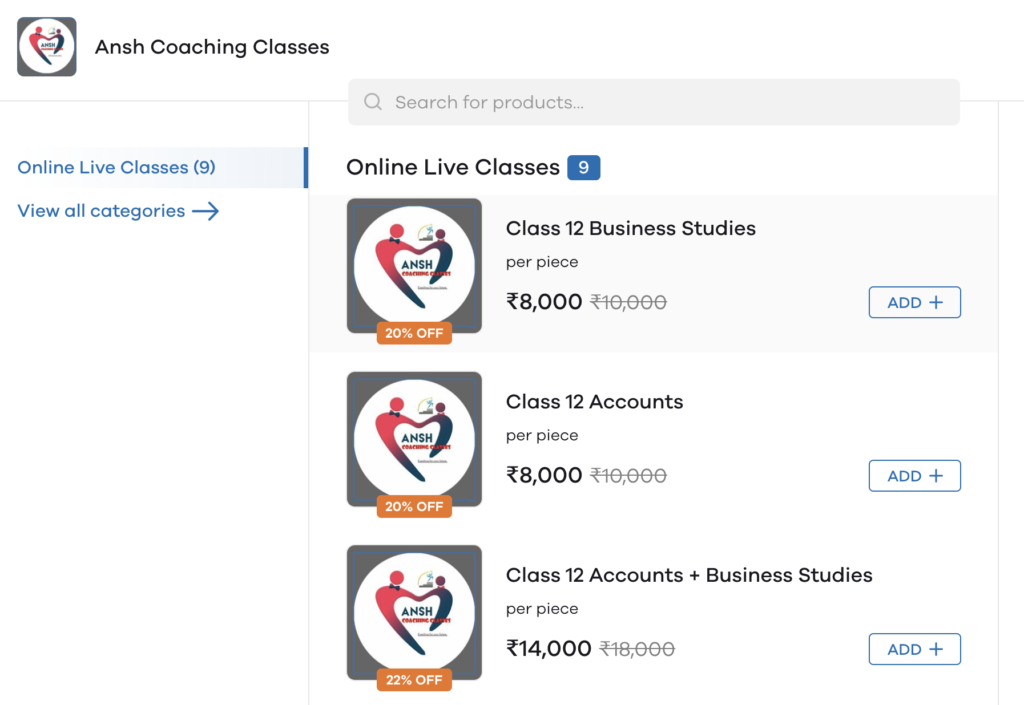 3. Create A Website (or start with Dukaan)
A website becomes a necessary evil at this point.
Why evil? Because a website comes with a lot of expenses. Hosting, web design services, plugins, maintenance charges, and what not?
This is a bottleneck for many folks. Especially those who are technically challenged.
This is why we recommend starting your own store on Dukaan.
Many folks have this wrong assumption that Dukaan is only for physical products. It is not.
Although most of our customers use it for selling physical products, it is also for digital products.
Instead of creating an expensive website and having to deal with all the pain that comes with it, on Dukaan, you can get your online coaching class ready in perhaps under one minute.
How? In three simple steps.
Sign up with your email or phone number at https://web.mydukaan.io & give your coaching class name.
List your tuition coaching packages and the corresponding rates/tuition fees.
Now share your store/package details with anyone who wants to buy them.
It's as simple as that.
With Dukaan, you can have your online tuition classes ready and live in one minute. No technical knowledge required, no website or hosting required.
4. How To Take Payments From Students
Now that you have your online tuition packages and fees available for anyone to buy, what happens if they buy?
Give your bank details within Dukaan. Either give your bank UPI id or give your account number, IFSC code and bank details.
And start taking payment instantly! That is right. No waiting whatsoever.
In most e-commerce platforms, the payment part is a problem.
You need to wait for weeks together to get your bank account verified, and once done, there will be commissions and fees that apply.
In Dukaan, none of that.
Quick and instant verification of bank account.
Start accepting payments to the bank immediately.
No commissions or fee structure.
Your money, your bank.
So, once a student buys your tuition package, the money comes directly to your bank account.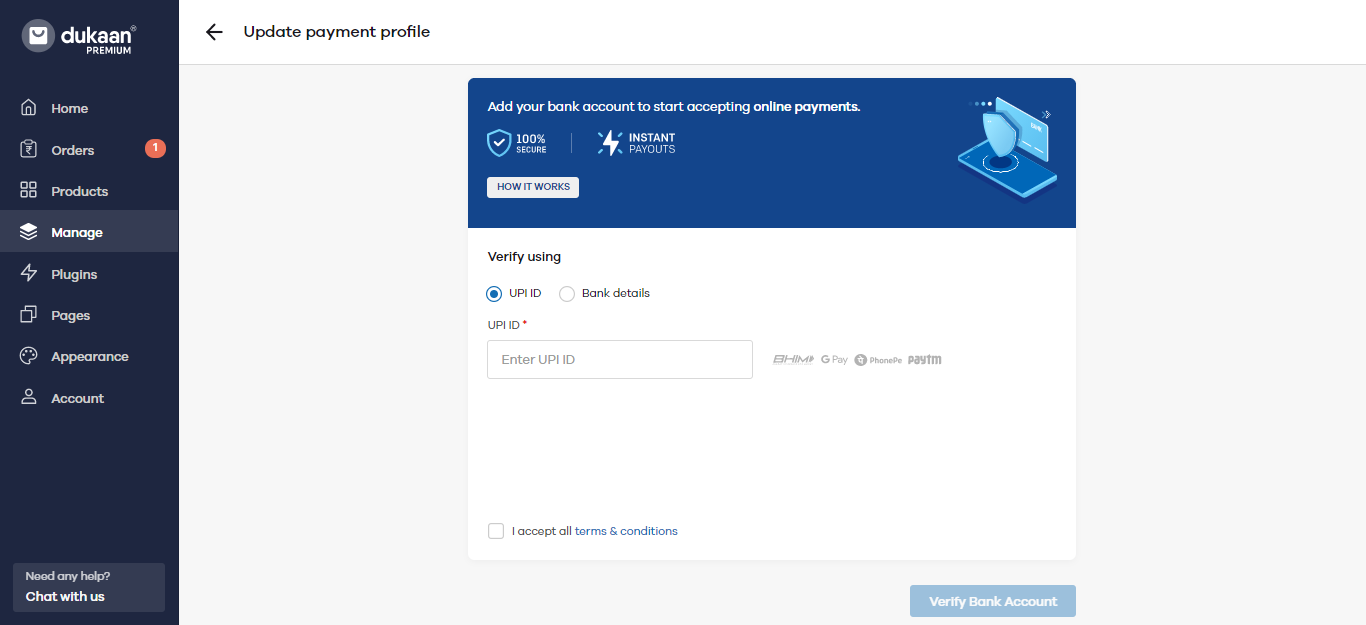 And more than one student can buy your tuition classes. You can share your store link via WhatsApp to anyone who wants to join your tuition classes.
5. Start Promoting/sharing Your Tuition Classes
Once you have your tuition packages and bank account details ready, start sharing your store link with anyone on social media.
On Dukaan, you can use pre-built marketing templates and designs like WhatsApp stories, QR codes, business cards and the like.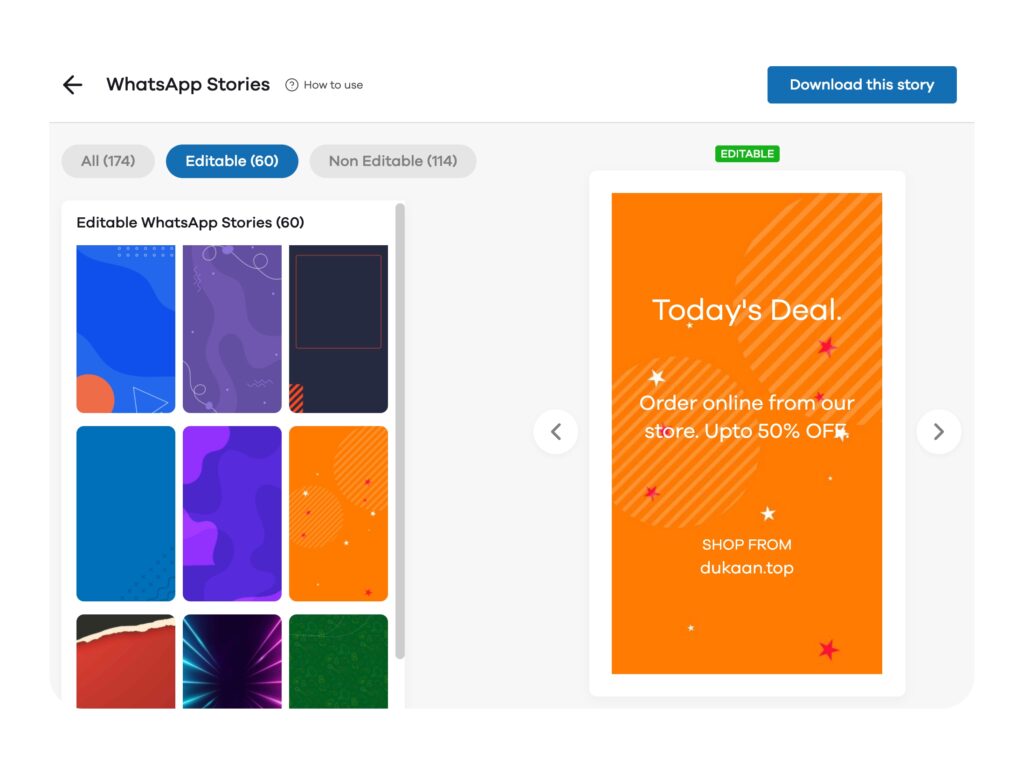 If you'd like, you can also create a custom domain name for your tuition class on Dukaan (ex: yourtuitionclass.com.)
6. How Much Does It Cost To Start Your Own Online Tuition Classes?
It would cost you zero to just five thousand Rupees to start your own online tuition classes.
Here's a sample split up.
Without Dukaan
Online meeting software – Free or Paid (Rs. 3,000 monthly)
Website – Rs. 10,000 (minimum)
Hosting – Rs. 25,000 (minimum)
Web designer – Rs. 5,000 (minimum)
Total – Rs. 40,000 + Minimum investment.
With Dukaan
Online meeting software – Free or Paid (Rs. 3,000 monthly)
Website – Free
Hosting – Free
Web designer – Not required
Custom domain + other premium features – Rs. 400
Total – Rs. 3,400 + Minimum investment.
Whoa! Isn't that a lot of value?
So, what are you waiting for? Start your own online tuition class at home today, with Dukaan.