eCommerce platforms are plenty. There's one for all kinds of business. But how do you choose one that suits your online business? In this blog post, we'll look into the top performing 10 best eCommerce platforms.
Quick Summary: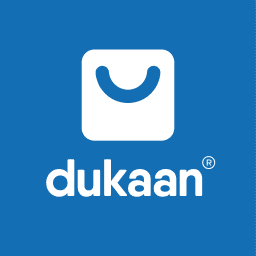 Dukaan
Optimized code
Flexible customization
Reasonable pricing plans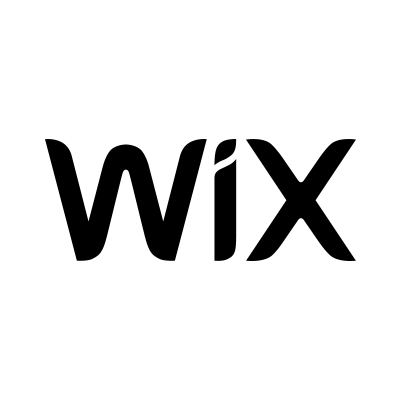 Wix
Flexible web design.
Fewer transaction fees.
Lower price.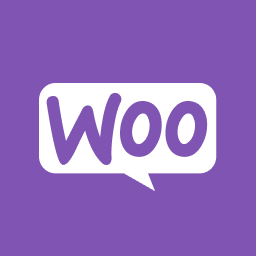 WooCommerce
Greater freedom.
More design options.
No transaction fees.
To create a delightful online store experience, you need the best eCommerce platform. The selected platform has to support you in everything.
From product, order management to marketing features. Add to it some out of the box SEO and multichannel functionalities.
Choosing the platform depends on your needs and growth plans. Below, we have listed the top-performing eCommerce platforms.
Best eCommerce Platforms in 2023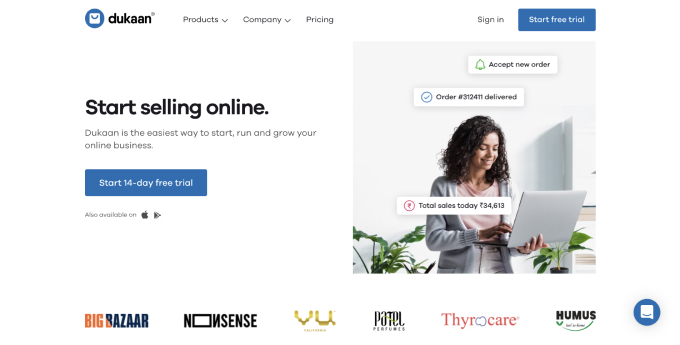 An eCommerce platform built to help all kinds of entrepreneurs. Dukaan has everything you need to start, market and manage your online business. Even new and small merchants can begin with the basic Dukaan plan and upgrade as their operations expand.
The platform is trusted by some of today's fastest-growing companies. It provides best-in-class security and high-resilience infrastructure. Plus, comprehensive management tools, multichannel integrations.
Apart from these, the eCommerce platform comes with a range of tools. This helps you to analyze every aspect of your online store. Dukaan builds features that can make you get started. You can achieve product customization, inventory management, and SEO effectiveness easily.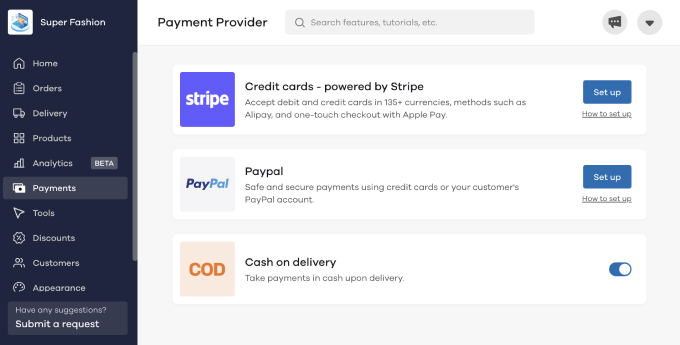 With these tools, you can design customized online experiences while enhancing your brand value and maximizing the Return on Investment (ROI) on your marketing spending.
As mentioned above, Dukaan not only offers solutions to entrepreneurs who are selling physical goods. That platform supports services, memberships, and ticketing industries.
As there are no online limits or restrictions on the kinds of products you sell or provide service. Dukaan is a great option to build your online store. Even if you aren't going into an industry-specific business.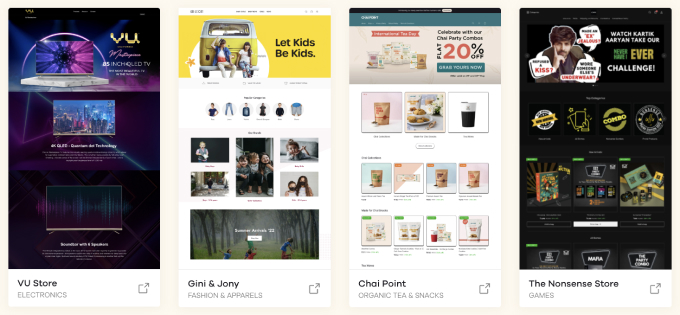 If you don't have any products or services and are focusing on dropshipping, then you can start your dropshipping business with Dukaan. At the moment, the dropshipping feature is only available in certain regions only.
Dukaan empowers you to sell goods or services with minimal configuration. It includes an intuitive single-click editor. You can customize the look of your online store's homepage without the need for coding.
In a few words, Dukaan is a good alternative if you want a complete solution without having to deal with site development and hosting issues. If you want to make changes to the code also the platform gives you the option.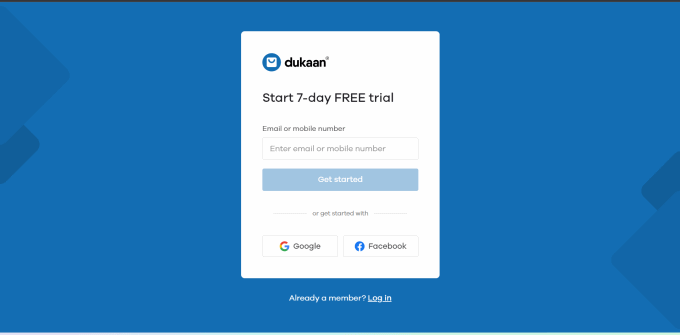 The platform checks the basic requirements of the eCommerce platform. You can also avail of features like Dukaan QR generation. The platforms' intuitive rich features can help develop a more powerful store. The best part is that you can offer your customers a customized checkout experience.
Dukaan gives you the power to sell more, scale quicker, and diversify your business strategy. The platform has what you need for your business — all within one platform.
Dukaan helps you to connect with your customers faster. It is an eCommerce platform that does not compromise on speed. Dukaan isn't a limited platform. It is continuously innovating to give you endless possibilities and simplify your queries.
About Shopify Exporter
No matter how extensive or complex your data files might be, use the Shopify exporter app. Available in Dukaan plugins.
You can import customer, product, and order records into your Dukaan store. This app accepts comma-separated values (CSV) files for each record type. Later, it processes the records and then imports them as objects into Dukaan.
While Dukaan is not the first eCommerce platform in eCommerce. It is certainly best if you want your end-to-end process to be straightforward and quick. That said, we aren't going to speak about the features of the platform. But, focus on the platform's unique selling points (USP).
Dukaan Pricing Plans:

| Plan | Monthly | Yearly |
| --- | --- | --- |
| Entrepreneur | $14.99 | $149.99 |
| Agency | $49.99 | $499.99 |
| Enterprise | Custom | Custom |
Dukaan USP's/features:
Speed:
Time is money, especially when it comes to an eCommerce site. When an online shopper clicks "Buy Now", some action is supposed to happen immediately. To do this, your site must have a quick response time and an excellent content delivery infrastructure. Any delay on the internet reduces results.
As mentioned in, Subhash Choudhary's tweet on Dukaan's performance. The eCommerce platform does not compromise on the store speed. The examples considered included major stores like BoAt and Bummer.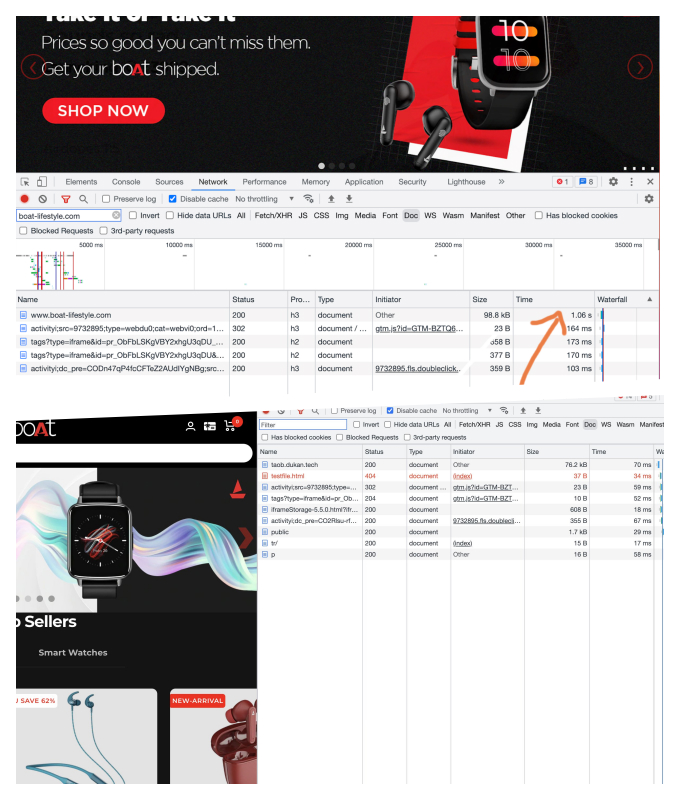 During the performance test of BoAt, the results showcased a high loading time (Time to First Byte). Especially when serving a global audience. When Dukaan infra hosted the platform, the loading time is decreased by 10X.
Dukaan-Edge uses edge computing. The platform is an end-to-end owned and operated network of specialized custom edge computing software stacks. Currently built and optimized to provide sub less than 5ms latency and 75ms TTFB.
Dukaan can deliver content faster than other eCommerce platforms. Because it owns and controls the hardware, software, IP address space, and even the BGP routes. You can learn more here – Twitter Link.
Ease of use:
Whether you're in B2B or B2C, building an easy interface is often complex. While this may seem obvious to anyone. Creating an intuitive interface is difficult to achieve.
Dukaan offers an intuitive interface that makes it easier for you to get started. Designed to help all kinds of merchants in building an eCommerce store. Plus, the eCommerce platform allows you to deliver an easier store.
Dukaan's ease-to-use interface will help you easily integrate various 3rd party apps. Apart from supporting merchants in getting started , you can custom code effortlessly.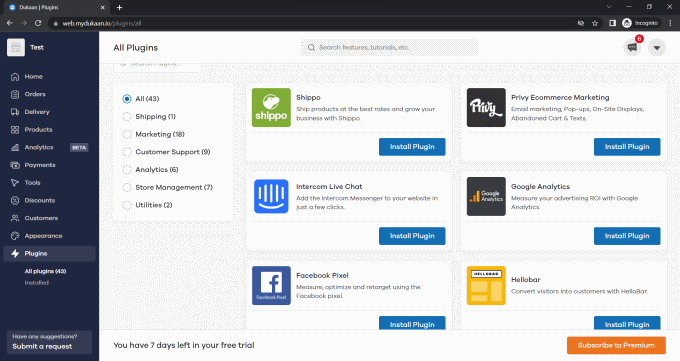 Versatile:
Every company strives for success. With today's shifting market, retaining customers and achieving success are more difficult. You can not be restricted by the platform's versatility for your growth opportunities. When talking about versatility, the platform should be able to easily adopt.
Alongside speed, security, and usability. Building Dukaan as versatile as possible was one of the top priorities. Dukan's versatility enables its merchants to extend their store functionality.
Every feature and functionality of the Dukaan platform can be edited. Whether you want to customize or style it, you can do it. From automated marketing solutions to store management or accounting systems, Dukaan is the ideal versatile platform for today's interconnected world.
Built for non-techy folks:
Keeping aside eCommerce players. Many software companies are run by founders who are non-technical themselves. As long as you have an idea, team, and easy-to-use platform with all the features that can help you in growing, things will work out just fine.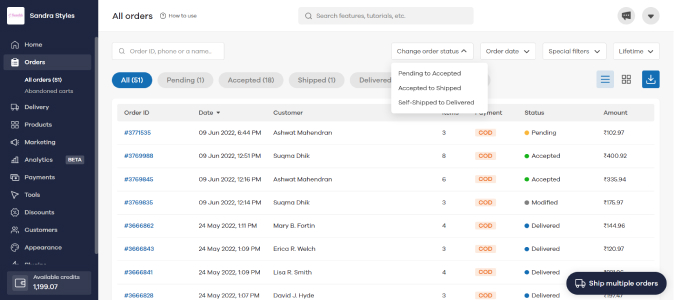 Set out to digitize mom-and-pop storefronts and Kirana stores, Dukaan requires no software skills or coding skills. You can get your online store to be up and running and receive orders and payments online, through UPI.
From getting started to marketing to order management to payment processing to retaining the customers, Dukaan lets you grow without much of a technical road blocker.
Dukaan tools:
Getting started with Dukaan just got easier; you don't need more time, or resources to help you run your business as Dukaan tools can significantly simplify your basic tasks. From Terms and Conditions Generator in a single click to Background Remover, Dukaan has got it all.
Apart from these, you can use Dukaan's free privacy policy generator to include the prerequisites and conditions related to the General Data Protection Regulation (GDPR). This policy generator ensures your business complies with the law and encourages customer trust. On a similar note, you can utilize the Product Description Generator to write appropriate product descriptions.
Dukaan marketing features: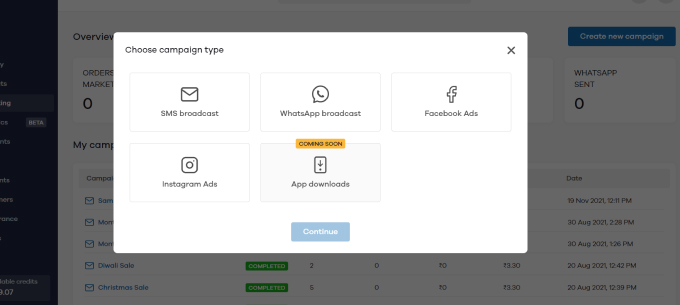 Facebook Ads
With 2.2 billion daily active users and 2.8 billion monthly active users, Facebook Advertising has been on the rise. Connecting your online store to Facebook means you can leverage the Marketing capabilities of Facebook Ads.
With Dukaan Facebook Pixel integration, you can improve the chances of your Marketing Ads reaching the right audience. The integration isn't as complicated as other platforms, in just a single click you can integrate Facebook Pixel and leverage Facebook Ads.
WhatsApp Marketing Campaigns
WhatsApp is now used by almost everyone. As a result, you can utilize whatsapp to reach out to customers, promote your products, and increase sales. That said, you can now launch WhatsApp Marketing campaigns.
You can use
Dukaan WhatsApp Marketing
Campaign feature to notify you customers personally. Plus, use Dukaan's built-in marketing templates to create a catalog on WhatsApp. That is, your customers can learn about your store without having to shift. This improves your conversion rates.
Email Marketing
Email marketing is unrivaled in terms of importance. It's a powerful strategy that businesses can use. Whether you are into B2B to B2C -consumer, email marketing plays a high role.
With Dukaan, you can leverage various email marketing tools. That is, you can get started with Privy and MailChimp with a single click. The integration of either tool will help you nurture leads, reduce churn rates, and increase repeat purchases. The integration into your Dukaan store can achieve your specific goals.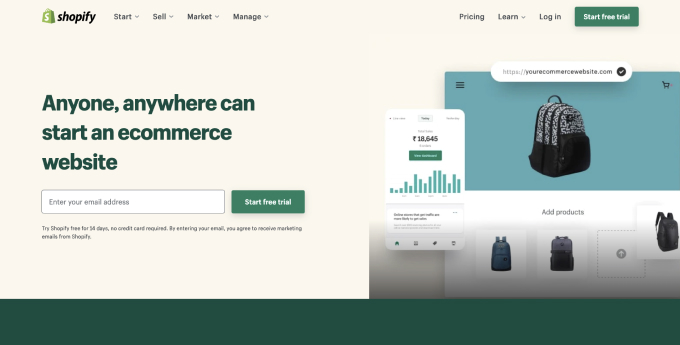 Shopify is a subscription-based eCommerce platform. It is a platform that you can use to build your store both online and offline, especially with the Point Of Sale (POS) app. It is a subscription-based software as a service (SaaS) eCommerce platform.
Without having to worry about upgrading or maintaining software or web servers, you can create a website. This flexibility to run your business allows you to go beyond. With Shopify online store builder and themes, you can customize as per your brand mission and vision.
The platform offers comprehensive eCommerce web builder features. In just a few clicks, you can get hundreds of ready-to-use templates . You can also create a multi-channel experience, custom cart functionality, and many others with Shopify. The resilience provided by the platform can help you streamline your website activities.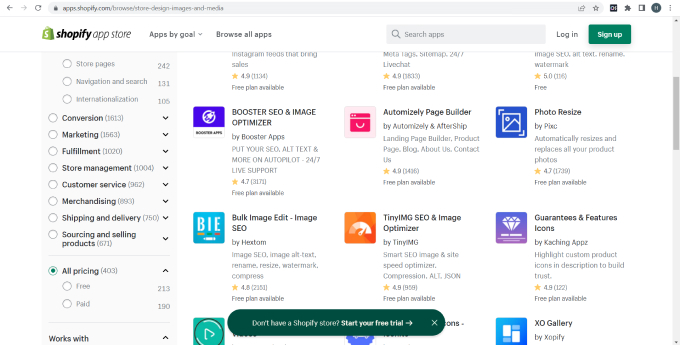 The SSL certification from Shopify improves your store security and consumer confidence. Apart from these, the Shopify App Store is an add-on. The App store lets you incorporate new features and functionality. This feature of Shopify will increase the store value and consumer experience.
You can get started with Shopify Plus if you are a high-volume selling store. As it is something designed for high-volume, enterprise-level brands in mind. In this platform, you will ‌get more customization control and great automation capabilities. Plus, improved multichannel and omnichannel functions.
Shopify and Shopify Plus are more focused to handle mid-level and enterprise-level customers. There is a steep learning curve for beginners. And you might need help along the way, be it designing your store or customizing it for various functions.
Shopify Pricing Plans:
| Plan | Monthly | Transaction Fees |
| --- | --- | --- |
| Shopify Starter | $5 | - |
| Shopify Lite | $9 | 2.7% per in-person transaction |
| Basic Shopify | $29 | 2.9% + 30 cents per online transaction; 2.7% per in-person transaction |
| Standard Shopify | $79 | 2.6% + 30 cents per online transaction; 2.5% per in-person transaction |
| Advanced Shopify | $299 | 2.4% + 30 cents per online transaction; 2.4% per in-person transaction |
| Shopify Plus | Starting at $2000 | 0.15% per transaction (for third-party payment processors only) |
Shopify features
Shopify Abandonment Cart Recovery:
It's not possible to turn every first-time visitor into a customer. But what if you connected back with the customer? Shopify Abandonment cart recovery is all about re-establishing the brand's thoughts in the customer's mind.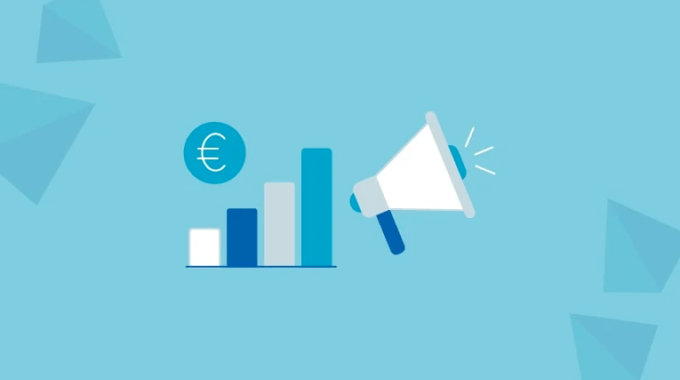 With this feature of Shopify, you can automatically email customers about their choices. The email contains a link to the customer's abandoned cart. That is, the email comprises all the products the customer had added to the cart. This allows them to complete their checkout without repeating the actions. That said, you can customize the email design template as per your needs.
Shopify POS:
If you are a person selling products in person to boost your sales and your brand, then Shopify POS is for you. Shopify POS is a form of an app that acts as an easy-to-use point-of-sale system.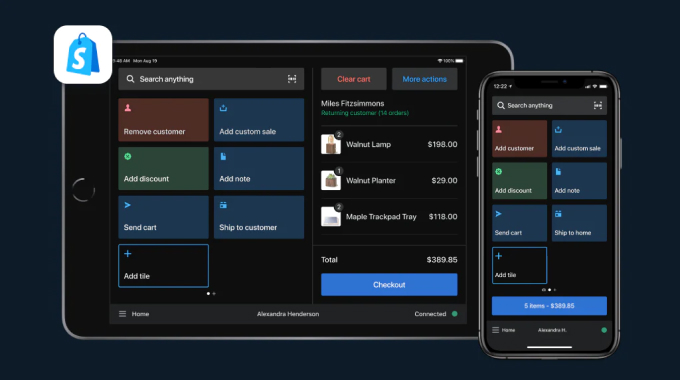 This Shopify feature allows you to accept payments and sell products on the spot using cutting-edge hardware that is directly connected to your Shopify store. Despite these benefits, Shopify POS inventory management is not always simple. If you want to keep your business running smoothly while you focus on many other things like marketing, you'll need to have your inventory management system running in real-time — and this is where Shopify POS falls short.
Shopify Video and 3D support:
To create an enticing store experience, it's important to focus on your store product page. While a great product with ‌description will answer the customer's questions related to the product. Most of the sale decisions are based on product imagery and media.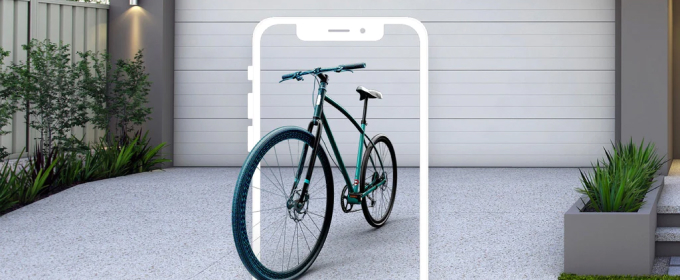 To empower its merchants, Shopify announced Shopify AR. This feature of Shopify helps merchants enhance their product experience. You can produce 3D models for augmented reality (AR) experience through the Shopify Experts marketplace.
While adding videos plays a major role in marketing. Adding augmented experience on your product page can create a demand for your products right at the point of purchase.
Shopify Subscriptions:
Want to deliver immense value to customers while focusing on a long-term growth business cycle? Sell Subscription. If you have a customer coming back every month for the same product, you need to ease the purchase options.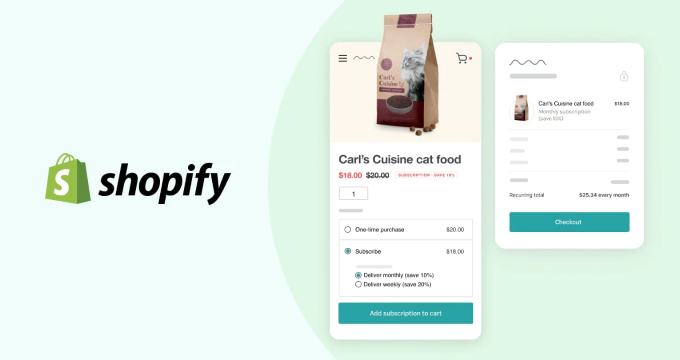 Empowering you to develop an ongoing relationship with your customer, Shopify supports subscription apps. With various Shopify subscription apps in the Shopify app store, you can turn your one-time shoppers into lifetime customers.
Thus, increasing retention and helping your business grow. While offering a subscription option provides your customer to streamline their purchases. It also acts as a source of recurring income, allowing one to plan accordingly.
Shopify Script Editor:
Sometimes your business needs more than the basic offering. As your product catalog, variations, number of reviews, locations you sell in, and customer base keep growing. You will eventually outgrow your standard Shopify template.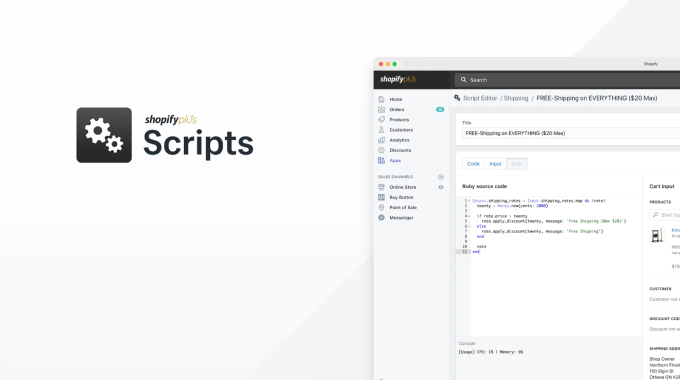 To help you in creating a personalized experience in customers' carts and at checkout, you can use Shopify Scripts. The Shopify scripts are small pieces of code where you can code and customize your discount offers based on customer behavior.
But the backdrop is that Shopify has a combinational Liquid template language. Along with other programming languages, you would need support from Shopify experts.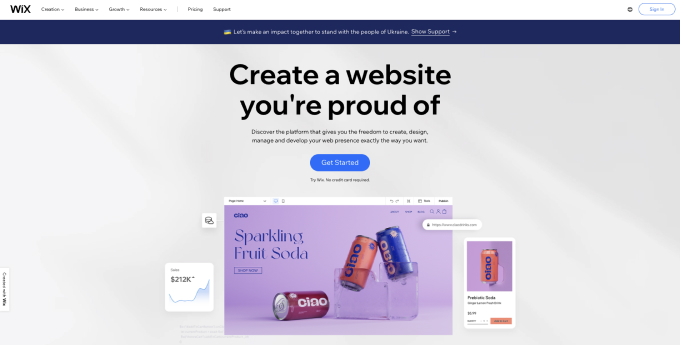 Wix is a cloud-based website builder. It has intuitive technology and powerful built-in features. This gives its merchants the freedom to design professional websites with ease that look amazing on any device.
The platform is more than just a website builder. The eCommerce platform offers support to build an online store presence and enhance SEO and other marketing features.
Apart from the user-friendly drag-and-drop tools, we love Wix for its ease of use. It is super easy to start your website. The eCommerce platform offers over 5000 ready-made templates to help any novice user to get started . Just choose from a template, make your necessary modifications, and go live when you are ready.
The eCommerce platform hastens the web development process and gives you creative freedom in website development. That said, the Wix platform and its features help any person holding a laptop can get a business started for free.
If you are going to transform your website into a store using the Wix platform, you should know about Wix App Market. This option can enhance your store's capability and functionality by integrating some apps.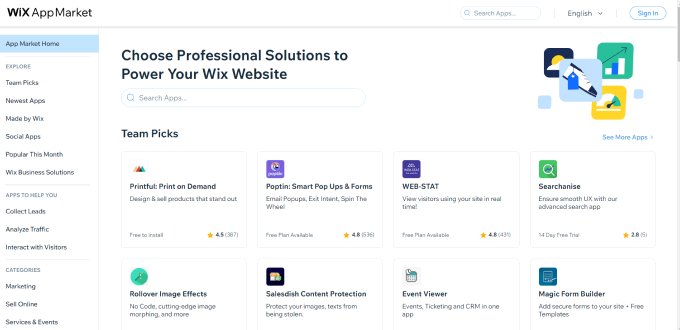 The Wix App Market has 5+ different categories. Like Marketing, Sell Online, Media p; Content, Services &; Events, Design Elements, and Communication. Aside from the listed category, the platform further categorizes the apps. That is, Made by Wix, Team Picks, Wix business solutions, Newest Apps, and others.
Besides helping you build an online store, the platform offers apps. This will streamline your business actions. You can easily collect leads, analyze traffic, and interact with visitors. While you can cover all basic eCommerce requirements, it can limit you to scaling.
The best part of Wix being listed among the top 10 best eCommerce platforms is that it is completely free. And you can create an unlimited number of sites under the Wix domain. But the eCommerce functionalities are available only on the business and eCommerce plans.
There are limits on storage capacities and access to certain apps. By upgrading to Wix premium, you can remove Wix ads and accept online payments.
In an overview, building a basic business is easier on the Wix eCommerce platform than on a full-fledged online store. And that's because there are fewer choices you need to make. Plus, you'd need a lot of technical knowledge and help to get eCommerce features like payment integration, etc.
With an Wix online store, you need to focus on proper integration of payment gateways, tax calculation, product variations. Plus, shopping cart functionality, shipping options, return policies, and procedures—and that's just to get up and running.
Wix Pricing Plans:
| Plan | Monthly | Yearly |
| --- | --- | --- |
| Combo | $23/month | $16/month |
| Unlimited | $29/month | $22/month |
| Pro | $34/month | $27/month |
| VIP | $49/month | $45/month |
| Business Basic | $34/month | $27/month |
| Business Unlimited | $38/month | $32/month |
| Business VIP | $64/month | $59/month |
Wix features
Create with Wix ADI or Wix Editor:
As people are eager to build websites for their advancement, and businesses, the creation of websites is getting easier. Especially with Wix's versatile features, anyone can get started with a website. Creating a website in Wix is pretty easy, and you have two methods to get started – Wix ADI and Wix Editor.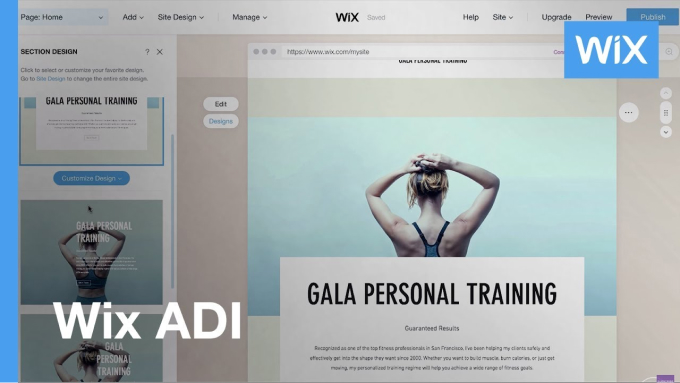 Wix ADI or Wix Artificial Design Intelligence is a unique tool that uses artificial intelligence and builds a site for you. All you need to do is that you need to answer some basic questions, and the system will begin building a site as per your answers automatically. In Wix Editor, you can create a website using the drag-and-drop Wix interface.
Wix App market:
Instead of loading your site with more code, resources, and files with plugins, Wix introduces the Wix App market. The Wix App Market is a marketplace where you can find a multitude of applications, add-ons, and tools built for Wix by Wix and other third party people.
While the core idea behind the Wix App store is to support its merchants in enhancing their sites with innovative business tools, social features, and utilities, the Wix app store helps build a fully loaded website.
Velo by Wix:
If you want to code and customize your website without much complexity, then you can use Velo by Wix. It is a full-stack open development platform that allows you to use its APIs to create more intelligent, efficient solutions easily on the Wix cloud.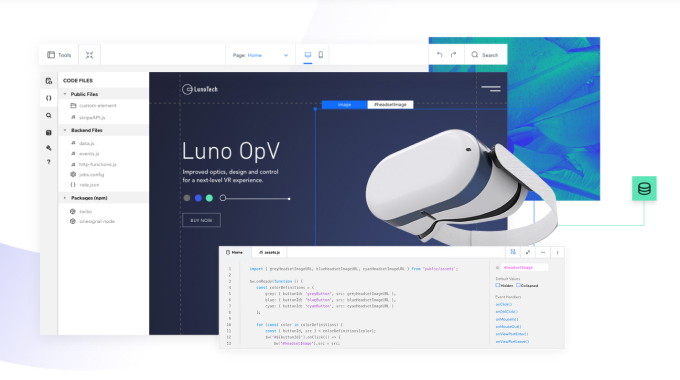 With Velo by Wix, you can get your creative side and your coding knowledge to unlock advanced enterprise-level projects. The visual UI tools and quick set environment make it easy to construct a particular design. The highlight of Velo by Wix is the secure hosting. You can build, manage, and deploy technology with speed.
Wix payment:
Developed by Wix for Wix, the Wix payment option is just like you would with PayPal or Stripe. Wix payments let you expand to new markets, streamline operations, and are easy to set up.
By integrating Wix payment in-store, you can manage everything from the convenience of one place. That is, instead of getting third-party platforms or plugins involved. You can handle everything from one centralized dashboard. Plus, this is a secure, quick, convenient payment method. And it will help you deliver a streamlined experience for online sellers.
Wix site history:
Data losses can occur in many forms, from editing your website to plugin bugs and accidental human errors. No matter the misfortune, a data backup could be the respite you're looking for to restore the data.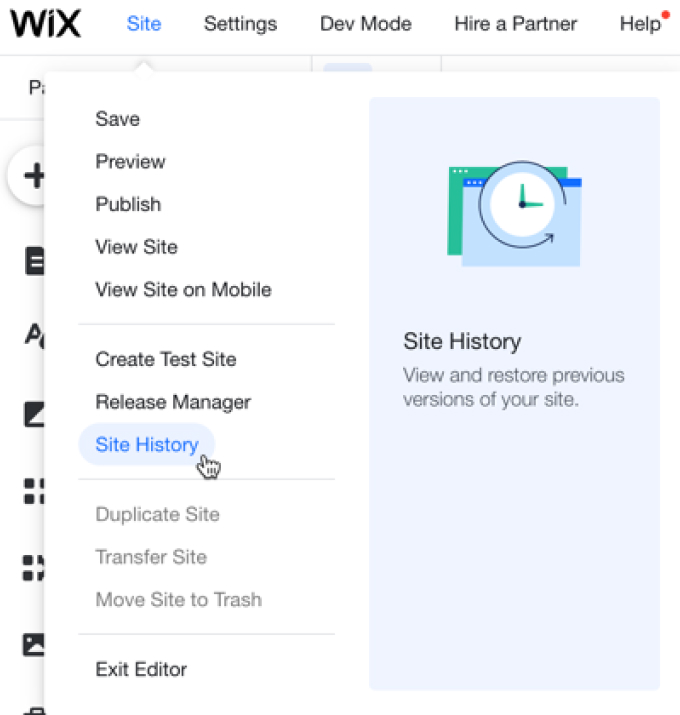 Building a website with Wix means you don't have to think about backups, security checks, and updates. It's all done automatically. Wix has got a feature called "Site History", which lets you easily experiment. Apart from supporting you in experimenting with your site, the feature of the Wix eCommerce platform allows you to restore your website to a previous version of your choosing with a single click.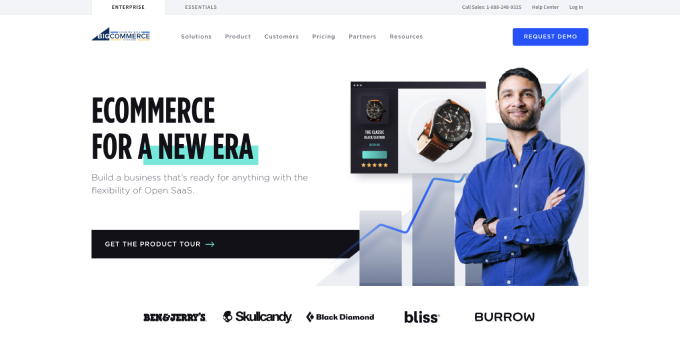 BigCommerce is a fine, affordable eCommerce platform. It can be an option for businesses that are looking for a reasonable, all-in-one eCommerce solution. It is a premium hosted SaaS eCommerce solution. The platform supports fashion, electronics, health products, gifts, jewelry industries. And also other wide range of industries.
Using the BigCommerce eCommerce platform, you can explore infinite possibilities to develop, innovate, and grow. The flexibility of the platform allows you to define, customize, and manage your online store from anywhere. You just need to have access to a web browser and the internet.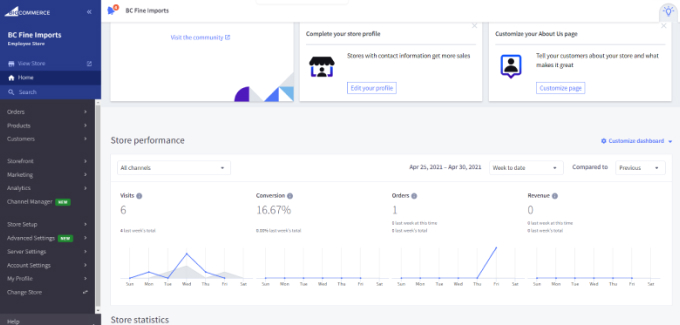 The versatile features of the eCommerce platform will allow you to get started with an online store easily. You can also streamline the store's actions. Other than that, you can customize the store according to your brand image. And then sell an unlimited number of digital, physical, or even service-based products.
Besides offering an easy-to-use interface, the eCommerce platform provides the most intuitive dashboard. You can easily manage all the data related to products, orders, and returns.
On the backend, you can utilize features like the 'Quick Search Bar' to access and manage your products. While on the front end, you can let your customers enjoy advanced filtering options. Your customers can filter based on brands, categories, reviews, pricing, etc.
In addition to an easy-to-use interface, the customer-centric platform allows you to segment the data. You can segment your customers based on their store actions and promote them . This tailored way of curating the information allows you to tap into all kinds of customers.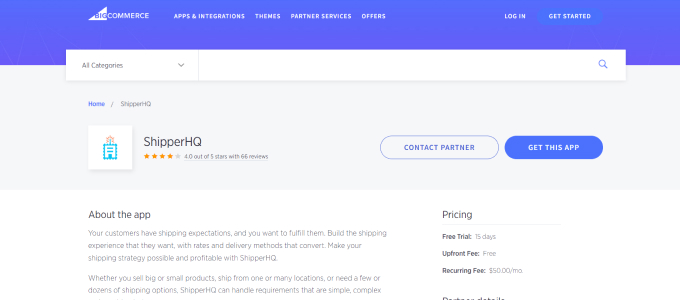 The shipping capabilities of the eCommerce platform are pretty impressive. The platform has a deep integration with the ShipperHQ, a robust shipping rate calculator app. By utilizing this integration, you can give customers real-time quotes and prices.
Another amazing feature of this eCommerce platform is the flexibility of selling on other web portals. You can list your products on Amazon, eBay, and others from the BigCommerce Control Panel, and increase your customer base.
What's more? 🤔
It is possible to link your store to social media websites, such as Facebook and Instagram. You can design bespoke advertising that displays in the Facebook feeds of your target customers. And tag your products on your Instagram posts. You'll be able to reach more individuals and improve revenues this way.
As a hosted eCommerce platform, BigCommerce offers a diverse set of apps. This helps you expand your business. Approximately 600+ apps are targeting all categories. You can find apps under Analytics, Reporting, Marketing, and Accounting, among others.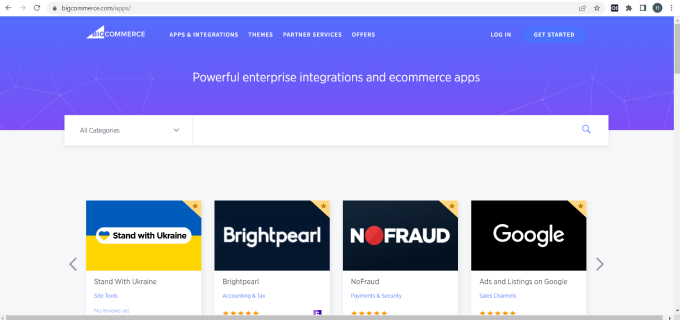 Simply put, BigCommerce is an eCommerce platform that guarantees performance and outcomes. You can build distinctive and engaging shop experiences with BigCommerce's attractive design tools.
Plus, control operational complexity with this safe and easy-to-use eCommerce platform. The eCommerce platform is ideal for businesses that are well-established and expanding.
BigCommerce Pricing Plans:
| Plan | Monthly (when billed monthly) | Monthly (when billed yearly) |
| --- | --- | --- |
| Standard | $29.95 | $29.95 |
| Plus | $79.95 | $71.95 |
| Pro | $299.95 | $269.96 |
| Enterprise | Custom | Custom |
BigCommerce features
Multi-channel selling:
Want to expand market share and eliminate single points of failure in your sales strategy? With the rapid growth of eCommerce and digital sales channels, focusing on multichannel is necessary. You can reach as many new customers as possible and stay on top of mind for your current customers.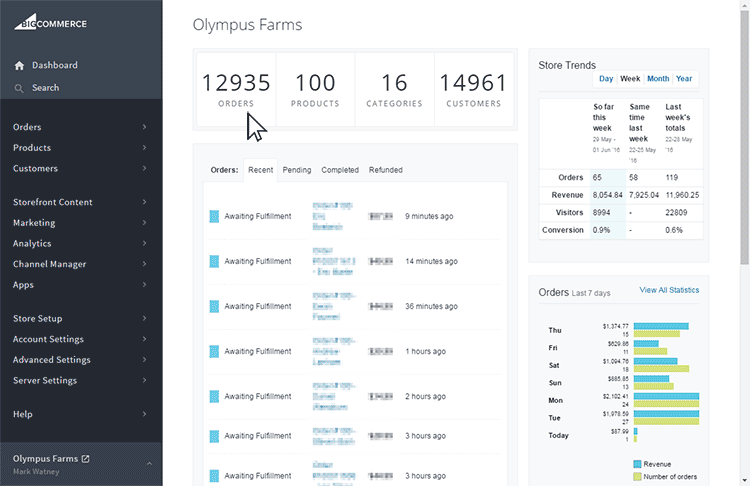 The integration of Facebook, Amazon, and eBay with the eCommerce platform will expand your reach. Plus, you can maximize your sales possibility. In addition, you can sync up your inventory and listing across all the platforms.
This gives a real-time inventory update to your customer. The BigCommerce Instagram integration will allow you to ease the user purchase journey. This way, you can connect with customers at different points and reduce the churn rate.
Akamai Image Manager:
Sites with too many images or images that are too large take longer to load. This can cause your entire page or eCommerce store to slow down. And this will irritate visitors, and actually harm your site's ranking in online search results.
Images may be worth a thousand words, but if you don't plan for fast loading times, they won't be worth much at all.
With BigCommerce Akamai Image Manager, you don't need to worry about image optimization. It automatically optimizes all your images. The optimization focuses on bringing in the best combination of size, quality, and file format by the device.
Track Abandonment cart recovery:
Not every person who adds something to their cart in your online store makes it through the checkout process to complete a purchase. Timely nudges with abandonment cart recovery mail are required. This will help reduce your abandonment checkouts. And it can work wonders to bring back customers to your store.

These small but important measures can either result in growth or loss. To measure your abandonment cart campaign success, you have built-in "Abandonment cart saver" emails.
This feature of BigCommerce automatically tracks the number of recovered carts and total revenue recouped. Apart from these, the eCommerce platform also gives you granular data like the abandoned carts and revenue for any date range.
Faceted product filtering:
While browsing, not everyone focuses on a specific product. People usually start their visit with a search, but they do look at other products as well. Optimizing your eCommerce product filters increases customer engagement. Plus, it enables seamless product discovery and drives sales for brands and retailers with thousands of SKUs.
In BigCommerce, as in when you set up your options and categories, product filtering is built into the control panel. To make changes, you need to drag and drop to add new categories or introduce new products.
BigCommerce Product filters can help customers swift through thousands of products. Plus, it narrows down to finding the ones that meet their needs and interests. Product filtering can enhance the user experience, and increase product views. And, ultimately, increase conversions in your store.
BigCommerce APIs:
Whether you are a small start-up or established high-volume business, you will need access to the underlying code. This will power your eCommerce website at some point. This is where APIs really shine.
Whether you want to integrate your eCommerce store with your POS, multiple online sales channels, connect to apps, create modular content blocks to reuse, or do more, you can use the following BigCommerce APIs.
The APIs include Catalog APIs, Storefront APIs, GraphQL Storefront API, Scripts API, Widgets API, and Payments API.
Aside from the benefits listed above, you can also use BigCommerce's API points to create mobile apps that use data from your online store. This not only makes app development easier but also provides a more seamless experience for the end-user.
WooCommerce is a WordPress eCommerce plugin. It adds e-commerce functionality to your WordPress website so you can have an online store. With just a few clicks, it simplifies the process of creating and managing an online store.
The platform provides reasonable levels of flexibility and several critical features. The features such as inventory management, secure payments, and shipping integration.
Do you know? 🤔
If you want to create your own eCommerce store with WooCommerce, you'll first need to install and set up WordPress
While it has hundreds of available extensions, the plugin is incredibly versatile. It allows you to tailor your online store to fit your needs and reach the customers. It also helps you reach specific customers that will be interested in your product.
So whether you want to use Amazon Affiliates or set up Subscriptions, Woo has a ton of options for how to set up your online business.
To say first, the WooCommerce Points and Rewards extension is an easy way to encourage repeat purchases on your site. This is because it is giving customers cashback in the form of redeemable points.
Your e-store can become exactly like Amazon's with the WooCommerce Wishlists extension! Well, sort of. Amazon was one of the first e-commerce companies to popularize the use of wishlists. So if they work for the world's second-largest online retailer, they might work for you.
Next up is the Follow-up Emails extension, it is a robust email autoresponder. The extension allows you to send automated email sequences to both customers and visitors. This will encourage more new sales and repeat purchases.
On industry-specific, if you are a doctor, lawyer, spa manager, or someone that focuses on availing your time?
The WooCommerce Bookings extension is designed to focus on your business needs. The extension allows your customers to easily book and pay for appointments and meetings at a specific date and time.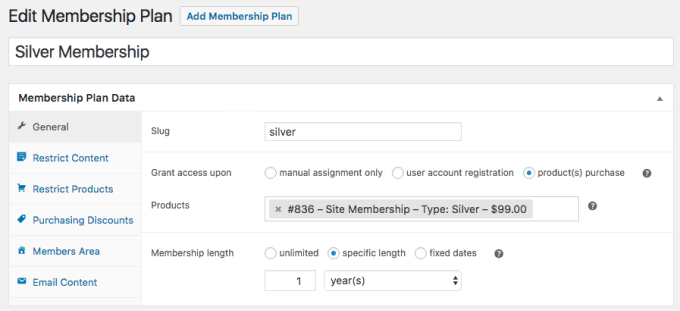 Say that if you want to notify your customers about the stock quantity, you can use the Min/Max Quantities extension. You can use this extension for a specific product or multiple products.
The extension lets your customers know about the inventory. You can also set up options in the extension so that a particular customer can purchase a limited supply of products.
Aside from the mentioned extensions, you have many others that can enhance your store capability. Apart from helping you get started, the WooCommerce eCommerce platform helps you easily customize your store's style. This ease of use helps you design stunning looks for your online store .
The most uncomplicated way to do this is by using WooCommerce themes. What's more, with WooCommerce themes features you can create a visually enticing customer-focused store.
The best part is that you can achieve it without any hard coding. WooCommerce comes with a lot of options, but you don't need to be intimidated by its scope. The plugin is relatively easy to use as it is integrated with WordPress.
WooCommerce Pricing Plans:
| | Low Pricing Range: | High Pricing Range: |
| --- | --- | --- |
| Hosting | $6.95/month | $12.95/month |
| Domain Name | $15/year | $25/year |
| Theme | Free WooCommerce theme | $35-129 professional theme |
| Plugins | Free | $100-150/year |
| Security | $10/year | $150-450/year |
| Dev Fees | Free | $1,000-6,000 |
WooCommerce features
Open source:
WooCommerce is an open-source plugin. It is running parallel to the more traditional models of software development. It is designed, developed, and tested by a global community of software industry professionals. The testers are passionate about building high-quality, innovative software.
The flexibility offered by WooCommerce allows you to modify and tailor anything. Whether you want to customize your AJAX code or webhooks, you can do everything as your goals demand. You can easily address the requirements of your buyers and changes in your external business environment. That said, you can tailor your store code as per your online store demands. You don't need to have any initial download or installation costs.
One-click refunds:
Returns and return policies are an important part of your business strategy. And you don't have to keep your customers in the dark about their refund funds. Automating returns for a seamless experience will reduce both your and your customer's efforts.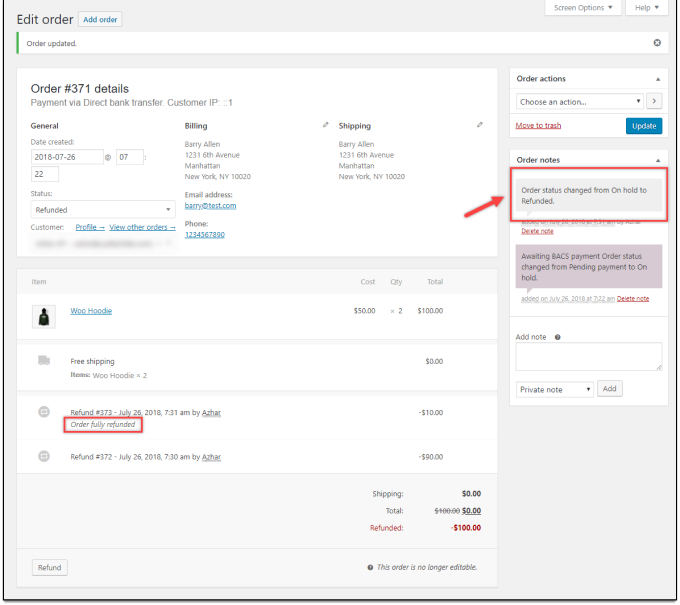 For customers, it will resolve all the traditional queries associated with their returns. And for store owners, it will reduce the amount of work done in handling refunds. In addition, it can benefit your business by building customer loyalty. Plus, it strengthens engagement and generates positive buzz.
Automating an eCommerce return policy may seem like a hassle. With WooCommerce, you can provide a hassle-free shopping experience to customers. You can also manage everything in your WooCommerce dashboard in a single click.
The one-click refund feature of WooCommerce is a great opportunity to keep happy customers coming back for more.
Embed external elements into web page:
An easy and effective way to build a stronger page. Embedding lets your customer consume as much information as possible with multimedia elements.
The external elements refer to adding your products to blog posts and creating landing pages that go straight to checkout. You can captivate and inform the page visitors more than a piece of particular information.
As WooCommerce comes with a REST API, the process of embedding is simple. You can easily design your pages, products, and orders are relatively simple. If you have a general understanding of coding or widgets, you can embed external content into your online store.
International support:
You need to think futuristically. Whether it's after or before you start your eCommerce business, you need to think about scaling. It is not always about products; you need to consider the store presence. As you grow, one of the most crucial decisions is missed by merchants.
​​While selecting a platform, you need to look at your website deliverability across the globe. Your website needs to be capable of being viewed in multiple languages and accepting currencies.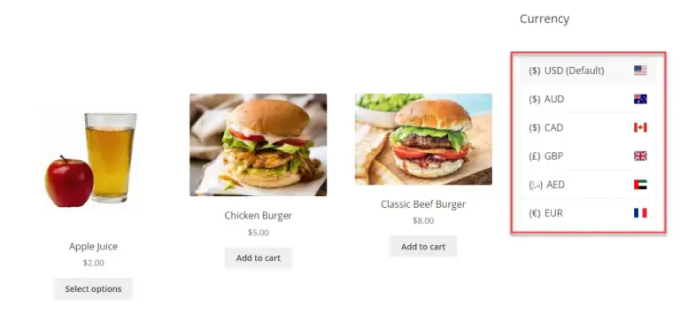 Fortunately, with the WooCommerce eCommerce platform, you have plugins. You don't need to hard code to support international business. You can configure your site to display in many languages. And accept various currencies. Using the WooCommerce Multilingual plugin, you can go through many payment gateways.
Built-in blogging feature:
Whether it's eCommerce marketing, sales optimization, Content plays a major role. Being built on WordPress, you might expect WooCommerce to be a slouch where content is concerned. As eCommerce content marketing is key to a high-performing online store.
The good news is that WooCommerce is no less. As a WordPress plugin, it not only allows you to sell your products but also lets you publish your content and blogs to showcase your brand to the world. So, you don't have to create a separate blog for it as it's just right there in WordPress.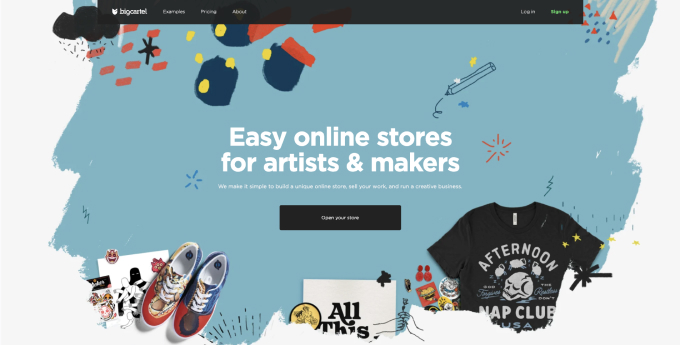 While the above-listed platforms can help any person get started with an online store. Big Cartel is an eCommerce platform. It is majorly focused to help artists and creators sell their goods online.
It lets you build your store, add products, manage orders, track real-time statistics, and even run promotions. So, if you are an artist or creator, Big Cartel is the best eCommerce platform. You may use the platform's built-in themes or customize the existing theme's HTML, JavaScript, and CSS.
Big Cartel is a cost-conscious best eCommerce platform that allows you to connect to a custom domain. Yes, it's quite simple with Big Cartel. The platform offers esthetically pleasing templates for you to get started. If you wish to customize them, you would require a little technical knowledge to get it done right.
The other few drawbacks of the platform is why the platform is not being majorly voted best eCommerce platform. The product limitation in the free plan and a lack of advanced inventory tracking (no SKU management).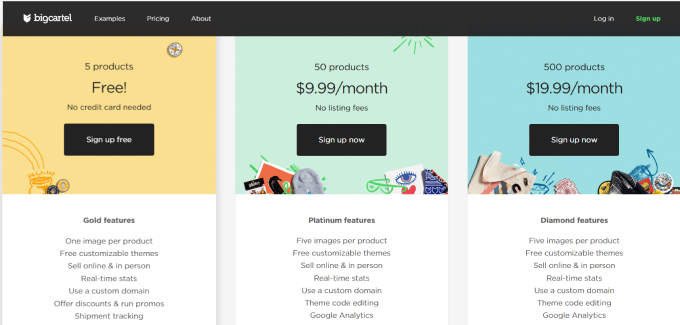 Big Cartel's product upload options are based on the plan you opt-in. If you want to get started with the free plan, then the product upload option is just 5. If you want more, you need to either opt for the second plan or the highest plan where you get to upload from 50 – to 500.
On a positive end, the platform offers a free plan. It allows even small inventory store businesses to get started effortlessly. Regardless of budget, you can get started with selling stuff online.
Big Cartel is like a mom-and-pop shop that focuses on small-scale stores. In simple words, Big Cartel markets specifically to artists. It is a platform for those who want something simple and are willing to handle their marketing.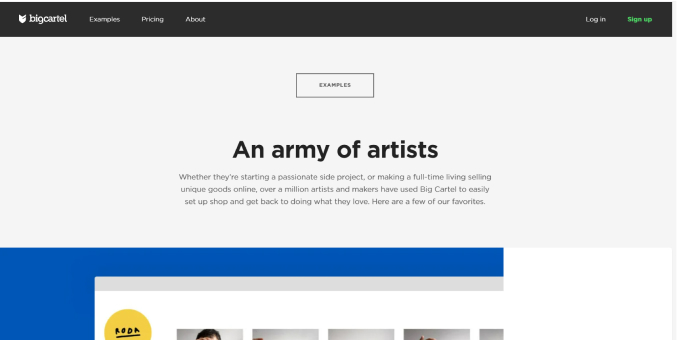 The other feature on why Big Cartel is listed under this top 10 best eCommerce platforms is because of its theme. The platform offers an 18+ theme and a WYSIWYG editor so that you can add images, change colors and fonts, and adjust your layout.
Although you can design your online store on the Big Cartel platform without any coding knowledge. The paid plans of the platform allow you to edit on the granular level like editing HTML.
The plus side of using Big Cartel is that you can switch themes. In Big Cartel, you can switch themes effortlessly. You just need to reformat the images according to the new theme and make some content tweaks and you are good to go.
In an overview, Big Cartel is different from platforms like Etsy. It allows clients to create their platforms. It does not provide a site where a seller's products appear alongside those of many others.
Rest assured, Big Cartel functions are simple. And the process of adding products, creating discounts, and managing orders can be streamlined.
So if you are a business owner who is getting started with limited inventory then Big Cartel is for you. But if you intend to grow and increase the inventory then Big Cartel won't be able to meet your needs.
Big Cartel might not be the best eCommerce platform for all but it is the right one for the independent artists and creators who are getting started.
Big Cartel Pricing Plans:
| Plan | Monthly | You can list |
| --- | --- | --- |
| Gold | Free | 5 Products |
| Platinum | $9.99 | 50 Products |
| Diamond | $19.99 | 500 Products |
Big Cartel features
Big Cartel dashboard:
You need to know the direction you are heading to improve your performance. Retail metrics are essential to understanding your business's performance and growth. If you don't know your growing numbers or missing numbers, you're missing most of the sales opportunities.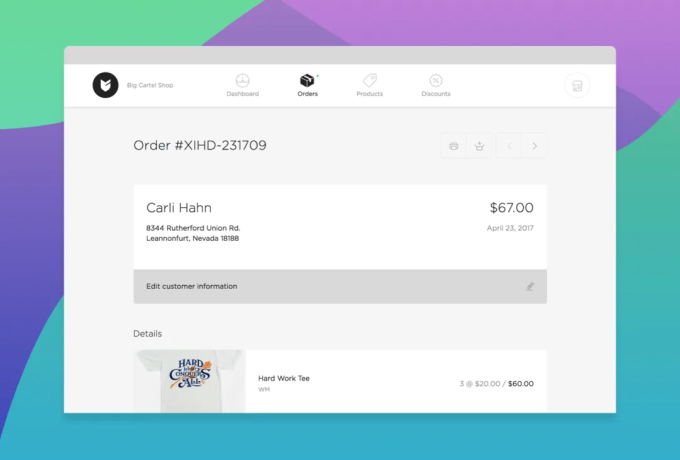 The Big Cartel dashboard displays the most recent data on store performance. You can track real-time sales and visitors. Plus, you can get a more detailed breakdown of conversion rate and revenue for a specific period.
Big Cartel also generates statistics by product and category. You can see which items are the most popular and how much money certain products have generated. Plus, you can see how many times an item is sold and other information.
Web-based hosted platform:
Want to be relieved of the stress of hosting and managing a server? You can opt for a hosted eCommerce platform. Maintaining a server can be incredibly challenging, particularly if you are unfamiliar.
The core reason why Big Cartel is listed under this top 10 best eCommerce platform is that it is a fully hosted platform. You don't have no sole ownership. That means you cannot host your store anywhere other than Big Cartel. Plus, all your customer data and information are also shared.
As a fully hosted, web-based platform, the eCommerce platform doesn't have any hardware or software requirements. For best results, make sure your computer, internet, and web browser are up to date and functional.
No transaction fee:
When you're running an eCommerce site, you can't manage without a payment gateway, especially without credit card integration. That is when a customer visits your eCommerce store, they usually look for a good deal and easy steps to avail of your products or service.
Be it your optimized checkout or simple and secure payment process, you need to easily accept your customer payments.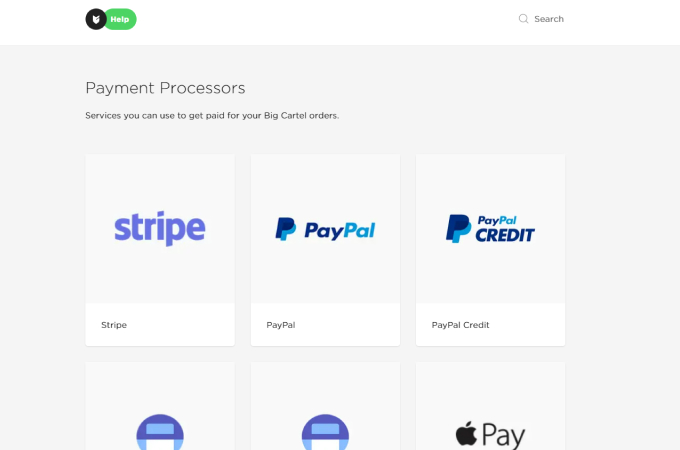 In Big Cartel, you have three types of accepted payment – Stripe, PayPal, and Square. These are the most preferred payment options. Showcasing these payment options on your eCommerce site will impart trust in your customers as they make their buys.
Plus, Big Cartel can be the best eCommerce platform as it doesn't charge transaction fees. The payment gateway applies the usual charge itself.
For example, there is a usual 2.2% +30 p rate charged by credit card payments. But Big Cartel itself has 0% transaction fees, even on its free plan!
WYSIWYG editor:
Worried about not having any experience with any text editor? Do you want to work in a more intuitive and understandable editor? Big Cartel introduces the WYSIWYG editor.
The editor shows formatted content and how it will appear on the live page. It also includes a formatting toolbar with buttons to style that content.
This makes writing/editing the content much easier. Whether its product description or blog content, you don't need to write raw formatting code. Say no to HTML or Markdown with BigCartel.
With the WYSIWYG editor of Big Cartel, you can just type it out. Later, you can format using the toolbar to style. The editor will generate the actual formatting code automatically.
This can also help to keep the content styles consistent across the site. Any formatting applied via the WYSIWYG editor toolbar would just apply the styling specified for that in the site-wide CSS.
Big Cartel themes:
Big Cartel themes are pre-designed store designs. You can use them to highlight your products. And you can do it without hiring a designer or developer. Big Cartel currently has 15 themes in the store and the base theme is "Lunch Break."
Big Cartel has a limited theme selection. It is the only eCommerce platform that allows you to sell online for free. It is best suited for selling individual products. If you are into artwork or painting. Other eCommerce platforms are best suited for all business sizes.
In Big Cartel themes, you can customize your background, fonts, and alignment. It doesn't provide a lot of flexibility. With a little time and effort, you can create a nice-looking eCommerce store.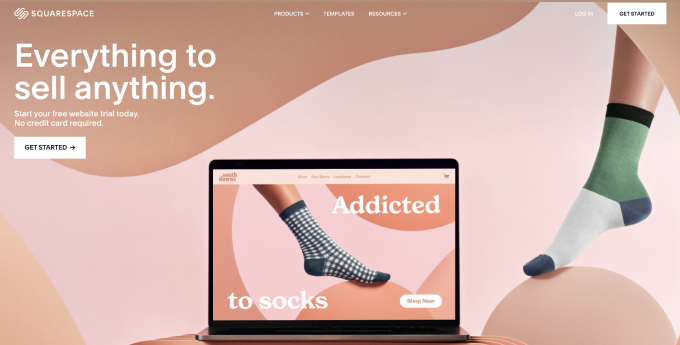 Whether you're experienced running a website or just getting started, you would require a site builder. It has to simplify web design and site creation to just a handful of super-easy steps. Simply put, Squarespace is a website builder designed to help new entrepreneurs to build incredible sites.
With Squarespace, you aren't required to know how to code. Just play around with the platform. You'll be able to get started in building an eCommerce store. You will be able to build pleasing designs.
The tools will be able to help you in streamlining your work. There are built-in eCommerce checkout tools to support you. Even you can get a custom domain name and SSL certificate protection. This will help you securely grow without any hindrances.
Little history 📖 📖
The Squarespace platform was developed to support people in building websites. As the online business grew, the platform's went beyond static, brochure-style. It now offers built-in eCommerce and marketing features. That is the reason why the platform is listed among the Top 10 best eCommerce platforms.
With a slogan of "Build it Beautiful," Squarespace is the best eCommerce platform that is known for well-designed templates. The eCommerce platform offers about 60 options for building a simple eCommerce store.
If you are looking for enterprise-level eCommerce platform options, then Squarespace isn't the best pick. The platform is the cream of the crop when it comes to carefully polish and crafted website themes.
As the platform is limited with options, the store performance and page load times are low. Plus, the built-in SEO capability will help you in maximizing prominence among search results.
To add-in, the Squarespace platform allows you to create a multilingual site, so you can easily reach out to a bigger audience.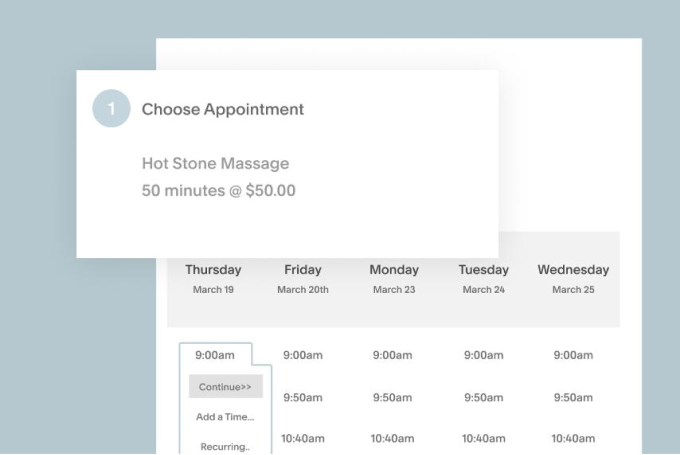 Being a platform that is constantly evolving and improving, the platform offers an excellent selection of apps. Squarespace makes it simple to share your products/ service.
It allows you to connect your accounts from over 20 social platforms. That includes Facebook, Twitter, Instagram, and YouTube.
You can sync with Dropbox for easy access to photo collections. You can also import content directly from Instagram, Twitter, and other platforms. You can even host your own podcast on Squarespace and distribute it to Spotify and Apple Podcasts.
Squarespace recently announced the addition of a new tool–Squarespace Scheduling. You can use this tool to keep track of all your appointments on the platform, which will surely save you some precious time. Furthermore, it allows you to share those appointments with others and allows your clients to make their own appointments.
With similar integrations and straightforward fulfillment tools, the platform makes it simple. You can manage operations in a simple dashboard, and get real-time shipping rates from USPS and FedEx. And automate printing shipping labels with a Shipstation integration.
Furthermore, Squarespace integration with Stripe provides customers with a flexible checkout experience. That includes Point of Sale transactions.
When you use Squarespace, you don't have to worry about nitty-gritty details like updates or maintenance. The eCommerce platform handles everything for you, making it extremely simple.
Squarespace is a good choice if you just want to make a simple website as quickly as possible and don't care about flexibility or content ownership.
Squarespace Pricing Plans:
| Plan | Monthly | Yearly |
| --- | --- | --- |
| Personal Plan | $23 | $16 |
| Business Plan | $33 | $23 |
| Ecommerce Basic Plan | $36 | $27 |
| Ecommerce Advanced Plan | $65 | $49 |
Squarespace features
Squarespace Commenting system:
Want to bring real-time functionality to your online store? Do you need to create a more interactive and engaging user experience? However, creating or setting up real-time engaging functionality can be low-priority work. Especially if you are getting started.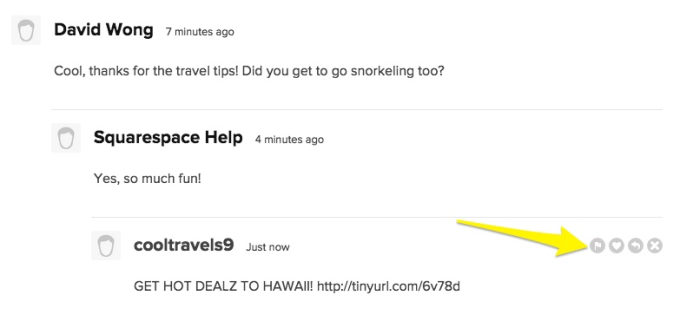 To help you keep your audience engaged, you can utilize the Squarespace Commenting System. This feature can act as a metric to measure the performance of your content.
And also build vibrant communities rooted in healthy conversations and robust social experiences. The feature also will push the content more memorable and likely to be shared.
Squarespace Scheduling:
Want some tool to keep track of your appointments or allow your customers to book their schedule? Squarespace introduces its very own scheduling feature called – Squarespace Scheduling. This features helps customers pay online, and reschedule on the fly,
The Squarespace Scheduling feature isn't just limited to scheduling. You can also configure email. That is, you can send out customized confirmation, reminder, and follow-up emails.
Apart from this, the features enable you to capture information. That is, your customers can schedule appointments from social media.
To avoid compliance issues, you can sign a BAA with Squarespace Scheduling. It is valid only for US-based accounts. So, that HIPAA compliance requirements are met. And the accounts can be marked as HIPAA to ensure safe data handling.
Squarespace Unfold:
To help merchants beyond website-building capabilities, the Squarespace platform purchased Unfold. As part of its expansion. That is, merchants can select story templates and post templates.
They can even personalize with their brand styles and animations. This will allow you to create beautiful content for social platforms. The highly targeted platforms are Instagram and Snapchat.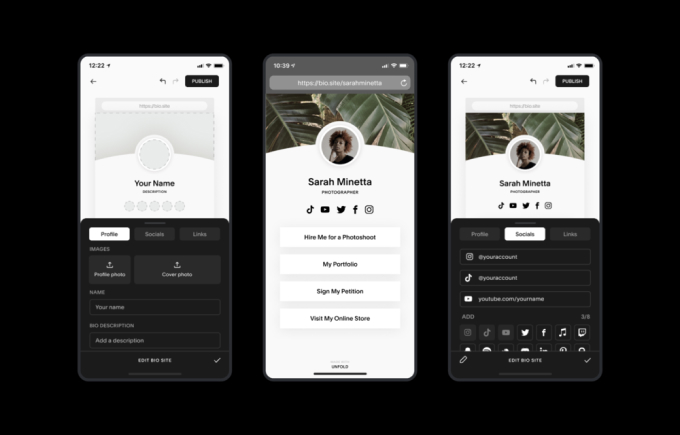 Apart from supporting merchants with pre-defined templates. Squarespace Unfold allows you to upload and manage your brand assets to Brand Kit. This option allows you to maintain a consistent branding of all your social content.
Plus, you can plan your Instagram feed before posting. You can write captions, and schedule your posts to publish when you want.
Squarespace Tock:
Squarespace Tock helps you seamlessly manage reservations, events, takeout's, and delivery. The best part is that you can do it all in one place.
If you're into a gallery, restaurant, or event space, Tock's ticketing system makes it simple. You can manage events and timed entries.
Apart from the ticking system, the feature of the Squarespace platform can act as a reservation tool. This makes it easy for guests to book reservations and events in one place.
Squarespace site-building tools:
If you are looking for custom WYSIWYG editing engine support, Squarespace is the one for you. It allows you to create many content types and complex multi-column layouts. The platforms ensure the site-building is as easy as it gets.
Especially with the full browser window to edit pages. You can edit blog entries in this distraction-and-clutter-free editing mode.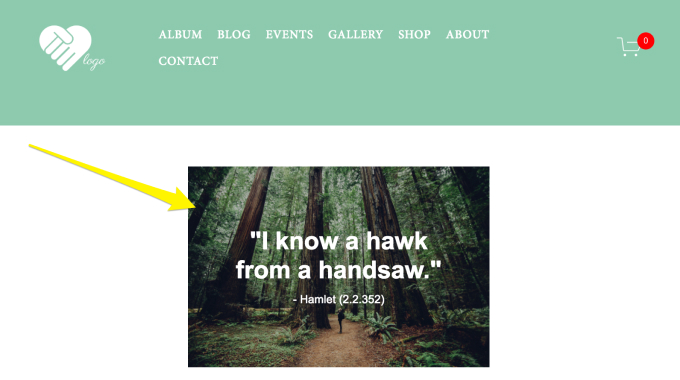 Apart from this, you can use Blocks to organize your content. You can use Archive Blocks to organize your links. Similarly, you can use Quote Blocks to create drop quotes. You can use Social Links Blocks to add social icons. And Code Blocks to add your custom code.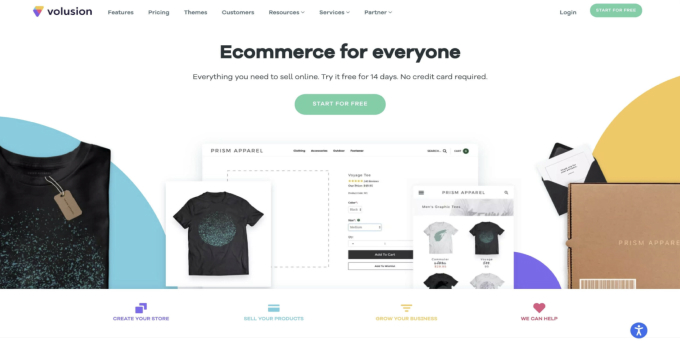 Just like the above-mentioned platforms, Volusion is a web-based e-Commerce solution. It is having all the tools to set up and run a successful online store. The platform has been on the market for quite a long time.
Volusion boasts a user-friendly interface. It lets you start an online store without much technical knowledge. The initiative's built-in editing tools and features will allow you to add content easily. You can also customize the content of the store as per your brand voice.
The platform simplifies setting up a storefront and selling online. It also eliminates the responsibility of maintaining or hosting your site. This is because it is a cloud-based platform.
About the platform data security, you have got the Volusion Secure Sockets Layer (SSL) certificate. This certification ensures that your store data and customer data are nowhere compromised.
The SSL certificate encrypts your company's and your customers' information. Adding a layer of security to your website. So, if your customers pay for your store directly, you can be sure that the data is protected.
This is because Volusion has got an SSL certificate. This might require your time and external support to set up. Therein, connect with a Volusion platform expert during setup.
Volution has a solution for everyone. Whether you are an experienced programmer looking for a "One-Stop-Shop" or a new entrepreneur. You don't need to have strong technical knowledge.
Volusion provides many shopping cart features. This allows you to build your web storefront with high-end navigation and style.
Volusion has it all. Whether you want an optimized checkout, a flexible payment processor, it has got it. Even order management is simple with the eCommerce platform.
You can use the platform to create a webshop, edit product catalogs. You can launch promotional campaigns, and even manage customers.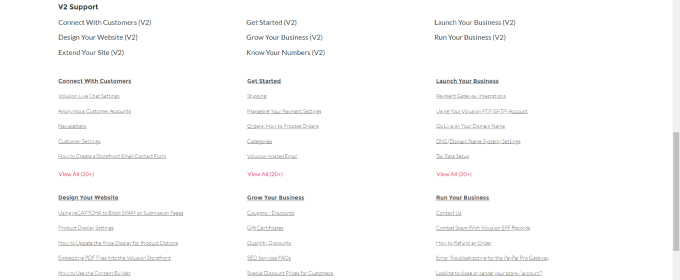 Aside from the standard offerings, Volusion includes several tools and guides. They are designed to help your online store rank on Google's first page. It also includes meta input fields. This helps use SEO best practices to get your store to the top of the search results.
What's more, the platform has a built-in CMS (content management system). This allows you to construct rich snippets of content. The content can add value to both your customers and search engines.
Apart from the basic eCommerce function, the platform has a feature called "My Rewards". This intends to encourage brand presence in customers' purchase choices.
In precise, the feature allows you to bring back your one-time purchases customers. You can configure the redemption to be in-store for a discount. This way, by offering some reward points, you can increase AOV.
On a lighter note, Volusion includes an affiliate management program. This feature allows you to collaborate with affiliate marketers. This will help you market and resell your products in exchange for a commission.
Your website isn't a brick-and-mortar store where customers can walk away with their purchased products. When everything is in place, you need to focus on the product shipment and delivery.
As a result, you'll need to set up an excellent shipping system for your storefront. Volusion works with dependable carriers. The carriers understand how to deliver. That way you can deliver the best possible purchase experience.
If your goal of getting started with an eCommerce platform is to custom without effort. Volusion gives you access to customize. This way, you can improve all the moving pieces of your eCommerce business.
Volusion can be the answer to many of your wants. And also that is the reason why the platform is listed among the top 10 best eCommerce platforms.
In general, this is a straightforward all-in-one eCommerce solution. It is appropriate for small to medium-sized businesses. The eCommerce platform also can handle higher traffic numbers.
The only limitation with the platform is that it leads you to a lot of additional charges. This could hurt your bottom line budget.
Volusion Pricing Plans:

| Plan | Monthly | Yearly |
| --- | --- | --- |
| Personal | $35.00 | $31.50 |
| Professional | $79.00 | $71.10 |
| Business | $299.00 | $269.10 |
| Prime | Based on GMV | Based on GMV |
Volusion features
Single page checkout:
Online shopping shifts to mobile. And convenience is becoming important for consumers. Complicated eCommerce checkout processes can lead to lost sales. You need to simplify the checkout process with fewer clicks and pages. The One-page checkout option comes into the picture.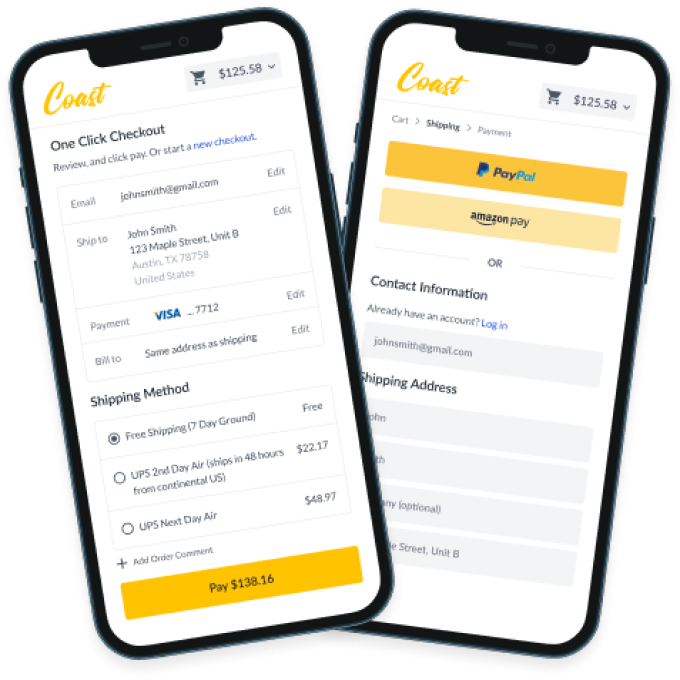 Simplifying the checkout process, Volusion offers a single-page checkout. It is also known as on-page checkout. This feature displays all elements of a standard checkout. This includes basket contents, billing and shipping address.
Plus, you can include shipping options, and payment information on one page. This feature of the platform doesn't restrict you from capturing minimal information. It supports you to sell more and sell faster because it captures impulsive buyers.
Custom 404 page:
The 404 error code is displayed when the server is unable to locate the page or file that the user has requested. It creates a dead-end for the visitor, as they have no choice but to return to the homepage or visit another site.
As a result, an unfriendly and blunt 404 page may leave visitors dissatisfied. It also acts as a glitch with the site's user interface and prompts them to leave your site.
A custom 404 page can turn a somewhat disappointing experience into a friendly and engaging page. It also encourages them to check out other sections of the site. This way, you can effectively decrease bounce rates.
That said, you can avail of Volusion's custom 404-page feature. This lets you build an enjoyable experience for your customer. In simple., this acts as a saver even when information isn't possible to be delivered.
On-Site search:
For many stores, site search is just another item on the UX to-do list. It is frequently perceived as a small area. It's a space where store visitors or customers look for their desired product quickly.
With customer expectations and behavior constantly growing higher. You need to build a simplified purchase experience.
Brands that do not fully utilize the potential of site search may fall behind. This small feature can create an impact in customers' minds. Therein, no matter how intuitive your navigation is designed, have on site search.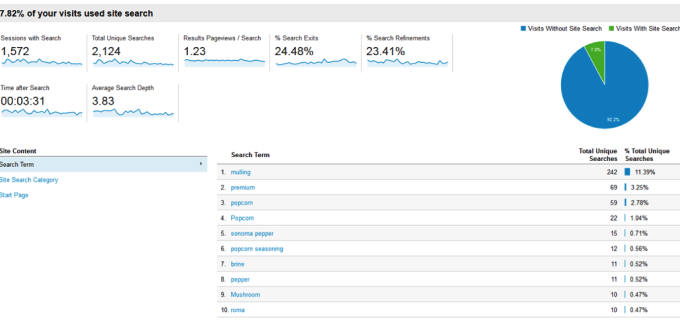 Volusion's on-site search helps you stay competitive by facilitating the buying process. The one-site search will immediately pull up what they're asking for.
This will save them the frustration of having to click around repeatedly. This also reduces the need for customers to seek a different business to meet their needs.
Additionally, with eCommerce rapidly growing, site search is considered a crucial function. It enables business goals as well as a smooth customer experience.
Multi-channel fulfillment:
In the world of online retail, you are required to sell through multiple channels. You need to reach a wide range of possible customers for your brand. This includes getting started with the store as well as making a presence on sites.
You need to be present on Amazon, eBay, and Walmart, to name a few. As you enhance your brand presence, you need some tools to streamline. This is required especially for a smooth order fulfillment process.
From helping you get started with an online store and marketing, Volusion supports you in order management. Volusion includes distributed order management functionality. It allows orders to be fulfilled from a warehouse, a store, a vendor drop ship, or in-store pickup.
There are a lot of benefits of the Volusion multi channel fulfillment feature. To begin, it helps you keep all your inventory in one place and fulfill orders accordingly. This control of inventory and order management makes everything more centralized.
Automatic tax calculations:
With brick-and-mortar businesses, you can determine the sales tax to charge. As you are expanding your eCommerce business, calculating sales tax needs time. Especially if you are doing it on your own. The manual calculation can quickly become a manual, burdensome process.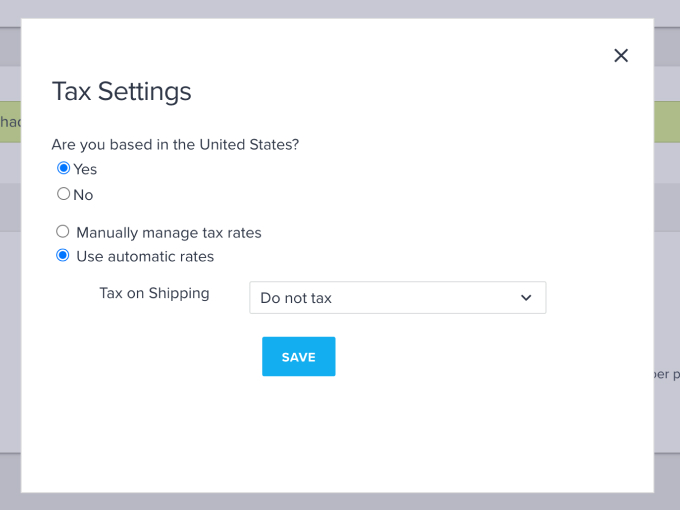 Getting started with Volusion will simplify the complications related to calculating sales tax. The eCommerce platform automates the process from calculation to usage.
With an automated system, calculating taxes for your business is simple. Just select the states where you do business, and the feature of Volusion does the rest. This allows you to go globally without worrying about the taxes.
9. Adobe Commerce (formerly known as Magento)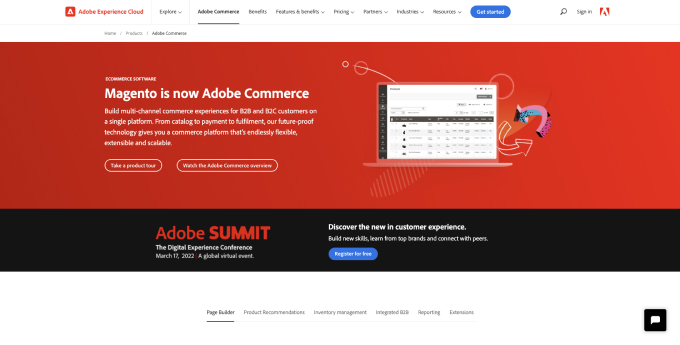 Nowadays, business moves at a breakneck pace. B2B companies are digitizing their sales processes and seeing opportunities. That said, even businesses in the B2C sector are under increasing pressure. You are required to provide seamless shopping, fulfillment, and return experiences. Especially across multiple digital touchpoints, channels, and global markets.
Adobe Commerce, formerly known as Magento, is an enterprise-ready platform. It enables any business channel to get started with the best tools. Whether you are in B2B, B2C, or both, Adobe Commerce is a feature-rich platform. It is designed to allow you to manage operations from a single, unified back end.
The best part of getting started with Adobe Commerce is that you can leverage native integrations. That includes Analytics Cloud, Marketing Cloud, and Advertising Cloud. Apart from this, artificial intelligence is the key. It is the reason why Adobe Commerce is listed among the top 10 best eCommerce platform blogs.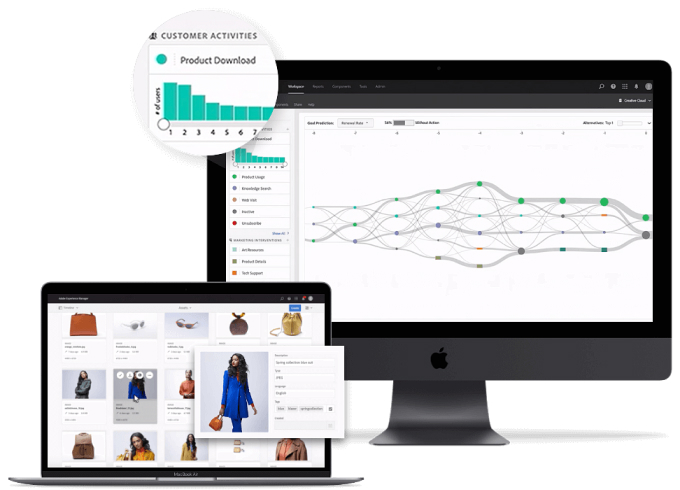 The artificial intelligence used in Adobe Commerce will simplify workflows. It also reduces the total cost of store sets and time to value. Apart from these, the eCommerce platform has powerful tools. The tools let you confidently launch, manage and scale your business.
Abode Commerce helps take personalization to the next level. It can host many instances on one platform and cloud deployment. With Adobe, you can still be connected with the native integrations. The integration includes Adobe products such as Creative Cloud, Experience Manager, and Analytics.
Plus, you can leverage the back-end efficiencies. That is, you can enjoy connected inventory, unified ordering and payment, and the convenience of a single login.
Adobe Commerce is an open-source eCommerce platform. You can install it on your computer/server, unlike Shopify, Wix, or BigCommerce. You will just need storage space. Plus, a server, a domain name, hosting, and other services in addition to the license.

Adobe Commerce's full-page caching technology speeds up page loading. It also ensures a smooth buying experience. The eCommerce platform seamlessly supports numerous databases. It improves the website's overall performance. You can use Adobe Commerce if you want a fast-loading online store. The platform also offers other eCommerce features.
The other important factor is that Adobe Commerce is a complete suite. That is, you have all the features and capabilities that are essential for scaling the store. You can also handle the customer base effectively. A quick and simple checkout procedure, order management, and B2B capability are just a few of some of its extended capabilities. Plus, you can leverage product recommendations and customer loyalty tools.
Consider using Adobe Commerce if you are intending to create a website that will receive a high volume of traffic. Plus high orders per hour. It is because it might cost a penny more when compared to other platforms. Adobe commerce can suit all your requirements. To be precise, it is an enterprise-level eCommerce platform. It gives merchants control and flexibility in running their online stores.
Use the Abode platform to create multi-channel commerce experiences. From catalog to payment to fulfillment, it's a future-proof technology. It provides you with an infinitely flexible, extensible, and scalable commerce platform.
Adobe Commerce Pricing Plans:
| Plans | Yearly |
| --- | --- |
| Open Source | $12,000 to $57,000+ |
| Magento Commerce | $43,000 to $1,89,000+ |
| Magento Commerce Cloud | $60,000 to $2,47,000+ |
Adobe Commerce features
AI-powered workflows:
Now, more than ever, almost all types of businesses are looking for simple solutions. You need ways to streamline and optimize your operations. In the quest for increased productivity and a better customer experience, you need AI. There is an increasing number of businesses utilizing Artificial Intelligence (AI). As it is helping them focus on more strategic work.
Adobe Commerce uses the power of Adobe Sensei artificial intelligence. The AI can automate your eCommerce store tasks like catalog updates and product tagging. It can as well as personalize customer experiences like product recommendations. This automation has a lot to offer. It can make your workflows more relevant and optimized. Plus, it can drive efficiency and productivity.
Multi-brand solution:
Starting an eCommerce requires you to focus on multiple things. From selecting a platform to speaking with vendors and paperwork. Selecting a platform can be a daunting task. Especially with various design elements considered. To help merchants, Adobe commerce brings in multi-brand solutions. It can help you deliver a great experience, across all the systems.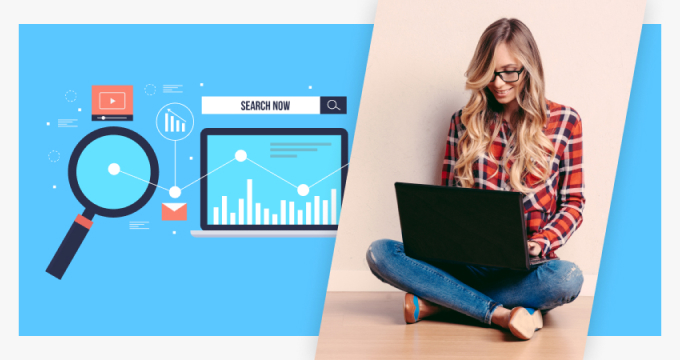 The eCommerce platform brings in a unified solution. That is, it lets you manage all content and products in one place. Merchants with more than one brand can leverage this feature. It can help you deliver the same experience everywhere. These changes can be applied if you sell in several countries and or use different models.
On an advanced level, you can also set various pricing structures. You can show different products to different audiences. Plus, you can customize checkout and fulfillment options. Adobe commerce provides you flexibility across all the touch points.
The eCommerce platform brings in a unified solution that lets you manage all content and products in one place. That is, merchants or store owners with more than one brand can deliver the same experience everywhere. These changes can be applied if you sell in several countries and or use different models.
On an advanced level, you can also set various pricing structures, show different products to different audiences or customize checkout and fulfillment options. Adobe commerce provides you flexibility across all the touch points.
PWA Studio:
Online shopping is growing rapidly. Many independent brands are getting started. Customers are doing their research, engaging, and transacting across various screens. As a result, the customers' expectations of a product are quite high. Therein, you need to build an online store that can be lightning-fast. Plus, your store needs to be seamless and intelligent across all devices.
In addition, Adobe helps you deliver an exceptional cross-device experience. That is, if you intend to offer the user functionality such as working offline, you can. Adobe also allows you to push notifications. You can also avail other features that have been associated only with native applications. You can utilize Adobe Commerce PWA Studio functionality.
The Adobe Commerce PWA lets you create a beautifully branded shop front. It utilizes the best practices of eCommerce on the web today. The feature of the platform efficiently builds performant and engaging PWAs. Parallelly, it lowers the cost of development and accelerates time to market.
ERP integration:
The best feature of why Adobe commerce can be your pick is because of its flexibility. It can easily integrate an ERP system. Although it is not a mandatory feature for any eCommerce business merchants. It is a feature that can save you from an error-prone process like capturing the appropriate data.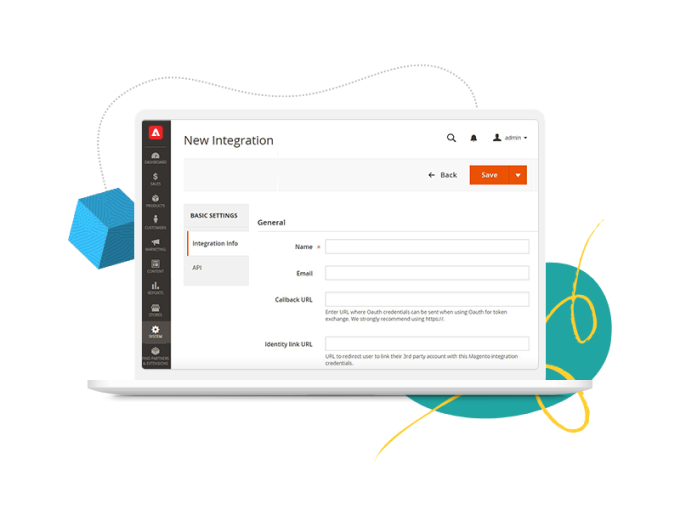 Connecting an ERP to Adobe Commerce allows you to automatically sync your inventory and orders. Plus, you can sync up to other store-related data between these two key systems. You can say goodbye to the manual way of handling the data. Apart from data handling, this feature of Adobe Commerce also helps your customers. That is, Adobe Commerce allows your customers to get a more accurate picture of product pricing and availability.
Headless commerce:
With eCommerce changing, there is a rising customer acquisition costs. Thus, you need to look for solutions that can help you build an online experience. It should help bring customers in without cost.
Adobe commerce introduces headless commerce architecture. This feature helps merchants meet the demands of modern-day customers. Also, it enables you to build a full-scale shopping experience across any touchpoint. That touch point includes single-page, multi-page web apps, and mobile apps. The feature can also support you with IoT devices, VR and AR. With headless API-based delivery, you can give customers faster response times. Plus, deliver smoother experiences.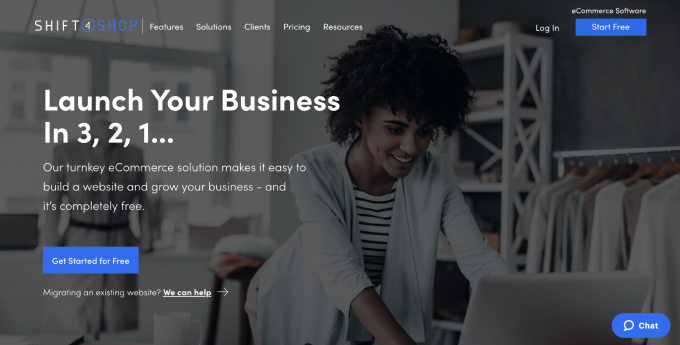 Formerly 3dcart, Shift4Shop is a feature-rich eCommerce platform. It helps businesses create online stores with all necessary functionality already built-in. This eCommerce platform is a cloud-based eCommerce solution. It serves businesses of all sizes in a wide range of industries.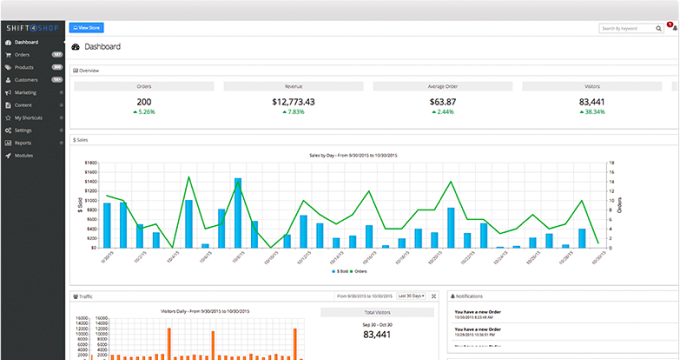 At Shift4Shop, the platform offers several features like inventory control and business management. It also offers customer-focused tools. Each of the functionalities intends to ease the interaction.
They are designed for both the store owners and customers. Apart from design, the platform focuses on inventory. The features of this eCommerce platform are not customer-focused. Its designed functions also make it merchant-focused.
Apart from the standard eCommerce platform features, you can avail other templates. You can choose any. All of them are mobile-friendly, SEO optimized, and highly customizable.
Plus, the eCommerce platform includes hundreds of best-in-class features. That is, you can avail yourself of SEO, social media marketing, and a robust marketplace ecosystem of apps. You can also get platform-specific experts and affiliates.
Shift4Shop eCommerce platform has an easy-to-use dashboard and a visually appealing interface. Most importantly, this platform includes instructions and video tutorials. It can act as a strong knowledge base for customers in getting started with the platform.
On the levels of design flexibility, the Shift4Shop eCommerce platform allows the design from scratch. But, if you need a basic eCommerce platform template, you have the option. If you want to customize, you need to have HTML and CSS knowledge. With more technical knowledge, you can level up your online store appearance. This way you are customizing the template as per your thoughts.
Apart from the standard store setup options, Shift4Shop provides options for marketing. In particular, you can easily see options for email marketing. This is highlighted because it helps you reach out to various customers. Email marketing also enhances brand presence. The options associated with Shift4Shop email marketing are Newsletters and Autoresponders settings. To send out commercial messages, you can use the Autoresponders option.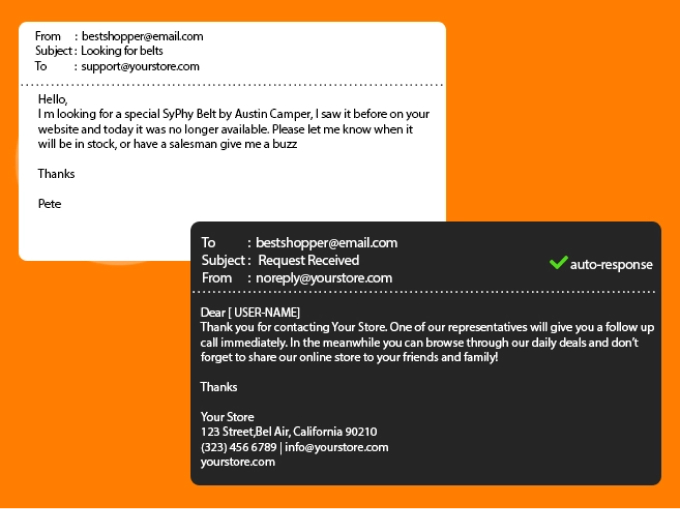 While the platform provides you with some default Autoresponder content, you can still customize the content and settings as per your need. On a similar note, you can build your email list with a newsletter option. Sharing news, promotions, and other related store information among your customer base will eventually lead to an improved brand presence among the customers. Furthermore, you can build a custom newsletter funnel for effective email marketing.
The integration of payment processing solutions directly on the dashboard is Shift4Shop's biggest leap in terms of payment methods. By doing so, the store owner saves time and effort by not having to set up a separate merchant account or integrate with another payment provider.
On the same terms, Shift4Shop allows its users to configure and manage both online and offline payment methods. The online payment methods available with Shift4Shop are 7, which include Visa, Mastercard, American Express, and others.
Similar to other hosted carts, Shift4Shop simplifies inventory management by placing Orders and Products tabs directly on the dashboard. As a result, your tracking options associated with order progress and the stock-keeping unit are streamlined.
The best feature of why Shift3Shop is listed among these top 10 eCommerce platforms is because of its Waiting list section in the products tab. The Waiting list section is designed to showcase a list of purchasers who have already placed the orders and are waiting for the delivery of the goods. This information helps you address your shipping issues as quickly as possible, plus, you can answer delivery-related customer queries.
Shift4Shop was introduced as a dependable eCommerce solution, thanks to a plethora of top-notch features, particularly SEO-focused functionality. However, you should be aware that some limitations can restrict your growth options.
Shift4Shop Pricing Plans:
| Plan | Monthly Price | Includes |
| --- | --- | --- |
| Basic Store | $29.00 | All the essential features |
| Plus Store | $79.00 | Complete marketing suite |
| Pro Store | $229.00 | eCommerce automation |
Shift4Shop features:
Built-in RMA system (Return Merchandise Authorization):
When starting an online store, you know there will be returns and you need to deal with them. Managing one, or two returns is fine. To handle multiple returns of your store products over some time requires a system.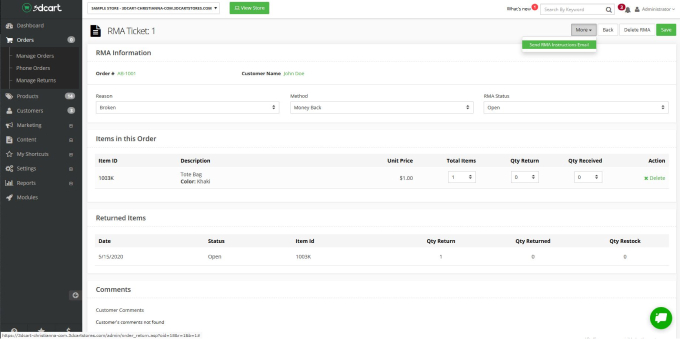 You may set up a long process return with the default option. And it might be difficult for a customer. A long-step process just to return the item quickly, can reduce the customer return rate. To help merchants in return, Shift4Shop introduces an RMA feature. It eases the tracking of returns. Plus, you can easily reenter eligible items back into your inventory. The feature also helps you track the financial impact of the refund on your total sales.
Automated inventory management:
Inventory management could be a difficult issue. Especially if you haven't handled it properly. Whether you are a small catalog business merchant or a store with many products, you need a tool. You can't always rely on spreadsheets and intuition before marketing.
The Shift4Shop platform can streamline your inventory operations by automating the process. That is, the Shift4Shop inventory automatically updates with inventory changes. That is with each customer order and unprocessed orders, the inventory is updated. Aside from that, you can set up customizable stock alerts. That is, you can get notified when you're running low on products and need to replenish them. Put another way, you can hide out-of-stock items automatically.
Built-in product comparison tool:
With many similar products listed, customers have a lot of choices. You can list them all in a simple search. This makes it tough for them to make a decision when it comes time to buy something. While everyone intends to buy the best product, a manual lookout into each product can be tedious work.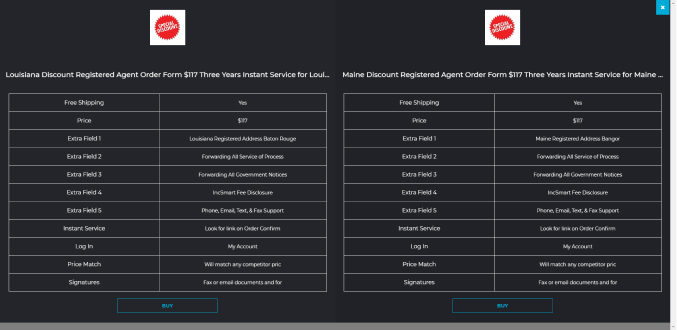 Shift4Shop's built-in product comparison tool can assist visitors in comparing similar types of products. You can create a table and list the features of the product. This feature of the eCommerce platform enables them to make better decisions. It is also noted in some cases that offering product comparison can increase the AOV of a customer.
Muti option Add to cart action:
The add-to-cart button is one of the most important elements of your online store. Your shoppers may not remember what your button looks like. But an effective button can inspire a click and lock in their internal commitment to buy. Whether you're using the power of contrast, or UX intelligence, you need a good button. The buy button has to stand out and be attractive and usable.
With customers locked in, you can decide what happens when users click on the "add to cart" button. Whether they will view the cart page or take them to checkout. You can make the call on how you want your customers to behave during their purchase journey. This flexibility in building a store helps you to deliver a more seamless customer experience.
Core template engine templates:
As an all-in-one turnkey solution, the eCommerce platform helps you get started in no time. You don't need any third-party app support. The platform gives you over 100 free themes and other functions. Generally speaking, Shift4shop themes will cater to all types of business needs.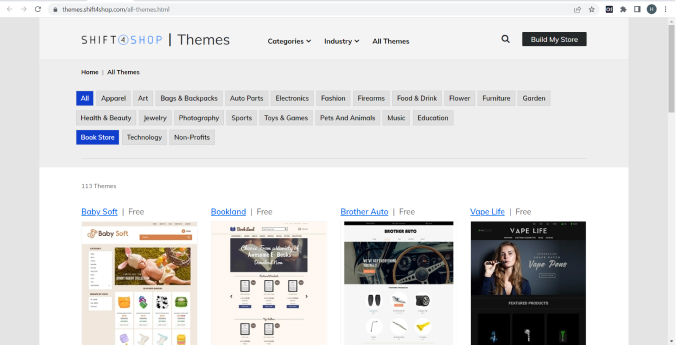 Shift4Shop templates are created using the Core Template Engine. You can be sure that the templates are mobile-friendly. Apart from that, the checkout is conversion optimized. The Google AMP is enabled on product pages. Apart from these high-level features, you can modify the theme colors. You can also preview your edits in real-time. You can also fine-tune your content using the flexible drag-and-drop HTML builder.
Conclusion
While the above comparison of limited platforms would give you a brief idea of the best platforms we would be recommending. Ideally, choosing the best eCommerce platform is really based on your needs. In a brief, here's the overview of the above-listed eCommerce platforms.
Dukaan: Constantly innovating with comprehensive features, this is the best-known eCommerce platform to start and evolve.
BigCommerce: This can be your best eCommerce platform if you are looking into large-scale businesses with a lot of products and categories.
Shopify: This eCommerce platform can be your pick if you are looking for an integrated eCommerce experience and store management.
Similarly, WooCommerce is ideal if you want to continue using an existing WordPress site.
Shift4Shop (formerly known as Magento) is a robust and feature-rich platform with excellent SEO.
Posts you may like to read… 📚
In final thoughts, choose a platform that is ready to grow with you instead of an existing platform as consumers' requirements are constantly changing and you need your platform to adopt the changes immediately as the intention behind picking an eCommerce platform is to ease your way the business is done.
FAQs
What are the most popular eCommerce platforms?
Dukaan, Shopify, and Adobe Commerce are some of the popular eCommerce platforms to get started.
Which is the fastest and best eCommerce platform?
With cutting-edge technology, the Dukaan eCommerce platform is the fastest. It is ahead of Shopify while WooCommerce stays in the last position.
Which is the easiest and best eCommerce platform in 2023?
With continually growth-oriented features integrated, the Dukaan eCommerce platform is the easiest and best growing eCommerce platform. The platform is best for small and medium businesses to start their eCommerce store quickly.
For startups, which is the best eCommerce platform?
Dukaan. It is a very easy and user-friendly platform.The eCommerce platform that proves to be the best for one business. The next up are Shopify, BigCommerce, Wix.
What is the best eCommerce platform for any business?
Dukaan. It is one of the best eCommerce platforms for small businesses as it allows them to start an online store in a matter of seconds.
Is Dukaan the best eCommerce platform?
Yes, Dukaan is one of the best eCommerce platforms. The platform is very easy to use and you can start your online store quickly. You do not need any technical skills to create your store.