In this blog post, I'll compare 10 of the best eCommerce platforms and help you decide which one is right for your business.
You have a business which you want to take online but where do you begin? How do you find the perfect eCommerce platform for your business?
I'll  aim at answering these questions and more.
It all starts with what factors you consider before choosing the eCommerce platform and how much legwork you put in the research.
Here are some factors you should consider. The platform should:
Be affordable
Be easy to use
Be an integrated platform
Allow you to process payments and handle other charges seamlessly
Accommodate unique business requirements
Offer quick and hassle free delivery
Be technologically advanced
Offer social media integrations
Offer customer support options
However, there is more that goes into a perfect eCommerce platform. Let's look further to find out.
10 Best eCommerce Platforms in 2022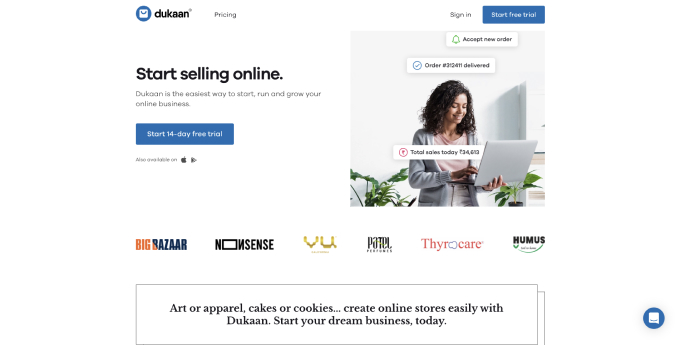 When it comes to starting your online store or business, there's a huge task ahead of you. You need to gain technical skills, hire designers, website hosting, API integrations, and a lot more.
Why not make it simple for everyone can create their online store?
Dukaan is the easiest way you can take your business online, with a fully functioning online store that lists your products and makes it incredibly easy to manage them.
Be it adding products in bulk, or adding prices, managing payment options, or even marketing your store. Dukaan makes running your online store as easy as running a WhatsApp group.
Dukaan Pricing Plans:
| Plan | Monthly | Yearly |
| --- | --- | --- |
| Entrepreneur | $9.99 | $99.99 |
| Agency | $49.99 | $499.99 |
| Enterprise | Custom | Custom |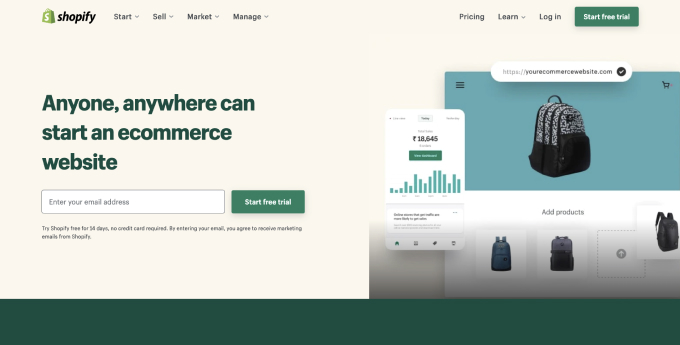 Shopify is a popular, paid eCommerce platform that helps business owners sell online with their own eCommerce websites.
Shopify is very famous for its ability to use pre-built templates. You can pick up and customize any of these templates. There are plenty of templates available for every kind of business category there is.
Shopify is a CMS (Content Management System) that provides a lot of functionality for your online store. What people like most about Shopify is its integrated approach by which you can manage everything in one place.
However, there is a steep learning curve for beginners and you might need help along the way, be it designing your store or customizing it for various functions.
A common complaint about Shopify is that you need to buy and install extra plugins for specific functionalities, which adds to the burden.
Shopify Pricing Plans:
| Plan | Monthly | Transaction Fees |
| --- | --- | --- |
| Shopify Lite | $9 | 2.7% per in-person transaction |
| Basic Shopify | $29 | 2.9% + 30 cents per online transaction; 2.7% per in-person transaction |
| Standard Shopify | $79 | 2.6% + 30 cents per online transaction; 2.5% per in-person transaction |
| Advanced Shopify | $299 | 2.4% + 30 cents per online transaction; 2.4% per in-person transaction |
| Shopify Plus | Quote-based | Based on your credit card sale volumes |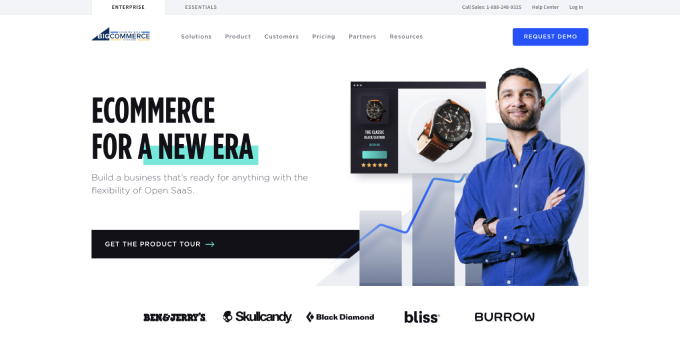 If you're a B2B business that needs a custom eCommerce solution with a lot of technical functionalities, then BigCommerce is a good choice.
Merchants can launch their online website "on the cloud" with an online store right out of the box with BigCommerce. There are a lot of custom tools and eCommerce features that can be configured to your liking using API integrations.
Many popular eCommerce platforms that hit a million views or more in website traffic, prefer to go with BigCommerce because it is secure, it's technically advanced, and offers advanced customization options.
BigCommerce Pricing Plans:
| Plan | Monthly (when billed monthly) | Monthly (when billed yearly) |
| --- | --- | --- |
| Standard | $29.95 | $29.95 |
| Plus | $79.95 | $71.95 |
| Pro | $299.95 | $269.96 |
| Enterprise | Custom | Custom |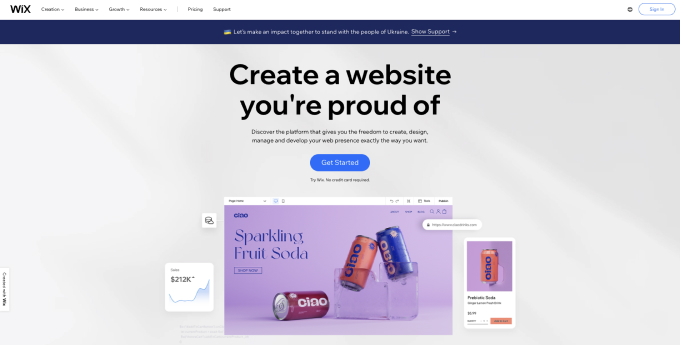 Wix is not essentially an eCommerce platform by its core identity but another WYSIWYG-type website builder platform that has eCommerce capabilities built-in with the help of plugins.
We love Wix for its ease of use. It is super easy to start your website. Just choose from a template, make your necessary modifications, and go live when you are ready.
It helps merchants build online stores and businesses as well, with the help of additional plugins. It helps them to customize an online store to create a great shopping experience—from storefront to checkout.
While it's easy to get started with pre-built templates for your website, you'd need a lot of technical knowledge and help to get eCommerce features like payment integration, etc.
On Wix, eCommerce functionalities are available only on the business and eCommerce plans. There are limits on storage capacities and access to certain apps.
Wix Pricing Plans:
| Plan | Monthly | Yearly |
| --- | --- | --- |
| Combo | $18/month | $14/month |
| Unlimited | $23/month | $18/month |
| Pro | $28/month | $23/month |
| VIP | $47/month | $39/month |
| Business Basic | $28/month | $23/month |
| Business Unlimited | $33/month | $27/month |
| Business VIP | $56/month | $49/month |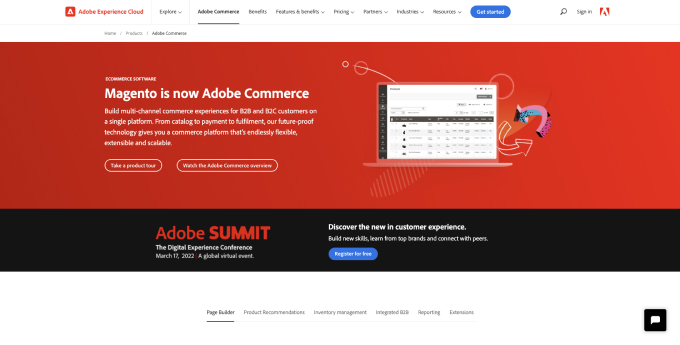 Unlike Shopify, Wix, or BigCommerce, Adobe Commerce is an open-source eCommerce platform that you can install on your computer/server. However, you'll need additional storage space, server, domain name, hosting, etc on top of the license.
It's an enterprise-level eCommerce platform that provides control and flexibility to merchants to run their online stores. We're not comfortable recommending it to first-time users though.
Adobe's SEO, marketing tools, and powerful catalog management give merchants an effective selling experience.
It is backed by an extensive support network and is completely scalable.
Adobe Commerce Pricing Plans:
Community Edition – starting cost $15,000+
Enterprise Edition – starting cost $30,000+
WooCommerce is an eCommerce platform that can be built on top of WordPress- which is a popular blogging website well-known to many.
It is popular with internet entrepreneurs and affiliate marketers mostly because of the incredible popularity of the WordPress platform.
WooCommerce is open-source and completely customizable. It is built by over 350 contributors worldwide and renders a special experience to sellers for navigating their products, content, and site.
While being a robust, constantly evolving platform, many users complain that it is difficult to scale and gets sluggish and clunky as your business grows.
Perhaps it is best for non-scaling, small online shops built on top of blogs that need specific functionalities.
We would recommend it for folks with technical knowledge or WordPress familiarity.
WooCommerce Pricing Plans:
|   | Low Pricing Range: | High Pricing Range: |
| --- | --- | --- |
| Hosting | $6.95/month | $12.95/month |
| Domain Name | $15/year | $15/year |
| Theme | Free WooCommerce theme | $35-129 professional theme |
| Plugins | Free | $100-150/year |
| Security | $10/year | $150-450/year |
| Dev Fees | Free | $1,000-6,000 |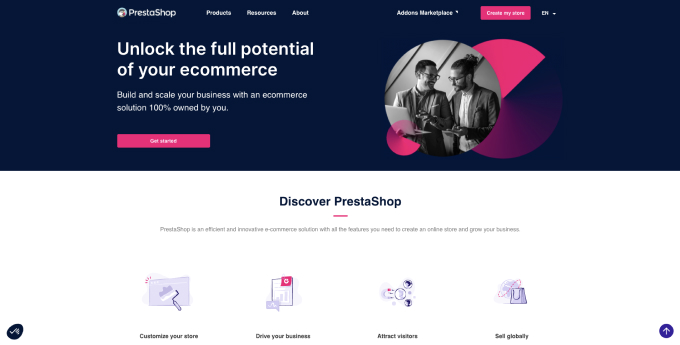 PrestaShop development is a highly customizable eCommerce option with an open-license solution.
This ecommerce platform was started in 2007 and has over 500,000+ community members and over 3 million downloads. It is available in over 56 languages and used extensively in over 150+ countries.
PrestaShop offers a content management system, a website builder, and a marketing package. However, hosting isn't included.
Support is pretty much non-existent, but since it's open-source software, you might find help from the community.
PrestaShop is free. However, you'll spend money on the hosting, domain name, and professional templates. With none of these, you'll end up with an amateur looking website.
PrestaShop Pricing Plans:
Starter – $107.92 per month, 13 monthly payments
Basic – $187.67 per month, 13 monthly payments
Pro – $928.53 per month, 13 monthly payments
Enterprise – upon request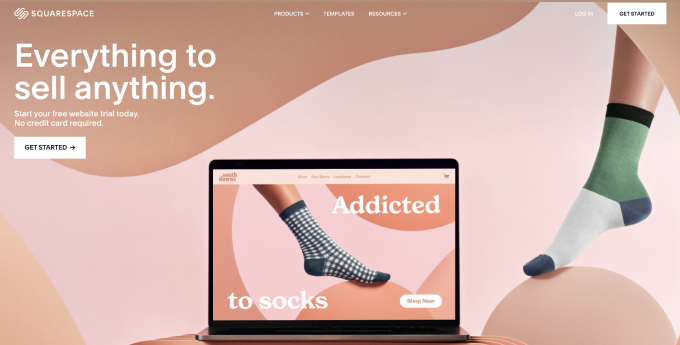 SquareSpace is kinda like Wix.
With its sleek templates and easy-to-customize layout, Squarespace eCommerce is a top-of-the-line solution for online store design.
It emphasizes the products, with a bit of a learning curve, and is made with strong features and a huge inventory system.
It connects manufacturers, suppliers, and exporters, allowing them to market and promote their services and products through the platform.
Squarespace Pricing Plans:
| Plan | Monthly | Yearly |
| --- | --- | --- |
| Personal Plan | $16 | $12 |
| Business Plan | $26 | $18 |
| Ecommerce Basic Plan | $30 | $26 |
| Ecommerce Advanced Plan | $46 | $40 |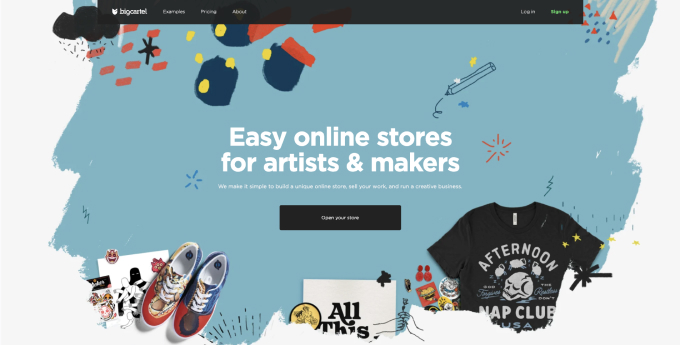 Big Cartel is an eCommerce platform launched in 2005 to promote artists and makers looking for somewhere to sell their wares.
It provides users more control and is less complex than an eCommerce powerhouse like Shopify. It isn't for everyone, but it's great for a small business or a side business.
It provides an easy and cost-effective way to start selling goods and services online.
Big Cartel Pricing Plans:
| Plan | Monthly | You can list |
| --- | --- | --- |
| Gold | Free | 5 Products |
| Platinum | $9.99 | 50 Products |
| Diamond | $19.99 | 50 Products |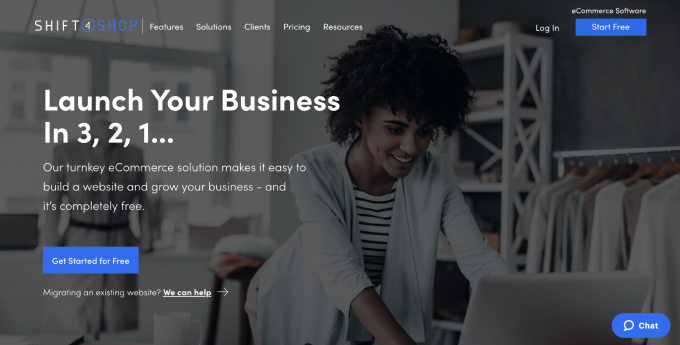 At Shift4Shop, there are several features like inventory control, business management, and customer-focused tools.
These features make it easy to interact with customers, create and run online stores, and keep the entire inventory managed.
Many features save money for the business by eliminating additional expenses that would result from using a different eCommerce platform.
Shift4Shop Pricing Plans:
| Plan | Monthly Price | Includes |
| --- | --- | --- |
| Basic Store | $29.00 | All the essential features |
| Plus Store | $79.00 | Complete marketing suite |
| Pro Store | $229.00 | eCommerce automation |
What is the Best Ecommerce Platform For Startups
Many Ecommerce platforms provide an easy and cost effective solution for start-ups to have their online store. Most start-ups struggle with creating an online store/ website for their business due to lack of coding and design experience.
So a best ecommerce platform for start-ups would be the one that is very easy to understand and allows them to create a personalized store in minutes.
WooCommerce is one of the best ecommerce platform for start-ups as it is basically a free plugin that comes with WordPress. For anyone who is well-versed with WordPress, installing WooCommerce and starting your ecommerce store is a straightforward task.
If you prefer an App based shopping platform, Dukaan is your best choice. Setting up an online store on Dukaan is very simple and there are many features that allow start-ups to run their business smoothly and seamlessly.
What is the Best Ecommerce Platform for SEO?
For any business that sells products online, the sales totally depend on users' ability to discover your store on Google, or any other search engine.
SEO plays a huge role in getting your online business discovered on search engines. Provided, your ecommerce platform has the best SEO features that support your business and help you increase sales.
Dukaan is one of the best ecommerce platform for SEO. Starting with a customizable store URL and store name, Dukaan has multiple SEO friendly features. You can write SEO friendly product descriptions or use the free tool to generate one for your product.
BigCommerce is also a very SEO friendly ecommerce platform, with their high website speed which helps in retaining the traffic. They also have the most ideal URL structure for SEO by default. It has the store URL followed by the category name and then the product name.
What Are the Best Ecommerce Platforms for Dropshipping?
As enticing as the dropshipping business model seems, there are a lot of things that need a close control over in a dropshipping business.
A best suited ecommerce platform for dropshipping is the one that integrates and automates multiple things like suppliers, inventory, order management, shipping, returns, etc.
BigCommerce can act as a great ecommerce platform for dropshipping businesses.
Many dropshipping business owners also prefer Shopify for their range of features that support their business. Dukaan makes it really easy for you to start your dropshipping business on their platform.
What Are the Best Ecommerce Platforms for Small Business?
Small businesses look for ecommerce platforms that help take their business online and manage their orders with no hurdles. The platform must also allow for the business to constantly scale up and grow.
Wix is a great ecommerce platform for small businesses, especially if they are not technically strong. There are multiple customizable templates to choose from and the ecommerce store looks very neat and professional on this platform.
Another platform to consider is Dukaan, as it has already helped many small businesses to go online in a matter of minutes. All you need to do is to login to the app, name your store and start adding products. It is as simple as that!
What Are the Best Free Ecommerce Platforms?
There are quite a few ecommerce platforms like WooCommerce, Prestashop, Big Cartel, etc. that are free or open source. You can choose one of these platforms if you have a lot of developing experience and would like to go for self hosting for your online store.
However, it is not advisable to decide based on the initial charges because what you save on the membership fee, you may have to spend multiple times more on other factors like hosting, security, website design, etc.
Most of the ecommerce platforms like Dukaan, BigCommerce, Shopify, etc. provide a 14 days trial period where you can try and test the platform out for free of cost. This way you can make a really smart and well-informed decision.
Conclusion
The world of eCommerce platforms is a vast one.
There are big players from the 2000s that are still relevant, but the brand new modern apps can get the same thing done with a level up.
There are eCommerce apps that can take your entire inventory online in a single click. At the same time, there are the big old CMS systems that can run Amazon-like portals.
If you're clear on what you need for your online store, the choices are easy.
If you need to get started on an online store quickly, with a full product catalog, payment options, etc, Dukaan is the best bet.
However, if you have a lot of technical knowledge and you need a CMS-powered portal built, then something like Shopify would be a good choice.
If you need a lot of custom API integrations, and custom features built, then BigCommerce might be a good choice.
And of course, keep the future in mind. Technology today will be outdated tomorrow. So choose something that will stand with you for a long time and not make you switch or upgrade unnecessarily.
If you have any interesting experiences with eCommerce platforms, tell us about it in the comments section below.
FAQ's
1. What are the most popular eCommerce platforms?
Some of the most popular eCommerce platforms are –
Dukaan
BigCommerce
Shopify
Wix
Magento
WooCommerce
PrestaShop
Squarespace
Big Cartel
Shift4shop
2. Which eCommerce platform is the best?
The eCommerce platform that proves to be the best for one business need not necessarily be the best for another. Here is a quick look at some of the best ecommerce platforms based on a few factors –
Dukaan – Very easy and user friendly platform. Best for small and medium businesses to start their own ecommerce store quickly
Shopify – Best for an integrated ecommerce experience and store management
BigCommerce – Best for large scale businesses with a lot of products and categories
Wix – Best for visually appealing websites that are simple to create
Magento – Best for an enterprise level ecommerce store that has technical knowledge
WooCommerce – best suited for wordpress based websites
PrestaShop – Best for businesses that want a self-hosted platform
Squarespace – Best if you are looking for beautiful online store design
Big Cartel – Best for artists and graphic designers to sell their digital products
Shift4shop – Best if you need customer focused tools
3. What is the best eCommerce platform for a small business?
Dukaan is one of the best eCommerce platforms for a small business as it allows them to start an online store in a matter of seconds. You do not need any technical or design skills to open a store on Dukaan. Additionally, their free tools simplify a lot of tasks for small business owners.
4. Is Dukaan the Best eCommerce platform?
Yes, Dukaan is one of the best eCommerce platforms and here is why –
Dukaan is very easy to use and you can start your online store quickly
You do not need any technical skills to create your store
Dukaan's plans are highly affordable and budget friendly
It has some of the best SEO tools integrated
It has great marketing tools integrated
You can integrate store with social media platforms
Dukaan offers skilful customer care
Dukaan team is constantly working towards improving the platform to make things easier for the business owners.