Looking to find the best eCommerce platform to start your business, but not sure how? Worry not. Here's a guide to finding the best eCommerce platforms to make your own online store.
The enormous rise of the COVID-19 pandemic has badly affected the economy, and the online economy is reflecting it in a different way. All offline MSMEs and small-scale entrepreneurs are looking for the perfect eCommerce platform to start selling online.
According to a study by McKinsey, COVID-19 is changing consumer behavior like never before.
Everything from food to clothing and even tuition classes has gone online, so why not your business too. Isn't it?
The Indian eCommerce industry is expected to surpass the US to become the second-largest eCommerce market in the world by 2034.
Indian eCommerce sector will reach US$99 billion by 2024 from US$30 billion in 2019, expanding at a 27% CAGR, with grocery and fashion/apparel likely to be the key drivers of incremental growth.
According to Forrester Research, Indian e-commerce sales rose by ~7-8% in 2020. The Indian online grocery market is estimated to reach US$ 18.2 billion in 2024 from the US $1.9 billion in 2019, expanding at a CAGR of 57%. (Source)
What is an eCommerce Platform?
An eCommerce platform is any software that enables businesses to do commercial processes of buying and selling online. It handles all aspects of business like product listing, sales, promotions, inventory management, and purchases online.
It could be a website or an app where businesses can list their products, manage inventory, and let their customers buy them easily online.
While the majority of eCommerce sites are optimized for B2C transactions, some vendors offer B2B models as well.
Traditional eCommerce sites are focused on handling physical product purchases, but an increasing number of solutions are adding features for digital goods offered on a subscription basis.
Currently, there are many online eCommerce platforms; that claim to be the best. Many sellers launch their online business on almost all of them without realizing the time, effort, and money it can cost them to sell on multiple platforms.
And just like how eCommerce consumer behaviors have evolved, eCommerce platforms too, have evolved over the last couple of years.
Gone are the days where you had to shell out thousands of dollars to get your website online.
Today, modern eCommerce platforms like Dukaan makes it easy for entrepreneurs to chase their dreams and start selling online easily.
Top features in eCommerce platforms
Each eCommerce platform boasts of its own feature list. But what do business owners want?
We asked 1,700+ entrepreneurs who were using various eCommerce paltforms, what features would they prefer. Here are the results.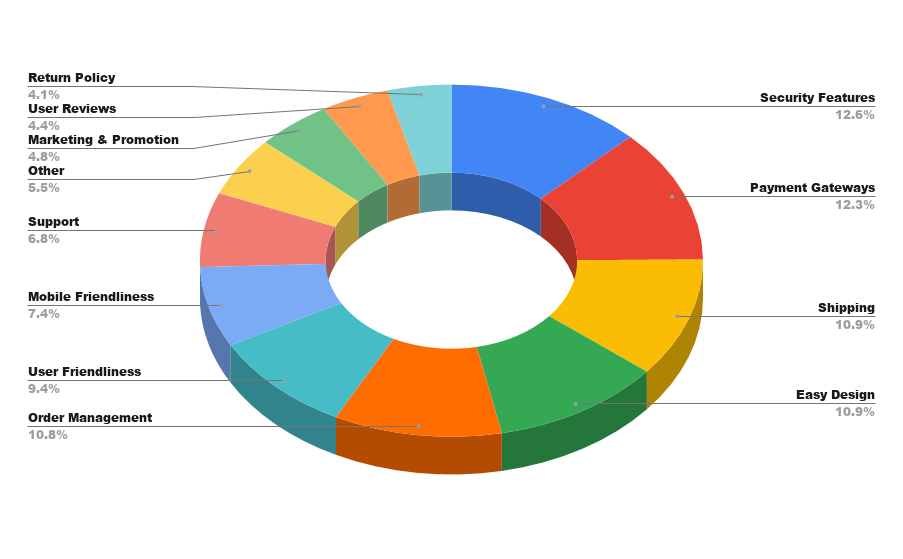 Top requested feature in eCommerce platforms
Security features, payment gateways & order management were the top three preferred features requested in eCommerce platforms.
Types of eCommerce platforms
There are four types of eCommerce platforms:
B2C (Business to Consumer) – This is also called DTC or Direct to Customer selling.
B2B (Business to Business) – This is when one business sells to another, including wholesale buying, reselling, etc.
C2B (Consumer to Business) – Under this, a consumer may indulge in selling his services or products in exchange for money.
C2C (Consumer to Consumer) – Consumers can also sell to one another with the help of the sharing economy and upgraded online marketplaces.
Factors to consider before choosing the right platform
Should be easy-to-use and affordable.
Should let you control everything from inventory management, sales to marketing.
Should allow you to process payments seamlessly.
Should accommodate your unique business needs and goals.
Should be ahead of the curve in terms of technology (don't go obsolete).
Should allow selling online, offline, and to customers, no matter where they are.
Must ensure quick and hassle-free delivery of products to customers.
Should give options to manage transaction fees and other charges.
Should offer social media integrations.
Should offer customer support options.
How much does it cost to create an eCommerce website?
It will cost you anywhere from 2 Lakhs to 13 Lakhs to create a fully functional eCommerce website with an open source.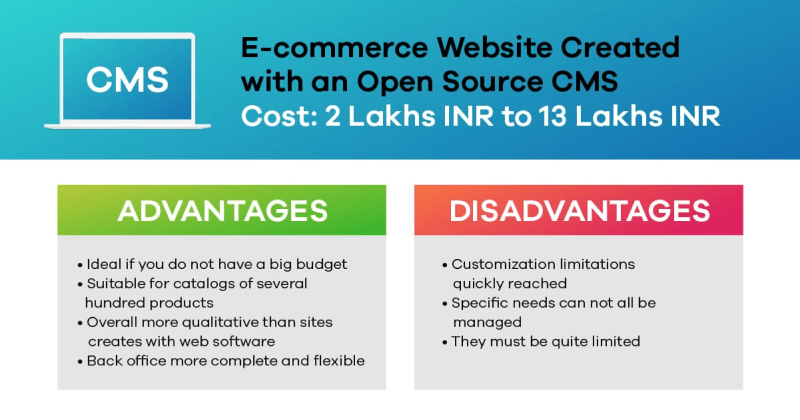 And it will cost you anywhere from 17 Lakhs to 26 Lakhs to create a personalized eCommerce website with additional features and functionalities.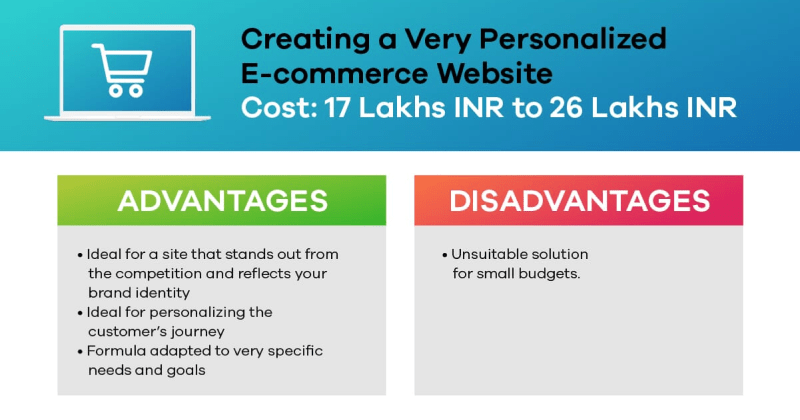 eCommerce platform v/s Apps
So let me get this straight.
eCommerce platforms as such, is a thing from the early 2000's. Of course, there are some extremely popular ones out there.
If one were to pick the eCommerce platform just based on popularity, there would only be one or two.
But popularity isn't everything. Take a look at consumer behavior. The pandemic situation, before and after.
A lot has changed. The way we shop online and the platforms we use.
Many of us will validate the fact that we're doing more transactions over social media apps than typical eCommerce portals.
So, then the question is, do you need an eCommerce portal or an app that lets you sell online.
Our bet is on the latter.
More and more people are opting for transactions over social media apps.
And more and more entrepreneurs are opting for easy-to-use apps, rather than clunky "platforms".
Nevertheless, for the sake of simplicity, let's take a look at the top eCommerce platforms today.
Best eCommerce Platforms 2021
We did a survey among 1, 700+ eCommerce experts and entrepreneurs to understand what their choices and preferences were. Here are the results.
Most easy-to-use eCommerce platform
Dukaan was voted as the most "easy to use eCommerce platform" among eCommerce experts. Wix came in a close second.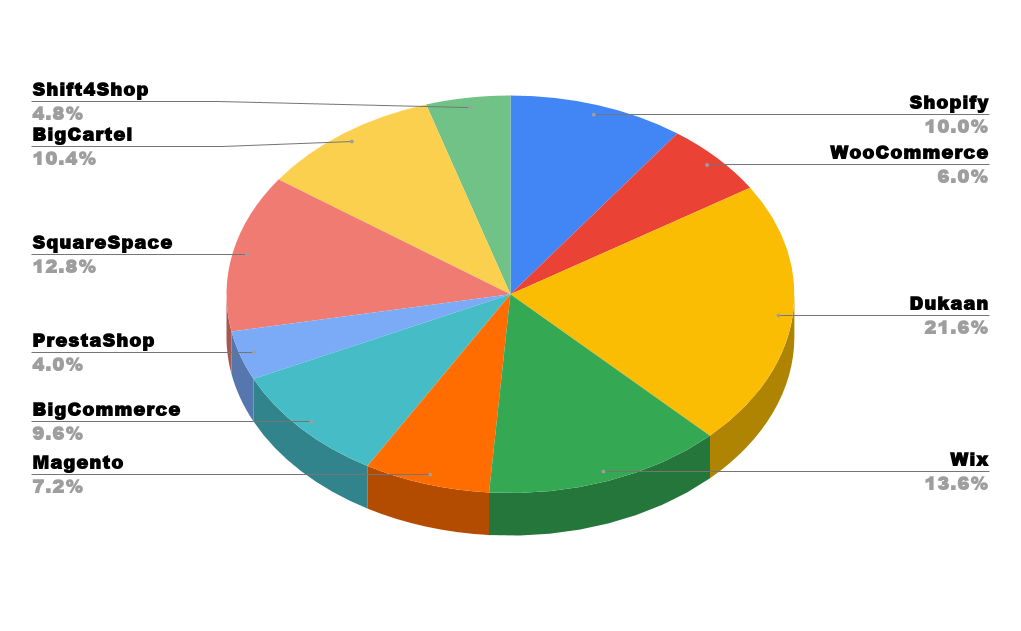 Most popular eCommerce platform
Shopify was chosen as the most popular eCommerce platform. Followed by BigCommerce.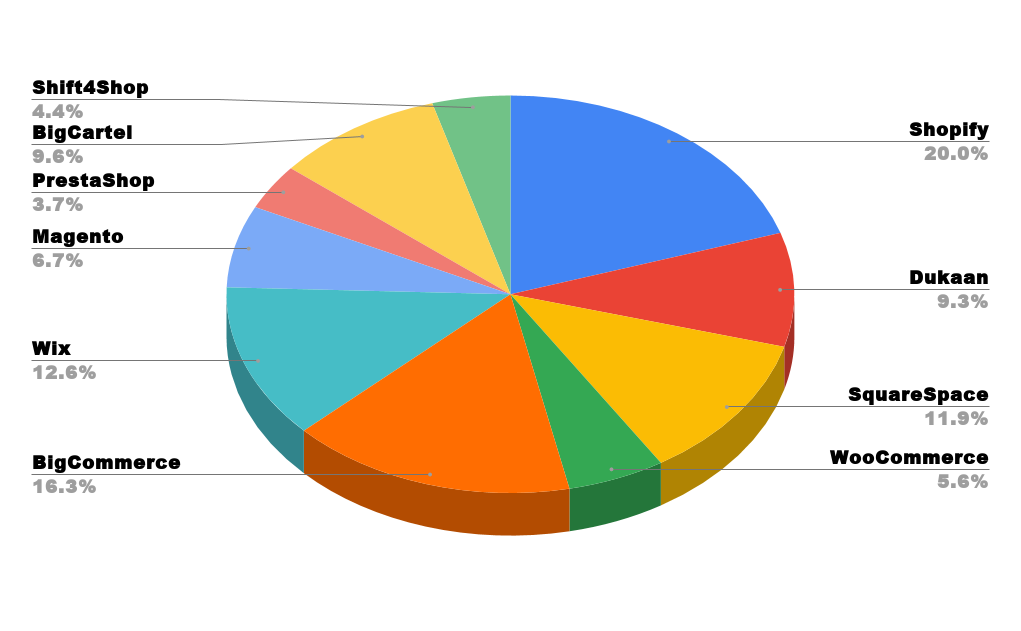 Here are the best eCommerce platforms you can use to start your own online business.
1. Dukaan
Almost all the leading eCommerce platforms out there have evolved over the years and have got to this dinosaur of products that are difficult to understand and manage, despite being powerful and feature-rich.
When it comes to starting your online store or business, there's a huge mountain ahead of you. You need to acquire technical skills, hire designers, website hosting, API integrations, and whatnot.
We realized that for most entrepreneurs in India, this is a huge bottleneck.
Why not make it simple so that anyone can create their online store?
The local grocery store owner and the fashion boutique should equally find it easy to start their online store.
This is the thought behind launching Dukaan.
Dukaan is the easiest way you can take your business online, with a fully functioning online store, that lists your products and makes it incredibly easy to manage them. Be it adding products in bulk, or adding prices, managing payment options, or even marketing your store. Dukaan makes it easy as running a WhatsApp group.
Today, we have over 1,50,000 stores created online, with 5,00,000 products across 40 different categories of businesses.
It covers over 400 cities, and they have received more than 75,000 orders.
What makes Dukaan extremely popular?
It's the ease of use. Dukaan combines powerful eCommerce features and makes it super easy to use. NO technical knowledge or design skills required.
Key Features:
It allows sellers to make online stores with their smartphones and share them with their customers on different social media.
Dukaan's user-friendly interface helps you launch your online store in 30 seconds. It only takes four simple steps to create an online store.
Order management, product listing, pricing, finance management all happen in a seamless fashion within the app.
Easy payment gateway integrations and instant transaction approval + deposits.
Zero transaction fee, which means they do NOT take any commission from sellers for any orders.
Free marketing templates and tools to help promote your store.
Free tools like slogan generator, terms and conditions generator, invoice generator, etc.
Options for QR Code generator, custom domain name, etc.
Multiple product upload options, easy store management.
Multi-platform support.
2. Shopify
Shopify is a popular, paid eCommerce platform that helps business owners sell online with their eCommerce websites. What makes Shopify popular is its ability to use pre-built templates that you can pick up and customize to your liking. There are plenty of templates available for almost all business categories you can think of.
Shopify is a CMS (Content Management System) that provides a lot of functionality for your online store. What people like Shopify for is its integrated approach by which where you can manage everything in one place.
It's a popular eCommerce platform used by many but the steep learning curve makes it unpopular among beginners.
You might need help along the way – be it designing your store or customizing it for various functions.
A common complaint about Shopify is that you need to buy and install extra plugins for specific functionalities, which adds to the burden. In Shopify's defense, they have a very responsive customer support system that can help you with it.
Key Features:
Comprehensive Dashboard.
Custom website design options.
Thorough store management.
Marketing and SEO options.
Plenty of third party integrations.
Web hosting included.
With Shopify, you'll get a website (usually on a Shopify subdomain) where you can add products and start selling.
However, before you actually get going, you'll need to configure a bunch of technical aspects, like setting up a payment gateway, choose and customize a theme, etc.
Curating from several user threads like this online, we've put together the most common issues on Shopify.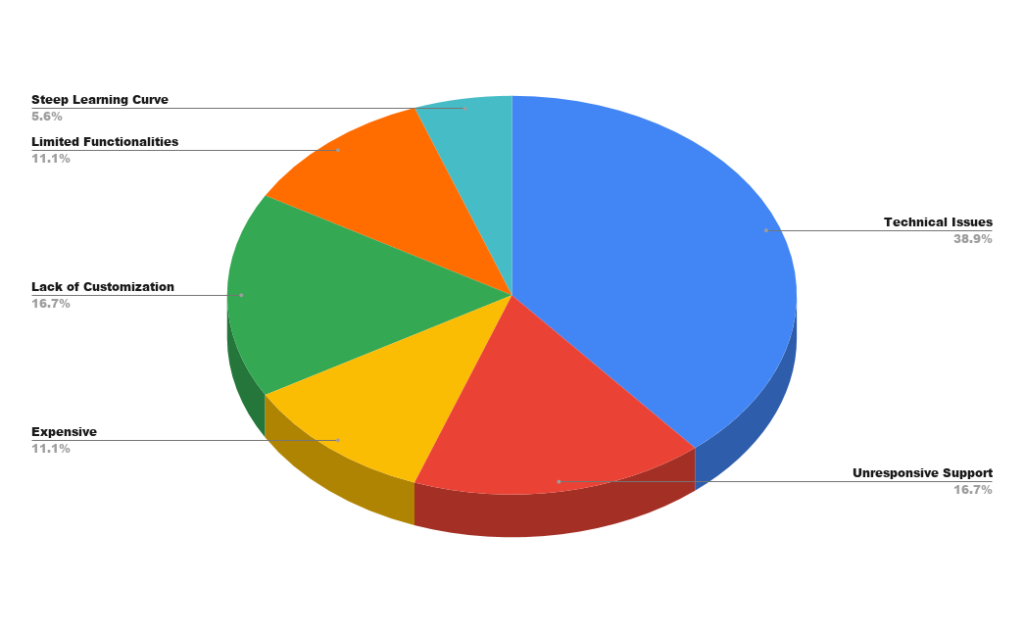 Shopify - Common problems
The most reported issue by Shopify users is technical issues (like DNS setup etc), followed by a lack of customization (only 71 official themes) options and unresponsive support.
3. BigCommerce
If you're a B2B business that needs a custom eCommerce solution with a lot of technical functionalities, then BigCommerce is a good choice.
Merchants can launch their online website "on the cloud" with an online store right out of the box with BigCommerce. It provides a lot of custom tools and eCommerce features that can be configured to your liking using API integrations.
Many popular eCommerce platforms that hit a million views plus on traffic, prefer to go with BigCommerce because it is secure, is technically advanced, and offers advanced customization options.
 Key Features:
Simplifies eCommerce management like inventory control, payment options, a community forum for webinars, tutorials, and guides.
Global live BigCommerce support 24/7, with over 85% of issues resolved on the first phone call.
Technically advanced with several API integration options.
Great performance (speedy website) on the cloud.
Shopify v/s BigCommerce Pricing
Both Shopify and BigCommerce offers monthly subscriptions. On top of that, you might also incur additional costs like credit card fees, transaction fees etc.
BigCommerce's plans range from $29.95/month to $299.95/month. Shopify's plans range from $29/month to $299/month.
4. Wix
Wix is not essentially an eCommerce platform by its core identity but another WYSIWYG-type website builder platform that has eCommerce capabilities built-in with the help of plugins.
We love Wix for its ease of use. It's super easy to start your website. Just choose from a template, make your necessary modifications, and you are live and running.
It helps merchants build online stores and businesses as well, with the help of additional plugins. It helps them to customize an online store to create a great shopping experience—from storefront to checkout.
While it's easy to get started with pre-built templates for your website, you'd need a lot of technical knowledge and help to get eCommerce features like payment integration, etc.
On Wix, eCommerce functionalities are available only on the business and eCommerce plans. There are limits on storage capacities and access to certain apps.
Key Features:
Make drag-and-drop type websites easily.
eCommerce capabilities are available with plugins/integrations.
SEO options.
Good data insights and visibility.
Free websites.
Wix, Shopify or Dukaan - Which is better?
Wix is great for making content-heavy websites while Shopify is great for making online stores.
However, both Wix and Shopify do require you to have web hosting, subscription options, and additional functionalities purchased if you need to start an online store.
Dukaan on the other side is free to get started and offers full eCommerce functionalities right off the bat with your own online store.
5. Magento Commerce
Unlike Shopify, Wix, or BigCommerce, Magento is an open-source eCommerce platform that you can install on your computer/server. Yes, you'll need additional storage space, server, domain name, hosting, etc on top of the license.
It's an enterprise-level eCommerce platform that provides control and flexibility to merchants to run their online stores. We're not comfortable recommending it to first-time beginners.
Magento's SEO, marketing tools, and powerful catalog management give merchants an effective selling experience.
It is backed by an extensive support network and is completely scalable.
Key Features:
Open-source eCommerce platform.
Well-equipped with Marketing, Promotions and Conversion Tools.
Effective site management with fully 100% customizable design using templates.
100% search engine friendly with Product and Catalog Browsing.
Convenient Checkout, Payment, and Shipping procedures.
Robust Order Management.
Magento, Shopify or Dukaan - Which is easier to use?
Dukaan is the easiest among all three. Next comes Shopify. Magento scores the least when it comes to ease of use.
6. WooCommerce
WooCommerce is an eCommerce platform that can be built on top of WordPress (a popular blogging platform).
It is popular with internet entrepreneurs and affiliate marketers mostly because of the incredible popularity of the WordPress platform.
It is open-source and completely customizable. It is built by more than 350 contributors worldwide and renders a special experience to sellers for navigating their products, content, and site.
While being a robust, constantly evolving platform, many users complain that it is difficult to scale and gets sluggish and clunky when you grow.
Perhaps it is best for non-scaling, small online shops built on top of blogs that need specific functionalities.
We would recommend it for folks with technical knowledge or WordPress familiarity.
Key Features:
Countless themes.
Unrestricted customization allows sellers to edit any part of their site.
Built-in blogging.
Embed products, checkout, and more on any page.
Categories, tags, and attributes make products easier to find.
Product ratings and reviews.
Customize for seller's location.
Unlimited products.
Common WooCommerce issues
WooCommerce, albeit being popular comes with it's share of technical glitches and errors. Just a simple Google search for "WooCommerce issues" will show you plenty of threads where users report issues.
7. PrestaShop
PrestaShop development is a highly customizable eCommerce option with an open-license solution.
Based mainly on the Smarty Template engine on PHP, Bruno Leveque and Igor Schlumberger founded the software in 2007. It has over 500,000+ community members and over 3 million downloads. It is available in more than 56 languages and used extensively in over 150+ countries.
PrestaShop offers a content management system, a website builder, and a marketing package. However, hosting isn't included.
Support is pretty much non-existent but since it's open-source software, you might find help from the community.
PrestaShop is free but where you'll spending money on is the hosting, domain name, and professional templates. Without any of these, you'll end up with amateur looking website.
Key Features:
Quick Install Features with a powerful set of integrations
Shipping configuration and partnerships, Mobile commerce, SEO, and an Intuitive Interface
Designer Guide with eCommerce Analytics
Powerful Store Builder with more than 50 top-notch payment solution
PrestaShop Web Agencies and customizable themes
Configurable Tax Rules and a force in the international eCommerce space
8. Squarespace
SquareSpace is kinda like Wix.
With its sleek templates and easy-to-customize layout, Squarespace eCommerce is a top-of-the-line solution for online store design. It emphasizes the products, with a bit of a learning curve, and is made with strong features and a huge inventory system. It connects manufacturers, suppliers, and exporters, allowing them to market and promote their services and products through the platform.
Key Features:
Best design options of any eCommerce website builder
High-quality site features
Excellent inventory system and analytical tools
Flexible product variants, unlimited products, inventory management, automatic emailing, and configuring sales tax are some important features
9. Big Cartel
Big Cartel is an eCommerce platform launched in 2005 to promote artists and makers looking for somewhere to sell their wares. It provides users more control and is less complex than an eCommerce powerhouse like Shopify. It isn't for everyone, but it's great for a small business or a side business. It provides an easy and cost-effective way to start selling goods and services online.
Key Features:
Ease of use, Low Price, and Developer-friendly.
Big Cartel has an iOS and Android app that can manage the online store on the go.
All sites come with SSL encryption
Search engine optimization and optimal Order management
Customer support with a Big Cartel blog with useful guides.
10. Shift4Shop
At Shift4Shop, there are several features like inventory control, business management, and customer-focused tools. These features make it easy to interact with customers, create and run online stores, and keep the entire inventory managed. Many features save money for the business by eliminating additional expenses that would result from using a different eCommerce platform.
Key Features:
No Transaction Fees and Free Domain Registration
Secure Shopping Cart, Online Store Content Management System (CMS), and Unlimited Orders
Unlimited Products with Unlimited Bandwidth
Bulk Data Import/Export and Staff User Accounts with Permissions
2-Factor Authentication with Secure Web Hosting
Customer Store Accounts with Guest Checkout
GDPR Compliance Toolkit and Dozens of Mobile-Ready Themes
Best eCommerce platform for Startups
The best one for startups are Dukaan, Shopify, and Magento. Dukaan is extremely simple and easy to use and comes with powerful features startups need. Shopify is versatile and Magento has good features to run a full blown eCommerce portal.
Best free online eCommerce platform
The best free eCommerce platform to get started is Dukaan. You can get your own fully functioning online store in one minute or less.
Best eCommerce platform for clothing store
If you're looking for an eCommerce platform to start a clothing business, Dukaan is your best bet. Shopify is a good option too but you might need some technical knowledge to get started with.
Conclusion
The world of eCommerce platforms is a big vast one.
There are big players from the 2000s to brand new modern apps that can get the thing done at various levels.
From eCommerce mobile phone apps that can take your entire inventory online in a single click to big ol' CMS that can run Amazon-like portals.
If you're clear on what you need on your online store, the choices are easy.
If you need to get an online store quickly, with a full product catalog, payment options, etc, Dukaan is the best bet.
However, if you have a lot of technical chops, need a CMS-powered portal built, then something like Shopify would be a good choice.
If you need a lot of custom API integrations, and custom features built, then BigCommerce might be a good choice.
And of course, keep the future in mind. Technology today is outdated tomorrow. So choose something that will stand with you for a long time and not make you switch or upgrade unnecessarily, just because.
Tell us about your experiences with eCommerce platforms in the comments section below.