Hailing from a pioneering business family and becoming a breakout star in his own right, Anubhav Jain is a man to watch out for. Starting with a dream and a clear vision, he has taken his iconic family business, "Jain Shikanji," and evolved it into something bigger and better.
Let's take a look at how his entrepreneurial spirit gets a big boost from the Dukaan platform and helps him maximize the potential of his business.
Simply put, Anubhav Jain's story exemplifies how success bows down to the mighty. But his path hasn't been one without challenges—from nurturing a business idea to venturing out on his own to putting in the hard work; he has had to overcome a lot.
His journey dates back to 2017, when he had no idea what adventure he was about to embark on.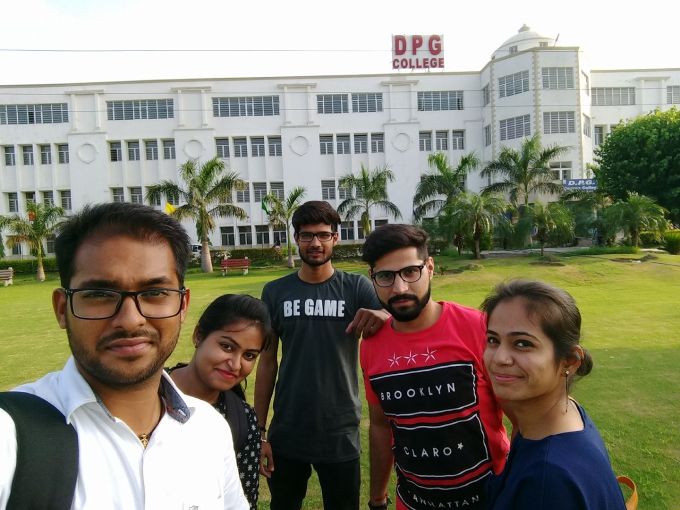 Fresh out of college, Anubhav wanted to join the corporate world but soon found his competency being discredited during interviews due to his business background.
Facing rejection for something that had been a labor of love for his entire family and generations before them proved to be a crushing blow for him.
Where there is a will, there is a way
Anubhav's steely resolve to not let anything drag him down led him to persevere and devote all his attention to his family's business with a desire to build something new on his own.
With the support of his father and brother behind him, he established his own company, "HBMB Food Products" as a separate entity from the main brand.

Thanks to his earnest approach and distinct strategy, Anubhav's business was a success story in the making. He had already struck the gold mine with his idea of Shikanji Premix.
The next one and a half years were dedicated to research and development, which perfected his creation: a drink that is healthy, free of preservatives and artificial flavors, and has a cohesive taste despite the premix.
Early on, Anubhav had recognized the importance of developing diverse products that can withstand the dynamic landscape of the marketplace.
This learning proved handy when the pandemic hit around 2020, and his sales plummeted due to a steep decline in footfall at his physical kiosk.
The pandemic was a rude awakening to the fact businesses need to develop products that people could enjoy from the comfort of their own homes.
Turning Negatives into Positives
Anubhav found himself at the right place at the right time. While the COVID-19 pandemic slowed businesses growth nationwide, it also paved the way for health-focused products and created a market demand for Ayurvedic products made from simple Indian ingredients.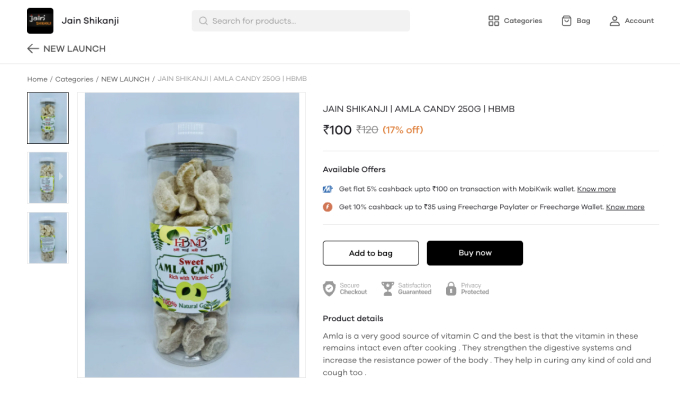 But even with a product that had a pre-existing customer base and a well-established name, not everything was picture-perfect.
He initially struggled with justifying his product's price, establishing authenticity among a sea of competitors, and determining how to shift his sales patterns from seasonal to year-round.
Sometimes all it takes to break free from a rut is a eureka moment.
Taking the plunge by investing in an e-commerce platform was the solution to most of Anubhav's problems, particularly those involving logistics.
Too many fish in the sea
When he listed his products on Amazon, he discovered that the e-commerce platform was densely populated with many competitors offering very similar products, each claiming to be the original.
Faced with the prospect of not standing out in an already crowded platform, in addition to its lack of transparent policies and deducting the commission from sales, he knew that establishing his product's authenticity without any paid advertisements would not be an easy feat.
So, when he discovered Dukaan as an alternative eCommerce platform to diversify his distribution channel in 2020, he swiftly listed his store to provide his customers with a choice.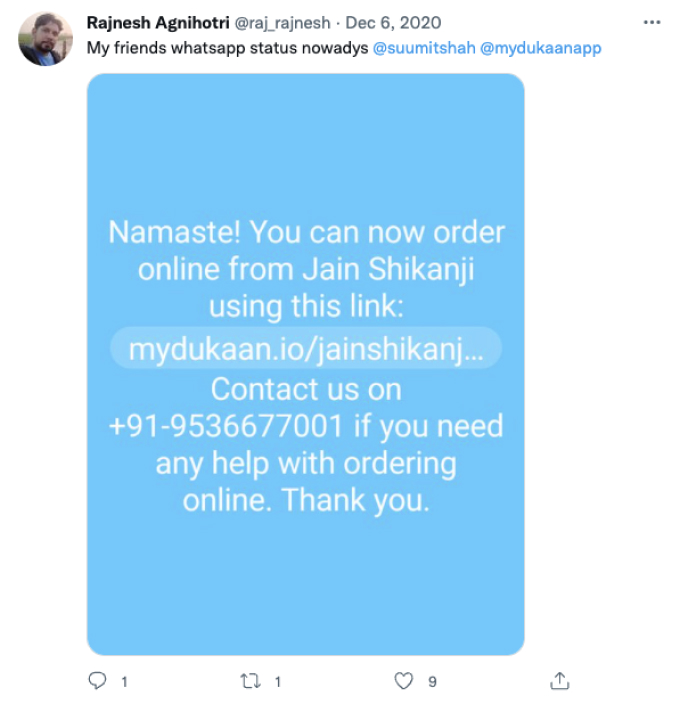 This move would prove to be the start of something new- a partnership he claims he will cherish for life.
Things start to fall in place
When asked to describe if Dukaan has played a role in his brand's current stature, Anubhav is quick to credit Suumit Shah, the founder of Dukaan, with creating a buzz around his brand prior to his appearance on Shark Tank.
A day before the release of his episode, Suumit reached out to him with the assurance that his team had entirely revamped the website to accommodate high internet traffic and ensure a smooth shopping experience for the customers.
The following day was a huge triumph, with everything running steadily without any lags or crashes, which became the pivotal reason for Anubhav to completely switch to Dukaan.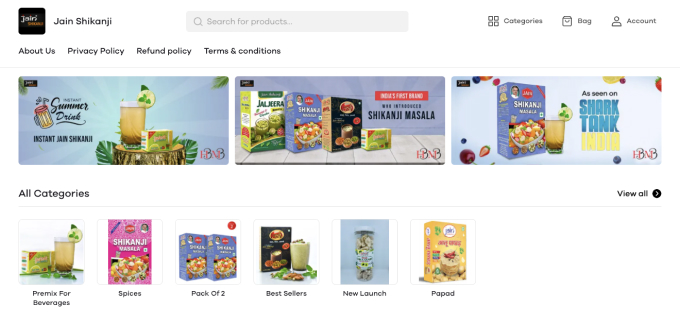 Leveraging a platform created by individuals who are as enthusiastic about your business as you are is a blessing in disguise.
What clicked with Dukaan?
Switching to Dukaan is not a decision you can take soon enough!
Unlike other platforms that have a cumbersome interface, the lengthy and time-consuming listing process and procedures that heavily involve the repetition of clerical tasks, Dukaan was loaded with features and extremely easy to manage, freeing him to ponder about things that hold the most importance.
With the ability of customer tracking, he could gauge where his products were getting shipped to and revise his marketing strategies accordingly.
Smooth sailing ahead
Anubhav considers the days following Shark Tank to be life-affirming for him. The show served as an excellent launchpad, providing the HBMB brand with excellent branding, valuation, and packaging guidance.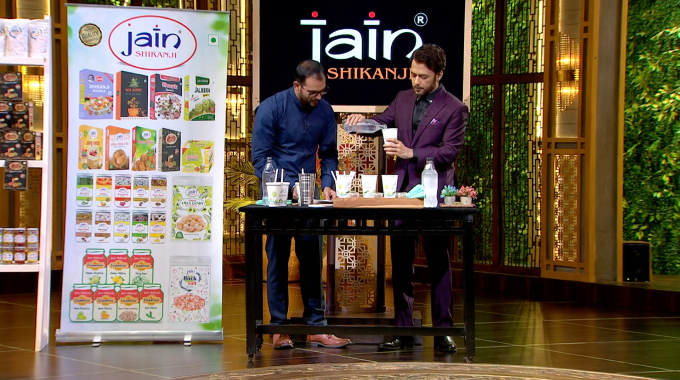 With the new-found fame came new-found sales. The team at Dukaan matched his enthusiasm and then some more!
Marketing on a platform that pays personalized attention to sellers, prioritizes speedy resolution of issues, and regularly introduces new seller-centric features has its fair share of benefits.
Thanks to various plug-ins and integrations, as well as easy-to-navigate user design that makes inventory updation and tracking a child's play, Anubhav finds it difficult to pick a favorite feature.
He merits in-built platform features such as order analytics, good response even with COD, instantaneous credit of money upon product delivery, a hassle-free shopping experience, and the lightning-fast speed at which new products go live has boosted his sales multifold.
He currently sells between Rs 3 and 4 lakh per month and expects this figure to grow in the future due to the platform's ease of navigation and hassle-free shopping experience.
The entire staff of Dukaan has stood with me every step of the way. The assistance I got from Suumit and his team has been immense in the least.
What's next in store for them?
Never the one to shy away from hard work, Anubhav has more than 34 products in the pipeline and plans to integrate his products into the lifestyle of the consumers, with the ambitious target of increasing product variety to include people with dietary restrictions.
Highlighting that his business is based on the belief system of his family values, every endeavor of his will be aimed towards inculcating the consumption of healthy products in the typical Indian household.
With the backing of the entire Dukaan team, and Suumit himself, he also intends to expand his business overseas and gain a stronger market position through paid media ads.
Emboldened with the support of his family, the guidance of the sharks, and his zeal, he knows that the only way ahead is up.
And we at Dukaan are proud to contribute towards making "Jain Shikanji" a staple name across every household in our country.