What good is your created course if it does not see the light of the day? Let our article enlighten you about how to sell courses online.
Online education has given rise to a huge demand for online courses. Consider the statistics below.
eLearning is expected to generate $325 billion in revenue by 2025.
More than $46 billion was made from eLearning and online education in the year 2018.
Global demand for online education has increased dramatically as a result of the pandemic, and many experts believe this trend will continue.
With such figures and relevant skills and knowledge, selling courses online is undoubtedly profitable. Online training programs and courses are in high demand.
It's perfectly normal to ponder the long-term feasibility of making living selling courses online. Ask any successful creator about it, and we guarantee they'll emphasize on the importance of churning out engaging and exhaustive content, and the right people will find you online.
If you are still on the fence about the profitability of creating and selling courses online, here's what Ron Stefanski the founder of One Hour Professor, who is successfully making bank selling courses online, has to say about selling courses online: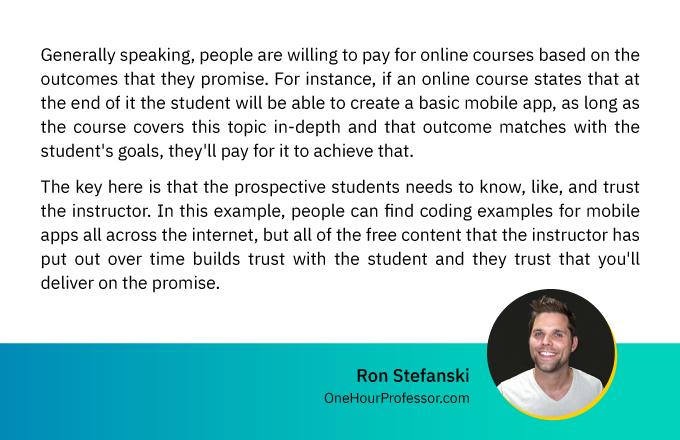 The possibility to sell online courses and generate income while reaching your target audience grows every day. And the range of resources at your fingertips to design and market an online course has increased at a rate that is nearly equal.
As a product that can be marketed indefinitely, online courses are less expensive to design, take less time, and don't require any shipment. Your course only needs to provide an answer or a remedy that helps your learners achieve a particular goal. Here are the most important things you need to know about creating and selling courses online.
How To Sell Courses Online (+3 Easy Ways to Market Them)
1. Pick your online course niche
It is crucial that you find a niche and stay as distinctive as you can to differentiate yourself from the crowd. Your niche is the broad subject matter under which all of the modules you intend to offer fall. Your successful online course will be built around this.
If you currently have a well-known online presence, such as a YouTube channel, you already know what your niche is. However, let's go over how to identify your niche if you're still debating it. Simply put, your niche must be broad enough to allow you to cover a variety of subjects while being particular enough for someone to easily recognize what you do.
Let's take the example of wanting to teach people how to play an instrument:
"I instruct people in music." is too general.
"I teach folks how to play Taylor Swift songs," is rather specific.
"I instruct them in the art of smooth piano playing." is just right.
You must adopt the exact strategy as the last one. Testing is an excellent technique to identify your expertise. Try providing free content via a YouTube channel and monitoring the response to see if your idea has potential for profit.
2. Know your audience and competitors
It's crucial to avoid trying to please everyone while developing a successful online course. Determine who your target audience is and offer them only what they want. It's time to fully get to know your target audience once you've identified them.
Find out what their objectives, motivations, incentives, and pain areas are. Discover their preferred learning style so you can adjust your content and delivery technique accordingly.
You can also think about how to make your course unique after taking a look at the courses being offered by your competitors.
If you're unsure of who your competitors are, a simple Google search of your keywords and phrases will show you what else is available. Use a keyword research tool like Ahrefs for a more thorough outcome.
3. Choose the format of your online course
In the world of digital products, there is no perfect format, so you must choose the one that best communicates your course's content to your audience. The primary categories of course formats are as follows:
Ebook
Ebooks are a widely popular format for online courses due to their simplicity in creation and availability. The ebook is easily adapted to any device, and once it has been saved to the device, it is not necessary to be online in order to access it.
Video tutorials
Even if you have no prior expertise using video editing software, this structure for online courses is incredibly practical and simple to create. This approach works well, particularly for topics that require some sort of demonstration, like cooking lessons.
Screencasts
They are screen-captured videos that are taken directly from computers. A screen capture application and a microphone to record voice instructions are all you need while demonstrating anything on your computer. They are perfect for concepts that call for a computer simulation.
Audiobooks
The ability to listen to books while performing other tasks, such as traveling, cooking, or working out, has made audiobooks increasingly popular. Audiobooks are also very significant and useful for those who can not see.
Podcasts
Similar in format to audiobooks, podcasts offer the same benefits as audiobooks do. The main distinction is that a podcast can feature content that is more engaging and even more casual.
In a podcast, the audience selects the subjects they are most interested in and can access the material whenever it is suitable for them.
To choose the right format for your work, you need to have a thorough understanding of the market and audience. I hope the aforementioned examples have given you some insight into how to create your online course.
4. Create your online course
It's time to start developing your online course after deciding on a specific subject. You should maintain rather high production levels.
Keep in mind that individuals will pay well for your course, so it ought to be of a higher caliber than what you'd get on a typical YouTube vlog. You'll need the following to get started:
A high Definition camera
Proper lighting: Lighting rings are an affordable and efficient solution to ensure you are shooting videos in proper lighting.
Video editing software: With editing software, you can easily add graphics, royalty-free music, backdrop photos, and more to create videos that appear professional.
Green screen: With the help of the green screen, you can use any image as the background. It makes adding graphics and photos simpler.
Mount the green screen behind you. After that, mount the camera on a tripod directly in front of you and position the lights behind it. Once your mini-studio is set up, it's time to start recording.
5. Price your online course
There's a good reason why setting the price for your online courses is so crucial. If you price it too high, customers can decide not to purchase it from you. If you set the price too low, you won't turn a profit. You must take into account a few things in order to do this correctly:
Course Length: Consider the amount of time and work you spent creating your course and how long it is.
Competition: Are your clients comparing you to other programs that offer the same courses as you do? Should you set your price low to attract more customers or high and provide more value?
Credibility, and authority: How strong and credible is your brand in the eyes of your target audience? Consider how others perceive your business and how much they regard you as an authority on the issue and a source of trust.
Monetary objectives: Calculating total profits is aided by having a set income target. What are you hoping to gain from this? Be reasonable in your expectations, but don't underestimate your worth.
Typically, you can choose between a "one-time" and a "recurring" pricing strategy.
"One time" enables students to sign up for your course with a single payment.
For online educators, the "recurring" option is the most lucrative because students pay for it on a constant schedule (e.g., monthly or yearly).
Here's what Nick Malekos (Senior Digital Marketer of LearnWorlds) has to say about how to price online course:
6. Decide where to sell the courses
You now understand how to create an online course. The next question is, "Where can you sell the courses online?" Once again, you have multiple options.
Sell your courses to businesses
Selling to businesses is one of the major opportunities now available to course developers. It can take a while to build up enough customers to make your course business successful and long-lasting if you sell courses one at a time to individuals.
On the other hand, selling business-to-business (B2B) typically entails selling a number of seats in a single agreement, sometimes hundreds or thousands.
A B2B online course sale can be completed in a matter of minutes. Selling for the same amount and quantity could take individual websites weeks, months, or even years to complete.
Online marketplaces
Utilizing a learning marketplace like Udemy is another option. Online course platforms allow you to add your branding elements to the course and host them online.
It is, however, extremely important to remember that such marketplaces frequently have rigid policies and could demand as high as 50% of your earnings.
Online platforms
An online platform is a hosting service created especially to assist course creators in expanding their business. Online platforms undoubtedly aid in content organization, but they also make marketing and selling online courses much simpler.
Dukaan provide simple alternatives for selling your courses online. The platform involves no technical knowledge or coding; it has already been taken care of.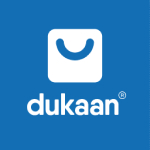 Launch, scale and manage your online business with just $14.99 on Dukaan. Annual plans start at $149.99 only.
Additionally, Dukaan offers a number of plugins for expanded functionality, as well as a number of free business tools to help you run your business more effectively.
7. Market your online courses
To ensure a consistent flow of customers, you should begin marketing your courses as soon as possible. Here are some of the strategies that you can use:
SEO
Having your website and course materials indexed in a search engine is essential for long-term expansion and success. A search engine like Google can be an excellent source to attract new customers, direct them to your landing pages, and create money over the long term.
Have a basic understanding of SEO and take action to produce landing pages and content that will appear when potential customers are looking for educational courses.
Social Media
Think of social media as a tool to share helpful information about subjects relating to your course and respond to frequent queries that your target audience is most likely to have, rather than using it to actively market your course.
Be kind when sharing what you know. It's among the best approaches to prove your know-how, build relationships of trust, and increase your authority.
Paid Ads
Paid advertising on sites like LinkedIn or Facebook is another option to spread the word about your course. Because of their extremely precise and detailed targeting, they can provide you with a tremendous return on investment.
The expenses are reasonable in comparison to other types of advertising, and you may do multiple little experiments to determine which kinds of ads will be most effective for you.
Conclusion
You should now have a clear understanding of what it takes to develop and market online courses and establish an online business.
Building a successful online course business requires more than just producing a product, putting up a sales page, and hoping that clients will just appear on their doorstep, as is applicable to any other kind of business.
You must invest the time and energy necessary to grow your audience and establish yourself as an authority and an instructor. Of course, you also need to give your consumers a fantastic learning experience.
FAQs
1. Is it profitable to sell online courses?
Yes, it is extremely profitable to sell courses online. It is popular among digital entrepreneurs as it is a low-investment business venture with no associated maintenance costs. With eCommerce platforms like
Dukaan
, you can sell courses online through your own store.
2. How do I become an online course creator?
Creating a value-rich course and having your own store to sell it is the first step toward becoming an online course creator. The next step is to build a loyal community around your content and build your brand.
Dukaan
makes it easy for you to launch your business and scale it to a brand.
3. Where is the best place to sell my course?
The best place to sell your online course is through your online store, which you can create using
Dukaan
. Once you've established your brand and built a community around your online course, you can sell it on online learning platforms such as Skillshare and Udemy.
4. Can I make money selling a course?
Yes, digital entrepreneurs and content creators make a great living by selling courses online. If you can create unique and engaging content and market it to your target audience, there are high chances your course will sell. It's best to sell your online course through your custom online store.
5. Can I sell my course on multiple platforms?
Selling your course over multiple platforms is a great strategy to increase its visibility to your target audience. However, we advise that your own store should be the primary place where you market your course to build brand awareness. Moreover, you must avoid competing with other courses on marketplaces such as Udemy and Skillshare.