So you want to sell online. You're probably overwhelmed — the internet has too much information on how to sell online. Good thing you found this. This is the most practical, easy-to-follow yet comprehensive guide there is. Read on.
There are millions of online sellers worldwide, but it's not too late to become one too.
You don't have to be a digital creative, a techie, or a true-blood entrepreneur to make it big online.
All it takes is a burning desire for the dream — and a clear-cut guide that will show you the way to do this (this is it).
Retail e-commerce sales worldwide are expected to grow by 50%, reaching 7.4 trillion dollars in 2025. So yeah, your future is looking bright!
Whether you're just starting out or you've been selling online for a while, these 8 simple steps will help you cash in on the eComm industry.
We'll show you:
How To Sell Online in 8 Simple Steps
So it's clearer for you, let's go through a step-by-step thought process that will help you to sell online.
And by selling online, we don't mean opening up an online store and telling your family and friends you're already an entrepreneur.
We want you to get money in your bank right after you open up your first online store. Ready?
Let's go.
1. Choose a product idea
Your business needs a product. And when it comes to selling, it's all about making putting the right offer (what you sell) in front of the right audience.
In short, the right offer can make all the difference in your success. So spend time on this. Most people don't take this part seriously and that's why they fail.
Your product idea can be classified into physical products, services, and info products.
| Ideas for Products | Ideas for Services | Other Ideas |
| --- | --- | --- |
| Plants and gardening supplies (popular lately) | Consultation | Info products like courses |
| Any food items | Facebook ads services | Instagram filters and presets |
| Weird items like bacon bandages | Dog walking | Drum kits, audio files |
And when it comes to physical products, you can either go for:
Own products – these are products you create yourself
Dropshipped products – these are products sold by a third-party supplier (you won't have to keep an inventory yourself)
Each type of product has its own pros and cons:
Type of product
Pros
Cons
Physical
- Displayed easily to customers
- Simple to be sold online
- Requires time for shipping and inventory
- Hard to scale, needs space
Service
- Flexibility
- Low cost to start
- Home-based work is possible
- Coping with steep learning curves
- Hard to scale
Info
- No inventory to maintain
- Infinites sales
- Developing products takes time and expertise
- Competitive environment
Your first step should be finding out what you're good at, what you want to sell, and what path you want to take.
Let's say you're a skincare enthusiast who wants to sell your own handmade soaps.
2. Study the market
The next thing that you should do is go out there and study the handmade soap market.
A simple "handmade soap" query gives you clues on the top online stores selling this. Pick the ones with the most customer reviews.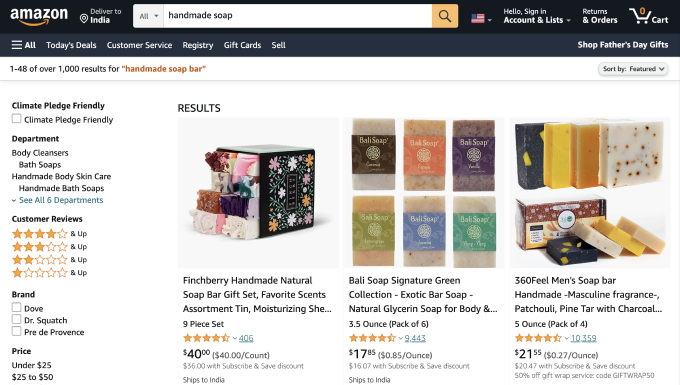 You can also go to your socials to see if there are local soap stores that are getting attention.
A favorite IG hack is to use the hashtag combination: "#" + product "soap" + place "India". When you key in #soapsindia for example, you get 7,000+ results — a great way to start your research.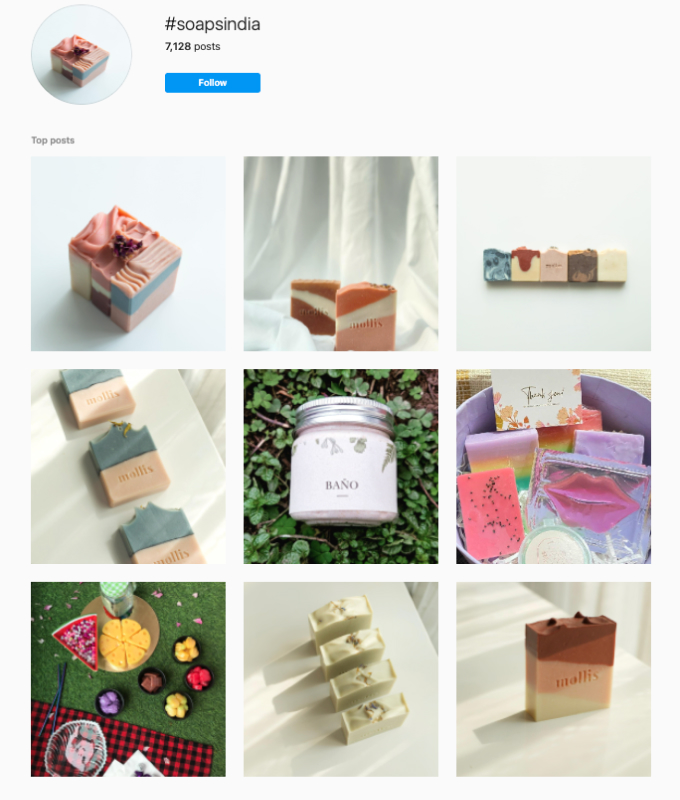 Branding (What's their positioning? What are their soaps known for?)
Target market (Who are they selling to? Is it GenZ? Breastfeeding moms?)
Where do they sell? (Do they have a website? Do they sell on IG and/or FB?)
Market share (Is there enough demand for this product? You can use eComm analytics tools like Split Dragon for this)
Pricing (What's their price range for their products? Do they offer bundles or promos once in a while?)
Ultimately, your goal in doing the competitor analysis is to identify the weak point in the market.
Use the following sites to confirm demand for your product idea. These include:
3. Make your offer stand out
Your offer should be different from the rest of the offers existing in the market — this is how you can stand out.
Going niche is what will make your target market notice you. A niche is a "special area of demand for a product or service". It's your USP.
USP stands for unique selling proposition. In short, it answers what makes you different and what makes you the best option for your target market.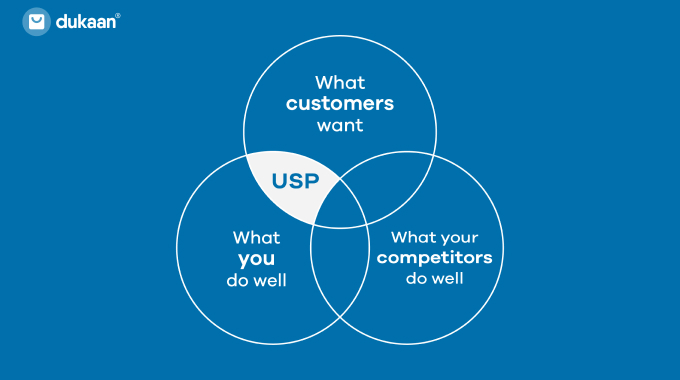 It is a rewarding (yet challenging) process.
Normally, business owners want to go BIG right away. They want to do a lot instead of thinking small and niche.
When it comes to gaps in the market, it's always better to think small. The more specific your product is, the more likely you'll be able to target your market effectively.
For example, you're a skincare enthusiast so you plan to sell your own handmade soap. But how there are tons of handmade items sold online.
How can you make yours different?
You've done the first step of studying the market landscape. The next thing to do is to talk to your potential customers and find out what they like, what they don't like, and what else are they looking for.
Say you found out that GenZs are huge environmental supporters. You can add a touch of sustainability to your handmade soap so you can sell them to GenZs then.
And there you have it, your USP: sustainable handmade facial soaps for GenZ women.
It's a niche. Your target is clear. You're filling a gap in the market.
4. Build your brand
Now that you have a product, a target market, and a USP, it's time for the fun part: building your eCommerce brand!
Start with…
Your vision
Brands that stand the test of time are those built with a clear vision. When you have an idea about what success will look like, it's easier to stay focused.
Consider what your brand intends to accomplish. The brand vision you set for your company is what you aim to create.
Example: Sustainable skincare that benefits both young women and the planet.
Your values
Your brand's identity could very well come down to core values. Not necessarily your personal values, but more on the brands.
The key to strengthening your brand value is being able to represent your brand personality in everything that you do and say, whether it be through the tone of voice or content creation methods like social media posts.
To find your brand values, answer these questions.
Which brands do you like best? It means that you share the same values.
How do you want future customers to describe you? From there, pick your strengths.
What are the three most important things to you? Highlight your priorities.
Your brand voice
When you know what your brand's voice sounds like, clients can tell that they are dealing with someone who truly gets them.
The voice of a company is important in establishing an instant connection and conveying the right impression to customers. The more distinctive it is, the better – after all, nobody wants just another faceless corporate behemoth.
So how do you find your tone? It all boils down to your vision and values.
It could be humorous, encouraging, formal, smart, and more. It could be even a little mischievous if you want.
Your visuals
A brand visual is a picture or animation that represents the personality of your business. Brand visuals can be anything from logos, to images on social media pages and even infographics.
A brand logo can be the first thing that people notice about your business, so it's important to choose one wisely. The way in which you design and execute this will largely depend on what kind of image or tone you're going for with your company.
You don't need to be a graphic designer yourself. You can find talented people on freelancing platforms, like Fiverr, who will create an original logo for you starting at $5 in a matter of days – or even hours.
Your business model
Now, it might be daunting to decide on your business structure right away. It's helpful to learn about the 3 basic online business models. You can just pattern it from there.
1. B2C: Business-to-Consumer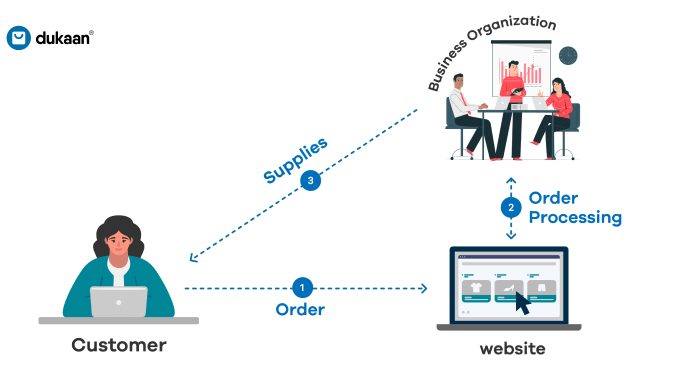 These companies sell goods or services to the general public. They sell online through their website or any other online platform.
Example: Amazon, eBay, or any online store.
2. C2B: Consumer to Business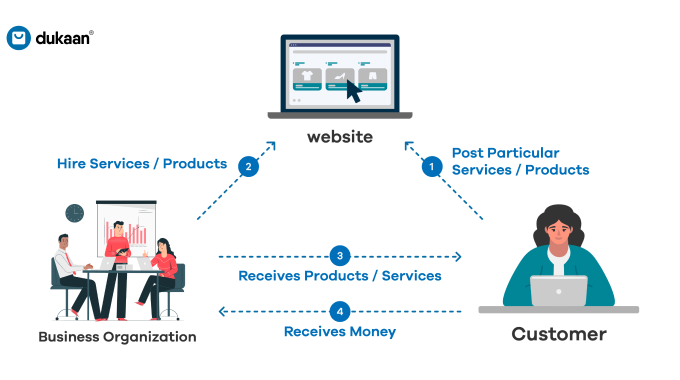 In this model, the consumer creates value. The businesses then consume that value. A consumer can either sell their services or goods via websites or platforms.
Example: Freelancers for hire, Independent consultants.
3. C2C: Consumer-to-Consumer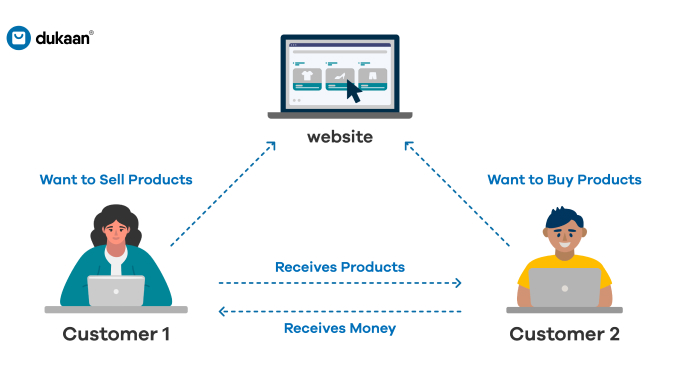 This happens when a consumer sells an item to a fellow consumer. You can think of it as direct selling. For example, you post your used clothing on your social media to sell it. Another person might be interested in buying it.
Example: Facebook marketplace.
More often than not, most businesses are B2C by default. You choose to sell to individuals, that's why.
5. Figure outsourcing, logistics, payments, shipping, etc.
Now comes the unsexy part of the business. Ugh, these are the boring stuff that you need to deal with:
Finding the best suppliers in your area
We've all heard the old adage "buy local."
Now, it's more important than ever to find a supplier near you. That way your products won't have long transport times and can be delivered faster.
If it's not possible, then the internet saves the day.
With the help of the internet, finding reliable and trustworthy suppliers has never been easier. There are many sites out there that offer this service to buyers all over the world if you're looking for something specific or just want some general idea of where your best options are
Even traditional businesses are expanding online and if you're in luck, you'll find a trustworthy supply partner that has years of experience in the market.
Optimizing and timing your supply deliveries
The most important thing to do when setting up an online store is to optimize and time your supply deliveries.
If you want a seamless experience for customers, then there's nothing more crucial than making sure that everything goes according to plan in terms of getting products delivered promptly without any hiccups or delays.
Inventory management is the foundation of optimization, so it should be at or near to the top of your list when you're aiming for efficiency.
Choosing payment options
The variety of payment options available to retailers and customers has increased dramatically in recent years. This is due largely because online shopping has become more popular than ever before.
Internet Retailer shows popular payment options accepted by eCommerce sites.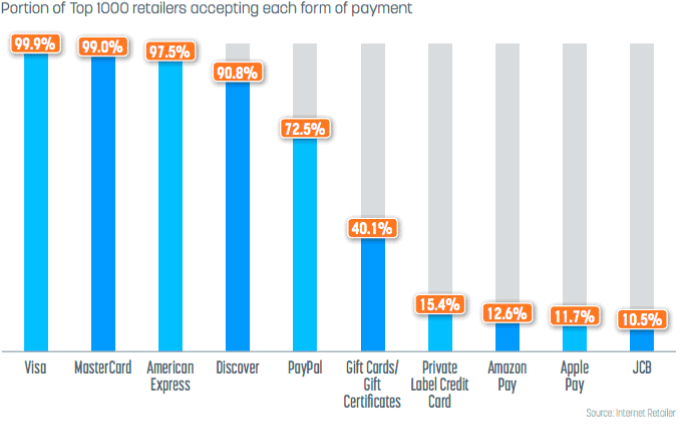 To make a successful eCommerce website, you need to accept various methods of payment from customers for ease and convenience. Accepting credit card payments is the most popular way that people purchase items online today but there are other options available such as PayPal, Apple Pay, or even gift certificates.
Maintaining the equipment you use
Online trading is all about keeping up appearances.
If your equipment isn't working properly, it can give the impression that you're not as committed to your craft– which might lead potential buyers away.
Make sure your equipment is taken care of in order for you to continue trading without pause or interruption.
Figuring out the delivery process
Start by writing down how you would like to fulfill orders.
It is possible to dropship. Dropshipping is a great way to get things done without having to worry about shipping.
You may also choose to self-fulfill or partially self-fulfill by storing the products in a warehouse and shipping them directly to the customer.
Also, a third-party fulfillment company can ship all your products on your behalf.
Exploring how to best store your products
There are many ways to handle this process, depending on the unique needs of your company and what works best in terms of fulfilling those obligations quickly while also keeping costs low.
And as mentioned above, there are many types of storage and shipping processes. This could be an external warehouse or retail location that stores the inventory for you.
A dropshipping company takes care of all aspects involved with delivering goods from manufacturer to customer (often including packing up the products if needed), then sends order confirmation once shipped out.
Finally, third-party fulfillment organizations can also handle package storage for you.
Looking for couriers to work with
When it comes to shipping your items, keep in mind the importance of finding a courier company that is dependable.
Here are 7 factors that you should look into when picking the right courier for your business:
Reputation status
Scope of Coverage
Charges for shipping
Timeliness of delivery
Package tracking
Negotiating the best contracts with partner vendors
When you're looking to buy or sell a home, it pays to do research.
Remember, negotiation is an opportunity for both parties to win. Flip through hundreds of bids and negotiate terms before finalizing your deal with the perfect party for your business.
6. Build your eCommerce website/online store.
At this point, you want to start setting up your store!
But where do you want to set up first?
You can set up a store with Dukaan, magento, or woocommerce, or any other CMS. And then all that you need is top-notch magento hosting services or hosting for other CMS.
If you want it easy, choose Dukaan.
Even your non-techie grandma can do it.
Dukaan – The easiest platform to start selling online
Dukaan is the simplest platform to get started with and scale your online business. It provides everything you need to run a successful online store, from custom domains, to plug-in integration, and more.
Getting started with Dukaan is easy. Simply create an account and select the plan that best suits your business needs. Then, add your products, fulfill orders, and start selling online all in less than 30 seconds.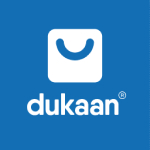 Launch, scale and manage your online business with just $14.99 on Dukaan. Annual plans start at $149.99 only.
For beginners, who are struggling to learn how to sell online, Dukaan has step-by-step guides and video tutorials to help you get started with selling online here on the YouTube channel.
Here are some additional actionable tips to include when building your eCommerce site:
Mind your homepage – You can't create an online store without thinking about the homepage. It's where you'll showcase your best stuff and make it easy for customers to buy from.
Include CTAs – It is important that readers know what they have to know and need to do from the headline. Give it urgency while clearly defining how this will benefit them and their customers.
Be sure to include components such as:
Scrolling images
Adding items to the cart
Subscription forms
Buttons and thumbnails for products
Seamless checkout – For your business to be successful, you need a great checkout experience. This means investing in customer conversion and reduction rates so that people don't bounce when they're checking out.
7. Launch your business
Now it's time to launch your MVP so you can start selling.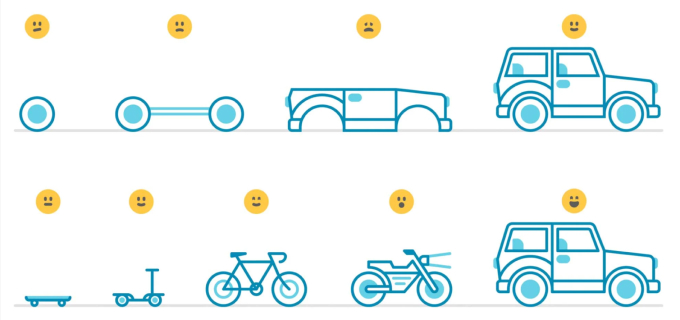 You might be tempted to just launch using a Facebook page or invest in a custom website right away.
But going with an online platform like Dukaan is an affordable and faster way to go to market.
Getting your own website or online store is the most expensive route, but you'll get total freedom in return — from how your store looks, which payment gateways you want to use, and the entire customer journey.
Consider the costs below.
(We won't cover the cost of production, inventory, logistics, and packaging because that would make everything complicated.)
| | Online platforms | Marketplace | Custom Website | Social Media |
| --- | --- | --- | --- | --- |
| Domain Name | $0.99-$20/year | No need | $0.99-$20/year | No need |
| Hosting/Platform fees | $10-$50 a month (there's a free version) | No need | $3.50-$250/month | No need |
| Payment processing | 2-15% of revenue | 2-45% of revenue | 1%-3% (3rd party payment fees) | 1%-3% (3rd party payment fees) |
| Website theme | Has built-in themes | Has built-in themes | $50-$200 | No need |
| Website designer | No need | No need | $300-$5000 | No need |
| Starting capital required | $100 | $0 | $1000 | $0 |
Note that the starting capital here only covers the platform. Don't forget to add your product costs and other expenses to produce and fulfill the orders.
The key takeaway here is this.
If you are planning to launch an eCommerce site fast, go with a marketing platform. You'll worry less about implementation and focus on the actual launch.
You might want to include these launching and promotion ideas to boost your sales. You can:
Give away free trials
Ship free of charge
Offer limited-time promotions
Launch flash sales
Organize contests and giveaways
3 eCommerce launch examples
In order to maximize your return on investment, you need to create a targeted audience for the specific product that you are launching. Take it from Harry's online store, for example.
New York-based Harry's is a mail-order manufacturer and seller of shaving equipment.
As a means of launching their grooming brand, they decided that referral marketing would be the most powerful method.
It took just one week for the company to gather 100,000 emails.
Fairway & Greene has been able to take advantage of the 2022 U.S Open Golf National Championship by releasing a line of products in collaboration with this major tournament– an excellent idea for launching products.
They also have a user-friendly website. As well, they offer a quick view option, making browsing easier instead of scrolling through long lists.. Additionally, there is social proof by having labels telling you how many other customers bought this particular product.
In a world where women's sports are still seen as secondary to men's, Under Armour's viral campaign broke through barriers and changed that perception.
The overall launch theme was about overcoming critics and achieving goals. This message resonated deeply within their target audience of female athletes which resulted in 28% sales increases for UA products among females online after its release plus a 42% increase in website traffic.
As a result, the core idea of your product launch campaign will be based on the story you tell about it. This means that every piece, from ads to social media posts and everything in between should support this one theme – just like how all parts work together as part of an entire machine.
8. Generate sales over and over again
Now that you're all set, let's talk about proven ways to market and promote your products online.
But first, it's essential to know how consumers are buying nowadays. They think differently now. They've gotten a lot smarter.
In the new age of retail, you'd expect your buyers to…
Go for more authentic content
56% of today's consumers are influenced by posts shared by friends and family rather than branded content and ads. User-generated content like this one from @yourfavtelugu can make people buy more.
So if you want to sell online, gather your well-wishers and crowd, who can vouch for your products, first.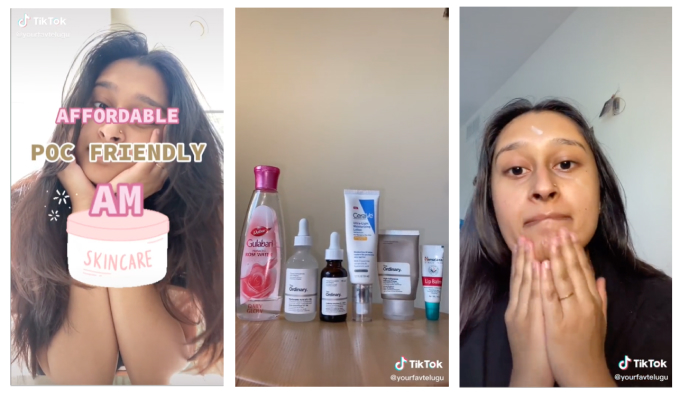 Ask you about your payment options
Buyers are seeking convenience when buying online. These numbers are proof:
79% are more likely to buy from retailers with flexible payments
3 in 10 say they have got the buy-now, pay-later option when shopping online
70% make impulse buys because of flexible payment options
Be super keen about customer service
Focus on giving them the ultimate experience. Or else, you'd hear their frustrations on social media, especially on Twitter.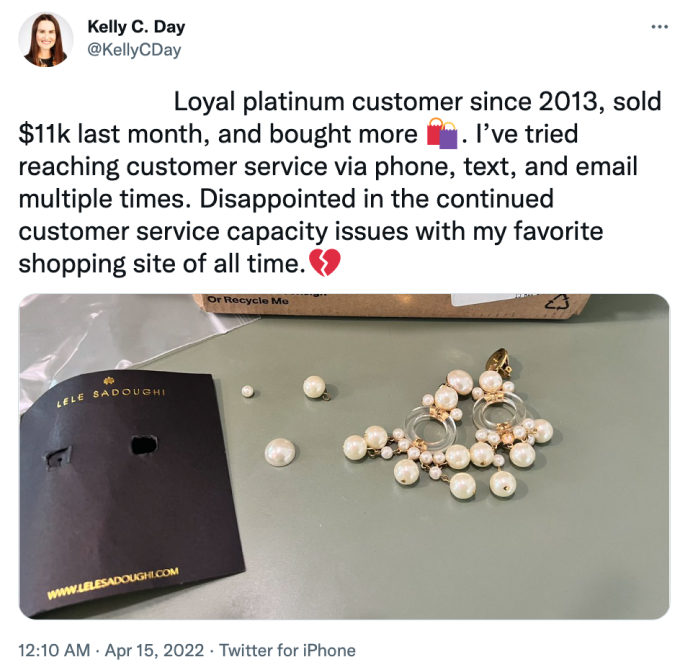 Meanwhile, ace customer support by learning the ins and outs of selling online here.
Get tickled by personalization
These birthday emails? Consumers love them!
70% of consumers say they like it a lot when brands offer a personalized experience.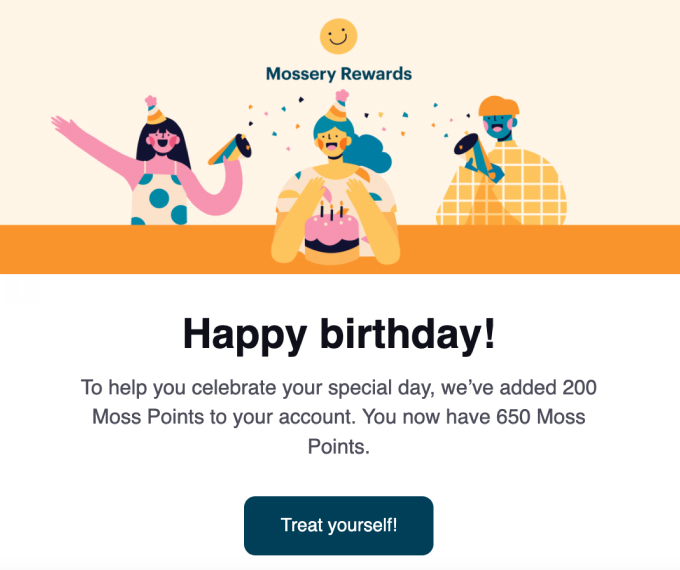 Prefer sustainable brands
Buyers are becoming environmentally aware that they scrutinize your company, from your products to your packaging.
1 in 3 consumers is making conscious efforts to buy sustainable products online even if it'll cost them more. And they ask fellow earth pros for recommendations online.

And because of this changing landscape, there's also been a noted shift in online businesses.
Now that you know how consumers think, here are common marketing strategies you can try:
Paid ads
Use data to strategically drive traffic to your online stores. Using paid ads without looking at your data is like wasting your ad budget — you won't be able to tell if you had sales from the traffic you generated.
So how can you scale?
Data is the secret.
To do this, you can apply for Collaborative Performance Advertising Solution (CPAS) from your Shopee or Lazada Relationship Manager. Once you complete the requirements, they'll give you access to a dedicated ad account with your store catalog on it. You'll also see the results of your campaigns like this.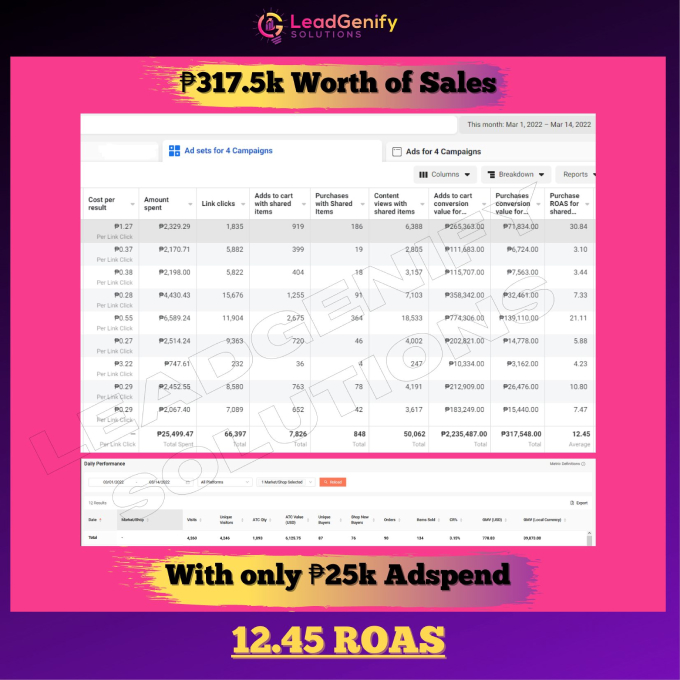 Genalyn Alvarez, a Facebook ads expert who helps eCom businesses scale, was able to get 12.45 ROI from FB ads because of this.
Email marketing
Email marketing is perfect for getting the first sale, getting repeat orders, and keeping existing customers.
According to Airon Dela Cruz who runs email marketing services for eCommerce business owners, 30 to 40% of his clients' revenue comes from emails.
Most biz rely too much on client acquisition for revenue. And while that's a good place to start, it's not where it should end. A big opportunity lies in retention. That's where emails can help make a customer buy more and often.
You can even get away with having automated emails only — one for welcoming new subscribers, another for thanking first-time buyers, and one for reminding those who have abandoned carts.Airon Dela Cruz
Influencer marketing
We all know that influencer marketing can help you get more sales, but how exactly can you reach out to influencers?
One effective way is through cold emails.
This is the go-to strategy of Sarah Natividad, an influencer marketing specialist. She gets 80-90% open rates on her cold emails and ends up giving her clients qualified influencers who are ready to market their products.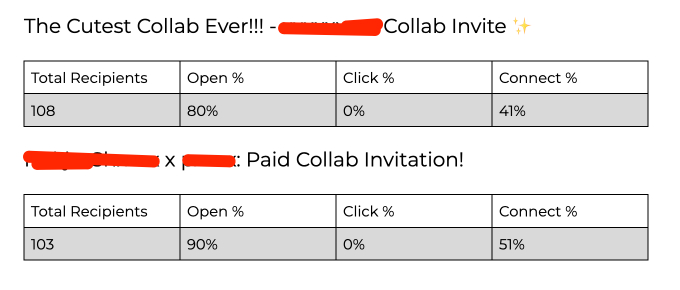 Here's a tip: Write subject lines that pique interest.
Some ideas on how to do that:
Inject humor into the subject line
Highlight their pain points
Add a FOMO effect (deadlines work)
Chase your dreams. Start selling online.
What is the Best Way to Sell Online?
Figuring out how to sell is just half the battle; knowing where to sell is equally important.
Ready to learn about the best way to sell online? We're going to discuss in-depth the different places to sell products online. You can either choose a specific way or combine different methods to boost your business' visibility.
Let's jump onto the best ways to sell online.
1. eCommerce platforms
This one is for serious entrepreneurs who want to scale their business into a brand and are proactive about overseeing every aspect of it.
The greatest benefit of selling using your own store is that you get to decide and control both your store's working and aesthetics, along with advanced eCommerce functionalities needed to manage and monitor its growth. You can automate the manual, repetitive selling processes, so you can focus solely on growing your business.
There is no doubt that no method of selling gives you more control and freedom than a dedicated eCommerce platform does: you get to set your own store policies, don't need to compete with other sellers on a crowded marketplace and are immune to platform algorithm changes.
There are plenty of eCommerce platforms, like Dukaan, WooCommerce, BigCartel etc., that you can choose to start your online store. Dukaan enables you to start your online store in a minute, that too, without any coding knowledge. It is beginner-friendly and has no learning curve attached to it.
2. Website builders
This is a good choice for digital artists and creators, for whom the store's aesthetics matters the most. A website builder might not provide as much in-depth functionality as an eCommerce platform, but you won't be disappointed when it comes to customizing your site.
Even people who need to create single-page landing pages use website builders to create their webstores.
To get the same functionality out of a website builder, you will have to integrate an eCommerce plugin. There are also many eCommerce platforms that let you create an eCommerce website available in the market. This will allow you to get access to the basic eCommerce features needed to run and manage a business.
Using an eCommerce website builder to create a website is a good idea when you only have a few products to sell or are testing them in the market.
3. Marketplaces
Selling on marketplaces like Etsy, Amazon, eBay etc., is a popular way of selling online, especially if you are looking to start with minimal startup costs.
Marketplaces are preferred by people because of their low barrier to entry. They allow the sellers to market their products on an already set-up platform with an established audience base in a straightforward manner.
competing for the same target audience, often indulging in price undercutting. Then there's the issue of standing out from the crowd.
Some marketplaces also charge transaction fees on every sale you make. Explore and compare all the marketplaces available online before settling on one.
If you are serious about scaling your business into a brand, then selling on marketplaces is not for you. They do not provide adequate resources to track your business analytics, manage customer relationships or establish brand identity.
Only relying on marketplaces to scale your business does not work in the long run. It is best to sell using your own store, while also having a presence on marketplaces to enhance the visibility of your business.
4. Social media sites
Selling online using social media sites like Facebook, Instagram etc., is also gaining popularity since it allows you to establish a personal relationship with your customers.
The idea behind selling via social media sites is that you build a social media presence for your business and showcase your products or services on a platform that they are comfortable using. You also get to run ads for your business on these social media sites, giving you access to new customers.
Even with selling on social media sites, you'll have to set up a separate system to accept orders, ship and fulfill them and process payments.
This largely depends on your choice of platform. If you opt for Facebook, for instance, Facebook Shopping has everything set up. However, you will need an online store or a website to enable Instagram shopping. Our guide about how to sell on Instagram expands more on the same.
The best way to sell online using social media is to link your online store to your profiles and diverge the traffic there.
Chase Your Dreams. Sell Products Online.
It may seem that the online world is overcrowded, but here's the thing. In the online world, saturation is virtually nonexistent. It doesn't matter if you're selling an ordinary product or if you have a weird business idea.
As long as buyers can find you and have ways to pay you, then you have a business.
If you ask our opinion, we'd suggest that the best way to sell online is by using your own eCommerce platform. You can then link your store to your social media pages to direct traffic to it and effectively manage your sales.
In simple words: Market your business in several places, but manage it only through one.
Anything can happen with all these new opportunities out there waiting patiently for you to get moving.
If you want to change your life like the online entrepreneurs we've featured here, then start that store today.
Selling online is easy today. All you need is a good business idea, a good product, and clarity on whom you are selling it to.