As a business owner, launching your online store is a significant milestone. Choosing a suitable platform can be a tough decision. If you are divided between Shopify and Weebly, our Shopify vs Weebly comparison will provide all the clarity you need to make an informed decision.
In this blog, we will compare Shopify and Weebly , two popular platforms, based on their usability, pricing, design, ease of use, eCommerce features, and more. This will help you understand how these platforms work and whether they can be a suitable choice for your business needs.
So, let's begin, shall we?
What is Weebly?
Weebly is a web hosting service company that offers website building and lets you create attractive blogs and online stores. It is one of the most popular website builders, with over 50 million websites created using the platform.
Weebly's drag-and-drop editor makes it easy to create a website without coding knowledge. In addition, Weebly provides eCommerce features that allow you to sell products and services online.
Overall, Weebly is an easy-to-use platform that gives you everything you need to create a website or online store.
What is Shopify?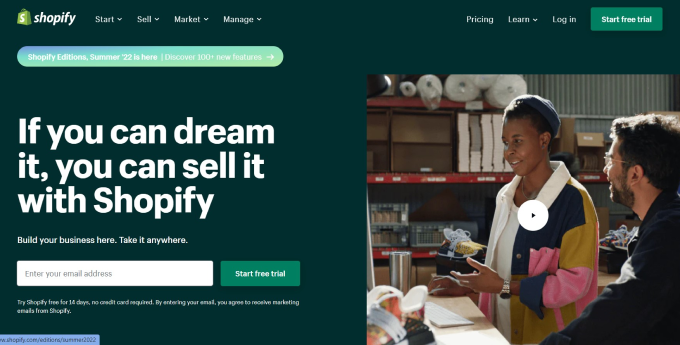 Shopify is a popular eCommerce enablement platform that helps businesses create and operate online stores. It provides users with tools and resources for designing, managing, and promoting their stores and processing payments and shipping orders.
Shopify is suitable for everyone, from small businesses to large multinational brands. It offers a wide range of features and functionality, making it ideal for businesses of all types and sizes.
Shopify Vs Weebly: An Overview
Let's take a quick look at the major differences that set these two platforms apart.
| Weebly | Shopify |
| --- | --- |
| It is a website builder with eCommerce features. | It is an eCommerce enablement platform. |
| Offers a free Basic plan to launch your website. | Has three paid plans with a 14-day free trial. |
| Comes with around 50 themes for your website. | Comes with 74 themes, most of which come with several design options. |
| Phone and live chat support on Weebly is available during business hours. | Phone and live chat support is available 24/7. |
Shopify Vs Weebly: Key Differences
Here are a few key differences between Shopify and Weebly, which we will discuss in depth.
Ease of Use
Design
Ecommerce Features
Marketing Features
Pricing
Customer Support
1. Ease of Use
Weebly
Weebly is famous for its easy-to-use platform, and its drag-and-drop interface makes it simple to build a professional site with no prior experience.
Users can choose from various pre-designed themes or create custom designs to give their website a professional look with minimal effort. Add images, text, and more to your web page and rearrange them as desired.
Shopify
If you're looking for an eCommerce enablement platform that is easy to use, Shopify is a great option. With Shopify, you can create an online store in minutes without any prior experience or technical knowledge. All you need is an account on Shopify and a domain name, and you're ready to start selling.
Shopify is also highly customizable, so you can create a unique store that truly reflects your brand. And if you ever need help, Shopify's support team is always available to answer your questions.
Our Verdict for Ease of Use:

It's a tie
2. Design
Weebly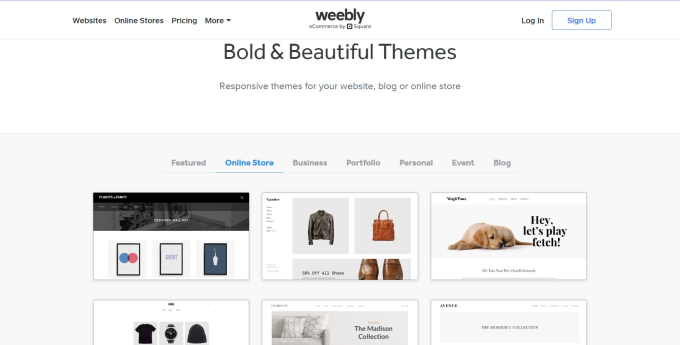 One of the most valuable features of Weebly is its design tools. With these tools, users can easily create stunning websites that are both professional and visually appealing. Weebly offers its users a wide range of features and templates to choose from.
Another great feature of Weebly is its online store builder. This tool allows users to create an online store easily and list their products for sale.
Shopify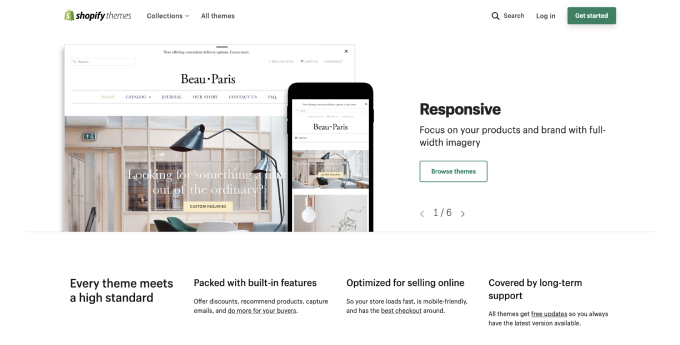 One of the key features of Shopify is its wide range of design options. Whether you're looking for a simple and clean layout or something more complex and eye-catching, Shopify has a template to suit your needs.
You can also choose your store's theme to match your brand identity. In addition to its flexible design options, Shopify also provides:
Features with specific design templates like mega menu, color swatches, and EU translations
Customer ratings and reviews
Previews of different styles
Store examples
Our Verdict for Design:

Shopify
 3. eCommerce Features
Weebly
While talking about the eCommerce features of Weebly, it is essential to note that in 2018, Square acquired and merged its products with Weebly to form Square Online. So, Weebly uses Square Online for the eCommerce features.
Square Online's eCommerce features are pretty simple and work for sellers who wish to go online quickly. Some of its eCommerce features include message alerts for customers, Square POS integration, and curbside pickup.
Shopify
Shopify offers its users several features, which include selling products, managing inventory, processing payments, and tracking shipping. Additionally, Shopify provides users with access to a wide range of eCommerce tools, which include:
Abandoned cart recovery
Customizable checkout
Several payment options
Dropshipping
Customizable invoices
Advanced inventory system
Shopify offers users a number of options for customizing their store, including the ability to add custom CSS and HTML.
Our Verdict for Ecommerce Features:

Shopify
 4. Marketing Features
Weebly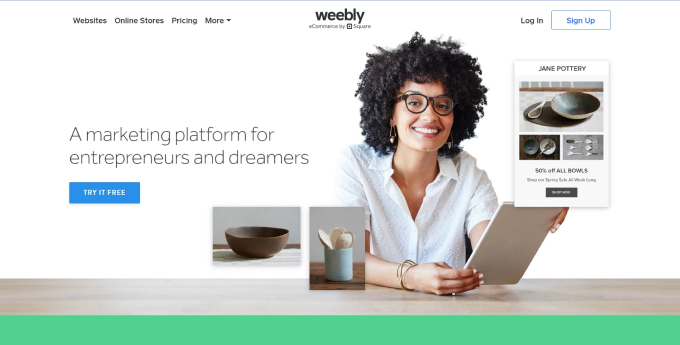 One feature that makes Weebly stand out is its wide range of marketing tools. With Weebly, businesses can create beautiful websites that are highly effective at driving traffic and conversion. Some of the top marketing features on Weebly include:
SEO Optimization: Weebly automatically optimizes your website for search engines, helping you to get found by potential customers.
Built-In Email Marketing Suite: With Weebly, you can easily add an email signup form to your website to collect leads and subscribers. You can use Weebly's email marketing tool to send newsletters, specials, and other promotional messages directly to your list.
Social Media Integration: Weebly makes it easy to share your content on social media, with built-in tools for Twitter, Facebook, and Pinterest. You can also put social media icons on your website so visitors can easily follow you on their favorite platforms.
With its powerful marketing features, Weebly is an excellent choice for businesses of all sizes who want to build a successful online presence.
Shopify
One of the key areas in which Shopify excels is marketing. Shopify's marketing features are designed to help businesses reach more customers, promote their products effectively, and drive sales. Some of the most notable marketing features included in Shopify are:
Shopify's Built-In SEO Tools: Shopify's SEO tools help businesses optimize their website and product pages for search engines, making it easy for customers to find them online. A few of their SEO tools are:
1. Plugin SEO: Advanced $20 per month
2. Reload SEO: $14.95 per month
3. Schema Plus: $14.99 per month
4. SEO Images King: Has several editions
5. SEOMetriks Marketing Tools: $7.99 per month
Social Media Integration: It makes it easy for businesses to share their products and content on popular platforms like Facebook, Twitter, and Instagram.
Email Marketing Tool: Shopify's email marketing tool allows businesses to create and send newsletters, product announcements, and other promotional emails to their subscribers.
Shopify Analytics: The platform's powerful analytics tools give businesses insights into their customers' purchasing trends, allowing them to adjust their marketing strategies accordingly.
Our Verdict for Marketing Features:

It's a tie
 5. Pricing
Weebly
Weebly offers a variety of pricing features to suit your needs. The most basic plan is free, which gives you access to the site builder with up to 500 MB of storage, limited features, and Weebly branding on your website (mywebsite.weebly.com).
However, it is important to note that you can only launch your website with the free plan and not sell your products.
Weebly has paid and affordable plans curated for groups, small businesses and stores, and power sellers.
Weebly's Pro plan charges $12 per month, the Business plan is $25 per month, and the Business Plus plan is $38 per month. Monthly payments can be expensive, so Weebly also allows its users to pay annually.
Shopify
One of the most important features of any eCommerce store platform is pricing. After all, businesses need to be able to set prices that cover their costs and generate a profit. Shopify offers a free 14-day trial, after which you can choose from three different pricing plans: Basic Shopify, Shopify, and Advanced Shopify.
The Basic Shopify plan starts at $29 per month, while the conventional Shopify plan starts at $79 per month. The Advanced Shopify plan is the most expensive, starting at $299 per month.
In addition to monthly subscription fees, Shopify charges transaction fees for each sale. For businesses using the Basic Shopify plan, the transaction fee is 2.9%, while businesses using the Shopify plan have to pay a transaction fee of 2.6%. The Advanced Shopify plan comes with a transaction fee of 2.4%. For businesses selling a high volume of products, the lower transaction fee can significantly affect overall costs.
Each plan offers different features and benefits, so businesses can choose the one that best fits their needs.
Our Verdict for Pricing:

Weebly
6. Customer Support
Weebly
Weebly offers a range of customer support features to help you build and manage your website. With Weebly, you can get 24/7 email support, while phone and live chat support are only available from 6 AM to 6 PM PST (Monday to Friday). You can also access the Weebly Help Center 24/7, which provides step-by-step instructions for building and managing your website.
In addition, Weebly has a wide range of tutorials and FAQs to help you troubleshoot any issues you may have. With all these resources, Weebly makes it easy to get the help you need to build and manage your website.
Shopify
At Shopify, you will have all the tools and resources you need to succeed in managing your business. Shopify offers comprehensive customer support 24/7. Whether you need help setting up your store, expanding your business, or troubleshooting a technical issue, Shopify's team will always be present to assist you.
Along with Shopify's online help center and live chat support, they also offer email and phone support. Shopify's email support team will respond to your inquiries within 24 hours, and their phone support team is available 24/7.
With Shopify, you can also get a network of expert partners who can provide additional assistance with design, development, and marketing.
Our Verdict for Customer Support:

Shopify
Conclusion
When choosing between Shopify and Weebly to build an online store, it is important to consider your needs and budget. Both platforms offer a range of features and benefits, so it is essential that you select the one that best suits your needs.
If you are just starting, Weebly's Pro plan may be a good option as it is easy to use. However, Shopify's paid plans may be a better option if you are searching for more advanced eCommerce features, such as cart recovery, inventory system, and support. Whichever platform you choose, you will have access to all the resources and support you need to build and manage your website.
Further reading
Shopify can become overwhelming at times, especially if you are just starting out. Check out our list of eCommerce platforms like Shopify that you can try instead.
Weebly is a great platform if you are just starting out, but it does lack some powerful functionalities. If you want to explore other similar options, check out our article containing Weebly alternatives.
However, there's another option that you can consider of you are still confused between Shopify and Weebly : Dukaan. It is an eCommerce platform that lets business owners create their digital stores in less than 30 seconds! The best part? You can do it without any coding skills.
Visit Dukaan and begin your 7-day free trial with us today!
FAQs
1. Is Weebly better than Shopify?
Both Weebly and Shopify have their individual strengths. While Shopify is great for advanced functionality, Weebly is great for beginners. However, if you want a platform that offers advanced eCommerce features and is highly user-friendly,
Dukaan
is the perfect platform for you.
2. What is the key difference between Shopify and Weebly?
Weebly is a website builder that also offers eCommerce features, while Shopify is a specialized eCommerce enablement platform that helps set up online stores. Weebly works well for regular websites and small businesses, but Shopify is a better option if you wish to build and expand your online store.
3. Is it possible to migrate to Shopify from Weebly?
Yes, you can migrate the Weebly website, including your products and orders, but not your website design, through the CSV import and export function.
4. Shopify vs Weebly, do you need an additional hosting service to use either of these platforms?
Absolutely not! Both platforms will host your website without any extra charge as the costs are included in the plans.