If you're running an online store, you'd know how important video is. YouTube videos can generate plenty of traffic to your store and generate business. But producing videos isn't enough, you got to optimize them with SEO. This article will show you how to get started with YouTube SEO and the best tools to use.
Video marketing is all the rage right now, since video is one of the most consumed content formats in the market. 93% marketers agree that video marketing is an important aspect of their marketing plan, and 87% agree that video gives them a positive ROI.
It is also estimated that on average, a regular person will be spending 100 minutes everyday watching video content in 2021 – which is a 19% increase from 2019.
YouTube is no longer the only platform for video marketing. There are multiple channels that companies can use now – Vimeo, Facebook, Twitter, Instagram, etc. These social media channels can generate plenty of views in a few hours, if you do it right.
However, a critical reason how social media differs from YouTube is the user intent. On YouTube, people come with the intent of searching or watching videos.
Also, if you upload a video on YouTube, only 20% of your total views come on the first day. This shows that there is a large potential for evergreen content on YouTube.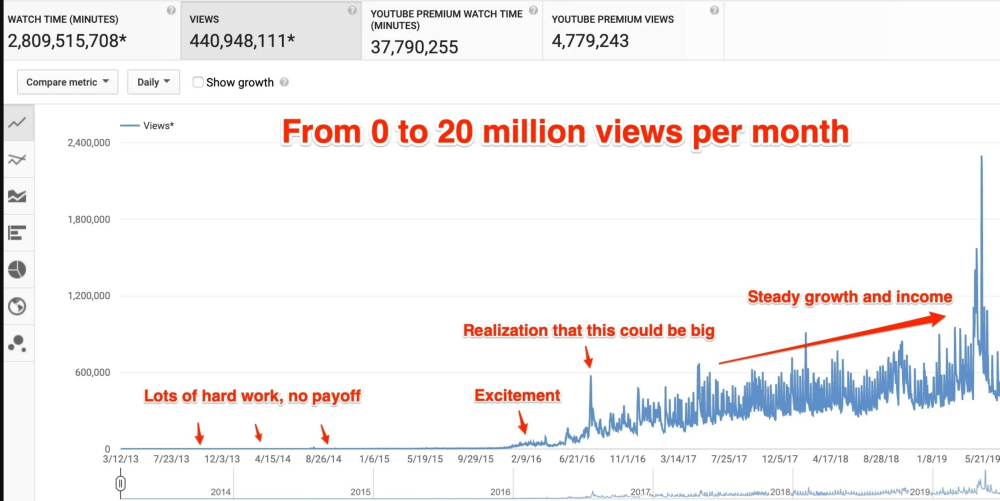 Source – The Food Ranger
Producing quality YouTube videos consistently can generate traffic and business to your online store. This is proven time and again.
Here, in this article, we will cover some of the SEO tools and strategies you can use to optimize your YouTube video and generate traffic to your online store.
How to SEO YouTube Videos
YouTube is the second largest search engine after Google. Hence, it has a great potential for being used as a marketing tool for brands. It is the major source of entertainment and knowledge with more than a billion active users. YouTube videos can be used to improve the SEO ranking and overall personality of the brand. Let us see some of the essential ways in which you can optimize your videos for SEO.
Filename
Filename is the complete title of the video file, including the file extension. Many search engines consider filename as one of the factors (though very insignificant) to rank the videos and other content (Check out AI based content tools). At least, figuring out what the content is about. It also helps in better search engine optimization. Make sure that your video file name is clean and descriptive and not the default one. You know, the ones with random numbers like DMV0001. Avoid.
It should ideally contain the keyword you are targeting to optimizing for.
You must also ensure that the keyword is not generic; it must be short and descriptive. When I say short, it means 2-3 words and you must try not to exceed this. It must be relevant and should communicate the information you are trying to give through your video.
Don't overdo this. It's a very insignificant ranking factor. At best, it's just a generic hygiene issue if left "unoptimized". That is all.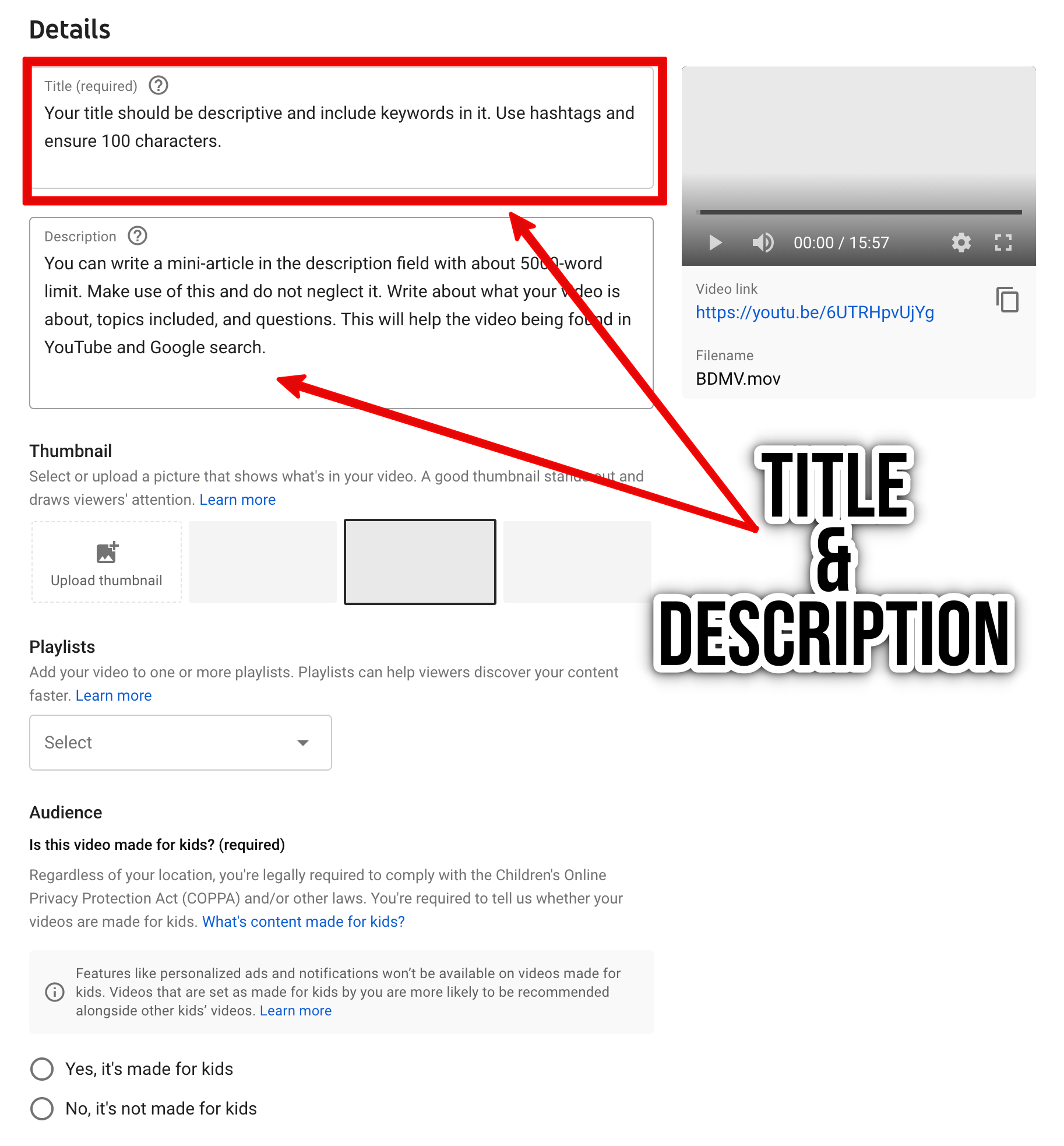 Title
Unlike filename, a video title can use a broad phrase comprising 100 characters. It can also be a sentence and ideally should contain the target keyword for the video. Users generally decide to watch a video only after reading the title. Therefore, it must be convincing and compelling and must intrigue viewers to watch it!
Try to put the keywords towards the last of your video title. This might help YouTube to help understand the content of your video better and show it better on search results.
Here are some good examples of how a well-optimized YouTube title looks like.
Note: The above method doesn't guarantee a good rank on YouTube search but might improve your chances of visibility. There are other factors also that kicks in, which decide your position. Like your channels authority and video quality.

Video Description
Another important factor that helps in optimizing your YouTube video is the video description. It could be one of the most important parts of improving Youtube SEO. An informative description is the only way for Google and YouTube algorithms to judge a video and rank it accordingly.
A good description must contain a minimum of 200-250 words and could go all the way to 5,000 words.
YouTube usually only shows 80-100 characters usually in search results but the rest of it actually helps them understand the content of your video better.
The viewer must click 'show more' or 'read more' to get further information from the video description.  You might want to add the website link or CTAs at the beginning of the description for this reason.
Be as descriptive as possible with video description, that's the only space you have control over, so don't ignore it.
Tags
Adding tags to your YouTube videos can help broaden its reach by associating them with similar videos and increasing its chances to show up in suggested videos.
Put the most important keywords in the form of tags. You can also use generic words and long-tail keywords for the tags. They are extremely helpful because they help in improving the ranking of the video.
Besides, they also ensure that the video appears in the sidebar area of YouTube as suggested or related video.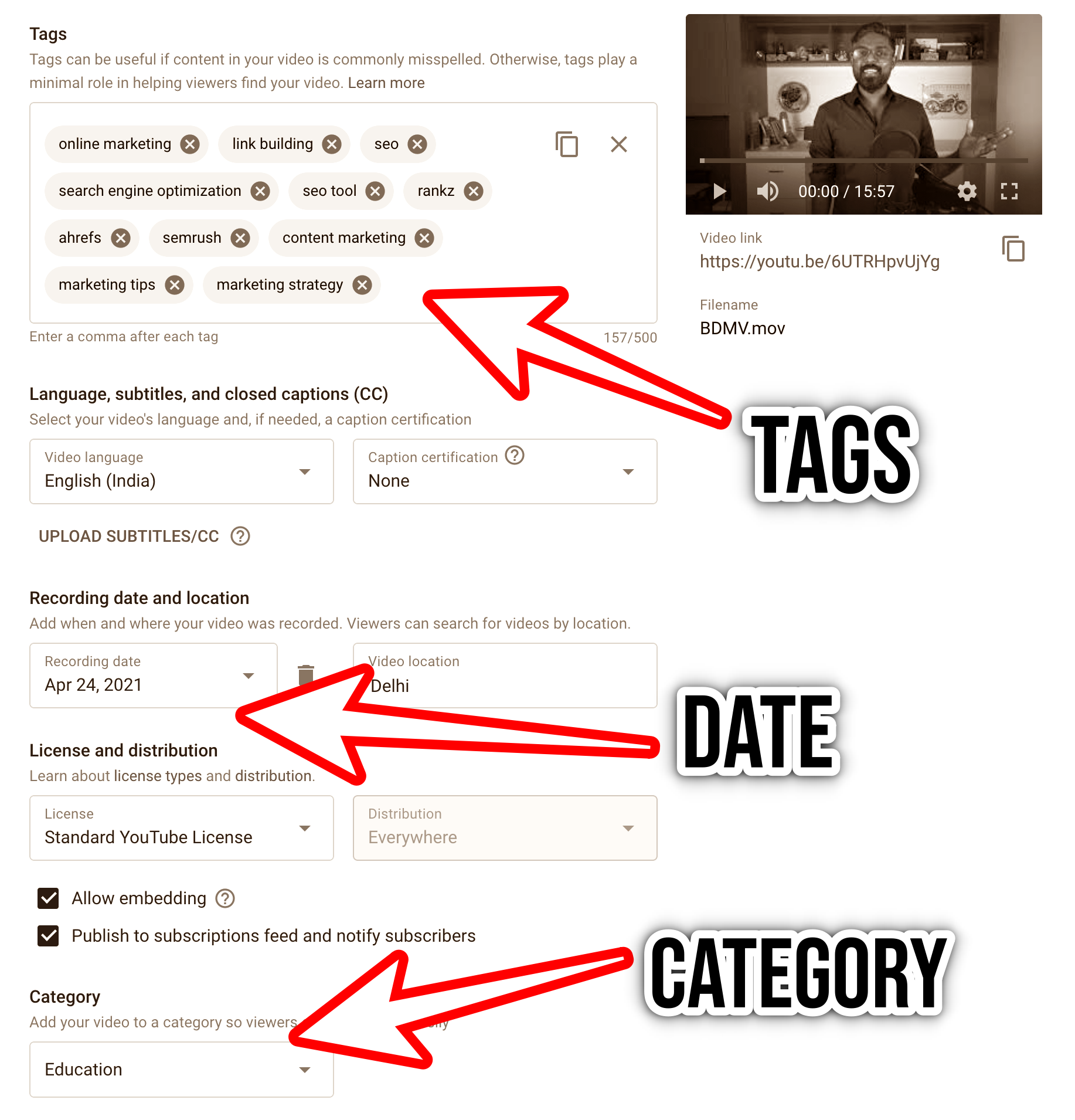 Share and Subscribe
Building relationships is an essential part of growing your YouTube channel. You must encourage your YouTube followers to share your videos because it helps get the attention you need.
YouTube might also rank your videos based on the number of shares and subscribers. Even though there are no direct evidences, it could possibly be one considering that YouTube would like to get all that outside traffic coming in.
The more the likes and subscribers to your video, the more engagement for your video, and the higher your chances of it showing on search.
Create Keyword-Rich Playlists
When you are done uploading several individual videos, create a playlist and group them into different categories. Make sure the categories are descriptive and not names 1,2,3 etc.
This makes it easier for the viewers to get the desired information and gives them an aesthetically pleasing experience, not to mention the ease of finding your videos.
Best YouTube SEO Tools
Let us look at some of the best tools you can use for optimizing your YouTube videos.
Google Trends (To find trending topics)
Google is the largest and most widely used search engine in the world. Before you upload the video, go to Google Trends and do a quick research about your target audience. You can also look for some videos that are similar to your content. It will give you the top trending Google queries according to various languages and regions.
You must focus on the types of keywords and hashtags used and what is getting more attention according to Google trends. Try to accommodate the same keywords to your description. You can also explore the geographical location, upload time, category, and reach to get a better picture of the trends. You just need to type your topic and specify 'YouTube search'.
You will be bombarded by the latest trends used for similar videos!
By doing this, you will be able to identify the dry market and breakout trends. This information can be used to your advantage. You can also compare and measure the performance of two different products and measure their relative reach.
Google trends also offer related queries and display maps that specify audience interest across different regions. It is the most effective way to increase the YouTube video ranking and get to the top of the chart.
Analyzing this beforehand will give you the right direction and time to fill the existing loopholes. You can check what is already working and make the most of it.
Pros
Absolutely free of cost and convenient to use.
You can get comparable, unbiased, and balanced data.
Access to global data.
Transportation of data is easy.
Conducts competitor checks.
Cons
Search context is vaguely present and is a time-consuming process.
Need high-speed data connection all the time.
Provide only relative numbers and not absolute figures.
The validity of the content is questionable.
Might provide false and misinterpreted information.
YouTube Search AutoSuggest (To find video topics)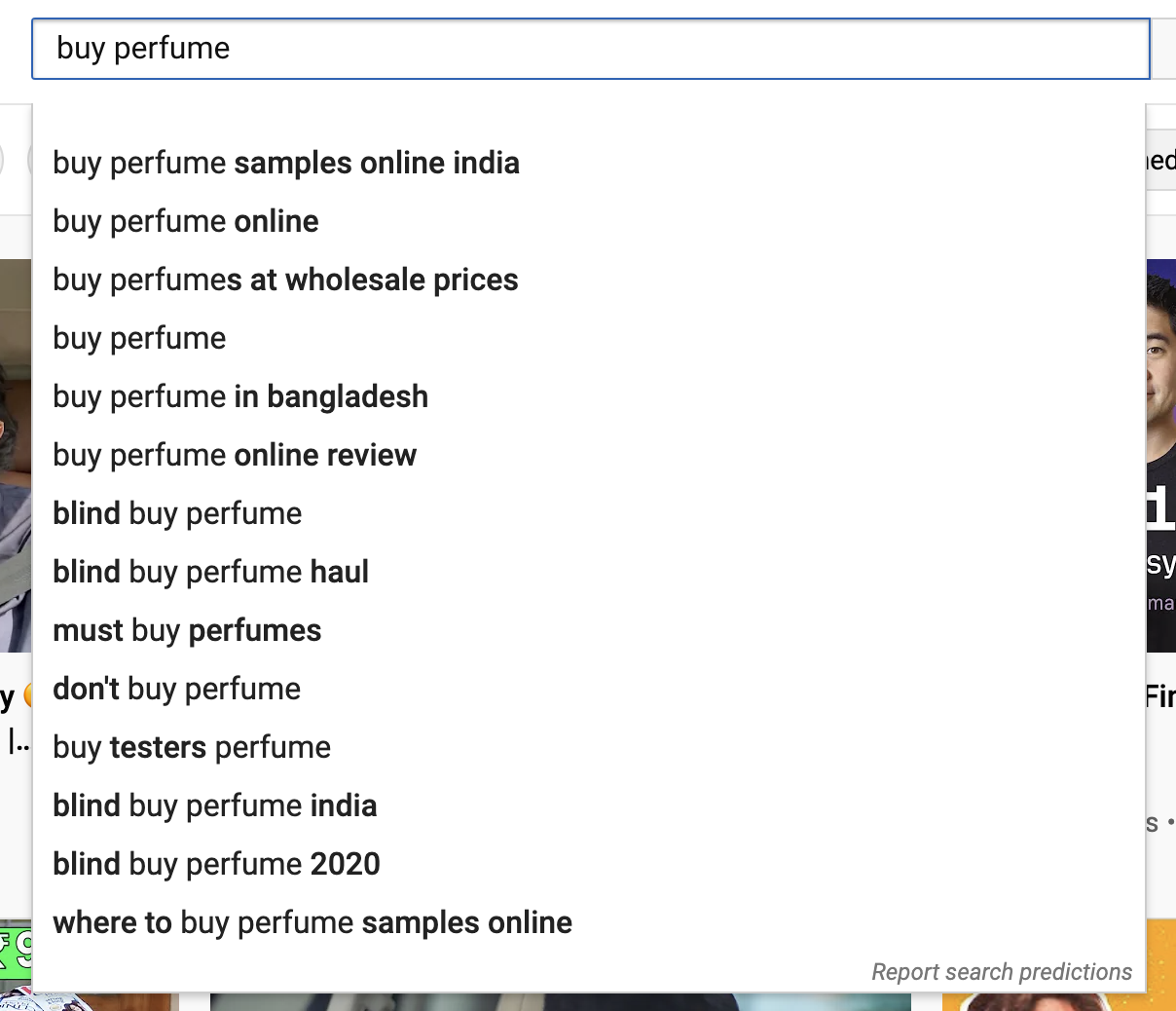 If you want to read about a topic, you can directly go to Google. However, if you want to understand the working of a certain product, you go to YouTube.
YouTube's auto-suggest feature shows you what people are searching related to your search as you type it.
Just typing in the words/phrases you are interested in on YouTube, will automatically show you the related searches. Pick them up!
These are great topics for your video.
Pros
Get a better idea of what people are looking for.
Easy to find several related videos.
Cons
Keywords are not always available.
Repetitive tags and phrases.
TubeBuddy (For channel management)
Tube Buddy is a free Google Chrome extension that works as a YouTube optimization plugin. It equips you with multiple tools that'll help you in managing your YouTube Channel.
It is directly linked to your YouTube account, which makes your work easy as you don't need to migrate from one window to another. It makes it easy for the creator to work within the same window without hampering workflow.
You can explore important keywords and tags and plan your content accordingly. Since all its features are installed within YouTube's site, it saves time and gives some real-time suggestions. It displays all the video tags that you are already ranking for, along with all the video tags you can take advantage of, or rank for in the future.  These opportunities are mostly based on the traffic, performance, and engagement of your channel.
Another rather interesting feature of Tube Buddy is that it allows you to run A/B tests for different variables like thumbnails, tags, titles, descriptions, etc. . It helps you to see what changes correlate with escalating the site's traffic. It comes with the best practice audit service that ensures you don't make even the slightest mistake while uploading a video. It will automatically find if there is any bug or broken link, etc., that might hamper the uploading process.
Metadata optimization is not only for google pages – it is equally important for your YouTube videos. TubeBuddy not only provides you optimization tips, but it simultaneously also gives you suggestions for giving your channel a boost.
Moreover, when you are directly working within the comments page on YouTube, TubeBuddy helps you to filter all the comments. The comments you have not replied to, comments that need a follow-up reply, positive comments, negative comments, etc.
Last, but not least – TubeBuddy also gives you the option of professionally transcribing your videos (adding captions, basically). Transcriptions help you to reach a wider audience, and get more traffic for your YouTube page!
Pros
Existing workflow is not hindered.
Provides professionally transcripted captions.
It gives you channel alerts when someone mentions your channel on YouTube.
Helps in exploring tags, words, and phrases.
Cons
Confusing presentation of the dashboard on YouTube.
Perks are available only in paid plans.
Difficult to obtain minimum affiliate referrals for the highest tier.
Affiliate payout only through PayPal.
SerpStat (For keyword research)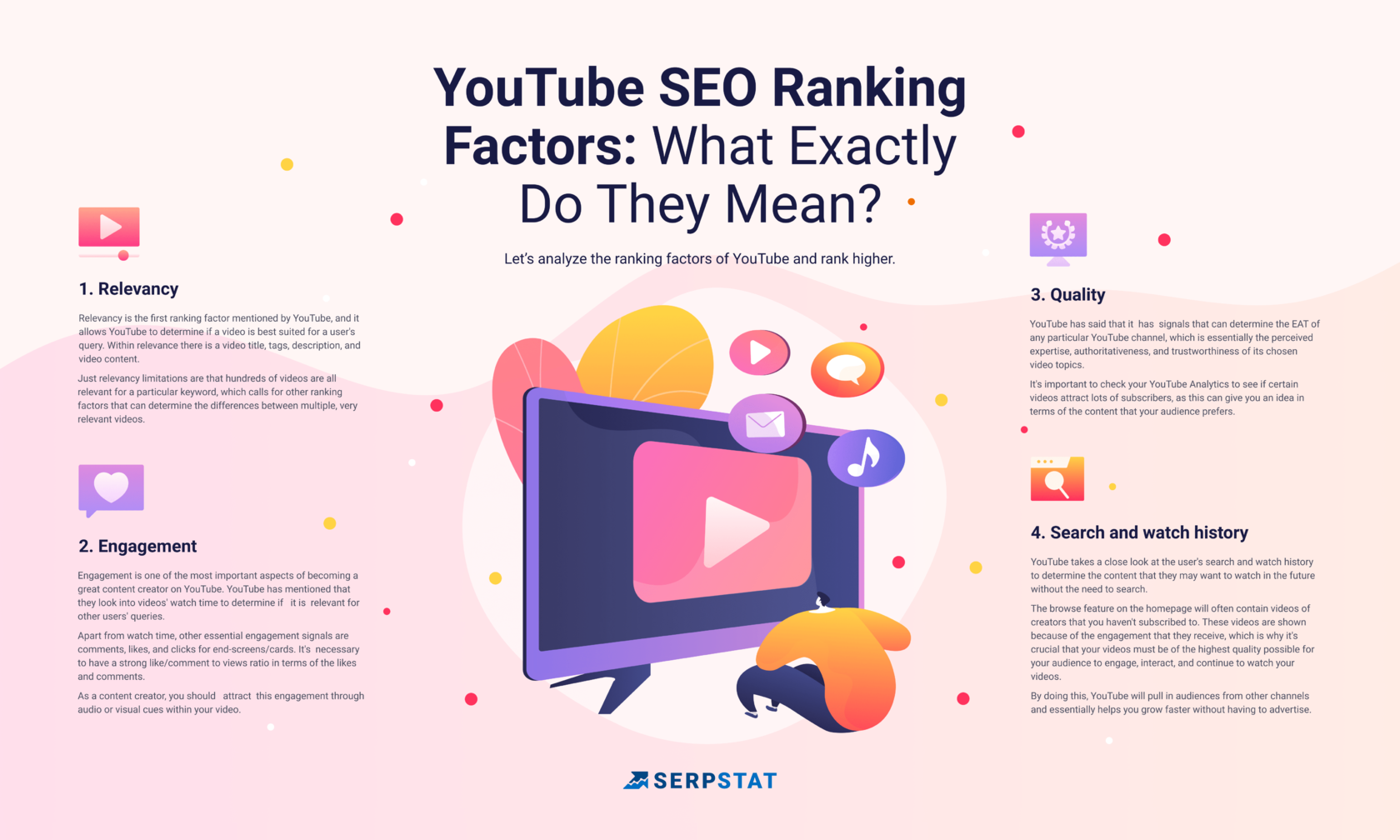 Serpstat is a great keyword tool used for optimizing YouTube videos. When you write a 'base' keyword, it gives you multiple suggestions as to what widely matches your content. It will help you discover all the search terms that your prospects have been looking for, and help you to compare your performance with the competitors.
Serpstat can give you a fair idea about YouTube trends and how you can reach that level. It helps you gather information and compare your performance with the competitor by giving detailed, automated reports. Another important aspect of Serpstat is that it also allows you to search for frequently asked questions. These questions help you figure out the demand of your prospects so that you can create content accordingly.
Google analyses and ranks YouTube videos based on the SERP's questions. Hence, it can give your video the advantage of being showcased before targeted audiences. Serpstat conducts two different types of analysis: Domain Analysis and URL Analysis. It enables you to obtain all the information on your website as well as your competitors' website. This information can affect your overall performance on search engines. While Domain Analysis works for one single URL, URL Analysis gives you information about all the URLs that belong to your rivals.
It is a very helpful tool that provides details of your site's traffic and specific keywords for its ranks. You can also find pages that rank the highest at the given moment. This data includes the total number of referring and backlink domains.
Pros
Multiple Keyword metrics to compare and choose the best keywords.
Analyses web page relevancy and domain analysis gives a visibility score.
Access to multiple questions regarding the same topic
Domain and URL Analysis
Cons
Keyword difficulty tools may not give accurate results.
Website audits can take longer hours if it has a large number of pages.
Tags for YouTube (For visibility)
Tags, also known as video tags, are short words or phrases that act as a highlight to the video. Using the right tags can help you improve YouTube SEO because it is an important factor for ranking according to the YouTube algorithm.
Tags for YouTube help you to generate tags based on the target keyword. Make sure your first tag is the exact keyword of your content. It provides you the list of tags related to your keyword and the content. These can be added to the content according to the requirement. There is a sub-feature known as RAPID TAGS that gives quick tags. It is a unique feature. You can apply the language setting to any language based on different regions and your target audience.
You just need to enter your target query in the search box, and it will present you with various tags. It can further analyze the engagement details on the site: likes, shares, comments, etc., and shows the estimated number of views. It also has an advanced setting for titles, descriptions and thumbnails and offers practical advice on how to optimise the video.
Finding and adding tags seems like a very easy task. However, you should be cautious not to go overboard with them. You must keep it relevant, appropriate, and significant. Using multiple tags might not only confuse users but YouTube itself! It can have a great impact on your rankings and further reduce traffic on the site.
Pros
Helps you to rank for relevant keywords.
Easy Delivery of related content.
Quick and convenient management.
Cons
Overusing tags can counter-impact SEO ranking.
VidIQ (For SEO)
Just like Tube Buddy, VidlQ is an extension to the Chrome Browser. It is a full package that informs you of all kinds of stats for any video you open.
There is a complete analysis of a video: its subscribers, likes, SEO, social media, and other various marketing metrics. It makes research an effortless task and helps to obtain information about competitors easily. You can set up email alerts to get immediate updates about trending YouTube videos and the reach of your competitors.
VidlQ also has a 'Most Viewed' feature to help you identify YouTube's best-performing videos. This way, you can ascertain what the best players are doing and the interests of the audience. You can also add some specific channels and match them against your own.
There is a 24/7 freehand audit available for users. It constantly reminds you of necessary changes and upcoming opportunities that can help you boost your website performance. Like I mentioned before, it is a full-package toolkit. It tells you of the right time to upload a video but connects you with top niche YouTube channels, influencers and monitors viewer engagement to improve the SEO.
We are well aware of how tags play an important role in SEO ranking. VidIQ helps you maximize tags by 10 times in just about 10 minutes! It helps you determine the right tags, which can improve the rank of the video.
This tool can also help you find engaging keywords that assure your progress in the race. An added advantage is that it tells you how difficult a task is to find fresh keywords. Therefore, you can easily determine if a particular keyword is worth using or not.
Pros
Bulk copy cards and bulk edit end screens.
Data Backup and Demonetization prevention.
Cons
Certain important features are only present under the paid package.
Besides being expensive, too many features on the interface sometimes make it confusing.
Canva (For awesome thumbnails)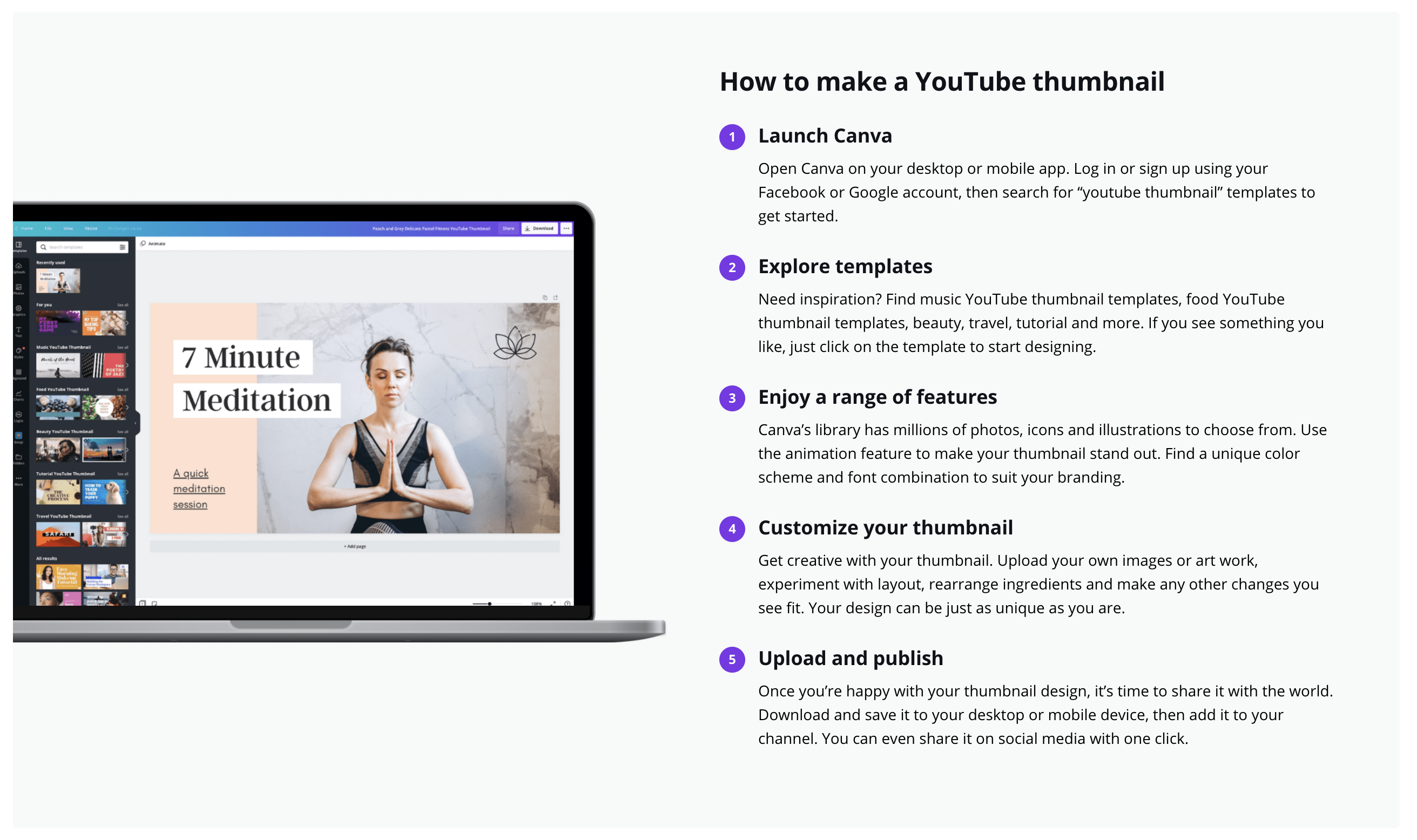 While video creation is the most important thing, we should not forget the importance of graphics. Even if your content is not very unique, adding thumbnails can do wonders! The more eye-pleasing and attractive videos you make, the more views they will get.
Canva is a free graphic design app. It provides you with all kinds of visual arts, be it a logo or a mind map. It helps to construct an artistic view of the video.
Editing pictures, developing channel art, and adding thumbnails increase the click-through rates. There are different categories that present professionally designed layouts and templates. The drag-and-drop interface can help you take a preview of the template and make your video look more attractive. It also gives you the option of using customized templates.
Canva helps you add attractive and high-quality thumbnails and create a channel banner that will make your homepage very aesthetic.
This can help you catch viewers' attention very quickly. Canva has a big brand kit that comprises brand assets, including fonts, brand colors and logos. It saves time and helps generate a consistent design while working. However, the brand kit is only available on Pro and Enterprise accounts.
Pros
Improved and high-definition pictures.
The content planner is available and you can directly publish pictures to other social media platforms.
Access to icons, stickers, and shapes. It also has a separate Font library.
You can use a mobile app to create designs and collaborate on projects.
Cons
You cannot create unique elements.
Photos and templates appear generic.
YouTube Analytics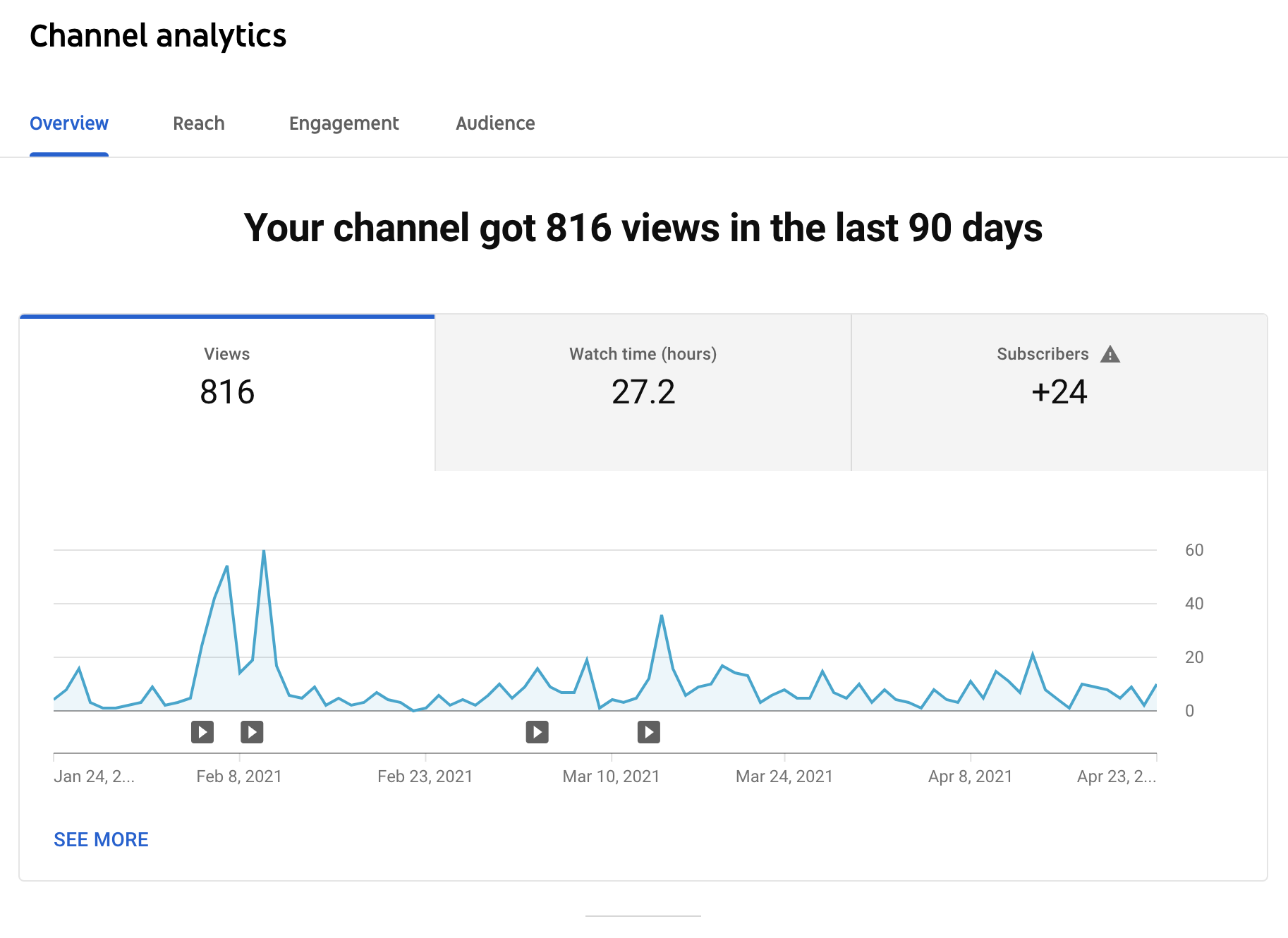 As the name suggests, YouTube Analytics gives you a complete analysis of different YouTube variables.
It is an easy-to-use and comprehensive tool. It gives details about the viewers of your video and the kind of content people engage in. It identifies the pros and cons of your channel uploads. It helps you improve your YouTube presence by stating facts about your audience and their preference.
It helps get a better look at the Watch-time and Real-time reports to determine your average view duration. You can also ascertain the average viewed percentage and audience retention. We know that longer videos catch better attention. You can utilize this data to alter the duration of your videos.
YouTube Analytics gives interaction reports which analyze the number of likes, comments, shares, favorites, and subscribers. New subscribers to the channel are a significant factor in driving SEO performance. Hence, you must encourage your followers and supporters to bring new subscribers to your channel.
You can also perform a detailed analysis of any individual video and get real-time reports and suggestions. Besides, it also tells you which category of videos gets better revenue. Therefore, it is easy to add the required amount of content to your video.
Pros
Detailed stats of all factors and timely reports.
The tool is absolutely free.
Cons
The software might be difficult to initially set up.
Details and reports take a lot of time to analyze.
Awario
User engagement with the videos is to date, the number one ranking factor on YouTube. Thus, it makes sense to keep an eye on all the content that is creating any kind of buzz – on the same platform, or maybe somewhere else. This is where Awario steps in.
It is a non-stop social monitoring tool that updates you with social engagement variables for your video. Additional features like applying different language filters, adding specific search operators and more are also available.
Awario assists you in setting up alerts. You simply need to add your video's URL and collect the link. Fewer mentions which is a ranking signal for Google. You can also try a Boolean search. It configures a targeted search to collect existing mentions as well as new link sources.
Awario also helps in market research and customer engagement. It gives you insights into what your viewers say about you and your rival's channel. It also helps you track influencers and sponsors to help promote your product.
You can contact reviewers to test your product and give honest feedback. You can also join open discussions on YouTube by simply typing the keyword from any domain or any industry. In this way, you can answer the queries of customers as well as promote your products in the same discussion.
Pros
Track and grow user engagement.
Analysis of likes, views, subscribers, and comment counts.
Fetching mentions for the video and keyword search is easy.
Cons
Poor engagement of platforms other than Twitter.
Some features require in-depth knowledge.
Colorcinch
Colorcinch is a refreshingly easy-to-use design tool that lets you edit your images and make your thumbnails pop. You can just fuel your creativity – overlay and blend images, and give your photos a unique look.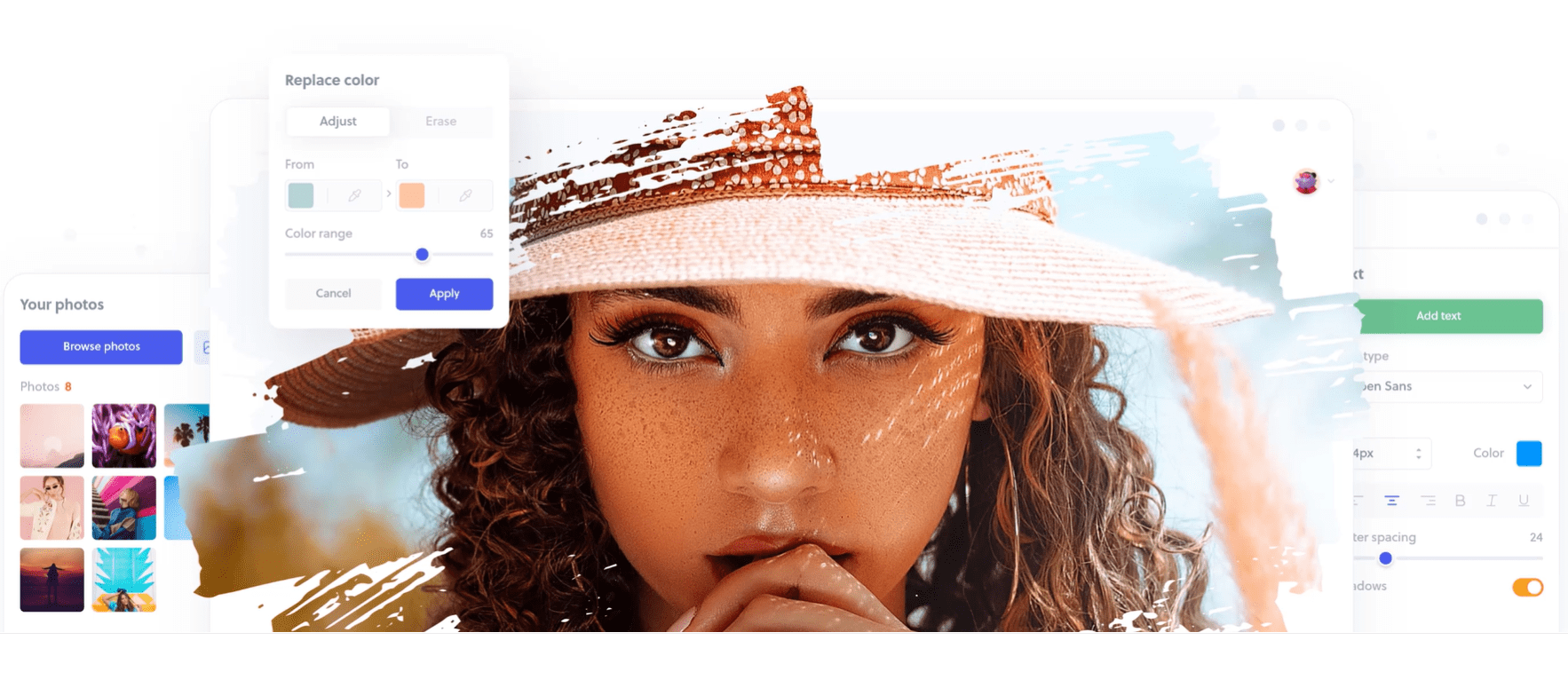 You can play around with its collection of hand-picked creative assets, and filters & effects -turn your images into drawings, sketches, paintings, digital arts, etc.
Surely, you can connect better with your audience when your captivating banners and thumbnails are made with Colorcinch.
Pros
Hand-picked creative assets.
AI-powered photo filters and effects.
Photo editing is made simple.
Available online and offline.
Cons
Limited features for the free plan.
Conclusion
Gone are the days when YouTube was just about homemade videos. Now, it is used by businesses small and big alike to generate traffic and leads.
If you consistently create quality videos, you will be rewarded with traffic and thereafter business.
Invest in videos if you can. It'll pay out well in the long run.