Do you want to start a dropshipping business in association with the biggest household name of our time? Here is a comprehensive guide to Amazon dropshipping business.
In recent times, a lot of people are considering dropshipping as their base model to start and run their own business in the easiest way possible.
One of the most important factors that decide the success of a dropshipping business is the online presence and ability to reach out to the masses. What better way to do that than through Amazon?
In the 4th quarter of 2021 alone, almost 56% of sales on Amazon came from third-party sellers on the platform.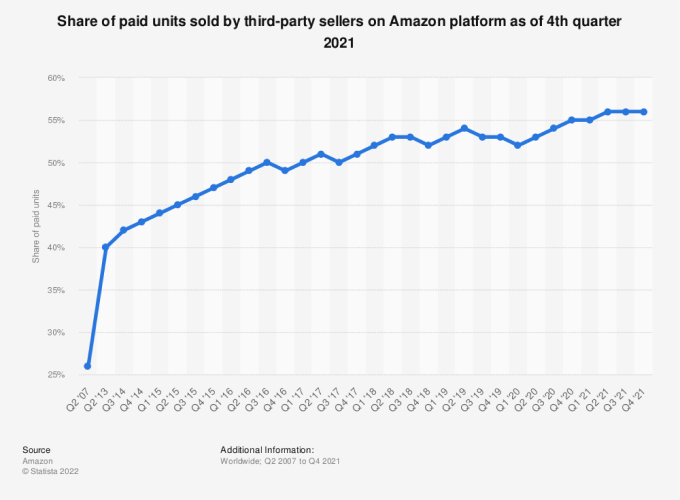 This indicates clearly that selling on Amazon has been beneficial for a lot of third-party sellers, which includes retailers, wholesalers, private labels, dropshippers, etc.
The ease of starting a dropshipping business, combined with the kind of market exposure brought forth by a brand like Amazon, makes it a very enticing option for anyone looking to start a business.
In this guide, we will be looking in depth at Amazon dropshipping, what it is, how it works, its pros and cons, and so much more.
What is Amazon Dropshipping?
Amazon dropshipping is a business model where you can sell products on Amazon, but do not have to deal with the inventory or logistics of the products. Your supplier and Amazon will do all the heavy lifting for you!
In a dropshipping business model, you will have to find a supplier that sells your products at wholesale prices. Then you create your own online store and list the products at a marked-up price so you can pocket the difference.
This is basically how you make money using the dropshipping model. However, it is surely not as easy as it sounds.
When you are using the dropshipping model, your marketing skills and the extent of your reach make a lot of difference. Selling on Amazon makes the latter an easy task.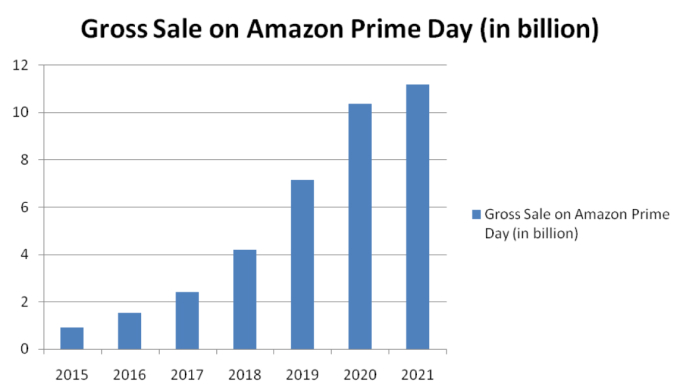 With over 200 million members subscribed to amazon's customer loyalty program, Amazon Prime, access to such a huge customer base cannot be found on any other platform.
Wondering how Amazon dropshipping differs from traditional dropshipping? We have published a beginners guide to what is dropshipping and how it works.
How does Amazon Dropshipping work?
We have already discussed the basics of dropshipping. The role played by Amazon in this process is what we are going to look into right now.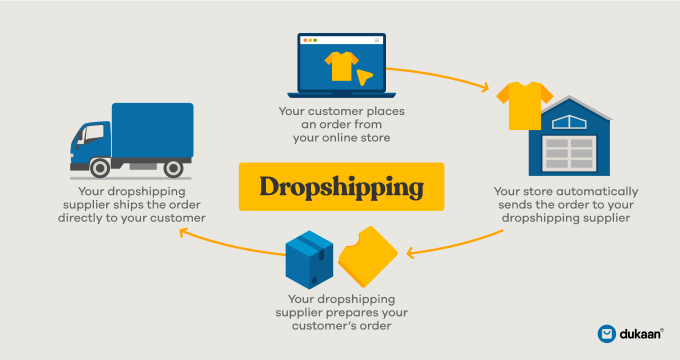 A customer will place an order with you only when they trust you as a seller. By creating a professional-looking online store, you are one step closer to gaining their trust.
Even better, if your store was on a platform like Amazon, where over 60% of online shoppers start their product search on.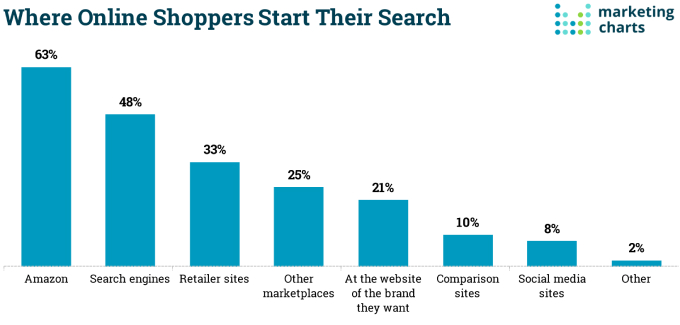 So this is how Amazon dropshipping works, it starts with listing your products on Amazon.
Your customer places an order for your product on Amazon. You pay your supplier for the product and provide your customer details to them. Your supplier then ships the product to your customer.
The whole order is fulfilled without you having to stock the product or ship it. And with the right marketing, finding customers on Amazon is quite easy.
What are the Requirements for Amazon Dropshipping?
If you are wondering if dropshipping on Amazon is legal, it is absolutely legal.
However, with the perk of being associated with a huge brand like Amazon also comes the challenge of understanding and abiding by their strict regulations.
Amazon does not openly encourage dropshipping on its platform, its policies kind of make it hard to dropship on the platform. However, sellers have found their way to use the platform for dropshipping, while abiding by the policies.
What we mean to say is, if they can, then you can too.
So let us start by first understanding all the requirements for Amazon Dropshipping.
Though your supplier is the one shipping the products, you need to ensure that no other brand name is mentioned on the package, receipts, etc.
You need to identify yourself as the seller on record for the products you have listed.
The receipts and other official documents related to the order must have your name on them.
You will manage your listing, accept orders, process refunds, etc.
Apart from these requirements, you need to abide by the "Amazon Seller Agreement".
Apart from these requirements, Amazon also has a very strict
code of conduct
which you must follow in order to not get your store suspended.
Pros and Cons of Amazon Dropshipping Business?
Let's take a quick look at some of the pros & cons of starting Amazon Dropshipping Business.

Pros
Association with Amazon
No Warehouse Costs
Better Customer Care
Cons
Very High Competition
Longer Shipping Times
Decreased Profit Margins
Pros of Amazon Dropshipping
Being associated with Amazon: It is needless to say that being associated with Amazon ‌is a huge advantage for your business. You can directly reach out to their huge customer base, both nationally and internationally.
No warehouse costs: Since you do not have to actually stock, store and manage your inventory, you can cut down on warehouse costs by using dropshipping on Amazon.
Better Customer Care: If you choose to Dropship using Amazon FBA, you can also get access to their well-trained customer service team. The deliveries will be quicker as well.
Cons of Amazon Dropshipping
Very High Competition: Since the barrier to entry is pretty low with dropshipping, a lot of sellers choose this method. This increases the competition exponentially. Whatever product you are planning to sell, there are high chances that a range of sellers are already selling the ‌same product on Amazon.
Longer Shipping Times: Customers on Amazon are used to quick delivery. However, when you are reliant on a supplier, it may take a few weeks for the product to be delivered. This could be a huge roadblock in growing your business.
Decreased Profit Margins: Selling on Amazon comes with a range of charges and fees, which tend to eat away at your profit margins. Especially when you have to combat the competition on Amazon by offering a lower price for your product.
How to Start Dropshipping on Amazon
Step 1: Create an Amazon seller account
There are 2 kinds of Amazon seller accounts, the individual seller and the professional seller.
If you sign up for an Amazon individual seller account, there are no upfront costs but you need to pay Amazon .99 cents for every sale. That might work for you if you're not planning to sell a high volume of products.
However, if you are going to sell a lot of products, we recommend getting a professional account. It'll cost you $39.99 monthly, but no commissions will be deducted from every sale. Plus, you get more advanced features like inventory reports and advertisement features.
If you want to just try it out, start with the individual seller account. You can upgrade to a professional account once your business grows.
To make an Amazon seller account, go to Amazon Seller Central and click the "Sign Up" button.
You'll see this.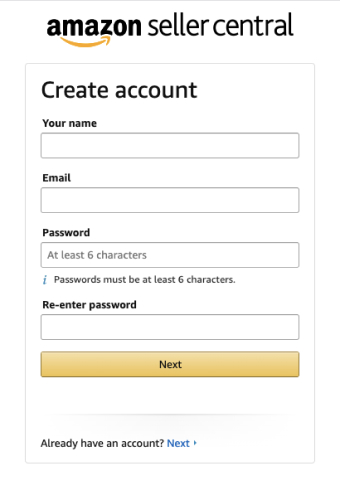 If you already have an Amazon account, just sign in. But if not, create one first.
Once you've signed up, you'll be taken to this next screen.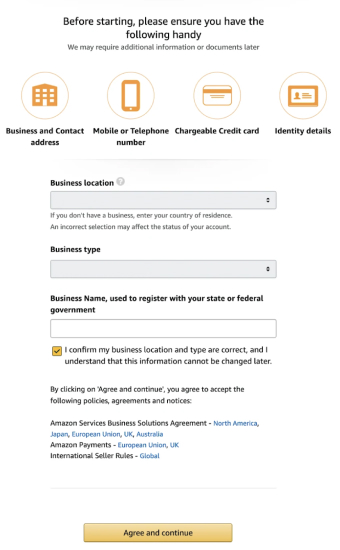 You'll need to give specific details about yourself and your business before your profile is approved.
Step 2: Find out which products are allowed on Amazon
Not all products are allowed to be sold on Amazon. You're not allowed to sell alcohol, fine art, gambling, pesticides, and more.
Check this restricted products list to see the limitations.
Make sure to check it out before you start selling or deciding on what you're planning to sell. Examples of restricted products are explosives, lockpicking paraphernalia, and pesticides.
If you think the list is too extensive and you won't be able to sell anything, don't worry. For certain items, you can request approval from Amazon. These are as follows:
Postage stamps
Collectible Coins
Fine Art
Holiday Selling Requirements in Toys & Games
Jewelry
Join Amazon Subscription Boxes
Made in Italy
Music & DVD
Services
Sports Collectibles
Streaming Media Players
Video, DVD, & Blu-ray
Watches
Sony PlayStation Requirements in Video Games
Speaking of products, did you know that Amazon has plenty of products in bulk from plenty of European suppliers. It holds these products in its warehouses, and you can use them to fulfill your dropshipping orders. And if you know what those products are, you'd have a good idea of what you can and cannot sell.
Step 3: Make product listings
Adding products to Amazon is relatively uncomplicated – it's just three steps.
Click on the 'Don't see your product? Create a new listing.' option.
Upload a clear image/images of the product you want to sell and fill in all the required product descriptions. (or use this tool)
Finally, add the price and quantity. Make sure to review your entry before publishing your listing.
And you're done! On to the last step, which is:
If no one knows your store exists, no one is going to buy from you. So the logical next step is to increase your store's online presence with Facebook marketing or Instagram marketing.
And if you opted in for the professional seller account, you can also create ads to increase awareness and boost sales.
Some things you need to know about dropshipping on Amazon
Dropshipping with Amazon is not the usual way in a sense, because their dropshipping policy requires that you ship the item bought to them to one of their global fulfillment centers. Amazon will then carry the product and deliver it to the customer via their Fulfilled by Amazon program.
That means there will be a slight additional delay in your customers receiving the items because the orders will still have to go through Amazon. You are not allowed to have a third party (your supplier, for example) ship the product to your customer directly.
But don't worry. According to Amazon, they can do quick delivery, manage customer service and returns, and even inform you if you need to restock the products. So those are some benefits worth thinking about.
Also, Amazon will only allow you to do drop shipping if you meet their dropshipping policies.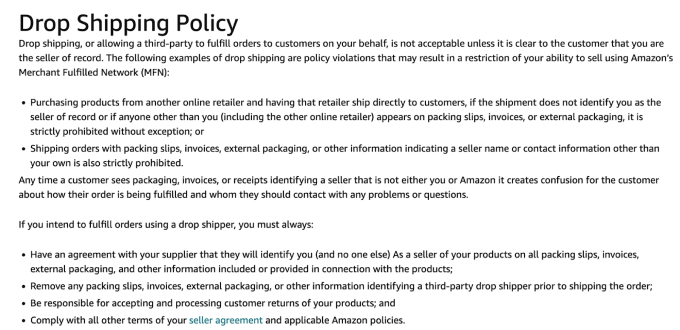 One last thing you need to know if you have chosen Amazon as your dropshipping business platform is that Amazon will be charging you plenty of additional fees, as seen below.

You shouldn't skip over this part so that you know at what price you should sell your products to make a profit.
Is Amazon Dropshipping Profitable in 2022?
We have mentioned it before and we will say it again, selling on Amazon comes with a range of charges and fees. Every seller must be prepared to pay the price of being associated with such a huge brand name.

Starting with the membership fee for your seller central, Amazon takes up almost 15% of your revenue.
Considering that the average profit margins in dropshipping are 15% to 30%, the seller fee charged by Amazon is a little high to keep up with.
That combined with the uncertainty of what may lead to the suspension of the store on Amazon, new-age entrepreneurs realize that Amazon dropshipping is not all that it is hyped up to be.
The success of your dropshipping business and the profit margins mostly depend on 3 factors.
Finding a high-demand, low-competition product
Finding a supplier that sells the product at a low price
Creating smart and efficient marketing strategies
Where you sell your products on comes only second to these three important factors.
Keeping this in mind, let us take you through a great alternative to dropshipping on Amazon so that you can maximize your profits and have better control over your own business.
Alternative for Amazon Dropshipping
With Amazon acting as nothing more than just a platform for your online store, your dropshipping business could be a lot more profitable if you chose a different eCommerce platform.
There are multiple eCommerce platforms to choose from, each one of them with its own advantages and disadvantages. If you want to take a look at some of the best eCommerce platforms, this article will help you.
Dukaan is one eCommerce platform that can make it absolutely easy for you to start your online store. It takes a minute to create your store on Dukaan. You do not need any technical or coding skills to do this.
Unlike Amazon, there is no approval process that the sellers have to go through on Dukaan. You can simply enter all the details for your store, enter the category, and start listing your products.
With your own store on Dukaan, you will also get a custom domain, an app for your store, and so much more. This way, you have complete control over your business and its branding.
If you are interested in getting started on Dukaan, this video will help take you forward.
FAQ's
1. Is dropshipping on Amazon legal?
Yes, Amazon dropshipping is a completely legal order fulfillment method. However, your store can get suspended ‌if you do not abide by the policies and regulations of Amazon.
2. Can I start Amazon dropshipping for free?
Yes, you can choose the individual plan on Amazon where you have to pay a fee only when there is a sale.
3. How profitable is Amazon Dropshipping?
Dropshipping margins in general range between 15% to 30%. Since Amazon takes up about 15% of your revenue in the form of fees, the profitability of Amazon dropshipping is pretty low.
4. How do I find suppliers for Amazon dropshipping?
Finding suppliers for your dropshipping business can be a tricky task. You can start with Aliexpress, where you can choose between a range of suppliers on a single platform.
5. Do Amazon dropshippers have to pay taxes?
Yes. Amazon dropshipping is a business like any other and hence is subject to business taxes and other commercial formalities. Check what these legalities are in your country.