If you are wondering what is dropshipping and how does dropshipping work, this article will give you detailed information about the basics of dropshipping.
When you search about dropshipping on Google, most people put it forth as an easy way to grow rich. The truth is, running a dropshipping business is not very different from running any other business.
Yes, the hassles like handling inventory, shipping, etc. are absent in a dropshipping business. However, these hassles are replaced by others that very few people are aware of.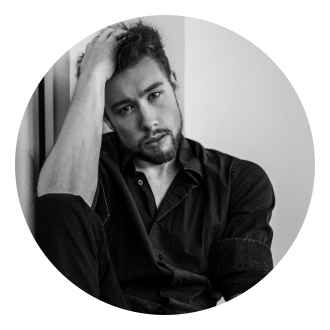 It is easy today to choose to become an entrepreneur, especially in the digital space, but everything will only make sense if efforts are backed by keen focus, simplicity, and discipline.
Mathew Sabia, Founder of DeepWork
In this article, let us tackle all the pros, cons, and questions related to dropshipping business.
What is Dropshipping?
Dropshipping is a business model where a seller can list products on their online store and sell them to customers without actually having a physical stock of the products. Their supplier will manufacture, store, and ship out the orders.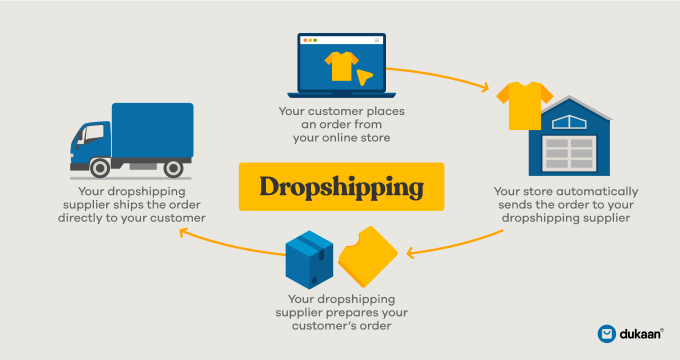 Unlike a retail store where the seller has to stock up the products and handle the inventory in order to sell them and make a profit, with dropshipping, the seller does not have to physically possess the products they are selling.
The seller does not even have to handle the packing and shipping of the product. It will be taken care of by the supplier.
However, if you want to succeed at a dropshipping business, you should have creative marketing skills.
Since you are selling products ‌you do not really have, gaining customers is possible only through the right marketing techniques.
Jacky Chou, an Asian-Canadian entrepreneur who runs 2 full-fledged businesses today, started out with Dropshipping men's T-shirts.
According to him, if you want to run a successful business, you need to put in efforts to learn digital marketing and set aside enough funds for a solid startup.
This further proves that to start any business and run it successfully, be it dropshipping or otherwise, you need to put in the required effort and some basic investment!
How Does Dropshipping Work?
In dropshipping, you pay your supplier a lower price for the same product that you sell to your customer at a marked-up price. Your supplier ships products to your customer directly. The margin in this price is your profit. And that is how you can make money with dropshipping.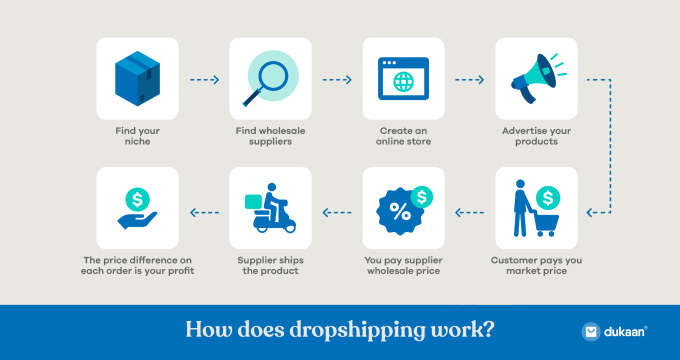 This basically points to the fact that you can sell products without having to worry about inventory or logistics.
Now the obvious question is, how?
Basically, this is how a dropshipping business model works:
You start by finding your niche and deciding on what products you want to sell.
You then find reliable suppliers that sell these products at a lower than market price.
Now, you can create an online store and list your products with accurate details and high-quality pictures.
Price your product at least 2 times more than the price offered by your supplier. Research the market before pricing your products.
With the right marketing strategy, you can attract customers to your store and encourage them to buy from your store.
When you receive an order from a customer, you then head over to your supplier's store and place an order for the same product at a lesser price.
You will use your customer's shipping details to complete the order and sit back while your supplier ships the product out to your customer.
From the comfort of your home, you have made a profit on a product that you never had to stock or ship in the first place.
That is dropshipping for you!
So, if you are planning to start dropshipping venture, you can read our detailed guide on how to start a dropshipping business.
Benefits of Dropshipping Business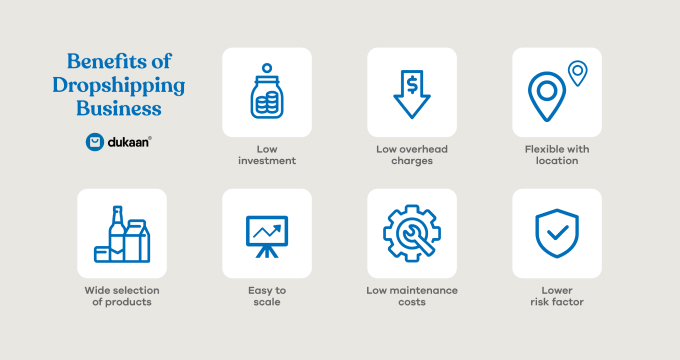 Take one look at the dropshipping business model and it is pretty evident that this method of running a business is very easy and hassle-free.
However, for adding further credibility, let us take a look at all the benefits of dropshipping business.
Low investment
When you are starting a business, the biggest chunk of investment goes into buying and stocking the products. Handling the logistics also adds to the initial investment.
With dropshipping, both these costs are null. The products that you sell are basically virtual while your supplier is the one who handles inventory and logistics.
Hence, starting a dropshipping business takes a much lower investment.
Low overhead charges
Overhead charges are the operational costs that a business incurs which include rent, insurance, electricity, and other utilities.
Since there is no inventory to manage, the dropshipping business can be managed from your own home. Your store will basically be online and hence costs associated with rent, electricity, etc. are not applicable.
Hence, the overhead charges are absent with dropshipping business.
Flexible with location
Again, since you do not have to handle stocks or manage inventory, running a dropshipping business is not location specific.
If you have a laptop with a stable internet connection, you can run your business from anywhere in the world.
Wide selection of products
There is absolutely no limitation when it comes to choosing the products that you want to sell. Since you are not going to invest in stocking up the product, you can choose any product.
All you have to do is to find a product that will sell quickly or refer to our list of best dropshipping products to sell.
Easy to scale
Even if you start the dropshipping business by selling just a product or two, once you see your store is gaining traction, you can add more products to the store.
Scaling your business in terms of new products or even a whole change in your niche is possible with much ease compared to a traditional business.
Low maintenance costs
Dropshipping business is absolutely flexible when it comes to location, the number of products, type of product, and so much more.
Making any change to your store is easy and does not incur any extra costs when compared to a traditional brick-and-mortar store.
Lower risk factor
In dropshipping, you will be paying your supplier only when your customer places an order with you. If not, you will not be shelling out money on products.
Even if you feel like one of your products is not selling as well as you expected, you can pull the product from your store. Hence the risk factors are very minimal with dropshipping.
Challenges of Dropshipping Business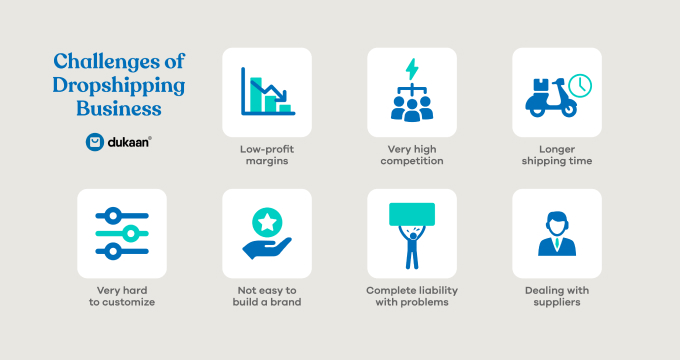 Just like running any business, the dropshipping business also comes with a few challenges that you need to be aware of before getting started.
Here are a few common challenges that you need to tackle-
Low-profit margins
Profits in a dropshipping business depend largely on how high you can price your products compared to your supplier.
Some products have the potential to be marked up by 2 or even 3 times their original price. However, that doesn't happen all the time. Most of the trending products may come with a low profit margin.
Very high competition
With the ease to start and the low startup investment, dropshipping is the first choice for many aspiring entrepreneurs. Hence the competition is very high.
Almost every competitive advantage that you can think of would have already been used by another dropshipper which means you will have to put in a lot more research and effort into the business.
Longer shipping time
Factors related to the shipping of products like quick shipping times, free shipping, etc. affect people's decisions a lot while shopping online. Over 50% of online shoppers prefer free shipping.
However, with dropshipping, the shipping and delivery times are longer and there will be some shipping charges involved as well. This might throw off a lot of customers and you need to be prepared for it.
Very hard to customize
Since you have no physical control over the products or the shipments, you cannot personalize either of them in order to build a connection with your customer.
You surely can request your supplier to add a thank-you note, however, that too cannot be personalized for every customer.
Not easy to build a brand
As mentioned above, the dropshipping business method is quite impersonal which makes it hard for the seller to connect with their customers.
The products are built and branded by the supplier and that is exactly how they will be delivered to your customer.
Complete liability with problems
Even though you have no control over the personalization or the branding of the products, if a wrong product or damaged product is delivered, you will have to take complete responsibility.
From handling the customer grievance in a professional manner to getting the product replaced or providing a refund, you will be liable for the entire process.
Dealing with suppliers
However trustable and reliable your suppliers may be, some human errors and situations are unavoidable.
In case an ordered product goes out of stock or a damaged product is delivered to the customer, these are the kind of issues you will always have to anticipate while dealing with suppliers.
There you go with some of the challenges and drawbacks of the dropshipping business model.
However, we wouldn't say that these are the only drawbacks of dropshipping. Thorough research and analysis are always a must before starting any business!
Who is the Dropshipping Business For?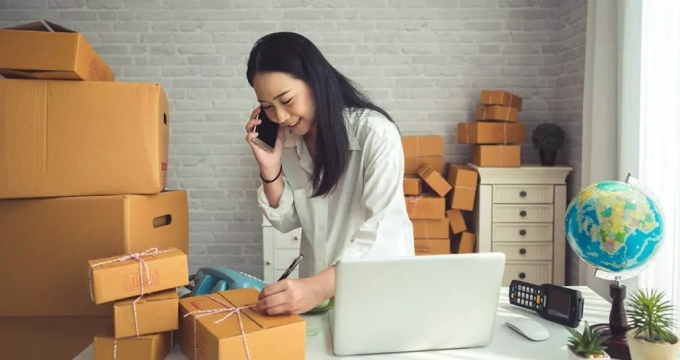 Anyone with a passion for business can try the dropshipping business model since it requires low investment and is quite easy to start.
However, dropshipping may be more than just an option for some entrepreneurs. It may be their best choice that saves them a lot of time, effort, and money.
So here are some types of entrepreneurs for whom the dropshipping business model is a perfect fit!
First-time entrepreneurs, who are testing the waters
This is the type of people who want to try their hand at the business for the first time, but not in a full-fledged manner.
If you are one of them, you can start your own business without having to invest in stocking the product or worrying about the logistics. You will be running the business completely based on your marketing skills.
You also have the flexibility to choose any kind of product to start your business with, and at any point in time, if the product is not doing well, you can replace it with the next best thing!
Entrepreneurs who need to work on a budget
There are some entrepreneurs who look like they are born to run a business. However, they are holding themselves back due to budget constraints.
If you are one such entrepreneur, the dropshipping method can help realize your dreams within your budget. In under $120, you can set up your online store, list the products, and start selling.
Now you do not have to let something like money come in the way of living your dreams. Start your own business right away.
Testing the demand for a new product
For the people who want to add a product or a range of products to their store, but want to test the demand for the products before doing so.
You may be running a full-fledged retail business, handling everything from inventory to shipping of the orders.
Even so, if you think of adding some products to your store, dropshipping can be the most risk-free way to test run the decision before you decide.
Who it Isn't For?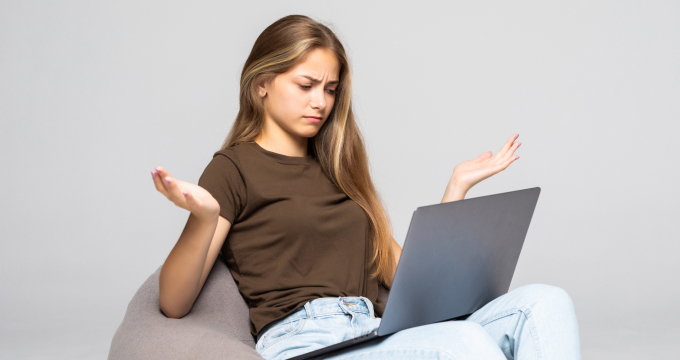 As easy and hassle-free as it may be, dropshipping still isn't the best solution for everyone. There are a few types of entrepreneurs that may not benefit from this business model.
Let us take a quick look at who dropshipping isn't for. If you fall under one of these categories, then you may have to look at other business models.
Entrepreneurs who want to build their own brand
Dropshipping is basically for those who just want to test their entrepreneurial skills.
If you are the kind of person who is fully motivated and have high goals for your business, then dropshipping will be more of a hurdle for you to reach those goals.
Since you will be selling products that are created, packaged, and branded by your supplier, your personal brand will not get through to your customers.
People who want quick and high returns/profits
Despite what the internet says, dropshipping is not one of those get-rich-quick schemes. It takes some time, effort, and planning before you start seeing significant returns.
Another factor to consider is the low profit margins. If you are the kind of entrepreneur who is focused on profit margins, dropshipping may not work out for you, especially at the start.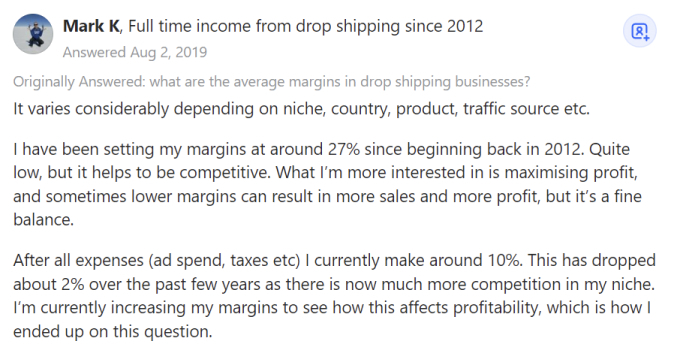 Entrepreneurs who aren't into marketing
The dropshipping business model has a reduced effort of managing inventory, ensuring the stocks, packing the products and shipping them, etc.
At the same time, these efforts need to be doubled up at the marketing and advertising front if you want your business to take off.
Have you heard the saying- 'Selling ice to an Eskimo?' It basically tells you about a person's exceptional persuasion skills. That is how good your marketing skills need to be.
That said, if you have a knack for marketing, you should be able to set aside a huge fund for hiring someone else to take care of the marketing. If not, then dropshipping may not be the right business model for you.
Dropshipping Mistakes to Avoid in 2022
Hope this article has provided you with as much information as needed regarding dropshipping business model- what it is, how it works, what are its benefits and challenges, and much more.
This guide would be incomplete without talking about some of the common dropshipping mistakes that you should avoid.
So make a quick note of these tips before you get started with your dropshipping business.
Do not choose a very narrow niche
You can start your dropshipping business with just one product. That doesn't mean it is recommended, though.
If you choose a very narrow niche when starting out, it might be very hard for you to capture the market.
Do not choose your products based on your likes and dislikes
The choice of products that go in your store should be based on thorough research of your target market rather than your likes or dislikes.
Do not blindly choose a product simply because it is trending or someone else is selling it either.
Do not sell knock-offs, fakes, and first copies
How much ever enticing those profit margins look, do not gain the reputation of selling fakes or knock-offs.
Your reputation matters a lot when you are running a business. Even if not in the start, as you grow, your reputation will bring in a lot of profit.
If you are a first-time business owner or a small-scale entrepreneur, creating your own online store should be your first step.
Running your business on social media platforms for free of cost may seem like the way to go. However, as your business grows, it will be hard for you to manage it efficiently.
Do not be rude or unprofessional with your customers
Providing professional customer service will take you a long way, from the very start of your business.
Be patient while handling queries, be as transparent as possible, and keep in touch with them through the entire shipping process.
That brings us to the end of this article. We hope it has covered all the information you were looking for.
We also have a list of the best dropshipping books to read to gain in-detail information about the dropshipping business model.
The Future of Dropshipping
A lot of people are starting a dropshipping business.
And for some, it has drastically changed their lives. Like this 33-year-old who has turned the $200 in his bank account into $1 million all because of dropshipping!
But is it just a fad and will fade away due to saturation? Or is it something that's going to stay with us moving forward?
Dropshipping has been called the future of eCommerce.
And rightfully so as it has empowered smaller entrepreneurs and startups to compete with more established eCommerce brands. Dropshipping makes selling online an equal playing field for all.
(Plus, according to Retail Insider, even Amazon and eBay themselves have started trying out their hand in this market.)
When more people get into dropshipping, more possibilities are opened. Even food is now being drop shipped!

And new possibilities mean more attention to dropshipping. And that means new dropshipping trends, like:
App and website optimizations for mobile phones, since more people buy via their mobile devices
Chatbots reach out to customers via private messaging to address their concerns and explain procedures, as well as inform them of new items in the store
The development of subscription-based models for stores for loyal and returning customers to keep them happy
New software for easier shopping checkouts and payments
In short, with many companies investing in dropshipping (and with more coming out, we're sure), we can safely predict that dropshipping is going to be around for a long, long time.
And if you want to be part of the dropshipping niche, and want to try out your entrepreneurial drive, we invite you to set up your online store with Dukaan today – all for less than 100 dollars.
Dropshipping FAQ's
What does dropshipping mean?
Dropshipping is a kind of order fulfillment method where the business sells products that are stocked and shipped by their suppliers.
What is a dropshipping business model?
Dropshipping business model is one in which a seller sells products at a market price while they find a supplier that offers a wholesale price for the same product. The supplier ships the orders out and the seller pockets the price difference.
Can you make money dropshipping?
Yes. How much money you can make depends on your choice of product and your target market. But typically you can make anywhere from 10 to 50% profit from the dropshipping business.
Is dropshipping profitable in 2022?
Yes, dropshipping is considered one of the most profitable businesses at present, and the trend is expected to remain in the future.
How much does it cost to start a dropshipping business?
You can start a dropshipping business for free. However, with an investment as low as 100 dollars, you can set up an online store and add a lot more credibility to your business.