Ecwid and Shopify are both heavyweights in their own right. If you can't decide between the two for your business, our Ecwid vs Shopify comparison will clear your confusion.
It can be hard to decide which eCommerce platform between Ecwid and Shopify is best for your business needs. In this article, we'll take a closer look at these two platforms, including their features, prices, ease of use, flexibility, and more to help you make an informed decision.
So, let's begin.
Ecwid Vs. Shopify: An Overview
Before we start with our detailed comparison, here's a broad overview of the key differences between the two platforms.
| Ecwid | Shopify |
| --- | --- |
| Ecwid is an ecommerce plugin to add ecommerce features to your website. | Shopify is an ecommerce platform for creating online stores. |
| Ecwid has one free and three paid plans. | Shopify has three paid plans with a 14-day free trial. |
| Helps small-scale businesses with limited customizations. | Shopify is better for bigger businesses looking for growth. |
| Ecwid is best for launching an online store for beginners. | Shopify works well for a full-fledged online store. |
| Ecwid has limited designs and templates. | Shopify has more than 70 templates, customization tools, and for a variety of industries. |
Ecwid Vs. Shopify: Key Differences
Some of the key differences that we will address in this article are:
Ease of use
Design Flexibility
Ecommerce Options
SEO Features
Add-Ons
Payment Gateways
Customer Support
Pricing
Let's take a look at these differences one by one.
1. Ease of Use
Ecwid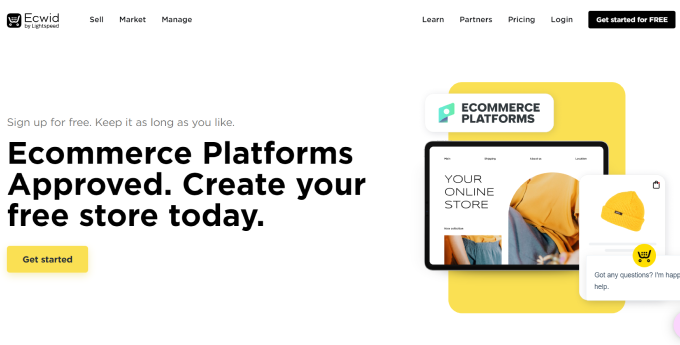 Starting an online store can be daunting, but with the right ecommerce platform, it can be relatively straightforward.
Ecwid is one such platform that is known for its ease of use. You can integrate your website with Ecwid within minutes without worrying about technicalities.
You can integrate Ecwid with your website by adding the Ecwid widget to your website's backend. However, if you use a website that supports the Ecwid plugin, you can simply download it!
Shopify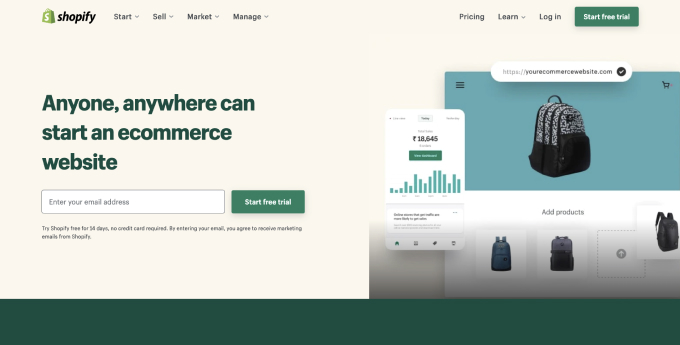 Like Ecwid, Shopify also manages all the technical aspects of running an online store, including hosting, security, and payments. They offer a proper setup and onboarding process to make it as easy as possible for their users. This allows users to focus on growing their businesses rather than worrying about the underlying infrastructure.
In addition, Shopify provides a wide range of features and services, making it a comprehensive ecommerce solution.
Our verdict for best ease of use:

Shopify
2. Design Flexibility
Ecwid
Ecwid offers a number of pre-built themes that can be customized to fit the unique needs of any business. You can easily integrate your website with Ecwid's store design set to maintain consistent branding. This means your store colors will automatically match your website's colors.
However, Ecwid offers limited customization, where you can choose your product image size as per Ecwid's predetermined sizes (small, medium, or large), but not to your preferences.
Shopify
There is a wide range of themes available, over 70 themes to be precise, which means that businesses can create an online store that reflects their brand identity and provides a great user experience for their customers. Shopify's themes are made for various industries like food and drink, health, clothing, and much more!
Our verdict for best design flexibility:

Shopify
3. Ecommerce Options
Ecwid
Ecwid provides a number of ecommerce tools that businesses need to start selling online. A few of those are:
Product options and variations
Inventory tracking
Option to sell physical and digital products
Saving abandoned carts
POS integrations
Creating promotions and discounts
Social media integration
Third-party marketplace integrations
All these ecommerce tools are essential to run your business. Multichannel integrations can help attract and retain customers to support growth.
Shopify
Shopify offers users a variety of features and options to choose from, making it an excellent choice for those looking to establish an ecommerce presence. In terms of features, Shopify offers users a number of options to choose from, including the ability to add products, manage inventory, and process payments.
A few of the other essential eCommerce features include:
Unlimited products
Automatic shipping rate calculation
Multiple shipping options
Dropshipping
Automatic tax calculations
Abandoned cart recovery
Multichannel integration options
Multiple currency support
Shopify's inventory keeps track of your product stocks and stops selling automatically once the stock is over.
Our verdict for the best eCommerce options:

Shopify
4. SEO Features
Ecwid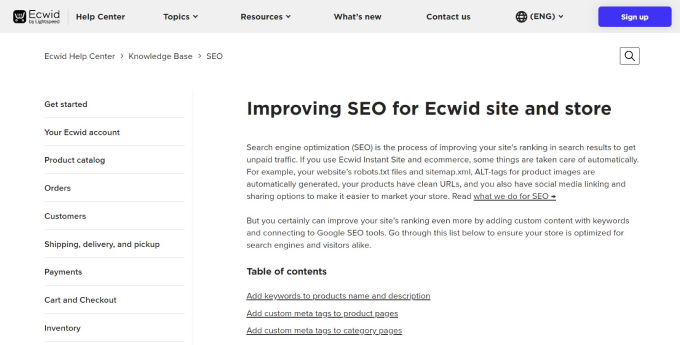 Ecwid automatically handles SEO on your behalf to improve your site's ranking. Ecwid provides SSL certificates for free to improve security. It also offers simple and descriptive URLs for your products and categories to make them easily indexed and searchable on Google.
Check a few things that Ecwid does to give their customers a comprehensive SEO-friendly experience:
Sitemap for instant sites
Structured data
Custom meta tags
Built-in mobile optimization
Automatic ALT-tags
Shopify
Shopify offers users a few great SEO tools businesses need to manage an online store. Shopify offers a number of built-in SEO features that can help improve the ranking of an online store in search engine results pages (SERPs). For example, Shopify adds auto-generated canonical tags to your pages to block duplicate content. In addition, you can edit tags, URLs, meta descriptions, ALT-texts for images for your products, posts, and more.
Our verdict for the platform with the best SEO features:

It's a tie!
5. Add-Ons
Ecwid
Ecwid offers a wide range of features and add-ons to help businesses grow their online sales. Some of the most popular add-ons include:
Automatic shipping calculation: This add-on provides automatic shipping cost calculations for your customers. It can be an excellent time-saver for businesses that ship frequently and ensure that they are making profits on every sale.
Integrate reviews and Q&A: Turn viewers into customers with reviews, ratings, and Q&A sessions.
These are just a few of the many add-ons available for Ecwid users. Businesses can find the perfect solution for their needs with so many options available.
Shopify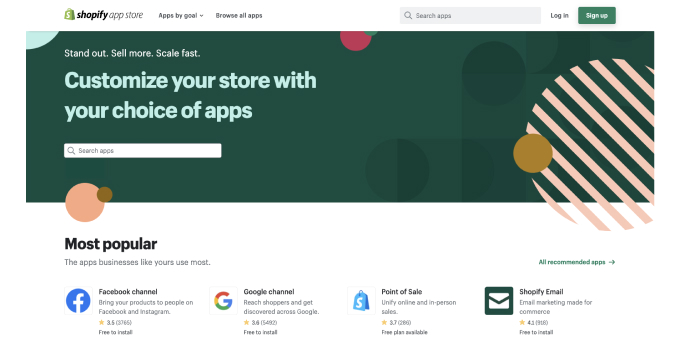 Besides built-in tools, Shopify has more than 5000 apps to help boost your store. You can look for these tools by browsing through categories and collections, or you can look for apps that are trending on Shopify. Some of the most popular add-ons include:
Payments: Enables businesses to accept credit card payments directly through their online store.
Shipping: Provides businesses with discounted shipping rates and access to a wide range of shipping options.
Shopify Inbox: Connect with your customers through live chat and increase your store's shopping experience.
Buy Button Channel by Shopify: This add-on allows you to sell your products on various channels using this easy-to-integrate buy button.
Shopify gets an edge over Ecwid due to its huge library of add-ons on the Shopify App Store.
Our verdict for the platform with the best add-ons:

Shopify
6. Payment Gateways
Ecwid
One of the things that make Ecwid unique is its payment gateway options. Ecwid offers a wide range of payment gateways to choose from, about 100 pre-integrated solutions, including popular options like:
This means that businesses can find a payment gateway that best meets their needs. Additionally, Ecwid does not charge any transaction fee.
Shopify
One of the key features of Shopify is its payment gateway, which allows businesses to accept payments from customers via credit card or other methods. There are a number of different payment gateways available on Shopify. Some of the most popular Shopify payment gateways include:
Stripe
PayPal
Authorize.net.
Stripe is a popular choice for businesses because it has zero delays or errors. PayPal is another popular payment gateway with no cancellation fee or hidden charges. Authorize.net is a more expensive option but offers a wider range of features. Whichever payment gateway you choose, ensure it supports the countries you want to sell to and provides the features you need.
Contrary to Ecwid, Shopify charges a small transaction fee for every sale. That's why, we would say, Ecwid has better payment gateways.
Our verdict for the platform with the best payment gateways:

Ecwid
7. Customer Support
Ecwid
Ecwid provides a range of customer support options, ensuring businesses can resolve any issues as quickly as possible. The customer support team is knowledgeable and responsive and always willing to go the extra mile to help businesses succeed. Some of the customer support features on Ecwid are:
Email support
Live support
Phone support
Community forum
Video guides
Help center
Priority support
Overall, Ecwid provides an excellent customer support experience that helps businesses to thrive.
Shopify
One of the key advantages of Shopify is the high level of customer support available to users. The Shopify team provides 24/7 assistance via phone, email, and live chat, ensuring that businesses can always get the help they need. In addition, the Shopify forums are a great resource for finding answers to common questions and troubleshooting issues. Shopify also has advanced specialist support, which is only available in the Advanced plan.
With such a robust customer support system in place, businesses can rest assured that they will be able to resolve any problems that may arise efficiently.
Both platforms are equally matched in this round of Ecwid vs Shopify.
Our verdict for the platform with the best customer support:

It's a tie!
8. Pricing
Ecwid
Unlike other ecommerce platforms, which can be expensive and complicated, Ecwid offers a straightforward pricing model. There are four main plans:
The Basic plan is free.
The Venture plan costs $15 per month.
The Business plan costs $35 per month.
An Unlimited plan costs $99 per month.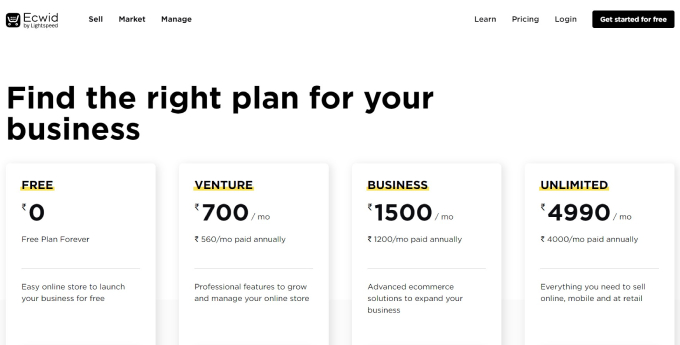 A few key features for each of the plans are listed below:
|   | Free | Venture | Business | Unlimited |
| --- | --- | --- | --- | --- |
| Products | 10 | 100 | 2500 | Unlimited |
| App Market | No | Yes | Yes | Yes |
| Inventory Tracking | No | Yes | Yes | Yes |
| Sell on Social Media | No | Yes | Yes | Yes |
| Sell on Marketplaces | No | No | Yes | Yes |
The basic plan is affordable but offers limited features. So, we recommend choosing more advanced plans if you wish to sell on multiple channels and grow your business.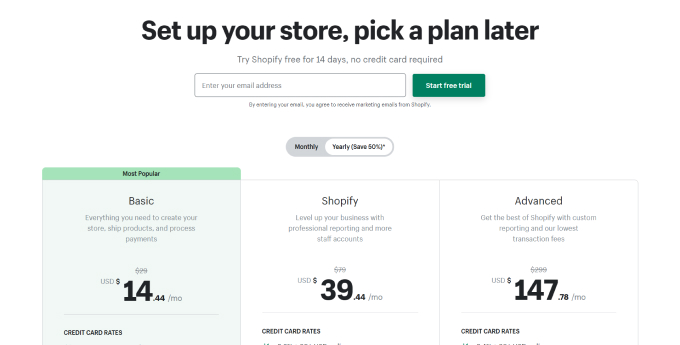 Shopify offers three different plans, each of which has a different set of features and pricing options. The Basic plan starts at $29 per month and includes all the essential features you need to get started with ecommerce. The Shopify plan costs $79 per month and provides access to additional features, such as professional reports. Finally, the Advanced plan costs $299 per month and includes features such as calculating third-party shipping rates.
|   | Basic | Shopify | Advanced |
| --- | --- | --- | --- |
| Product Variation | Yes | Yes | Yes |
| Professional Reports | No | Yes | Yes |
| Third-party Shipping Rate Calculator | No | No | Yes |
| Emails for Abandoned Carts | Yes | Yes | Yes |
| App Market | Yes | Yes | Yes |
| Marketplace Integration | Yes | Yes | Yes |
Shopify prices are indeed higher compared to Ecwid, but it provides more advanced features. However, Shopify can give you a better value for your money.
Our verdict for best pricing:

Shopify
Ecwid Vs. Shopify: Conclusion
Ecwid and Shopify are excellent ecommerce platforms offering a wide range of features to help businesses succeed. So, which platform is right for you? It depends on your specific needs and requirements.
Ecwid is a great choice for businesses looking for an affordable platform with basic eCommerce features. The platform offers a free plan with limited features and four paid plans that provide more features and functionalities to your store.
On the other hand, Shopify is a great choice for businesses looking for a robust and feature-rich platform. The platform offers three different plans, each with a different set of features and pricing options.
Further reading
Shopify might be a little overwhelming if you are just starting out. Check out our list of eCommerce platforms like Shopify that you can try instead.
Ecwid might seem lucrative due to its cost, but it comes with its certain set of limitations. If you want to explore other similar options, check out our article containing Ecwid alternatives.
But wait, you have one more option if you want to build your online store.
Dukaan, an ecommerce enablement platform, lets you create your online store in less than 30 seconds. Manage your online store with easy-to-use ecommerce tools and choose from 40+ plugins to build your business.
Visit Dukaan and start your 7-day free trial now!
FAQs
1. Which platform is suitable for beginners, Ecwid or Shopify?
Both Ecwid and Shopify are beginner-friendly platforms. Choose Ecwid if you are working with a limited budget and Shopify if you need access to unlimited features and tools to expand your business. However, if you are looking for a highly intuitive and user-friendly platform with advanced eCommerce features (and no learning curve), we recommend you give Dukaan a try.
2. Which is best for a small business, Ecwid or Shopify?
If you want to start your online store on a limited budget, Ecwid is good. However, if your main focus is to scale your business, the features that Shopify offers are better suited for the same. We would also suggest you try Dukaan as it is both scalable and economical.
3. Can I build a standalone store with Ecwid?
Yes, you can build a standalone website with Ecwid (called Instant site), although the features it provides are a little underwhelming compared to what a dedicated eCommerce platform like Shopify or Dukaan provides.
4. Is Ecwid cheaper than Shopify?
Yes, straightaway, just comparing their base plans, Ecwid is cheaper than Shopify. The basic monthly price for Ecwid starts at $15, compared to Shopify whose base monthly plan starts from $29. Both the platforms come with a free trial of 14 days, so you can take your time and explore.
5. Is Ecwid similar to Shopify?
Ecwid and Shopify share differences in their offerings. Shopify is a dedicated eCommerce platform you can use to run, manage and scale your business efficiently. On the other hand, Ecwid is an eCommerce widget (or plugin) which can be integrated into any platform to help boost sales.