So you want to get your FSSAI license/registration but don't know where to start? Or not sure whether you need it in the first place? Here is a guide on how to get FSSAI license.
Pick any packaged food item from anywhere in India and you would notice the word "FSSAI" is inscribed on the packaging. Almost all food item packages have the same stamp.
There is a pretty good reason for that.
A business of any size that deals with food items or ingredients in India is required to have an FSSAI license. Printing the FSSAI symbol and the license number is compulsory.
It is the first license you should obtain for your food business/ restaurant.
But how can you apply for it? Or what is the procedure? How much does it cost?
In this article, we will answer all your questions regarding the FSSAI license.
What is FSSAI license
FSSAI stands for food safety and standard authority of India. It's an autonomous body under the Ministry of Health & Family Welfare, Govt of India. This organization ensures the food products meet certain quality and safety standards before reaching the consumers.
Every business that is involved in food production and distribution needs a "thumbs up" from FSSAI in the form of a valid FSSAI license or registration.
FSSAI registration and license are not the same things. Depending on your business size and operation you have to apply for either the state/central license or the FSSAI registration.
Once you get your business registered, you will get a 14 digit license number. This number contains details about your license status, location, year of registration etc. Here is a break down: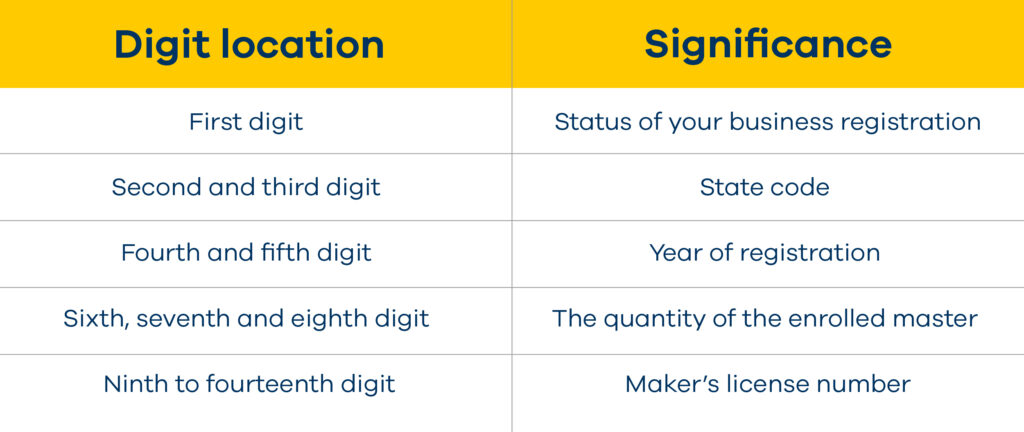 Types of FSSAI license
There are three types of FSSAI license: FSSAI registration, state license and central license. There are clear guidelines for eligibility for each type of license:
1. FSSAI registration
Any food production, processing or storage business with less than 12 lakh yearly turnover is eligible for FSSAI registration.
In other words, very small restaurants, petty retailers, hawkers, temporary stallholders, home-cooked meal businesses etc. fall into this category.
Apart from those, the following businesses/entities are also required to have an FSSAI registration:
Businesses with a food production capacity of less than 100kg/lit per day.
A business that can procure and collect less than 500 litres of milk per day at its full capacity.
Business with a maximum slaughtering capacity of 2 large animals or 10 small animals.
2. State FSSAI license
Any food business operators (FBO) who aren't petty but not quite big must have a state FSSAI license. To give you a better idea, businesses with 12 lakh to 20 cr are eligible for a state license. Moreover, other criteria include but not limited to:
Dairy units that sell/produce 501 to 50000 LPD (litre per day) milk or 2.5MT to 2500MTs milk solids annually.
Wholesalers with under 30 cr. annual turnover.
Clubs, restaurants, canteens with less than 20 cr. turn over.
Hotels with above 3 stars but below 5 stars.
3. Central FSSAI license
Central registration is for big businesses. If you are running a business that generates over 20 cr turnovers, you need a central FSSAI license. There are some other criteria as well:
Hotels with 5 stars or above.
All food business operators that export food items.
Large restaurants, food joint chains (with more than 20cr turnover).
All importers who are bringing food items and ingredients for commercial use.
Milk production units with more than 50000 LPD capacity.
You can get the complete list from the FSSAI official website.
But what about food-based e-commerces? Well, they are covered too. If you are running one, for the starter, you need a central FSSAI registration. Also, you are required to partner with other FSSAI approved food manufacturers only.
In case you have a business all over the country you must apply for a central FSSAI license for your head office and then get state licenses for each of your other outlets. Keep in mind your FSSAI license /registration is based on your premises. Once you obtain the right FSSAI registration for any particular premises, you can run all types of food business from there.
Types of businesses that require FSSAI license
If you go through the FAQ section of the FSSAI website or internet forums, you will see many people ask if their businesses require a license/registration to stay legal. It's not surprising. FSSAI license/registration is compulsory for a wide range of businesses and it can get confusing sometimes.
Here is a list that covers all the businesses that fall under FSSAI registration/license:
Petty retailers and retail shops such as roadside Snacks shop, Confectionery or Bakery Shop, etc.
Temporary stalls or fixed stalls that prepare, distribute, store and sell food products. Some examples are fruit/vegetable vendors, Tea stalls, Chinese food stalls, snacks stalls, South Indian food stalls, sweet stalls, street-side biryani shops, juice shops, etc.
Hawkers, who manufacture packaged or freshly prepared foods and sell them while travelling (usually on foot or movable carts) from one location to another.
Milk Chilling Units, Petty local neighbourhood Milkmen and Milk Vendors.
Vegetable Oil Processing Units.
Meat shops and slaughtering units like mutton shop, chicken shop, lamb meat, etc.
Meat Processing and fish processing units.
All food manufacturing/processing businesses.
Transporter of food products who maintain a fleet of specialised vehicles like food trucks, insulated refrigerated van/wagon, milk tankers etc.
Hotels, Restaurants and Bars.
Canteens and Cafeteria including mid-day meal canteens.
Local PGs which offer food.
Food stalls near religious institutions.
E-commerce businesses. From small dark kitchens to giants like Swiggy or Zomato.
Exporters of food items and ingredients.
Importers who import food ingredients for commercial use.
Businesses that sell exotic and Novel food.
Cold/refrigerated storage facility.
How to Get FSSAI License – Procedure
Getting your FSSAI license isn't that hard provided you have all the required documents and your business meets FSSAI standards. The application process is pretty straightforward:
Submit Form A (for FSSAI registration) or Form B (for state/central license) to the Food and Safety Dept. Alternatively, use the FosCos portal to apply online.
Submit all the required documents along with Form A or Form B. Make sure your documents are valid. Use the FoSCos portal to submit your documents online.
This application can be accepted, rejected or returned back with some queries within 7 days. If your application got accepted , then congratulations. You will soon get a registration certificate with your registration/license number and your picture printed on it. It's mandatory to keep your license certificate on display at the place of your business.
In case you have bad luck and your application got rejected , don't feel bad. You can reapply again with all the documents after 3 months.
If your application has been returned back with some queries on it, you want to respond as soon as possible. Usually, applications with editing/ modification requests or queries get rejected if the applicant fails to respond quickly.
Documents required for a new FSSAI Central/state license
For a new central or state FSSAI license, you need to produce some declarations, certificates and other documents. The list of required documents in both cases is more or less the same. In the case of a central license, you need to deal with slightly more paperwork though. Nonetheless, these are documents you need to submit:
Form B completed and signed.
Photographs
Identity proof (Voter card/ Aadhaar card etc.)
Layout plan of the processing units in meters (for manufacturing/ processing businesses)
List of owners/directors with a complete list of their addresses and contact details.
Name of the installed machinery along with their numbers, capacity and horsepower,
List of the foods you are planning to manufacture and their categories.
IE CODE document issued by DGFT.
Certificate provided by the dept of tourism.
Analysis reports of the water to be used. Both chemical and bacteriological reports are required.
Sales deed/rent agreement/ electricity bill etc. You need to prove that you have the right to occupy the premises.
Partnership deed/ self declaration for proprietorship.
Food safety management system plan or certificate.
NOC from a municipality or equivalent governing body.
A document that shows your exact turnover.
Ministry of commerce certificate for 100% EOU.
Source of raw material for meat or meat processing.
NOC from FSSAI itself.
Please note, some of these are compulsory. And depending on your business some may not be required for you. To know more and understand the context, please take a look at the official list.
Consequences in case of FSSAI Non-compliance
All the individuals and businesses registered with FSSAI have to be compliant under the FSS act, 2016. Usually, the food safety officer visits the facility. After inspection, he/she uses a checklist to determine the level of compliance of the said business. Based on the compliance level any business can be assigned to any of the following grades:
Compliance(c)
Partial compliance (Pc)
Non-compliance (NC)
Not applicable (NA)
In case of non-compliance the penalty can be severe. Feel free to take a close look at this brief penalty overview based on the FSSA act, 2006.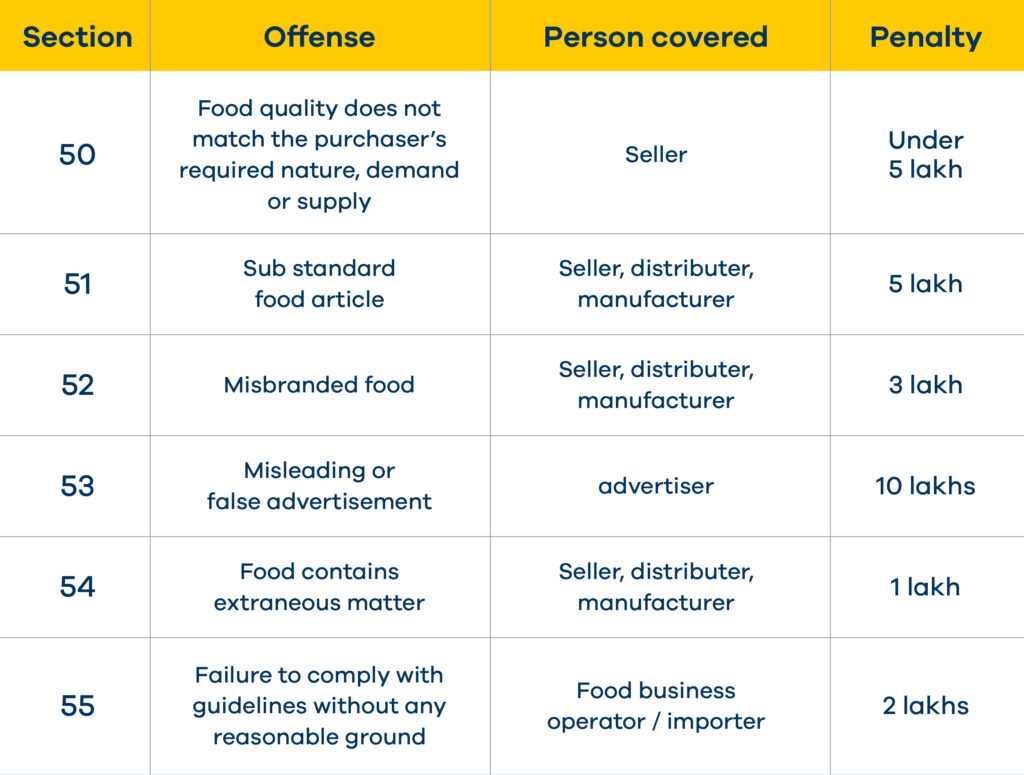 Benefits of FSSAI license/registration
According to economic times, only 1 in 5 eateries had a proper FSSAI license in 2019. A slightly older report by Hindu revealed only 1 in 15 food businesses were registered with FSSAI in 2016. It's safe to assume many food businesses are yet to get their FSSAI licenses.
This essentially makes them "illegal" and a constant threat of legal actions hovers over their heads. Since FSSAI doesn't hesitate to slap a hefty fine in case of non-compliance, one lawsuit can completely shut the business down.
Having an FSSAI registration/license keeps your business in Govt's good book. Since your operation and food items meet the standard, expect zero legal trouble. It's rather easy to get a license so there is no good reason for not getting any.
Banks frequently do a background check before handing out yet money. Thus FSSAI license indirectly makes the process of getting loans a bit smoother for you.
Last but not the least, consumers are more aware and insist on quality. Since the FSSAI license is a symbol of trust, they will feel safer to purchase and consume your products. In a way, the FSSAI license boosts customer satisfaction.
FSSAI Renewal
You can extend the validity of your FSSAI license by 5 years max. You want to apply for renewal at least 30 days before the date of expiry.
The next step
Once you receive your license/registration number, focus on hiring kitchen staff, delivery logistics and most importantly on the marketing. There are millions of food businesses out there. Each competing tooth and nail to attract customers. In order to thrive you have to cut through all those noises and stay on the radar of your customers.
During this pandemic, the marketing efforts of your direct as well as indirect competitors have shifted towards online. Brick and mortar shops and physical restaurants are slowly making space for dark kitchens and online stores. No wonder online marketing is more important now than ever.
Your first step to online marketing success is having a website. With the Dukaan, you can set-up your website easily. It's super intuitive and requires zero technical knowledge. From secure payment gateways to smart inventory management to sleek design -you will have every single thing you require to build a professional website. Dukaan also offers an integration library so that you can effortlessly connect your website with popular third party tools.
Once you set up your website, start investing in social media marketing, blogging and Google Adwords.
Social media marketing: Use social media channels like Facebook, Instagram and Youtube to build your brand, promote and start selling. You can easily target your potential customers through social media advertisements. Feel free to check out our detailed guide on Facebook ads.
Blogging: Start a blog. When you produce educational content and be consistent, people return to read, share and do business with you. Blog posts are excellent content assets that create a free but high quality traffic source.
AdWords: Adwords are great for quick wins and offer great ROI. Just make a list of high intent relevant keywords and build your campaigns around those.
Conclusion
FSSAI license is a must for any business involved in food manufacturing, processing and distribution. Depending on your location and turnover, you want to apply for either FSSAI registration, the state license or the central license. The application process is quite smooth and most businesses can get a license without much hassle.
FAQs
How much does a FSSAI license cost?
A new central license costs 1500/year . A basic FSSAI registration can be obtained by submitting only 100 INR/year.
Who requires an FSSAI license?
Any business that is involved in food manufacturing , processing, transportation and selling requires an FSSAI license.
Does homemade food require an FSSAI Licence?
Yes. Homemade food businesses fall under basic FSSAI registration.
How long does the FSSAI license take?
You can track your application through the portal dashboard. Usually, it takes a maximum of 60 days.
Can I sell without FSSAI?
If you are selling food items or ingredients, then no.
When is the FSSAI license required?
Ideally, you want to get it before you set up your business.
The status of my application is " The application has been sent back for modifications/editing". What should I do?
Respond to the queries in 30 days. Your application should be available on the applicant dashboard.
Is everything approved by the FSSAI safe?
FSSAI maintains strict guidelines. Items marked with the FSSAI license are safe. In case of any food safety violation, authority takes swift legal action.
My license/registration was cancelled? Can I apply?
Yes, you can. Make sure you take care of the issues/ non-compliance from your side and apply after 3 months.
What is the difference between FSSAI and AGMARK?
AGMARK is a certification mark for agricultural products whereas FSSAI is an autonomous body that ensures food safety and food business ethics.
Can we print an FSSAI registration number on a label?
Yes, you are supposed to print your FSSAI registration number on the label.
I have branches of my food chain business in other states. What should I do?
Apply for a central license for your head office then obtain state licenses for other outlets.