Nowadays, every Tom, Dick and Harry on the planet has a shop on Instagram, but merely having a storefront does not guarantee sales. This article will discuss the tricks you need to know to get those orders rolling in.
You have to live under a rock not to know that Instagram is the place to skyrocket your online business growth! Every day millions of users explore their Instagram feed out of boredom, and many impulsively buy the products they like left and right.
If this isn't indicator enough that you should sell on Instagram, there can't be a more prominent sign.
Just think about it: A study reports that out of over 1 billion people that use Instagram, 44% of the world's total Instagram users shop the products they stumble across weekly.
Imagine the sales you could make if even half of the Instagram users with a purchase intention reached your website. We'll leave it up to you to do the math.
Why Should You Sell on Instagram?
First things first, why shouldn't you? After all, the more places your store can show up, the merrier. As a small or budding business owner, setting up your store on as many platforms as possible is vital to creating brand awareness.
1. That's where your target audience is
Instagram is the 4th most used social media network worldwide. And that's the biggest reason you should have an Instagram store: To showcase your products to its active user base of over 1 billion.
In terms of exposure, it is a figure that a physical store owner can't even dream of.
Even if this volume does not come with the intent of purchasing, getting people familiar with your brand is more than great.
2. Its algorithm pushes similar products to customers
Have you ever wondered why your feed is filled with products similar to those you searched for or bought?
That's because it pushes similar content to the one you interact with. This means that if someone likes a reel about scrunchies, they'll receive ten more recommendations like it.
Every business owner knows these are great odds for your store's discovery.
3. Sell with minimum bearable investment
Nothing in the world beats the feeling of getting something for "free". And that's how much it costs to create a store on Instagram.
To run your business on Instagram, you do not need to invest additional money (apart from what you might want to spend to promote it). Plus, you also get the benefits of Instagram shopping, shoppable posts and much more.
Thus, entrepreneurs create a storefront for their business on Instagram as an addition to their own eCommerce store. More on that front later.
How to Sell on Instagram – Complete Guide
Selling on Instagram is not child's play. You need to deploy strategies and tactics to lure customers to your page. This article breaks down the steps you need to take, alongside tried-and-tested tips to help you sell on Instagram successfully.
1. Pick a profitable niche
Simply put, a niche is a set of people interested in buying only a specific product or service. For example, instead of skincare, you can specifically focus on the "cruelty-free" or "organic" niche. This will allow you to double down and work exclusively to attract people interested in a similar niche.
The more you narrow down your niche, the easier it becomes to find your core audience and sell to them. Think about it this way: Would you rather sell to a hundred people utterly unfamiliar with your product or ten people interested in buying it?
You'll also have a better chance of standing out to your ideal customer when you narrow your niche.

Pro tip: When deciding on a niche to focus on, consider your personal interest in the same. When you sell something you can inclination towards, you'll sell it better.
2. Set up a business account for your business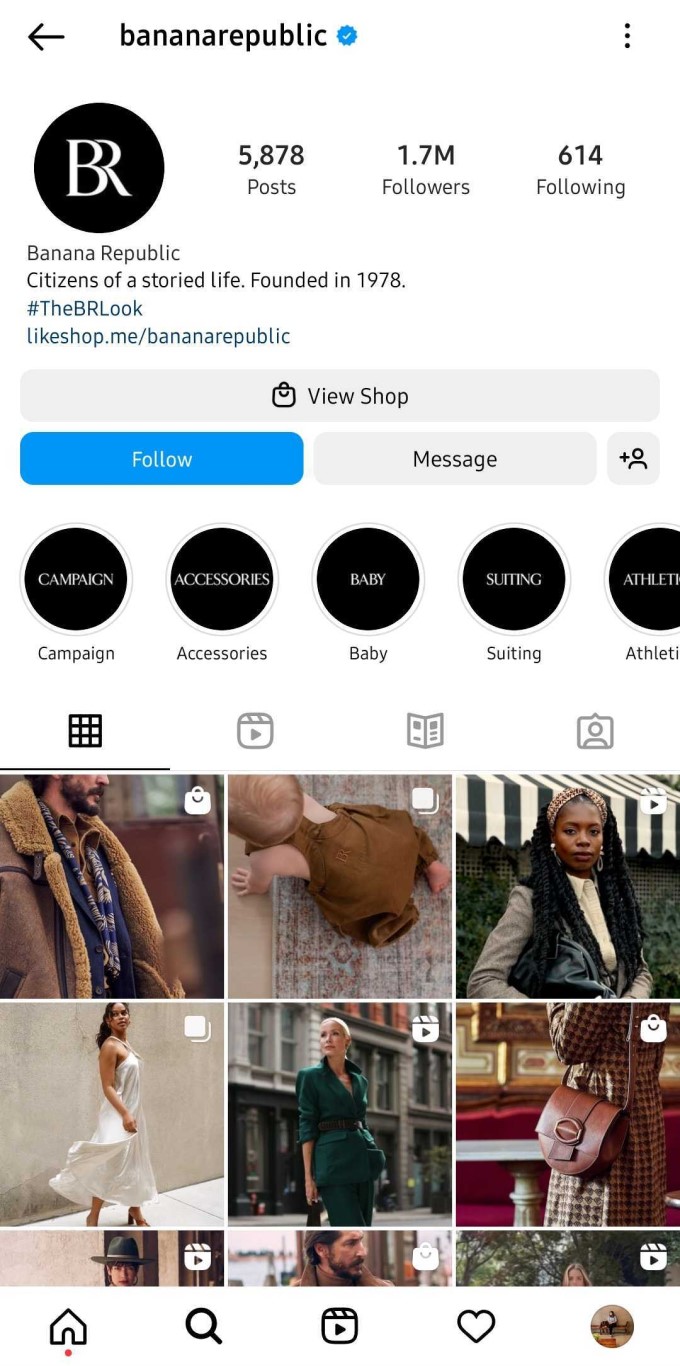 Well, this one is a no-brainer.
Instagram revolutionised how people sell products on the platform when it launched "business profiles" in 2016. This change came with a bunch of extra features that made doing business on Instagram a cakewalk.
Selling on Instagram with a business account compared to a personal account gives you the following perks:
Access to insights
Create sponsored posts
Run Instagram ads
Send instant replies
"Swipe up" feature and story links
Instagram shopping and much more
Consider your business account on Instagram as your virtual business card. It gives your account a branded and professional look and helps establish a personal connection with your customers.
Running a business on Instagram without switching to a business account is like bringing a knife to a gunfight. In an already highly competitive platform, you will already be miles behind if you do not have a business Instagram account.
3. Create engaging content for your business
After identifying your niche and setting up your business account, comes the fun part of creating engaging and interactive content for your feed.
The question is how do you make people stop their scrolling and interact with your post? How do you stand out among hundreds of businesses competing for the attention of people scrolling mindlessly?
The answer is quite simple: consistency and quality.
The content you post forms the basis of your brand's identity. Put your best foot forward visually by making your feed's aesthetics stand out.
Constantly churning high-quality content helps lure people to your profile and turn them into loyal clients.
Here are a few handy tips for building an aesthetic feed:
Stick to a particular theme/ aesthetic: Instagram is a visual game. Cohesive and eye-catching feeds outshine others and are more effective in luring people to the profile. Plan out details like the tone, font, style, etc., in advance. Photo editing apps like Adobe Lightroom and Canva can help maintain visual consistency in the feed. Additionally, you can also use apps like Later and Plann to curate your IG feed.
Experiment with IG creative tools: The sky's the limit when it comes to experimenting with your grid's posts. Make the most of IG apps like Boomerang, Layout, Hyperlapse etc. to populate your feed with variety. Even a carousel can be used to post a mix of videos and photos together in one post.
Post quality photos & videos: When it comes to the "does and don'ts" of uploading on Instagram, stick to this tip. Always upload content that reflects your brand's message, and never post shaky/ grainy images. Take your time with the images, get the lighting setup right and ensure your product emerges as the hero of your image. It's also beneficial to post images showcasing your audience using and interacting with your product.
Gamify your content: Predictability is boring; both in real life and on the gram. Spruce up your content by throwing in quizzes, polls etc. Your engagement is bound to skyrocket if you keep your audience guessing about what you will post next.
Take a look at Jack Morris' impressive Instagram feed, where he has also linked his store in the bio.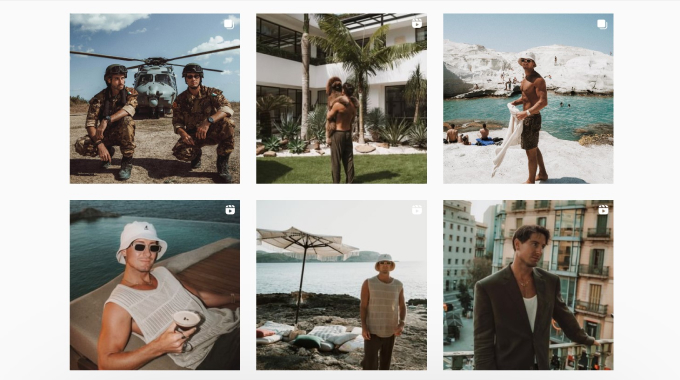 Pro tip: Focus on the shareability of your posts. If your content compels your audience to share it with friends and family, you've hit the bull's eye. Better, think of it as free publicity.
4. Write strong bio with an impactful call-to-action (CTAs)
If you are running a business on Instagram, you simply can't copy a quote from Pinterest in your caption and call it a day. Captions for businesses serve a very specific purpose.
Creating a great caption involves two key elements: a powerful hook and a viable call to action. Both these components go hand in hand. A powerful hook will motivate your audience to click "read more", while the CTA will encourage them to take the desired action. (send a DM, leave a comment, like a post etc.)
It's no secret that Instagram promotes your page more if your audience interacts with your post. Bringing your a-game to the table when crafting captions for your Instagram business page is vital. Great captions bring in engagement, so don't settle for anything less than the best.
Make it a habit to keep your captions short, crisp and to the point. Tempting as it may be, don't give into the urge to become a modern-day Shakespeare. Everyone on Instagram is in a hurry; always present the most important information right at the beginning to the people as concisely as you can.
Here are our best tips for writing amazing captions:
Format your captions properly. Add line spacing, bullets, numbering etc., wherever needed.
Focus on readability. Don't unnecessarily use fancy words like "transfixing" or "utilitarian" when "fascinating" and "helpful" can do the job.
Don't forget to use action words like "tap", "hit" etc. to boost engagement.
Spruce up your captions with fun emojis to keep the readers entertained.
Hashtags in captions go together like bread and butter. Leverage them in your captions judiciously.
Pose questions or initiate discussions in your captions to build engagement.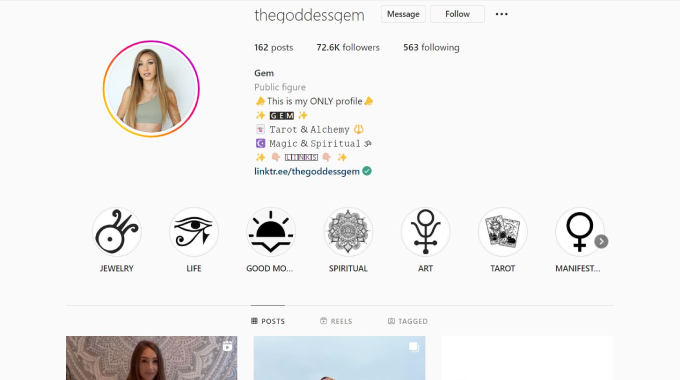 The Gem Goddess' IG profile is a perfect example of how to write eye-catching and concise bio.
Even with top-notch content, your posts won't be seen by many eyeballs if they aren't supported by the appropriate hashtags. Look at it this way, hashtags are the connecting dots between your content and the audience searching for it.
Hashtags are a great discoverable tool and act as the bridge between your business and brand awareness.
Here's how you can step up your hashtag game:
Create a branded hashtag for yourself. It helps solidify your brand's identity in the mind of the customer.
Use a combination of high and low hashtags to cover all your bases. If you are selling vegan handcreams, you should use both #[Brand Name]VeganHandCream and #VeganHandCream. This way, you'll be able to target customers in all stages of the sales funnel.
Be smart with hashtags. Use them sparingly. If five hashtags can do the job, there's no point in cramming all thirty in your caption.
Only use relevant hashtags. If you are selling scrunchies, there's no need to add #ShotOnIPhone just because it is trending.
Use hashtag tracking tools like Hashtracking, Brand 24 etc., to monitor your hashtags' performance.
We would strongly advise you to use hashtags with your shoppable posts. It would make your content discoverable and convey that the products are available for purchase.
If this sounds overwhelming, fret not, for there are generators like Tag Blender, All Hashtags etc. that lend a helping hand in finding the trending tags in your niche.
Pro tip: Mirror the hashtag tactics used by your competitors to gain visibility. Evaluate what's working for them and what you can do to rank higher from them.
6. Utilize the URL in the Instagram profile bio
There's only one spot in your Instagram profile where you can add an external clickable link, and it'd be such a waste of a golden opportunity if you keep it blank. Yes, we are talking about the URL section of an Instagram profile.
It's a great way to introduce your business to people checking out your Instagram profile for the first time.
Most big brands and growing businesses only use Instagram as a secondary storefront since it does not have the advanced eCommerce functionalities needed to scale a business and convert it into a brand. Having the link to your products or services in your IG bio is a great way to diverge traffic to your store. This can do wonders for your conversion rate as it eliminates the hassle of searching for the store or the service/product.
Here's how you can leverage the space to the maximum:
Rather than linking to your business' homepage, connect it to a specific product or service you want to highlight.
Place a CTA above the link so that the users don't enter the site blindly.
Use "Link in Bio" in your captions to direct people's attention to the link.
There's no harm in switching the link when you are doing promotions, offering goodies etc.
If you need to add more than one link, use apps like Link Tree to bundle them all together neatly.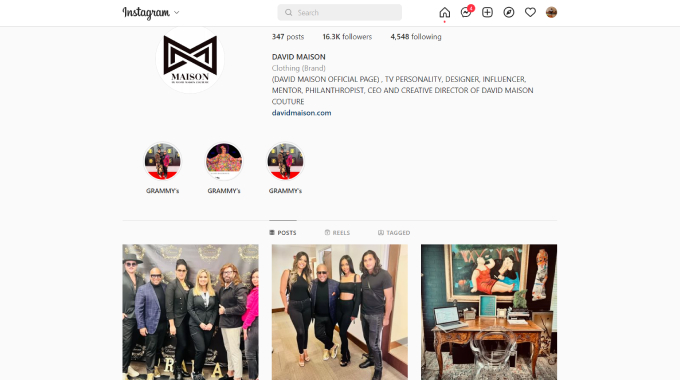 Take a look at how well David Maison has used this space by linking it to his Dukaan-powered store.
7. Make your Instagram posts shoppable
You don't have to sit around and wait for your target audience to find your products; instead, you can draw their attention to them by converting regular posts to shoppable ones.
Shoppable posts are exactly the same as tagging people on Instagram, except here, you add a link to your products in the post.
It is the perfect tool to showcase your products to potential clients and followers alike. Statistically speaking, 46% of people report buying a product after seeing it on Instagram.
Shoppable posts can be normal feed post, video or reel that contains product tags. These tags fulfill multiple purposes: show the product's name, its price and lets the users add them to their cart or go to the company's profile to buy.
All shoppable posts are marked with a tiny shopping bag icon on the lower left corner and a "visit shop" banner on the bottom, prompting customers to tap on it.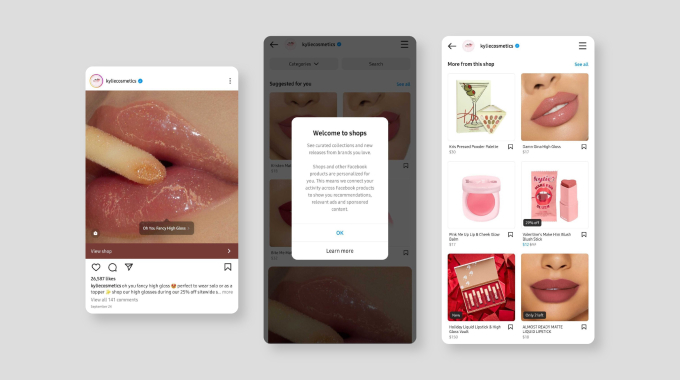 A word of caution here. Even though the whole and sole purpose of creating shoppable posts are to increase sales, it shouldn't come across as too "sales pitchy". At its core, shoppable posts give people the power to shop at their fingertips, make sure you make this journey fun for your customers.
Follow the golden "80/20" rule here. Utilize 80% of your posts to create shoppable content while keeping the other 20% as regular posts.
Pro tip: Since shoppable posts need to be highlighted from the rest of the feed, select content that creates the biggest bang to turn them into shoppable posts.
8. Use Instagram stories & reels for brand awareness
Before delving deeper into using stories and reels to increase your business' brand awareness, here are some figures to put things into perspective.
Statistics reveal that 500 million accounts view Instagram stories daily. 58% of IG users say they bought products after seeing them in the brand's story. Might we say anything more to emphasize the importance of uploading stories on your business' Instagram profile?
Here are the cool things you can use Instagram stories for:
Promote discounts and ongoing offers.
Give sneak peeks of new products.
Interact with the audience using polls, posing questions, putting up quizzes etc.
Motivate your customers to buy your products and services by creating a sense of urgency. Use marketing tactics like limited-time sales, last pieces left, few slots available etc.
Reels can make your brand's popularity spread on Instagram like wildfire. You get to express your brand and what it stands for in 90 seconds. Plus, the publicity it gets is unmatched compared to other formats available on the platform.
Truth be told, you can't obtain the same reach with images and videos that reels and stories can pull.
You can use Instagram reels for the following:
Weave a story around your brand: Showcase the face behind the brand, what it stands for and what it aspires to be.
Showcase your products in action: Show what your products can do, not just in terms of functionality but what value it adds to the life of the customers.
Humanize your brand: Give your customers a glimpse of what goes into creating your product or the thought process behind the service you render. And what's a better way to do this than by showing the behind-the-scenes of your business' everyday operations?
Pro tip: If you have 10k+ followers on Instagram, use the "Swipe Up" sticker in stories to advertise your products and services (using the product page URL) directly from the story itself.
9. Partner up with Instagram influencers
What's a sure-shot way of skyrocketing your brand's popularity? Influencer marketing. Yes, you read that right.
Influencers are people who've built credibility and reputation (and not to forget, a substantial following) around a niche on a platform. Depending on what products you sell or services you provide, you can partner with an influencer in the same niche for exposure, free products or money.
Think of influencer marketing as ambassadors to endorse your products to their loyal audience. The higher the influencer's authority and followers in their domain, the bigger the scope for discovery. Big brands go for hotshot influencer (and even celebrities) to post sponsored content on their feed promoting their brand's products.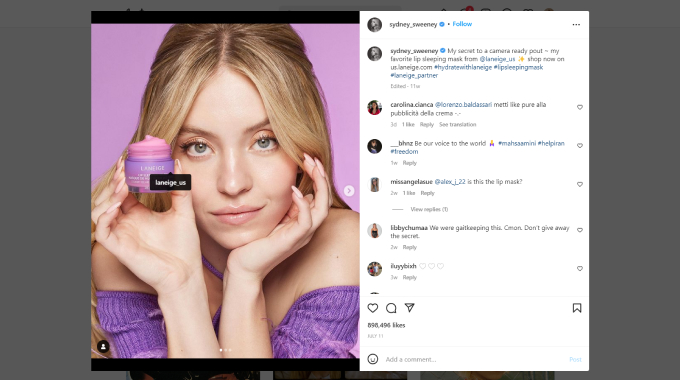 But this does not mean only collaborating with big influencers is fruitful. Especially as a new business or a small business owner, you might not be able to pay the fees that influencers charge.
Don't be disheartened by it. Consider this possibility: A micro-influencer with under 10k followers might be more connected with her audience than someone with 100k followers. And even if you partner with someone with under 1000 followers, it'll be 1000 new people discovering your brand for the first time and with someone they look up to vouching for it.
Curious about the benefits of influencer marketing? Read on:
Run promotional schemes like giveaways, lucky draws etc.
Present your product to the right audience.
Build consumer trust.
Attract new customers from the same niche.
Pro tip: Once you find the right influencer to partner with, plan out the terms of the deal in detail. Discuss everything from the frequency of posts to the format of the posts.
10. Enable Instagram shopping
Instagram shopping enables your customers to get a seamless and interactive shopping experience in the comfort of a known platform. It allows you to create an immersive storefront on the app and sell without leaving the app for checkout. (available selectively and only in a few locations at the moment)
With Instagram shopping, your customers can browse products, explore the brand's curated collections and purchase the products they like. It is set up in a way that encourages the customers to either make a purchase upon discovering the product or browse the collection it is from for similar products.
Wondering what makes Instagram shopping great? Here's the rundown on what it offers:
Create collections for your business. (Curate collections for new arrivals, trending, fresh on discount, best-selling products and more). This way your customers can directly go to the product they are interested in rather than scrolling through the entire store.
Create single product pages that contain product images, its description, a CTA button and a section of similar recommended products.
Tag products on the stories and reels you post and live sessions.
Run ads on Instagram using product tags to boost their sales.
Increased chances of getting featured on the "shop" tab on Instagram's homepage. (selectively available geographically)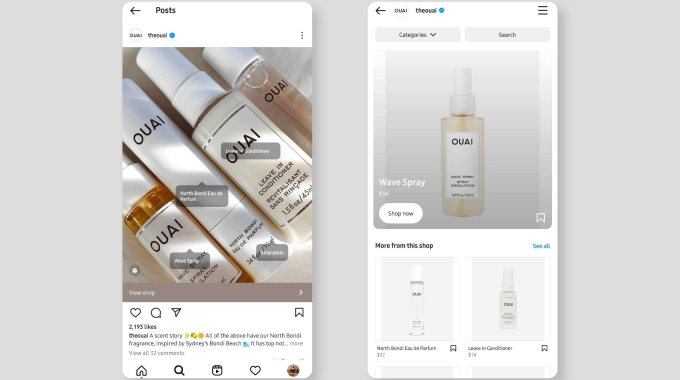 Setting up Instagram shopping is easy, but it comes with a lot of prerequisites.
Here's a checklist of all the requirements:
Your business needs to fulfill the platform's commerce eligibility requirements.
You need your website's domain to set up a store on Instagram. (In other words, you need your own store/website to sell using Instagram shopping)
Your business should be located in a supported marketplace. Not all geographical locations are included in this.
Only either a business or a creator account can be used to set up Instagram shopping.
You also need to create a Facebook page for your business and connect your Instagram business profile to it.
Pro tip:
Create an online store for your business before you turn on Instagram shopping. Because Instagram shopping has many features that require a storefront's link to access.
You can create your online store using
Dukaan
, a highly intuitive and user-friendly eCommerce platform. It comes with a plethora of advanced eCommerce functionalities, in-built tools and integrated plugins needed to run and scale your business.
11. Try live shopping
If you are based out of the US and have Instagram shopping and checkout enabled, you can use Live shopping to sell on Instagram. It is a great way to showcase your products to your audience while giving them a semblance of one-on-one interaction.
Exactly as it sounds, you can sell products from a predefined product catalogue on a live Instagram broadcast.
As the seller, you can tag products from the catalogue. The tagged products appear at the bottom of the screen during the live session. Your prospects can conveniently click on the "add to bag" button and checkout, all without leaving the platform.
You can either host the live session yourself or have an influencer conduct a live shopping event as a part of the sponsored deal. Either way, Instagram's algorithm rewards customer engagement, so whatever route you choose, discoverability is guaranteed.
Take a look at all the benefits of hosting live shopping broadcasts here:
Convince prospects to try/ invest in your services or products.
Save your live videos to recycle content.
Provide social proof of your product's authority.
Instant viewer interaction and query addressal.
Launch new products.
Explain the uses of your products.
Pin your best-selling products on the live to raise awareness.
12. Get the most out of Instagram advertising
If your product posts are not getting the visibility they merit, it's time to run Instagram ads.
Although it is tempting only to do organic advertising on Instagram to save up on those bucks, Instagram advertising has a high return on investment. Meaning if you do it right, you can get your investment back, that too with interest.
Think of creating Instagram ads as posting sponsored posts; they'll help you reach a larger, more targeted audience.
Instagram ads can be easily set up from within the app. Make sure you narrow down your ad audience, its objective, format, duration and budget before setting up the ad. You can also play around with the CTA or go with the tried-and-tested "Shop Now".
There are two ways of setting up ads on Instagram:
Using the "promote" button under your posts.
Using the ad manager on your business' FB page.
You can set up Instagram ads in the following formats:
Photo ads: Either in square or landscape format.
Video ads: Up to 120 seconds in square or landscape format.
Stories ads: To foster engagement with followers.
Carousel posts: Highlight the features/USP of your product using a set of 10-12 photos.
Explore tab: Boosts discoverability and encourages views to shop. These ads appear on people's feeds with similar interests and search history.
Collection ads: A mix of photos and videos to rile up the viewer's curiosity about your business.
Explore ads are the best way to boost your page's discovery. And if your business is set up in the US, you can also run shoppable ads with checkout enabled.
But that's not it. You can also reach out to influencers for sponsored posts in the form of hauls, product how-to videos and reels.
Pro tip: Don't rush into creating ads without performing market research first. Explore what kind of ads your competitors are running. Analyze everything, from the formats they choose and how long they run ads.
Then put your own spin on it to stand out from the crowd and entice your audience into taking the desired action.
13. Interact with your followers
Tale as old as time, this one needs no explanation.
Every business owner should develop the habit of interacting with their clients. It's no brainer that you need to nurture and indulge your users; after all, "customer is king." Responding to queries, liking comments, and replying to DMs shows your customers you care, which optimizes sales.
Another tactful way of engaging with your followers is by repurposing the content generated by the user. If your customers are enjoying your products/ services, they'll surely be posting about it on social media.
For example, if you sell paint brushes, in addition to commenting on your customer's drawings, you can repost their content on your feed and tag them. All you need to do is re-share it on your feed and tag their profile. This helps in building trust, establishing product authenticity and providing social proof.
Not only is this a great way to populate your business, but it also gives others a glimpse of how your products are improving your customer's life, which you can't achieve with traditional marketing posts.
Inkbox's Instagram feed is the perfect example of repurposing user-generated content.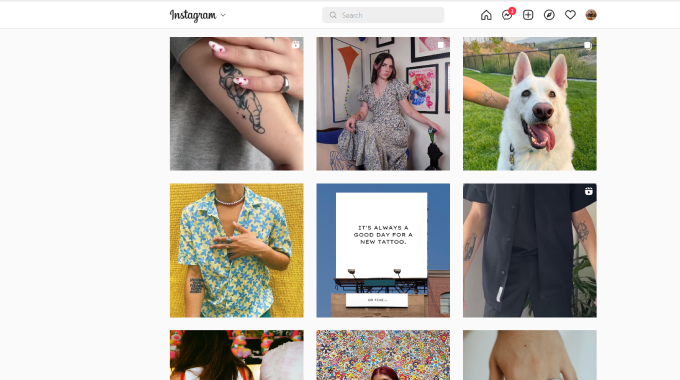 14. Start selling in the DMs
If you want to sell through Instagram, you'll have to do it manually by accepting orders via direct messages. (DMs)
There's a method to selling via Instagram DMs. You simply can't start negotiating the sale with the customers.
Here are a few things you need to take care of when selling through Instagram:
Never get directly to selling. Exchanging pleasantries and being cordial go a long way in converting a curious customer into a loyal client.
Send potential customers links to other products that they might like if they show interest.
Even if the sale falls flat, be courteous with your client. Make sure you thank them for their interest.
Work towards deepening your bond with the client, not just making a sale.
Selling on Instagram using DMs is a time-taking and laborious process. You need to inform your customers that they can reach out to you via DM to place their orders. Upon striking a deal, plan out the payment method and how you'll keep them updated on the order status.
Though it may sound easy, selling via DMs becomes confusing and tedious really fast. You'll have to sort through all the queries you get in your DMs, track every conversation, respond timely and furnish the same details again and again with all your clients.
There's a major downside to selling on Instagram. All the hassles of selling via DMs are bound to distract you from spending time strategizing and scaling the other important aspects of your business. And this is exactly why business owners prefer to sell using their own online store, created using eCommerce platforms like Dukaan.
Problems with Selling on Instagram
There are a lot of loopholes with selling on Instagram. While we have already covered some aspects so far, let's list down the major ones that can act as a roadblock:
1. No detailed analytics.
Instagram business does not give an overview of how your store is performing. Moreover, they are platform-dependent. At the moment, it is only available for mobile users.
2. Accounts with 10,000+ followers gain swipe access.
This "premium" feature that Instagram offers aids in boosting sales is only available to accounts with 10,000+ followers. But it's obvious that any budding business will take considerable time to reach this status in terms of followers.
3. Bad product descriptions can ruin your sales.
Everybody knows that most of the selling on Instagram depends on the product images posted and the product descriptions written. But the platform does not provide any business tools that can help the sellers with product descriptions and images.
4. "Checkout" only available at specific locations.
One of the biggest reasons people leave their cart abandoned is because they don't want to switch pages while placing an order. Having this feature available selectively defeats the purpose of selling "conveniently".
Moreover, you can't broadcast live shopping if you don't have checkout enabled.
5. Selling without a store/website not feasible.
Instagram shopping can only be enabled with a pre-existing online store/ landing page. So, even if you don't want to sell using your own eCommerce platform, you still will have to purchase your own domain name and create an online store or a website for the product catalogue.
6. "Shoppable post" feature not available everywhere.
You can only tag products in your Instagram posts if your business is located in areas where the feature is available. Needless to say, if your business isn't located in a suitable market, it directly impacts your sales and overall turnover.
As evident by the pointers mentioned above, Instagram shopping is not without its own set of incompetencies.
Instagram is a great platform to sell, but only if you have no future plans of upscaling your business.
We're making this bold statement for a reason.
The biggest problem with selling on Instagram is that the platform does not help you maintain a client base and track your store's growth. It's shopping experience may help you find customers and engage with them, but the platform still lacks the business tools needed to run, manage and grow an eCommerce business.
If you are an entrepreneur with dreams of taking your business to the next level, you need to manage your business using your own store.
Final Words
Ever since Instagram ceased to be a photo-sharing app, it has become an amazing platform for entrepreneurs to stage and scale their businesses, no matter the size of their operations. It doesn't matter what niche your products or services fall into, Instagram helps you gain exposure and attract new clients.
While Instagram is a great place to showcase your brand, it can't be used to run and scale a business. Not to forget, without a website/ an online storefront, you can't enable Instagram shopping as well.
In our opinion, the best way to sell using Instagram is to have your own online store as a primary sales channel, with its link in your profile bio. This way, you get to enjoy the advanced features that eCommerce platforms offer, combined with the benefits of selling on Instagram.
FAQs
1. Do I need a website to sell on Instagram?
Yes, you do need a website/ online store if you want to sell using Instagram shopping. You can start your online store with Dukaan, and then link it with your business profile on Instagram.
2. Is selling on Instagram profitable?
Selling on Instagram is surely a profitable solution as you can get started for free, without any setup costs. However, in the long term, it is not a holistic solution for managing growing your business. It's advisable to have your own online store linked to your IG profile, and then enable Instagram shopping to sell. Dukaan is a perfect platform to launch your eCommerce store.
3. How to sell products on Instagram?
You need an Instagram business account to sell products. You can either sell directly on the platform or integrate your eCommerce store with your business account for maximized profits. For more information, watch this
video
.
4. How to sell art on Instagram?
To sell art on Instagram, all you need is a business/ creator account, a solid marketing strategy and an online store to manage your incoming orders efficiently. Remember to leverage hashtags fully to increase your account's visibility. You can also
check out this article
for more details.
5. How much does it cost to sell on Instagram?
Nothing! Selling on Instagram is absolutely free. You only need to invest money if you plan to run advertising campaigns on Instagram or promote your posts.