Post the perfect IG pic and the followers will follow. Or not. When you want to sell on Instagram, you have to put in the work, especially when you're starting out. But don't worry, this article will make it easier for you.
"Among a billion Instagram users, how do I stand out?"
When attempting to market your small business on IG, it might take you a while to climb up to the top tier.
And it's totally understandable that you want to increase your visibility asap. You want to be seen so you can attract more customers and make money.
More often than not, it's frustrating to think that there are gazillions of competitors out there and most of these rivals have already created a name for themselves.
So back to the question, how do you actually stand out?
The thing is. You don't have to.
Instead, be an IG magnet and get customers to come to you…
Is the Gram right for me?
Before you start sobbing and thinking about returning your borrowed capital from rich Uncle John… pause, take a deep breath, and believe that you are IG-worthy…
And you can make it on Instagram because:
So even if your start-up isn't that big…
Even if you are a newbie entrepreneur…
Even if you only have family members and the family pet for IG followers…
You are still IG-worthy and you need to be in there right now.
Hook Them With Your Instagram Profile
So now that we're done convincing you to "gram with us", let's see how you can start selling there.
First, here's a little secret recipe: make your IG profile a hook—one that snatches customers to follow and stick around.
Just like Dukaan.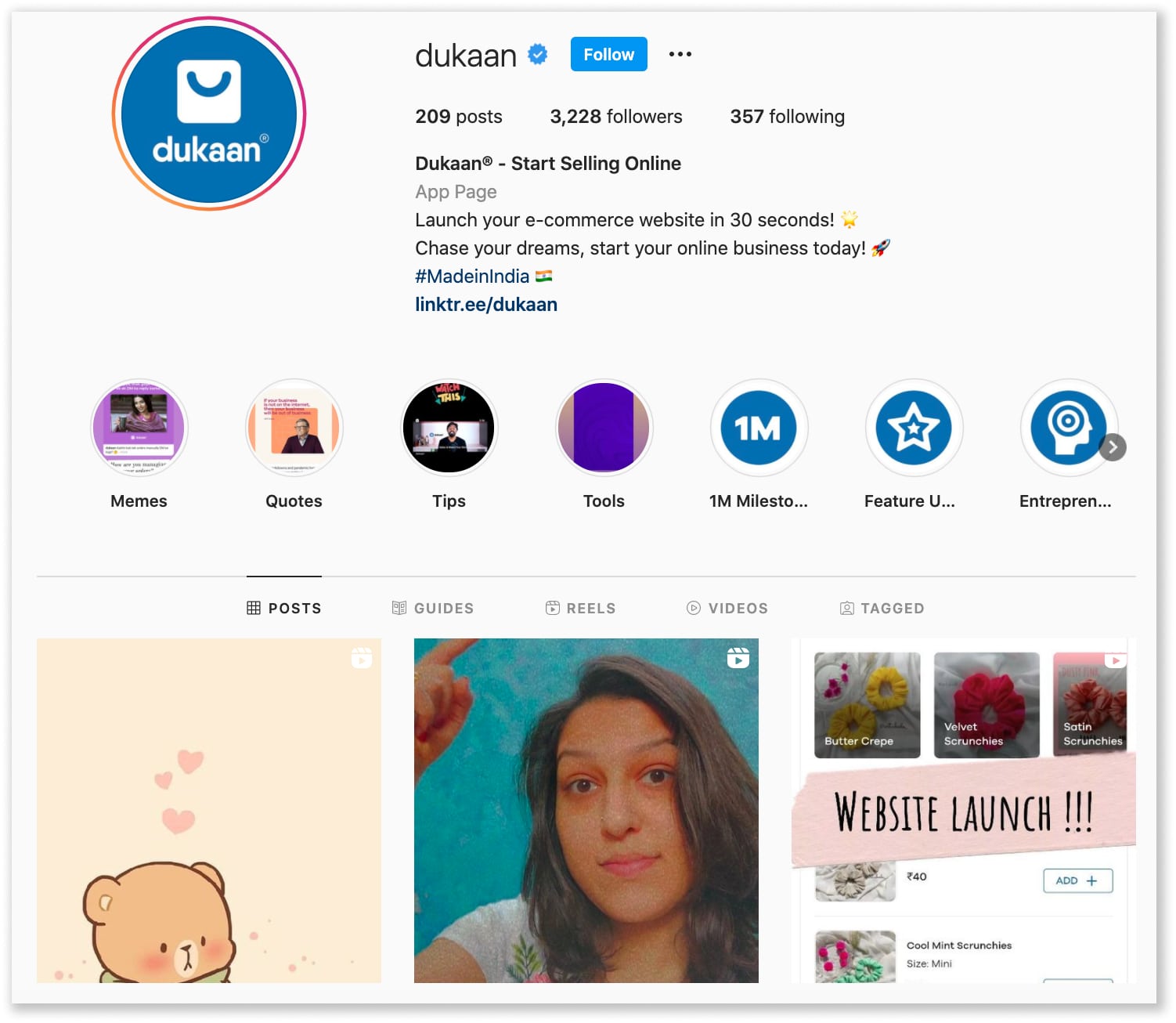 From here, you know that they help business owners launch their eCommerce website in just 30 seconds.
To achieve this level of branding game on IG, there are 3 assignments that you need to do.
1. Get to know the crowd
In recent years, Instagram has experienced steady and consistent growth, especially among Gen Z and millennials.
Get to know the different kinds of customers from the newbie to the deal hunter to the brand buff up to the save-it-for-later shopper.
If you learn how to tickle their taste buds—not literally, though—you'll be rewarded with repeat sales.
2. Don't ditch the niche
Choosing the perfect niche for your IG profile is essential for your money-making endeavors.
Niche just means a specialized segment of the market for a particular kind of product or service.
Basically, it means narrowing down your posts to more specific topics. If you hit the right niche that makes your target audience's mouth water, don't be surprised by a surge in followers.
It sounds counterintuitive, but if you want to earn bigtime, never ever ditch that niche. Hear this.
One of the most powerful niches in IG is Fashion.
According to Statista, revenue in the fashion segment is expected to reach $689,884M in 2021.
The fashion niche is an already popular niche market on this platform. So try a sub-niche idea like… these dreamy headpieces by @arabellasvintagewardrobe.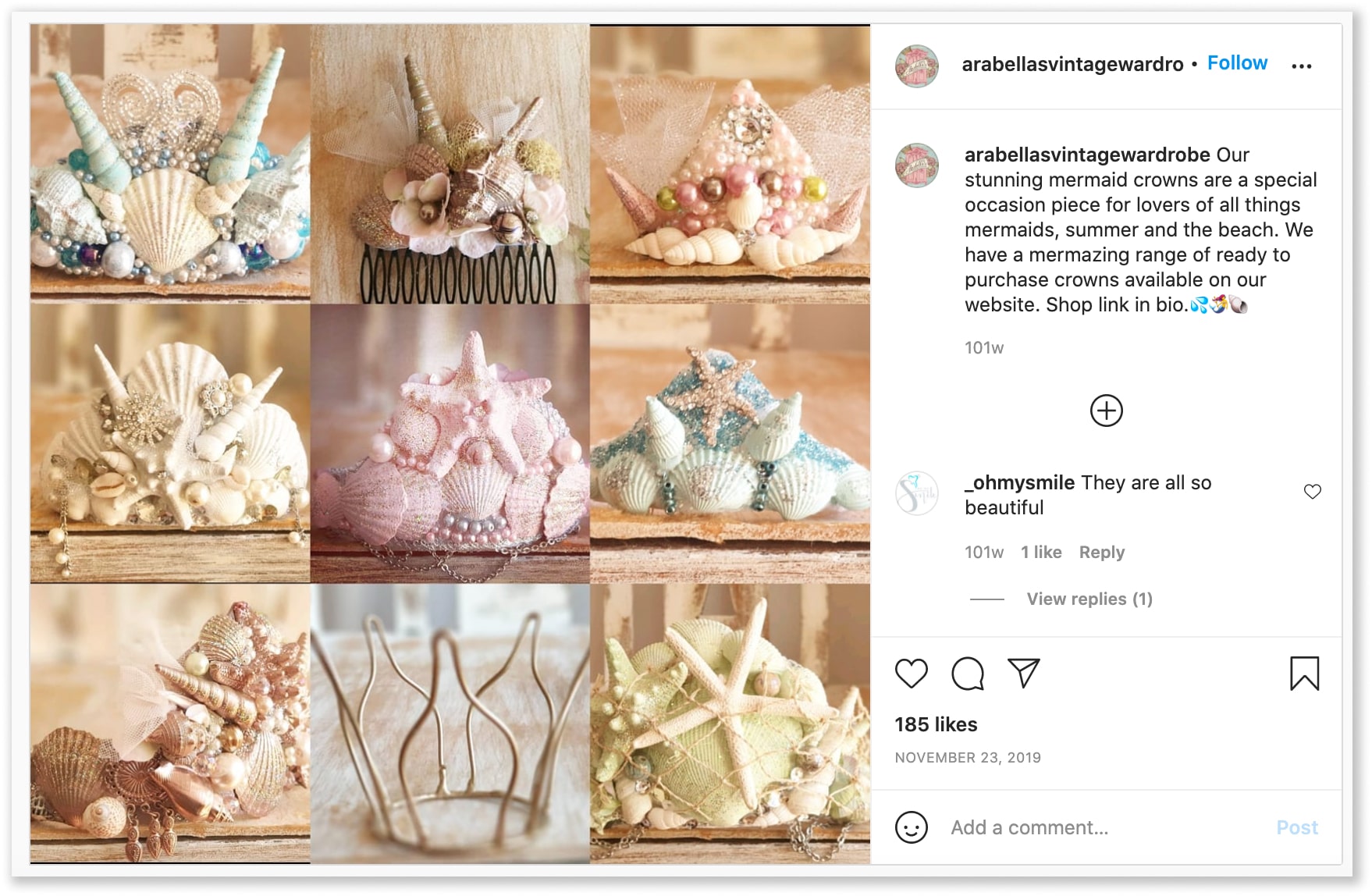 3. Rock that hash
Just like Twitter, Instagram uses hashtags as a way to boost views, track relevant information, target specific audiences, and create a call-to-action to your consumers.
Be smart enough to use the right keywords and limit your tags to 20-30 max. Overdo it and you'll look like a spammer, desperate for some likes.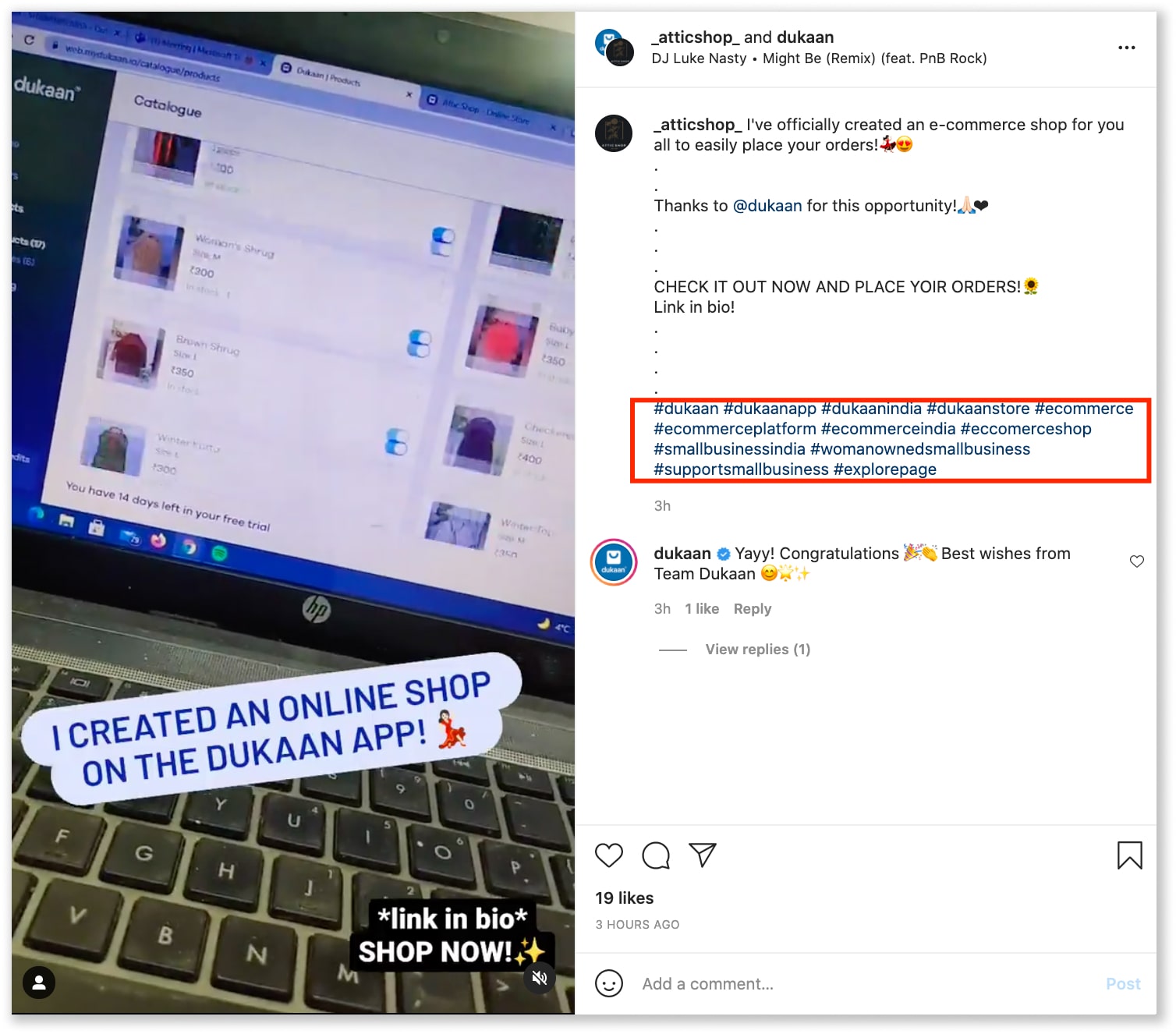 This one is just about right.
Now that you've picked up the basics, let's dive into the specifics.
How to Sell on Instagram in 3 Easy Steps
Hope you've already stopped weeping at this point. We promise to hold your hand as we go through each of these steps:
Plan
Optimize
Engage
Plan
Obviously, you need to have a plan. But also, don't overthink it since this kind of platform is dynamic. Meaning- analytics change overtime so you must be quick to summon plans B-Z when plan A fails.
Don't just dream, set objectives
In order to perfect your pitch, set goals and objectives.
Goals are like dreams. They're broad—the bigger picture. An example of a goal is "wanting to grow your visibility online". Objectives are the nitty gritty and more doable stuff—focus on these one step at a time everyday and you'll soon be able to reach that target.
Here is an example: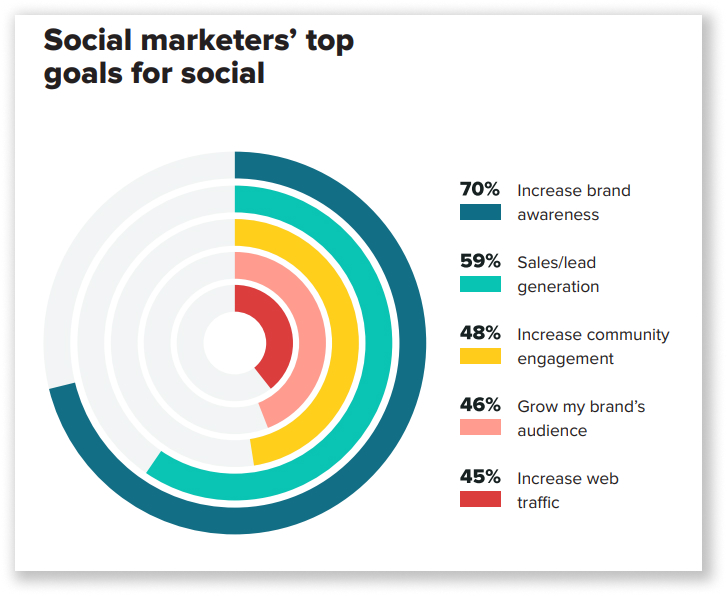 In order to keep your goals and objectives aligned, revisit your brand from time to time. Assess if your content still resonates with the vibe you want to give out. Check if the images you posted emphasize and focus on your product and what you are selling.
Be SMART: choose objectives that are specific, measurable, attainable, relevant, and timely. Follow these reminders and your goals will surely pave the way to opportunities and endeavors.
Okay, this might sound like a counseling session now, but it will surely work for your marketing needs.
Find your market
So, you've finally decided on your niche, posted aesthetically pleasing photos, and added witty captions. Now what?
You sure have a pool of prospects in IG, but where are they? How do they find you? Or rather, do they even know you exist?
Targeting your market in IG is simple but not that easy.
You must have a deep understanding of who your audience is. In order to do this, you can try social listening tools.
Follow conversations regarding your targeted topics, keywords, brands, and hashtags. Use the insights from those conversations to form your own social media strategy.
Keep your senses open for what's hot and trending: always have your ear to the ground, have a nose for news, and keep your eye on the details.
Nail the brand guide
Instagram guides bring a refreshing twist to your content.
IG is a cycle of posting, being seen by your audience, your message being picked up, and your post decaying and getting replaced with new and trending content.
In order for your posts not to be forgotten and abandoned for eternity, you must be on brand all the time.
Nail your brand guide and your market will check out your profile often. Your posts will appear frequently, ensuring that customers remember your brand.
Optimize
Instagram isn't just an online photo album, where you can post a picture and walk away—it's much more than that.
Else, it wouldn't have over 1 billion sign-ups. So, if you wanna sell hardcore on IG, the next step you need to do is to optimize your page.
Optimize your Instagram profile
The best step in optimizing your profile on Instagram is switching to a business account.
Having done this, it allows you to:
Upgrade your profile (you get to have an industry label like "app page" or "hairstylist")
Access Instagram insights so you'll track your engagement, and when your fans are most active
Set up an Instagram shop
Use advertising options
Save quick replies (so you can get back to inquiries asap!)
Once you enable this, your market will have an easier time getting to know your brand and products.
Let your grid do the talking
In other words, "show, don't tell".
This is Instagram. If you wanna blabber about your product rather than dealing with visuals, you may want to start on a blogging site instead.
And to achieve that IG-worthy grid, you must have a concrete plan. This plan must resonate with your goals and objectives.
To convey your brand's message clearly, your grid must be cohesive. Don't just randomly post everyday without targeting a spot, like how Salt Bae would scatter salt. Instead, develop a theme and stick to it.
Try having a checkerboard feed like @cerebralmist.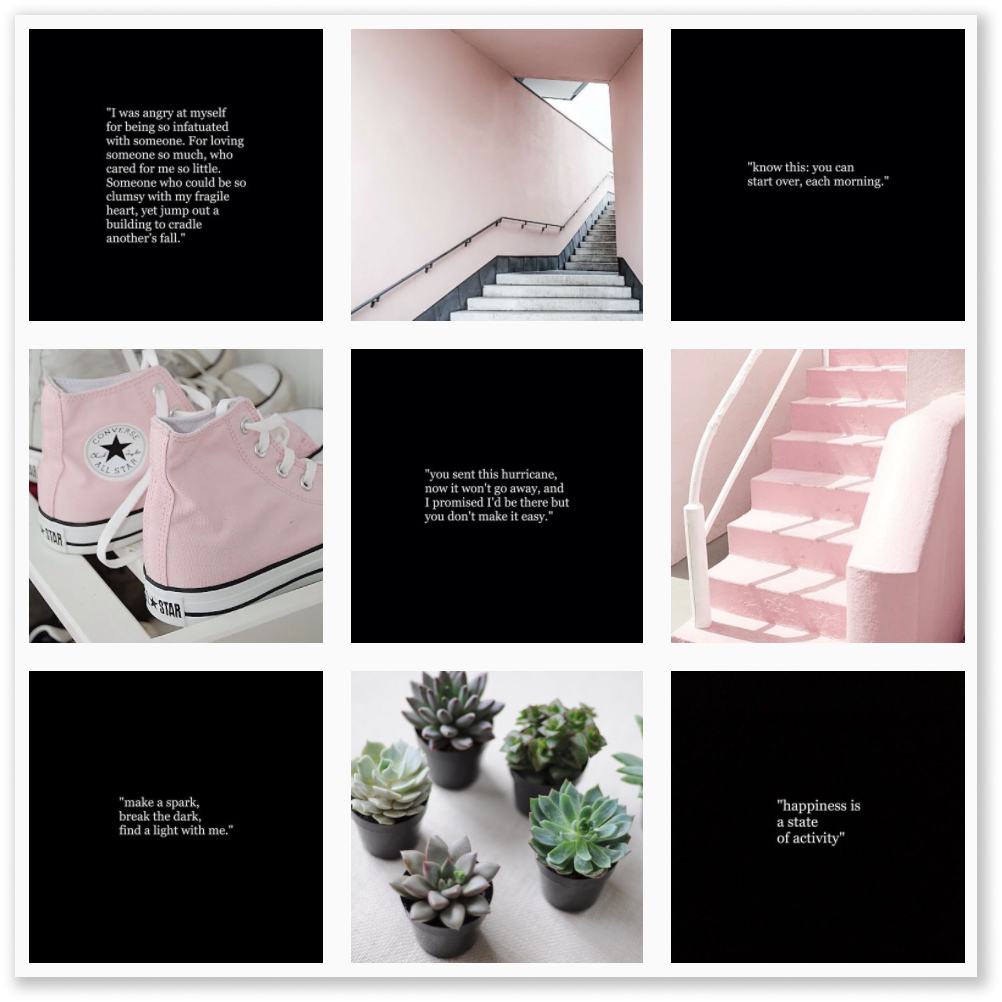 Go crazy with a puzzle feed like @steakandwinecavite.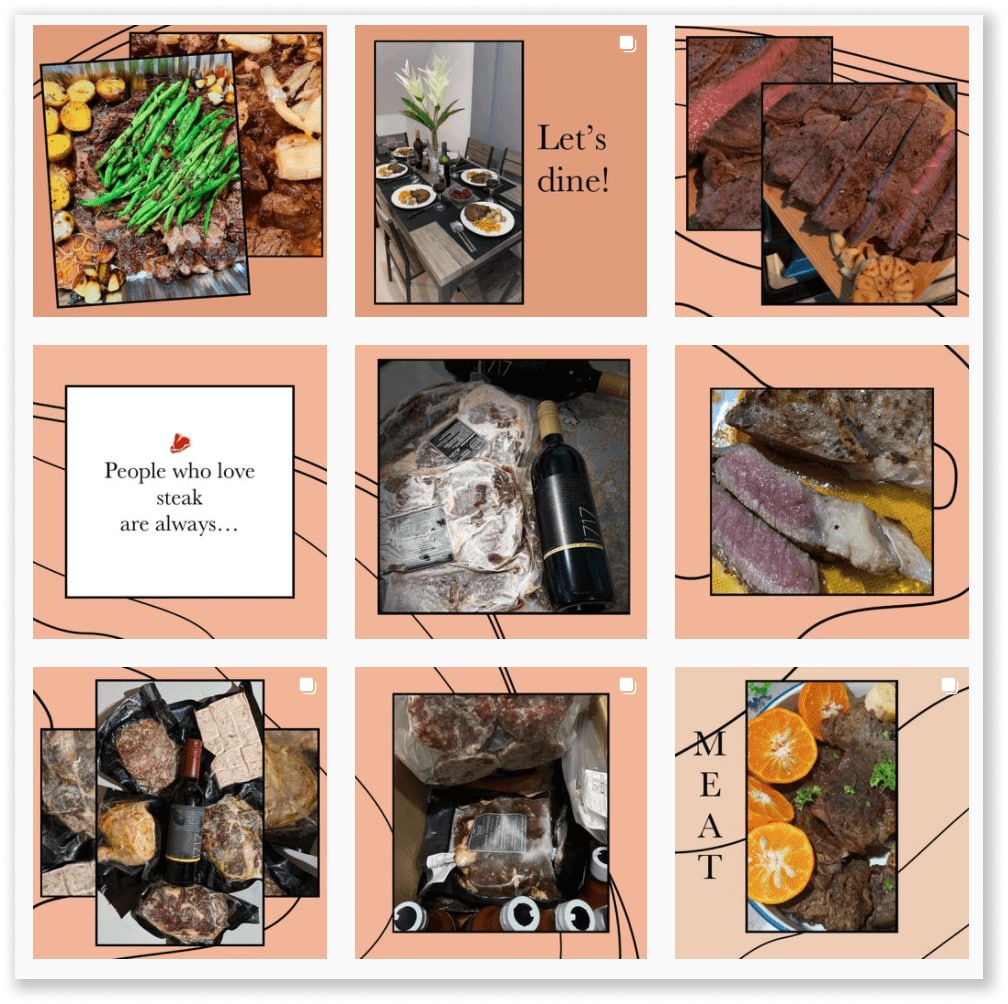 Or just stick to your aesthetic like how @psbynikki did it.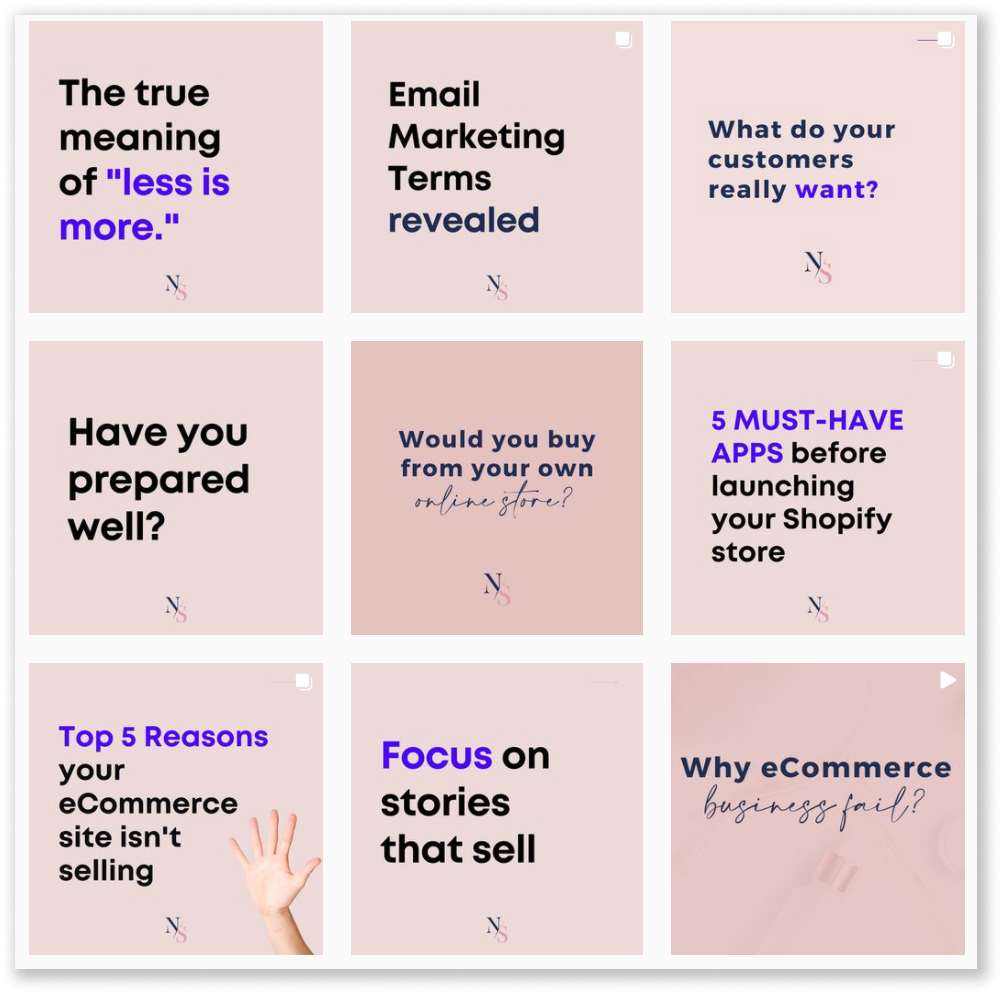 Need some more ideas? Feel free to see how other small businesses nail it by clicking here.
Use lifestyle photos
Did you know that in Instagram, scrappy works as much as tidy?
It doesn't mean that you'd go back to being messy again; it's more like creating a beautiful mess by capturing "raw" real-life events.
Staged candid is still candid in IG, though. 😄
For example, your item is a yoga mat and you want to create a sporty, but serene vibe around that mat. You may want to post content that shows your models (or yourself) doing stretches and yoga poses, all while still leading people to view your product.
Here's an inspo from @the.soul.mat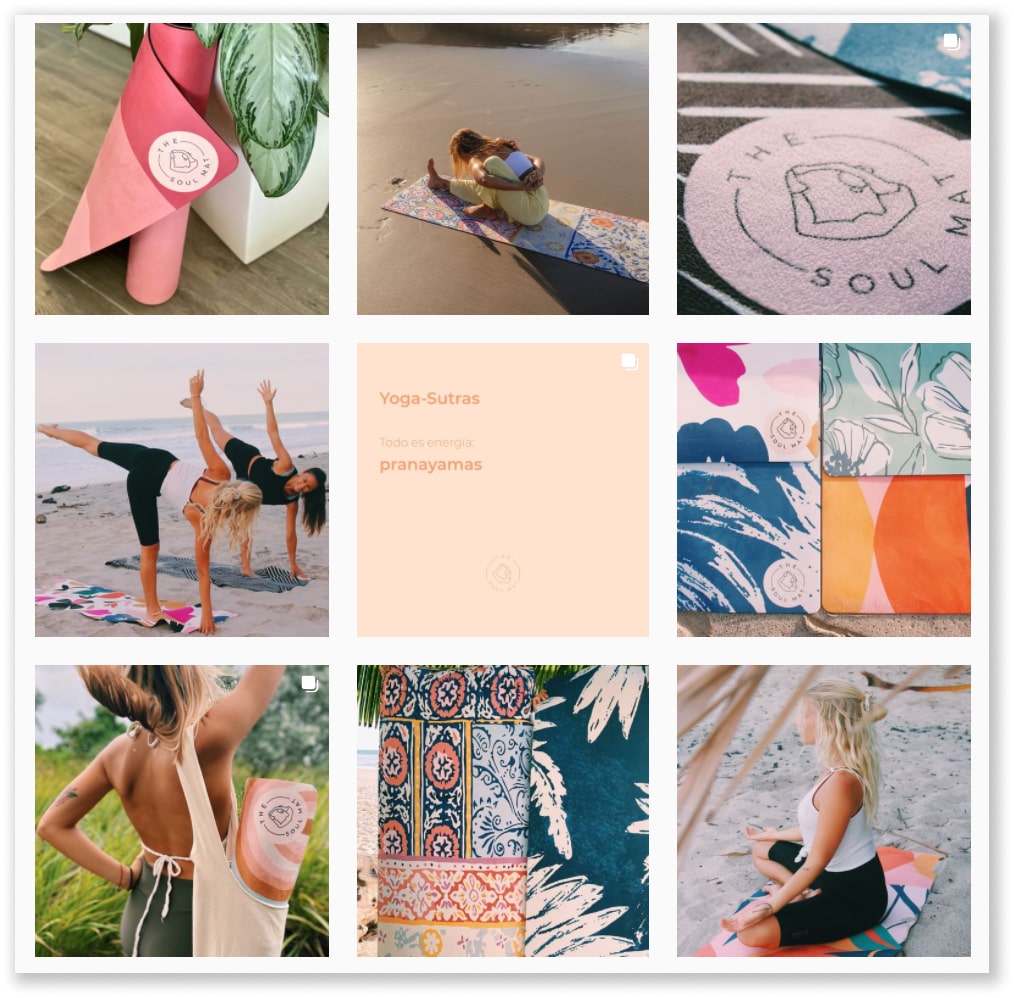 Or take a closer look at how this winery page @santatresa captures a few 'ol wine sesh moments:
Lifestyle photos give you an authentic feel that makes your prospects relate to your content on social media.
It makes your customers get a glimpse of how people experience your product; a peek at the moments they may want to experience for themselves in the future as well.
Engage
It's easy to keep in touch with your followers, but it's tricky too. You've got to be in there to take interest in them. If you don't and you just wait for them to shower your page with attention, you're setting your page up for failure.
Unless you're a big brand already.
When engaging, you might want to try these proven IG engaging tactics:
Stalk your prospects
Taking time to get to know your prospects is important for your marketing strategies. These real-life personas are the key in order for you to magnet the crowd.
Of course, you can't ask them to go out for coffee one by one, neither sneak in the trunks of their cars in order to gain an insight to their daily lives.
Instead, here are some details to look out for in order to get to know your customers more:
What they post – Get to know their grids. Their content and even captions would give you an idea if they're a foodie, a wanderlust, a fashionista, or whatever.
When they're online – You can try IG analytics to have an idea when your prospects are usually online. Or maybe you can just post whenever your rivals post, too, to save yourself the hassle.
Who they follow – The brands and celebs they're following will give you a bigger picture of their interests.
Take note of all these and post content of their interests and you'll impress your followers.
Sell through comments
You cannot just sprout like a mushroom in people's comment sections. It'll surely make them feel awkward and there's a big chance they'll ignore you in the convo, leaving you sad and empty.
Instead, you must first build rapport by following them, liking their posts, and leaving comments like "Nice, I love your new hair."
When you feel like they've already let you enter their lives (maybe they'll leave a heart in a picture or two), or whenever they're already following you, it's time for you to make your first sale through the comments.
But don't just insert your product in a snap. Instead, build rapport version 2.0.
For example, if you're selling baby products, leave a comment on how to do a baby massage or how to do correct swaddling. From there, you can leave suggestions to use this product from your line (a.k.a. the upfront selling process begins).
Reach out via DM
When Direct Messaging your prospects , you must find the perfect timing. This is just like selling by commenting, but this one's more personal—you're talking to your audience one on one.
Others install chatbots to speak to their customers in an instant, but nothing beats a touch of humanity.
Here are effective ways on how to sell in IG via DM:
Offer exclusive offers to loyal followers via a DM
Share new products, services, or events
Send teaser photos to build anticipation for new product releases, new branch openings, and similar stuff
Handle customer service issues privately
Small Business Owners Who Are Killing It On Instagram
Whoever says that Instagram is only for flashy brands certainly doesn't know how it works.
Below are small businesses on IG that are actually snagging the spotlight. Better check these Gram-worthy inspo's out:
@cookiedaughters on IG definitely will definitely trigger your sweet tooth.
The cookie designer recently posted an image with a Halloween theme on. One way to "share an experience" with your customers is by keeping up with timely events and holidays.
@cookiedaughters is also nailing it in the comments section, engaging with her clients at a very personal level.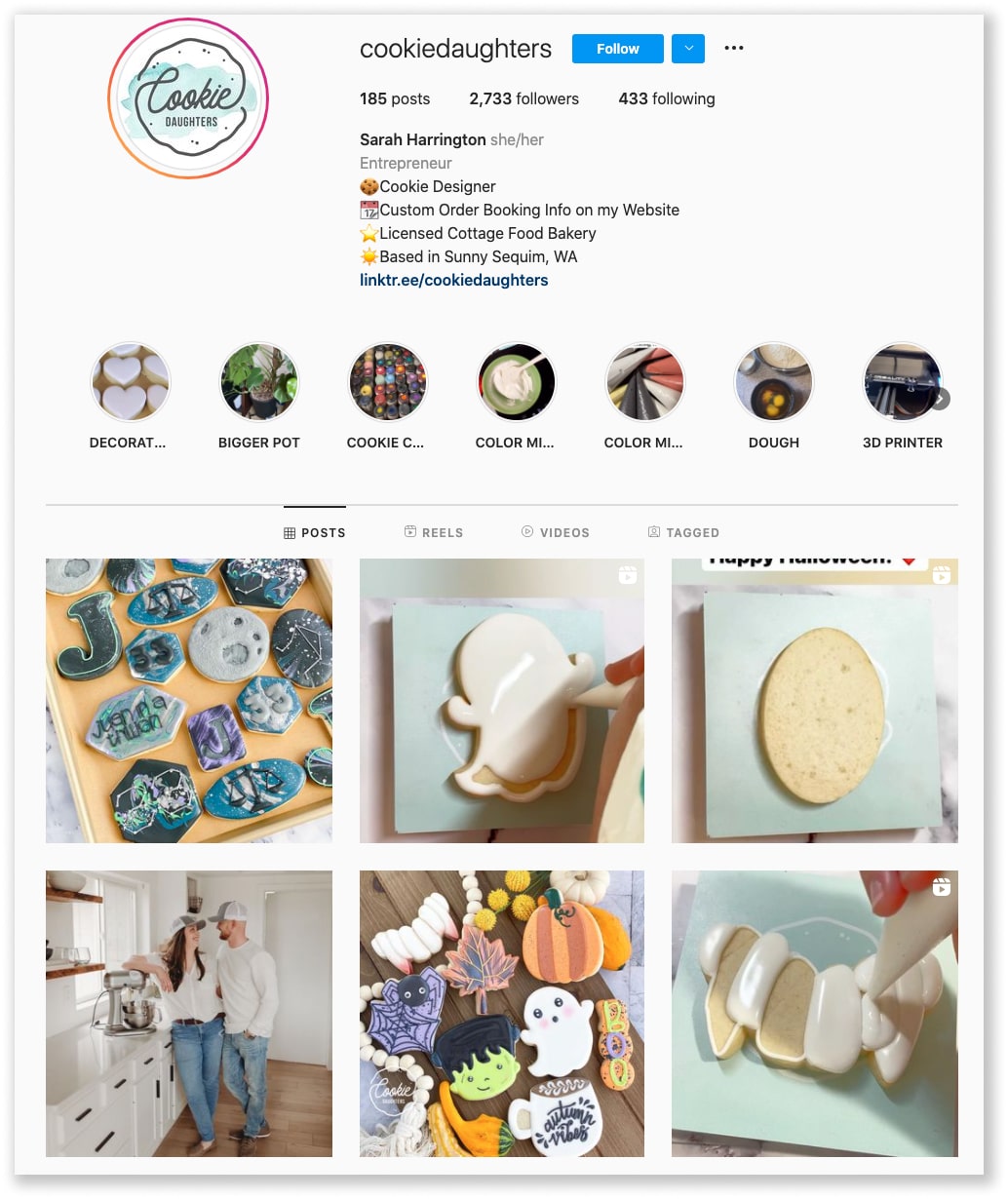 She has also included videos of her backstage scenes while baking, more like a snippet of her baking life.
And of course, who could resist these mouth-watering, colorful treats! Definitely not us.
Next, @crew.and.banks grid gives out a warm fuzzy feeling that'll make you want to hoard baby items, with or without the infant. The chosen palette, all neutral tones, contributes a huge chunk to this homey, cozy aura.
Babies are totally cute and cuddly, all worth a double look.
But mommies and daddies would be thrilled and double look at that IG feature on the upper left hand corner labelled DISCOUNTS.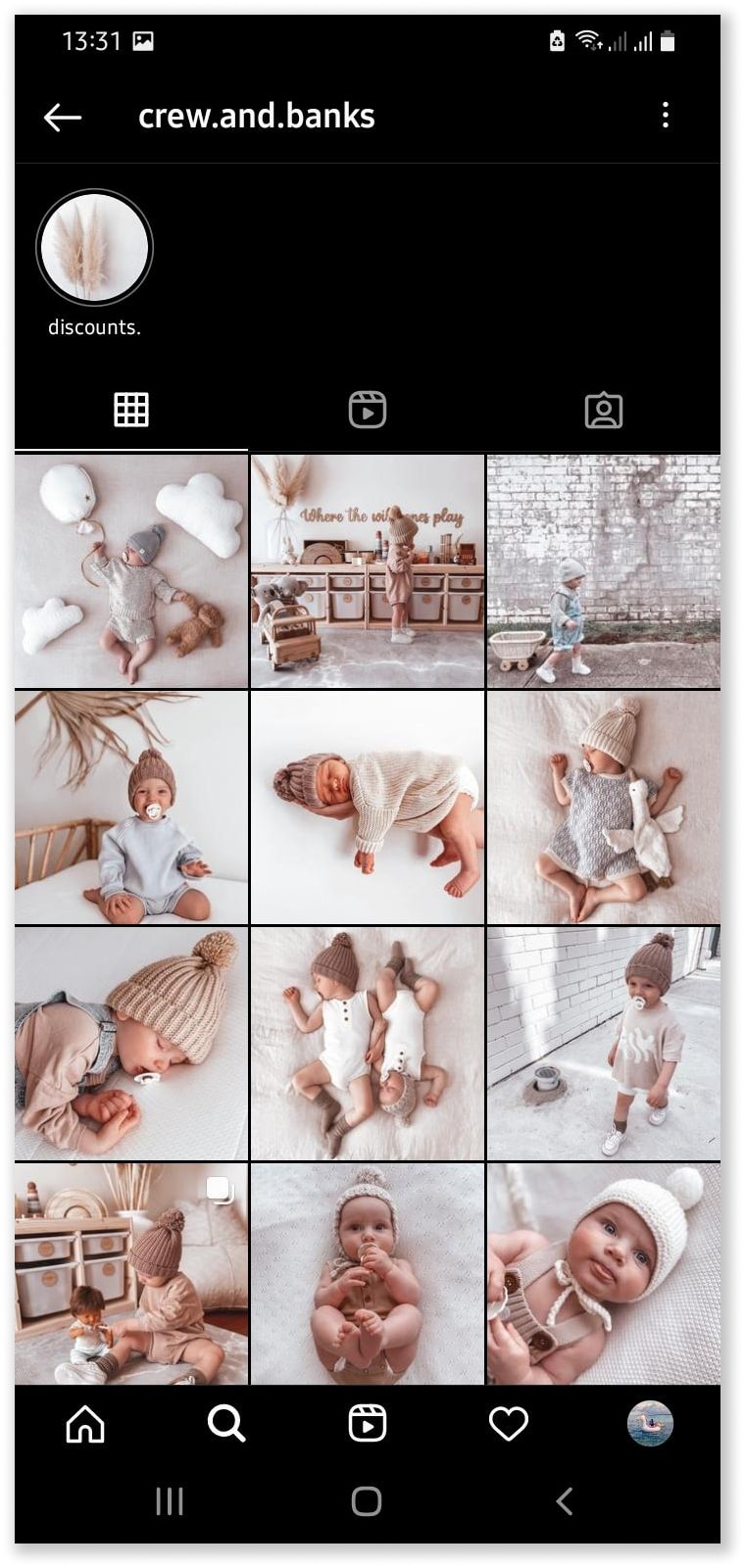 @thencamejune is a wife, mother and quilter from Poland who does stunning quilt patterns.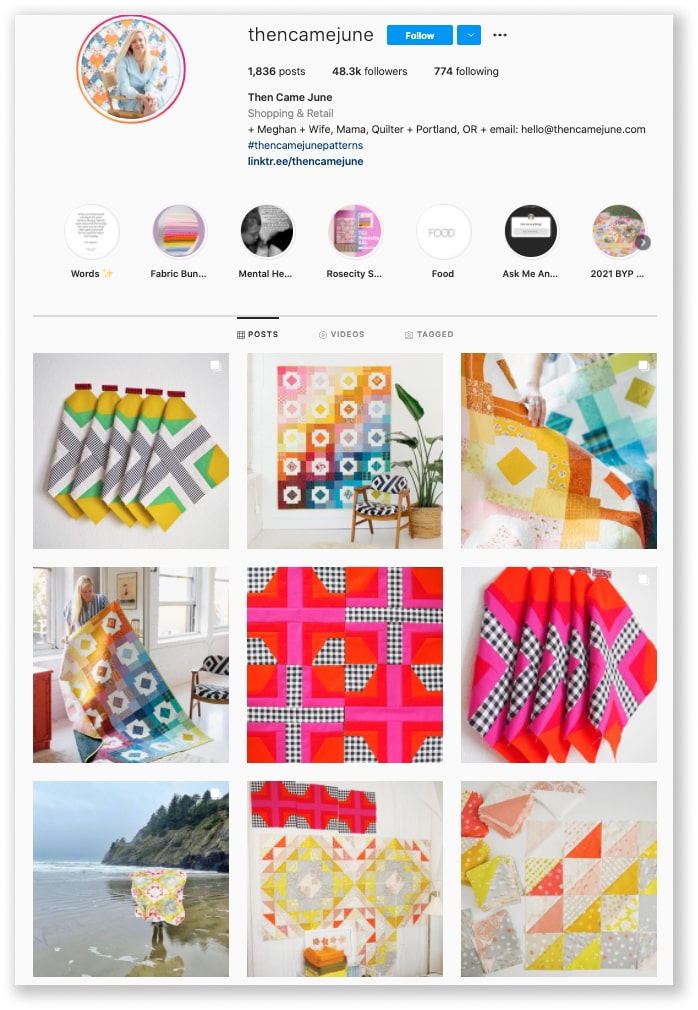 Her grid features cohesive, colorful motifs, attracting various IG customers. She also takes advantage of her stories, displaying customer reviews and her day to day life (click the mental health story group), fabric bundles, and some FAQs (not visible in the pic).
Plus, she makes sure that she replies to all the comments on her posts.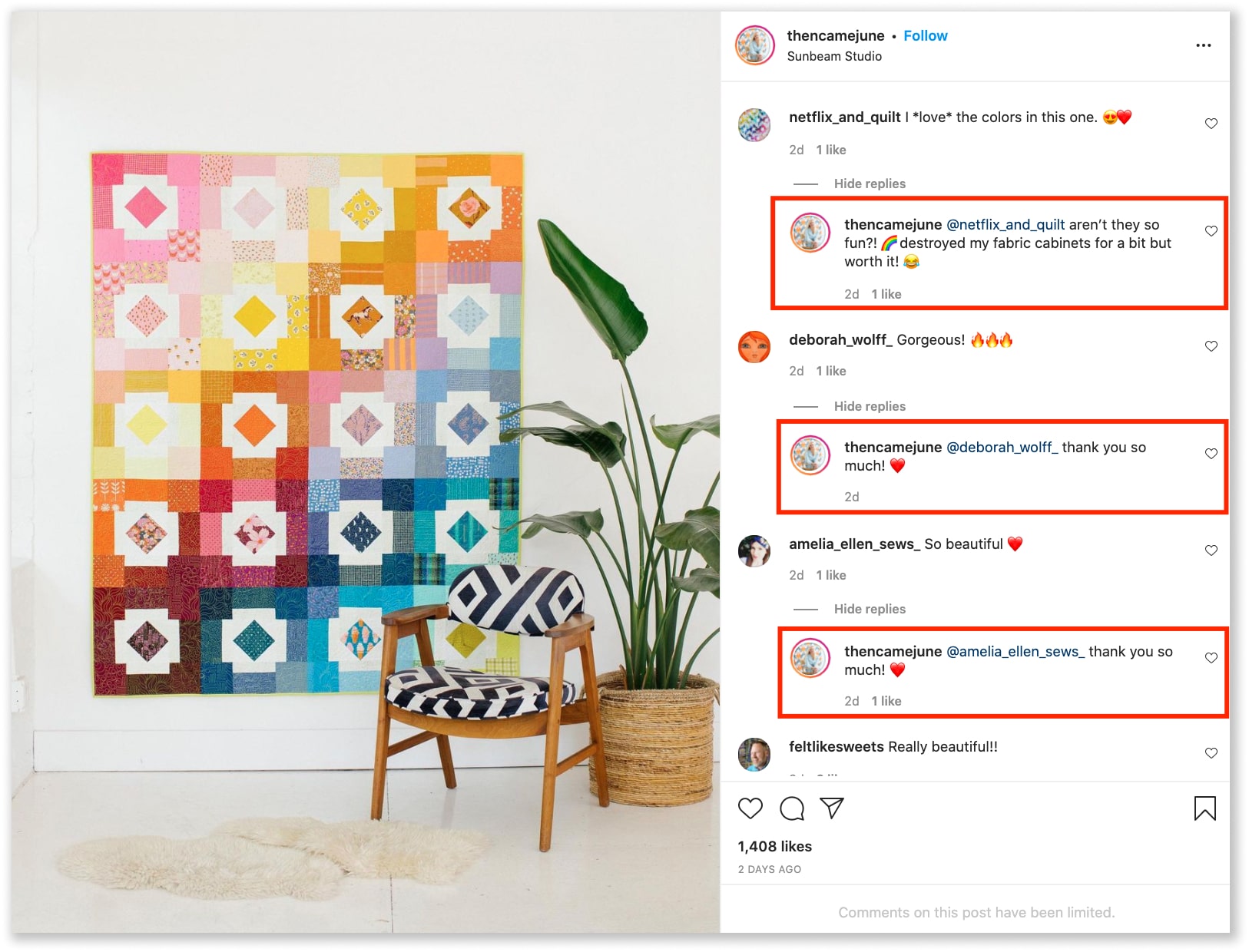 All in all, that's a whiff of how small businesses rock Instagram. Try it for yourself!
Become an Instagram Eye Magnet
We just summed up how you can become an Instagram eye-magnet (and money magnet, too).
Selling on Instagram requires your full commitment and dedication. You can't just rely fully on the algorithm.
Remember that there are always doable steps listed for you to keep your brand in the game—never be discouraged. You shall slay the IG runway.
Sure, you may think that's a lot of work to do, but in reality it just takes a matter of minutes to do these actionable steps to make more money online.
Speaking of minutes, did you know that aside from social media platforms, you can also create your very own eCommerce platform in 30 seconds?
Online eCommerce platforms, like Dukaan, are now equipped with all the features and resources that you'll need for your eCommerce marketing campaigns.
It's a smart choice to pick social media platforms like Instagram, but having your very own platform gives you more control over your business.
Your own platform and store is much better for day to day business operations and also more hassle free as your business grows.
For a new business, it's comparatively easy to manage their customers and orders through Instagram's DM feature and comments, etc., but it becomes harder and harder to handle when the size of their business increases.
Too many DMs per day, as your business scales up, are more a headache than a source of excitement.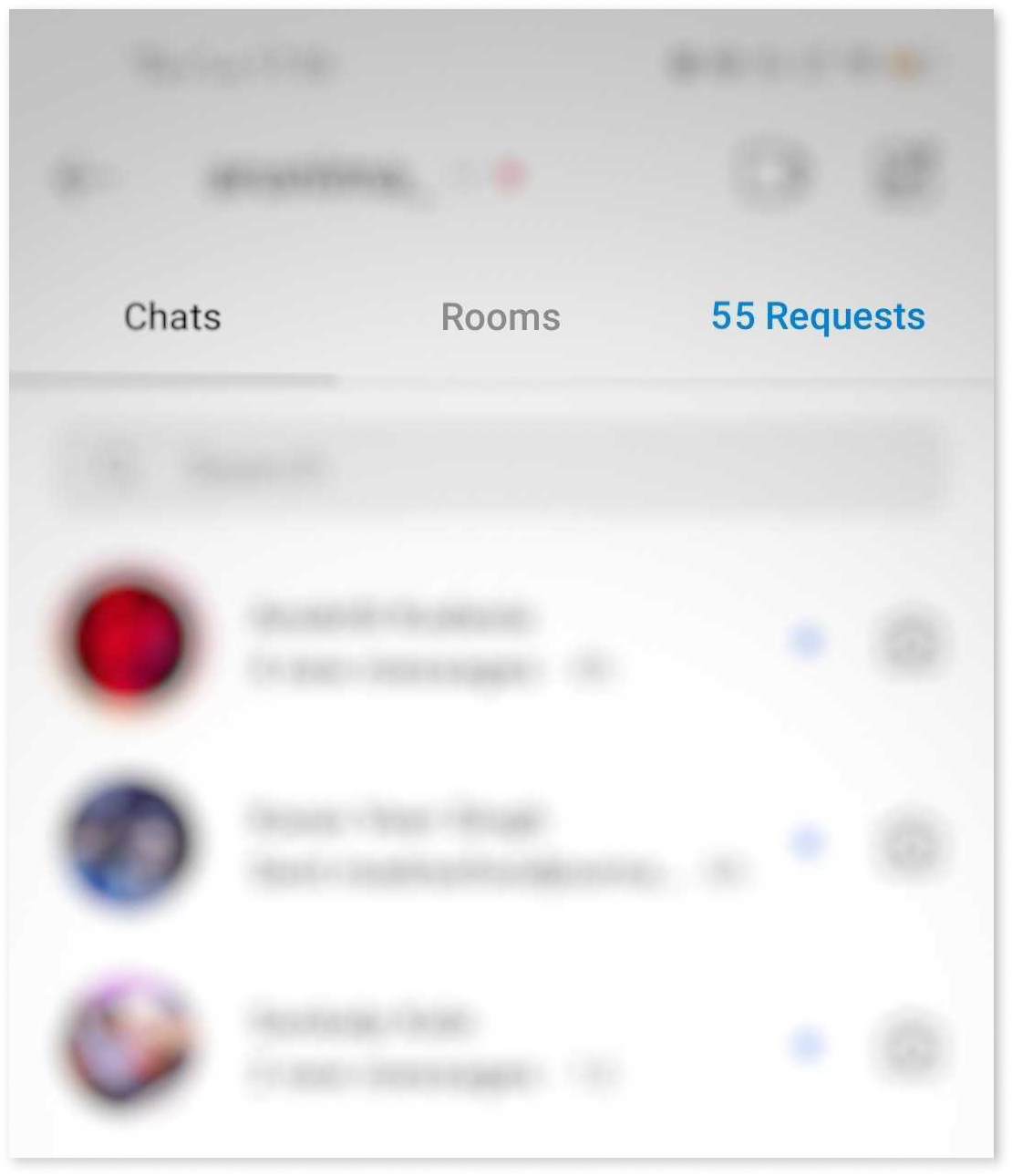 Another problem that you face on Instagram is that there is no categorisation. You randomly list your products through visual media and your customers have to scroll through the whole feed to find one good product.
The closest Insta comes to categories is story highlights. There you can club similar products together, but you have to post them on your story first.
It's more messy than useful. If your customer has to make so much effort to buy one single product, you lose them.
Your own platform makes it easier and streamlined for you to handle the functions of your online store.
Platforms like Dukaan have a wide variety of marketing tools as well that can help you to perform the marketing and promotion of your business in the easiest way possible.
You can even get your own store apk that gets you a dedicated app for your store. When shared with your customers, this will enable them to buy your products directly from your app.
No deviations to other stores=more sales!
The best way to open and manage your online store is to create your own store, and then use social media platforms like Instagram to market that store.
You can add a link to the store in your Instagram bio to direct your customers to your store from your Instagram handle, just like @artspeaksstories did on their account.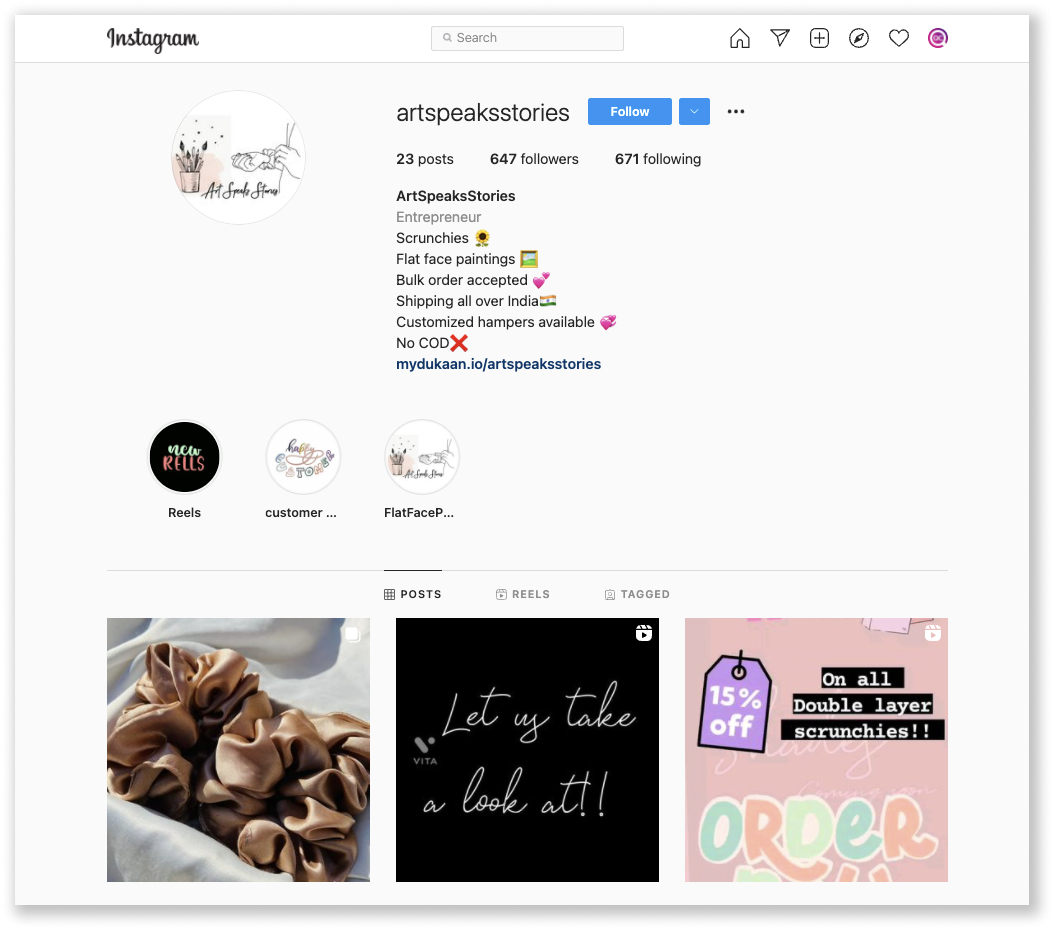 This is the best way to synchronise all your effort and get the most out of all the platforms available online. Build your very own online store today.