Photography is a lucrative but expensive business. How do you start a photography business and earn money from it? Here's a guide.
You're out with your friends. Are you the one who is always missing in friends' group pictures because you end up behind the camera?! Do you enjoy being called the official photographer among your friends?
Photography is probably your calling, and you could make a living (or even a fortune) out of it. In this article we answer two important questions – how to start a photography business and how to earn money from photography?
Let's dive right in to know what you need to start a photography business and rake in the moolah.
How to start a photography business?
It's simple. Sell your pictures online. It's quick, easy, and profitable. And you can start with minimal investment. You don't even need expensive cameras. Just good pictures from your smartphone or a basic DSLR camera and you are set.
Build a portfolio of unedited pictures and have their compressed and uncompressed softcopies ready.
How to earn money from photography?
Two words – Stock Photography.
Join stock photography websites, submit your photos, and when someone buys your photo for use in web, print or other formats, you get a cut of the sale.
For example, if your photo is sold for $500, you get paid $100 if the commission is 10% of the price.
The trick to making money with stock photography is understanding the following.
What images are most sought after for publications.
Clicking pictures with the quality standards as required by publications.
Having a varied photo portfolio (travel, studio, food etc).
There are other ways as well – like setting up your own studio, freelance for publications etc. But these alternatives either take more resources or don't pay well.
Stock photography is your best bet and the answer to 'how to earn money from photography'.
Why stock photography?
Stock photography is to do with generic pictures that can be used/ licensed by anybody – brands, websites, or individuals.
Ever wondered how brands and businesses, irrespective of their size, put out print and digital content with great pictures? Do you think they are hiring photographers every time they need pictures? If they did that, they'd go bankrupt. They are all buying images from stock photography websites to use in their content.
Stock photography is a booming business. The world's biggest stock photography website, Shutterstock, is worth $3.4 billion, and its owner, Jon Oringer, is worth $1.61 billion. Aren't these numbers inspiring?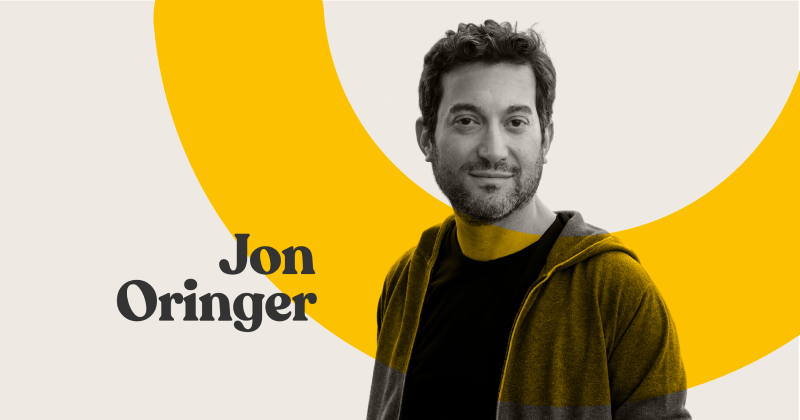 Now, we are not saying you'll become a billionaire (who knows), but the stock photography business is going strong and still growing. Now is the best time to enter this lucrative business.
So, here's how you earn money from stock photography:
Sell your pictures to stock photography websites.
Start your own stock photography website (online store)
How do stock photography websites work?
When someone Googles something, the images section shows pics copyrighted with watermarks. If the user wants to download the pic and with the watermarks gone, they have to buy that image from the stock photography website.
When the user buys the image, the photographer, who clicked the image, gets a certain amount of money from the purchase, and that's how they make money.
This is how the stock photography business works. Stock photography websites basically act as middlemen.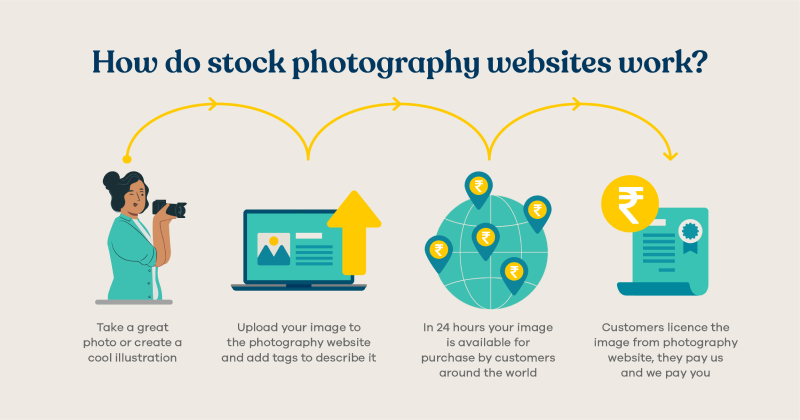 How to start a stock photography business?
Stock photography is the most popular way to make money through photography. There are many stock photography websites like Getty, Alamy, Corbis, and Shutterstock. These websites do not have their own photographers. Well, some do, but most of them don't. On these websites, you can submit your pictures and get paid between $0.30 and $99.50 per (royalty-free) sale.
Sounds easy, but there's always a catch when things sound too good and rosy.
Stock photography websites lay out stringent conditions that the contributing photographers must follow. Only if you meet their standards will your pictures be approved.
The more pictures you click and submit, the more you earn from it. This also avoids your pics getting lost in the crowd as stock photo websites tend to have many contributors.
Miranna Jamadi and Court Whelan are among well-known stock photographers you could look up for some inspiration.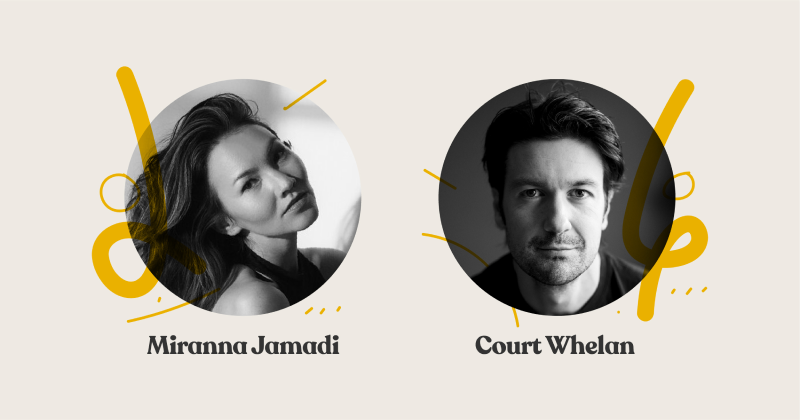 How to become a contributor for stock photography websites?
If you want to sell your pictures through stock photography websites like Getty, Alamy and Shutterstock, here's what you need to do:
Download Getty's contributor app
Register and upload your pics
Their editors will review your submissions and approve your request
Sample Size Requirements
JPEG format
Min size: 720px x 960px
Max size: 9000px x 9000px
Pics can't be lower than 5KB
Pics can't be heavier than 3GB
Sign up as Alamy Contributor on the website
Upload pictures
The Quality Check team will review pics
Once approved, you can add tags to the images
Image will be ready for sale the following day
Sample Requirements
Pics need to be in JPEG format
Pics need to be from a DSLR camera
Self-review the pics using imaging software
Check colour cast, exposure, noise, and camera shake
Do not edit the pics before sending
Compressed size 3-5GB
uncompressed size more than 17GB
Register on Shutterstock & upload pics
Add meta description and tags
Submit and wait for review
If approved, pics will appear in your portfolio
Sample Requirements
JPEG or TIFF format
Min size: 4MB
Max size: 50MB
Advantages of being a stock photographer
The advantage you have with stock photography websites is that you don't have to worry about promotions and marketing. The stock photo marketplaces have the finest social media marketers and search engine marketers to promote the images. Once you get the hang of clicking pictures according to their standards, it will be easy money.
How to start a photography business online?
You can start your own stock photography website easily.
You get to keep all the profits for yourself. You can upload your pictures, and even hire photographers to click pictures for you. But mind you, starting a stock photography website is not easy or cheap. In this model, you'll be shelling out money for:
Buying a domain
Developing the website
Hosting the website
Setting up a payment gateway
Buying commercial tools
Marketing & promoting
Regular maintenance and upgrades
How Dukaan can help?
Setting up and running a stock photography business online all by yourself could be challenging for a hustler. It takes away your time and focus from photography itself.
This is where platforms like Dukaan come in handy! You can start selling pictures online in 4 simple steps:
Step 1 – Sign up for Dukaan – Web Version | Android App | iOS App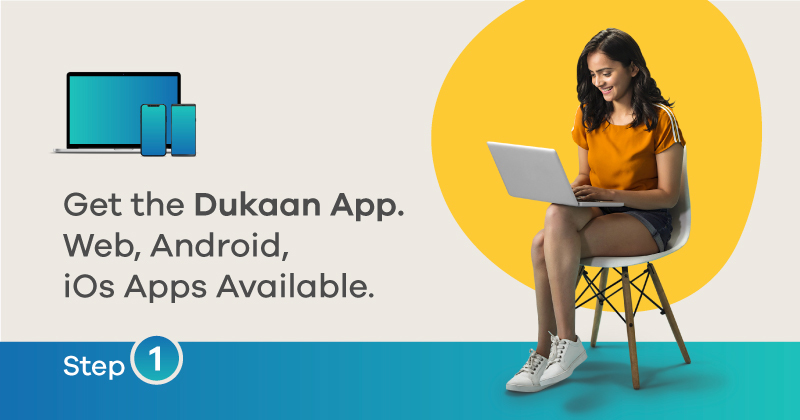 Just give your mobile number, verify OTP and you're in.
Step 2 – Choose your store name and category.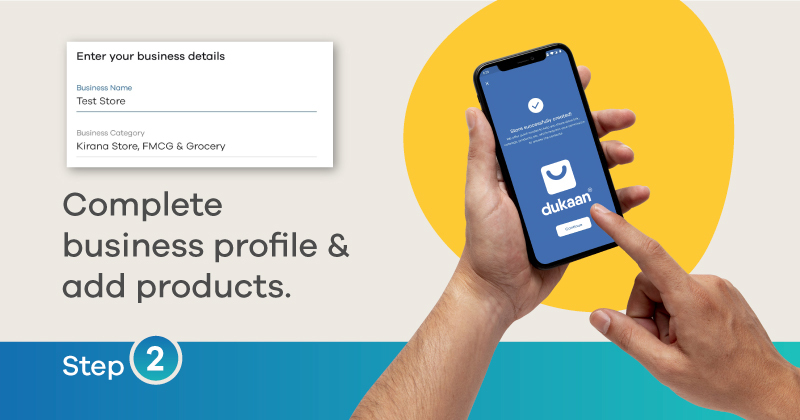 Step 3 – Upload your products.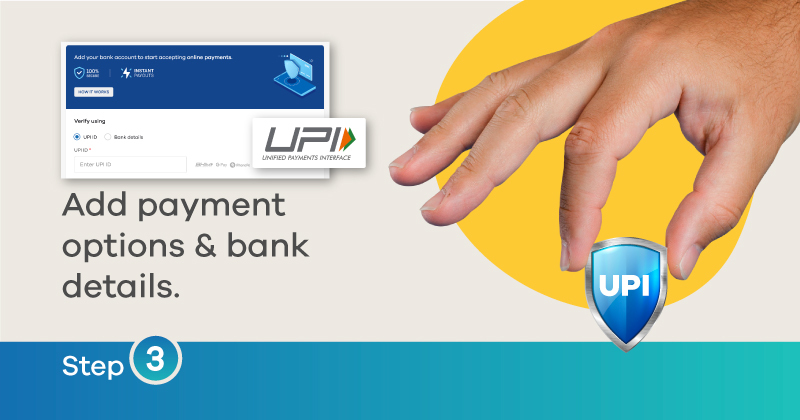 Step 4 – Promote your Dukaan store.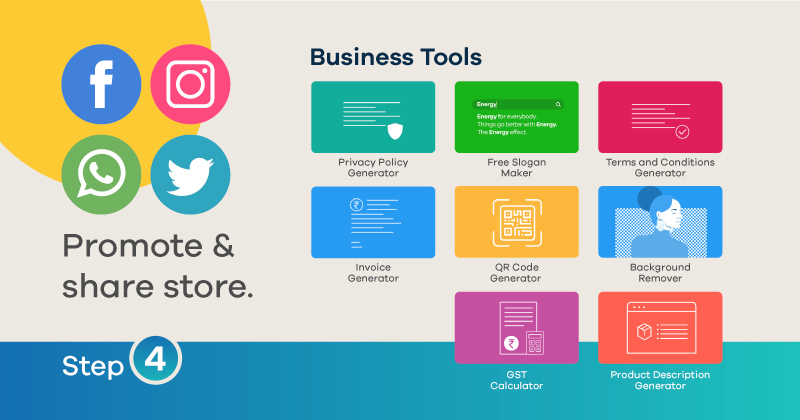 Simple! Isn't it?
Dukaan also provides free (who doesn't love that word) business tools to help you set up your very own picture store online.
It's a platform that allows you to focus on your photography, while the rest is handled by them. The best part about having your own store is keeping all the profits! Now, who doesn't want that!
Once your site is up, equipped with Dukaan's support and business tools, you can start promoting your website and sell your pictures at a price you decide. With time, you could further expand your online business to graphic designs, vectors, videos, etc – sky's the limit really!
Our Two Cents
So, let's answer the first question.
How to start a photography website?
We'd suggest you create your own website the easy way with Dukaan. You already have the support for it. It may take some time, but you can legit turn it into a business and a profitable one. Here are a few tips!
If you want to just click pictures and sell to stock photography websites, decide on the specialization (travel/ wildlife/ nature/ portraits etc) and work on honing your skills accordingly. The websites lay out stringent terms w.r.t image quality and size, which are at times challenging to meet.
If you are confused between the two, make a separate business plan for each. It will give you a clearer picture and help you decide. Either way, you will get to follow your passion for photography. We are right here at Dukaan, to help you realise your own dreams!
FAQs
How much money can you make with photography?
Freelance photographers can make anywhere between INR 80,000 to INR 1 lakh. This is just a reference figure depending on many factors. Based on their skills and business model, photographers can make a lot more or a lot less than these numbers.
Is the photography business profitable?
Yes, depending on what you make out of it. But one has to be smart about it. Choose the right business model, sell to the right people and at the right price, and your photography business will succeed.
How much money does it take to start a photography business?
This figure depends upon the business model. If you are starting a photo studio, you'll need a lot of professional equipment whose costs can run into lakhs. And don't forget to factor in rent for the studio.
Starting your own stock photography website is relatively cheaper and easier thanks to platforms like Dukaan. Here, your only investments are for the website and camera.
You can also sell your pictures to established stock photography websites and earn money every time one of your pictures gets sold online. Here, you only need to invest in a good camera.