Struggling with getting new people to find your online business? SEO Marketing or Search Engine Optimization might be the magic mushroom you've been waiting for. If you're a new online store, here's how you can get started with SEO Marketing in 2021!
Here's how SEO Marketing has boosted Dukaan blog in the last few months! Proof for ya.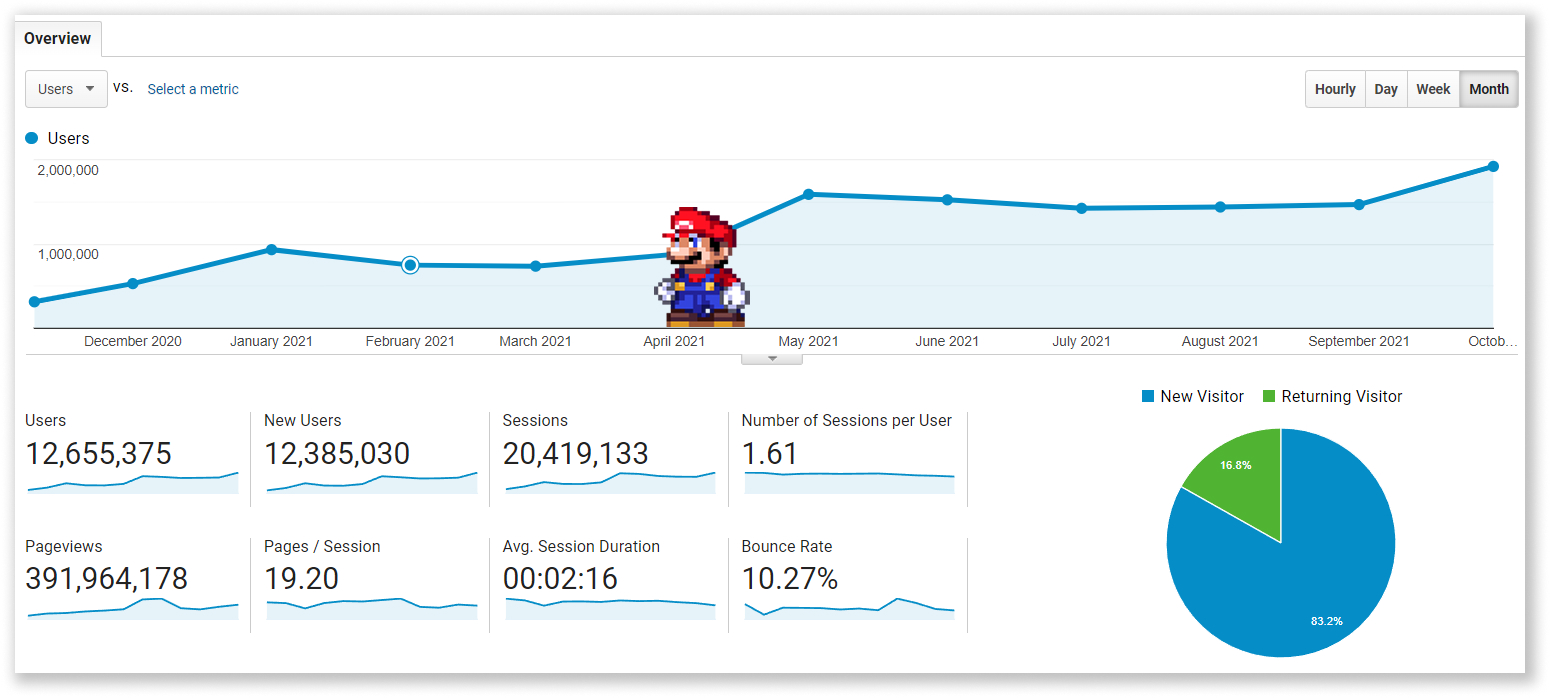 If you have decided to start an online business (maybe because you read our no-BS guide, How to Make Money Online), you might be thinking that getting a website is a good thing. That is why you searched for "SEO Marketing", and landed here.
Having a website makes you look more legitimate, it lets you show off your brand and gets you leads 24/7.
Now, if you have a website, you've most likely heard of the term SEO or "Search Engine Optimization." But if you're a non-techie, you might be avoiding it like the plague.
Consider this, though: have you ever been intimidated by your love interest? Only to discover that once you got to know them, they're actually pretty cool and easy to talk to?
After you've gotten past your fears, SEO is pretty much the same thing.
And to make it easier for you to harness its power, we made this simple guide. Read on and discover more about the wonderful world of Search Engine Optimization.
You never know, it might become your new best friend in business.
What is SEO Marketing?
Search Engine Land defines SEO as "the process of improving your site to increase its visibility when people search for products or services related to your business in Google, Bing, and other search engines."
Basically, you want to make your website appear more on Google when people search for products or services you sell.
Okay, that may have sounded slightly vague. Let's work with examples.
Say you're selling baby clothes in India. You want your website to be the first thing that people see when they search for "baby clothes store India."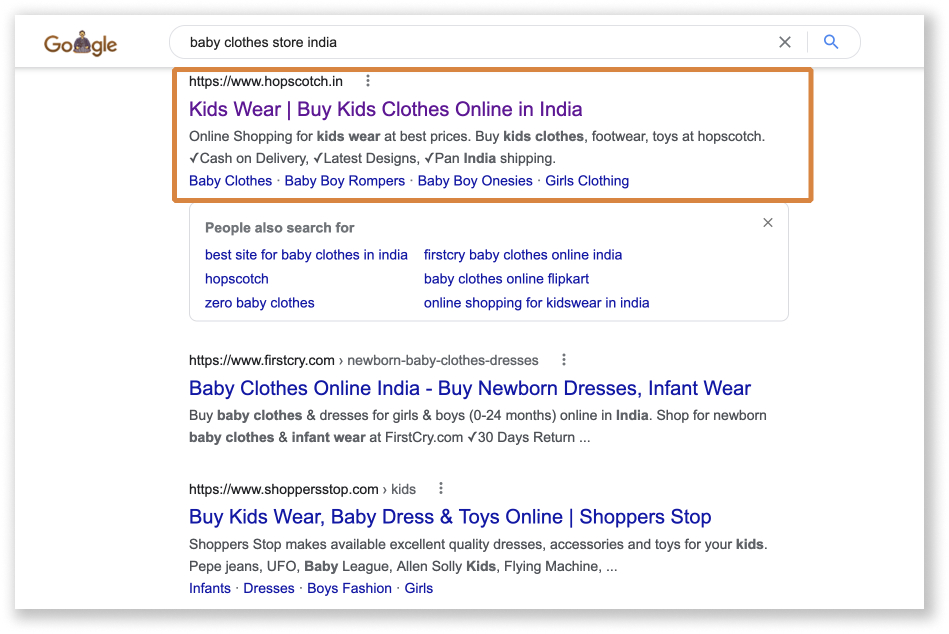 So if you're Hopscotch, congratulations! Your website is the first result Google gave.
And because you're number one, it's more likely your website will get attention from both old and new customers.
The #1 spot in Google usually captures 33% of search results.
💡 The #1 spot on Google usually gets the most clicks/traffic. 33% of search results to be precise!
But wait. SEO isn't ads.
Ads are different. Because you pay for ads.
SEO is free!
If you want to check out how to get started with PPC ads, here's a guide.
Why is SEO (still) an important Marketing channel?
Now you might be reading this and still doubting the need for SEO. You have a website, and paying customers.
That means you're being found already.
Plus, doing SEO or hiring someone to do it for you means additional expenses. And you hear it takes a while before the results kick in.
So why bother with it?
One thing you should consider is that people make trillions of searches every year on Google alone.
According to Hubspot, the estimate is that Google processes around 2 trillion global searches per year. That's a lot of searches!
And how do searches affect you?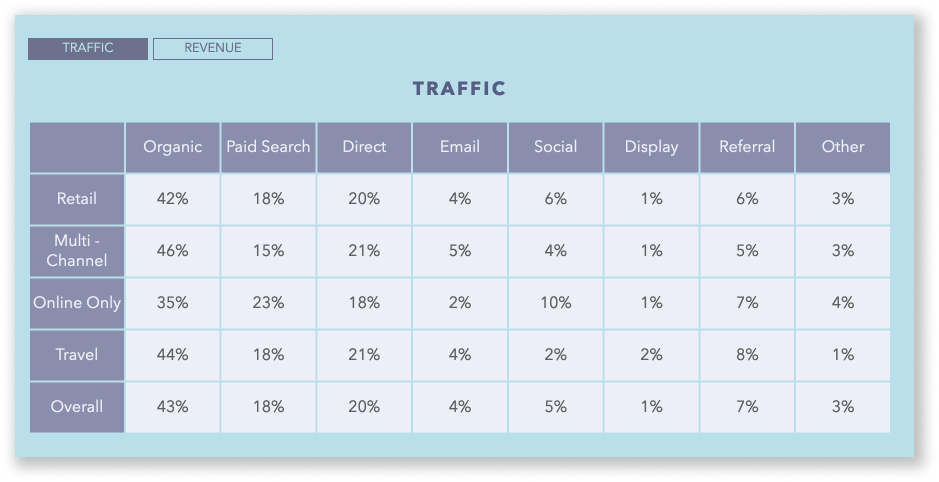 Well, statistics from Wolfgang Digital in 2019 show that organic traffic to websites (meaning a person searching) coming from Google searches is 35%.
Statistics further show that revenue from organic searches is 33%.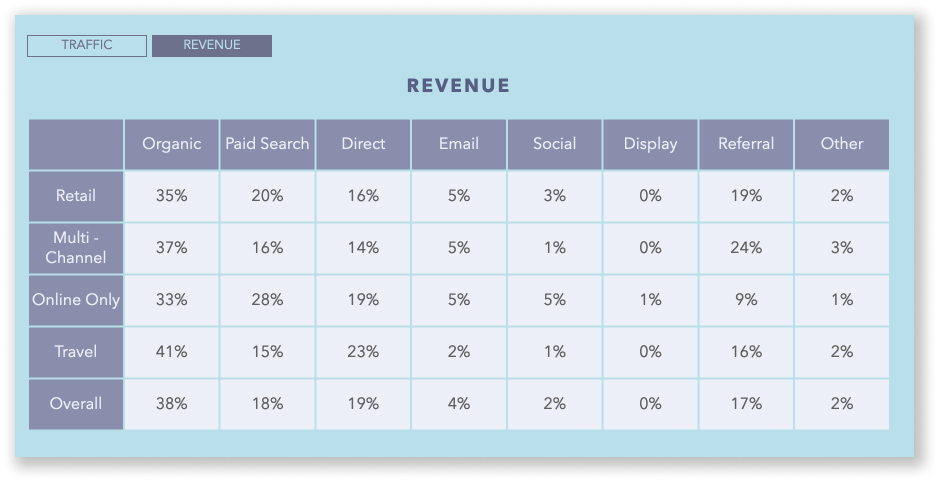 In short, organic searches that lead to your website give you more search engine hits and ultimately, more sales. And as a business, you always want that.
Can SEO Marketing really do this?
Yep.
Here's a case study from Cardinal Digital Marketing when they helped America's Best Contacts & Eyeglasses. The agency saw that America's Best didn't have a strong online reputation, which hurt their reputation with search engines.
So what the agency did was develop an SEO strategy that got the company to the first page of Google.
As a result, they were able to get on the first page for 120 of their targeted keywords AND saw a 40.9% increase in website traffic and a 31.5% increase in views.
And you can bet that America's Best got an increase in sales.
So if you don't do SEO while your competitors do, guess what?
You're going to have fewer eyes on your website. Fewer eyes on your product mean fewer sales.
You might be asking. Should you always aim to be on the first page of search results?
Well yes, if you want your business to be found.
Only 25% of searchers actually visit the second page of search results. Thus this saying: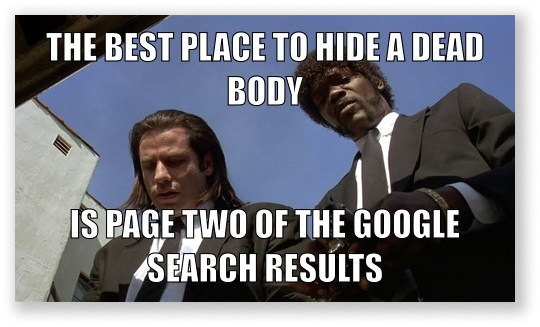 Morbid, but true.
One last thing to consider is that when you do SEO, you don't have to pay as much for running ads.
Say you're selecting the keywords to bid on for your PPC campaign…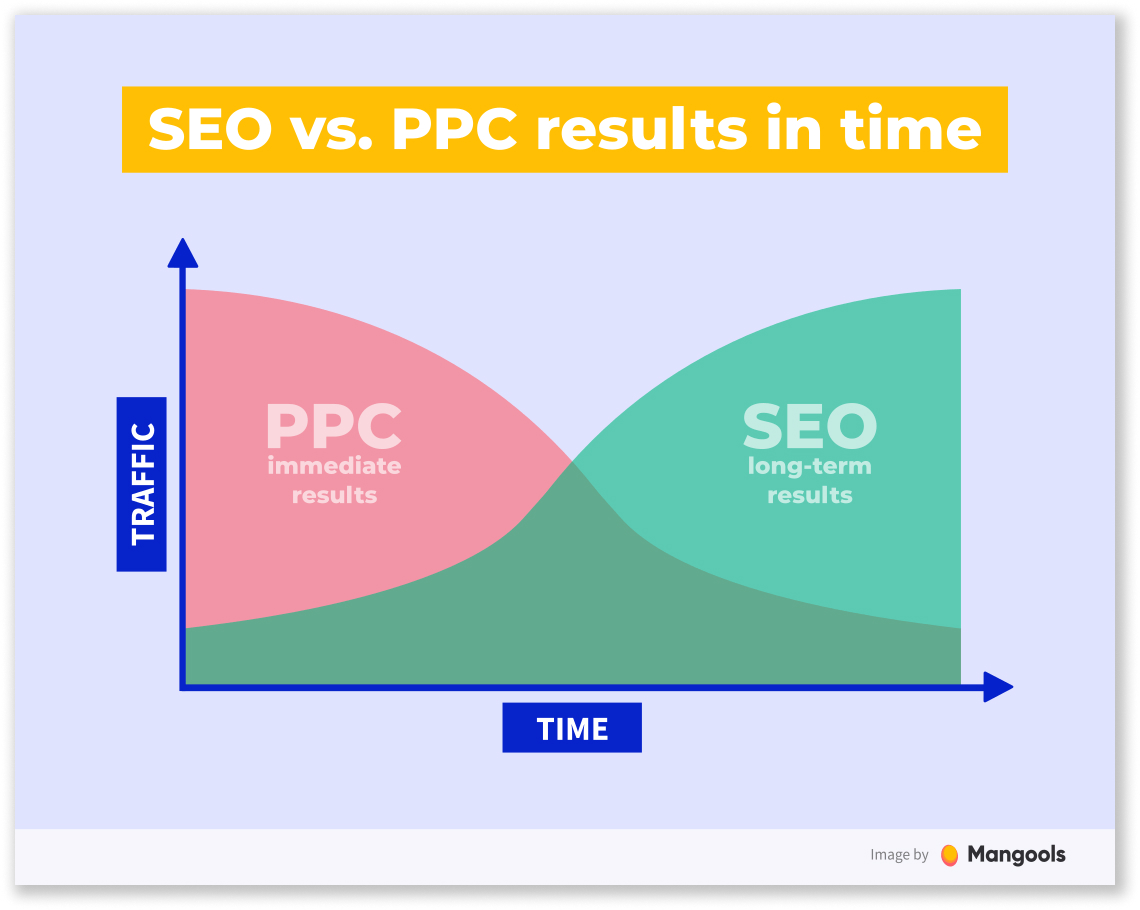 You can implement Latent Semantic Indexing (LSI) to find the most related and useful iterations of your chosen keywords.
Doing this could potentially lower your cost-per-click.
In the long run, you could save money by spending less on paid ads.
SEO will do the heavy lifting..
Here's a great thread on how AirTable scaled its business organically.
If you're a SaaS marketer, you need to study Airtable.

The SEO & growth strategies they used become a $5B startup and reach 1M users are so impressive.

Here's a few things you can learn from them 🧵

— Ross Simmonds (@TheCoolestCool) October 5, 2021
SEO Marketing: How does it really work?
So now, let's learn more about SEO. There are 2 components to it: on-page SEO and off-page SEO.
On-Page SEO Optimization (Stuff you do on your website)
On-page SEO optimization is making sure the contents of your website help your search engine visibility. You see, Google and other search pages want to understand your website's content, and know if it's relevant to user searches. On-page SEO helps with that.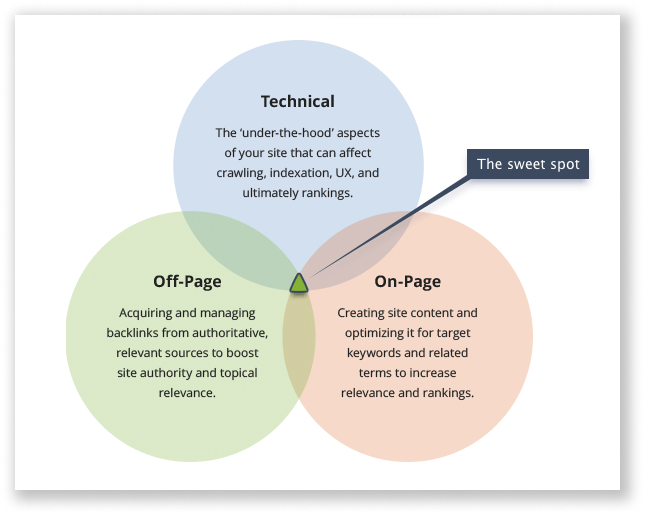 On-page SEO includes…
1. Keyword Research
This is similar to what we talked about before in our Ultimate Guide to eCommerce SEO. This time, it's for your own website, not an eCommerce one, but the principles are the same.
Again, you'll have to find the keywords used by people you want to buy from you.
For example, you sell phones. Find out what buyers type into Google, then make sure your website has those keywords.

And this time, those keywords won't just be found in the product descriptions. You can place them in photos, videos, and your blog posts.
Knowing what people type into the search bar will mean more traffic to your site.
2. Website Architecture
Website architecture, according to Terakeet, is how information is organized and prioritized on your website.
Imagine walking into a grocery store without any lines, labels, or prices. If you're thinking it's going to be absolute chaos, you're right.
That's the reason you should make sure your website is organized.
Depending on your industry and pages, you can optimize the structure of your website. In general, it looks something like this: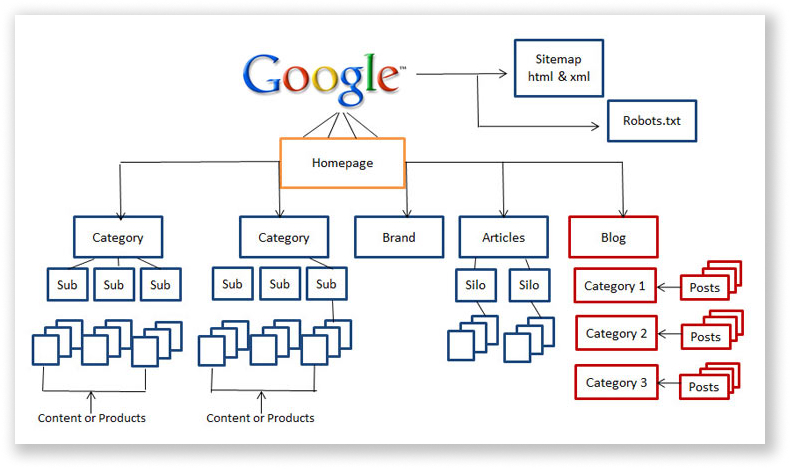 Organized websites do 2 things for your business.
One, Google and other search engines won't have a hard time going over your website. That means they will be able to see faster what your website is about, what your preferred keywords are, and so on.
The second thing is that your customers will have a good experience when they visit your site. They'll have an easier time finding what they need, and as a result, will be more likely to return or even buy.
Here's a good example: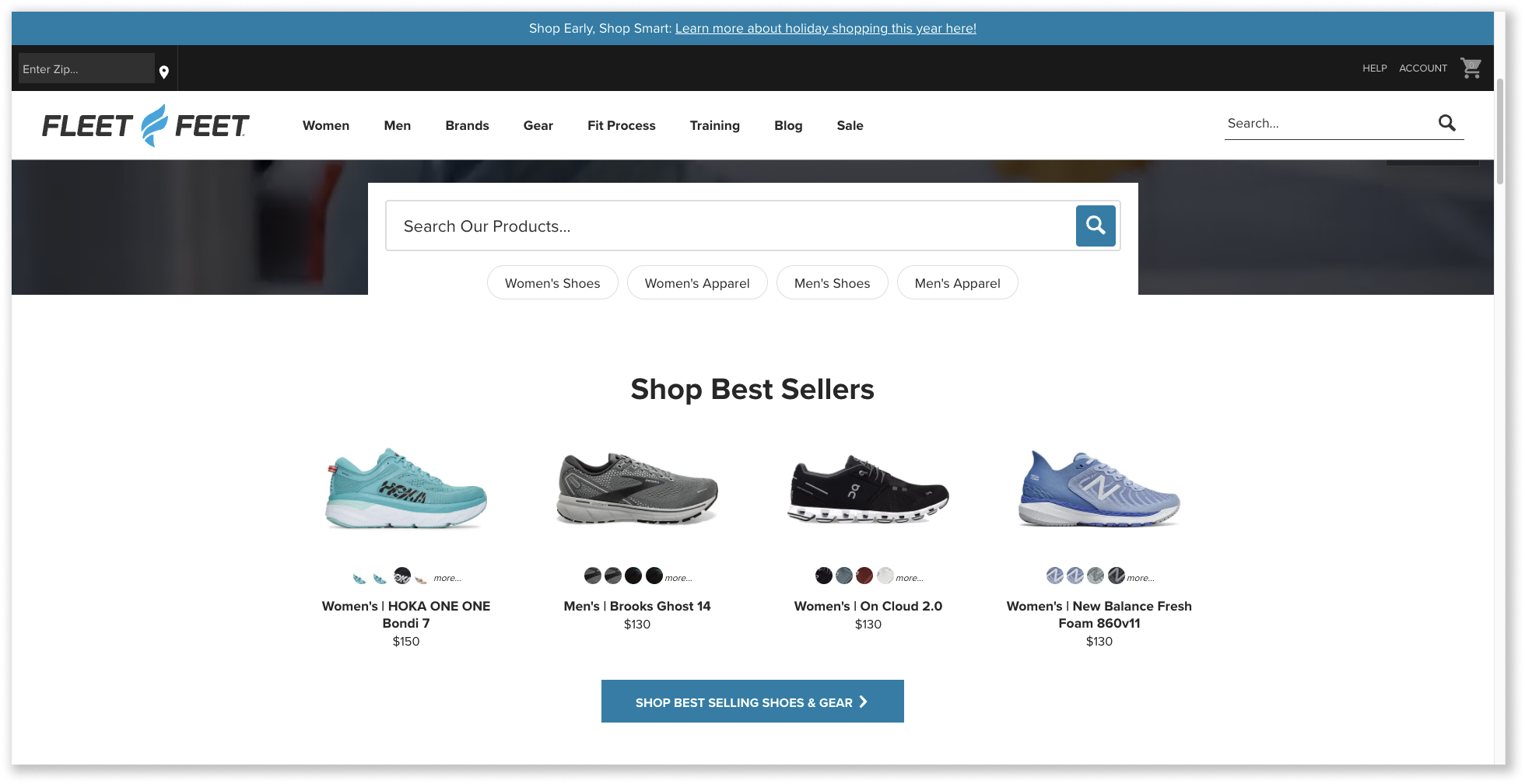 If you were to visit Fleetfeet.com, an American company, you can see right away the services they offer. That's guaranteed to give a good user experience.
3. Content Marketing
"Content is king," said Bill Gates in 1996, and wouldn't you know it? It's true today! Content is a huge, driving factor of visitors to your website.
Content marketing is making and distributing content like blogs, newsletters, and emails to people who will find them useful.
For example, you're somebody looking for a recipe for pancake. So you type into Google "pancake recipe" Then you click on a website.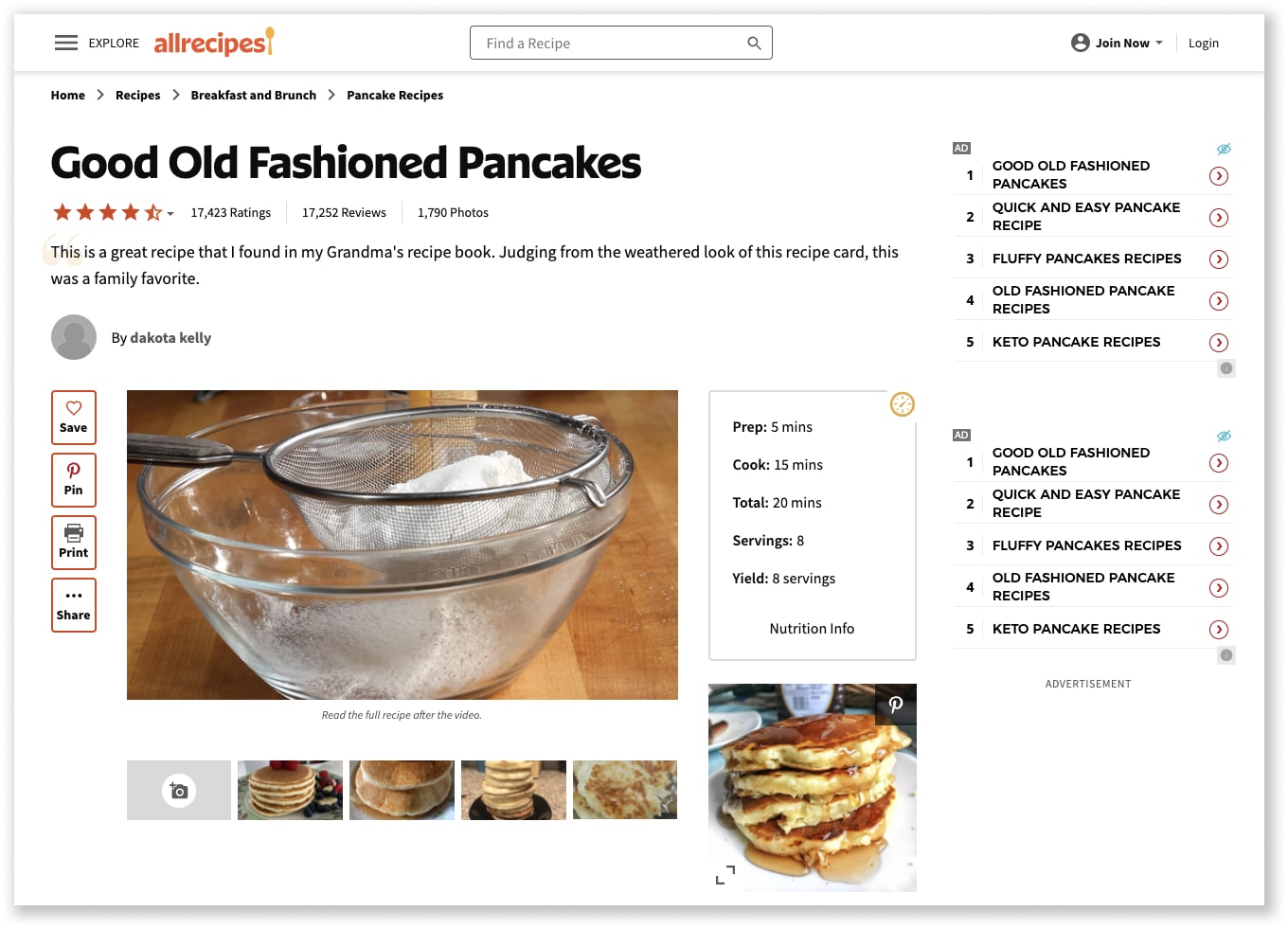 That recipe? That's an example of content.
We're sure you've consumed content before, like recipes, blogs, and other useful information. And aren't we happy that it's free?
Wait, FREE?
So why should you put that on your website, you ask?
Let's go back to our example. Wouldn't you keep going back to the website for other recipes, especially if you were happy with what you tried?
And wouldn't you also recommend the site to your friends?
Again, that means more hits for that website, which means more eyes, more awareness, and more visitors.
And that's the importance of content marketing. When you do it right, content marketing will establish you as an authority in that field. This tells people that you give them what they're looking for. And because of that, they'll remember you.
4. Technical SEO
Technical SEO refers to things that you can do to help search engines go over your site better, to improve your organic ranking. Examples of these include:
Using a secure sockets layer (SSL), meaning-making your website more secure
Ensuring your website is friendly not just on laptops but also on phones and tablets
Making sure your website loading speeds are fast
Fixing issues (if any) about duplicate content or broken links
The best way to go about technical SEO is to talk to a website developer. Yes, you don't have to handle it yourself.
What a relief, huh?
5. On-page SEO: Best practices
Other on-page SEO practices are also something you can discuss with your developer. Backlinko has a full list which includes the following:
Including your keywords in your links – make sure you put them in the front
Using short URLs, because they rank better in Google
For content, using your keywords in the first 150 words, and in the headers of content
Using keywords and alternative texts on your images
Using words that are synonymous with your keywords, instead of repeatedly using your keyword
Using internal and external links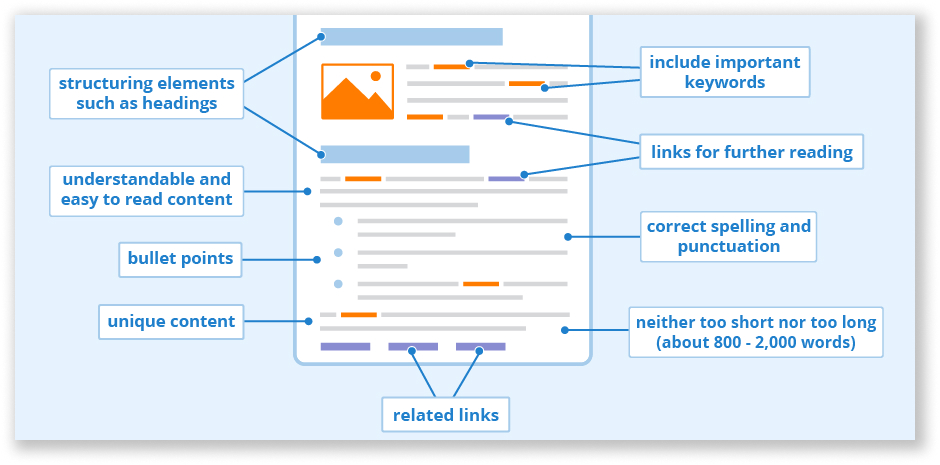 Off-Page SEO Optimization (Stuff you do elsewhere)
Off-page SEO, which is also known as off-site SEO refers to things you do that do not involve your website but can still affect your search ranking. If it's not done on your website, how will it matter?
Well, off-page SEO optimization helps by enhancing your website's popularity, relevance, and authority. There are two ways you can do this.
1. Link Building
Link building is when your website is linked to by other websites. See that highlighted portion we did for this article?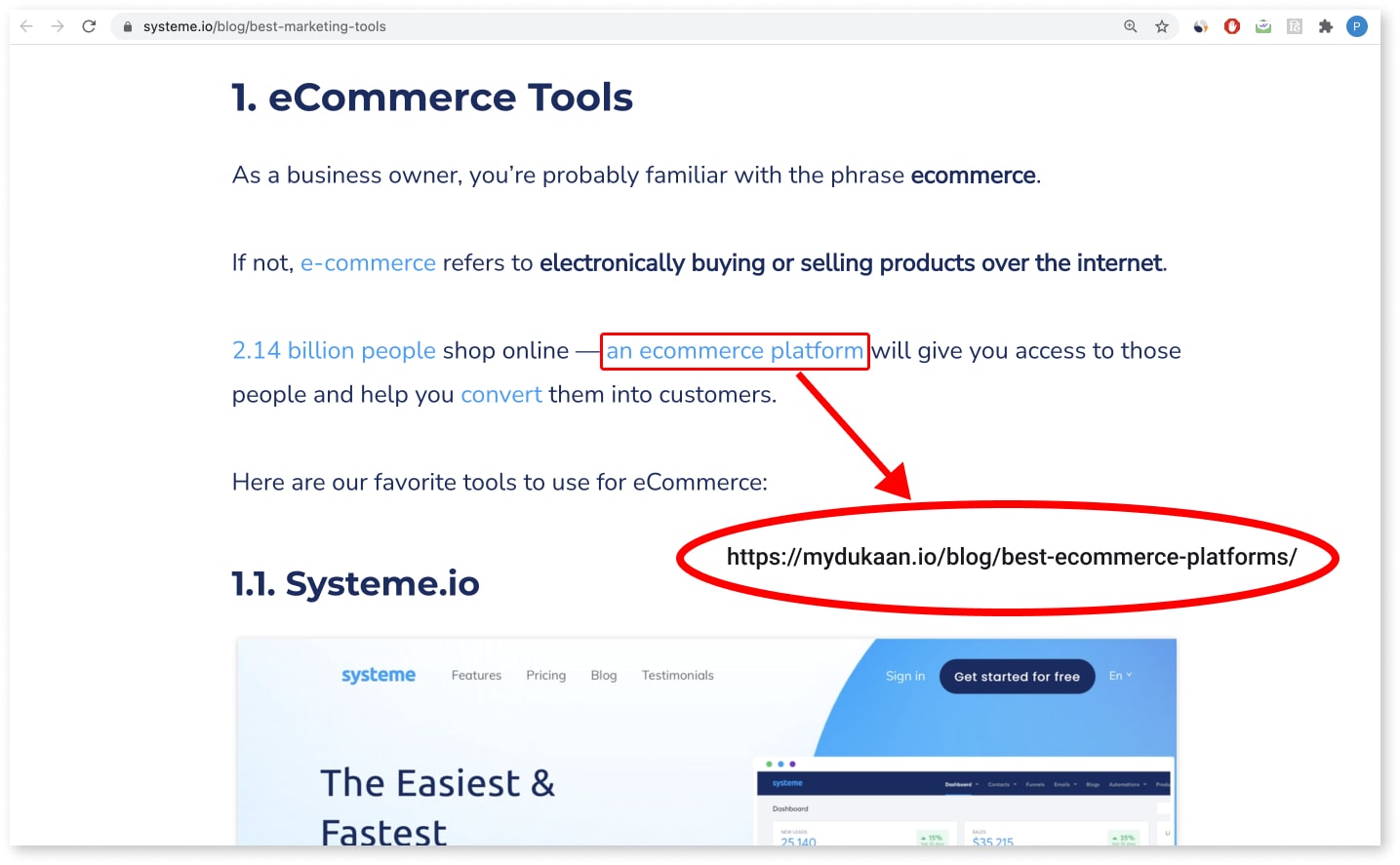 This is a link coming from Systeme.io to Dukaan's "10 Best eCommerce Platforms" article. That's what's called a backlink- they backlinked to us.
What was the effect?
Well, if search engines see that the Dukaan article has many other websites linking back to it, they will make that article rank better in search engine results.
Link building can happen naturally, you can use link building services or you can ask people you know to link back to your website. But just because you have a lot of websites linking back to you doesn't mean your authority will grow at once.
Search engines will also look at the following:
How popular the site linking to you is
How relevant the linking site's topic is to your content
How trustworthy the site linking to you is
The number of links that the linking page has
How authoritative the linking site is (or domain authority)
2. Local SEO
Local SEO is when you improve your website for searches that are location-specific. For example, you're in Jaipur, and you are looking for coffee shops. Here's what a location-specific search looks like: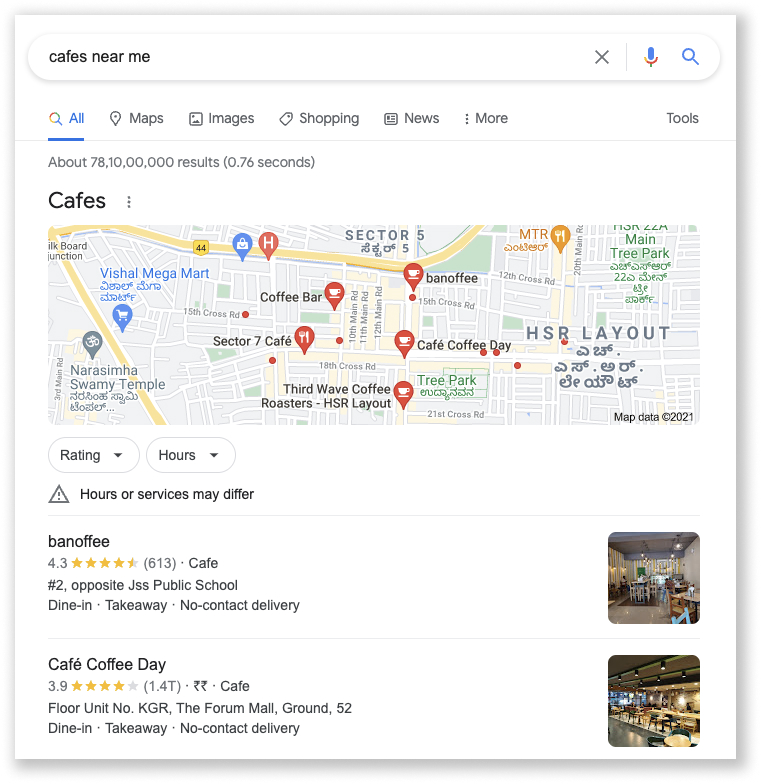 Google will see that you're in Bangalore, and present to you options that are near you.
Now, how can you use that to your advantage?
Well, you can make a page at Google My Business.
Update that page with both your local address and the areas that you serve so that Google can detect that and show it to your ideal customers. It's as simple as that.
How to start learning SEO Marketing?
Now, this might seem like a lot of information to take in, and you may not know where to start. But learning doesn't have to be scary. Here are some basic principles to remember as you increase your knowledge about SEO.
1. Define your goals.
Sure, you want to improve your site's ranking using SEO. But what exactly does your website need right now? Do you need awareness for your new business? Do you want to start getting sales right away?
Whatever your goal is and whatever your business needs, focus on that.
2. Double down on user intent.
User intent is basically what the user wants to know or find when he searches something on the internet.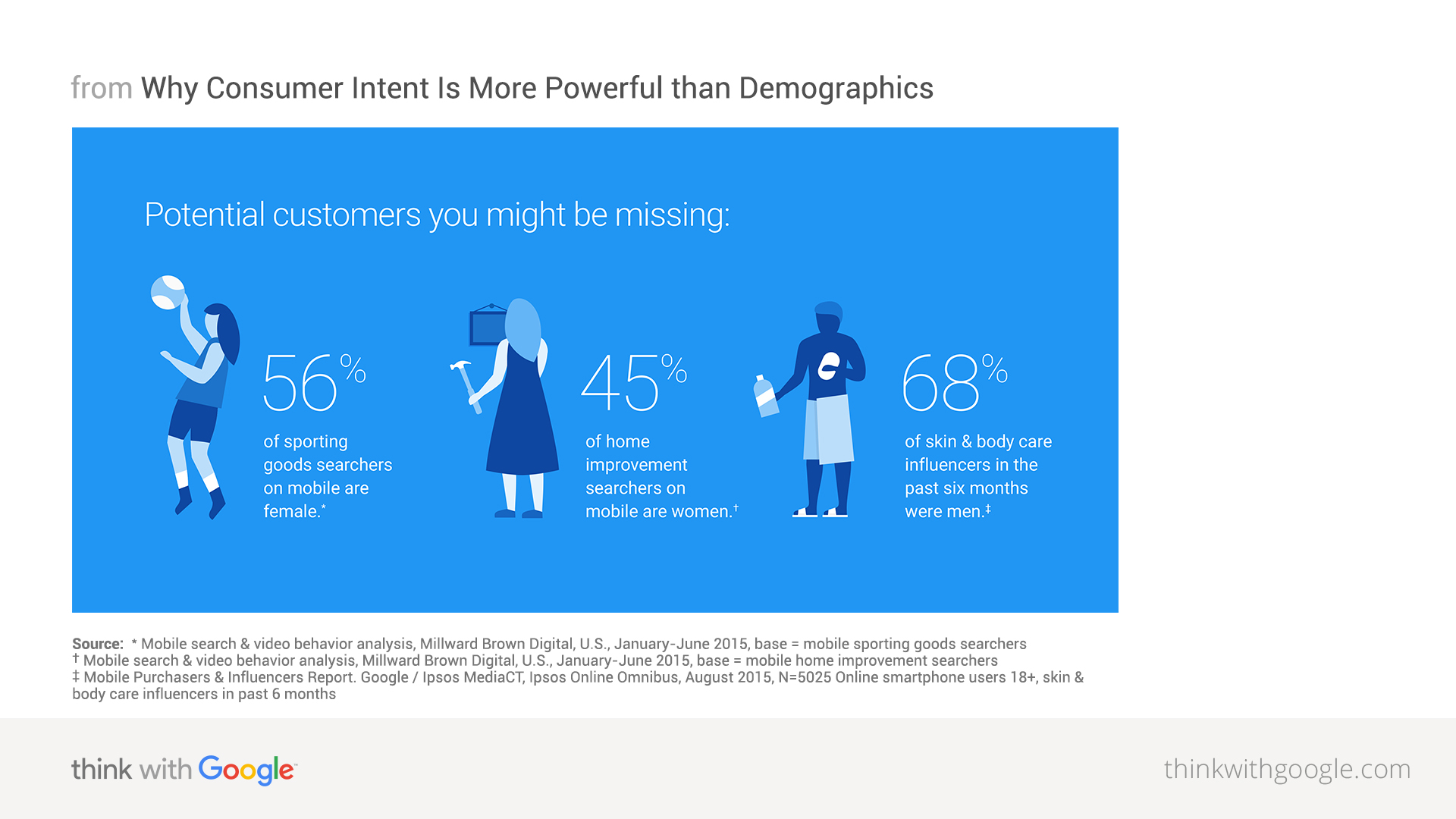 So for example, a user searches for "how to cut hair," and your website pops up as the number one search result. When they visit your site and see that you're just promoting selling different kinds of razors…
And you really didn't answer their "how to cut hair" question, what do you think they'll do?
Leave, obviously.
And when the user leaves seconds after they landed on your page, that tells Google that the intent of the search doesn't reflect the result. This leaves an impression that your site is not helpful.
When this happens, Google will rank your site lower the next time someone searches for the same keyword.
What will help you with this is if you have a customer avatar that represents your ideal customer. From there, you can fill your website with useful information that your ideal customer will search for or want to know about.
3. Choose keywords that'll generate business.
There are 2 things to consider when choosing keywords. One is to search for and try to use keywords that have a high volume of searches but have less competition, especially if your website is new.
Here's an example using the keyword "running shoes" on Ahrefs.

As you can see, the volume of searches for running shoes is 196,000, but the search difficulty (KD) is 64. That means it will be hard to rank for that keyword.
So what you can do instead is look for keywords that have lower search difficulty, but keywords that people look for.

As you can see, the SEO difficulty is around 20-30 for the keywords here, so if you use any of them, it will be easier to rank.
This leads us to the other part about keywords: try to rank for keywords that are related to user intent.
Those keywords are called long-tail keywords because they contain more specific keyword phrases that people use when they have the intent to buy.
Let's go back to the running shoes example.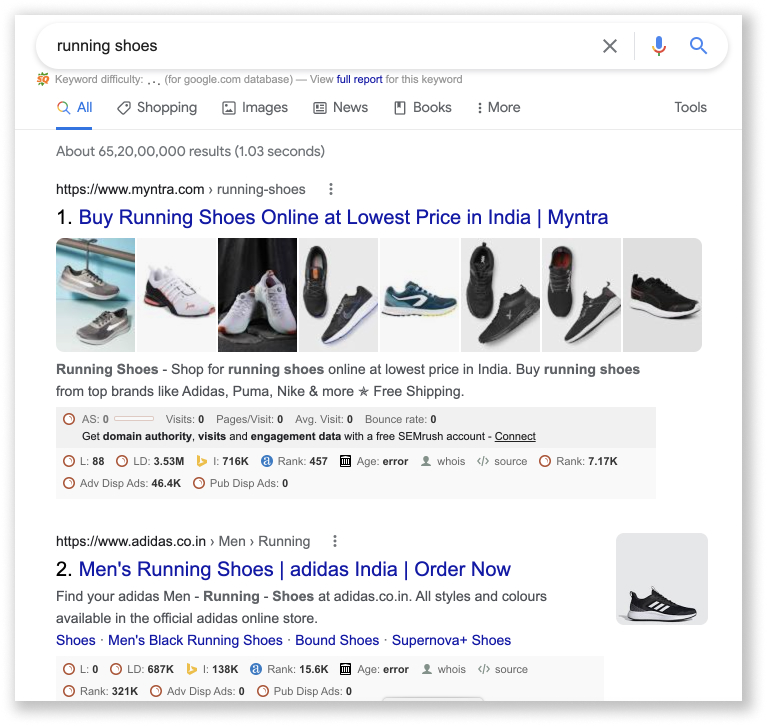 When someone searches for just "running shoes," the results are about shops. That's because Google doesn't really know what the user is really looking for.
But when the user searches for "best running shoes", here are the results: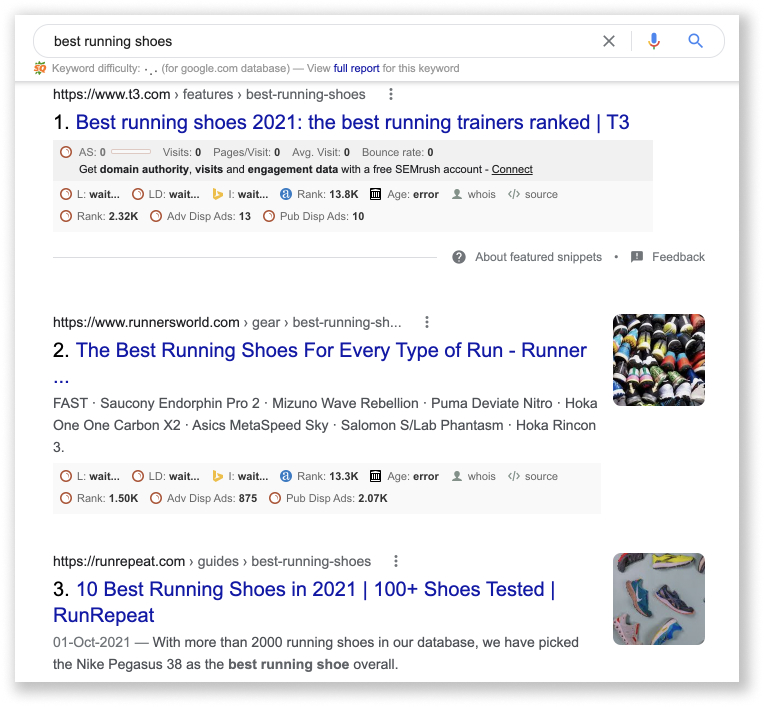 Results are more specific now because the person searching used a long-tailed keyword.
Chase for ranking for long-tailed keywords, since those using them have the intent to actually buy, which is what you want for your business.
4. Write insanely good content.
And when we say insanely good content, it's more than just hooking people with a great headline and having an interesting introduction.
Like *ahem*, this post.
The simple definition of good content is you answering questions that your target audience wants to be answered. And making sure that what you promise in the intro, you deliver in the content.
Our goal isn't to out-rank all other content out there — when it comes to search, there's lots of great content. It's not always perfect, or exactly what we want, but sometimes folks need different perspectives. (I also don't mind when we do rank first though :-))

— 🧀 John 🧀 (@JohnMu) July 1, 2021
There's nothing more annoying than reading an entire article only to find out that your question wasn't answered.
For example, your niche is about horses.
Obviously, don't write about dogs or cats. Make posts that your audience is concerned about. One can be "what can horses eat?"
Subsequent posts should also be regarding questions about horses. That will keep readers coming back, which increases your views and site authority.
Also, while using keywords are good, avoid keyword stuffing in any of your content. Here's an example.

How many times did "beer" appear in this example?
Annoyingly frequent, right? People do that hoping to rank higher for that term in search engines.
But as you can feel after reading it, it's a bad experience. Remember that website content is for informing, inspiring, and entertaining readers. When you do keyword stuffing, you won't be able to do that.
Also, search engines do not like keyword stuffing. Prepare for your ranking to go down if you do that.
5. Distribute, distribute, distribute.
Don't wait for search engines to crawl over your website and establish that you have something new on your website. Share it with everyone you know via Facebook, Instagram, email, Linkedin, and whatever else you can think of.
What you can also do is pay for more distribution of your website. If you are selling shoes, contact fashion influencers or shoe collectors in your area. They might be willing to share links to your new content or item for a fee.
And remember backlinks?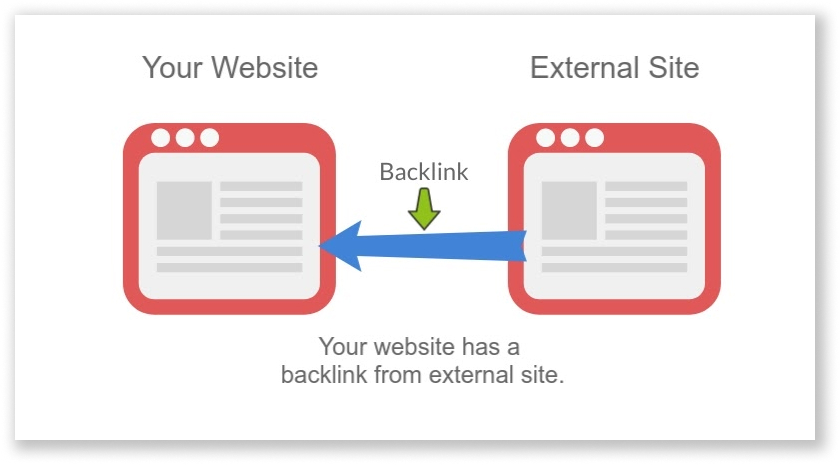 If you have new content, try to be strategic about choosing which sites to link to. If they're famous or an authority in their respective niches, you can contact them and say that you linked to their website, and they might like to share it with their followers. More often than not, they wouldn't mind at all.
At the end of the day, all these things you're doing to make your website better with SEO? The end game is to establish your authority in your niche.
So create in-depth content pieces with relevant internal and external linking.
Get people to backlink to your site.
Optimize your site with user experience in mind.
And make sure to follow Google's standards for authority.
It's a long-term investment, but it's something definitely worth doing.
Start driving traffic to your business today
That's our quick guide on how to use SEO to market your business. Put those into practice and watch your website constantly rank in Google and other search engines!
Of course, if you're concerned about SEO and want an easier way, there's always Dukaan.
We have an SEO tool that helps you increase search rankings while driving your site traffic up from different search engines. You'll also be able to add or update unique product titles and descriptions to what you're selling.

Our SEO plugin can be found in the Plugins  page of your home screen dashboard.
Once you install it in your store, it will automatically be added to every product details page.
All you need to do is simply fill in two details- Title tag & meta description.
The plugin will do the rest.
Here is a tutorial on how to use the All-in-one SEO plugin from Dukaan.
With these features, it will be effortless to get organic visitors.
Make SEO – and your life – easier. Get started with Dukaan today.