Are you confused between Shopify vs WordPress? Don't worry, you've landed in the right place.
Creating a successful eCommerce business is a process. You need to properly blend your strategies and decisions. To help you get started with the best, follow this Shopify vs WordPress blog.
Although brick-and-mortar business doors have reopened, eCommerce sales aren't slowing. Especially with the wave of digitization. The brick-to-click model led to a surge in eCommerce and accelerated digital transformation.
If you're a small business owner, having a website has more advantages. Even if your word-of-mouth marketing is still getting you customers.
Most businesses, 71% of them to be exact, already have websites. So if you don't have one yet, you're missing out on getting new customers.

Having a website makes sense because it lets people know you exist and what services you offer.
Being successful in the new eCommerce environment will need distinctive ideas and actions. Traditional businesses are now adopting technology.
Currently, eCommerce is valued at $4.48 trillion. It is also forecasted that about 24.5 % of global sales will be from eCommerce by 2025.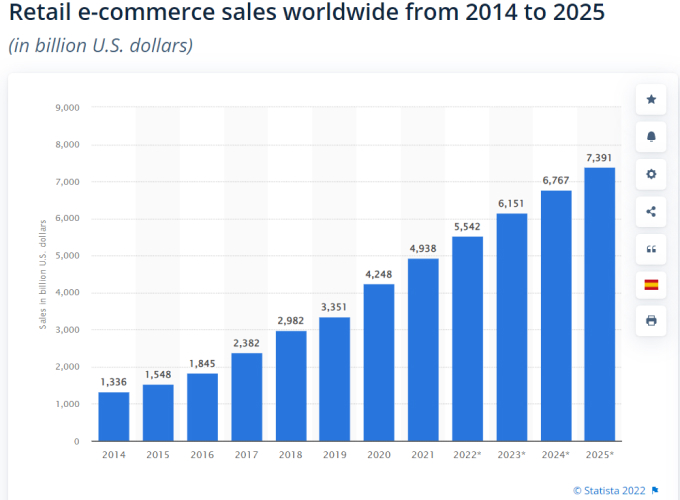 Whether you're expanding or starting, you need the right eCommerce platform. Now, building an eCommerce store is within reach for anyone with the time and gumption.
Even if you've never built a website before, the platforms now available will ease your work.
For some reason creating and maintaining a website sounds like too much work. Therein, you should check out eCommerce platforms.
They'll make your life as a small business owner a whole lot simpler.
Getting started with a low-priced online platform can be intimidating. Especially with so many other features to consider.
For this reason, it can get challenging to select an eCommerce platform.
Two of the most well-known names in the eCommerce industry are Shopify and WordPress. Both of which have a strong reputation. They are known for their simplicity, adaptability, and excellent performance.
Each of them provides a plethora of features and tools. These will assist you in the creation and management of a website.
But here's the catch, one is a closed-source hosted platform. And the other is an open-source self-hosted platform.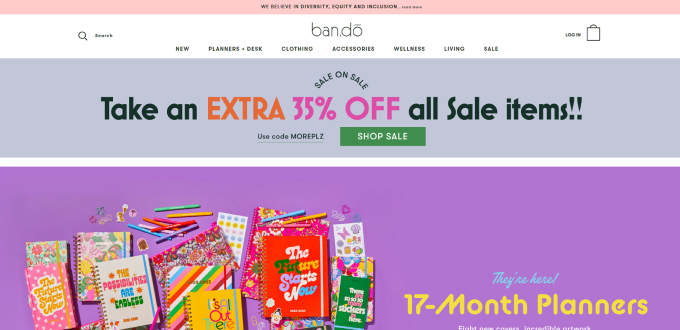 When comparing Shopify vs Wix, both platforms are robust solutions. They will help increase your profitability and scalability. Each of them provide a plethora of features and tools to assist you in the creation and management of a website.
For companies whose focus is on finding an eCommerce solution, Shopify is the best fit.
Shopify is simple to use, fully-featured, and largely automated. However, Wix is the hands-down champion when it comes to versatility.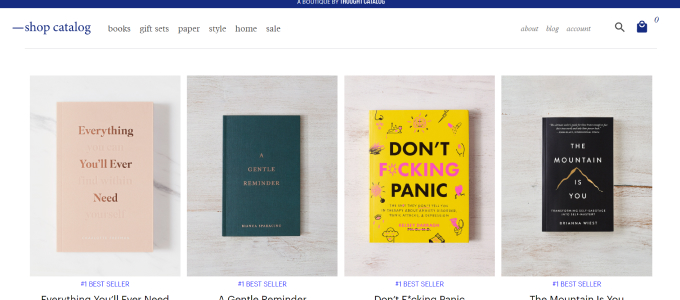 The double-edged sword, however, is that there are tons of options you need to consider.
Figuring out what your store will need as you grow is a challenge. It is difficult to predict what your store will require as it expands.
However, you need to opt for a platform that will help you stay up with the current trends. You can also scale your business effortlessly.
The appropriate information you need to choose the platform is provided below.
We just don't speak about the technical specifications but we address other points. We focus from a business merchant perspective as well as a customer perspective.
This Shopify vs WordPress blog outlines the things you'll need to consider. Especially, when you're looking for the best eCommerce platform.
Shopify vs WordPress: At a glance
WordPress lets you build a content-based website. Whereas Shopify helps businesses quickly run an eCommerce store with minimal effort.
In Shopify, you need not manage your own secure servers. Whereas you need to ensure the secure sockets layer (SSL) encryption in WordPress.
The WordPress site custom configuration and integration involve a steeper learning curve. But, in Shopify, you are limited with the possibilities.
The built-in analytics and features are better in Shopify than on WordPress. You can keep track of your customer behavior, stock levels, and conversion tracking
If you want a basic store, WordPress could be your budget-friendly option. But, if you want to scale with multiple optionsShopify is the all-inclusive package.
The sheer number of ways you can contact Shopify for support makes it the best choice over WordPress.
The transaction fee is much lower depending on your Shopify plan. Whereas for WordPress, you'd encounter transaction fees. Plus extra charges depending on the specific eCommerce plugin you used.
Shopify Vs WordPress Feature-to-feature Combination
The primary aim of any eCommerce platform should provide convenience. It has to be for both business merchants and shoppers.
Whether it's WordPress vs Shopify, the platform should allow you to easily manage.
You should be able to do multiple marketing, and analyze sales platform. Plus, manage online orders without any hassles.
In this comparison, you can pick the most suitable one for your eCommerce platform.
So, let your customers shop and receive orders at their convenience.
Ease of use:
Many online stores today fail. It's just not because they couldn't drive traffic, conversions. Or construct a result-oriented SEO strategy.
There are other elements like design and interface. These elements will impact the performance of the website.
The design and interface experiences are often considered a low priority. Yet, they drive low conversion and revenue.
If your eCommerce build experience is not simple then you will find it difficult to interact. Plus, if it's not intuitive, and efficient then your users might find it complex too.
Seven factors describe a user experience: Useful, Usable, Findable. And credible, desirable, accessible, and valuable.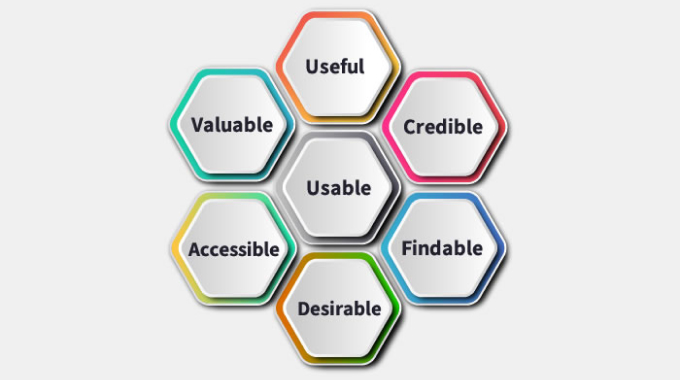 A store that can deliver these seven factors is much more likely to succeed. It will also bring joy to all its users.
Wondering, how is this relevant to the WordPress vs Shopify comparison blog?
Ease of use is the core point of the usability concept. And usability is the umbrella term for all user experience (UX) components.
The ease of use depends on how customers and merchants do more actions. The easier it is to find content, and do a design/product, the easier is the platform to use.
Ease of use may be invisible, but its absence sure isn't
IBM
That said, your eCommerce platform should provide an easy-to-use interface.
This will give you a high chance to enhance your brand settings as per customers' needs. You can make your customers more likable.
Shopify comes as a ready-to-use business platform. It is one of the simplest eCommerce content management systems to set up.
The platform is designed in perspective to help merchants. That is, any person can start an online store easily. Tech-savvy knowledge is not required.
The design of the first setup steps are so intuitive. Getting started is so simple. In the wizard, you will get 4 steps that cover all the steps.
You can get to choose the desired theme, upload the product, just like that. You can also further follow the wizard and configure other store settings and others.
The Shopify user interface is so easy that you don't need to be a big firm or knowledgeable person.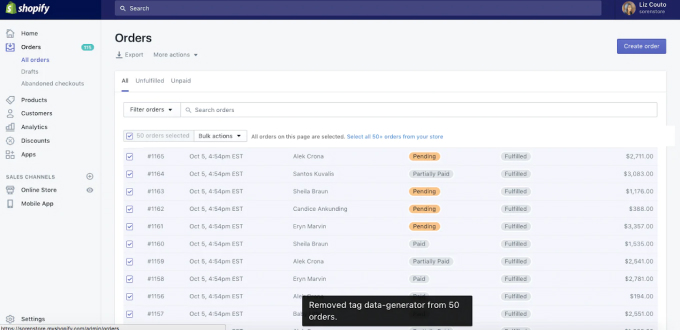 To customize, the basic HTML or CSS knowledge is more than enough. This possibility allows you to create specific, complex functionality.
Mostly, all the advanced functionality will be taken care of by any of Shopify's apps or themes.
What's more? If you can use a word processing software like Microsoft Word, you can build a website with WordPress.
With WordPress, you can simplify your store actions by customizing the store dashboard.
Yes, you can easily rearrange menu items, add or delete widgets and change their styling. You can configure your backend to make it more visually appealing.
WordPress is a flexible CMS . You can use it to create websites for the company, portfolio, and eCommerce.
Providing a versatile CMS, the eCommerce platform is a fantastic option.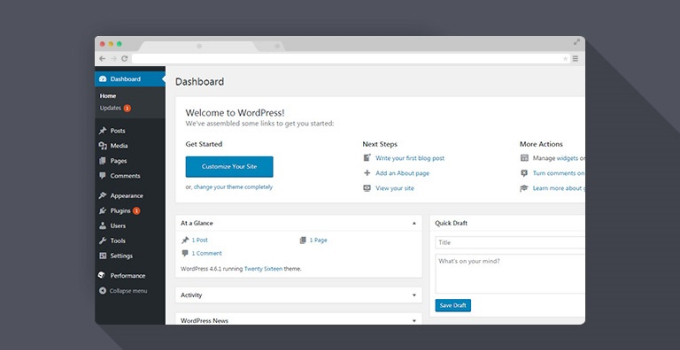 The platform interface is great for both big and small websites. It is designed to enhance usability and flexibility in building a site online.
Customizing the WordPress dashboard is quite easy. It is also beneficial to you as it is for your clients.
You can use your logo and branding, for example, rather than the default WordPress logo.
While customization on deeper levels is possible in WordPress. You would need some coding knowledge.
Also, you would need to install a plugin if you want to make your website eCommerce ready. Because of the multiple plugins and customization, you can easily get overwhelmed.
That said, your best bet in comparison between Shopify vs WordPress can be Shopify.
Especially, if you aren't from a tech-savvy backend and do not want to go on deeper levels of customization.
Whereas, WordPress can also be a great choice if you know some coding knowledge.
Pricing:
Getting started with a business involves running multiple moving parts. From sales and marketing to adding the product to the fulfillment of goods and services.
And everything in your business should work to buttress your profit.
You will want to upload or design the product pages to attract the right audience that needs them.
You want to configure the sales and marketing to reveal how powerful your products.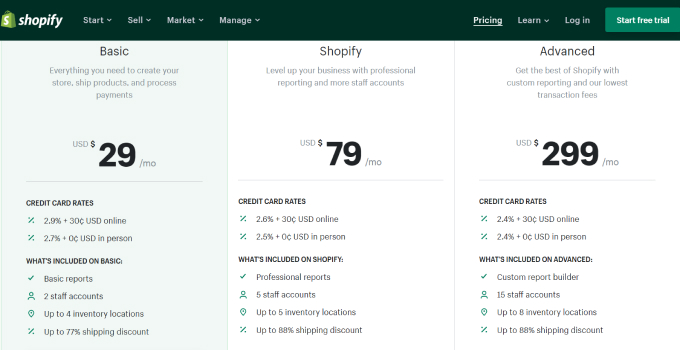 And you will want to drive customers through the purchase process smoothly.
Everything in your business works to translate and justify the eCommerce platform value.
Pricing of the eCommerce platform (+ plugin cost) is the main lever.
It can either maximize or minimize your profits. We're not simply saying that.
Numerous studies have demonstrated the effectiveness of platform pricing optimization.
Whichever eCommerce platform you decide on – WordPress vs Shopify, it will serve hundreds of different purposes. And embodies hundreds of definitions.
Like all eCommerce platforms, Shopify also provides various pricing plans. You have Shopify Lite, Basic, Advanced, and Shopify Plus.
Before you get started with Shopify, you should be aware of the several Shopify pricing plans. It would be a add-on if you know their offerings.
Shopify Lite is the most basic Shopify plan, and it costs $9 per month. This plan is very much ideal for simple Shopify store owners.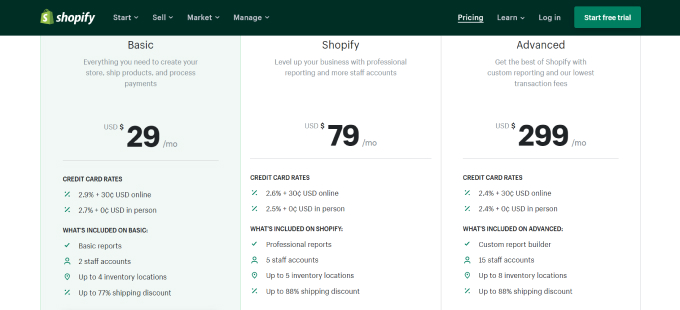 That is for merchants who want to sell products without maintaining an online store.
Shopify Lite does not include a standalone, functional store. It includes several options for selling without an online store.
Anyone wishing to utilize Shopify as a back-end solution will do well with Shopify lite. Especially, they can sell goods in real-world settings like events and panels.
The in-person sales can be captured using the Shopify point of sale app and the card reader feature.
Up next is the Basic Shopify plan, which is a $20 upgrade from the Shopify Lite plan.
In this pricing plan, you will get a fully functional standalone online store. The other features that are included with Shopify Basic are:
Unlimited number of products
2 staff accounts
24/7 support via all mediums
Manual order creation
Discount code creation
A free SSL certificate
Abandoned cart recovery
Gift cards
A blog
Discounted shipping rates
Ability to print shipping labels and
Fraud analysis
Second in the line of best is Shopify Plan. The plan starts at $70/month.
It includes all Shopify Lite and Basic Plan features. Such as a Shopify store, a Shopify Buy Button, and access to Shopify applications and themes.
Additionally, you get a more in-depth summary of your sales report. Plus, retail sales report, customers, and marketing report.
If you run an online store and expect to have a high volume of sales, you should consider the Advanced Shopify plan.
The advantages of the Advanced Shopify Plan are not just about handling the store volume. You will gain access to an advanced report-building tool.
This plan provides improved insights into sales data. This information can be used to fine-tune your operations to the nth degree.
On a similar note, you can also opt for Shopify Plus if you are looking for an enterprise-level solution.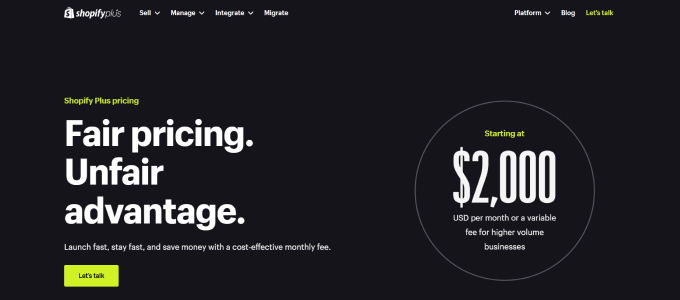 This Shopify pricing plan enables merchants to use 'Shopify Flow'. That means, you can automate eCommerce-related tasks.
Shopify merchants can now create IFTT (if this then that) style rules using this visual workflow builder.
Allowing Shopify to take specific actions in response to specific events. For example, it can email your supplier if your inventory is running low.
As a merchant, new or existing, there are various factors to be considered. Especially, by Shopify store owners before choosing a Shopify pricing plan.
These factors include the cost of themes, point of sale, credit card processing, fees, and more. So read through each plan and choose wisely. If you want to know the other options, you can read our best Shopify alternatives blog.
Similar and yet simple, WordPress offers 2 pricing plans with 14 days free trial period.
The free WordPress.com plan is completely free.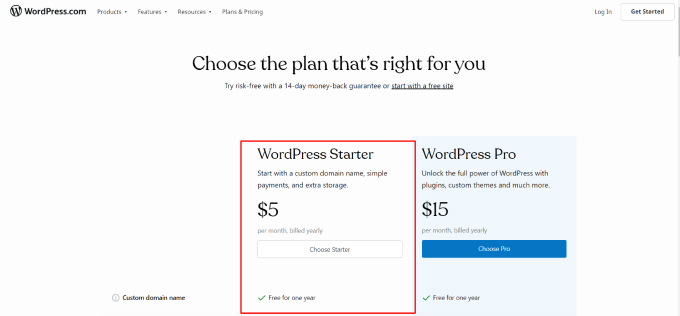 However, its capabilities are limited. It provides only 1GB of storage.
And you wont have any access to plugins, support, or advanced SEO features. You'll be limited to publishing a basic website or blog.
You will also be unable to use a custom domain or remove the WordPress advertisements from your site.
The WordPress Starter plan is $5 per month. This plan is good for anyone needing a very basic website for personal use only.
The other features that you can enjoy with the plan are :
Free domain name registration
The ads-free platform
Access to unlimited email support
Ability to collect payments
The storage limit is up to 6GB
Possibility to send premium email to subscribers.
The Pro paid plan is $15 per month. This expands the feature set to include 50GB of storage.
Plus access to premium themes and plugins, advanced SEO tools. You can also leverage the ability to sell products through the WooCommerce plugin.
While the WordPress pricing plans seem to be reasonable and cheaper, they can add up a lot as you scale.
The all-inclusive bundle offered by Shopify initially appears to be more expensive. But, once you get there, everything you want is included.
That said, in a comparison between Shopify vs WordPress, Shopify is your safe decision.
The Easiest Way to Sell Online – Dukaan
An eCommerce platform should have the characteristics described earlier, namely:
Seamless payment options
Plugin support
Page templates
Domain customization
Convenient setup
Dukaan can give you all these and more. It has everything you need. Including easy-to-use marketing, you can create all your content in one place.
Moreover, it has proven itself to be the easiest way to start, run, and grow your online business. It has helped 3M SMBs open their mobile eCommerce.
It's the perfect platform for entrepreneurs who are looking to begin an eCommerce business, no matter what its size is.

Themes:
Opening up an eCommerce store might be simple. But, if you want to grow your eCommerce store, you need to be careful with your choices.
The first choice would be the selection of the platform and further followed by themes.
To even select the best eCommerce platform, you need to know the themes offered by the platform.

Your website's theme (and content management system) will quickly transmit your brand.
So you should make sure that it reflects both your product range and the principles of your business.
For instance, it would be bewildering when a store selling rustic wooden furniture that has a sleek, metallic theme look.
A natural skincare store with a bling-laden theme look. This way, a buyer who is expecting from you will receive conflicting messages.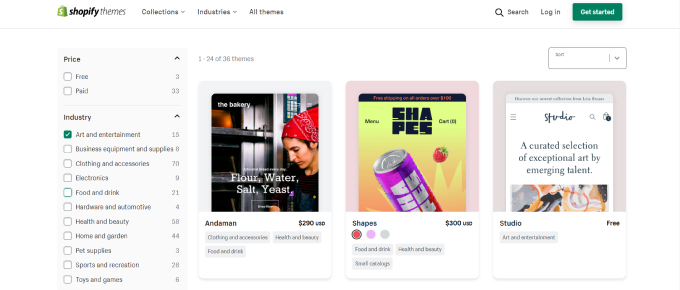 On the other hand, a subdued theme won't do your brand's personality credit. Especially when you sell vibrant, bright cosmetics.
The themes offered by the platform are critical to an eCommerce company's success.
The best-designed theme has a significant impact on the user experience. The ultimate goal is to sell products.
A website's visitors must be converted into customers.
Assume the website doesn't offer a user-friendly experience that encourages conversions and it loads slowly.
The eCommerce store will have a high bounce rate. That is, the rate of turning visitors into buyers is way too less.
According to Practical eCommerce, it's critical to match your vision to your brand. This will reinforce the brand promise, or what your business can provide customers.
That is, your theme must establish the environment. The theme should allow you to showcase your brand values and offerings.
Your theme should help in driving customers to make a purchase confidently. Your theme should be able to deliver an immersive experience.
Assuming so many things to be done by the theme, you can not find the perfect theme.

In a comparison between Shopify vs WordPress, you can find your near-to-perfect theme. That said, the theme should allow you to do customization.
Yes! It's important to look at the customization capacity of the theme.
Plus, cross-browser support is another important feature. You should look for it while choosing themes.
This would ease the reach to worldwide viewers. Cross browser can increase sales to a considerable extent.
Apart from these typical functionalities, the theme you chose should be SEO-friendly. Especially, for fast indexing and better search results.
You just need to make sure your theme incorporates SEO-friendly elements.
One of the best places to look for a theme that works for your Shopify store is the Shopify theme store.
You can select from several appealing themes that are ideal for your Shopify eCommerce site. The theme list includes both paid and free options.
The majority of them strive to create a memorable shopping experience by displaying products in the best possible manner.
This includes the automatic selection of a country and a language.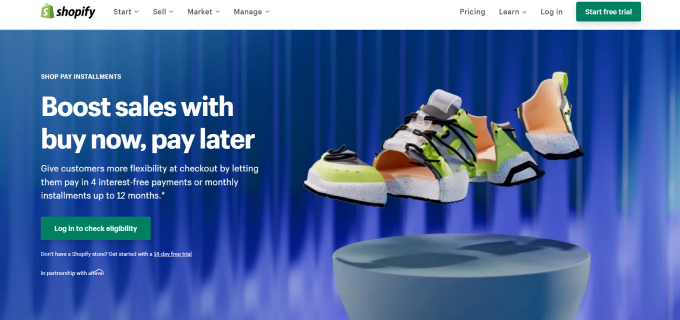 You can also use the dynamic checkout button (BNPL), gift cards, and the predictive search feature.
The options listed are only a good sample of what Shopify themes can offer.
If you want to customize and tweak your theme, you can do so without touching the code.
This will enable you to launch your firm without making significant customization. You can also go for a premium theme and still get better functionality.
Shopify themes work perfectly on all kinds of electronic devices either desktop or mobile.
The themes are tailored to support specific user experiences, catalog sizes, and design aesthetics.
Furthermore, the themes are pre-configured to support various industry trends.
You can find themes for apparel, art, health and beauty, home and garden, or food and beverage.
You can find a theme that matches your unique brand and showcases your products.
All of this means you could be up and running in less than 24 hours.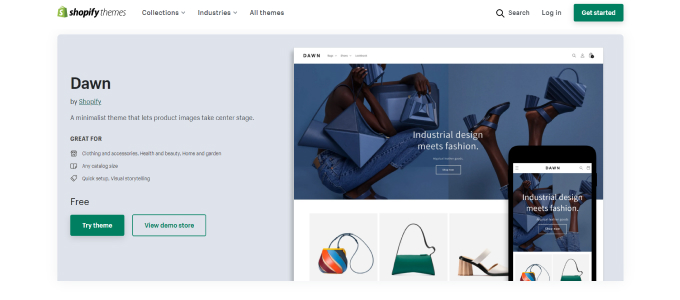 Shopify comes with the Dawn theme by default, but you can change it. All of the themes include all of the tools you need to completely customize your website.
And enough room to optimize your content by SEO best practices.
Now speaking about WordPress themes, it is similar to Shopify themes. Here, you can find the themes under the WordPress.org theme directory.
This is highly considered because this is the only official directory. Plus, it undergoes a strict and meticulous quality control process.
WordPress also offers free and premium themes.
The advantage of using free themes is that they typically have a simple design and fewer customization options. It makes them easier to work with if you're a beginner.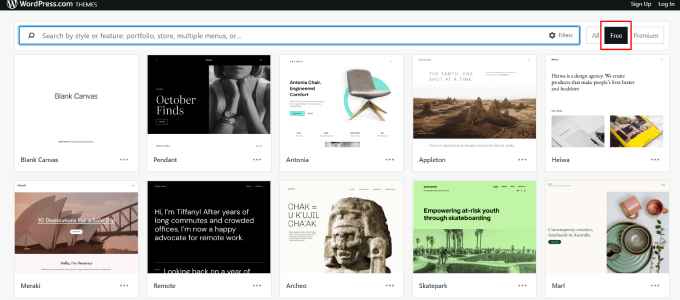 On the other hand, there is a disadvantage of using a free WordPress theme.
That is, no one can guarantee that the theme you've chosen will receive adequate support. Or, for that matter, regular updates.
They're also not the best option if your website needs that extra "something" to stand out from the crowd.
Most premium WordPress themes are not only cross-browser compatible and up to date with the latest WordPress version, but they also work well with the majority of WordPress plugins available online.
That said, you can know platforms similar to WordPress by clicking on the link.
A premium WordPress theme will provide you with far more features than a free WordPress theme. These features enable you to expand and personalize your website in a variety of ways.
Although Shopify themes are of high quality right out of the box, WordPress themes are more customizable. So between WordPress vs Shopify, it's a tie.
Payment methods:
Getting started with online payment gateways has never been easier to use. And being an eCommerce merchant using an online payment processor is mandatory.
This exposes you to a more lucrative target for hackers and scammers. That is where a secure payment gateway option comes into play.
According to the Thales Data Security Report 2018, 75% of US retailers have experienced at least one cybersecurity failure.
Furthermore, an abandonment survey shows that the quality of your gateway. It is one of the top reasons for abandoning a shopping cart:
15% abandon because of the poor in-store experience.
6% abandon due to a lack of payment options.
Almost 4% abandon because they incurred some technical issues.
With all of this in mind, you might be wondering which payment method is good? Especially, between WordPress vs Shopify.
The payment methods help you in maximizing convenience for your customers.
You could get by with just one secure and simple online payment method. But, many customers are beginning to expect to use their preferred payment methods.
Credit and debit cards, net banking, wallets, and bank transfers are also the accepted payment methods.
With PayPal, Stripe, and Apple Pay, your customers can leverage the ability to checkout effortlessly. They don't need to spend time.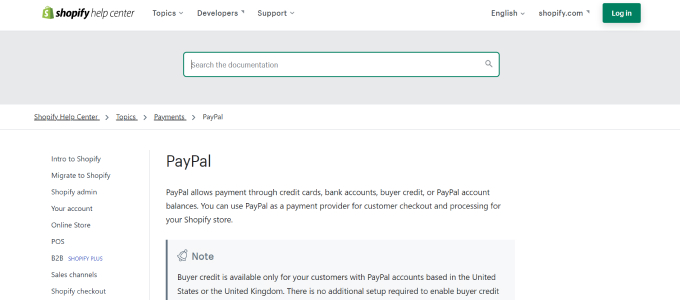 That is, they need not enter all of their payment and address information each time. Your customers have to just create an account with the payment gateway.
Latter, update the details. This allows them to checkout easily.
This means that when your customers initiate payment, the payment provider is intimated. This intimation will begin to process the transaction.
It sends the paying customer's confidential information to the bank for the transaction. At this point, the customer has also been intimated.
The transaction success or failure messages are shared.
When you start with Shopify, you have several payment gateway options to opt for. The best place to start is through Shopify Payments.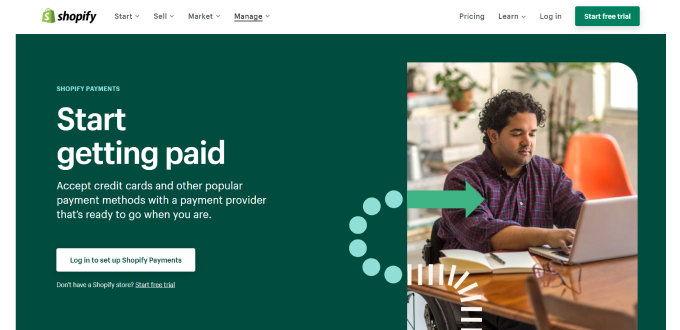 It is a payment platform that is managed by Shopify.
You don't need to use a third-party solution. Because Shopify Payments includes all the features and tools.
This will allow you to effectively manage and process payments on your website.
With this payment option, merchants can accept cash payments using the free card reader. The processing usually takes up to 3 business days.
When you use Shopify Payments, you won't be charged. The standard transaction cost is 2.2 percent with other third-party payment options.
This consequently lowers your operating expenses. Besides, if you upgrade your Shopify subscription plan, the transaction fees is reduced.
Apart from this, you have a Stripe payment gateway provider. This provider allows you to create recurring subscriptions and send invoices.
You can conveniently track your sales while minimizing your operating expenses with Stripe. For all of them, you can even use the Stripe mobile app.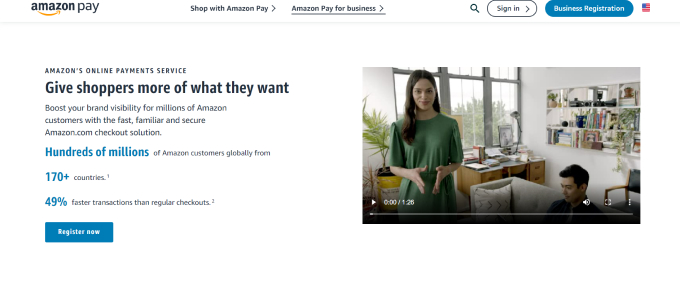 Next up, you can also leverage Amazon Pay. This payment gateway enables you to take payments via numerous payment methods. including digital wallets and Alexa Voice Payments.
Accepting payments on your WordPress website opens up a world of possibilities.
Whether you're selling products, services, or something, you should have the ability to accept payments. This will simplify your website process.
While processing the transaction yourself or storing credit card information on your website is a great option.
However, four prerequisites must be met to set up your WordPress payment options:
SSL
Secure WordPress Website
Good Website Design for User Experience
Fast Secure Web Host
That said, integrating a payment gateway provider is quick and secure. And it lets you manage WordPress payments.
You also don't have to deal with any financial information.
Popular WordPress Payment Gateways
PayPal
Stripe
Authorize.net
Amazon Pay
Google Pay
Apple Pay
While accepting WordPress payments through an online store is common, it is not the only way to accept payments with WordPress.
You can also employ more traditional methods such as WooCommerce.
The best payment method for your eCommerce store will be determined by a variety of factors, including the nature of your business.
So, don't forget to weigh the price against the benefits you'll receive.
Therein, in between Shopify vs WordPress, Shopify is more dedicated to eCommerce. It has its Point of Sales solution dedicated to keeping its customers panic-free when it comes to financial matters.
On the other hand, WordPress doesn't come pre-installed with eCommerce features.
So, you'll need to manually add an extension and manage it yourself via plugin management software.
As CEO Suumit Shah said, "You don't need to have any technical knowledge to start using Dukaan. Dukaan is a platform, where you can manage all your back store operations digitally. You can set up your delivery charges, manage orders, create banners/WhatsApp stories. You can also offer dining with QR codes, etc.,"

Dropshipping option:
Dropshipping is a fantastic option for eCommerce companies to save costs while boosting revenue.
It's also great for those who want to focus on artistic work rather than technical issues.
Even while dropshipping has several drawbacks, like low-profit margins and intense competition, this business model is nonetheless alluring to freelancers and full-timers looking to start a side hustle.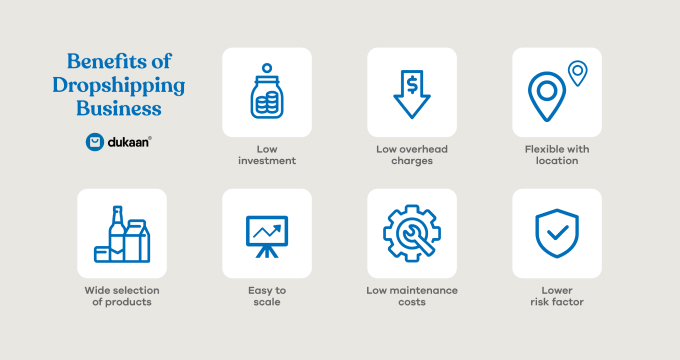 If you think dropshipping is your niche and sounds attractive, look for an eCommerce platform that will let you operate this kind of business.
Because dropshipping may spare you from worrying about printing, packaging, and shipping of items or anything logistics-related, you need to manage multiple suppliers at a time.
Let's say a buyer purchases three items, and each thing is delivered by a separate manufacturer.
You'll wind up paying three different shipping fees as a drop shipper for each item you send.
You cannot reasonably pass these costs onto the customer if you value customer loyalty. Furthermore, figuring out how much to charge your clients can be challenging even if you decide to do so.
And that's the reason you need to learn to distinguish between Shopify vs WordPress so that you can choose the platform.
That is because some are better suited for dropshipping businesses than others.
Dropshipping with Shopify eliminates the need to stock or directly handle the products you sell in your online store.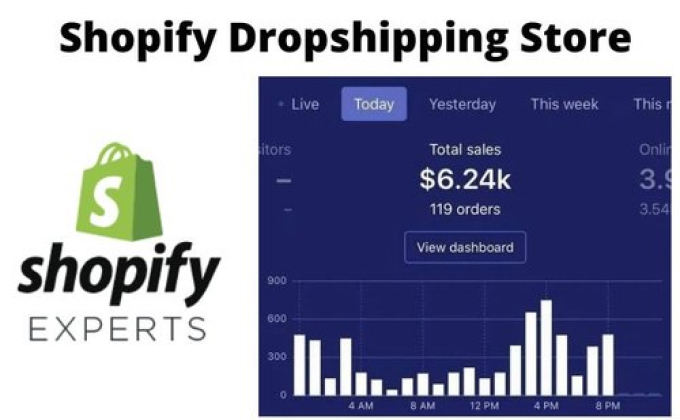 Instead, you use a Shopify app to connect your Shopify website to the products of third-party suppliers.
Obelo is the popular Shopify dropshipping app used by many merchants on the platform.
When customers place orders on your Shopify website, the app automatically sends the information to the drop shipper who fulfills them.
While you may access a database of 30,000 products from AliExpress with only one app, like Oberlo.
You can still contact other drop shippers through Shopify drop shipping directories. This will allow you to reach out to various Shopify dropshipping vendors and do business in various places.
Whether you want to do Product Reselling, Business Extensions, Product Creation, Print On Demand dropshipping business, you have a Shopify app to support you.
Through Shopify's Google channel, you can seamlessly sync products and relevant details about your Shopify store with the Google Merchant Center.
This will enhance your dropshipping options as people use Google Shopping with a great desire to make purchases, so you can see the first sales immediately.
Other than these functionalities, you also have dedicated Shopify themes that support dropshipping business.
That said, if you have digital marketing skills and little financial capabilities, Shopify for dropshipping is an easy way to set up an eCommerce business.
To get started with WordPress, you will have to install the WooCommerce plugin.
Once integrated, you can set up necessary functions like cart, payments gateway, product page, checkout page, currency, and other settings.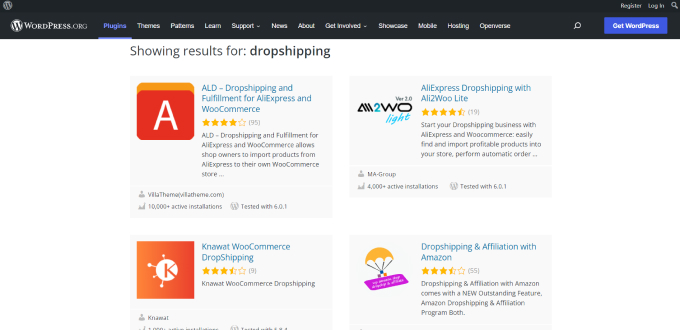 You have other WordPress Dropshipping plugins. They are AliDropship Woo (premium), Dropified (freemium), and DropshipMe (free).
The AliDropship is ideal for dropshipping from AliExpress.
It enables you to quickly import products from AliExpress to your WordPress dropshipping site and automatically handle customer orders.
Filtered search and import, automatic data updates, pricing automation, a built-in picture editor, product reviews, notification emails, and more are some of its fantastic features.
On a similar note, numerous of your regular dropshipping duties, including order processing and delivery, are automated by the Dropified plugin.
Additionally, it features sophisticated research tools that enable you to find well-liked products and import them from AliExpress, eBay, and hundreds of other vendors with just a single click.
You may import customer reviews into your WooCommerce store. A free trial is available with the Dropified plugin.
The DropshipMe plugin enables you to add products from the hand-picked 50,000+ best-selling dropshipping items from chosen suppliers to your WooCommerce store.
This allows you to work with the tested solutions while saving a ton of time on research. Experts have already revised the products.
Your consumers can view pre-optimized product pages.
The plugin, market, or supplier you choose will determine how you add products to your WordPress WooCommerce store.
You can simply accomplish that if the extension you select enables you to import products automatically.
If you focus on the features of the platform rather than the membership fees, and other charges, Shopify is the clear winner in WordPress vs Shopify comparision.
Because Shopify charges you for each transaction, which affects your profits as a dropshipping store.
Although WordPress helps you get started with a dropshipping business, the integration and plugin costs can go overhead.
So, before you make a decision, you need to analyze your requirements.
The Other Features to Look for in Shopify Vs WordPress?
Before you settle in between Shopify vs WordPress, here are 5 more features you should look for in an eCommerce platform.
Having a list of what you need for your business makes it easier to find a platform that'll suit your brand best.
1. Seamless Payment Options
Offering seamless payment options makes it easier for people to put money in your pocket.
Plus, the appropriate security certification will help build trust among your customers easily. That said, Shopify is the top best option.
2. Plugin/ App Support
Want a certain functionality, say SEO to get more organic traffic, but don't want to code it from scratch? A good platform lets you add one without breaking a sweat.
In between Shopify vs WordPress, Shopify is the clear winner with 1000+ apps to support your growth.
3. Page Template Customization
Easy-to-use templates allow you to quickly publish custom pages to grow your online store.
That said, WordPress allows you to do in-depth customization, making it a clear winner.
4. Domain Customization
Make your store easy to remember by
getting your unique domain name
. Since Shopify includes this as part of your pricing plan, Shopify is the clear winner!
5. Convenient Setup
You need to choose an eCommerce platform that's easy to set up unless you love tinkering with code. Therein, it's a tie when you compare Shopify vs
WordPress
.
With Dukaan, your dream business is just 3 steps away:
Name your store
Add your products
Start selling
Shopify Vs WordPress – Which Is Better?
You can choose either WordPress or Shopify for your online business since they are both trustworthy and scalable.
Shopify is a great choice for those who want to sell online. It's built specifically for eCommerce and gives you 24/7 online support no matter what your plan is.
WordPress, on the other hand, contains more functionality than just blogging or selling products.
The platform enables you to build custom websites you can use to establish your brand identity across multiple platforms.
WordPress requires a little more time and effort to set up, whereas Shopify is ideal for novices and companies with less time.
WordPress is perfect for ambitious and tech-savvy merchants because the platform requires you to know how to code for an in-depth level of customization.
Although hosting and any premium themes or plugins you might wish to utilize for your store are not free, the basic CRM of WordPress is.
Since there is no predetermined price for WordPress, it can be difficult to budget for, but you can manage your expenses.
Shopify, on the other hand, offers three different pricing tiers, starting at $29 per month.
Plus WordPress's Premium, Business, and eCommerce plans include email and live chat and support.
Personal plans include only email support. And if you're using the Free plan, there is a community forum you can turn to for answering your questions.
On the other hand, Shopify's live chat, community, email, phone, and Twitter support are accessible 24/7 for all of its plans.
Just like WordPress, you can also ask for assistance in their community forums or find answers to your queries in their blogs.
With so much discussed, you can use the free trials of the eCommerce platforms and explore the platforms.
Just remember, don't configure everything during the trial period. Just explore and determine the best eCommerce platform that works best for you.
FAQ's
1. Is WordPress better than Shopify?
When comparing these two platforms, Shopify is the winner for sales-focused businesses whereas WordPress is for content focused businesses. Both the platforms are equally good in their own niches.
2. WordPress vs Shopify, which is better for dropshipping?
When comparing these two platforms, both are excellent. While Shopify is becoming a strong platform in e-commerce dropshipping, the costs are also higher.
WordPress provides fewer options but at a lower cost.
3. In between Shopify vs WordPress, which is better for SEO?
Since WordPress has a high degree of versatility and usability, backed up by a strong WordPress CMS you'll have a lot of SEO control at your fingertips than in Shopify.
4. Is Shopify more secure than WordPress?
Since Shopify stores are all PCI compliant by default, you can protect customer payment information and company data. And WordPress is a secure platform for any eCommerce website only if you take the necessary precautions to keep your website secure.