You've stumbled upon the right place if you are looking for TeeSpring alternatives. This article contains a list of 11 great options for people looking for a switch.
Don't have time to read an entire article? Take a look at our quick recommendation.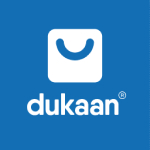 Launch, scale and manage your online business with just $14.99 on Dukaan. Annual plans start at $149.99 only.
With an endless number of TeeSpring alternatives available, picking the right platform to sell merch can be pretty challenging.
It's no secret that both sellers and users have been having issues with TeeSpring for a while now. It has failed to retain its sellers, even after rebranding as "Spring" recently.
This article will help you find a suitable TeeSpring alternative regardless of whether you are encountering problems with the platform or it has stopped serving your purpose.
We've saved you the time and effort of browsing through the options by compiling a list of our top 11 recommendations. Read further to discover better alternatives over TeeSpring, to host and grow your online business.
Reasons to Look for TeeSpring Alternatives
TeeSpring was founded in 2011 as a creator-focused eCommerce platform. It serves as an end-to-end solution that allows sellers to design and sell customized print-on-demand products.
TeeSpring might offer many benefits, but the platform is also full of loopholes that hinder buying and selling experience. A malfunctioning website, absent customer support, and inferior quality products are some of the significant issues.
Apart from these, the platform's business model also harms the selling process in the long term: no custom domain, unclear conditions for setting up the marketplace, and pricey renewal plans. In the wake of multiple issues with the platform's operations, users have started looking for alternatives.
Let's take a look at why TeeSpring's users are leaving the platform in hordes:
1. The print quality of TeeSpring is underwhelming at best
The primary expectation with any print-on-demand business (POD) is for the product to have a high-quality print. TeeSpring has failed here miserably. The review below perfectly illustrates the situation: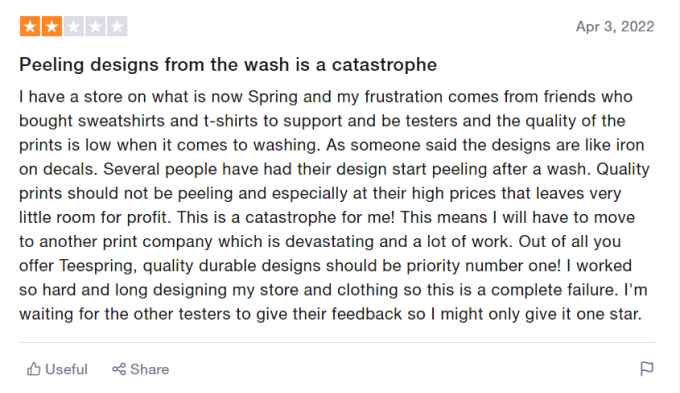 With TeeSpring, the seller has no control over the quality of the product and the prints. The seller only creates the design and markets it. The platform undertakes the production and fulfillment process.
So, when the customers receive an ill-quality product under the seller's brand, it directly impacts their reputation and sales. The bottom line is that the sellers end up losing their customers altogether.
Imagine this continuing for a long time, culminating in a situation where the seller is not making any sales at all!
When sellers are losing their audience due to the platform's issue, wouldn't it make sense to take their business elsewhere?
2. TeeSpring's malfunctioning website causes sellers to lose orders
The foundation of any good eCommerce platform is an error-free website/ app. But TeeSpring does not fulfill this requirement.
TeeSpring's website has some glitches, resulting in regularly messing up the order details.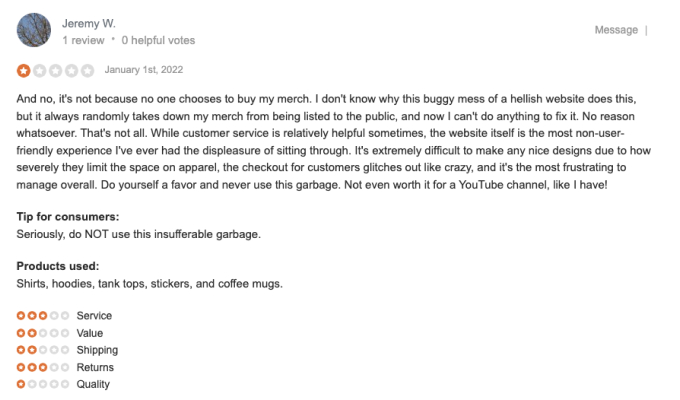 A malfunctioning website leads to a bad user experience. The result: people either abandon their cart or face problems after ordering and never come back again.
Whatever the outcome may be, the sellers are always at a disadvantage and lose their sales.
3. TeeSpring's tech support is never available
TeeSpring is notorious for its lousy customer support. When customers cannot connect with tech support for issue resolution, it makes them skeptical about placing an order in the future.
Put a malfunctioning website into the mix, and it becomes a recipe for disaster. In the world of eCommerce, this distrust translates into a drop in sales.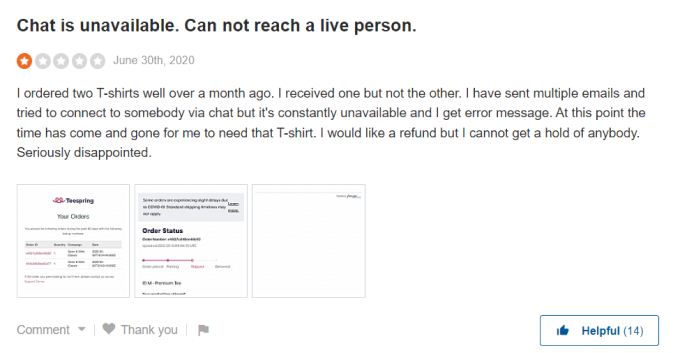 As we can see from the above examples, TeeSpring has failed to retain its customer base as it has been unable to meet its users' expectations. If the above arguments sound similar to your pain points, here's a list of 10+ alternatives worthy of your time and business.
Teespring Alternatives & Competitors
Without further ado, here are the best alternatives to TeeSpring in 2022.
Best for budding and contemporary entrepreneurs.
Pricing starts at $14.99 per month. (7-day free trial)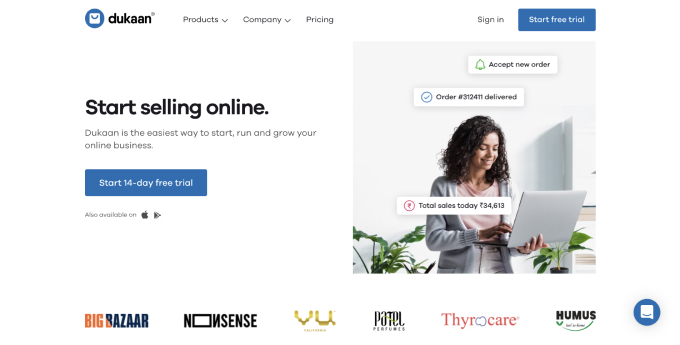 For sellers and creators looking to provide their customers with a seamless buying experience, Dukaan serves as the ideal platform to sell your custom merchandise.
Dukaan empowers you to set up their own storefront in under 30 seconds, and start selling their own merchandise.
But that's not all.
You can sell your customizable products over various product categories: personalized shirts, wall art, phone cases, t-shirts, and much more.
Sellers prefer the platform for a variety of reasons. It does not deduct a commission from the sales, provides every store a custom domain, and seller payments get processed instantly, among many others.
You have complete control over your eCommerce business and its profit.
These Dukaan-powered stores are loaded with the necessary plugins and tools to host, market, and sell custom products.
Once the store is entirely set up, you only need to add the inventory to start selling. Yes, running an online store with Dukaan is as easy as it sounds.
How does Dukaan compare with Teespring?
| Features | Dukaan | Teespring |
| --- | --- | --- |
| Best for | B2C AND D2C businesses of all sizes and across all niches. | Suitable only for influencers and creators selling POD products. |
| Custom store | Get a dedicated storefront with a custom domain. | Online marketplace. |
| Page loading speed | Page loading time within 70 to 80ms for online store of any scale. | Slow-loading website that is glitchy and often malfunctions. |
| Sales commission | Does not take any commissions from the sales. | Take a fixed cut depending on the base article |
| Store customization | Store's theme, font and colour can be modified easily. | Limited modifications available; only the store banner, image and about section can be altered. |
| Setup time | Launch your fully-functioning store in under 30 seconds. | Takes around 5-7 minutes to launch a customized storefront. |
| Product quality control | You have complete control over what you sell. | No control over the print and the article quality. |
| eCommerce features | Offers advanced eCommerce features like RTO optimizer, abandoned cart recovery, multiple warehouse addition etc. | Only basic eCommerce features are available; the platform is primarily meant for selling POD products. |
| Long-term feasibility | Aids in turning your business into a brand with its advanced eCommerce features and analytics reports. | Not useful if you want to convert your business into a brand; only supports selling products. |
| Customer support | Responsive customer and tech support available 24/7. Can be contacted via phone, e-mail and chat. | No customer support. Only seller support available in form of live chat. |
Features
The Dukaan platform has everything you need to sell merch, from Invoice generator, and QR code generator, the platform is designed keeping in mind the immediate needs of every budding entrepreneur.
The platform also comes integrated with plugins that facilitate marketing, selling, fulfillment, customer support, and analytics.
This comprehensive platform packs a punch. You can focus solely on creating and selling with such an effective platform.
In terms of capability, Dukaan truly gives stiff competition to TeeSpring. Just minus the cons that have made the platform unsuitable for merchants selling print-on-demand products.
Design
With Dukaan, you can customize your store's look and feel as per your preference. The platform's intuitive design makes the process of personalizing your store effortless.
What's more, the platform comes with an extensive design gallery that offers pre-designed and editable templates, banners, etc. Just use your brand color and theme to edit them and share them with your customers to inform them about upcoming sales, offers, discounts, etc.
You can also customize your store as often as you like with their unique themes and design tools- available for free on the platform.
Ease of Use
Anyone looking to sell their customized merchandise through their own shop will find Dukaan the perfect solution.
It is a beginner-friendly platform that gives every seller the boost they need to scale up their business.
You do not need any technical skills to use the platform, and you can easily integrate your social media handles to bring your existing clients to the platform.
Dukaan is the best Teespring alternative available on the market. It simply does not get better than that.
Pricing
With Dukaan, you get a 7-day trial period to explore the premium features. After it ends, the platform's value-added subscription plans are as follows:
| Plan | Monthly | Yearly |
| --- | --- | --- |
| Entrepreneur | $14.99 | $149.99 |
| Agency | $49.99 | $499.99 |
| Enterprise | Custom | Custom |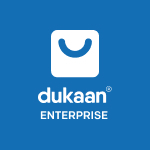 The Dukaan enterprise plan helps you scale your business with advanced features and more controls.
2. Sellfy
Best for big enterprises and digital content creators.
Pricing starts at $22 per month. (14 days free trial)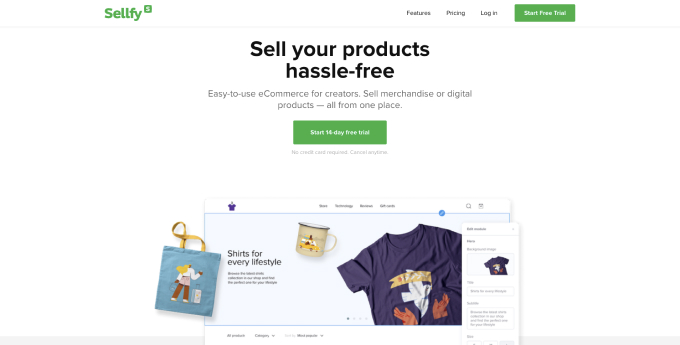 Sellfy is a beginner-friendly all-in-one eCommerce platform. Counted as one of the most premium print-on-demand platforms, it offers a variety of high-quality articles that can be customized.
Features
Sellfy is a great teespring alternative. It's more suitable for creators that sell digital products and subscriptions over customized merchandise.
With Sellfy, you can create your own storefront for selling digital and physical products. You can also assess how well your storefront performs by using various marketing and analytics tools.
Design
With Sellfy, you can build your own storefront using the platform's drag-and-drop builder. You can customize your store by changing its layout, and color and adding a logo as per your liking.
For those of you who already have a domain name, you also get the option of linking it to your store, that too without any additional cost.
Ease of use
Sellfy boasts of a smooth setup process. You can build your own mobile-friendly store in 5 minutes.
It integrates with all the big platforms that matter: Facebook, Twitter, Etsy, etc., to name a few. In our opinion, it's a great alternative to consider over TeeSpring.
Pricing
The base price that Printify offers is a free plan, but it comes with many limitations, making it unsuitable for running a business.
It offers two more plans that are better suited for budding businesses, and are as follows:
| Plan | Monthly | Yearly | Two Year |
| --- | --- | --- | --- |
| Free | $ 0 | $ 0 | $ 0 |
| Starter | $ 29 | $ 22 | $ 19 |
| Business | $ 79 | $ 59 | $ 49 |
| Premium | $ 159 | $ 119 | $ 99 |
Why choose Sellfy over Teespring?
1. Full-featured eCommerce solution.
2. Highly customizable.
3. Doesn't charge any transaction fees.
3. Redbubble
Best for budding entrepreneurs looking to establish an audience.
No subscription fees, but charges commission.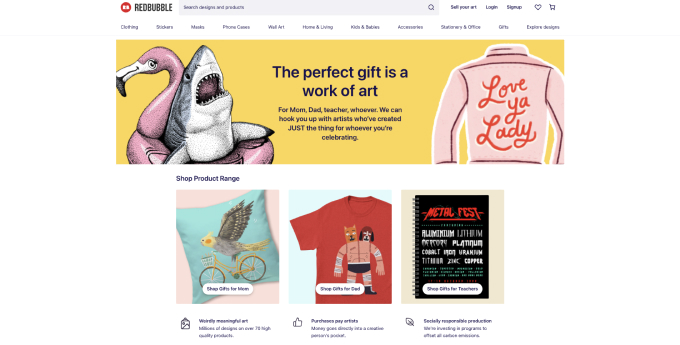 Redbubble has been in the print-on-demand business for a pretty long time. It's considered a legacy platform in the industry.
Features
With Redbubble, you can sell over 70+ customized products using your own storefront in their marketplace. All you have to do is to create a digital showroom and optimize it for selling to get started.
You can also share your store's link on social media and with your existing customers.
Redbubble stands out in our list because it handles fulfillment, printing, and shipping of the items.
Design
Redbubble's dashboard has some tools for customizing your store. You can't drastically change your storefront's themes, style, and color, but you can customize it to reflect your preferred artwork.
You can also add a cover image and an avatar to personalize your store.
Redbubble also recommends that sellers update their bio and mention what their store is about. It helps the customers connect more with the artists and their work.
Since this platform is a bit saturated, it's best to customize your store to stand out among the crowd fully.
Ease of Use
Even a legendary platform like Redbubble is not without its shortcomings.
Redbubble allows you to withdraw your earnings every month. There's also a cap of $20 on withdrawal. So, if an artist doesn't earn this limit, it gets carried over to the next month.
This payment module can be demotivating, especially for new entrepreneurs, who are just stepping in and building their audience.
Pricing
Redbubble does not have any specific subscription fee. Thus, getting started on Redbubble is free.
Instead, Redbubble makes money on the profits that the artists make. The platform takes a 20% commission from your sale.
Redbubble automatically markups your products by the same margin. The downside is that this might make some articles a bit more pricey. Apart from this one limitation, it surely is a great alternative.
Why choose Redbubble over Teespring?
1. Complete control over the shipping process.
2. High-quality printing.
3. Efficient customer support.
4. Zazzle
Best for well-established creators and digital artists.
No subscription fees, but deducts the article price.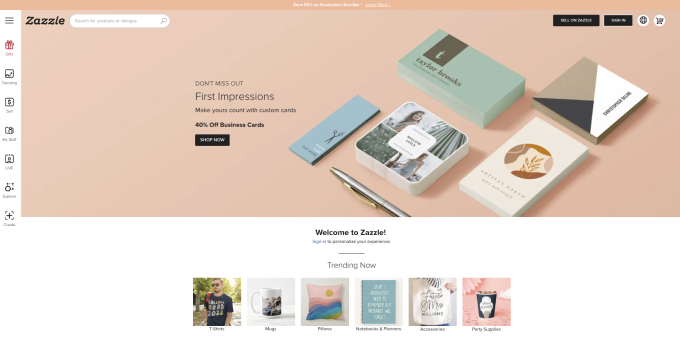 For creators that want to sell online to a global audience on a well-established platform, Zazzle is another great alternative to consider.
Zazzle is a platform genuinely dedicated to helping artists make the most of their creativity.
The platform is designed to empower the creators to take control of their entire store and pricing model.
Features
Zazzle offers creators an extensive catalog of articles to customize. These customized goods can then be sold using your own storefront.
But that's not all. You can do a variety of things with your digital store: customize it, create product collections and link your social media to it to rope in the customers.
Design
Unlike other platforms that give creators the liberty to design their store as they like, Zazzle recommends the creators keep it simple and light.
The best way to personalize your store on Zazzle is to create a fancy banner that makes your storefront stand out. Next, write a bio that radiates what your store is about.
When all of this is sorted, the last step is to showcase the best work on your product collection.
There you go! Your storefront is now fully customized to share with your customers to follow.
Ease of Use
Zazzle has a lot to offer. So naturally, exploring all the functionalities can take some time. Apart from the learning curve, the platform is pretty simple to utilize.
Zazzle offers creators the freedom to set royalty rates, making it a top choice for most. (ranging from 5% to 99%). Combined with the platform's traffic, it surely is a good alternative to consider.
Pricing
Creating a profile on Zazzle will not cost you anything. Technically, getting started and listing your products is free.
When you make a sale, Zazzle deducts the base price of the customized article, and you get the rest of the profit. (according to the set royalty)
Why choose Zazzle over Teespring?
1. Diverse product catalogue.
2. Sell digital products.
3. Earn through the affiliate program.
5. Printify
Best for independent artists.
Pricing starts at $29/ month.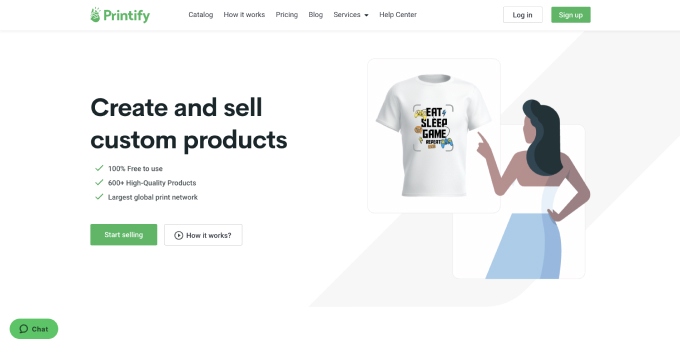 Printify is the one such platform in our list that's more suited to well-established entrepreneurs.
The biggest USP of Printify: it offers 300+ products for customization. As a seller, running out of a variety of articles to sell won't be a concern for you.
Features
Printify aims to simplify the tedious process of running a print-on-demand business.
The platform automates the process of sourcing, creating, printing, and delivering products for sellers, making selling on Printify seamless.
But beware, there is one big loophole: Printify neither has a dedicated marketplace nor does it offer a custom storefront.
Design
Not having its own marketplace is the platform's biggest vice, and this leaves you at the mercy of the design tools offered by the eCommerce website where your store is hosted.
The best part is that it integrates with all the popular eCommerce platforms: WooCommerce, Wix, Etsy, Shopify, Etsy, etc…
Ease of Use
The list of reasons to use Printify is long. Whether it be an easy-to-use design tool, mockups for creating product portfolios, or integration with other popular ecommerce platforms, Printify has it all.
As mentioned above, the only reason Printify ranks low on our list is the non-availability of custom stores for sellers. Consequently, sellers must set up a store on another eCommerce platform and then link it to the platform, which is a major hassle.
Although, for established sellers, there's a saving grace: The platform offers sellers to put their brand name on their products/merchandise.
Pricing
Here's what makes Printify a good alternative. It offers different pricing plans keeping the woes of the sellers in mind.
The basic plan for budding entrepreneurs is free. It comes with limited functionality, however.
Next up are the premium and enterprise plans for larger businesses.
The breakdown of features for the same is as follows:
| Plan | Monthly | Yearly |
| --- | --- | --- |
| Free | $ 0 | $ 0 |
| Premium | $ 29 | $ 24.99 |
| Enterprise | Custom Pricing | Custom Pricing |
Why choose Printify over Teespring?
1. Choose your own printing partner.
2. Allows white label printing.
3. Provides multiple integration options.
6. Society6
Best for artists in the abstract art niche.
No subscription fees, but gives the sellers 10% of the sale.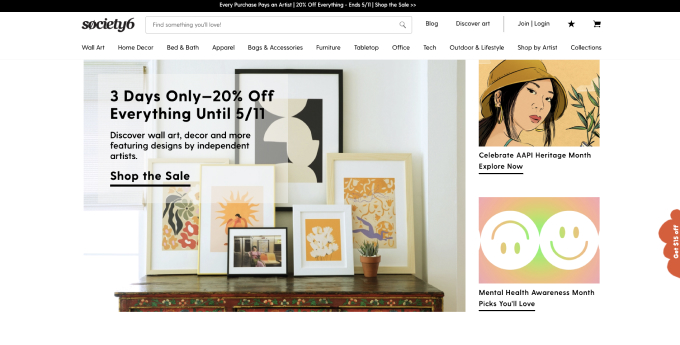 Offering an audience base exceeding thousands, Society6 welcomes artists in the art, floral, and home decor niches.
If your custom designs align with the platform's aesthetic, there is a good chance that your merchandise will make good money through the platform.
Features
Society6 offers a deep product library across specific categories that a creator can focus on.
It is a creator-friendly print-on-demand platform that enables the sellers to set up their preferred profit margin in their storefront. In addition to this, sellers also earn a flat 10% commission on their sales. (barring a few items)
Design
The entire platform has a very specific visual appeal, and the same constraint applies to the storefronts it offers as well.
The storefront that the platform provides can be modified but the customization is limited in terms of capability. Customize your storefront by featuring your most popular work, changing how products appear in the showroom, and updating your artist avatar.
But in terms of color and themes, there's no option.
Ease of Use
Society6 has an excellent, clean, and easy-to-use website interface that anyone can use and is pleasant to the eyes.
But there are a few places where the platform has missed the mark.
The platform has a slow design upload time and lack of transparency in page statistics; these issues majorly irk new sellers who aren't assimilated with their customer base.
Pricing
You don't have to spend a single penny to set up your store on Society6.
But of course, there are costs attached to selling on the platform. The seller receives 10% of all sales made, except for items such as art prints, canvas prints, and framed prints. For these items, the merchant earns the entire sale.
Why choose Society6 over Teespring?
1. Caters to abstract aesthetics.
2. Earn commissions through art curation.
3. Responsive customer service.
7. Spreadshop
Best for YouTubers and established creators.
No subscription fees, but deducts the article's base price.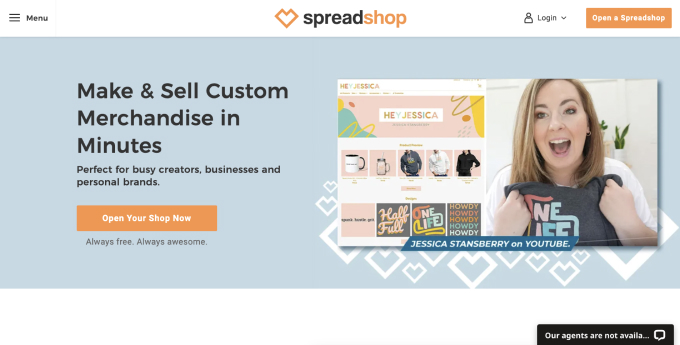 Spreadshop proudly calls itself "The best print-on-demand platform for YouTubers". And rightly so!
From YouTube integration to the ability to sell merchandise directly through the platform, this platform has everything a YouTube creator might ever need to sell custom merch.
Features
Moving aside from what it offers Youtubers, it is also a good platform for established businesses to sell customized merch through their own page.
Spreadshop is famous for its premium, high-quality print quality. The platform is home to a vast product list that attracts customers from all across the globe.
Design
Spreadshop has a design library that's as vast as their product list!
It gives you access to customize your free shop down to the most minute details. Everything ranging from your store's theme, and its featured elements to the font and the color can be edited to your heart's content.
Ease of Use
Spreadshop takes care of the payments, production, shipping, and fulfillment itself, freeing the sellers to focus on creating art.
The platform offers design tutorials and marketing tricks to support your selling journey better.
If you have been in the POD game for a long time, the website's walkthrough will be a cakewalk for you. And if you are just stepping into this world, the platform has plenty of resources to help you every step of the way.
Pricing
Like many other alternatives on this list, getting started on Spreadshop is free – no subscription charges or selling fee is applicable.
Wondering how the platform makes money? It takes a cut by subtracting the product's base price; the rest of the profit goes entirely to the seller.
Why choose Spreadshop over Teespring?
1. Worldwide shipping available.
2. Product mockup photos available.
3. Supports 10 currencies and languages.
8. Teemill
Best for new, environmentally-friendly entrepreneurs and charities.
Pricing starts at £10.
If you are as passionate about sustainability as you are about your business, Teemill is the platform that will give you the best of both worlds!
Teemill is a sustainable print-on-demand platform where you can set up your store in under 5 minutes and sell a multitude of customized apparel.
Features
Selling with Teemill is pretty straightforward.
Teemill gets a lot of ecologically conscious customers, so if your design aesthetics fall under the same category, you are bound to make great sales.
Like other alternatives featured in this blog, Teemill also takes care of the printing, packing, and shipping. The platform's distinguishing feature is its speedy delivery. Most of the orders are sent for processing within 24 hours, ensuring quick delivery.
The platform also offers an incentive program where customers receive store credits when they return worn-out items. Brilliant, isn't it?
Design
Teemill offers every seller a free store that is fully customizable. It allows you to match your store's vibe to your brand.
You can modify your store's theme and layout to suit your brand. Additionally, you can also change the colors of the color store and put up the font of your choosing on your store.
Ease of Use
Selling custom clothing on Teemill is a piece of cake.
The platform is easy to navigate and offers many design resources for creators. It contains a library of graphic and marketing assets, in addition to an AI-powered photography tool that lets you showcase your designs in the best possible light.
One of the best features of Teemill's stores is its blog section, which can be used for marketing.
But there's one drawback: You can't integrate your Teemill store to any other existing/ your own website.
Pricing
Listing and running your store at Teemill is free. But the base plan has a lot of limitations. If you are serious about making big bucks on this platform, you need to upgrade to the pro plan.
The Teemill pro plan starts at £10/ month. Among its features are marketing emails, custom domains, stock images, and more.
Why choose Teemill over Teespring?
1. Appeals to sustainability niche.
2. Superior print quality.
3. Express delivery feature available.
9. Merch by Amazon
Best for established online merchants and passive sellers.
No subscription fees, sellers get tier-based royalty.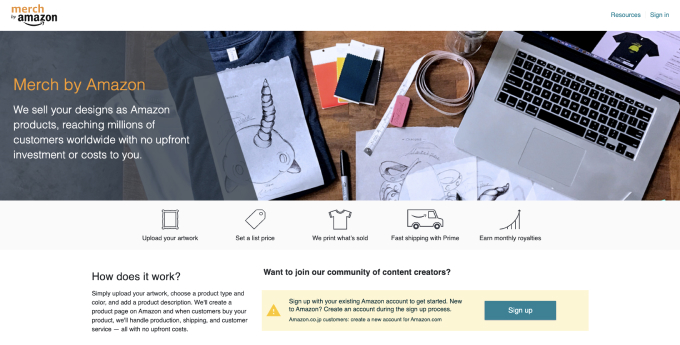 As evident by the name Merch by Amazon is the company's venture into the print-on-demand business.
It isn't a standalone website; rather it is an end-to-end POD platform that's part of the Amazon marketplace. The sellers need an invite to sell their custom designs on the platform.
Features
Merch by Amazon does everything differently. Its brand power plays a part in its business model.
It's an invite-only platform wherein the sellers have to input their information and wait for approval (which sometimes up to up to 2 months to Once in, it has a tier system for merchants. Subsequent levels are unlocked as the seller's profits increase.
When you upload your custom design and list your merchandise, it creates a product page for the same. Selling is done via the product pages that you need to promote yourself as well.
It does not offer a custom store.
Design
Merch does not offer any design tools. That's because the platform creates a page for your customized merch.
So, you practically have no control over its look and feel.
Thus, all product pages on it look exactly similar to each other.
Ease of Use
What makes Merch a good alternative? Customers throng the platform because it's a trusted marketplace.
Brand value aside, selling using Merch will require a lot of time and effort from your side.
The royalty that you will receive when a product sells depends on the tier that you are in, and how well you market your listed products over other users.
If you like putting personal efforts into selling, you'll like how the platform is wired.
Pricing
It is free to start an Amazon Merch store, but getting paid for your sales is a challenge.
Sellers get paid royalty on each article sold, but this amount is strictly controlled by their tier. Additionally, amazon also subtracts the applicable tax and its own cost of handling the processes. (materials, production, fulfillment, customer service, returns, exchanges, and other, resources it provides)
Why choose Merch by Amazon over Teespring?
1. Platform enjoys high SEO traffic.
2. Efficient customer service.
3. Trusted marketplace.
10. Bonfire
Best for individuals and non-profits.
No subscription fees or additional costs are deducted.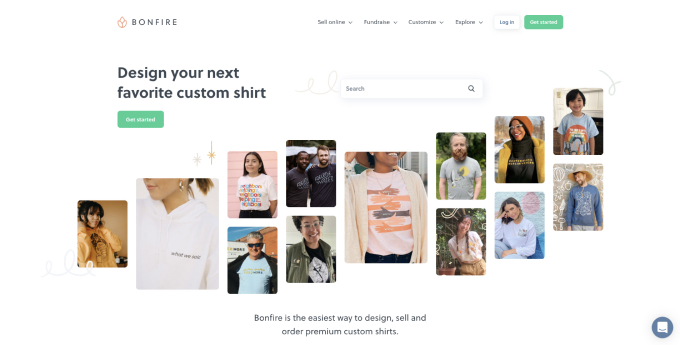 Bonfire has a very fascinating story. It started as a fundraising tool and ventured into the print-on-demand business later.
Features
At Bonfire, there are a lot of options to sell your merch: through a dedicated storefront, or as a part of an ongoing campaign.
Your patrons also get an option to donate at checkout, so if are associated with a cause, there's a lot of margin for making profits.
The vendor gets instant payment when a sale is made. However, there is a minimum quantity you have to meet for your merch to go out for shipping.
Design
You don't get a lot of freedom to customize your store at Bonfire. All the pre-existing storefronts have an extremely simple look.
Only the banner image, color, and theme of the free store can be adjusted. So, if you are looking for a platform that offers a fully-customizable storefront, maybe this is not the best choice for you.
Ease of Use
The platform is fairly easy to use, and monetizable as well.
Since the platform is focused on escalating the sales of the sellers, it supplements them with the design tools they need to create merch.
However, the platform does have one big limitation: it does not integrate with any third-party platforms, so you might have to make other arrangements for your store. But if that's not an issue for you, Bonfire is surely a good alternative to consider.
Pricing
Selling through Bonfire is completely free. But the profits that sellers receive depend upon a myriad of conditions.
Based on what you want to sell, the intricacy of your design, the base price of the article, and the order quantity, the prices vary as conditions change.
The platform's payment process is mighty complex, and might we add, confusing as well.
That said, it is a good alternative over TeeSpring for sure. So, if you plan to go ahead with Bonfire, you might want to check their detailed breakdown out.
Why choose Bonfire over Teespring?
1. Quick payout to sellers.
2. Fundraising feature available.
3. Vast exclusive integration list.
11. TeePublic
Best for well-established designers.
No subscription fees, and sellers get flat rate earnings.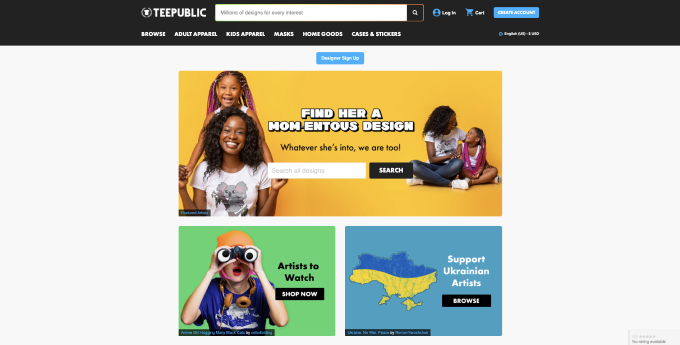 TeePublic is a print-on-demand platform for independent artists featuring a constantly updated product catalog of over 75 articles. With a dedicated marketplace for selling, it takes care of the manufacturing, payment, and shipping process as well.
Teepublic is a good alternative to sell merch in pop culture and comic niches.
Features
You can sell on TeePublic using a dedicated storefront. The platform also has a marketplace that registers good traffic.
The sellers get a fixed royalty for every article they sell.
But there's one thing that sets TeePublic apart from all the alternatives on the list: people can hire you as a designer if they like your work. Thus, this platform is mostly preferred by seasoned artists and creators.
Design
TeePublic gives you some freedom when it comes to making a storefront your own.
You can revamp the look of your store by customizing the banner images, your avatar, and the store's background.
You also get the option of showcasing your work in organized collections and integrating your social media links on the storefront.
Ease of Use
TeePublic is efficient at getting the job done: helping artists create profits.
The platform's in-built marketplace helps sellers showcase their best work, land independent projects, and even make money through affiliate marketing.
Pricing
Opening up a shop and listing your designs on TeePublic is free.
And how do you get paid? The platform has flat base rates and sale rates for all the products in its catalog. It's up to the owner to list the products either at full rate, or sale rate.
The sellers receive monthly payments based on the total sale they have made.
Why choose TeePublic over Teespring?
1. Bulk uploading feature available.
2. Rapid SEO indexing.
3. Can sell speciality products.
Alternatives to Teespring
Dukaan: Best for budding and contemporary entrepreneurs
Sellfy:  Best for big enterprises and digital content creators
Redbubble: Best for budding entrepreneurs looking to establish an audience
Zazzle: Best for well-established creators and digital artists
Printify:  Best for independent artists
Society6:  Best for artists in the abstract art niche
Spreadshop: Best for YouTubers and established creators
Teemill: Best for new and climate-conscious entrepreneurs and charities
Merch by Amazon: Best for established online merchants and passive sellers
Bonfire: Best for individuals and non-profits
TeePublic: Best for well-established designers
Conclusion
In this article, we've recommended to you the best TeeSpring alternatives available among all the other sites and discussed their feasibility.
If you ask our opinion, then Dukaan and Sellfy are going to be our top recommendations to sell custom merchandise over other TeeSpring alternatives.
And if so many similar sites have added to your confusion, worry not. Just analyze your current needs and your goal with your business, and you'll be able to finalize an eCommerce platform.
FAQs
1. How long does it take to get paid from Teespring?
Sellers on TeeSpring have to put in a request for receiving payments. Generally, it takes anywhere between 1-7 business days to process an existing seller's payments. A request can only be generated once the order is dispatched.
2. Do I need PayPal for Teespring?
Yes, in order to receive payouts sellers must have an existing PayPal or Payoneer account.
3. Can I sell on TeeSpring without ads?
No, not exactly. To sell on TeeSpring without ads, you need to market it separately on other eCommerce websites like Etsy, Amazon or Shopify and integrate it with your TeeSpring profile. This can only be done manually.
4. Are Teespring shirts made in China?
At the moment, all TeeSpring base articles are sourced from outside of USA and then sent to our printing partners for further processing.