​​TikTok is a great platform for brands like yours to reach a large engaged audience. There are a number of ways to use TikTok for business. This article will help you find the approach that best suits your brand. Start creating engaging content today.
With over 1.1 billion users, TikTok has quickly become the hottest social media platform to be in — and it felt like it happened overnight.
It turns out short videos engage people more.
But the very reason why teens, adults, and marketers love the platform is because of its crazy reach. An account with few followers can get millions of views on a new video. Thanks to its viral algorithm!
The world's biggest brands like Zalora, Colgate, and Maybelline are on TikTok. Even Amazon is there for the sales. You may only see casual updates on their profile. That's because the brand is more focused on influencer marketing.
If you're a brand, partnering with TikTok micro-influencers is smart. They have hit the highest engagement rate at 18%. That's because the platform is more authentic than the other social media platforms.
If you're not already using TikTok for business, now is the time to start! In this article, we share everything you need to know to take advantage of TikTok for your business.
What is TikTok?
TikTok is a video-sharing app that lets you record, edit and publish short videos.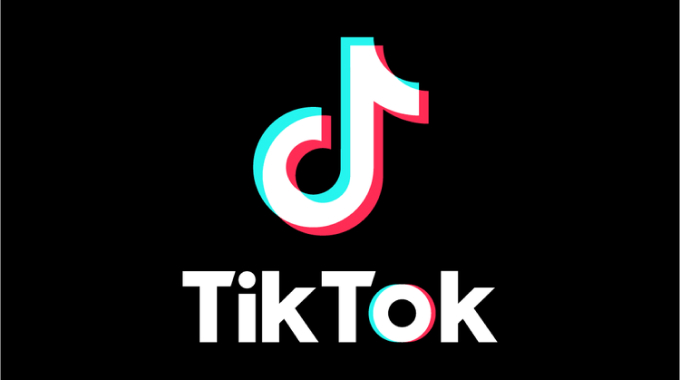 Originally known as Douyin, it was created by the Chinese company ByteDance in 2016. In 2017, the company acquired Musical.ly, a similar platform that lets you share 15-second lip sync videos. But it eventually closed down.
In 2018, they incorporated some features into Douyin and the new app was called TikTok. And it exploded during the height of the pandemic with 1 billion users.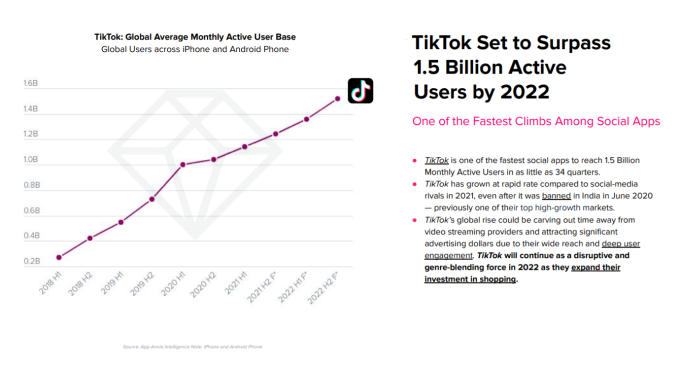 TikTok is still under the control of its Chinese creators, despite talks about purchases by big American firms such as Oracle, Walmart, and Microsoft.
People go to TikTok for different reasons, to be entertained, make new friends, get creative inspiration, or make money.
As a business, TikTok can help you:
These numbers are probably exciting to you, so let's see how you can get the same results.
How TikTok Works
TikTok thrives on virality.
The primary idea was fast, consumable content that is addicting to watch. The infinite scrolling feed helps make this growth strategy work.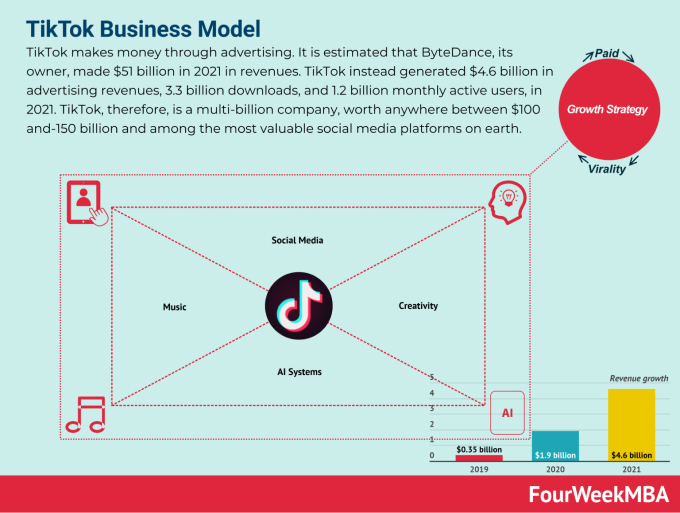 TikTok algorithm: how does it work?
The TikTok algorithm is designed to match users with content that they are interested in.
When you open TikTok and land in your 'For You' feed, you're presented with a stream of videos curated to your interests, making it easy to find content and creators you love.
This feed is powered by a recommendation system that delivers content to each user that is likely to be of interest to that particular user.
TikTok
This algorithm is different from that of other social media platforms. It gives content creators a level playing field. You have the opportunity to be seen by new people and to gain followers quickly and easily — even if you don't have thousands of followers.
That's because TikTok has no regard for its past algorithm.
It doesn't care if your previous posts went viral or how many shares you've acquired. Although it sounds like a red flag, it is actually an advantage.
This gives you the chance to become an overnight sensation. Sounds good for entrepreneurs, yes?
TikTok demographics
So you're probably wondering if your target market is on TikTok. We got this covered.
Here are some fast TikTok demographics for 2022:
Nationality
Here are the countries with the largest TikTok audience as of April 2022.
USA
Indonesia
Brazil
Russia
Mexico
Vietnam
Philippines
Thailand
Turkey
Pakistan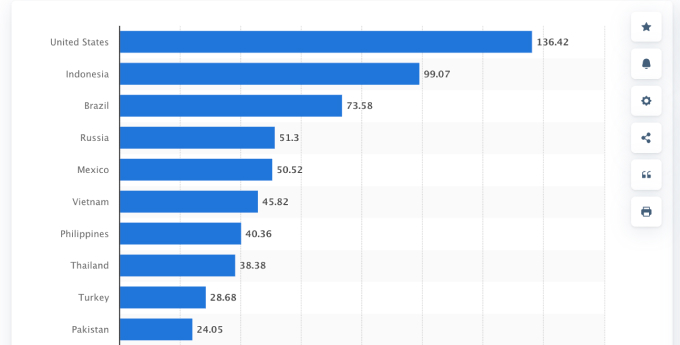 Age
In terms of age groups, here's the distribution on TikTok:
10 to 19-year-olds represent 25% of TikTok users
25 to 34-year-olds represent 32%
Only 3.4% of TikTok are older than 55
Gender
About 56% of TikTok users are women, while 44% are men.
Benefits of Using TikTok for Business
People go to TikTok for entertainment, but most end up doing a shopping spree.
Surprised? Here are the supporting facts:
Almost 70% of TikTok users say they shop because of the app even though they didn't intend to.
The amount consumers spent on TikTok increased by 77% in 2021, making it the top app for consumer spending.
The average TikTok user nowadays watches videos of up to 3 minutes. It's a great way for brands to introduce their products through informative explainers or to gain longer online exposure with the right content.
Plus, these small business wins will convince you to get on the TikTok bandwagon:
Founded in Canada, Vessi is a footwear brand that has won over 200,000 followers in just a few months on TikTok.
Despite only being on TikTok for three months, Vineyard Vines has accumulated roughly 12 million views and 188,000 followers.
There is no surprise to see that San Diego Zoo's channel has gained more than 2 million followers on TikTok because of its endless array of adorable wildlife.
Now let's get to the meat of all these.
TikTok Business Account: What Is It?
Let's get you started with choosing the type of account you should set up.
What is TikTok for business?
TikTok for Business is a user type that helps you reach the right TikTok users.
Lets you share information about your brand
Reach and engagement with potential customers are increased
Exclusive access to a creator studio
Provides access to insights and analytics tools for tracking your performance
Letting you run ads on TikTok
Contact buttons are integrated into business accounts to facilitate faster business transactions.
It's way different from having a regular TikTok account.
Personal accounts don't have analytics and third-party analytics
No access to APIs
Can't offer gift cards or delivery options
Top brands on TikTok
Globally, TikTok has the business giants under its wing. Here are some of the top brands on TikTok:
How to Create a TikTok for Business Account
If you're interested in using TikTok for Business, here's a step-by-step guide:
Create an account.
Log in with your email, phone number, or social media platform of choice.
Build a profile.
Head to the lower right corner (Me button) where you can build a profile (Edit profile button) and add a profile picture, too.
To switch from a Personal Account to a Business Account, select the three dots in the upper right-hand corner (Click Manage Account).
Choose the category that best describes your account or business, add the website of your company, and you're done.
What is TikTok Shopping?
TikTok Shopping allows you to promote and sell items right on the platform.
If you're a creator or a seller, you'll be able to add a shopping tab on your profile like this: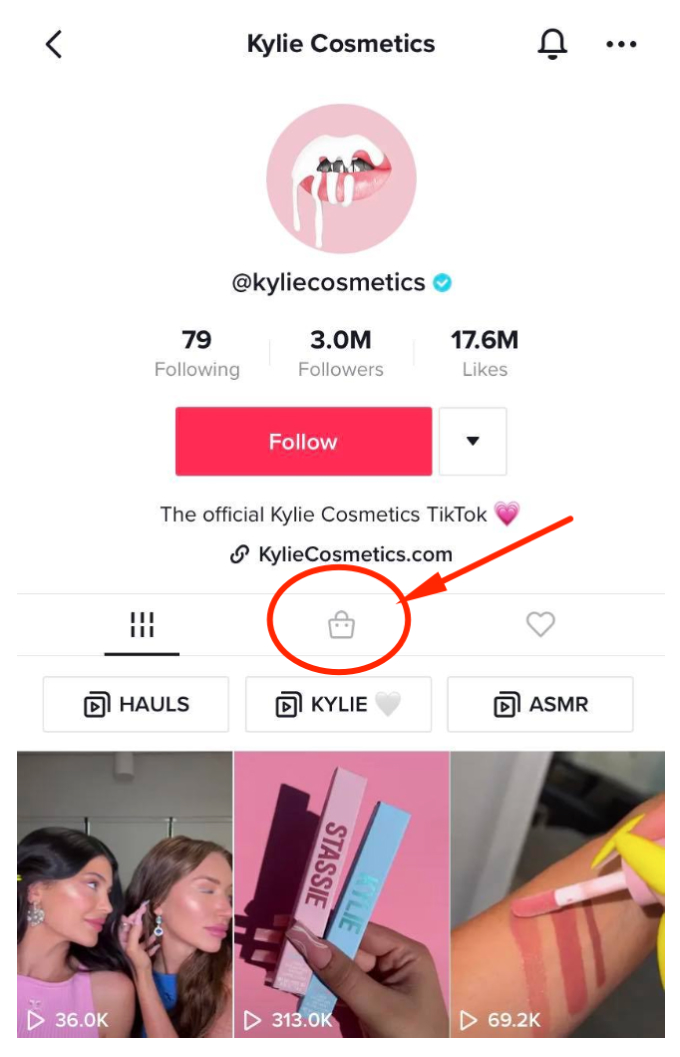 As of now, it's a pilot program that's available through Shopify's TikTok channel.
How to Use TikTok for Business
First, you have to make sure that you…
Optimize your TikTok bio
Get the most out of TikTok and make sure that your bio has:
An engaging description — it's what the audience sees first
Video or GIF for your profile display to grab attention
A link that leads to your website or online social media sites
Here's a good example of an optimized TikTok bio.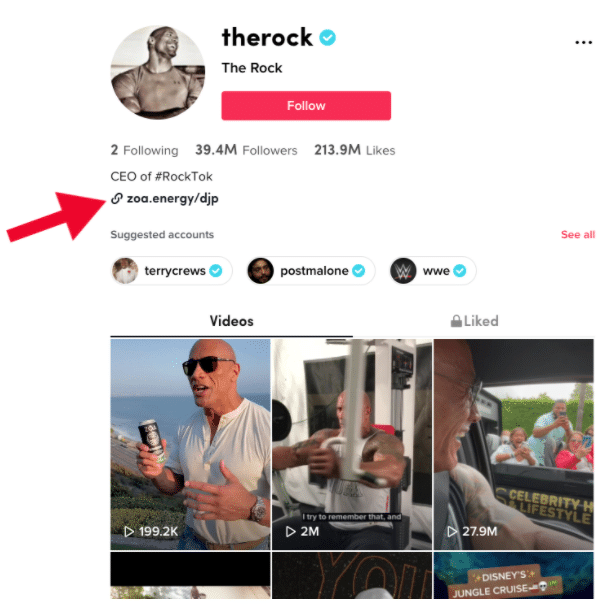 How to use TikTok to increase engagement with your audience
A good engagement rate on TikTok lies between 4% to 18%… except if you're Justin Bieber who can get up to 9.8 M likes for a 49% engagement rate.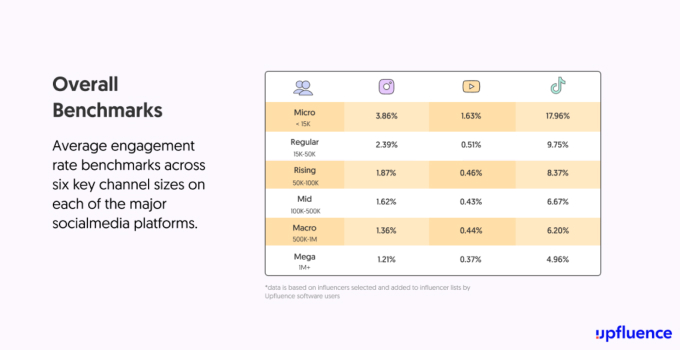 Take our advice on using TikTok features to engage your audience more:
1. Participate in Q&A to connect with your audience.
When you do so, you'll have a Q&A link on your bio. Your audience will be able to browse all questions and answers and even submit new ones.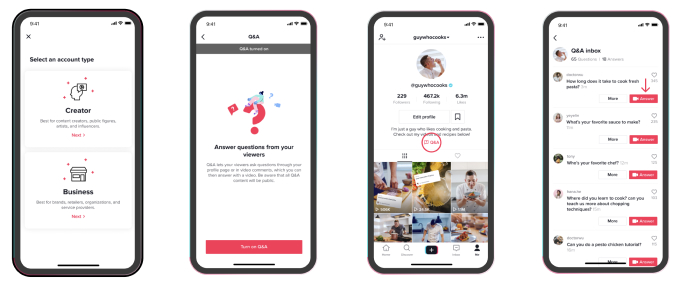 2. Reply to comments with videos.
Comment sections allow you to interact with people in real-time, helping you build a relationship with them. Make it even better by replying with a video content.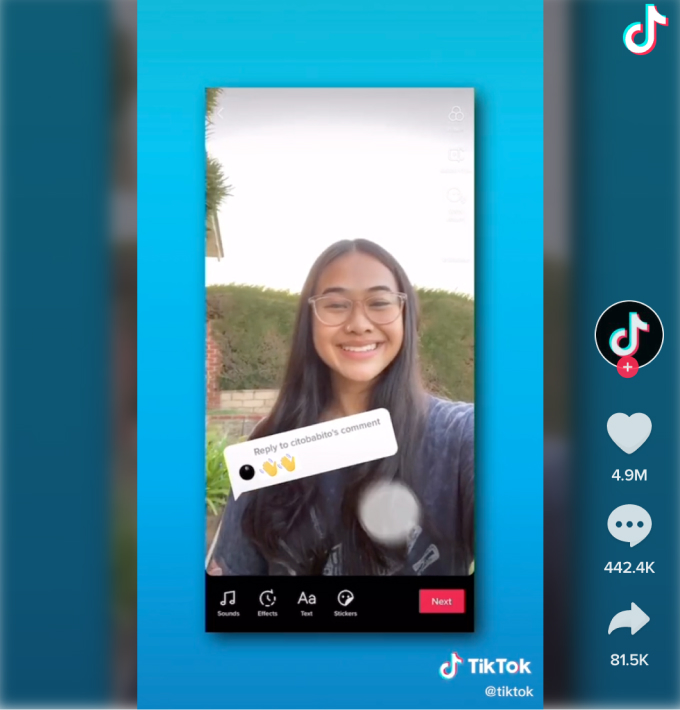 3. Collab with fellow businesses.
When two or more people create videos for each other's channels, the viewers feel like they're part of this awesome little community. It creates an instant connection between them which connects their followers too.
4. Go live.
Connect directly with your followers in real-time and go live on TikTok. It's a great way to boost video engagement.
These are only a few tips, but do this to keep your business at the top of your customers' minds. If you want to learn how actual businesses do it, keep reading.
Just like other social media platforms, popular strategies can also work on TikTok. Like…
Include high-intent keywords in your profile
TikTok users can search for businesses by keywords, so be sure to include relevant keywords in your profile to make it easier for them to find you.
Think like them, "What is your audience looking for?".
Here's a good example from @aisharendy. Adding "handmade sari store" clearly shows what you're selling. Adding the location and a way to contact you right in your profile can also help.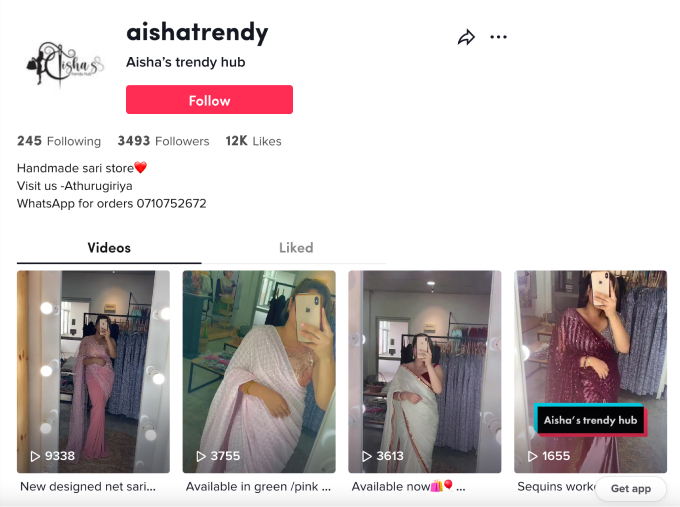 Use hashtags
How do you get new people to see your videos? Pay attention to the way your market is using the hashtags too. You wouldn't use "#smallbusiness" because you'd only attract fellow business owners.
For example, you'd wanna use location and generic hashtags that your target market might use. Like how Kristenmcatee used #disneyfood or #californiaadventures.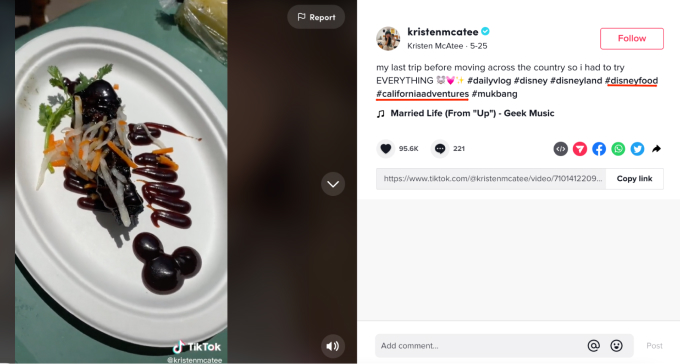 Unless you're a brand with a big enough following, you'll also win by creating your own branded hashtags. Like using your company name, for example.
Use the analytics
You're leaving money on the table if you're not looking at your TikTok analytics. Your analytics will reveal what your users care about, which type of content will get you more views, and when your audience is most active.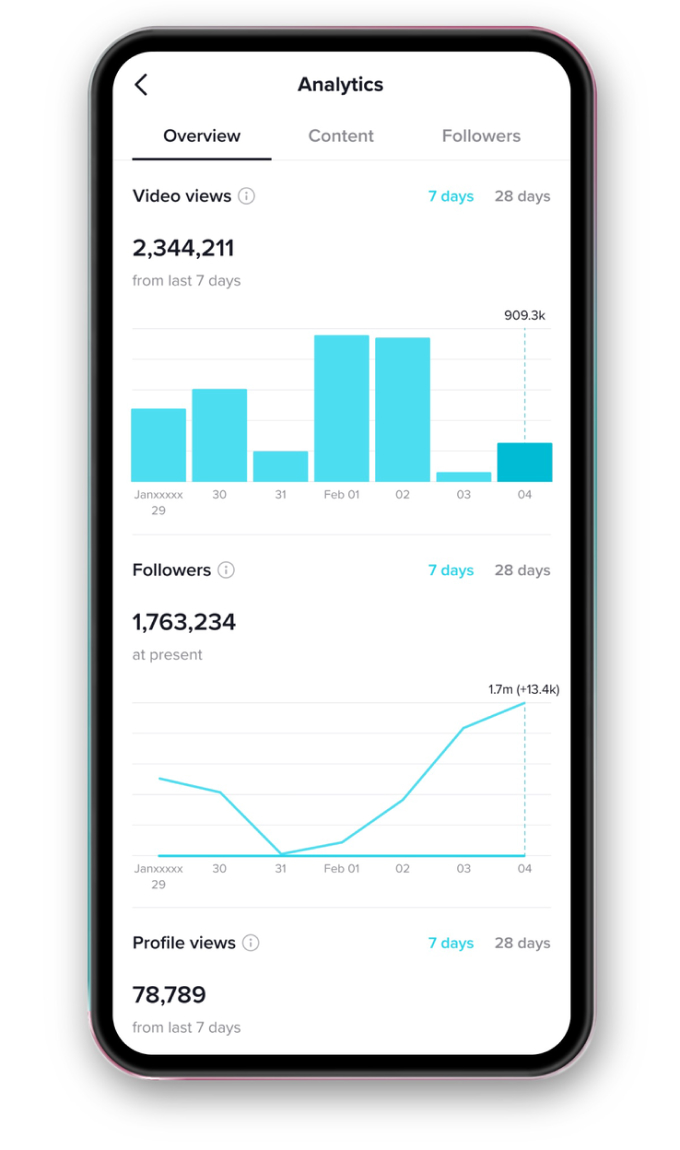 Having this information on hand will help you make more informed decisions that will translate to profits.
4 Popular Business Account Examples and What to Learn From Them
Need inspiration? Here are some success stories of brands from different industries that have thrived in the app:
Ryanair, the budget airline has accumulated 90.7 million views on TikTok.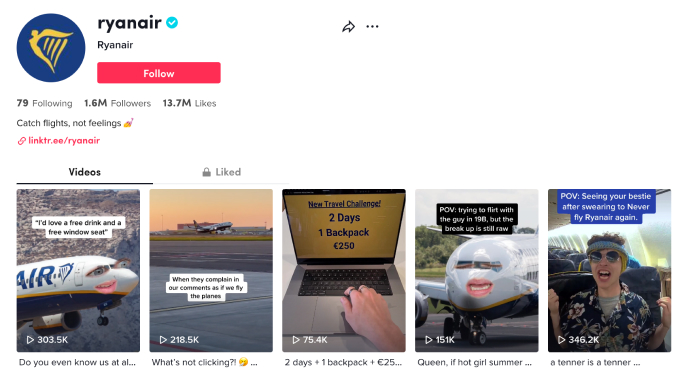 A lot of their content focuses on what's trending, including clips from their planes, behind-the-scenes, and funny moments in the airline. A video of a moving plane overlaid with the song Walk by Saucy Santana was particularly popular and accumulated millions of views and likes.
🍰 Takeaway: Develop content that captures the attention of your audience. Make your content so interesting, creative and engaging that it grabs the attention of viewers immediately.
2. Asos: Scale by way of user-generated content (UGC)
Despite focusing on a saturated market in fashion and cosmetics, the brand ASOS knows how to engage its social media followers.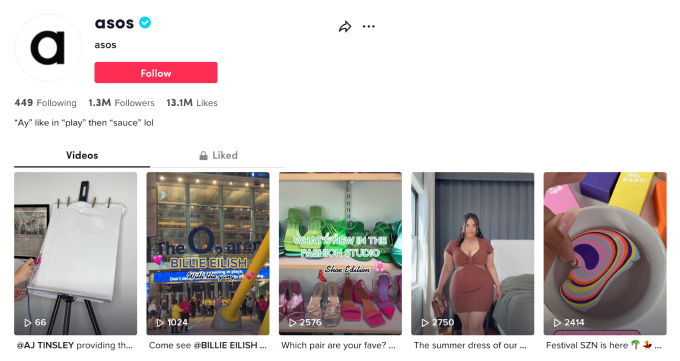 They used UGC for inspiration and followed trending topics on the channel. They also film a lot of behind the scenes during photoshoots and this gives viewers something different to look forward to.
Their TikTok followers do not miss out – a good viewership strategy (1.3 M followers and 13.1 M likes).
"Ay" like in "play" then "sauce" lol'. A catchy tagline does the trick, too.
🍰 Takeaway: UGC-inspired content adds to their videos' authenticity. This is becoming more and more popular, as it adds an unbiased touch and a flair of being relatable to the common people.
3. Vessi: Growth by way of freebies
Canada-based footwear brand Vessi is making waves on TikTok. A few months after its launch, the Vessi brand has already attracted a devoted 162.3k following.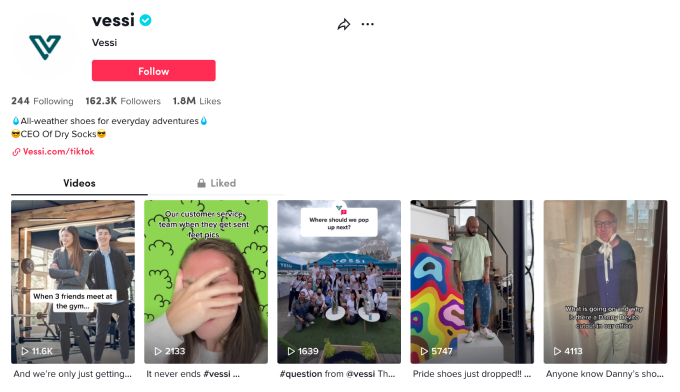 They've accomplished this by doing giveaways to gain more followers. True, it sounds like an extra spend, but they believe it will ultimately result in revenue for them.
🍰 Takeaway: Giving out freebies to get people excited is a great way of ensuring they stick around and spend more time with you. This could be anything from coupons, deals, or even samples.
4. Lounge underwear: Grow by way of influencer-marketing
Lounge underwear is a huge success thanks to the company's constant focus on influencer marketing campaigns.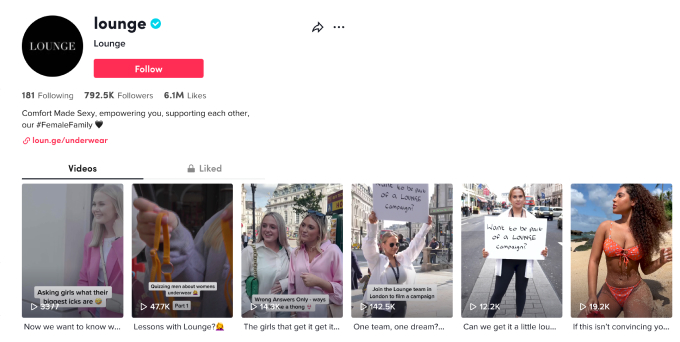 They do a lot of collaborations that make them appear more popular than ever. These efforts led people to talk about and share more info and content about the business. As of writing, the brand hit 6.1 million likes on its TikTok channel.
🍰 Takeaway:
Influencer marketing
is an effective method and a powerful tool in promoting your business.
TikTok challenges
TikTok challenges have taken over social media and for good reason — they're super fun!
It could be a fun dance move, a song that you lip-sync to, or a simple question and answer.
Businesses can participate by creating hashtags and incentives for participants to do their best work. Here are some of the best TikTok challenges (so far):
Colgate's #MakeMomSmile
They challenge TikTokers to make moms smile on Mother's Day.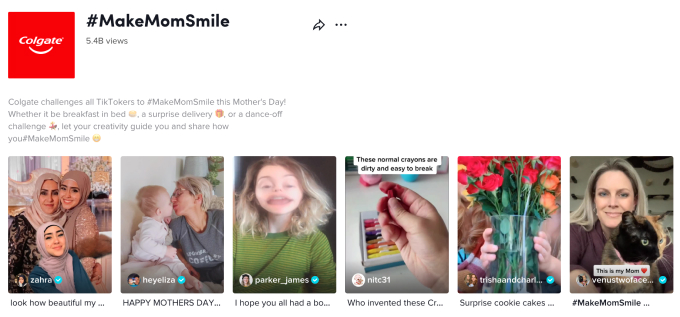 Chipotle's #LidFlip
People record themselves while attempting to flip the lid onto their Chipotle bowls — without using their hands. This was to promote their new Cinco de Mayo deal with free delivery.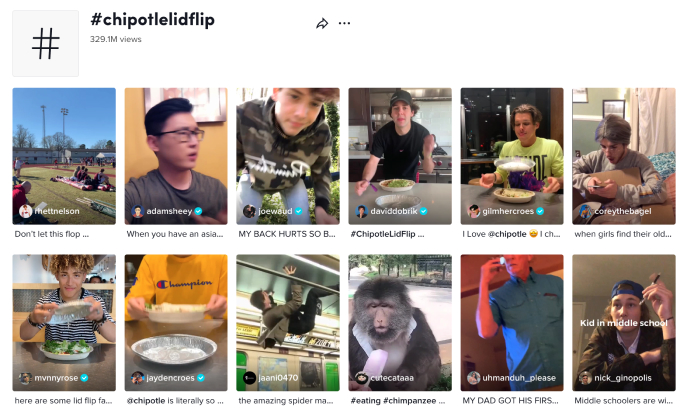 Crocs' #ThousandDollarCrocs
This prompted customers to showcase what their $1000 Crocs look like. It resulted in a sold-out item, an 18% uptick in follower count, and a brand partnership with Post Malone, the person behind the music used in the challenge.
🍰 Takeaway: Create a custom challenge for your business and seed it with your customers or well wishers.
TikTok influencers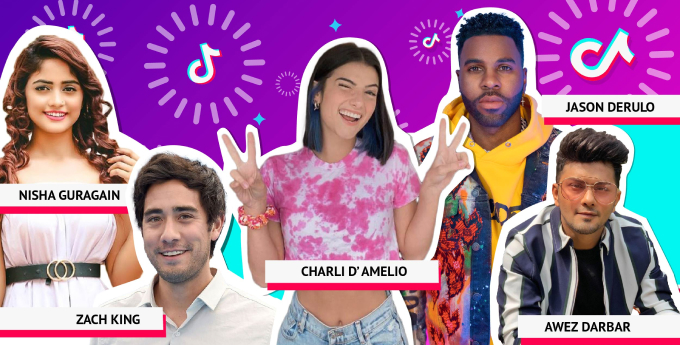 TikTok influencers help brands spread awareness on the platform. They've done a huge part in bringing the app success.
Influencers usually have 1,000 (nano influencers) to tens of millions of followers on the platform. They've built up their followers by creating engaging content that resonates with their audience.
And, they can use their influence to promote your brand to their followers. Here's how to work with them:
Make sure the influencer is a good fit for your product or service.
Their content should be relevant to your brand and their audience should be interested in what you have to offer.
Write a good influencer brief.
If you write a good influencer brief, they'll be more likely to promote your brand in an authentic way that will resonate with their followers and your brand.
Consider the influencer's reach when evaluating potential partnerships.
An influencer with a smaller following (called nano or micro-influencer) may still be a good fit for your brand if their content is high quality and their audience is engaged.
How much do TikTok influencers make?
TikTok influencers can make a variety of amounts depending on their number of followers, the type of content they produce, and any sponsorships or partnerships they have. Some TikTok influencers make hundreds of dollars per post, while others make thousands or even millions of dollars per year.
Some of the biggest paid TikTok influencers include Charli D'Amelio, Addison Rae, and Chase Hudson.
How to Use TikTok to Increase Brand Awareness
Using TikTok to increase brand awareness can be achieved with different marketing tactics. Here are some of them.
1. Use TikTok for business
Business owners are leveraging TikTok's powerful features for their profit-making purposes, and it's becoming more popular every day. In mere minutes, you can create short, engaging videos to get your message across and boost brand awareness for your business.
2. Create your own hashtag challenges
It's becoming increasingly popular with those brands who want optimum visibility and online presence by getting people involved, making prospects interested, or by simply letting the audience have a good laugh.
Launch a fun challenge that can go viral.
3. Collaborate with influencers
It's the perfect way to get your brand in front of new customers and get your product noticed by your collaborator's followers too. Mentioning other brands, products or creators can boost awareness for both parties.
4. Experiment with TikTok ads
Paid ads on TikTok can help you drive traffic to your website or online store. It works similarly to other social media platforms where you can create an ad campaign and target specific demographics like age, location, and interests.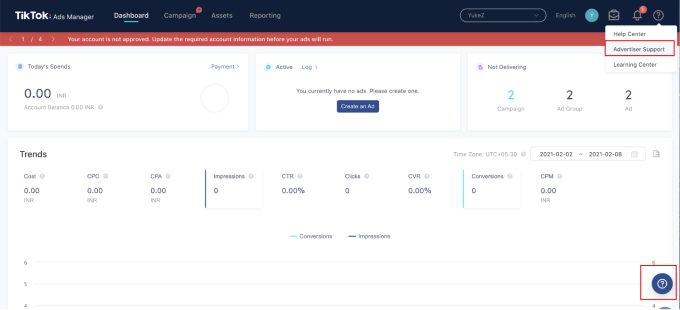 How to Use TikTok to Sell Products
Tiktok is one of the top apps that drive consumer spending. In 2021, users spent $2.3 billion on the app.
Here's how you can use TikTok to sell products.
Create a Business Account to utilize business-making features.
Describe what you're selling on the bio to introduce your brand.
Ask users to create UGC and use sponsor-branded hashtags to go viral.
If you have a Shopify store, use its built-in features to sell on TikTok.
Post countdowns and teasers before launching your product.
Give out freebies as samples to entice viewers to get to know your brand and product.
6 Tips for Building a Brand on TikTok
It takes time to build a brand on TikTok, but try these approaches to speed up the process.
Stick to your niche. Pick 2-3 topics you want to cover so you don't confuse your audience.
Make sure all posts are in line with your brand values.
Stay loyal to your design guide. Use the same colors, fonts, and even filters.
Create brand-specific face filters and lenses.
Engage with your audience and reply to their comments if you can. If not, you can just pin them or heart them.
Post regularly. TikTok loves consistency. And so does your audience.
How to Create Engaging Content for TikTok
So, everyone knows that creating engaging videos on TikTok is definitely necessary. But the question is, how do we go about it?
Start with these:
The first 3 seconds are super crucial. Add a hook that will keep them glued.
Include captions and subtitles. Intriguing captions at the start work well.
Change the text, graphics, or image every 3 seconds in the video to keep your users' attention.
Videos should be vertical (as TikTok only displays vertical videos).
Stabilize your camera and use good lighting.
Understand and join the trends that are relevant to your brand.
Utilize hashtags effectively.
Keep reminding people to like and follow at the start and end of your video.
Tips for Growing Your TikTok Following
Keep up with the world's fastest-growing social community by growing your followers real quick by:
Know your target audience's pain, motivations, and dreams — stuff they care about.
Create content around those ideas.
Put out educational or helpful videos. How-to's and tutorial videos work best.
Research hashtags used in your niche and use them.
Collaborate with fellow TikTok creators to mutually grow
Review your analytics. Posting at the right time could help you make your videos viral.
Organize challenges and share them with your community for support.
Interact with your audience. Building a relationship with them is the surefire way to grow.
How to Measure Your TikTok Success
Brand awareness is a hard thing to measure, so here are TikTok metrics that you should track to determine your success on the platform:
Followers – how many people follow you.
Video views – how many times your video has been watched.
Likes – how many people liked your video.
Comments – number of comments left on your videos.
Shares – number of shares you received.
Favorites – how many times have people saved your video to their collection.
Trending videos – see your top 9 most-viewed videos in the last 7 days.
Live metrics – Show you all of the information regarding your LIVE videos in the last seven or 28 days. This includes the number of unique viewers and new followers, total views, time spent watching your content, and the number of received diamonds.
Explore TikTok's Advertising Options
On TikTok, you can choose from 4 advertising options:
1. In-feed ads
These are the videos displayed on the "For You" page and they blend well with the videos inside your TikTok feed.
2. Top view ads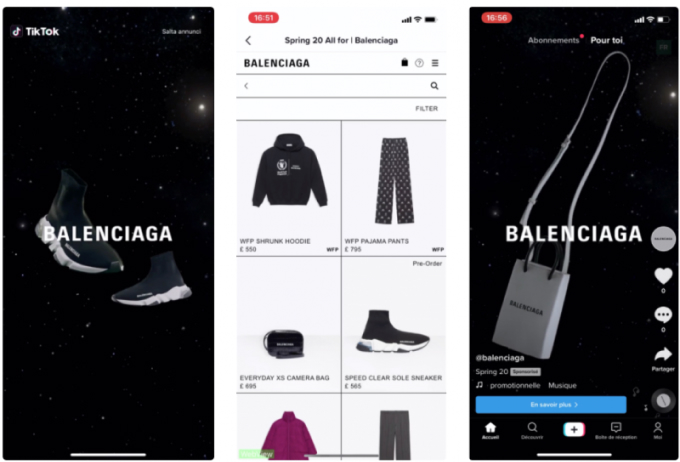 Top-view is a dominating ad type that fills up the whole screen when you open the app. It also auto plays with the sound on, grabbing attention. You can also link to external websites and landing pages from this ad.
3. Hashtag challenges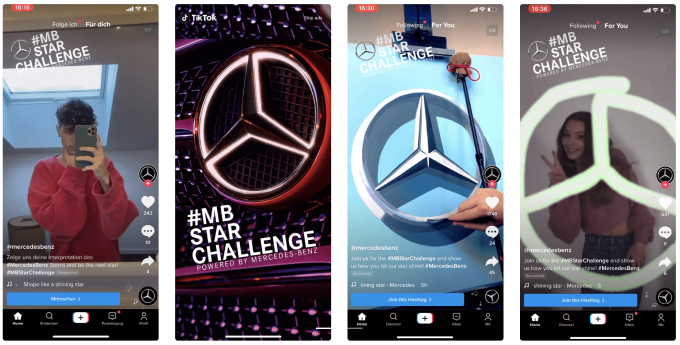 A branded hashtag challenge can explode your follower count and generate tons of UGCs for your brand. This kind of ad shows up at the top of the discovery page. When Mercedes Benz did this, they got 180M+ video views from 185K+ videos created by over 73K participants.
4. Branded effects
Brands can create their own filters inside the app for the users to use. This is a form of TikTok ads that are fun to make. The ads last up to 10 days, but it's a great way to gain engagement.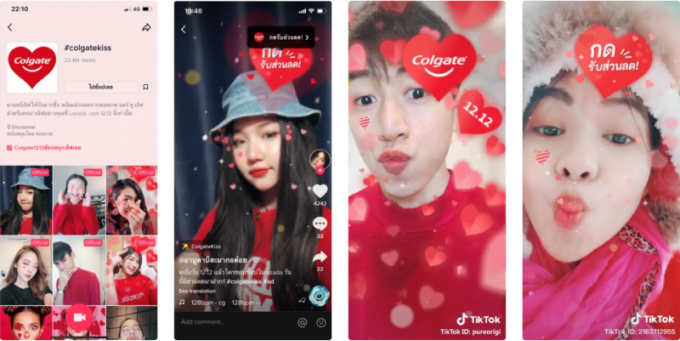 Setting Your Goals on TikTok for Business
If you want to succeed on TikTok, you must set goals and specific objectives. This will help you stay focused on them so you don't wander off.
When you use TikTok for Business, you'll most likely have these goals:
Collect leads for your business. You may use a fast-loading and customizable form that is found in the app.
Get people to follow or visit your page and win them as followers.
Bring people to visit your website, your online store, or download your app.
Get more people to discover your brand, service, or product.
Make people talk about your brand to increase awareness and word-of-mouth marketing.
Whether it's to spread brand awareness or to generate revenue, you should be clear on them so you can create a strategy that will get you exactly what your business wants.
TikTok Marketing Strategies
It will take time for your videos to really click with the viewers' taste. Plus, there's a lot of competition online, so you have to be patient and smart.
Here are tactics that will increase your chances of going viral overnight.
TikTok advertising – how to leverage it?
TikTok Advertising lets you target specific audiences using demographics. Here's how you can make the most out of it:
Use a hook and appeal to the emotions in your ads. Remember, emotions trigger the buying process.
Be up-to-date with the latest trends to know which engages your audience. Don't make your ad look and feel like an ad.
Use Spark Ads in TikTok to get higher ROAS
According to Hootsuite's compiled demographics, TikTok brand advertisements are likely to perform best when you target:
Customer segments under 35
Focus on women, especially those ages 18 to 25
Asia or the Middle East
TikTok scheduling – what you should know
TikTok's Video Scheduler feature will make your life easier.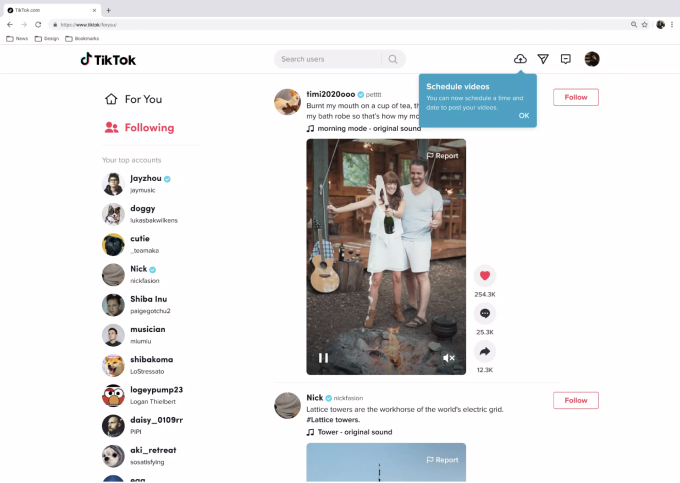 The Video Scheduler works as follows: TikTok's upload page has been updated to allow postings up to 10 days in advance. Tik Tok's desktop and app versions will display your content on the scheduled day.
All you need is a Business or Creator account to take advantage of this efficient feature. And just do these:
Upload your video on the platform
Slide the Schedule Video button on.
Choose a specific date and time.
Click Post.
Viola. Your video will be published at your desired time.
TikTok live – how to leverage it?
Utilizing TikTok Live is one way to connect more with your followers. Your businesses and users will have interactive experiences in real-time and that often form bonds.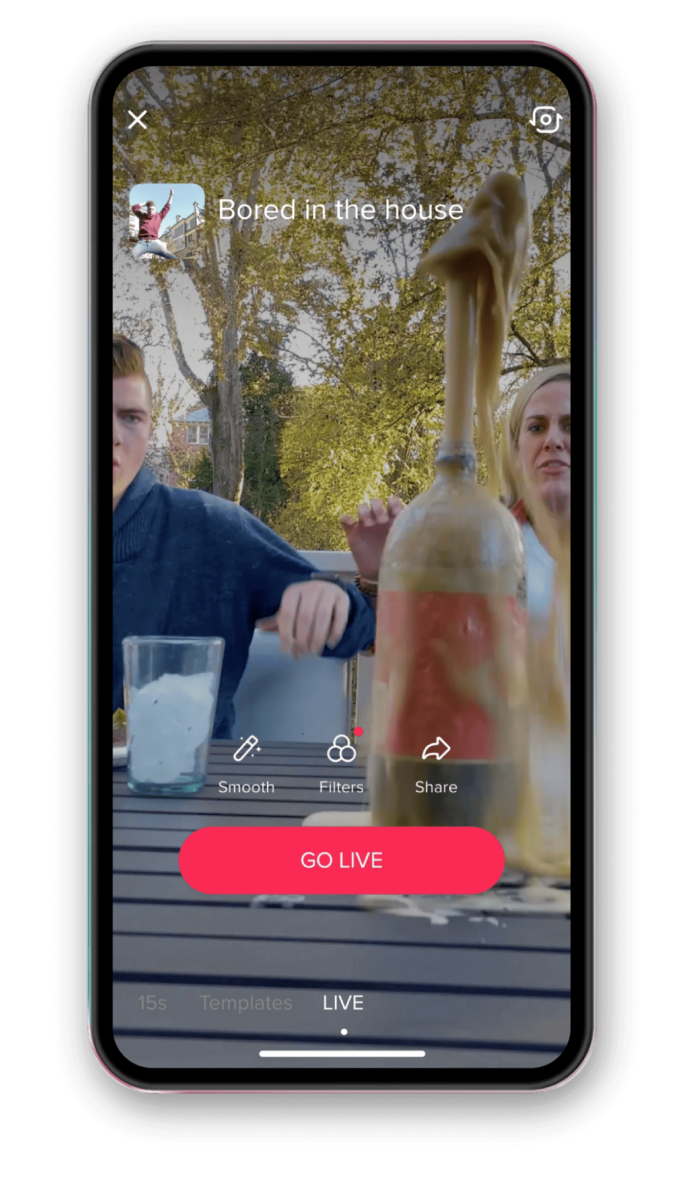 TikTok Live allows businesses to show off their products, answer customer questions, and promote exclusive deals and promotions real quick.
Plus, you can earn money when followers give you gifts and diamonds.
Posting frequency – what is it? How to find your right frequency?
Posting frequency simply refers to how often you post. You can plan your TikTok posts ahead of time so that you publish content regularly. It will also keep the consistency you want across your channel.
You can always look at your analytics to check when your audience shows up the most. Or you can start following the best times to post on TikTok.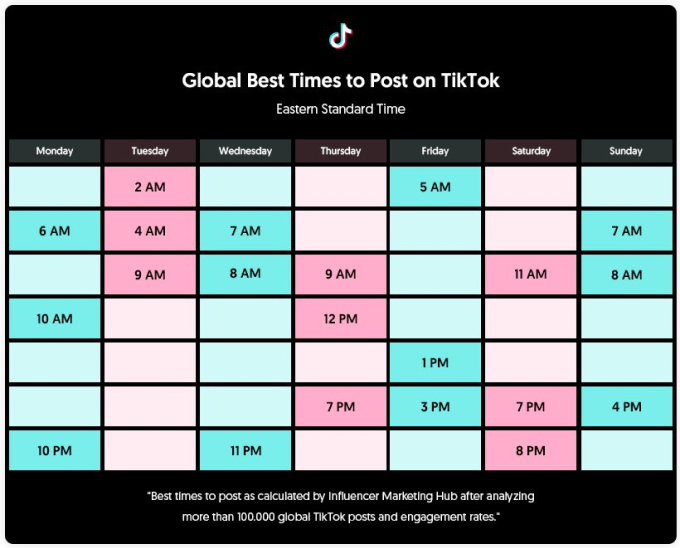 How to Create a Content Strategy for TikTok
Creating a content strategy for TikTok can seem daunting, but it doesn't have to be. Start by thinking about what kind of content you want to create and who your target audience is.
Once you have a clear vision for your content, you can start creating videos that are designed to engage and entertain your audience.
Keep in mind that TikTok is all about having fun, so don't be afraid to experiment with different types of content and formats. Be sure to test different strategies and see what works best for you and your audience. With a little effort, you can create a winning content strategy for TikTok.
Make use of different video styles to add variety to your videos. Try these:
1. Unboxing videos – taking out items from their boxes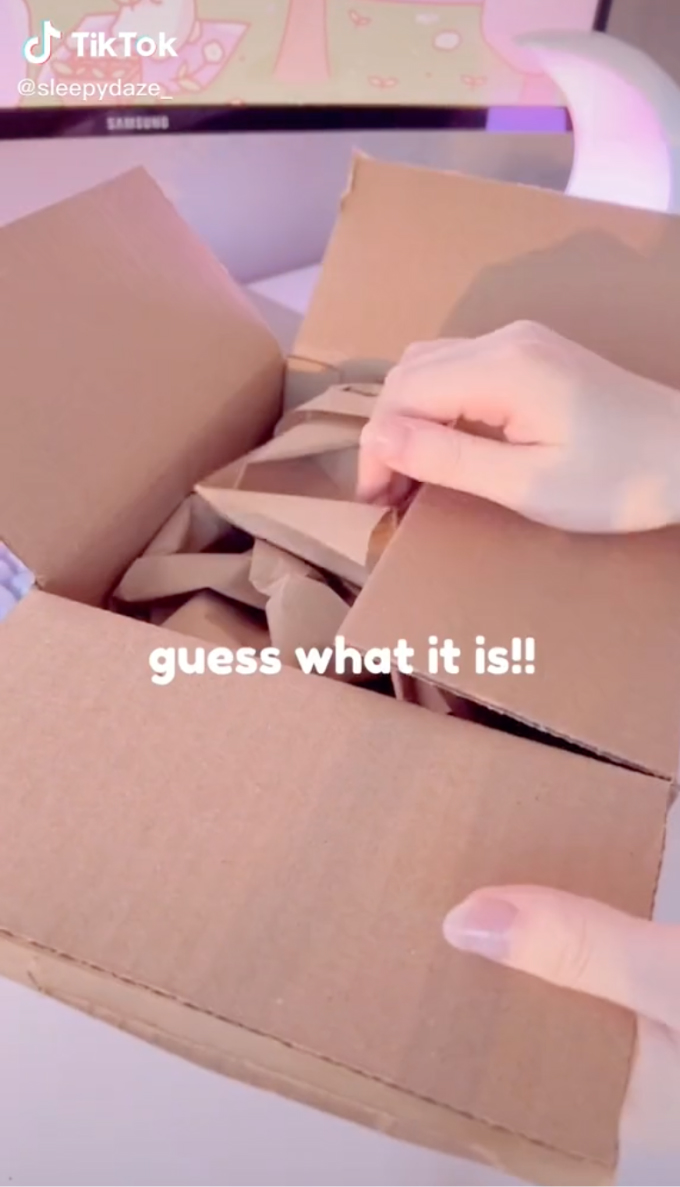 2. Talking head videos – people talking about something like tips, explanations, or stories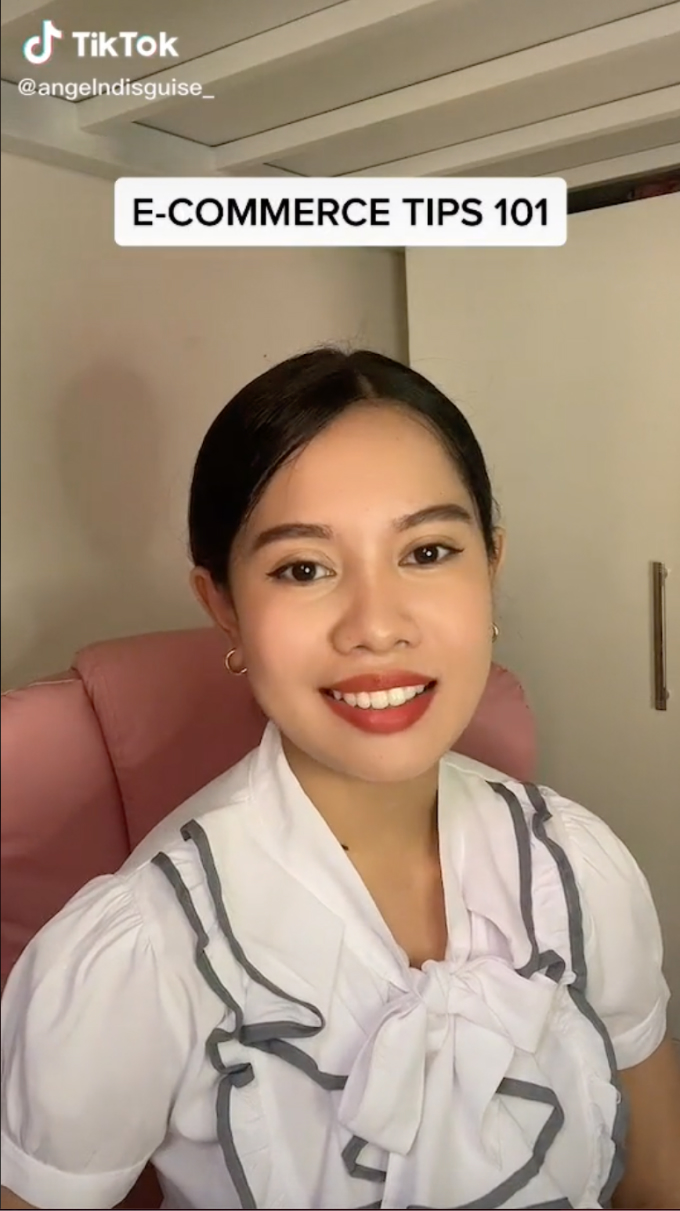 3. Dance videos – obviously, people dancing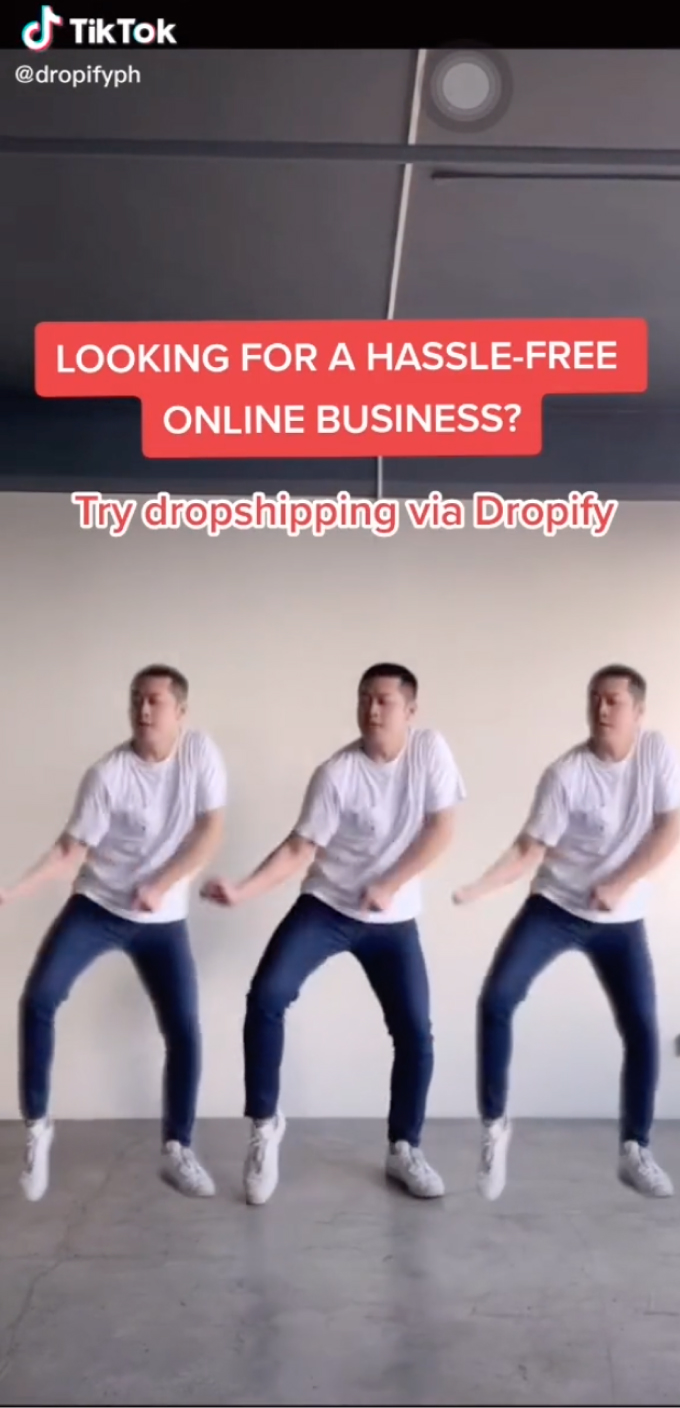 4. Song imitations – either lip sync videos or actual singing videos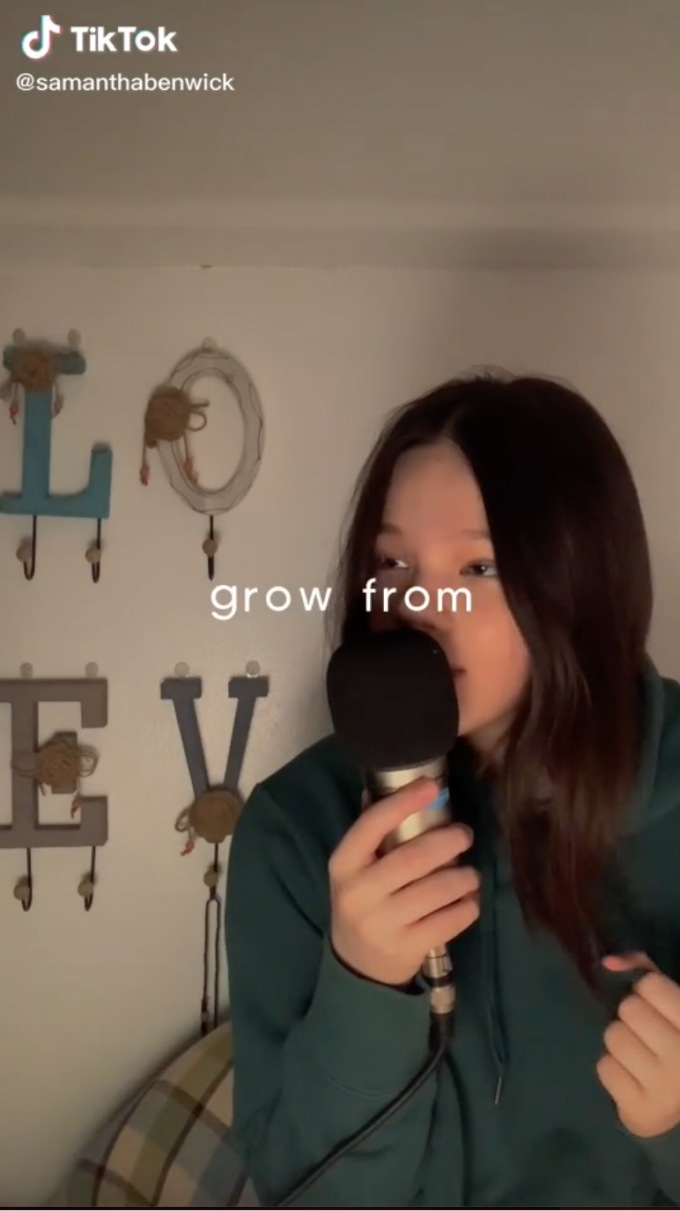 5. Challenges/Trends – viral videos where you follow what the original poster was doing (or do your own twist)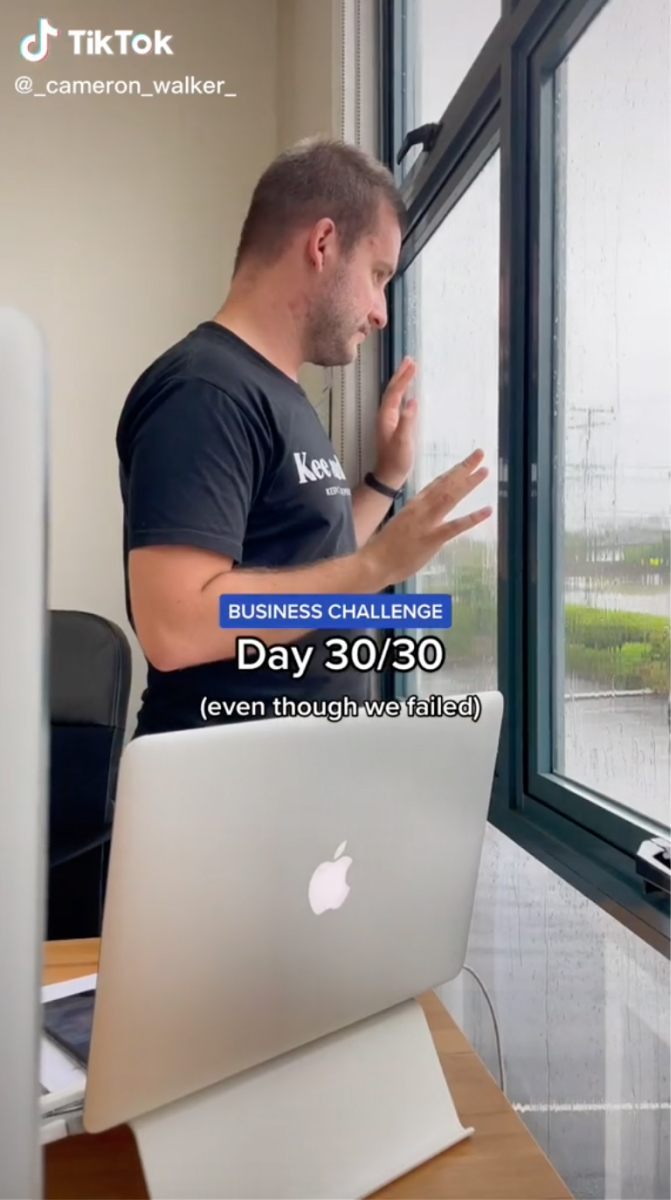 6. Dialogue re-enactments – portraying a certain scene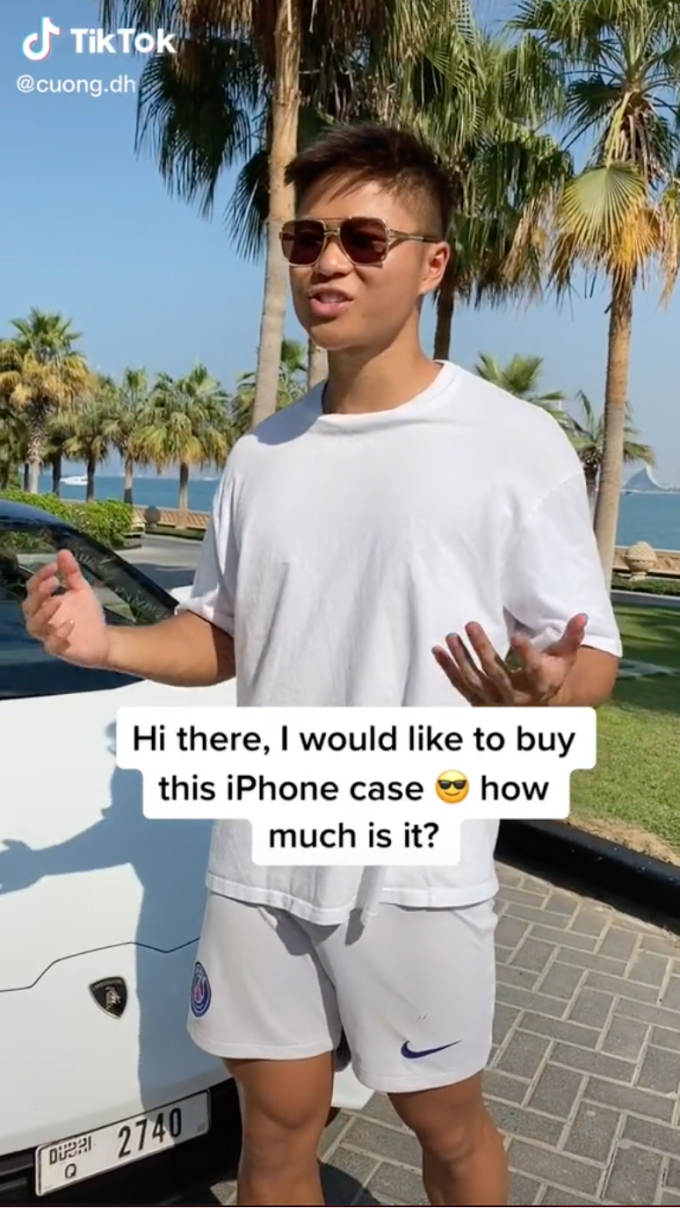 7. Cute animal videos – videos of your pets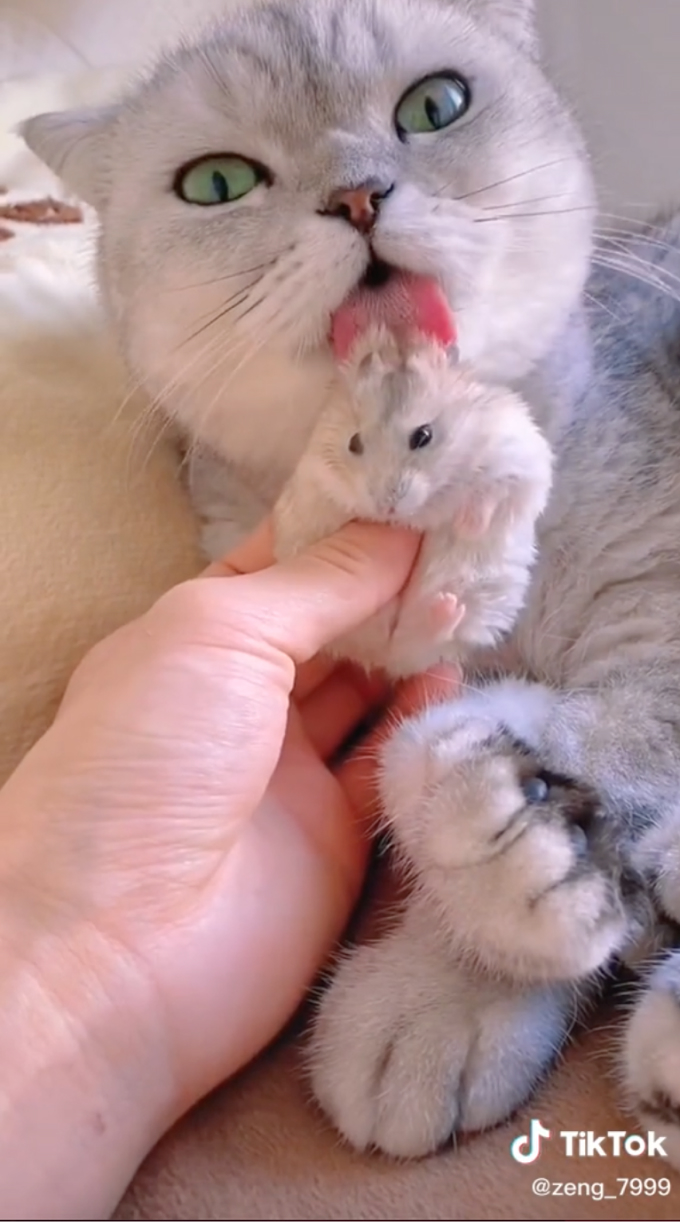 Find which types of content make your fans laugh, react, and comment on. And make more of those!
Tiktok Collaborations – how to make use of it?
Partnering with other businesses and influencers on the platform can help you reach a wider audience and build some serious brand awareness.
Brands with complementing products can work together to promote their products together — especially when doing ads. Here's why.
While ads created for TikTok without creator partnerships experienced an 8% increase in 6-second view rates, ads created with creator partnerships experienced a 91% increase.
To collaborate on TikTok:
Check if you share the same audience or if there's an overlap
Chat with your collaborator on TikTok to get to know them
Meet up with them at events
Respond to their content by engaging and interacting through the comment section
What to look for in a collaborator:
Topics and genres with relevant content
Video formats similar to each other
Approximately the same size audience
How to work together:
Join each other's videos or appear in one another's
Comment on each other's content and tag each other
Mention and promote each others' profiles
Tiktok influencer marketing: how can your brand make use of it?
What is influencer marketing?
Influencer marketing is a type of marketing that focuses on using key leaders to drive your brand's message to the larger market. Rather than marketing directly to a large group of consumers, you instead inspire, motivate, and educate influencers who can then help promote your brand to their own audiences.
By partnering with TikTok influencers, businesses can tap into a vast and engaged audience that's already interested in the products or services that they have to offer.
TikTok influencers have a lot of sway with their followers. In fact, 49% of buyers rely on influencers when making purchasing decisions.
Here's how to find the right influencer to endorse your brand:
Identifying influencers who are aligned with your brand values
Understand the focus of your brand so you can determine the direction you should take with your influencer.
Seek influencers who embody transparency and authenticity to get meaningful engagements
How Not to Use Tiktok for Business
Using TikTok for business can be a great way to reach a new audience and connect with potential customers. However, there are a few things you should avoid if you want to make the most of this platform.
First, don't post videos that are too long – people on TikTok have short attention spans and are more likely to engage with shorter videos.
Second, don't be too sales-y – focus on creating content that is entertaining or informative, and resist the urge to hard-sell your products or services.
Finally, don't forget to use hashtags – this is how people on TikTok will find your videos, so make sure to use relevant and popular hashtags to increase your chances of being seen.
Examples of failures
Whenever you do not set a goal for your TikTok content from the very beginning, it's bound to fail as you cannot just post randomly in the app without an aim.
Avoid these rookie business mistakes:
Repurposing ads from different platforms (it might not work right off the bat)
Ignoring the comment section, especially if they're negative feedback
Blasting ad campaigns without a strategy behind it
Targeting the wrong audience
Leaving your influencers to figure out things on their own (Remember the Fyre Festival fiasco?)
Being too sales-y and promotional
TikTok is a fun and authentic platform. Remember this even if you're marketing a business in there.
Legal issues you can get into with TikTok
Knowing the legalities of TikTok is important. It can be quite a lot to tackle so be sure to read about the policies and your user rights to protect your account.
Blatant no-nos
TikTok is a great platform for people to show off their creativity, and you should never put yourself at risk of having your account closed. Certain content can get you banned so avoid them:
Bullying
Content that threatens public safety
Those that depict or glorify self-harm
Violent or too much graphic content
Spam or misinformation
Promoting drugs or alcohol
Sexual content, including nudity
What categories of business do well on TikTok
You must be wondering how well your business will be welcomed on TikTok. Well, if you belong to the following industries below, you're gonna be thriving in there:
| Rank | Industry | TikTok likes |
| --- | --- | --- |
| 1 | Beauty | 61,792,300 |
| 2 | Fashion | 50,424,500 |
| 3 | Jewelry | 49,893,000 |
| 4 | Art | 43,543,000 |
| 5 | Home | 27,103,700 |
| 6 | Food | 26,798,000 |
| 7 | Mobile accessories | 22,469,900 |
| 8 | Cleaning | 19,099,100 |
| 9 | Toys | 11,596,400 |
| 10 | Dental | 9,700,000 |
But don't worry, if you don't belong to any of the above, go on. Give TikTok a try still. Billions are viewing the #smallbusiness hashtag.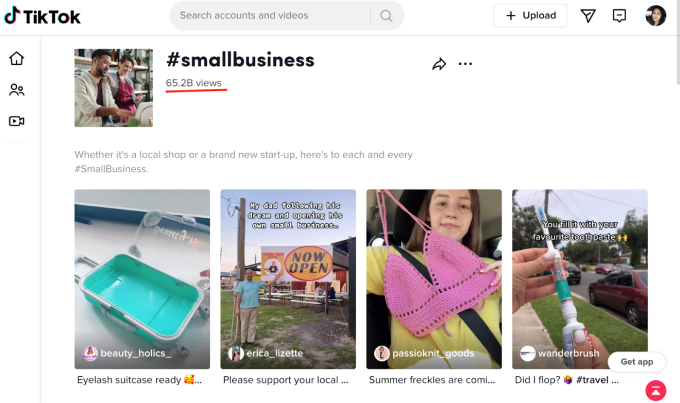 Even US's largest injury law firm, Morgan & Morgan is in there. And with 96k followers and counting!
The Problems Doing Business on TikTok
While TikTok sounds promising, there are hidden caveats of marketing on the platform.
Doing business on TikTok can be difficult due to the app's algorithm. The algorithm favors content that is popular and engaging, which can make it hard for businesses to get their content seen by users. In addition, TikTok is a global app, which means that businesses may have to deal with language barriers.
Also, TikTok is constantly changing, which can make it difficult to keep up with the latest trends and best practices.
Here are some of the problems you'll face doing business on TikTok
Short videos are *also* hard to produce, you'd need to consistently think of new ideas
Advertising costs can skyrocket. The minimum daily ad budget is $50.
You'll need someone to manage your TikTok account. And he should be a millennial or GenZ who gets it.
Tiktok Tools to Use for Business Promotions
If you're marketing your business on TikTok, you'd need tools that'll help you create, edit, and strategize effectively. Here are several options you can start with.
Graphic design tools
With software like Canva, you can easily add texts, illustrations, and animations to your videos. Make use of the story templates to create fun, modern and engaging videos on TikTok.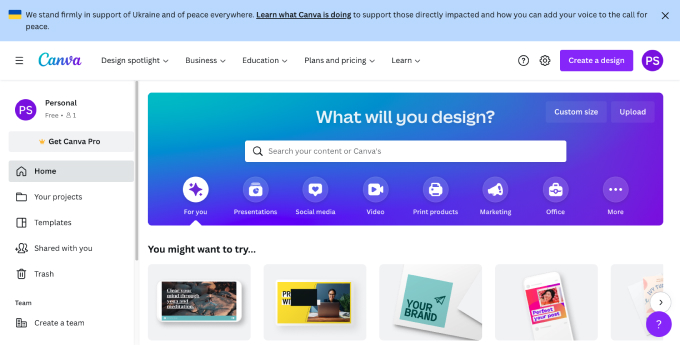 Video editing tools for TikTok
TikTok already has built-in editing tools, but if you want advanced editing features, you can try CapCut. It's one of the most popular free editing tools that let you split, add music, and even add beauty effects to your videos.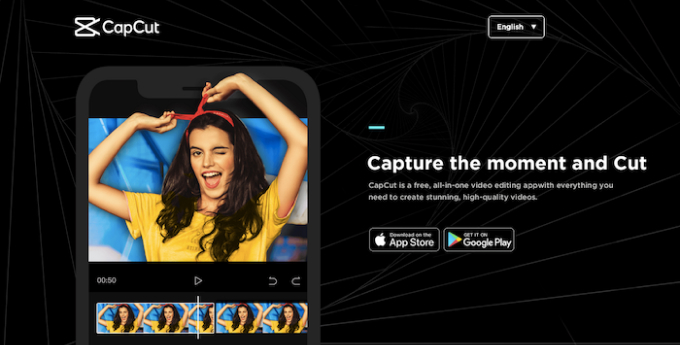 ​​But if you're a professional and you want polished videos, use Adobe Premiere Pro just like the pros. It generates captions automatically, reformats videos, matches colors, and more.
🍰 Takeaway:
Check out
InVideo
– It's an online video editor tool that does a lot of automatic stuff and saves a ton of your time.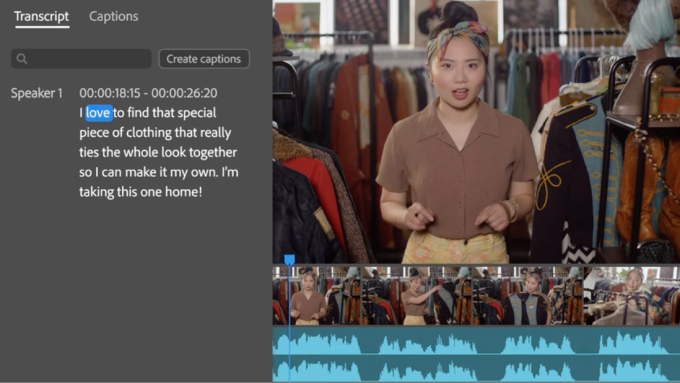 Gear to shoot TikTok videos
If you're starting, feel free to use your iPhone or any smartphone to record your videos. But, if you're after stunning TikTok videos to stand out, then you will want to invest in these gears:
Ring light like this one – so you don't get harsh light straight to your face
Mini-microphone like Uniwit – especially if you're producing lots of talking head videos or singing
Gimbals like the DJI OM 5 – For flawless shooting, invest in a gimbal so you don't turn off your audience with shaky videos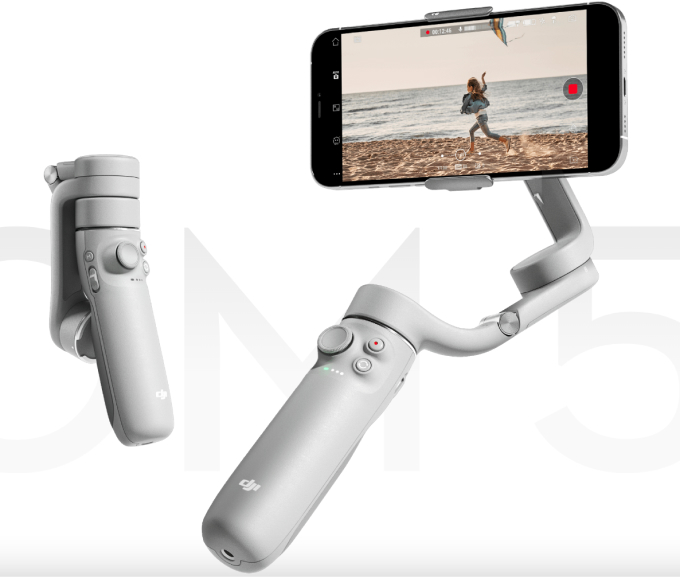 Fiverr gigs for promotion
Need to boost your TikTok posts? Go to Fiverr, outsource it and get it done quickly.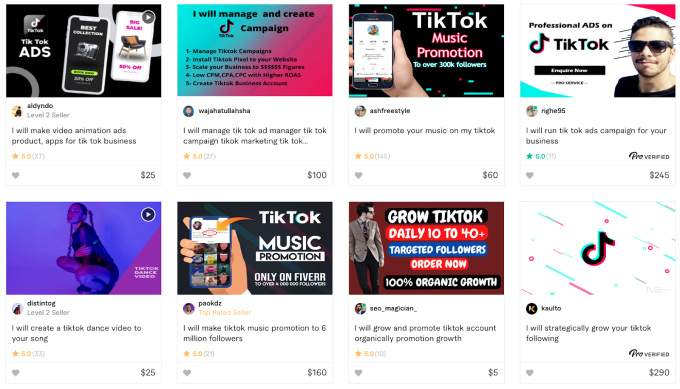 Here are just some TikTok promotions that Fiverr guys can help you with:
Run TikTok ads campaigns
Create TikTok dance video for songs
Promotion to their millions of followers
Grow your TikTok organically
Promote your product or brand
Create TikTok ad account
Find influencers for your brand
TikTok scheduler
Good news for Creator and Business accounts on TikTok, you can schedule your videos via the desktop app.
Or you can use TikTok Scheduler or Planable to schedule your videos.
With these tools, you'll create, manage, and brainstorm brilliant TikToks your fans can't stop watching.
Add Your Business to Tiktok
TikTok is one of the fastest-growing social media that you should take advantage of. Unlike other social media platforms, it has leveled the playing field for everyone with its unique algorithm.
It's not only the influencers who can go viral. It's not only the big brands that get millions of impressions. It's not only marketers who can get sales — even the newbies can meet success in it.
So if you're a business, ride the TikTok wave while it's still beginning. You'll never know when its algorithm will change.
Is TikTok for business really for you?
Well, it really depends on your business and your target audience. If you feel that your business would be a good fit for the platform and that you would be able to reach your target audience, then it may be worth giving it a try.
However, if you're not sure if TikTok is right for your business, it may be best to stick to other platforms.
FAQ's
1. How often to post on TikTok for business?
TikTok suggests
to post 1-4 times per day
. How often you post will also help you please the algorithm so test it out and find what works best for you.
2. How to go live on TikTok?
To go live on TikTok, hit the "create" icon. Then swipe to LIVE. You'd have to pick an image and title for your stream before you can go live. Once you're ready, just press Go LIVE to start streaming. But you should be at least 16 years old with 1,000 followers minimum to go live.
3. How to get verified on TikTok?
You can get verified on TikTok if you're a celebrity, a massively popular online personality, public figure, politician, entrepreneur, or a known musician. If you're not, then there are several ways how to get verified on TikTok.
Rachel Pederson
, TikTok expert, shares the platform's strict criteria:
Daily follower growth (500-2,000 per day)
Growing views and watch time
Media and press on major publications like Entrepreneur, Cosmopolitan, etc.
Consistently viral videos (1-2 a month)
Verified accounts on other social media platforms like Facebook, Twitter, or Instagram