If you are a business owner who is tired of using Wix, here are the 11 best Wix alternatives for small businesses.
Don't have time to read an entire article? Take a look at our quick recommendation.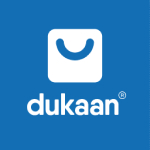 Launch, scale and manage your online business with just $9.99 on Dukaan. Annual plans start at $99.99 only.
Whether you are an existing seller on Wix or you are looking to start a new online business, these recommendations can save you a lot of time and effort.
The issues faced by Wix users on the platform and the availability of better platforms at affordable prices are encouraging people to look for the best Wix alternatives.
3 Reasons why Wix may not be perfect for you
People who are new to website building prefer Wix because it is very easy and does not require much technical knowledge or coding skills.
However, be sure to check out its downsides before taking the plunge. Here are some major red flags experienced by (former) Wix users: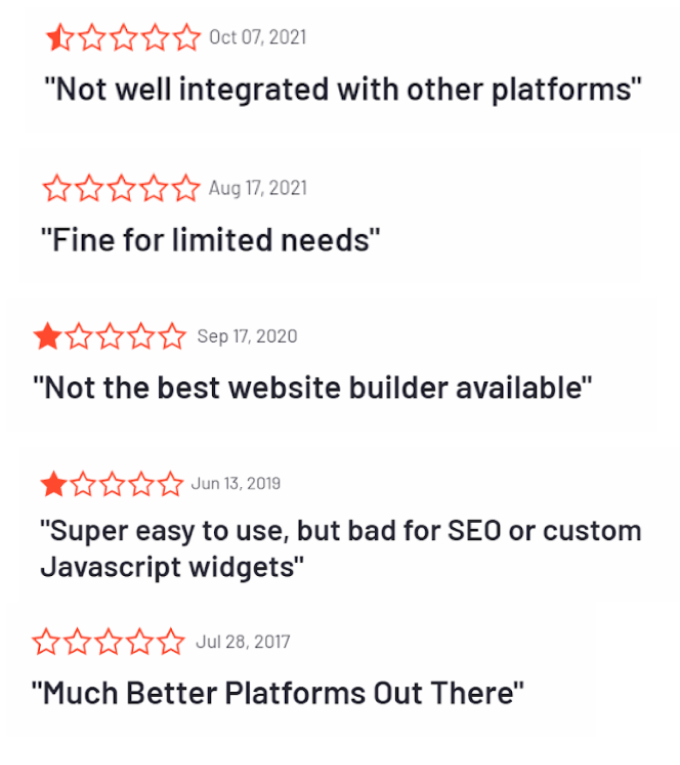 There are many reasons you should not use Wix, but we've highlighted three that impact most people.
1. Wix's technical SEO customization is limited
A Wix customer said:

Wix is fit to use for small businesses, but it's not without its drawbacks. For instance, Wix isn't optimized for SEO.
If you want to be found online, your site must have a good ranking on search engines like Google or Bing so people can find and connect with you. And since Wix isn't the best option for SEO, you'll have a challenging time getting more traffic to your blog.
2. Wix's security measures are unstable
A Wix customer said:

An SSL (Secure Sockets Layer) is a "security protocol that provides privacy, authentication, and integrity to Internet communications."
Wix doesn't support 3rd party SSL certificates (it has built-in SSL). It can't generate SSL authentication for domains and subdomains connected to external sites. This means people can easily view the sensitive contents of those pages. This also means one thing–your information could potentially fall into wrong hands if it gets hacked in this way.
3. Wix has limited functionality
A Wix customer said:

Wix is a basic platform with limited features. To utilize most of their services, you'll need to purchase an ad-supported plan or sign up for one that has more elaborate fees associated (which may not always be cheaper).
Who is Wix best for?
If you're just getting started, Wix is an easy-to-use website builder that has everything a small business needs. But as your company grows and evolves, so should the features it offers — which means it might not be right for you if you're planning to go BIG in the long run.
11 Wix Alternatives to Consider in 2022
Without further ado, here are the best Wix alternatives in 2022.
1. Dukaan
Best for creating an online store quickly.
Starts at $9.99 per month. (After 14 days free trial)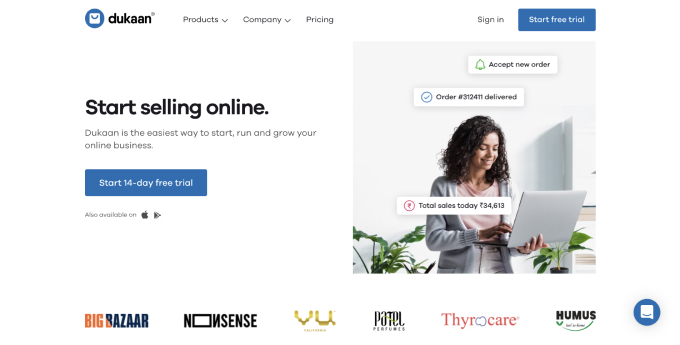 Dukaan is a great resource for all store owners and the best alternative to Wix for eCommerce. You can start by downloading the app and registering your business. Then all you have to do is start adding products to your online store.
It is very similar to Wix in that you can build an online store for your brand, minus all the tech issues.
Features
Dukaan allows you to build an online store in less than a minute. You can also market the products, share to social media, accept payments, ship your orders, and much more on the platform. It is truly an all-in-one platform.
Dukaan's features also include a range of tools and plugins that help you run your business in a smarter way.
Design
Customizing your online store on Dukaan is very easy and fun. You can browse through the range of store banners and choose the one that matches your needs.
Be it an offer, a discount, or a seasonal sale, you can welcome your customers with an attractive banner that urges them to take action. Editing these banners to include your store information and brand colors is an easy task too.
Pricing
Dukaan's value-added subscription plans are as follows:
| Plan | Monthly | Yearly |
| --- | --- | --- |
| Entrepreneur | $9.99 | $99.99 |
| Agency | $49.99 | $499.99 |
| Enterprise | Custom | Custom |
Ease of Use
Anyone looking to sell their goods online through their small business or retail store will find the Dukaan to be the perfect solution. With Dukaan, you won't need any programming experience.
2. WebNode
Best for cost-effective plans.
Paid plans start at $3.90 per month.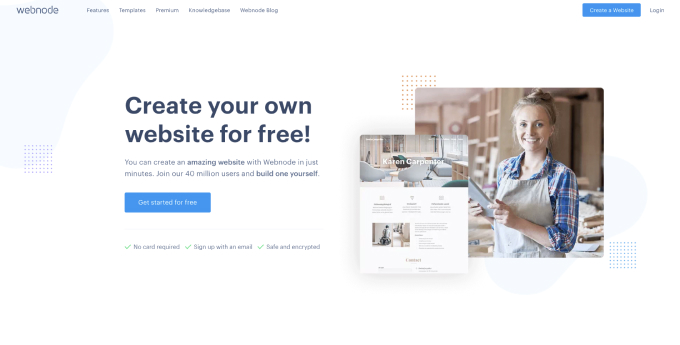 Webnode is a website builder that helps you to create functional websites without any coding knowledge. Beginners can take advantage of its drag-and-drop interface or simple preset templates for an easy web design experience.
Entrepreneurs can create a website that is personalized, professional, and uniquely suited for their brand.
Features
Webnode offers a range of features for both personal websites and eCommerce websites. From a website-builder point of view, it cannot get any simpler than Webnode.
The only downside is that the blogging functionality on Webnode is very basic. That aside, the platform is rich in features like SEO, mobile-responsiveness, etc.
Design
Webnode has a huge range of pre-designed website designs and themes that come with full access to the CSS. All the themes are fully customizable and responsive.
There are also a lot of design elements at your disposal like text boxes, web forms, embed youtube videos, etc. and you can use these to customize your website further.
Pricing
Webnode has the cheapest premium plans compared to other platforms. Their free plan is also pretty non-intrusive, however, to have access to all of their features, you can consider subscribing to one of these plans.
| Website Premium Plans | Monthly | eCommerce Premium Plans | Monthly |
| --- | --- | --- | --- |
| Limited | $3.90 | Standard | $12.90 |
| Mini | $7.50 | Profi | $22.90 |
| Standard | $12.90 | Business | $31.90 |
| Profi | $22.90 | NA | NA |
Ease of Use
You can build your own website in a matter of minutes, with no need for any coding skills. It is an all-in-one platform that provides domain and hosting on the platform.
The platform is very simple and straightforward, as we have mentioned before. You can choose from the hundreds of templates and customize them to your heart's content.
3. Squarespace
Best for beautifully designed templates.
Pricing starts at $16 per month.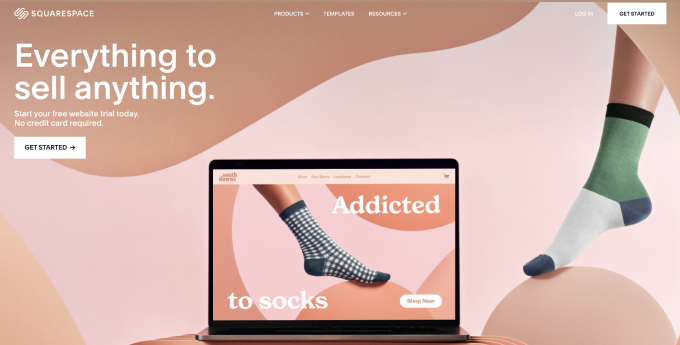 Entrepreneurs who want a professional-looking website without spending a fortune will love Squarespace.
Squarespace's WYSIWYG editor lets you preview your website before publishing. No (bad) surprises when readers see the final product!
Both platforms have their own strengths, but when you compare Squarespace vs. Wix, Squarespace has a better website builder than Wix.
Features
Squarespace is well known for its range of pre-designed templates, however, that's not just it. When you go with the annual plan, Squarespace offers a free domain for one year. It also offers unlimited bandwidth and storage on all its paid plans.
It also has a pretty handy blogging platform built in minus the SEO features, though.
Design
On Squarespace, your website will no doubt look professional, sleek, and aesthetic. Some users complain that the loading times could be better as it affects the overall user experience.
With templates that are both easy to use and free, you can build a stunning online store that will surely captivate the attention of your prospects.
Pricing
| Plan | Monthly | Yearly |
| --- | --- | --- |
| Personal Plan | $19 | $14 |
| Business Plan | $33 | $23 |
| Ecommerce Basic Plan | $36 | $27 |
| Ecommerce Advanced Plan | $65 | $49 |
From the price point of view, Squarespace is surely not the cheapest. It is up to you to decide if the features are worth the money you pay.
Ease of Use
It is quite easy to build your website on Squarespace using the website templates that are available. These templates are well-designed and look very professional too. They are also very easy to customize.
However, if you want to change the images, it may break the resolution of the theme. You need to ensure that the images are all high in quality.
4. Weebly
Best for basic website design.
Paid plans start at $12 per month.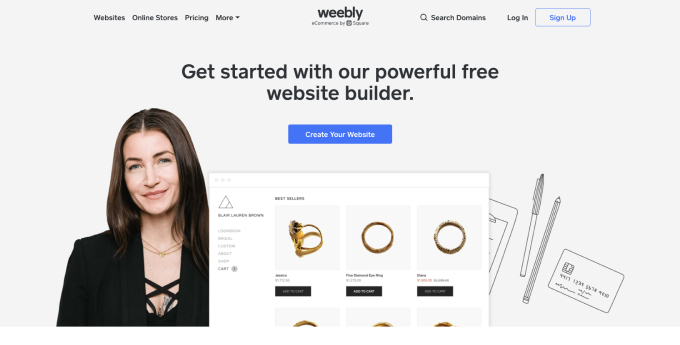 Weebly is an easy-to-use website builder and the closest Wix alternative that allows you to create your site using a variety of pre-built templates.
It has become one of the most popular websites ever since it is integrated with Square, Inc. With Weebly, you can stop worrying about customers not paying, since the finance company will handle it all.
Features
While Wix has most of its features supported by third-party apps that hike the overall costs, Weebly on the other hand has all of its features built into the interface.
This, along with the range of in-house features, helps with reducing the costs considerably.
Design
Though Weebly has a range of well-designed templates, these templates are to be used as it is. You cannot experiment with the design elements or customize them much.
The template options are also pretty limited, however great the selection is. And since there is no flexibility in customization, the websites could end up looking similar to one another.
Pricing
Weebly has a free plan, however, it is not much recommended in the longer run. Here are the paid plans:
| Plan | Monthly (when billed yearly) | Best For |
| --- | --- | --- |
| Pro | $12.00 | Groups & Organizations |
| Business | $25.00 | Small Businesses & Stores |
| Business Plus | $38.00 | Power Sellers |
Ease of Use
When it comes to ease of use, Weebly falls behind compared to Wix. There is a steep learning curve involved with Weebly even though it is designed for people who don't have coding experience.
However, it automates most of the services using the IFTTT (If This, Then That) automation feature.
5. Zyro
Best for its range of AI tools at a low price
Pricing starts at $4.90 per month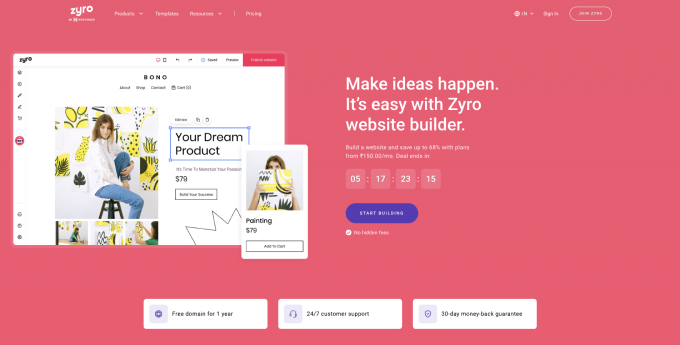 Zyro is a comparatively basic platform that shows a lot of potential and it is the closest alternative to Wix. It is an AI-powered website builder, just like Wix, which makes it very easy to build beautiful websites in a matter of minutes.
When it comes to the eCommerce front of the platform, the features are pretty limited and basic. However, it is the best platform to get started.
Features
Zyro is a website builder that uses limited functionality to its advantage in building websites easily and quickly.
The platform has a range of AI-based tools like logo maker, heatmap tool, writer, etc. These tools make it so much easier and fun to work on Zyro.
Design
Zyro also has over 100 customizable templates that are well-designed, quick, and responsive. The designs look good and aesthetic across multiple devices.
Apart from that, Zyro also uses a grid-based editor, which ensures that the website layout is well-structured and all the design elements are in line.
Pricing
Though Zyro does not offer a free trial, it offers a 30-days money-back guarantee, which is actually a better option.
| Plans | Monthly | Yearly |
| --- | --- | --- |
| Website | $8.99 | $4.90 |
| Business | $11.49 | $6.90 |
| Online Store | $15.90 | $10.90 |
| Advanced Store | $25.90 | $18.90 |
Ease of Use
Zyro is the best alternative to Wix when it comes to its ease of use. Some aspects, like its limited features and customization options, may seem like a disadvantage.
However, with Zyro, these are the major reasons why the platform is easy to use. It is very simple and straightforward!
6. Jimdo
Best for cheap, value-added subscription.
Pricing starts at $9 per month.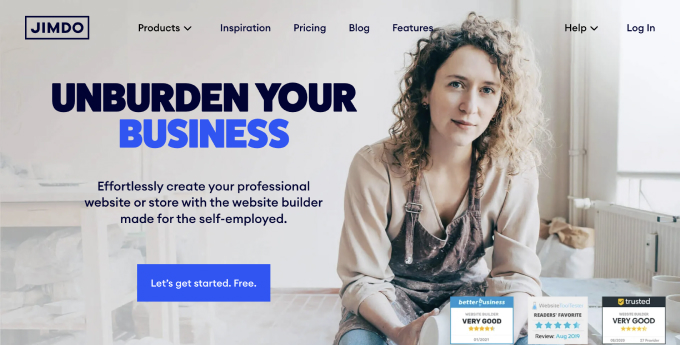 Jimdo is the perfect solution for anyone who runs their own business. Whether you're an entrepreneur, freelancer, or just starting out in sales, Jimdo offers affordable and easy website building.
It offers professional services to help make sure your website looks good on any device. Jimdo is quite popular among small businesses due to its affordable prices and simple interface.
Features
Jimdo is very intuitive and extremely flexible for any type of project you may have at hand, be it a one-page website or a full-blown e-commerce site.
Since they are more keen on being the easiest and quickest website builder, they do not bother a lot with the features, which is surely a huge disadvantage.
Design
Jimdo uses a very simple and clean interface that is very similar to Wix. They have a range of easily customizable templates that can be used to build your website quickly.
You can edit the font and color of the template sitewide in a single go. This helps when you need to include branding elements on your eCommerce website.
Pricing
Jimdo's subscription plans are very cost-effective and value-added. However, the room to scale is limited.
The eCommerce plans are billed annually. Here are the plans:
| Plans | Monthly |
| --- | --- |
| Basic | $15 |
| Business | $19 |
| VIP | $39 |
Ease of Use
With the ease of use, Jimdo falls back due to its limited customization options, which makes it hard and time-consuming to build the website.
If you want to save time and effort, you should forgo all sorts of customization and stick to the templates that are already available on the platform.
7. Big Cartel
Best for artisans, creatives, and small brands.
Paid plans start at $9.99 per month.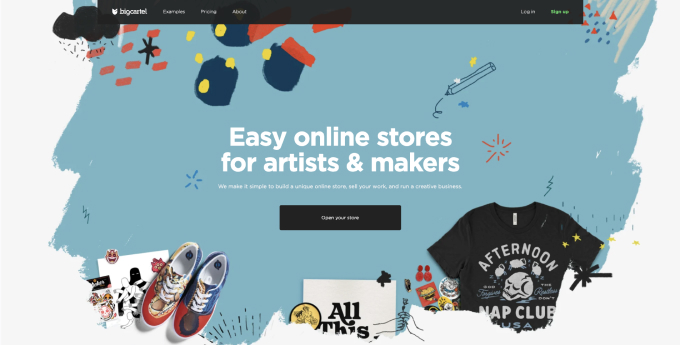 Big Cartel is the online platform for creatives to sell their art. It has a huge, tight-knit community that makes visibility and content sharing easy.
It's like Etsy but with a social network and more. Big Cartel allows you to sell your own artwork, or even make commissioned pieces.
Features
Big Cartel provides artists with everything they need in one place, like a gallery. It also has social media integration so fans can follow their favorite artists' works without leaving the app.
Their entire functionality is very minimalistic but loaded with eCommerce tools like payment gateways, marketing tools, etc.
Design
Big Cartel is designed especially for people who have no coding experience or technical skills. Their theme library is pretty limited, but they are all free.
Furthermore, these themes are well-designed from a creative point of view. They are very aesthetically pleasing and easily customizable. You can experiment with various design elements like logo, text, font, color, etc.
Pricing
Big Cartel has a very useful 'Forever Free' plan where you can add up to 5 products and some limited features are also included.
| Plan | Monthly | You can list |
| --- | --- | --- |
| Gold | Free | 5 Products |
| Platinum | $9.99 | 50 Products |
| Diamond | $19.99 | 500 Products |
Ease of Use
When you initially get on the Big Cartel platform, you will be guided through a step-by-step process to set up your store and start adding products.
Further, the store can be customized very easily through a WordPress-style editor. Managing your products and orders is easier than ever through your online store dashboard.
8. Volusion
Best for large eCommerce businesses.
Pricing starts at $29 per month.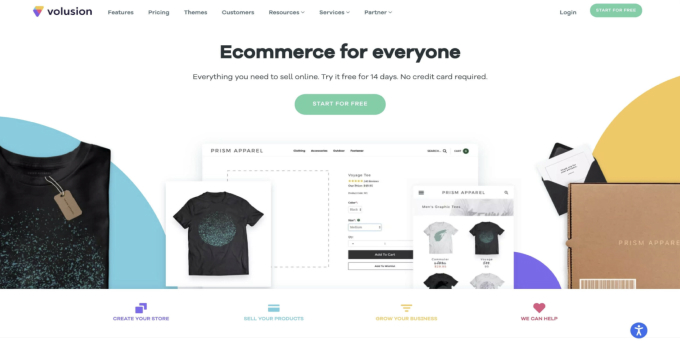 Volusion is one of the oldest eCommerce website builders (created in the late '90s), and it still packs a punch. It has evolved into cloud-based eCommerce software that makes it easy for sellers to get started with an online store.
With a few clicks of the mouse, you can have your very own website that accepts payments and offers product listings with this platform.
Features
One of the unique features of Volusion is its ability to accept direct calls from customers. When customers place their orders on Volusion, they can do so through the website's dashboard.
This is a good feature because it means that clients can order your products straight from you. There is no limit on how many products you can add and there are no transaction fees, making Volusion best for large-scale eCommerce businesses.
Design
Volusion is also a drag-and-drop type website builder that follows the WYSIWYG or what-you-see-is-what-you-get rule in their design process. However, the templates available on Volusion are far lesser compared to its competitors.
Their themes are completely responsive across multiple devices, and most of them are free.
Pricing
Though the price plans for Volusion are on the higher side, it is still a great option for eCommerce websites when compared to personal websites.
| Plan | Monthly | Yearly |
| --- | --- | --- |
| Personal | $35.00 | $31.50 |
| Professional | $79.00 | $71.10 |
| Business | $299.00 | $269.10 |
| Prime | Based on GMV | Based on GMV |
Ease of Use
Volusion is an eCommerce platform above all else and hence most of its features are focused around providing the best eCommerce experience.
Apart from the aesthetic online store-front, the platform also offers inventory management, order management, and much more.
9. Shopify
Best for Online stores that are constantly scaling.
Pricing starts from $9 per month with a 2.9% commission.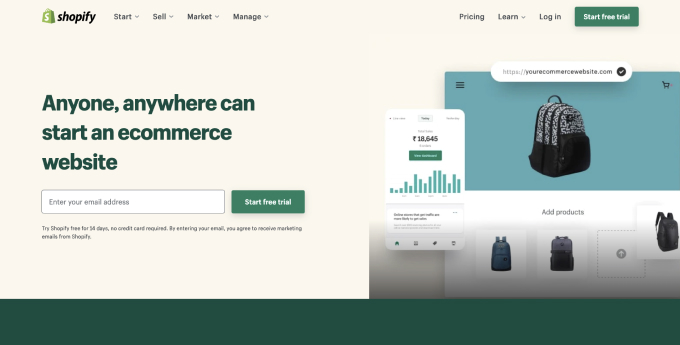 Shopify is a powerful eCommerce solution that makes it easy for anyone to sell online.
No matter what you're selling, they have the tools and expertise needed to get your products in front of people all over the world (more than 1.7 million companies in 175 countries).
Features
Shopify has several unique features aimed at boosting its users' online stores. One of its unique features is its cart abandonment recovery tool, which is a great way to increase your sales.
It allows you to capture data on what items were abandoned in-store, avoiding unsold items in the future. However, you cannot set up a multi-lingual store on the platform.
Design
Shopify has a range of aesthetic themes specially designed for various types of industries so that everyone can find a theme that is most suitable for their business type.
However, customization of these themes is pretty restrictive and needs some design expertise.
Pricing
From a pricing point of view, Shopify is surely a lot costlier than Wix and other similar platforms.
| Plan | Monthly | Transaction Fees |
| --- | --- | --- |
| Shopify Lite | $9 | 2.7% per in-person transaction |
| Basic Shopify | $29 | 2.9% + 30 cents per online transaction; 2.7% per in-person transaction |
| Standard Shopify | $79 | 2.6% + 30 cents per online transaction; 2.5% per in-person transaction |
| Advanced Shopify | $299 | 2.4% + 30 cents per online transaction; 2.4% per in-person transaction |
| Shopify Plus | Quote-based | Based on your credit card sale volumes |
Ease of Use
Shopify is a lot harder to get started with when compared to Wix, as it requires some design expertise. There is a steep learning curve involved with the platform, which is pretty off-putting for new entrepreneurs.
It is very easy to run your online business and scale it on the platform. Shopify is more suited for people who are serious about their eCommerce business.
Read our
Wix vs Shopify
comparison to find out more about which is best for you.
10. WooCommerce
Best for blogging integrated online stores.
WooCommerce is technically a free plugin on WordPress.
WooCommerce is the most popular eCommerce platform for small and large businesses alike.
With it, you can seamlessly sell products from your website using WordPress without having to spend hours building out complicated interfaces.
Features
WooCommerce is known to be flexible. With a full suite of plugins, themes, and add-ons, you will always have something that fits your needs no matter what they may be.
From creating e-commerce sites to writing blogs or building personal portfolios for individual designers, you can do it all on the platform. It is the most feature-packed Wix Alternative you will find.
Design
WooCommerce is better called a plugin on the WordPress platform, rather than a platform in itself. Since it is connected to WordPress, the design factor is pretty much covered.
With the range of themes, you can brand your eCommerce site exactly how you like. There is a learning curve involved, however, it is manageable.
Pricing
As mentioned before, the WooCommerce plugin is free of cost. However, there are other charges associated with building your eCommerce site on this platform.
|   | Low Pricing Range: | High Pricing Range: |
| --- | --- | --- |
| Hosting | $6.95/month | $12.95/month |
| Domain Name | $15/year | $15/year |
| Theme | Free WooCommerce theme | $35-129 professional theme |
| Plugins | Free | $100-150/year |
| Security | $10/year | $150-450/year |
| Dev Fees | Free | $1,000-6,000 |
Ease of Use
WooCommerce is surely not beginner-friendly when compared to Wix. There is a range of themes, but not all of them are suitable for an eCommerce website. You will need the help of a developer to build your website with the theme of your choice.
However, there is no better platform when it comes to integrating the blogging functionality into the platform.
11. BigCommerce
Best for Medium to Large Businesses.
Pricing starts at $29.95 per month.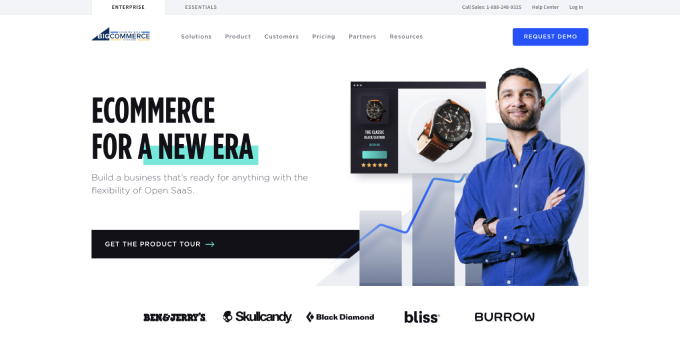 BigCommerce is specifically designed for scaling and growing eCommerce businesses that need custom solutions.
It gives you access to a flexible, open SaaS platform so you can seamlessly list, advertise, and sell products across over 100 channels like Facebook, Instagram, TikTok, Amazon, and more.
Features
BigCommerce has borderless commerce which brands can take advantage of as they can reach audiences anywhere in the world.
From its sales tools to inventory management, product catalogs to payment gateways, BigCommerce has it all. However, even with the myriad of features, Big Commerce is not very beginner-friendly.
Design
BigCommerce does have a range of themes that can be well-suited for online businesses across multiple industries and categories. However, not a lot of them are free.
When it comes to customization of these themes, again BigCommerce does not come close to the ease and creative freedom provided by Wix.
Pricing
BigCommerce is downright expensive when compared to Wix or even other eCommerce platforms. The pricing plans are as follows:
| Plan | Monthly (when billed monthly) | Monthly (when billed yearly) |
| --- | --- | --- |
| Standard | $29.95 | $29.95 |
| Plus | $79.95 | $71.95 |
| Pro | $299.95 | $269.96 |
| Enterprise | Custom | Custom |
Ease of Use
Getting a hang of the platform takes a lot of time and effort. It is not as easy as Wix. There are a lot of eCommerce platforms that are far easier to get started with.
Big Commerce is best suited for established businesses that can benefit from such a heavy-duty platform. They will also have the resources required to better handle their business on the platform.
And there you have it.
11 Wix Alternatives that you can choose from based on your needs and resources.
Who are the top Wix competitors?
Dukaan: Best for creating an online store quickly and easily
Webnode: Best for cost-effective subscription plans
Squarespace: Best for beautifully designed templates
Weebly: Best for basic website design
Zyro: Best for its range of AI tools at a low price
Jimdo: Best for cheap, value-added subscription
Big Cartel: Best for artisans, creatives, and small brands
Volusion: Best for large eCommerce businesses
Shopify: Best for Online stores that are constantly scaling
WooCommerce: Best for blogging integrated online stores
Big Commerce: Best for medium to large businesses
Conclusion
So there you go, with the 11 best Wix alternatives which are very similar to Wix.
People are mostly choosing Wix because it is great from the ease of use point of view. The pre-designed templates and easy drag and drop type website building are surely an advantage.
However, Wix has its own downsides and issues which is why people have started looking for better options for Wix.
If there is a platform where you can create your online store very quickly and easily, without any coding skills, wouldn't that be the best?
We are here to tell you that it is possible. Watch this video to learn more:
FAQs
1. What can I use instead of Wix?
You can use the Wix alternatives we mentioned above: Dukaan, WebNode, WooCommerce, Shopify, Squarespace, Volusion, Weebly, Big Cartel, Jimdo, and BigCommerce.
2. Why you shouldn't use Wix?
Wix is pretty limited in functionalities and customization. You may find it difficult to update your website without the assistance of a designer or developer. There are no optimized SEO features that can help you rank higher in search engines on Wix.
3. What is the best free website builder?
Most website builders offer a free trial before going in for the paid plan. If you want to build an eCommerce store for free, you can choose Big Cartel. However, the plan is basic and has a lot of limitations.
4. Is Wix publishing free?
You can get started for free on Wix. However, if you want to publish your website, you will have to go for one of their premium plans. Their plans start at $14 per month.
5. Is Wix better than WordPress?
Wix is a great option from a design point of view, and it is also easy to use. When it comes to creating a professional and fully customized website, WordPress is a better option.