Wix vs Shopify?
Really?
Isn't that like comparing apples to oranges?
After all, Shopify is known as an online platform for building online retail businesses.
Wix, on the other hand, is a tool that lets you build a generic website without coding skills. It makes website building for entrepreneurs as easy as possible.
If you're looking to build an online store or take your offline business online, isn't Shopify the right choice in this conversation?
Well, here's what Wix has to say about that: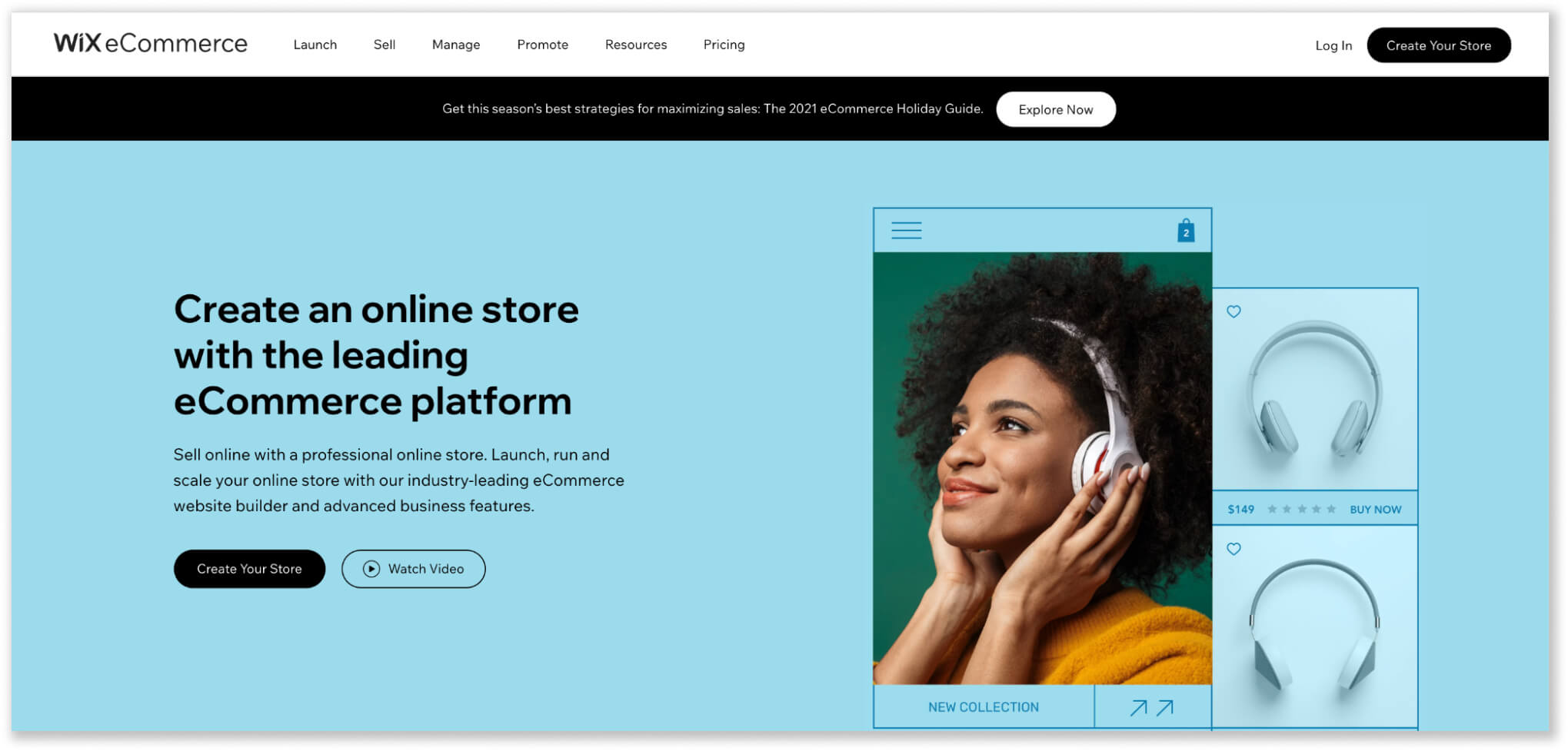 Plus, Wix's network of online stores grew from 400,000 to over 600,000 active stores this year.
Ah, now that makes things different.
Wix has changed from a pure website builder. It now allows you to make an online store built for conversion. And all with the same ease Wix is known for.
And with Shopify being known for the same ease, which platform should you choose when you're building your online store?
Well, we made this in-depth look at both platforms to help you decide.
Let's get to it, shall we?
What is Wix?
Wix, as mentioned above, is a website builder.
And not only is it one, but it's also an easy-to-use website builder, thanks to its drag and drop editor.
Of course, you're going to get more flexibility on the paid plans, but you already get plenty of valuable features on the free plan. It has hundreds of customizable website templates and comes with a free Wix domain: accountname.wixsite.com/siteaddress.
But the best part about Wix is its Artificial Design Intelligence (ADI for short). You answer a few questions, and Wix ADI creates the perfect site for your needs — well, based on its interpretation at least.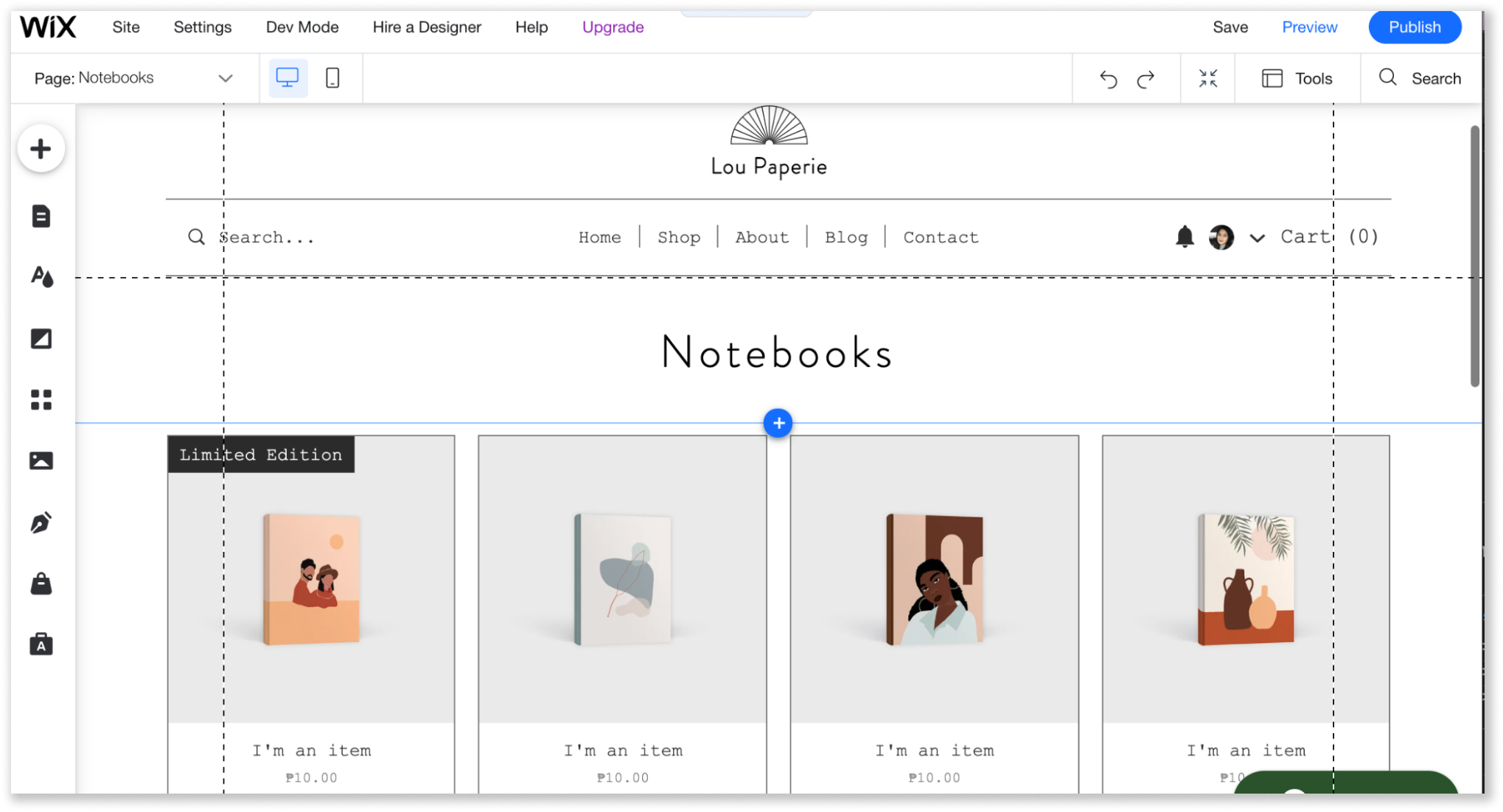 At the very least, it's quicker and is a more simple process than if you were the one building the website. We feel that if it's going to be your first time to use it to make an online shop, you'll definitely appreciate it.
Top features:
Easy-to-use website builder, even if you have no web development background; you just drag and drop website elements
Domain, storage, and so on are all available on its free plan — and it's also easy to upgrade to paid plans
Wix ADI is available for those who want AI to take care of designing their websites
What is Shopify?
Shopify is a platform you can use to create your online store. There's no need to buy or build a website from scratch. Just open a Shopify account and you can start selling your products immediately.
Shopify software has an easy learning curve. So, just like Wix, it's ideal for people who will be taking their businesses online for the first time. And for those who have no idea how to make online shopping platforms.
You'll also love the built-in e-commerce tools Shopify has, all of which you can use to further market your store and increase your sales.

Unlike Wix, there's no free option, but they do have a 14-day trial. All the features you get from the paid plans, you can try for free. This includes a storefront, payment options, a shipping partner, back office, and even marketing headquarters.
And, while Shopify doesn't have ADI, they do offer the services of Shopify experts. They can help make the site for you — for a fee, of course. But they promise professional results, so your investment may be worth it.
Top features:
A done-for-you platform specifically made for starting an online shop
14-day free trial lets you try the platform with access to all features before you fully commit
​​Shopify experts are available to help you build your store
What should you use for your e-Commerce platform?
Now, you want to pick a platform as quickly as possible so you can start selling today, right? Here are the things that will help you decide quickly when choosing between Wix and Shopify.
Ease of use 😌
Why is this important? As we already said, you want to be able to start selling as soon as possible. And the easier the platform to use, the better.
Shopify may claim to be the best platform for creating and managing online stores. But while it's generally easy to use, compared to Wix, Shopify websites are harder to edit.

Of course, that's because its focus is on the products and how your shop is presented. So if you're going to want to change anything, you'll have to learn how to edit HTML.
Verdict
Wix's drag and drop feature wins this one.
Cost comparison 💰
You don't want to be spending more than what you're earning from your store, right? You'd want something that fits your budget.
Now, as we already mentioned, Wix offers a free plan, but you'll get more features when you upgrade: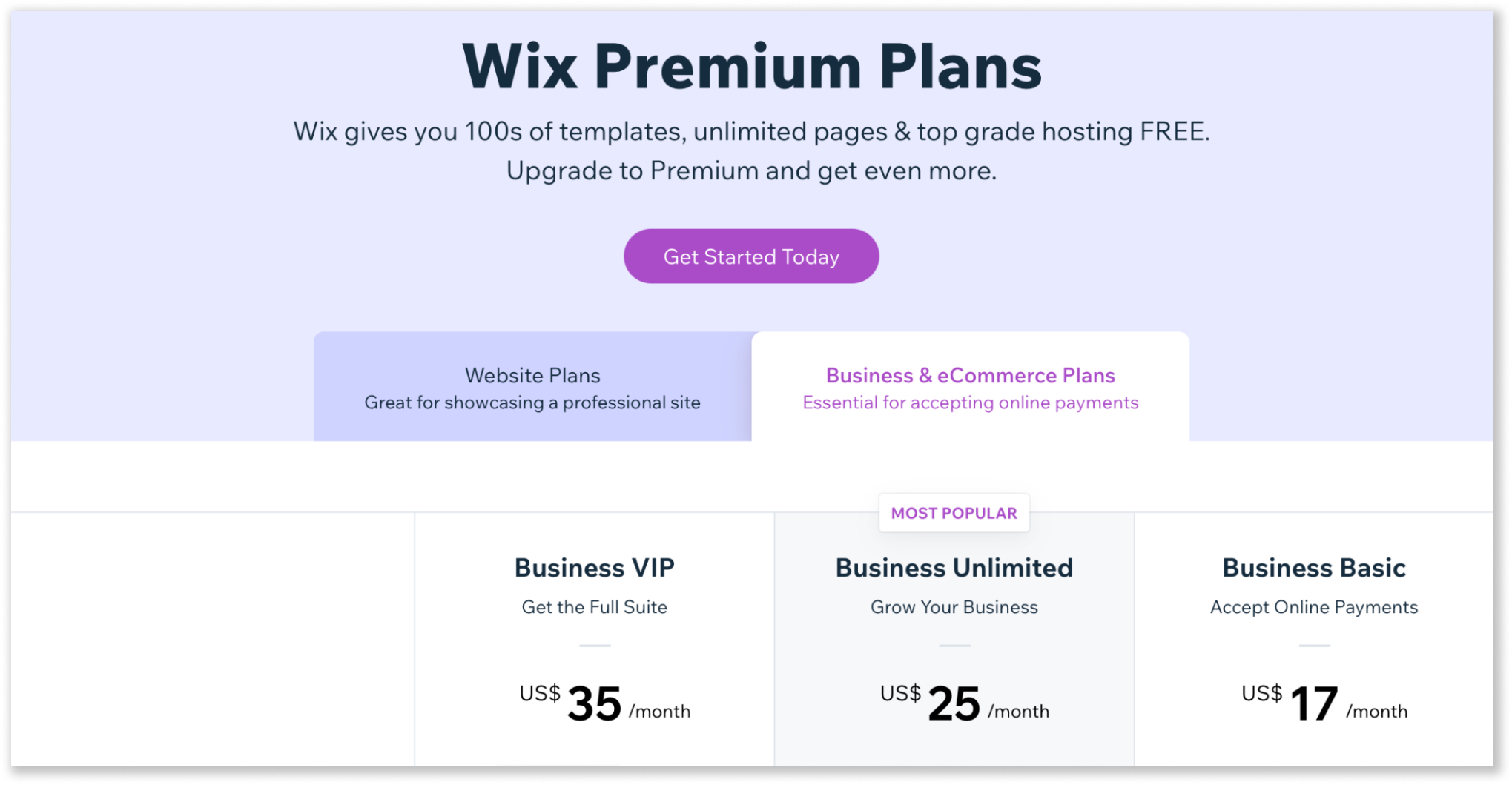 Shopify's is a bit more expensive: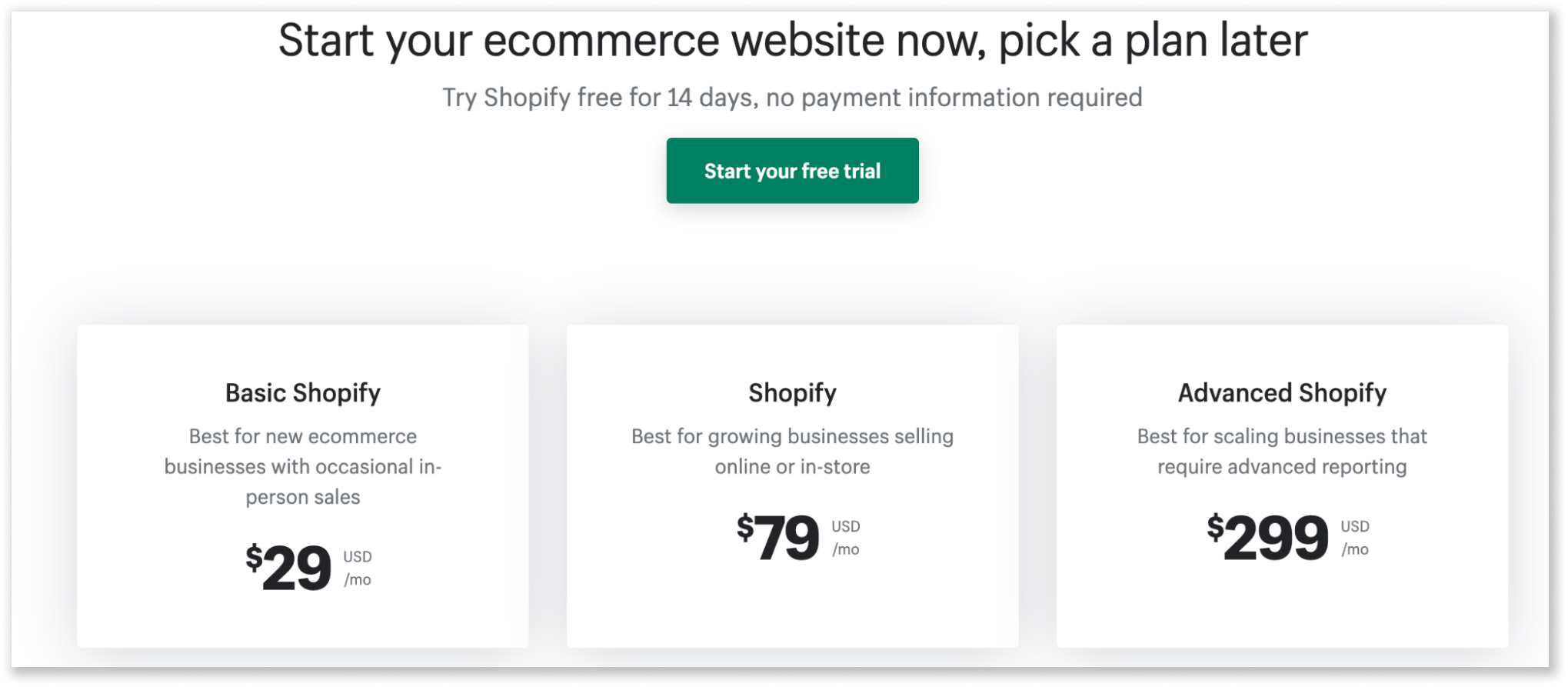 You can also save money when you subscribe to either Shopify or Wix annually instead of monthly.
Verdict
We'd go for Wix for this category since the costs are lower than Shopify's.
Inventory size 📦
Just having a platform is not enough. You need to have one that lets you upload as many items as you need, especially if you're planning to sell a wide variety of them.
So if you're planning on selling thousands of products, Shopify wins for you here, as you get to upload unlimited products. Wix, on the other hand, lets you upload only 5,000 products.
Verdict
If you have a small business and plan to keep it small, you can stick with Wix. But if you plan to scale your shop to have over 5,000 products or offers, it's better you go with Shopify instead.
Payment methods 💳
You want a platform that lets you receive your payment via pretty much anything. Otherwise, it would be a hassle for you to make even just a single sale.
For Shopify, you can enable a variety of methods. You can let customers pay you with credit cards, PayPal, Facebook Pay, Amazon Pay, and even cryptocurrency.
Wix, on the other hand, is slightly more limited. Credit and debit cards are accepted, and while it lets you use PayPal, it only does so through your cards. You can also get paid via iDEAL, Pay Now by Klarna, Pix, Boleto, and Giropay, depending on your location.
Verdict
Because of the variety of payments Shopify accepts, Shopify wins in this category.
Shipping options 🚀
The platform you choose should help give peace of mind to both you and your customer that orders will arrive on time and won't get lost.
Shopify makes shipping easier for you as it offers free shipping to and even alternative shipping providers. It can also provide curbside pickup and local delivery. And it has a built-in real-time shipping quote.
All without the need for apps.
Wix, on the other hand, is fairly reliant on apps. To be fair, it does have multiple shipping options like Shopify.
But if you want to have real-time shipping quotes, you have to add a paid app like ShipStation to your store. And that can cost an extra $9 – $159 per month.
Verdict
Shopify wins this one, as it has more options for getting products to your customers, plus the built-in real-time shipping quote. Wix is too reliant on apps.
Wix vs Shopify: what should you choose?
Because of the history of each app, we agree with the verdict that Wix is a better option for building websites that happen to have a store.
Shopify, on the other hand, is still the better bet if you want a straightforward website for selling.
Dukaan: the easiest way to sell online
Of course, if you want a no-fuss way to start your shop and sell online, there's nothing more simple than Dukaan.
Why Dukaan?
Just check out this five-star review:

Going with Dukaan means growing your online business is a guaranteed breeze.
With Dukaan, you can do the following:
Create your store and customize its appearance
List down your products so they can be bought immediately
Accept and track orders
Take online payments, which get credited immediately to your bank account
And so much more, as Dukaan continuously evolves and adds more features for its users.
And while it's technologically advanced, it's very uncomplicated and simple to use. If you have used WhatsApp or Gmail, you'll have no problem navigating this app.
You can use Dukaan to sell whatever you want — whether it's tutorial services or actual goods — whenever you want, and wherever you want.
Plus, starting your shop is very simple. It just takes three easy steps:
And one of the best parts, especially for first-time sellers or small business owners?
The price tag is super affordable at only ₹2,499/quarter or $100 yearly to get all the features you will need to get your online business off the ground.
Top features:
Can be used by anybody, from small business owners to homemakers looking to add additional income, via laptop or mobile device
Comes with a 14-day free trial, and a very affordable price
Caters to all kinds of things that can be sold online, whether goods or services
So simple and uncomplicated, anyone can use it to start their online shop.
Feature-packed to have everything you need.
All at a cost that will not hurt your bank account.
What more can you ask for?'
Get started with Dukaan today — in thirty seconds or less!
Read: Shopify Vs WordPress | Woocommerce Vs Shopify