Caught in confusion between Wix vs. Shopify? The two of the most popular eCommerce platform designs and features make them easy to use. But which is better?
Introduced in the space of eCommerce website builders in 2006, Shopify and Wix have always been each other's competitors. Both platforms are two excellent website builders. They should be on the list of every eCommerce seller.
As we speak, Shopify powers more than 1.7 billion merchants globally, and Wix powers about 200+ million websites. In 2020 alone, Wix was the preferred choice for millions of new users.
That does not mean, you need to opt-in for Shopify or Wix because many people are getting started with the platform.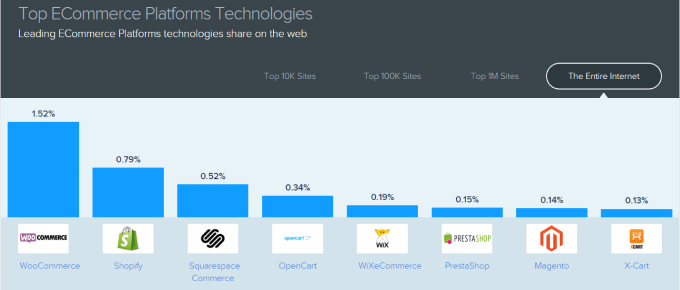 Shopify is a solid option for eCommerce applications. The eCommerce platform comprises fully responsive templates. It also provides AMP support on product pages and dropshipping features. Apart from these, you can also avail the multi-currency selling functionality. It is known as an online platform for building online retail businesses.
On the other hand, Wix is all about the drag-and-drop build. It's quite simple and easy site-building for beginners. Wix is a platform that lets you build a generic website without coding skills. It makes website building for entrepreneurs as easy as possible. However, the feature sets of both platforms have changed significantly over time. Wix now offers a lot more selling features than it did in the past.
Shopify's content management tools have also advanced significantly. Both Shopify and Wix allow you to create a website easily and quickly. And both let you sell products and services online.
In an overview, Shopify is a full-fledged eCommerce platform that's designed for eCommerce. Wix is more focused on being a website-building platform. But which is better?
To help in your decision we have analyzed Wix and Shopify looking at important features. The features considered are cost, eCommerce capabilities, and customer support.
Plus, we focus on ease of use and scalability. Each platform has its pros and cons, which we explain in depth in this Wix vs. Shopify comparative study.
Wix Vs Shopify – Which is Best for Your Needs?
1. Easy to use interface
What is your reason behind getting started with an eCommerce platform? Do you want to simplify the hard work of coding?
If yes, your chosen platform should make it easier for you to build and manage your store.
This flexibility can help you drive more sales points. Be it customizing the CTA button or other page elements, you need an easy backend interface.
Shopify is designed to help merchants in building eCommerce stores with extensive features. But it is never easy to use compared to Wix.
The eCommerce platform user experience is so well-designed. You would require just a very few clicks to create your first store in minutes.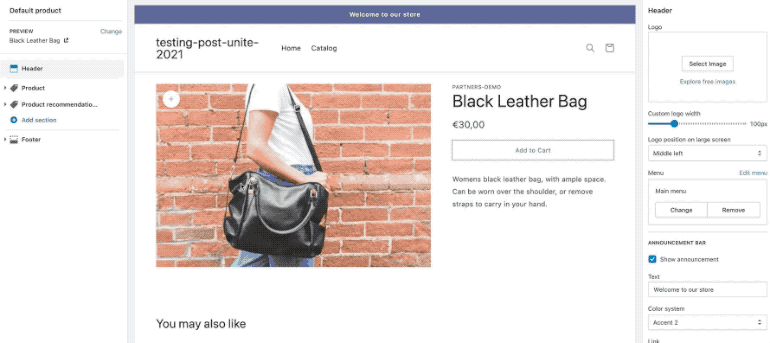 The "tree-down" perspective of collapsible sections makes it simpler. You can easily see the different parts of a page. Especially with the introduction of Shopify 2.0.
The days of having to look through a big list of sections to find the one you need are long gone.
On the other hand, Wix might not provide the interface support as compared to Shopify. But the platform offers an easy-to-use interface.
"The Wix platform provides an AI-based website-builder assistant (Wix ADI)".
The website builder understands your requirements and creates a website for you. With Wix, you can create a website effortlessly. You don't need to have any knowledge of web technologies like HTML or CSS.
The drag-and-drop features make it easy to personalize the websites you're building. What's more, the screen display can be optimized automatically for different devices.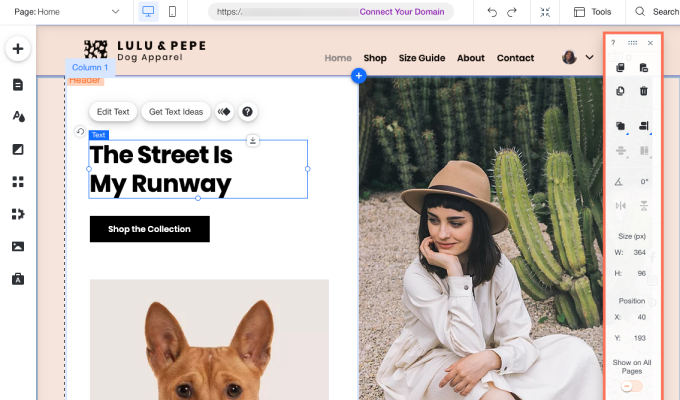 It allows you to play around with the attributes available and build valuable experience. You can also try out the various combinations possible before selecting one.
The Wix editor is for people who want to build a site with little technical knowledge. The platform can be handled even without any technical knowledge.
From the edit option on each of the page elements to adding products, you can do it efficiently with Wix.
In comparison between Wix vs. Shopify, the platforms provide an excellent beginner interface to start.
While Wix is generally easy to use, compared to Shopify. Still, Wix edit options aren't very user-friendly. You can learn more about platforms similar to Wix here.
Of course, that's because its focus is on the products and how your shop is presented. So if you're going to want to change anything, you'll have to learn how to edit HTML.
That said, Shopify may claim to be the best solution, but Wix is one of the easiest website builders.
Their user experience is excellent, and their guides are easy to use. Adding an eCommerce module with their drag and drop editor is just very intuitive.
2. Pricing
When getting started, you are required to look into the features of a platform. Along with that, you need to look at the pricing plans.
This might seem like a common-sense suggestion, but this will help you make a better decision.
Every platform is designed to serve a different purpose. There isn't any specific solution for a particular industry.
That said, you need to look for a platform that can serve your best interests, at your desired expense.
Shopify offers four plans – Shopify Lite, Basic Shopify, Advanced, and Shopify Plus. In which, there are 2 non-enterprise plans and 2 enterprise-level.
Businesses that are just starting out online may consider Shopify Lite. It costs $9 per month and has transaction fees that start at 2.7 percent.
It's the most affordable option on Shopify. It is also less expensive than some of the many other eCommerce platforms available.
The Shopify Lite plan includes basic features to get started with selling online. The plan does not provide you with an online store. It allows you to add Buy buttons to your existing websites easily.
Sounds complex?
Well, it's not. If you're running a blog on a 3rd party platform and decide to get started with an online store, you can. The support to start an online store on another platform is given under Shopify lite.
The plan would allow you to keep that same blog and integrate some products to sell on that site. Therefore, you can't build a full-fledged online store using Shopify.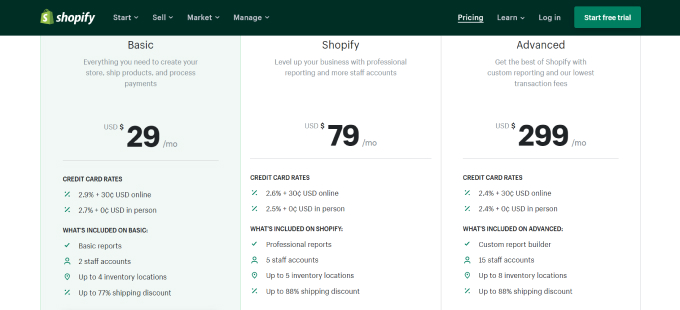 The other Shopify plans like basic, advanced, and Shopify Plus start from $29/ month and heads up to $299 /month.
Each plan has a set of features. You can upgrade or downgrade your Shopify plans as per your business requirements.
There are also two other fees. You need to pay some commission to use any payment gateway. Another one is the platform charges.
That is based on your turnover using the platform, you are required to give some commission.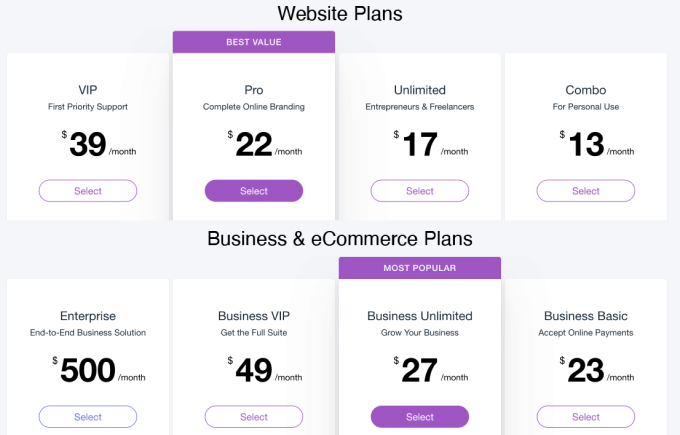 With a variety of price points, Wix is frequently viewed as a site builder that can practically "do it all." Wix offers the widest selection of plans (8 in total).
The pricing plan is divided into 2 categories. One is the 'Website Plans' category and the other is the "eCommerce plan" category.
You'll find four individual plans in the 'Website Plans' category. The other 3 plan options can be considered when you plan to include eCommerce features.
Furthermore, Wix's pricing ranges from being absolutely free to $49 per month. It could even cost you $500 per month if you choose an enterprise-level option.
You can also opt for yearly payments. The best part of opting for yearly plans is that you can avail a free domain for one year.
If you are running a small blog or have minimal content management needs, you can opt for the Wix free option. It will cover all your bases.
But if you are a store with large, varied traffic or need to manage multiple sites, you can opt for the Wix Pro plan.
The plan supports you in increasing your data and capabilities. Plus, you can create professional logos and social media logos.
Wix doesn't charge for transactions upfront. But it depends on the payment you choose to integrate. Also, Wix is pretty self-sufficient when you want to explore growth options.
If you only want to optimize and maximize your store potential, you'll need to head towards Wix App Market.
The third-party apps purchased through the App market can cost you free or even some hundred per month. The charges totally depend on what you need and the extension you go for.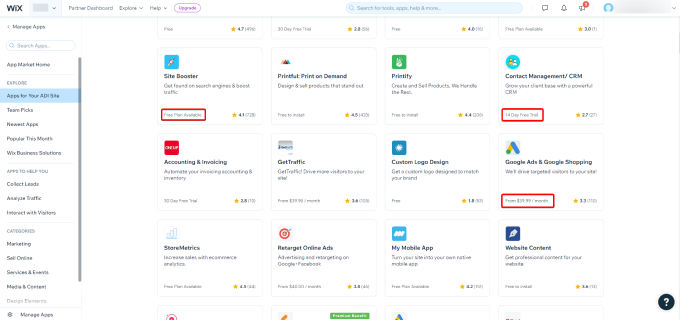 For instance, the Wix blog is free. Meanwhile, AppSell – Upsell & Cross-Sell will cost you a penny.
In a comparison between Shopify vs. Wix, both builders have good entry plans. The growth options, along with various plans are also good.
However, since Wix has more liberal choices like getting started for free, you can lean toward Wix.
3. Themes
How do you define yourself as unique from your competitor? Is pricing the only space you can mark yourself unique?
Well, it's not. Your store theme and the experience delivered can help improve your brand presence. in your customer's minds.
It is also noted that customers decide whether to stick around or leave within seconds. That's why your store design should be aesthetic, professional, and stylish. What does that mean?
Your theme should support a diversity of high-resolution images, video, and slideshow capabilities.
Along with that, it has to support strong color and font themes. The support provided by your theme will help you easily highlight your store content.
Whether you are starting or running a business for some time, you need the perfect theme. Your theme should reflect your thoughts. It's crucial to make a good first impression.
That is, the template you choose should have visually engaging functionalities. Your theme design has to keep your customer's attention on your products.
So, your store's style and layout are important for a successful store.
When you get started with Shopify, you have the option to go with free themes and premium ones.
By default, Shopify offers a Debut theme. But if you are getting started with Shopify 2.0 or now, you will get Dawn as the default theme.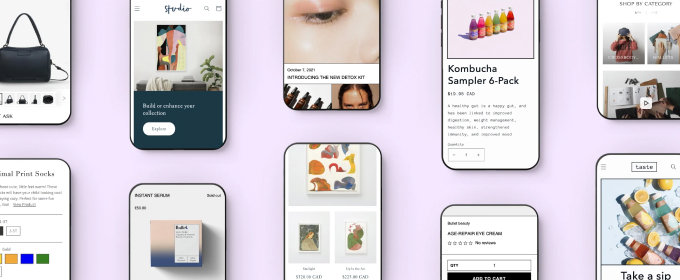 Apart from a few free Shopify, Shopify hosts a lot of premium themes. These premium Shopify themes undergo rigorous quality and bug testing.
They typically carry higher price tags than non-approved themes. The premium themes give you the easiest and most polished-looking businesses out.
If you opt to go for Shopify's free theme, there is no harm. All the Shopify themes are built by trusted Theme Store Partners.
As Shopify improves itself, the theme is also updated in delivering better functionalities.
Currently, Shopify offers over 600+ themes. Each theme is different from the other. The themes have different styles, layouts, and customization options. In a particular theme also, you have varied formats.
The flexibility offered by the themes allows you to get started effortlessly. There are only a few features that are common to every theme. That is:
Page elements: Body, footer, header, menu navigation.
Page types: Article, contact, blog, collection, custom, customer, home, password, product, and search.
If you want to start an online business without any technical knowledge, Wix will be the perfect fix. The eCommerce platform lets you start your business easily and at a lower cost.
Currently, you can find over 850+ theme templates. Each template is fully customizable.
That is, you can customize the look of your store without any external support. The templates available with the eCommerce platforms cover a wide range of business types.
If you want to get started as a blogger, consultancy, or service provider, you can find a template.
You can also find resume templates if you want to move from an entrepreneur to a job seeker.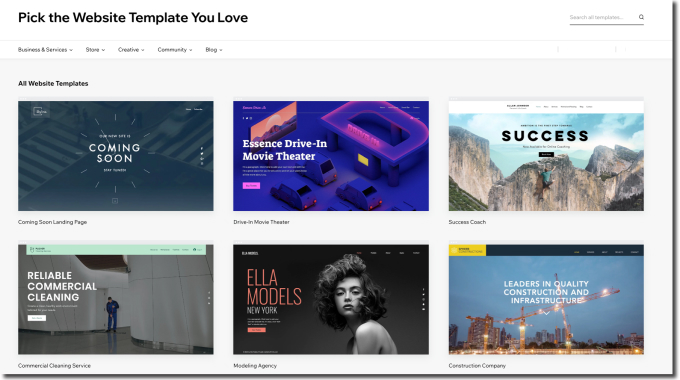 There's one downside when it comes to choosing a Wix template. You are restricted from changing the templates.
That is, you can not apply a different template to a site you have created. Therein, you need to find a suitable one for your store right at the beginning.
Additionally, your store must be mobile-friendly. To keep your templates mobile responsive, you would need to make a few adjustments in the Wix mobile editor.
The reason to opt for Wix templates is the possibility to customize all the templates.
You aren't restricted to customize the online store template. Therefore, you can customize the template without any holdbacks.
That being said, there are numerous reasons why you should use a website builder like Wix for your eCommerce store.
Wix offers far more customizable templates, more blog/vlog features, and podcast syndication.
All of which are beneficial if you use the content as part of your marketing strategy.
In both Shopify and Wix, you are likely going to be hitting up the Theme Store, where you'll browse, try, and eventually choose your eCommerce theme.
In a comparison between Shopify vs. Wix, Shopify is likely the best win. The UI, UX, and other design elements are carefully crafted in Shopify themes.
Plus, Shopify themes ensure to deliver the best buyer experience, conversion flows, and responsive storefronts.
The only drawback of why not Wix is because of its mobile responsiveness.
4. Plugins/ App store
To scale your business higher than before, you need to address the market demands quickly. From texting and calling to taking payment, WhatsApp is updating.
These continuous updates are to ease the customer experience. Each new update plays an important role in keeping things moving.
To put things straight, let's say you need a subscription option for your store. And it's likely to be a temporary requirement.
So, would your custom code with the help of experts or look for an easier option? Every time you want to introduce new functionality to your store, you don't need to custom code.
You don't have to waste your time creating functionality from scratch. Whether it's a temporary or necessary need, you can get started with an app.
Third-party App integration allows you to put in place various features and tools. This flexibility will help you move things faster, which otherwise might take months.
Even though you get started with in-house design, you would need time to update. This continuous stage of refinement is done by the 3rd party app developers.
The support from the app developers will eventually save your time and efforts.
Launched in 2009, the Shopify app store has tons of free and premium apps. You can install them in your store with just a single click.
The apps help in expanding the functionality of Shopify merchants' online stores. That said, any merchant on Shopify can sell more while saving time.
The Shopify app store makes it super easy to find a suitable app for a specific task or feature. Especially with the introduction of an improved App store.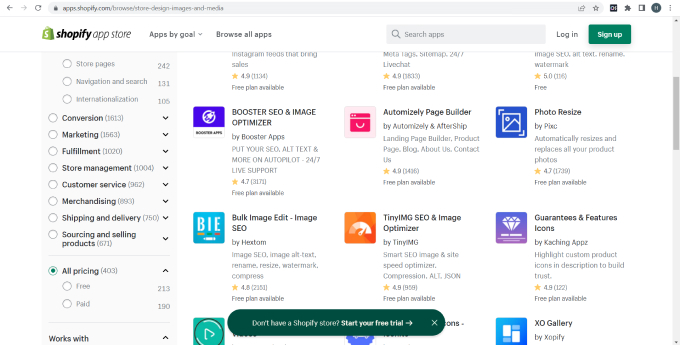 The new Shopify App Store prioritizes app discovery based on your behavior. Yes! The app store will highlight the apps through personalized recommendations. This does not mean, you are not allowed to explore other apps.
Shopify helps build an adaptive user experience. Especially with the redesigned interface, and machine learning algorithms in place.
The improved search functionality will allow Shopify merchants to find the right apps. As app stores improve, merchants can steer better and faster business decisions.
Currently, the Shopify app store listing is more classified. You can browse the app by your goals or look into apps based on their category.

The initial home page of the Shopify app store will introduce the "Most popular", and "In the spotlight" apps.
The "In the spotlight" app is a recently introduced app. Next up, you will see "Store design", "Sourcing products", and lastly "Made by Shopify" category apps.
With this new, conversion-optimized layout, merchants on Shopify can discover reliable apps faster.
Plus, the decision to go with the best is also made simpler. Apart from Wix, if you want to find alternatives to Shopify, you can read our blog.
No matter what you want to get started with Wix, the custom designs and tools will help you scale.
The eCommerce platform isn't just limited to creating a website. Especially with the Wix App market in the picture.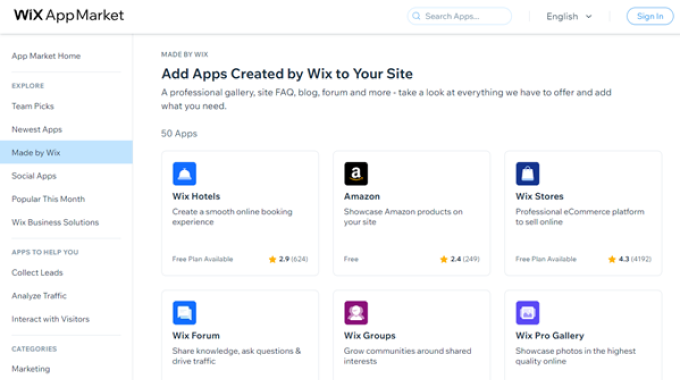 The Wix App Market offers more than 250+ powerful business tools. Every app is designed and developed to help you increase your sales. You can also avail various growth options in the eCommerce business.
In the Wix App Market, you can collect leads, analyze visitor traffic, engage with clients, and more. You can also leverage your independence and adaptability.
These options will allow you to monitor all your business activities. Plus, stay on top of things without stressing or too much effort.
Wix apps allow you to bring in new features. Picking the right Wix app can significantly improve your website functionality.
The Wix app market offers both native and 3rd party apps. You can streamline and integrate the apps with a single click.
Wix apps are made to aid future success in addition to helping your website function. This provides a smooth, seamless experience for your website's visitors.
The delivered experience will help in creating a positive, long-lasting impression.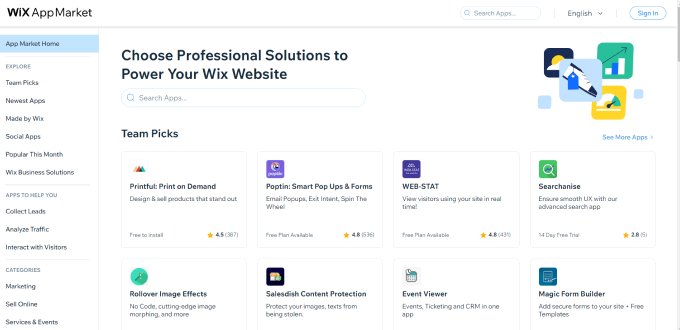 Wix apps function as extensions of your website. The app enhances the basic version and enables you to completely personalize it.
With so many different options, finding the perfect app can be time-consuming. To ease the app search, Wix categories the apps based on their functionality.
In an overview, you can find the best apps under various classifications. The classifications include "Team Picks", "Trending Now", "Newest Apps", and "Wix Business Solutions". With the introduction of new features, you can find hidden gems based on your goals.
To put it briefly, the Wix App Market greatly strengthens its platform. It enables merchants to build a feature-rich, non-compromising website.
When it comes to Wix vs. Shopify, the Wix app store is mostly full of apps. The Wix app market is designed to help you in adding new capabilities to your site.
The Shopify app store is equally focused on integrations with other apps. The winner in this comparison is Shopify. This is because of the improved personalized store-based app recommendations.
5. Essential management options
The success of many websites is not only influenced by the product prices, it depends on various factors.
Like, how well the site was promoted, the features it offers, as well as the user and website owner.
It is crucial for business owners to have the necessary tools and options. It will help build a better store experience effortlessly.
If your eCommerce platform lacks essential features, you risk losing customers. For example, if your platform does not assist with inventory management, a customer can be reversed.
This will eventually make the customer frustrated and purchase from your competitor. This results in a lost sale and, possibly, a lost customer. So make sure to follow the trends.
Inventory Size:
In today's competitive industry, effective inventory management is disregarded. But, it is a crucial component of every eCommerce company. The inventory management process must be accurate and efficient.
That said, having a platform is not enough. You need to have one that lets you upload as many items as you need. Especially, if you're planning to sell a wide variety of them.
Plus, advanced inventory and warehouse management systems are necessary. If you do it right, your business can succeed.
If you get it wrong, you might lose. Controlling inventory and the supply chain enables businesses to overcome significant obstacles.
Whether you are a mom-and-pop shop or a multi-store shop, you can quickly set up a Shopify eCommerce store.
Shopify has several inbuilt tools, such as inventory control and tracking. These will help in managing your stock.
But, when you scale your business, the inventory options of Shopify start to pose problems.
The default Shopify inventory feature allows you to track inventory per listing. This individual tracking is useful for companies with minimal inventory flow.
Plus, it's a great option if you are into D2C space.
But if you intend to expand your inventory, the default inventory management options can limit your growth option. That said, you can integrate the inventory management Shopify app.

In Wix, you have two options for managing your inventory. You can monitor your store automatically and mark the stock availability manually.
That is, you don't have to manually keep tracking the quantity of a certain item you have in stock. As soon as a sale is made, the inventory count is updated.
Wix supports multichannel inventory sync.
But, if you intend to mark the stock status as "In Stock" or "Out of Stock" status, you need to do it manually.
To do more inventory actions apart from the mention, you need to head towards the Wix App market.
Verdict
If you have a small business and plan to keep it small, you can stick with Wix. But if you plan to scale your shop to have over 5,000 products or offers, you should go with Shopify.
When it comes to Wix vs. Shopify, we recommend Shopify because it has more default options than Wix.
Payment methods:
Dependence on a single payment partner could be problematic. Unfortunately, downtimes and disruptions affect everyone.
In 2019, only 6% of the organizations haven't had an unforeseen outage. The remaining 61% faced downtime more than twice.
This problem is especially important to be addressed for a firm. Especially, if you are expanding quickly.
It is because every minute of downtime results in losses to the business's reputation. By integrating various payment gateways, you can prevent any downtime.
That said, you want a platform that lets you receive your payment via pretty much anything. Otherwise, it would be a hassle for you to make even just a single sale.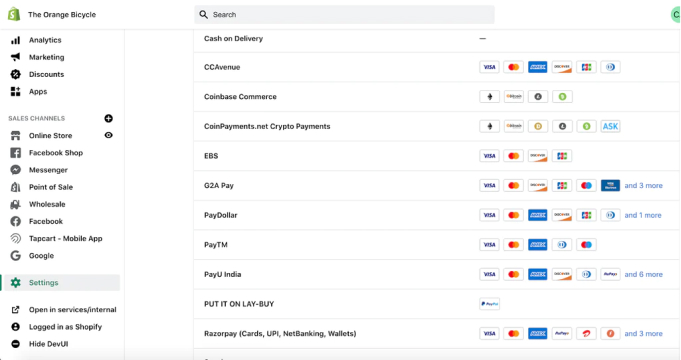 Shopify offers a number of payment gateways. The options are specifically created to cater to clients with various geographic features.
You can let customers pay you with credit cards, PayPal, Facebook Pay, or Amazon Pay. Shopify recently allows you to accept even cryptocurrency.
Therefore, as a merchant, you have various options to pick a payment gateway. You just need to ensure that the payment gateway you pick should be widely used. And accepted in your locations.
Wix, on the other hand, is slightly more limited. Credit and debit cards are accepted, and while it lets you use PayPal, it only does so through your cards.
You can also get paid via iDEAL, Pay Now by Klarna, Pix, Boleto, and Giropay, depending on your location.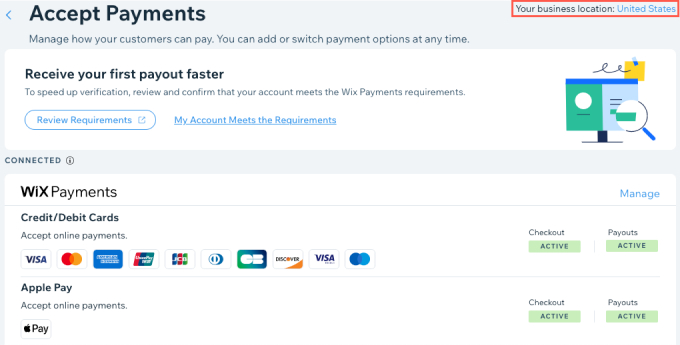 With Wix, you can use more than 50 different payment gateways from across the world. You should just need to check for acceptance.
Like, the selected payment gateway should be accepted in the country you are selling.
Transaction fees are charged by all Wix payment processors. The fee varies by nation.
For instance, some payment processors tack on a set fee sum plus a percentage (2.9 percent + 30 cents).
Verdict
Considering all the transaction fees and the payment gateway options between Wix vs. Shopify, Shopify wins in this category. This is because of the variety of payments Shopify accepts.
Shipping options:
Owning an online store is no easy task. Your products are ready, your branding is refined, and your delivery box is unique. Shipping is the final step before your goods reach your clients.
Although it may seem unimportant, the delivery has a significant impact. Especially, your delivery experience will define how your customers perceive your company.
The growth of eCommerce has increased the importance of shipping and convenience. The two are closely related, but shipping has emerged as a crucial element.
The ability to place and get an order quickly can persuade customers. Whether it's both B2B and B2C businesses, your shipment experience will impact.

It could either lead to an increase in sales and encourage repeat business or can downscale.
Given the abundance of online merchants, it is crucial to set up everything properly. You can distinguish your store from those of your rivals with good options.
Your shipment and delivery choice will help address your customer demands, eventually increasing AOV.
The platform you choose should help give peace of mind. It should be comfortable for both you and your customer.
Your customers should not fear their orders and you should be able to handle them.
Shopify makes shipping easier for you. The eCommerce platform offers free shipping to and even alternative shipping providers.
Shopify Shipping is an integrated shipping solution.
The solution allows retailers the ability to track shipments and buy and print shipping labels. Plus, it provides the option to calculate real-time shipping rates.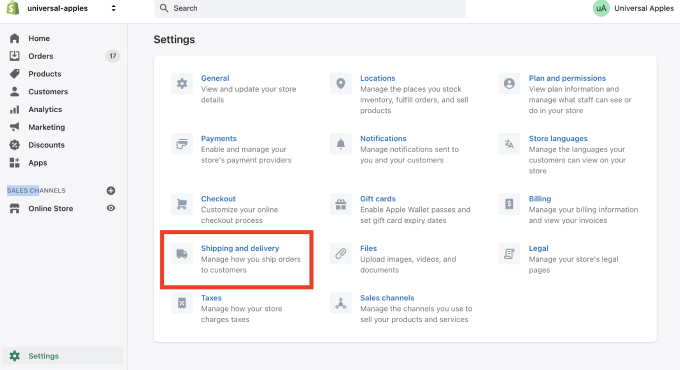 Even though Shopify Shipping is free for all users, it has few restrictions.
You should be aware that Shopify shipping is only applied to orders coming from the US and Canada. It can also provide curbside pickup and local delivery.
And it has a built-in real-time shipping quote. For other countries, you can integrate the respected carrier and sync your order details, and deliver the orders to your customers.
Wix, on the other hand, is fairly reliant on apps. To be fair, it does have multiple shipping options like Shopify.
But if you want to have real-time shipping quotes, you have to add a paid app like ShipStation to your store. And that can cost an extra $9 – $159 per month.
Customization capabilities
There are many options for already-built software when it comes to eCommerce platforms. But do you want to blend in with the crowd and become another brand? Users are becoming impatient and more demanding.
The drive to acquire customers' interest is quite difficult. To survive in this competitive eCommerce industry, you need customization.
Any business owner starting online may find an off-the-shelf eCommerce solution. The options can be alluring because it saves time and appears to save money as well.
Yet, an already-built solution offers few features, designs, and services. Therein you need to look if your platform is ready to accept customization options.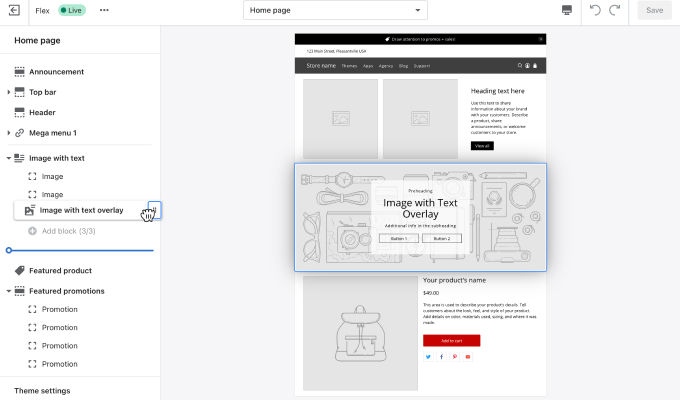 That said, the Shopify theme includes all the features that retailers need and demand. A shopping cart, a quick checkout, and browsing possibilities are some of them.
But if you want to make the theme your own, you should alter it.
Customizing a Shopify theme entails changing the settings. Plus, you need to add or remove some of its content.
New pages can be added, navigation can be organized, and a blog can be set up.
The other personalization may also include Instagram feed integration and a homepage slideshow. You also need the option to embed videos.
Product filters, search options, and pop-ups are custom app functionality. All of these customizations help to improve the overall customer experience.
With just two panels in the Wix Editor, you can alter the appearance, feel, and style of your entire site.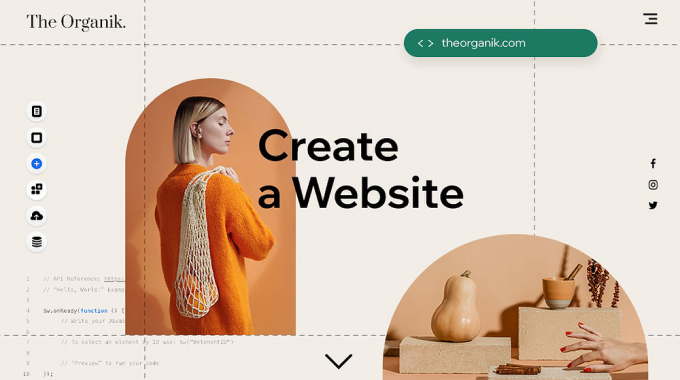 You can use the Site Design panel to alter the styles and colors and select a particular theme. Plus, you can also modify the backgrounds and transitions of your pages with the same option.
For you to define better customization strategies, you need the support of the Add panel. You can reintroduce the themed elements and change your store look throughout.
However, when your business grows, your clientele expands. This will eventually increase the need for a more customized website.
You won't be able to use practically any pre-built e-commerce solution.
Especially, if you have needs such as differing shipping regulations or promotional codes. Therein, look for a bigger picture before concluding on an eCommerce platform.
Verdict
When it comes to Wix vs. Shopify, Shopify is the best pick. Although for customization you need some technical knowledge, the scope is big. Wix allows you to minimally customize when compared to Shopify.
Analytics and reporting:
Due to the quick pace of technological advancement and the daily changes in consumer preferences, e-commerce is constantly adapting.
This might leave firms in the dark. Ecommerce companies need to be able to predict market shifts. utilizing solid data insights to stay competitive. They require efficient eCommerce analytics, to put it.
In short, you should know that simply because you are selling what people desire won't make them buy from you.
Your company must provide a distinctive trait that attracts customers. The answer to what can be known throughout your analytics and reporting data.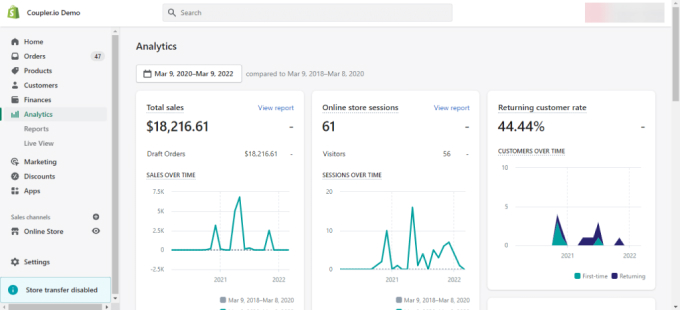 You may monitor current activity in your store and learn more about your visitors. Plus, the data helps you evaluate the speed of your online store sales.
You can also examine transactions using Shopify's analytics and statistics.
The Analytics page and important financial reports are open to everyone. You can access Live View if you own an online store.
You can get more reports if your store is on the Basic Shopify plan or higher.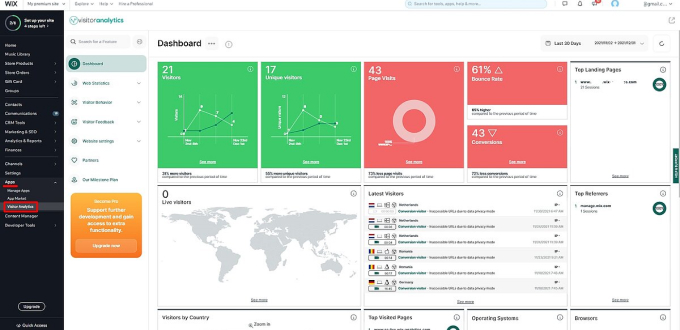 From a small start-up to a market leader with over 100 million users, Wix grew. eCommerce can now offer more than thousands of templates and premium packages.
Wix expanded remarkably quickly. Their strategy to remain competitive included accurately interpreting user data. The data was their key component.
To approach smartly, the Wix team decided they required a BI solution. The solution would enable them to quickly respond to changes.
Plus, it will help in generating insights based on behavioral data from a variety of sources.
That said, you can generate various reports like Revenue, Traffic, Behavior, and People. Still, you can create new Wix Analytics Reports to answer specific questions.
Verdict
Although Shopify gives you reports, you would need to upgrade the plan. That said, when it comes to Wix vs. Shopify, Wix would be better considering the pricing and offerings.
Conclusion
Shopify is a well-known name in e-commerce website builders. Whereas, even Wix. is the best option.
If you want to establish your online store while maintaining creative control, Wix will be the best. It can help you with good branding and store design.
But,
Which is better, Shopify vs. Wix truly depends on your business and your priorities.
Your eCommerce requirements should align with your chosen platform. Due to its more extensive selection of eCommerce tools, Shopify is suited for large firms.
Smaller companies could choose Wix. The adaptability of utilizing a platform is quite easy. Plus, it is not only committed to eCommerce.
Wix also provides enhanced marketing options right out of the box. Use the free trials of both platforms so you may assess the features and usability for yourself. While some people might adore Wix's drag-and-drop user interface, others find it difficult.
Actually, there is no right or incorrect answer. The best eCommerce platform is the one that works best for you and enables you to build the store.
FAQ's
1. Wix vs Shopify: Which is easier?
Wix got a user-friendly drag-and-drop site designer, whereas Shopify is an excellent choice if you want scaling features. That said, Wix is beginner-friendly.
2. Which is more suitable for small businesses, Wix vs Shopify?
Wix. As it's got a drag-and-drop interface, good themes, and excellent features. Shopify is good if you want good high-level scaling features.
3. Wix vs Shopify, Which is good in SEO?
Both. The eCommerce platforms provide a reasonable number of tools to help you improve your website rankings.
4. In between Wix vs Shopify, which platform has multiple support options?
Both. To pick the best with features considered, then Shopify. Plus, there are so many Shopify-focused experts to help you in growing your eCommerce growth opportunities.
5. Wix vs Shopify for eCommerce?
The answer depends on your needs. Both platforms provide a plethora of features and apps. In an overview, Wix is good if you are a beginner and a small store, whereas Shopify is a good option if you are a merchant large catalog store.
6. Wix vs Shopify, which has the best dropshipping options?
If you are a beginner building a dropshipping store, Wix is better, whereas if you are an established drop shipper, Shopify may be a better choice.