The big question. WooCommercec or Shopify – Which one to go for when building your own online store. Well, let's answer this question once and for all, in this article.
You've finally decided: you're going to open your own online store. So now you're reading our article about how to do just that. And maybe you're on Step 3 – Choose a Suitable eCommerce Platform.
You've done your research, and you've discovered that these 2 are the more popular choices in the top 1 million eCommerce sites.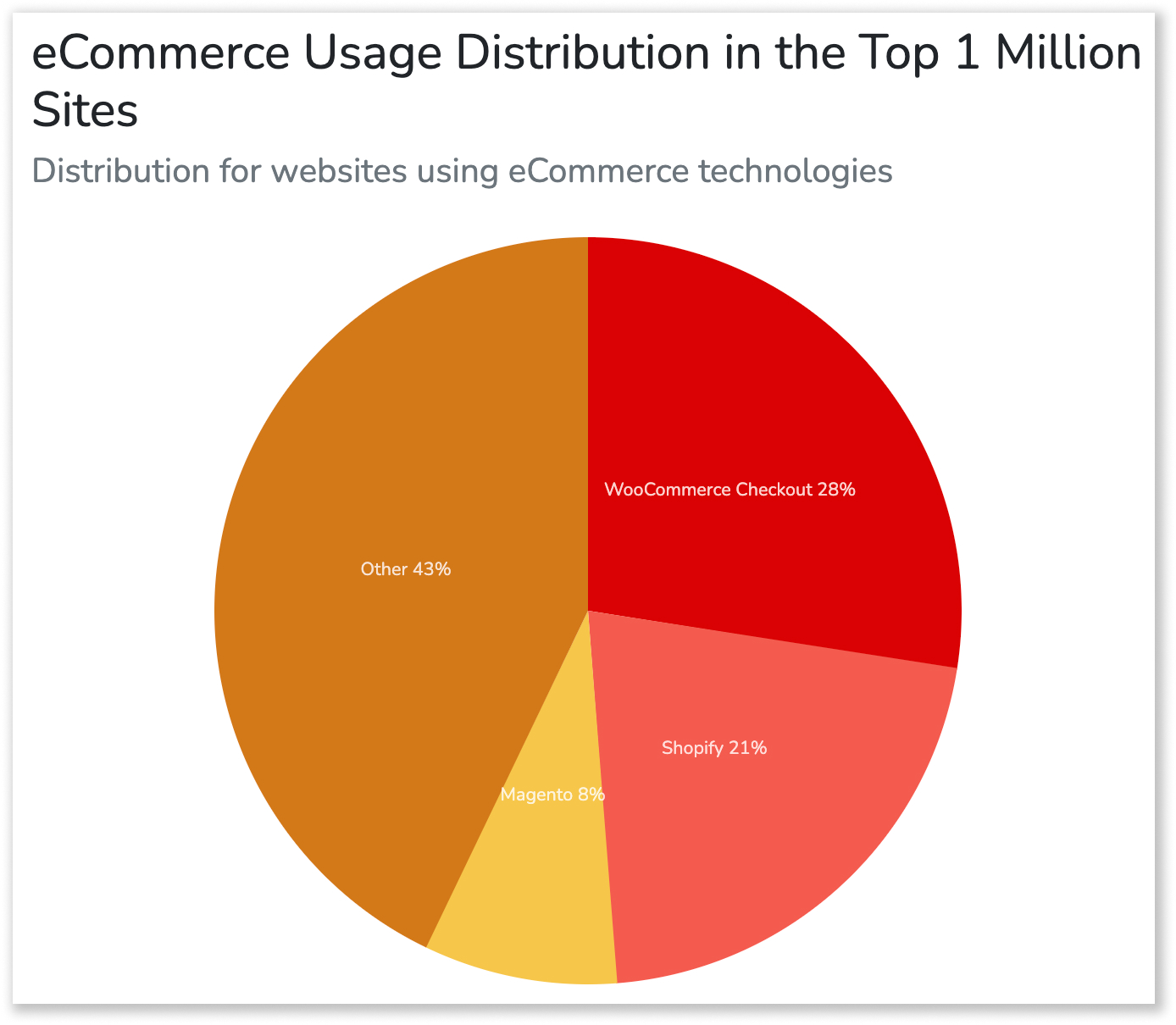 So which one should you use for your online store, then? How do you decide?
As a business owner, choosing the right platform that fits your needs is important for a successful store. And since both platforms have good features, you might have a hard time making a decision.
But don't worry. That's why we're here.
We'll take an in-depth look at both Shopify and WooCommerce with a detailed comparison between the two.
Let's get to it!
Overview: WooCommerce vs Shopify
Before we go any further, let's first get into some basic details of each one.
What is WooCommerce?
WooCommerce is a WordPress plugin specifically made for online stores. Bluehost.com calls it a complete eCommerce solution for WordPress sites. The plugin allows you, even if you have no web design experience, to create a visually appealing and fully working online store.
The WooCommerce plugin is both easy to install and fill with your products. It's also simple to use when it comes to other functions like collecting payments and dropshipping.
And because it's open-source, you can customize everything according to your needs and preferences. You can attach multiple plugins — such as those for improved SEO — as well.
Top features:
Free to use, even for beginners with no background in WordPress
400+ official extensions to manage payments, shipping, marketing, and accounting
Open-source so it's completely customizable
What is Shopify?
Unlike WooCommerce, Shopify is an actual platform you can use to build your online store. Using Shopify, you can choose the appearance of your online store, receive payments, and manage your stocks.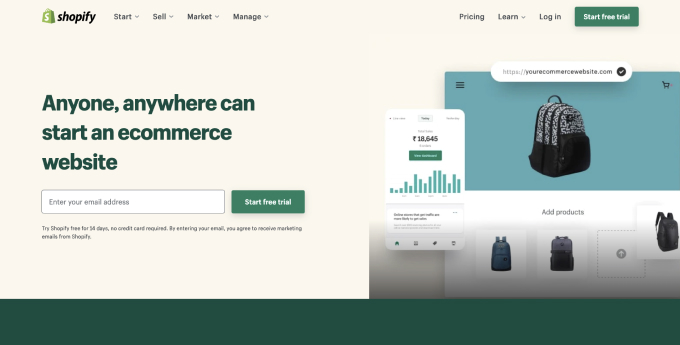 If you use Shopify, you won't have to worry about the tech side of managing your sites, like web hosting or security. You'll also be able to automate selling on other platforms like Amazon and Pinterest, with various payment options allowed.
And since you're using the platform (not your own website), you'll also get 24/7 customer support.
Top features:
Done-for-you platform with everything you need to start an online store, from appearance to order fulfillment
70+ professional themes for a beautiful storefront with the ability to customize it for your brand
24/7 customer support
Now that we've seen the big picture, let's go to the details.
What should you look for when choosing an online store platform?
Here are the things you should consider — in no particular order — when deciding which platform to use, especially if you are going online for the first time:
Ease of use
Design and theme options
Add-on tools
Pricing
Let's take a look at how these elements play in both WooCommerce and Shopify.
Ease of use 😌
As mentioned, if you plan to use WooCommerce, you'll need your own WordPress website. That said, you can't start selling immediately unless you set up your website first.
But don't worry, it'll take anywhere from 2 weeks to a few months.
Once you have your website up, it's easy to use WooCommerce. You'll be able to integrate plenty of plugins to get your online store running smoothly.
Shopify, on the other hand, doesn't require you to have your own website. You just need to sign up for an account, and you can immediately start your online store.
Verdict
We have to give ease of use to Shopify because you can start selling as soon as you sign up.
Design and theme options 🎨
Both platforms have different themes available.
Here's an example of Shopify's free themes: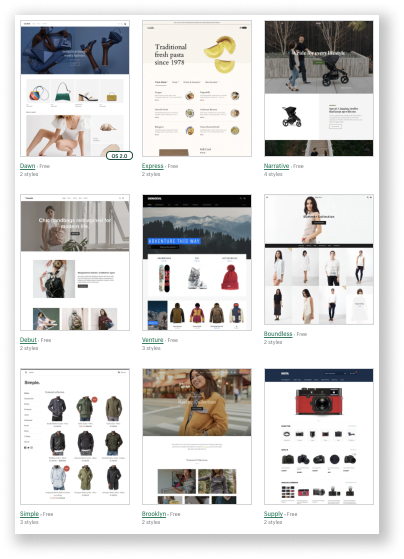 You can browse through them and choose which one you like. And if you want more options, you can always buy from Shopify Themes.
Moving on to WooCommerce, you'll see it has its own collection of free themes too: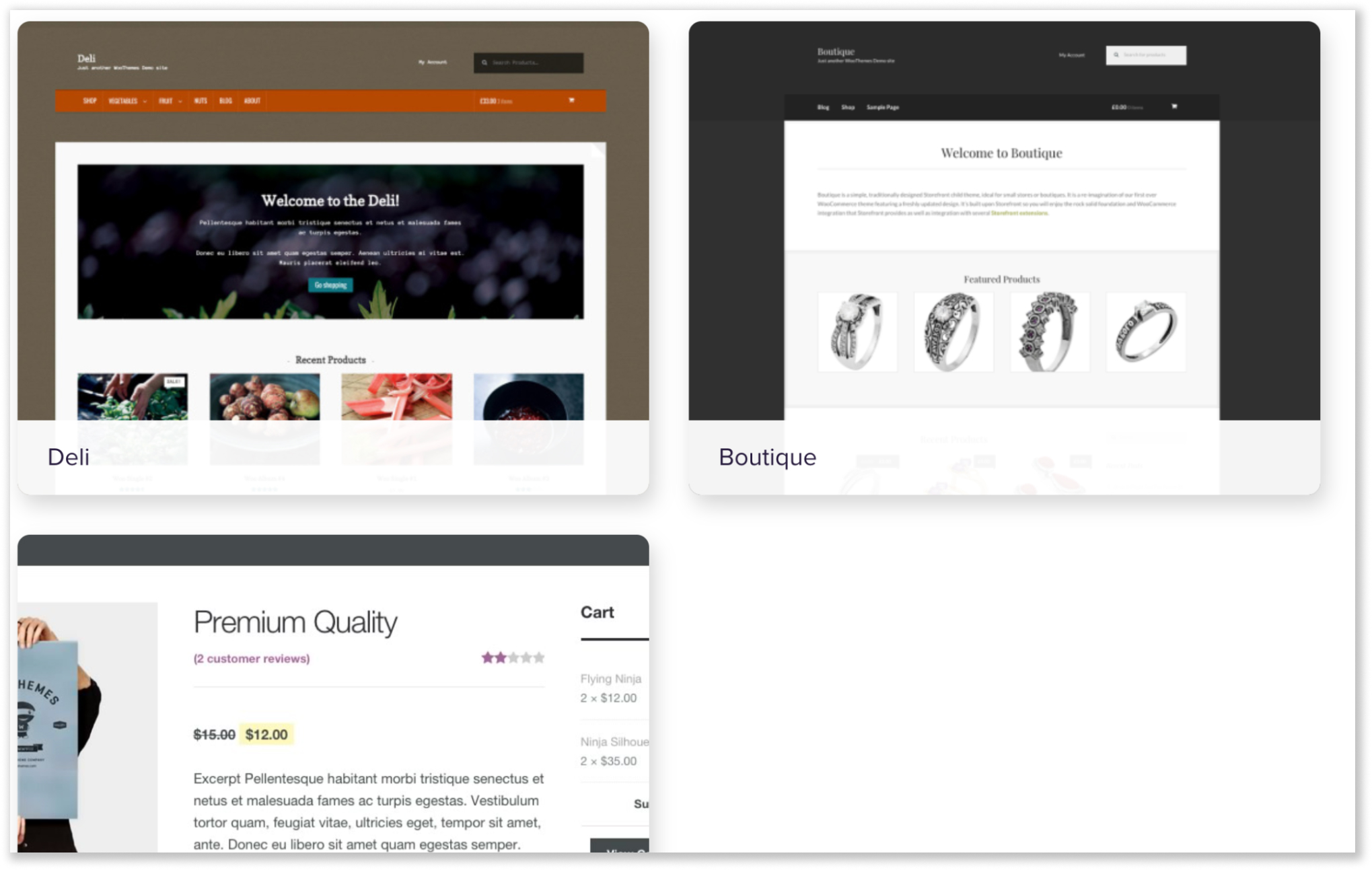 Verdict
So who wins in this comparison?
If it's just the number of free themes, Shopify has more, so again, we'd hand this round to Shopify.
It also just feels that Shopify's theme offerings are more curated, ones that would work really well for selling. WooCommerce has plenty of options if you're going to buy a theme, but you can't be sure that all of them are as optimized as Shopify's for selling.
Add-on tools ➕
No matter how good a platform is, you'll always need more help to grow your online shop. For example, you should always use tools for email marketing, social media integration, and other channels to make sure your sales increase.
Both platforms have additional tools that you can purchase or add. Some are even free.
Here is what Shopify has to offer: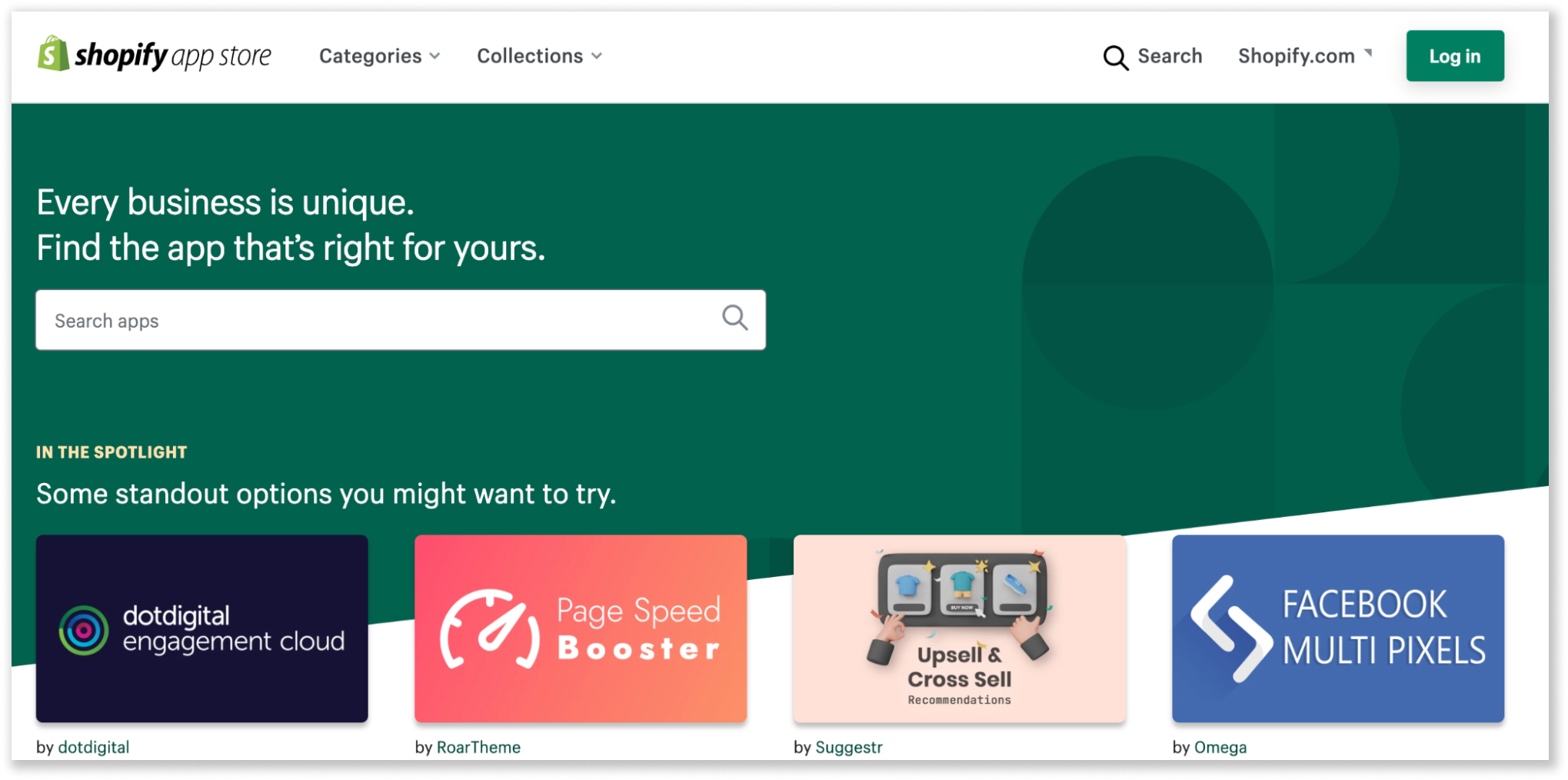 And here's WooCommerce's:

Now, what's the main difference? To start with, there are fewer tools for Shopify than for WooCommerce. Probably because it's more challenging to get an app listed on Shopify.
However, just because there are more tools, doesn't mean they work better. It will still all depend on what you will use, and what will work. You can check the apps you already use and see if they integrate with Shopify or WooCommerce.
Verdict
We'd have to declare this one a tie, or rather, an "it depends."
Pricing 💰
When it comes to pricing, which one is cheaper?
Here's how much Shopify costs: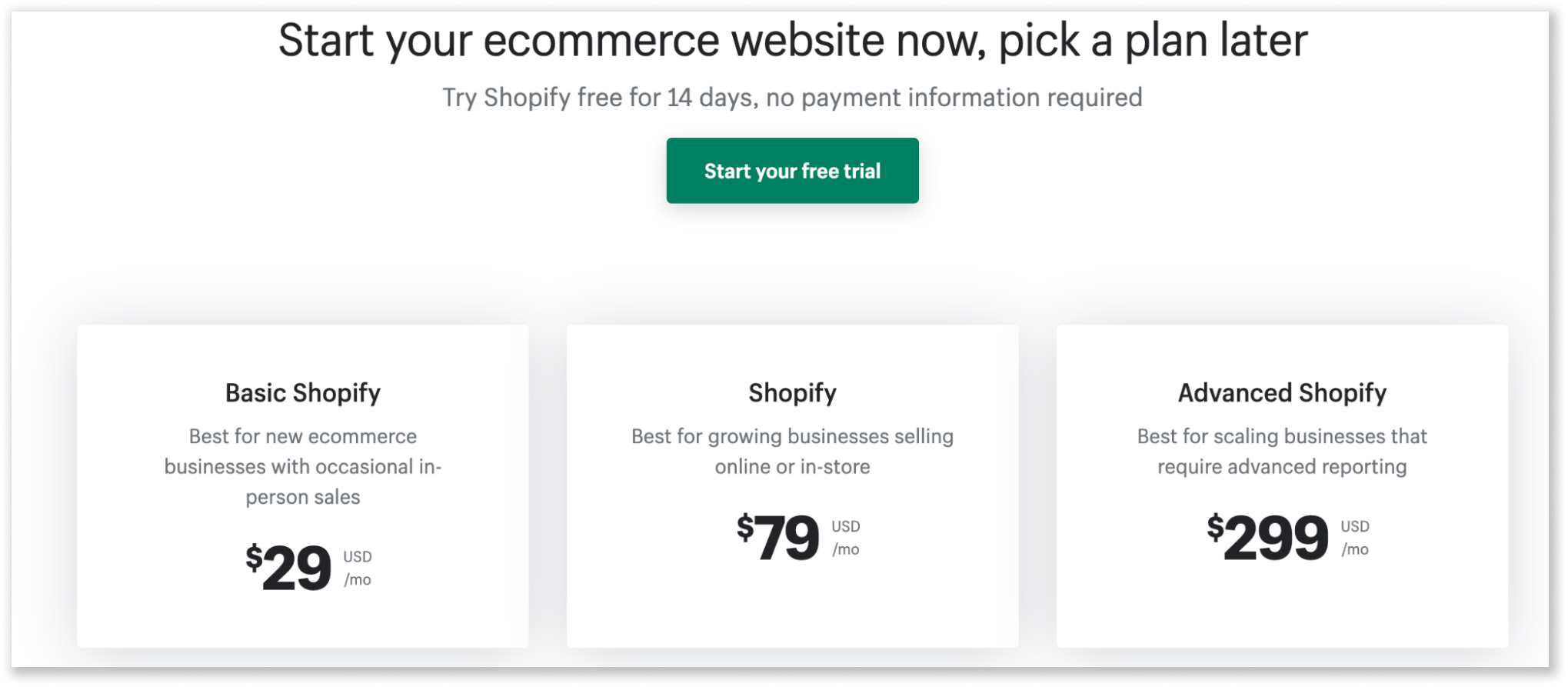 Basically, the more you shell out, the more features you will unlock.
Plus it comes with a 14-day trial.
WooCommerce, on the other hand, is free, but you'll have to pay for your website hosting, as well as your domain name registration and security, among other things.
The average cost of building a website, including launching and designing, ranges from $12,000 to $15,000. This doesn't include the monthly maintenance fee which could eat up $35-$5,000.
Verdict
With just a glance, it seems like Shopify's cheaper in the long run.
WooCommerce or Shopify: what should you choose?
Both Shopify and WooCommerce are amazing platforms to start your online store. And it seems that Shopify has the advantage, right?
However, again, it is more than that. It truly comes down to your skills and preferences.
From the above alone, you can already draw the conclusion that if you're the kind who just wants to start running a store, go for Shopify. It's definitely faster to set up and use.
And if you're the type who wants better control over your store, go with WooCommerce.
Especially if you don't mind having to be the one to maintain your website and other plugins.
But want something EVEN MORE SIMPLE?
Enter Dukaan.
And don't take our word for it. Check out what Shyam had to say after trying out our platform:
Why Dukaan?
If we're talking about online store platforms, Dukaan is the simplest and easiest one you will ever use or encounter.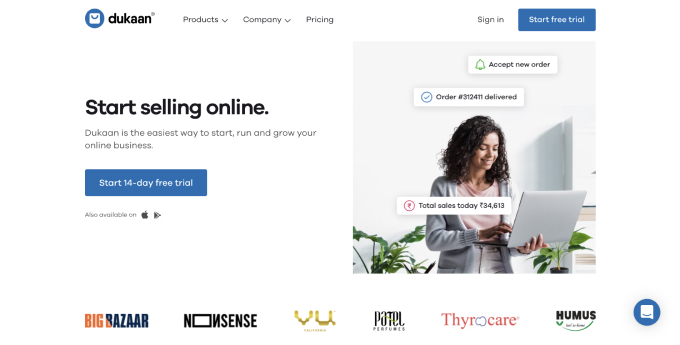 You can literally build your store in under one minute, in three easy steps:
Step 1 – Name your store
Step 2 – Add your products
Step 3 – Start Selling!
If you're a business owner looking to take your business online, but don't consider yourself techy, Dukaan is for you. It's an easy-to-use app with an interface that is simple to understand.
You won't have to hire any outside agencies or contractors to maintain your store from Dukaan.
And it comes at a price that won't hurt your pocket at only ₹2,499/quarter.
That's just $100 yearly to get access to all its advanced features.
You can read this post to see everything you will get.
Once you start your online store on Dukaan, you can experience them ALL yourself.
Top features:
Setting up a store requires only three steps, all done in one minute
Made ESPECIALLY for business owners who are not techy but need a way to reach their markets online — fast
Gives users access to premium features at very affordable prices
If you want the simplest eCommerce platform…
Go with Dukaan if you want to easily build your online store. It's the simplest way to start. And all that you need, Dukaan has.
You won't need to do anything complicated.
The simple and clean interface doesn't hurt either.
The best part is that you can run your store from whatever device you are using, thanks to Dukaan being made with a good user experience in mind.
Read: Shopify Vs WordPress | Wix Vs Shopify