The business setting isn't a place for minding one's own business.
Reality is rife with competing interests: hold an online PC spare parts sale and you'll likely find your neighbor live-selling second-hand laptops as well.
Or see how one of your social media friends criticized you for selling non-Keto almond flour cookies, but sold the same recipe and started own bakery business the following week.
Now you're faced with two choices: it's either you beat them or find a way to "B2B" them.
B2B? What's that?
Glad you asked.
What is B2B eCommerce?
Business-to-business electronic commerce or B2B eCommerce is a business type wherein a business sells its products to another business online via an online platform like Dukaan.
Yep, talking about business models plus doing eCommerce may sound intimidating, but believe it or not, you may already have participated in B2B transactions yourself.
Here's an example.
Let's say you want to set up a small store to give your community easy access to fresh fruits and vegetables from the farm. So you contacted Mr. Farmer and made a wholesale deal of his produce.
This is B2B — from another business (Mr. Farmer's) to yours (small store).
Don't fret about the eCommerce word. It's just a term for buying or selling goods over the Internet.
Basically, B2B eCommerce is an online transaction where both parties involved are businesses.
Types of B2B eCommerce
B2B eCommerce serves as an umbrella term whenever two or more businesses are participating in the purchasing and selling activity over the Internet.
But just like any other business type, B2B eCommerce also has variations depending on buyers' and consumers' needs. As a result of these differences, transaction times, order quantities, and prices may differ within the process. This is what makes the different B2B eCommerce types.
Disclaimer: No math equations here, certainly no robots, nor are we talking about Elon's son. The groups of numbers and letters you see below are the different types of B2B eCommerce.
Here's a quick legend to make it easier for you:
B – Business
C – Customer
D – Direct
M – Many
E – Employee
2 – to
B2B2B eCommerce (Business to Business to Business)
The B2B2B model is when a business sells to a business, which in turn sells to another business. And since it's eCommerce, all processes are done online.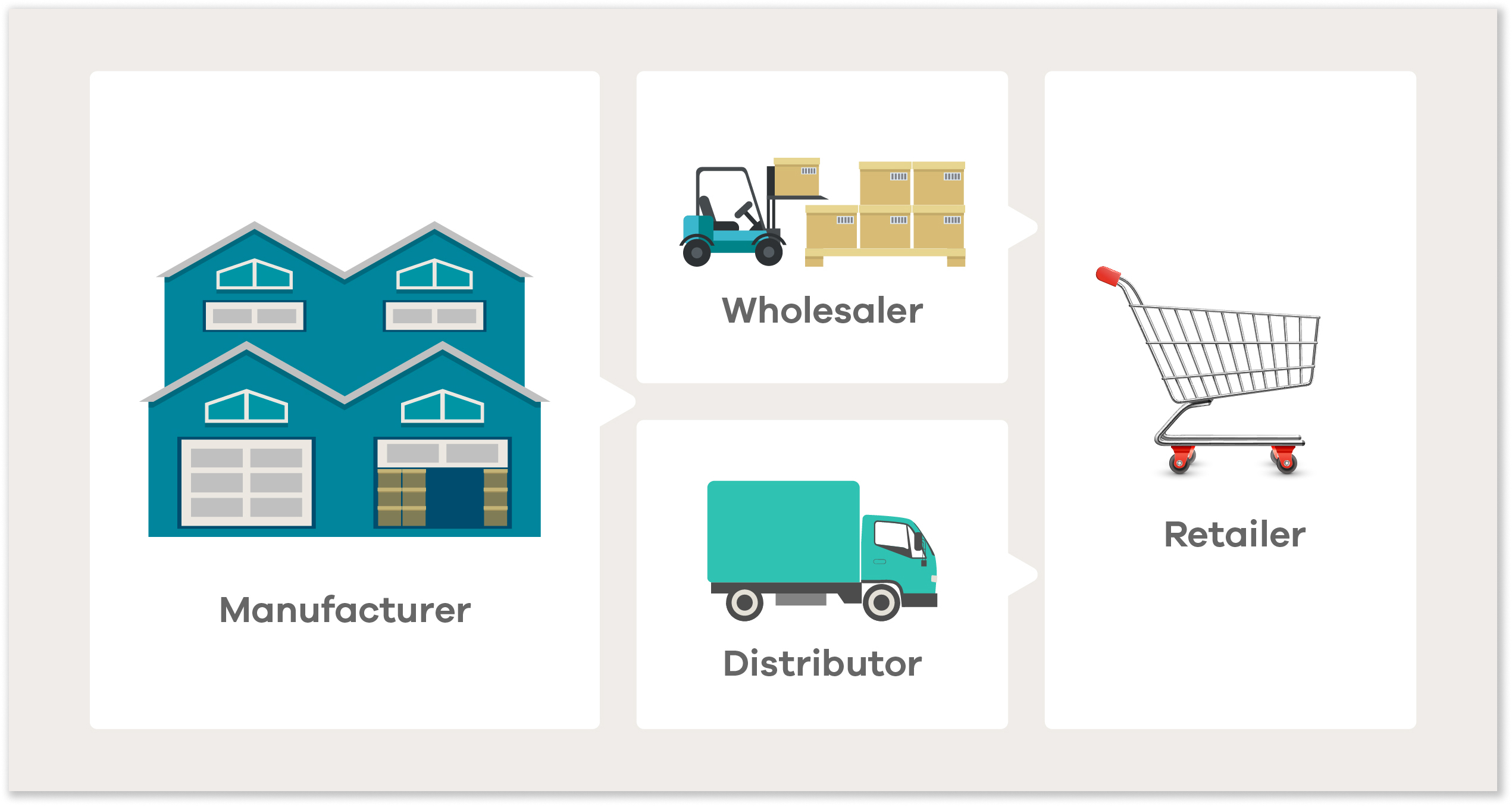 To make it easier, the 3 B's in the B2B2B model represent the manufacturer, the wholesaler, and the retailer.
For example, you order a bulk of garden and home furnishings in Alibaba, one of the biggest eCommerce platforms that sell at wholesale prices. Most of its suppliers are the direct manufacturers of the product, making it possible for them to sell at really low prices.
The manufacturer and supplier make a deal with distributors to sell the décor items. You, as a retailer, plan to sell these indoor and outdoor decorations at your physical shop and on your website.
The entire process here is considered B2B2B.
B2B2C eCommerce (Business to Business to Customer)
B2B2C is when a business makes a deal with another business that caters to customers through either wholesale or retail.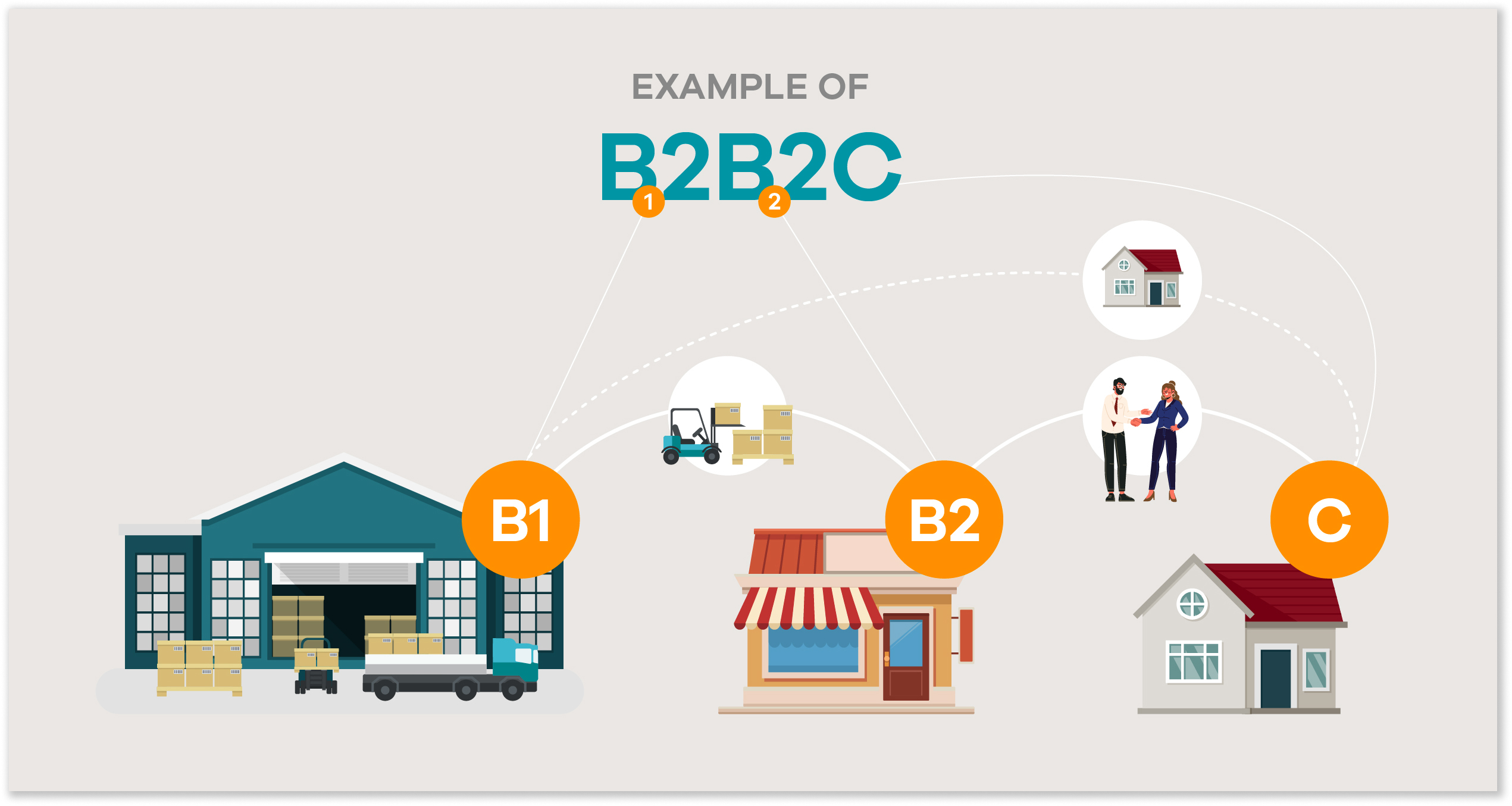 An example would be this. Say, a make-up brand looks for resellers or distributors of their products.
Your friend, Kajal, who is a makeup artist and a business person at the same time, replenishes her make-up supply through the big brand distributor and continues to resell them to her customers on social media.
Another example of a business engaging in this model is GrabFood. Their riders work closely with restaurants, act as a third-party delivery service, and bring the resto's goodies to customers who ordered the food through its app.
B2M eCommerce (Business to Many)
B2M eCommerce is a business that sells goods to all available types of consumers and customers including wholesalers, retailers, manufacturers, distributors, and more.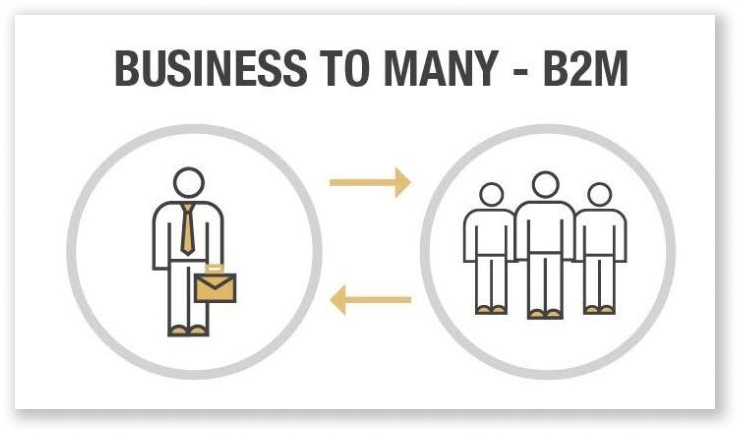 Businesses who engage with the B2M model enjoy the advantages it brings "…as it allows them to sell to different target markets thus amplifying their brand and customer reach."
Here is an example of a B2M, the company Quality Overhead Door: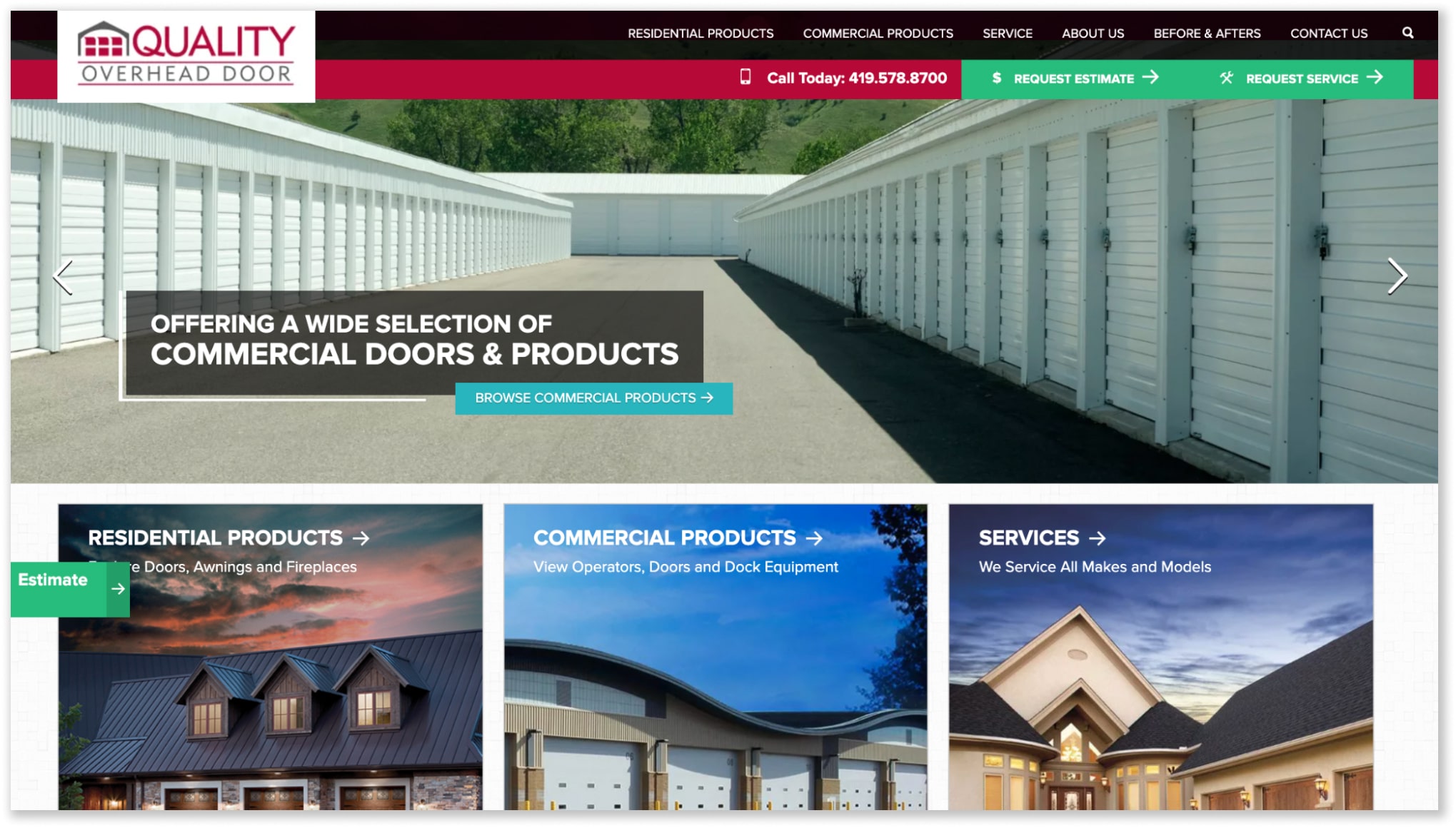 It's a B2M company selling housing products like garage doors, fireplaces, dock equipment, and more.
Another example is, let's say, you are a rice producer and you decide that to maximize your profit, you're going to be a supplier to nearby restaurants, sell per kilogram in the wet market, and earn extra by selling on an online platform. You're practicing Business to Many when you do this.
B2E eCommerce (Business to Employee)
Business to employee is when companies provide products or services for their employees. B2E is not a directly for-profit model, it's made to automate employee-related corporate processes including:
Online insurance policy management
Corporate announcement dissemination
Online supply requests
Employee benefits reporting
B2E also covers special employee offers. An example of this is when a company grants its employees a special discount for certain company products.
If you are a creator of scented candles and soaps and you cut the price whenever your assistant decides to purchase some for personal use, you're already practicing the B2E model.
More B2B variations may arise in the future but all of these have one common goal: to maximize sales.
If you think you could potentially fall into one of these types already, it's good to dig in more to your chosen approach to boost your eCommerce marketing strategies.
Busting B2B eCommerce myths
Yes, B2B and its various types are more common and more feasible than you think.
Aside from that, you may have come across B2B myths that might intimidate you. Don't worry, we're going to debunk them to free you from all that uncertainty.
Myth #1. B2B is only for big brands
A business is an exchange of goods and services.
Selling your logo, illustrations, photos, and other digital products online is running a business. Starting your motorbike food delivery service or running a table booking system through an app also means engaging in entrepreneurship.
So who says B2B should only work for big brands? It just means business, so no matter the size of your company, as long as you're doing transactions with another business entity, it's still considered a business.
Moreover, small businesses practicing B2B reap great benefits. Collaborating increases customer reach and widens the array of products…and that only means one thing— bigger revenues.
Myth #2. Setting up a B2B website takes a while
The evolution of technology has a great impact on small and big brands alike. Setting up your own B2B website means more efficient transactions and quicker revenues.
There are techie entrepreneurs who can whip up a good website for their biz in an instant.
But for the less tech-inclined, there are a couple of options.
First, there are web designers and developers. Spare yourself the effort and just hire them. Perhaps you could hand your Gen Z nephew a few dollars if you're smart. They are naturally tech-savvy and could whip up a fancy-looking online store for you.
Or, if you have time to learn something real quick, consider starting your own online store. headless CMS platforms. These platforms' front-ends and back-ends are fully integrated so they're user-friendly even for newbies.
Dukaan, for example, lets you build a store like this one in seconds.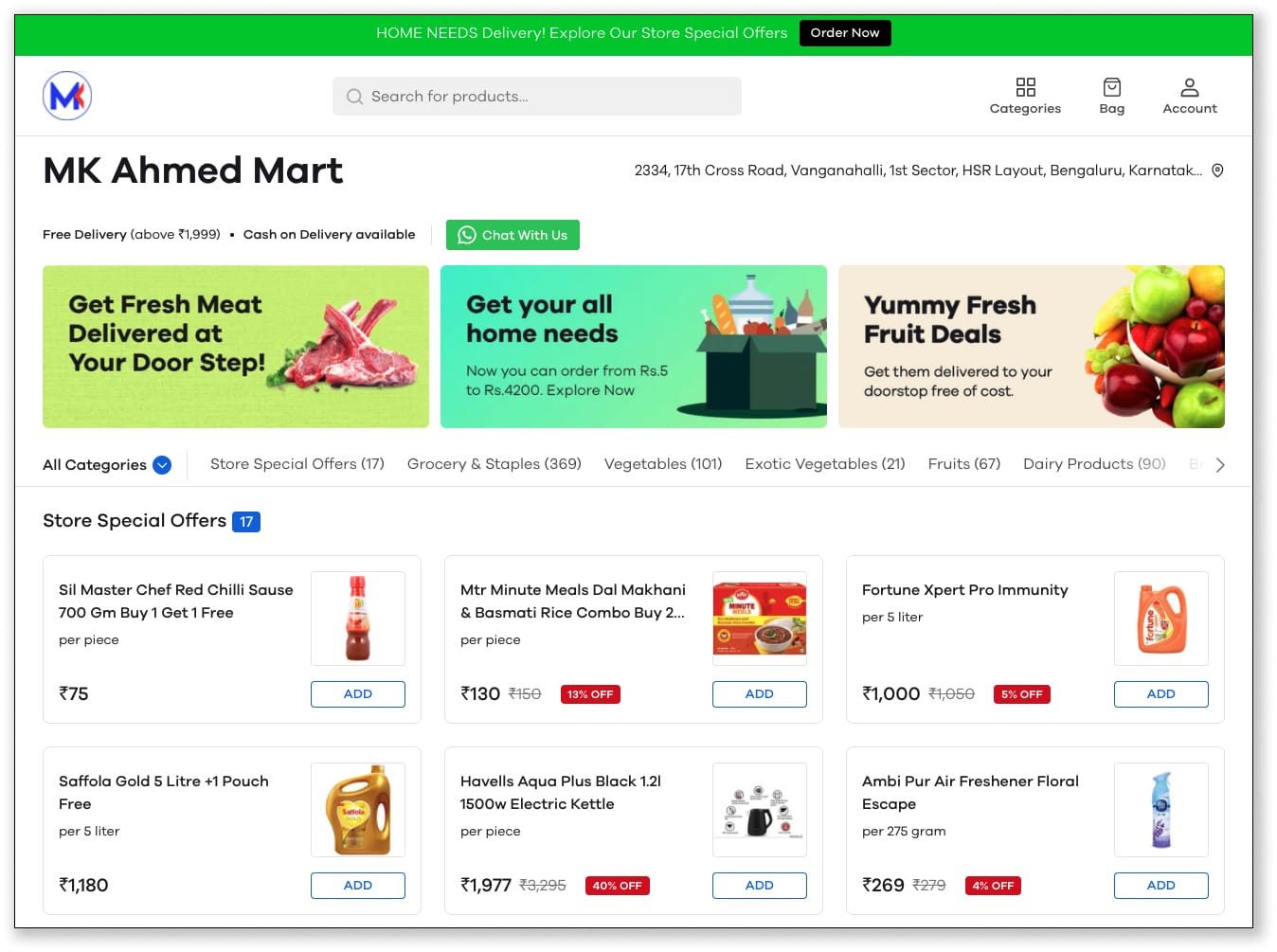 See, you have choices. But don't ever think of skipping going digital. It's just not an option these days. It limits your business playing field.
Myth #3. Businesses don't buy online
When the pandemic started, looking for a good supplier, communicating with manufacturers, or purchasing goods was more challenging.
Well, the Internet was the answer and, ironically, also created a dilemma.
As everyone is aware of how the web works to address business needs, people also think that the Internet is not that secure. Vulnerable databases, malicious viruses, and the possibility of getting hacked would make one think twice when entrusting their money to the world wide web.
While both business owners and clients are at stake, choosing the right platform helps individuals overcome these cyber-risks.
A reliable and well-established online platform will surely provide both ends a smooth transaction, minus the doubts. If you want to be as hands-on as you can to your online eCommerce site, then this one's a good read.
Myth #4. Competitors might copy me
Putting your business out there poses a big risk of being copied by rivals: your designs, your pricing, your package deals, and even your very own logo might be imitated.
It's frustrating but there are steps you can take to protect your brand.
Plus, being out there brings more benefits to your business than keeping it hidden from sight.
Instead of being so secretive, choose to level up your game: pick a medium suitable for your brand, level up marketing strategies and prioritize good client experiences that nobody can take away from you.
Myth #5. Clients/suppliers won't get a feel of my products
If you can't sell in person, then how can you sell your idea to potential business partners, clients, and event suppliers?
Of course, selling physical products without face-to-face selling may introduce friction, but have you ever heard about AR and VR?
Augmented Reality (AR) and Virtual Reality (VR) are the duos that have become the biggest trend in the field of online selling.
In fact, they give your customers more chances to be "in the product" more than when they're buying in a mall or a supermarket. And don't get me started with, "How about food? We can't taste it."
Well, you don't just sip on different brands of carton boxes in the grocery or take a bite in every bun to check on the expiration, do you?
Going back, take this as an example:
Augmented Reality in the furniture industry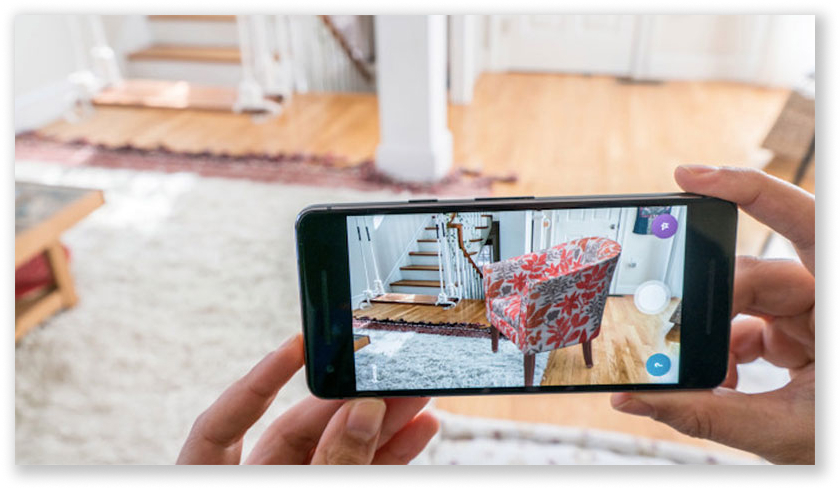 Get the chance to tailor-fit a chair in your living room even if you still haven't checked it out from the cart.
Can't choose an outfit? Bring the dressing room home. You can try this out, too, if you are an entrepreneur looking for quality goods to resell and the company you're eyeing has this kind of AR feature.
Here's a sample from Sephora's app.
As a brand owner, you can even create your own AR filters for FB and IG including your business logo using Spark AR. It's super easy to do so.
Utilizing your platform well and keeping your marketing strategies up-to-date can make B2B eCommerce quite enjoyable.
Keeping a fun business environment will even entice customers to splurge on your items, making it more fun for your bank account.
Best B2B eCommerce practices you can steal (plus, trends to watch)
Now that we've burst that bubble of doubt that used to blur your perceptions about B2B eCommerce, here are tips that will help you embrace it even more.
1. Cater to individuality
When practicing B2B, make sure that you don't lose that touch of individuality when you deal with business partners and clients alike.
We're all aware that B2Bs usually purchase and sell in bulk, but make sure your products or services still meet the needs of a variety of your customers and business partners.
Being generic with your content on online platforms is a surefire way to spiral into eCommerce doom.
Dealing with bulk sales doesn't give you an excuse to be common. Introduce the uniqueness of each of your products.
2. Support flexible payments
Be sure to provide flexible paying schemes and shipping options.
3. Don't forget to serve individual customers too
To maximize profit, post a different online brochure for those who would like to be resellers of your product and those who would like to purchase per item.
This is a good practice for small businesses.
Suppose you are selling essential oils. A client would like to try out the product before buying in volume. She will have the option to purchase a few bottles first before doing B2B with you as the supplier.
4. "Hire" a chatbot
For sure, your prospects will be interested in your products and would like to ask you some queries. Make sure you address these questions right away before you lose prospects due to delay.
Nope, you don't have to wake up at 2 AM to answer them; let autobots deal with it. (And yes, consumers shop at 2 AM—it's a growing trend.)
A study conducted recently shows that chatbots are handling 82% of consumer queries without assistance from humans. Moreover, it is cost-efficient and saves you from spending on a whole customer service department team.
B2B eCommerce makes your business future-proof
B2B eCommerce has been redefined.
More and more people are already engaging in B2B but, surprisingly, those who are already doing it think that they are still engaging in the traditional B2C or that they're not qualified as B2B.
To future-proof your business, no matter the size, form partnerships with other businesses that complement your products and sales. The faster way to grow is to think big so you can catch bigger fishes.
So go digital and go B2B already.
Don't know where to begin? You can start with Dukaan.
It's the easiest way to start, run and grow your online business by building partnerships. It's a great platform, not only to find customers but also to look for potential business partners, suppliers, resellers, manufacturers, and more.
With Dukaan, going B2B has gotten easier than ever. Set up your B2B online store in 3 simple steps and start taking orders today!