The bakery business is one of the most profitable businesses in India. Anyone with the right talent can start a bakery business from home. Wondering where and how to start? Here's your guide to start a bakery business from home.
If you are planning to start a bakery business, you have made a wise decision. With a market value of nearly $7.6 billion in 2020 and an estimated growth of over 8.5% annually, this can well be your next big food idea. If you know how to start a bakery business from home, it can be both profitable and fun.
This millennium has seen on-the-go food become increasingly popular. Hectic lifestyles are pushing consumers to prioritize convenience. Fast-moving goods such as bread, biscuits, cakes and savouries are therefore the order of the day.
The biscuits and cookies industry in India accounts for nearly 72% of the sales in the Indian bakery market.
The pandemic may have caused small businesses to go through some really tough times. The good news is that many are waking up to online solutions to make sales. Result – They can continue to share their goods with consumers.
What's more, passionate home bakers have now begun to chance upon the 'online bakery' idea as a means to create an income stream during these uncertain times.
Whether you are a home baker, a pastry chef, or someone passionate about baking – If you are looking to start a successful bakery business from home, here's all you need to know.
"If you're trying to create a company, it's like baking a cake. You have to have all the ingredients in the right proportion" – Elon Musk
How To Start A Bakery Business From Home in India
1. Decide Your Bakery Type
Bakery Café
This is a sit-down bakery with a dedicated space for customers to sit and enjoy their food. This kind of bakery typically has food and beverages apart from baked goods on offer too. For starters, this might be an expensive option considering renting a large commercial space, furnishing and hiring staff.
Counter service Bakery
This is the most common type of bakery that dots almost all streets of Indian metropolitan cities. This requires very little space as compared to a Bakery Café. Customers walk into the bakery, purchase items they want and leave. It saves you a lot of overhead costs and you can make an extra buck selling hot beverages like tea and coffee too.
Speciality Bakery
This type of bakery offers one or a small number of baked goods. A 'wedding cake shop' or 'gluten-free bakery' are good examples of a specialty bakery. If you have expertise in a particular type of baked product, this can be a good option.
Home Bakery
If you want to start a bakery business with little or no money, a home bakery can be your go-to option. All you will need to start a home bakery business is proper equipment, and adequate space to whip up some magic. However, one big challenge that home bakery poses is how to make your products more visible, so consumers start pouring in. In this case, going online can be your best bet. Here's how Dukaan can help you leverage the internet and operate a successful business from home.
2. Narrow Down Your Niche
Ask yourself some good questions.
What are you good at making or outsourcing?
What will make your bakery stand out?
Who will be your potential customers?
What, in your opinion, should a good bakery offer?
Leverage the current demands and look for trends and opportunities in the baking business in your area.
Let's tell you a story.
Manogna is a 31-year-old home baker. She started baking because she loved cookies and the idea of being able to make them and eat anytime excited her. The pandemic rendered her out of job and that's when she decided to open her bakery business to generate income. She learnt about how to start a bakery at home.
She figured there are so many like her who love the crinkle top cookies she specializes in. She decided to start with just that. With Dukaan, she was able to set up her online store in a jiffy and Booyah! She is a successful business owner now.
Psst…If you already have a physical store set up and wish to move things online, you can still easily do that. Slowly transition into easily deliverable goods, set up your online store using Dukaan and Ta da!
Just like Manogna, you can find a niche too. Specializing in a particular kind of product, helps businesses stand out from their competition.
Listed here are a few niches gaining popularity:
Artisan Breads
Vegan or Keto Bakes
Gluten free or sugar free baked goods
Diabetic-friendly goods
Customised cakes
Cookie cakes
3. Draft a List Of Equipment Needed to Start a Bakery
List out EVERYTHING you will need to start your business. Some of them will sound too obvious to be jotted down but do it still. It helps you estimate your total costs and plan your budget better.
Here's a checklist:
Planetary mixers, emulsion blenders, and counter-top mixers
A large working table
Stone decks or convection ovens depending on what you plan on baking
Mixing bowls
Storage equipment for all the raw materials as well as the baked goodies
General bakeware like cake pans, muffin tins, bread moulds etc.
Small ware such as spatulas, icing tips, flour sifters, pastry knives, and the like.
Sheet pan racks to cool off all your delicious baked goods
Aprons, hairnets and gloves to maintain hygiene in your kitchen
Display boxes with heating and refrigeration functions to keep your baked items tasting fresh
Packaging materials you will require wrapping your labour of love and sending it to the customers.
Delivery vehicle in case you plan on taking care of home delivery of your products.
Done making a list? Let us move to the next step.
4. Plan Your Logistics
How you will get your baked goods to your customers is a key consideration.
How long will it take you to finish baking your products?
How many orders can you fulfil on any given day while still maintaining the quality?
What's the shelf life of your product?
Can you buy your ingredients in bulk if the demand for your products increases?
Where and how will you store the perishable finished items to adapt to the rise and falls in sales?
What's the area limit you can cater to in terms of delivery?
Who will deliver your baked goods to the designated area and has your delivery partner considered the nature of your products for the same?
Tip: On Dukaan, we have integrations with shipping and delivery companies like Dunzo and Shiprocket. Once your order is ready to be shipped, the representatives will come to your home/warehouse and pick up the order automatically.
5. Make A Good Plan!
Now that we know about the essentials required to start a bakery, let us make a solid plan.
Make a summary: Put down your mission statement, plans for your business, and all the legal requirements you will need to meet to start a bakery business.
Business overview: What will be the type of your bakery? Consider the type of service you will offer, the menu and all the nitty-gritty of how it will all be managed.
Do a Market analysis: Examine the existing market. Ascertain who your potential customers can be and the area you will cater to. You may also want to consider analysing how you plan on sizing up your competition and manage to stand out.
Financial planning: Analyse your operating costs, cash flows, expenses and estimated profits.
Operations Planning: Plan how you will operate your bakery business on a daily basis. Your staff management, raw material handling, order management and maintenance should all be planned.
Marketing plan: Your marketing plan will talk about how you will advertise your bakery and attract customers. Learn how to do that easier than ever.
6. Create Your Online Platform
Now that your planning is in place, your next step will be to create an online presence.
Building an online presence is crucial. But, easy hai yaar!
By online presence, we don't mean starting off with Instagram or WhatsApp. Not initially at least. Scaling up is difficult on social media. Aim to have a website or an e-commerce platform. That way you can reach a wider customer base, bringing in better prospects.
Make sure that perusing your menu, finding out about your products and ordering should be effortless for your customers. It makes all the difference.
You also want to ensure it's as easy for you to set up your online store.
This is where Dukaan steps in.
In 4 easy-peasy steps, you can set you can take your business online. Even if you have a lack of sufficient know-how on making a website or adding payment gateways, fret not. We've got you covered.
Step 1 – Sign up for Dukaan – Web Version | Android App | iOS App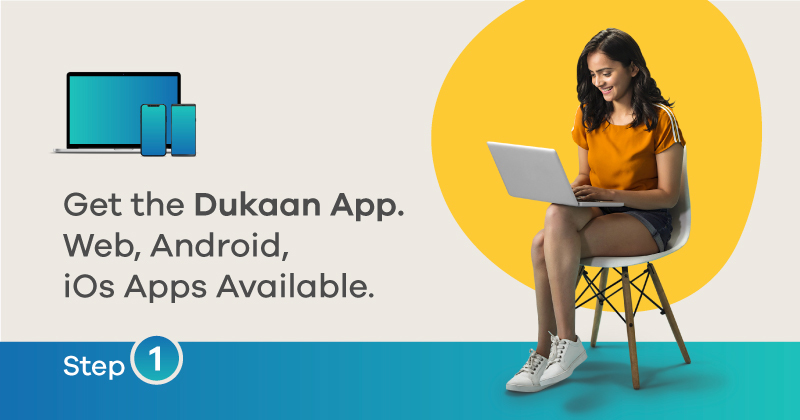 Just give your mobile number, verify OTP and you're in.
Step 2 – Choose your store name and category.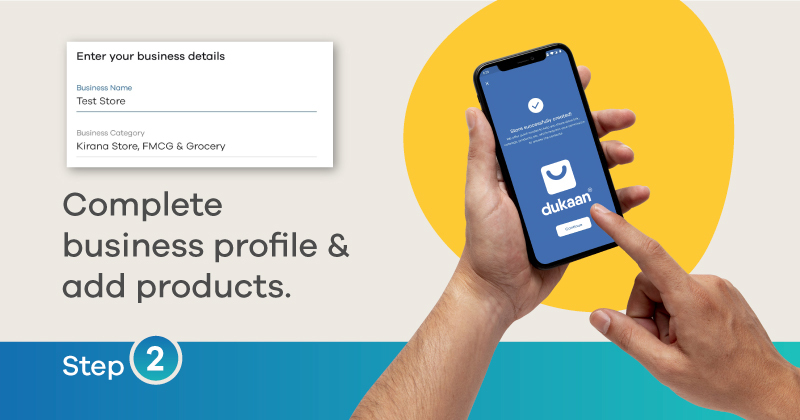 Step 3 – Upload your products.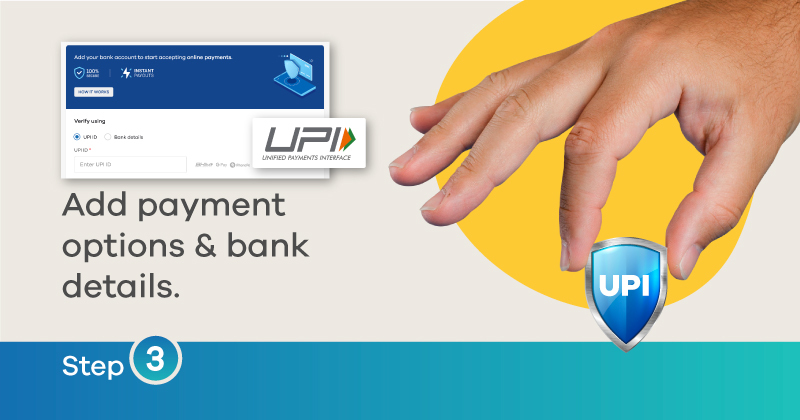 Step 4 – Promote your Dukaan store.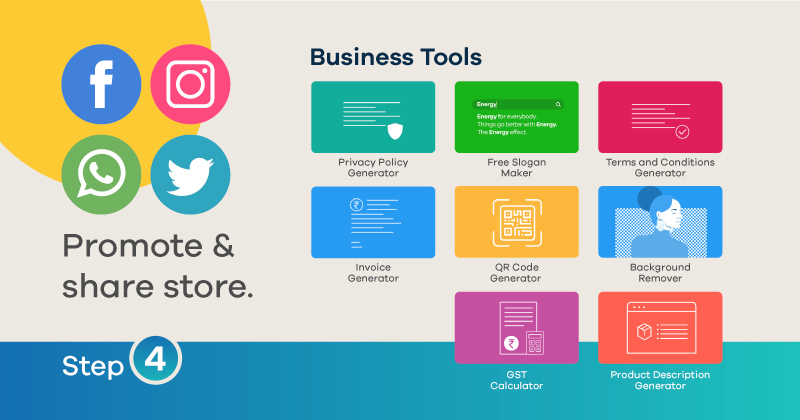 Simple! Isn't it?
7. Build your brand
Now that you have done all the heavy lifting (or was it?), and your website and business are on a roll, focus on getting the word out about your new bakery business.
Don't just market what our product can do, focus on how it can satisfy an underlying need of the customer. Your cookies can be conversation starters, your snacks can become a reason for family time. Get the drift?
Find out what makes you special and stand out from other online bakeries. Your products may be customisable, your flavours may be authentic to a particular pace or your recipes could be passed on for generations. Leverage on that.
FAQs
How much does it cost to open a bakery in India?
Taking into account a reasonable space for rent, licensing, man-power, equipment and marketing, opening a bakery in India will roughly cost you about Rs 15 Lakhs to Rs. 18 Lakhs. The location of the bakery, area of space and scale of equipment can lead to a considerable difference in the estimated cost.
Is the bakery business profitable in India?
If you know how to open a bakery business in India, the answer is yes! At a projected market value of approximately $12 billion dollars by 2024, this business can prove to be your goldmine. Bakery business (especially online business) requires less capital and is easily scalable.
How do you price baked goods?
Simple, calculate the cost of your ingredients to make the product, your recipe yield, cost per serving and the time it takes to make a batch. Factor in the overhead costs such as equipment maintenance, utility bills and staff remuneration etc. and you will be able to effectively price your goods.
How much do home bakers earn in India?
On an average, a typical home baker can easily earn Rs.10,000 to Rs.25,000 a month. The figures can drastically vary depending on the quality of the bakes and the ease at which consumers can order from the baker. Scaling up is easy in the bakery business.
Summary
Whether you are intending to turn a hobby into a business or adapt your business to the current situation, taking it online is the way to go.
Your priority should be an effective system to attract customers and collect processes, and record payments to generate immediate sales. Dukaan simplifies all this and more.
You don't have to be tech-savvy, you can have zero experience in online business and you can still transition to an online platform like a pro. No more time-consuming, difficult routes to your dream store. Just hop onto a great platform that will take care of everything, hassle-free.