Need a reliable eCommerce platform to run your business? Our article lists the best eCommerce platforms in India that you must absolutely consider for taking your business online.
In a world where online stores are popping up on the internet left, right and center, making the right choice with your selection of eCommerce platforms has become imperative. `
It's no secret that today's tech-savvy consumers prefer to shop conveniently from the comfort of their homes instead of visiting physical stores. This makes it all the more essential to make their shopping experience worthwhile.
Curious about what your options are in terms of eCommerce platforms to sell in India? Read our top recommendations below.
Best eCommerce Platforms in India
Best for B2C and D2C businesses of all sizes
Pricing starts at Rs. 375/ month (7-day free trial)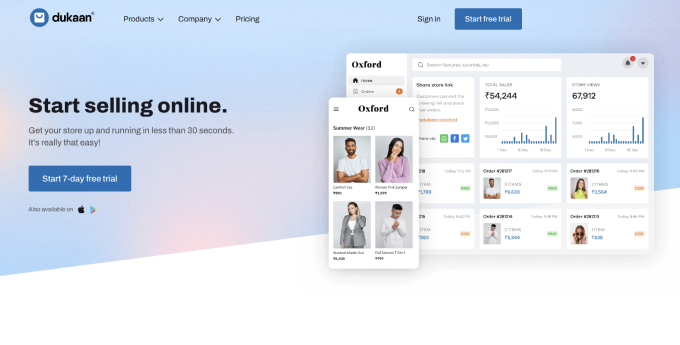 Dukaan is a leading eCommerce platform which enables entrepreneurs all over the globe to launch their fully-functional store in under a minute. Highly intuitive and scalable, this no-code, entirely DIY SaaS platform truly packs a punch.
Features
Dukaan comes out of the box with powerful eCommerce features needed to scale your business and optimise your operational processes rapidly.
Dukaan contains a plethora of powerful eCommerce features like abandoned cart recovery, RTO optimiser, auto sales tax calculator, multiple payment gateway integrations, flexible payments etc., all of which are easily accessible from their dashboard.
You also get access to the platform's advanced analytics section to access and track your business' growth. Additionally, Dukaan comes equipped with integrated business tools and built-in plugins that further expand its functionality.
Design
Dukaan has a well-designed theme library. All the templates in the platform are free to use, optimised for speed and are mobile-responsive.
With the themes, you can fully customise their look and feel to match your brand's aesthetics by changing fonts, changing colors and adding banners, for example.
Dukaan also offers a range of easily customisable templates for social media, WhatsApp stories, and ad campaigns for your business. These pre-designed and editable design resources are beneficial for the sellers to promote their store.
And for those with technical expertise, there's also an option of adding custom CSS to your storefront.
Ease of use
As an eCommerce platform, Dukaan has been designed keeping the convenience of its sellers at the forefront.
Using Dukaan to run and monitor your business is easy, convenient and straightforward. You can control and overview the platform's complete functionality through its dashboard.
With Dukaan, you can set up your online store in a few steps and without any coding or technical knowledge.
Price
Dukaan is very modestly priced, given everything it offers. It offers a 7-day free trial period wherein every seller can explore all the premium features of the platform.
Here is a detailed breakdown of their pricing:
| Plans | Monthly | Yearly |
| --- | --- | --- |
| Silver | Rs. 375 | Rs. 4499 |
| Gold | Rs. 750 | Rs. 8999 |
| Platinum | Rs. 2500 | Rs. 29,999 |
Best for mid and large-scale businesses
Pricing starts at Rs. 1499/ month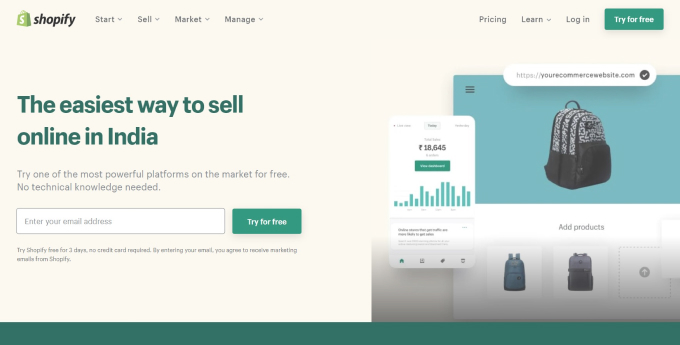 One of the legacy platforms credited with revolutionising eCommerce, Shopify has stood its place even with new and contemporary SaaS platforms emerging on the scene.
Features
Shopify is a full-range eCommerce platform that is a top choice for large-scale enterprises.
It boasts of powerful eCommerce features like abandoned cart recovery, omnichannel selling, advanced reporting and analytics, multiple payment gateways, multi-location inventory etc.
Although many features on Shopify are behind paywalls and the platform overall requires prior eCommerce experience, it is a great option to consider.
Design
When it comes to designing storefronts, there's no comparison to its capabilities. It has a vast library of both free and paid themes and templates. All the components of these templates are fully customisable. You can edit their layout, color, font, style etc., to suit your preferences.
And if you have technical proficiency, you can take your store's personalisation a notch higher.
Ease of use
Shopify is not the most user-friendly platform out there. It has a steep learning curve associated with it, so be prepared to devote extra time and effort to understand its functionality.
If Shopify is your platform of choice, you need to have experience in coding and designing, as well as prior knowledge about the workings of an eCommerce platform. If not, you will have to hire external help.
Price
Shopify does offer a economical starter pack but it doesn't the eCommerce functionalities needed to manage the everyday requirements of running a business.
Shopify does charge premium rates for all the advanced functionalities it provides in its other subscription plans. This is also why mostly rapidly scaling and large enterprises use Shopify.
Take a look at all of their pricing plans below:
| Plans | Monthly |
| --- | --- |
| Starter | Rs. 399 |
| Basic | Rs. 1499 |
| Shopify | Rs. 5599 |
| Advanced | Rs. 22680 |
| Entrepreneur | Custom Quote |
Further reading
Shopify comes with a steep learning curve and can be very costly for some businesses. If you are want to know about
Shopify alternatives
, here is an article for you.
Best for sellers with existing WordPress websites
Free, Open-source Plugin (depends on the domain, web hosting, etc.)
Unlike other platforms listed in this article, WooCommerce is a plugin. The plugin turns your WordPress website into an eCommerce site and is free and open-source. You can sell everything from physical to digital to affiliate products with it.
Features
Don't discredit WooCommerce just because it is a plugin. It is an incredible plugin which, combined with your existing WordPress site, gives the same functionality as any other eCommerce solution.
All WooCommerce-powered WordPress stores enjoy functionalities like SEO, marketing, blogging, live chat, order management etc. Any additional functionality you require can be easily integrated with the platform's extensive library of themes, plugins, add-ons and extensions.
Design
Whether you want a professional site or an aesthetic one, WordPress has multiple templates and themes for your every use case (both free and paid). It's true that it has one of the most extensive design libraries compared to all the other platforms.
Customising WordPress themes are both easy and hassle-free. However, complete personalisation requires some learning curve and technical know-how. For the same, you can hire a developer.
Ease of use
As a plugin, WooCommerce is easy to download and install. But speaking from an eCommerce solution point of view, it is not the easiest to operate, just like WordPress requires some technical know-how.
If you are non-tech savvy, it will be difficult for you to work out things like security, payment, site updation and maintenance etc. In this scenario, be ready to hire external help.
Price
There are a lot of additional costs involved with using WooCommerce, despite it being a free plugin. You will have to pay extra for a domain, web hosting, integrating extensions etc.
What you end up paying for running your store with WooCommerce will vary from seller to seller, based on the size of their business and the functionalities they plan to avail.
Further reading
Best for rapidly scaling businesses
Pricing starts at $ 29.95/ month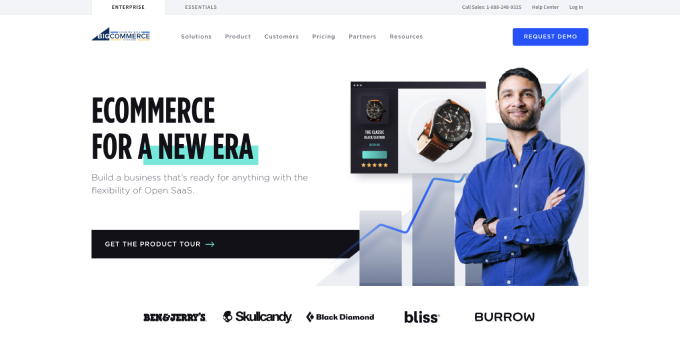 BigCommerce is a well-reputed name in the world of eCommerce. Providing mid-level and large enterprises with stability to scale, it is a fully hosted eCommerce platform helping entrepreneurs manage their business operations more efficiently.
Features
BigCommerce is a great choice to invest in for growing businesses. With its myriad of advanced eCommerce features, you can manage all aspects of selling online, from order management to fulfillment to marketing and analytics.
Some of its sophisticated features include the likes of abandoned cart recovery, multi-channel selling, multiple payment gateway integrations, flexible payment options, store analytics, among many more.
The platform also features a great WordPress integration if your business needs a CMS solution as well.
Design
BigCommerce is best suited to businesses that require functional websites rather than aesthetic ones. It more than compensates for its lack of design capabilities with its eCommerce functionalities.
It comes with an in-built pre-designed library, but it is limited in terms of style and quantity and often ends up looking similar to each other. But to its credit, the platform's drag-and-drop page builder offers convenient and hassle-free page customisation.
To completely customise the look and feel of your site, you either need technical expertise or hire external help.
Ease of use
BigCommerce has a comprehensive dashboard with a clean UI which is easy to navigate. BigCommerce also seamlessly integrates with a plethora of third-party apps.
It caters well to both non-tech savvy and experienced sellers. Ofcourse, people with HTML and CSS knowledge can better navigate and operate the platform. As your business grows, you will need more help to use the site and handle things like site updation, maintenance etc.
Price
You can choose any BigCommerce plan based on your requirement and budget. These plans may seem costly at first glance but are justified by the platform's functionality.
Although, there is a catch here for the Indian users. The platform only offers pricing plans in dollars. Which means you'll end up paying more than users from other parts of the world.
Here are their various pricing plans (in dollars):
| Plan | Monthly (when billed monthly) | Monthly (when billed yearly) |
| --- | --- | --- |
| Standard | $29.95 | $29.95 |
| Plus | $79.95 | $71.95 |
| Pro | $299.95 | $269.96 |
| Enterprise | Custom | Custom |
Further reading
If you are still not sure if BigCommerce is the right choice for you, here are some
BigCommerce alternatives
you can take a look at.
Best for small businesses with limited products
Pricing starts at Rs. 889/ month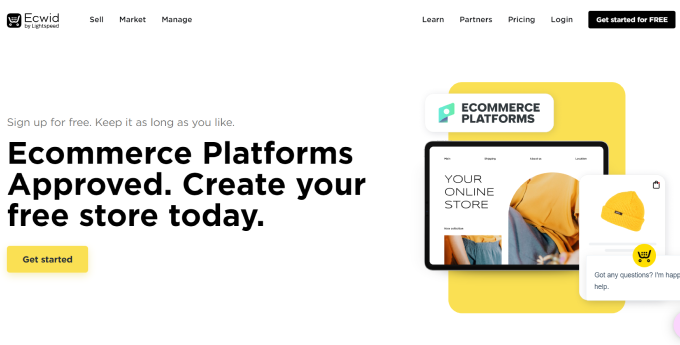 Ecwid (short for eCommerce widget) is a great option for budding businesses and first-time entrepreneurs to get a taste of how eCommerce platforms work. It is a widget that allows you to convert your existing website into an eCommerce store.
Features
Although Ecwid is similar to WooCommerce, it is not solution-specific like the latter. Meaning you can use Ecwid with any website, platform no bar!
The cloud-based widget comes packed with valuable eCommerce features like multi-channel selling, social media integration, store analytics, multiple payment gateway integrations, dropshipping support etc.
Ecwid's forever-free plan and no-transaction fees are its main selling point.
Design
If having a highly aesthetic storefront is not your priority, Ecwid can be your choice of platform. The platform needs to catch up to others on this list when it comes to design capabilities.
Ecwid has a limited library of pre-designed themes, although it does not allow much customisation. All the themes are free to use and mobile responsive.
Buying themes from dedicated marketplaces and incorporating them into your website is also an option if the aesthetics of your store are very important to you.
Ease of use
Ecwid can be used with any platform, making the entire process a whole lot easier. However, you do require coding skills to do so.
Ecwid is best for your business if you need a professional-looking store that is mobile-responsive, optimised for speed and extremely budget-friendly.
Price
Ecwid has a forever free plan, but its features need to be improved for running a business, especially with the ten products listing cap. Moreover, a lot of their essential eCommerce features are only available in the higher-priced plans.
Check out their other more feasible subscription plans here:
| Plans | Monthly | Yearly |
| --- | --- | --- |
| Free | Rs. 0 | Rs. 0 |
| Venture | Rs. 889 | Rs. 8023 |
| Business | Rs.1649 | Rs. 14,399 |
| Unlimited | Rs. 4990 | Rs. 48,000 |
Further reading
Ecwid might not be the apt solution for everyone. The good news is, there are many other
Ecwid alternatives
available. You can check them out here.
Best for sellers who aren't looking to build a brand
Pricing starts at $7.95/ month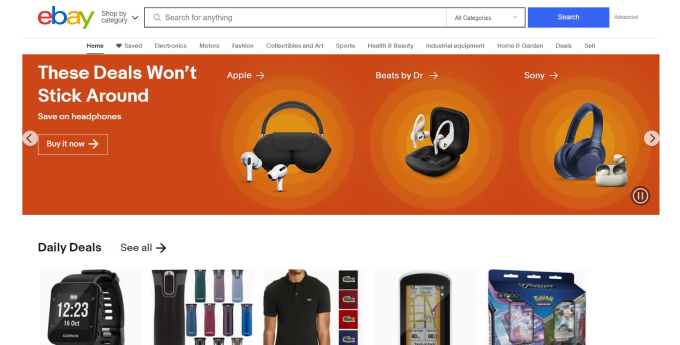 Unlike all the other platforms in the list, eBay is not a dedicated eCommerce solution but a marketplace. It is one of the most popular marketplaces worldwide and enjoys significant traffic from all corners of the world.
Features
Apart from being the world's largest online auction site, eBay also offers a suite of eCommerce features, making it suitable to run an online store. Honestly speaking, eBay is used by sellers as a separate sales channel from their primary storefront.
With eBay, you get features like seller protection, inventory management, multiple payment gateways, social media integration buttons, discount and coupon creationṣ etc., that make selling overcrowded marketplace convenient.
Design
Design capabilities are where eBay significantly lags behind. Since it is a marketplace, there is a set structure for how all storefronts are supposed to look, leaving little to no room for customisation.
In terms of customisation, you can only modify the logo, banner image and store description. You can also create various categories and subcategories for your store to alter its navigation.
Ease of use
Since eBay as a platform gets a lot of traffic, there is no doubt that there will be a lot of eyeballs viewing your storefront there.
eBay is also very easy to use. Even sellers with no technical knowledge and prior selling experience will not encounter any problems navigating the platform. Their dashboard is also very intuitive to use.
Price
There is no fixed pricing when it comes to eBay. The platform charges a lot of additional fees like listing charges, commission per sale etc., on top of a fixed subscription fee.
Based on the product you are selling, the base commission on it, the range of your listing etc. the charges vary seller to seller.
Final Words
Whatever your requirement might be with your business, you'll find an eCommerce fitting the bill in our list. We've attempted to consider businesses of every stature and kind while curating this article.
Choosing the eCommerce platform is a tricky decision. You have to consider everything, both your present needs and anticipate the ones that might arise in your future. Take your time and carefully assess your requirements before zeroing in on a specific eCommerce solution.
If you want to start your entrepreneurial journey with an eCommerce platform that's both powerful and easy on the pocket, try Dukaan.
FAQs
1. Which platform is best for eCommerce?
There is no one-size-fits-all when it comes to eCommerce platforms. Every platform has pros and cons attached to it. However, Dukaan is a good fit for most sellers starting their entrepreneurial journey as it is intuitive to use, economical and scalable.
2. Which eCommerce platform is best for small businesses in India?
Dukaan and BigCommerce are two good options for small businesses in India. Dukaan is best for non-tech savvy first-time entrepreneurs who need a dynamic, scalable platform. In contrast, BigCommerce is a good option for entrepreneurs with budget to spare and technical proficiency.
3. What is the easiest eCommerce platform?
Dukaan is hands-down the easiest eCommerce platform in India. It is highly intuitive to use, requires no coding knowledge and is completely DIY. You can launch your store online from scratch with Dukaan in under a minute.
4. Is eCommerce really profitable?
Yes, eCommerce is among one of the fastest-growing domains in India. With the boom in digitalisation and the change in consumer trends due to the pandemic, people prefer shopping online rather than in physical stores. When the entire audience is on the internet, that's where your business is also supposed to be.
5. How difficult is eCommerce?
If done right, selling online is not difficult at all. All you need is a good eCommerce platform to run and manage your store online. Our "
How to start an online store
" dives deeper into what it takes to launch your business online.