Etsy is not the only platform for selling crafty and artisanal products anymore. Here are the top 9 Etsy alternatives that you should consider.
Don't have time to read an entire article? Take a look at our quick recommendation.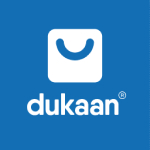 Launch, scale and manage your online business with just $14.99 on Dukaan. Annual plans start at $149.99 only.
Did you know, recently, over 20,000 sellers on Etsy went on a strike, signing a petition against Etsy's move to raise its commission charges from 5% to 6.5%.
Let us look at some of the other driving factors behind looking for Etsy alternatives.
After careful consideration of a few dozen platforms, in this article, we have listed the 9 best alternatives to Etsy that you can consider for your online business.
Why Are Sellers Looking for Etsy Alternative?
While Etsy is well-known among the arts and crafts community for its reputation and large traffic. However, it also comes with its own fair share of problems.
Etsy could have been your first choice provided the platform made it easier for sellers to run their business through value-added features and good seller support.
However, they do not seem to live up to the expectations of the sellers on the platform. Here are some of the common issues faced by sellers:
1. It is very expensive
On most platforms, the initial investment may be on the higher end. However, Etsy charges a 5% commission on every sale made on the platform. On a longer run, this will prove to be more expensive!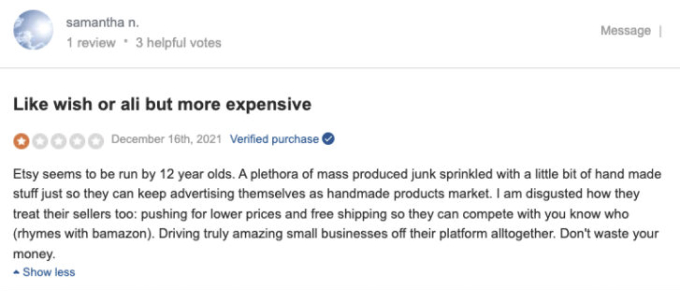 2. Zero protection for the sellers
Etsy, as a platform, does nothing to protect its sellers from fraudulent buyers, fake reviews, abusive customers, etc. Especially when the platform depends on its sellers, it's only fair for sellers to expect some kind of respect and protection from them.

3. The platform is poorly managed
Multiple reviews and complaints from sellers point to how Etsy suspended their seller accounts for no apparent reason. Sometimes right after the seller has paid for listing on the platform.

4. Their policies are not standard
Etsy has been around for over a decade and yet, they do not have a standard set of policies that applies to all sellers. Some listings get removed or banned, even though other people also sell the same products on the platform.

5. Very poor customer service/seller support
Most of the issues faced by sellers could have been resolved if only Etsy had a proper customer support team. However, the lack of this is felt strongly among the sellers and buyers alike!

Apart from these common issues faced by most sellers, there are other problems involved in selling on Etsy.
Your eCommerce platform should make it easier for you to handle all these other aspects of running your business. Here is a list of top eCommerce platforms to get you started.
Etsy is surely an easy-to-use platform where you can register, upload product photos, and start selling. However, if you are serious about running your business and scaling it up, Etsy is not the platform for you!
Etsy Alternatives to Consider in 2022
Without further ado, here are the best Etsy alternatives in 2022.
Best for creating your own brand.
Starts at $14.99 per month. (After 7 days free trial)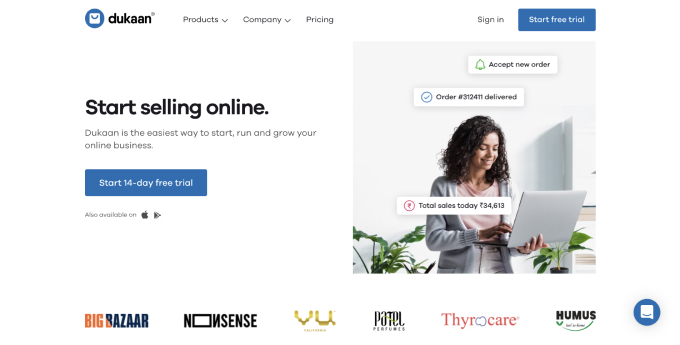 We may sound biased, but how many eCommerce platforms out there are dedicated to finding solutions for every single pain point of the sellers on their platform?
Dukaan is the best alternative to Etsy if you want to start your own business and create your own brand from scratch. You do not even need any technical or design skills to create your online store.
In under a minute, you can set up your own online store on Dukaan and start selling your handmade products.
How does Dukaan compare with Etsy?
| Features | Dukaan | Etsy |
| --- | --- | --- |
| Best for | B2C AND D2C businesses of all sizes. | Small and mid-sized entrepreneurs selling high-margin products. |
| Custom store | Get a dedicated storefront with a custom domain. | Online marketplace. |
| Pricing plans | Choose between Entrepreneur, Agency and Enterprise plan (starts under $12/ month and is all-inclusive) | Choose between Standard and Plus plan (Free plan available but with a lot of hidden costs) |
| Additional charges | No hidden charges. | Listing fees + transaction fees + Shipping fees + Payment processing fees + Listing renewal fees and more. |
| Product niche | Suitable for selling products across all niches. | More suited for selling handmade products and vintage finds only. (Product qualification subject to abiding platform requirements) |
| eCommerce features | Offers advanced eCommerce features like RTO optimizer, abandoned cart recovery, multiple warehouse addition etc. | Offers fairly basic eCommerce features. |
| Marketing | Wide range of in-built marketing plugins available. (both free and paid) | Paid marketing with Etsy ads and Etsy offsite ads. (additional costs applicable) |
| Customization | Vast design resources (for marketing) and theme library available. (all themes free) | Limited customization and design options. |
| Payment processing | Multiple payment gateways and integrations available. (Including stripe, paymango etc.) | Only two payment options available: Etsy payments and PayPal. (payment charges applicable) |
| Customer support | Responsive customer and tech support available 24/7. Can be contacted via phone, e-mail and chat. | Very poor customer support. Requires putting in a request with a 2-4 business days waiting time. |
| Ease of use | Dynamic dashboard (with shortcut customization) available to access all the platform's functionalities. | Standard dashboard with no customizability available to access all the platform's functionalities. |
| Buyer experience | Custom store allows sellers to focus only on your products. | Highly competitive marketplace where buyer can go to other seller easily. |
| Transaction fees | No transaction fees (only what the payment partner charges) | Levied by both the platform and the payment partner. |
Features
The best part, Dukaan, comes with a range of features, tools, and plugins that support the sellers in running their business more efficiently. Be it order management, logistics, or payments, Dukaan has you covered.
Starting with easily customizable themes to free tools for generating slogans, product descriptions, etc. almost every aspect of your business is covered on a single platform.
Design
Dukaan has a range of themes that can be customized very easily. You have to just follow the steps mentioned clearly while customizing your store theme. It is easy to add/ edit the text and change the colors to represent the brand colors to match your store's aesthetic.
There are also a lot of other design elements like store banner templates, social media post templates, discount and offer templates, etc. that are also easy to edit and customize for the business.
Ease of Use
Dukaan aims at making it easy for a seller to run their entire business on a single platform, easily and efficiently. The platform is very user-friendly and loaded with value.
Its mission is to provide a platform that is common to both small retailers and large businesses. It is very easy to create and run an online store on this platform, as easy as creating a WhatsApp group.
Pricing
Dukaan offers a 7-day trial period after which the pricing is as follows:
| Plan | Monthly | Yearly |
| --- | --- | --- |
| Entrepreneur | $14.99 | $149.99 |
| Agency | $49.99 | $499.99 |
| Enterprise | Custom | Custom |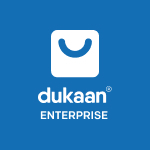 The Dukaan enterprise plan helps you scale your business with advanced features and more controls.
2. Shopify
Best for medium to large retailers.
Starts at $29 per month. (After 14 days free trial)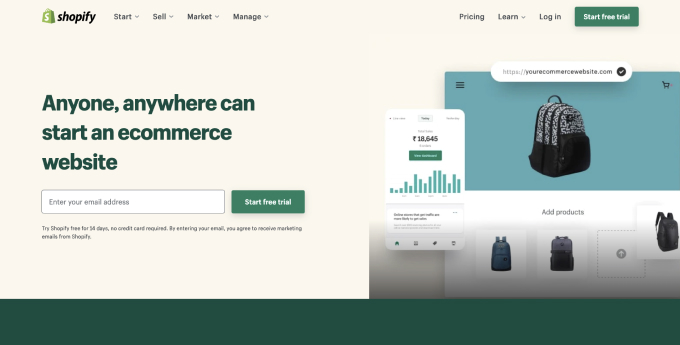 Shopify has become a household name when it comes to eCommerce platforms. Sellers who wish to start their business from scratch choose to set up their online store on Shopify.
The platform is easy to use and the best option for small to medium businesses. It provides an all-in-one platform to manage orders, inventory, and much more. There is also a range of apps and plugins available, at an additional cost.
Features
Shopify is a great eCommerce platform for businesses that are constantly growing and scaling. They have a huge app store where you can buy apps that help manage your business better.
The loading times on Shopify are quicker compared to other platforms, even with apps, plugins, and other add-ons, your store would load very quickly.
Design
Shopify has a range of customizable themes to make your online store look professional and aesthetically pleasing.
Though most of the themes are paid, if you like a theme and have the budget for it, you can make your online store stand out from the rest. You can also customize the theme with your own branding elements.
Ease of Use
Shopify is a lot harder to use compared to Etsy as Etsy is a simple online platform where you can sell your products. With Shopify, you need to create your online store and design it from scratch.
If you want to create a half-decent store on Shopify, then you need to invest in a good theme and have the technical knowledge to customize the theme.
Pricing
Shopify memberships are a little on the pricey side compared to other eCommerce platforms.
| Plan | Monthly | Transaction Fees |
| --- | --- | --- |
| Shopify Starter | $5 | - |
| Shopify Lite | $9 | 2.7% per in-person transaction |
| Basic Shopify | $29 | 2.9% + 30 cents per online transaction; 2.7% per in-person transaction |
| Standard Shopify | $79 | 2.6% + 30 cents per online transaction; 2.5% per in-person transaction |
| Advanced Shopify | $299 | 2.4% + 30 cents per online transaction; 2.4% per in-person transaction |
| Shopify Plus | Starting at $2000 | 0.15% per transaction (for third-party payment processors only) |
Shopify can be considered an Etsy alternative for a beautiful and aesthetic store. However, from the pricing point of view, Shopify loses its competitive edge.
Why choose Shopify over Etsy
Sell using your own store.
Highly scalable.
Drag-and-drop store customization.
Further Reading
3. Wix
Best for building aesthetic websites.
Starts at $28 per month.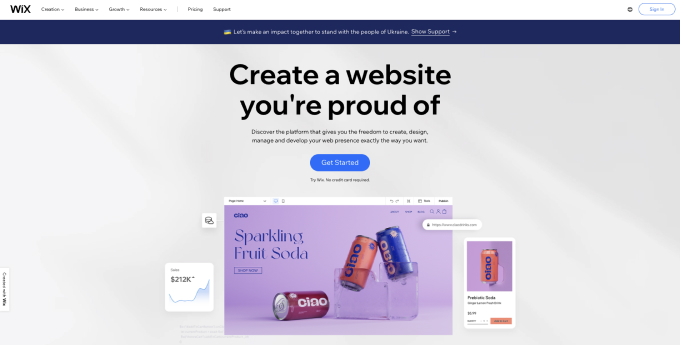 Wix is well known as a website builder rather than an eCommerce platform because that is what Wix is primarily. But their drag-and-drop type website builder comes with built-in eCommerce abilities.
Features
Wix comes with an easy drag-and-drop website builder with a range of well-designed templates. It is primarily used for building websites, with a built-in blog option.
Wix also has a built-in eCommerce facility that lets you integrate your online store to the website and turn it into an aesthetically pleasing eCommerce site. It comes with other features like multi-channel selling, real-time shipping estimates, etc.
Design
Wix has a comprehensive library of over 100+ templates that you can choose from. Retailers of all sizes find Wix attractive for its ease to use. You do not need any technical expertise or coding skills to build a professional website for your business.
As a business owner, you can do a lot with the themes and templates available on Wix. You can create a very brand-centric website for your business.
Ease of Use
As mentioned above, Wix is a very easy-to-use platform. To build the website, manage orders, manage shipping, update product catalog, and much more, you can handle it all single-handedly.
However, there is a learning curve that must be taken into consideration. The number of features and functionality included in Wix might take some time to get used to.
Pricing
Wix is a truly value-added platform with the subscriptions as follows-
| Plan | Monthly | Yearly |
| --- | --- | --- |
| Combo | $23/month | $16/month |
| Unlimited | $29/month | $22/month |
| Pro | $34/month | $27/month |
| VIP | $49/month | $45/month |
| Business Basic | $34/month | $27/month |
| Business Unlimited | $38/month | $32/month |
| Business VIP | $64/month | $59/month |
From a price point of view, Wix is surely pricey. However, you also get a lot of value for the money spent.
Why choose Wix over Etsy?
1. AI-based ADI feature.
2. Vast library of aesthetic themes.
3. Drag-and-drop store builder.
Further Reading
4. WooCommerce
Best for sellers with technical skills.
The open-source platform, price depends on hosting, security, etc.
WooCommerce is the most sought-after platform, especially because it is a free plugin that you can add to your WordPress website.
Since WordPress is a very popular platform for building a website, and they have a range of themes and plugins, you can create an eCommerce store loaded with features.
Features
The biggest advantage of WooCommerce is that it is on the WordPress platform. All the benefits that apply to a WordPress site also apply to your WooCommerce store.
This includes the important plugins for SEO, live chat, etc. which improves the functionality of your store. Though some of the plugins may be paid ones, most of them are free of cost.
Design
There are a number of themes available on WordPress, but if you do not find one that pleases you, you can always purchase a WooCommerce theme on the internet and upload it to WordPress.
Customizing themes on WordPress is quite simple. However, for a more personalized and professional-looking eCommerce store, you might need to put forth your technical skills or hire a developer.
Ease of Use
For a simple eCommerce website, with the free WooCommerce theme, creating the store is very simple. However, if you want to build a more professional store, you will need to have strong developer skills.
If not, it will not be an easy task to work around the theme and set up security, payments, etc.
Pricing
Since WooCommerce is an open-source platform, the plugin itself is free of cost. However, there is a myriad of other charges that can add up to a huge amount for someone selling handmade products online.
| | Low Pricing Range: | High Pricing Range: |
| --- | --- | --- |
| Hosting | $6.95/month | $12.95/month |
| Domain Name | $15/year | $25/year |
| Theme | Free WooCommerce theme | $35-129 professional theme |
| Plugins | Free | $100-150/year |
| Security | $10/year | $150-450/year |
| Dev Fees | Free | $1,000-6,000 |
On the lower end, your charges may be around $15 per month, however, it never stops there!
Why choose WooCommerce over Etsy?
1.AI-based ADI feature.
2. Vast library of aesthetic themes.
3. Drag-and-drop store builder.
Further Reading
5. Amazon Handmade
Best for reaching out to a larger market.
Free membership with a commission of $0.99 per sale.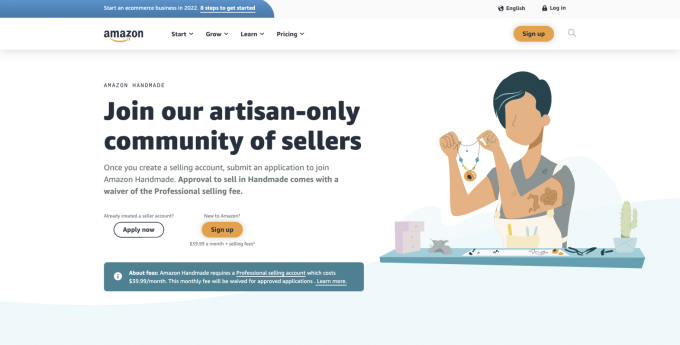 Amazon has a marketplace where third-party sellers can sell their products. Amazon handmade or Handmade at Amazon is an extension of their marketplace dedicated to handmade and crafty products.
It is the best alternative to Etsy because of the brand name and the reach it has. However, there are a lot of things to consider before setting up a store on Amazon Handmade.
Features
The sign-up process for Amazon Handmade is a bit more complicated compared to Etsy or any other eCommerce platform, for that matter.
You will have to fill in all the required details and submit your store for review. Your store will be live only after approval by Amazon.
One of the major features of Amazon Handmade is the access it provides to over 300 million customers on the platform. Apart from this, managing your business is very easy on the platform.
Design
For all purposes, Amazon is nothing more than an online marketplace. Once your sign-up is approved, your store will be live where you can add, manage, and delete products easily.
Your store will look exactly like thousands of other stores on the platform, which does not give you much room for personalization or branding. You can make up for it through custom packaging and thank-you notes on every purchase.
Ease of Use
Amazon Handmade is a very easy-to-use platform in that it is very easy to manage products, inventory, orders, shipping, returns and refunds, and much more.
However, Amazon has a lot of strict rules and regulations that every seller needs to abide by.
There is always a risk of your store getting suspended if Amazon thinks that you are selling non-artisanal products. Amazon also has strict policies on copyright and intellectual property.
Pricing
Individual plan: $0.99 per sale- limited to 40 products
Professional plan: $39.99 per month
There is also a number of other costs involved when selling on Amazon, like listing fees, transaction fees, etc.
Why choose Amazon handmade over Etsy?
1. Sell on a reputed marketplace.
2. Earn using sponsored ads.
3. No listing fees.
6. Zibbet
Best for selling products across multiple channels.
Pricing starts at $5 per month per channel.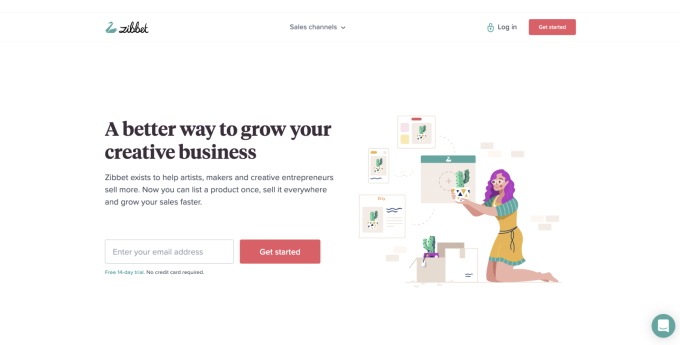 Zibbet is more of an integrated sales channel than a marketplace. It allows you to manage your store across multiple marketplaces like Etsy, Facebook, Instagram, etc.
This is a pure community marketplace that encourages people to sell their handicrafts and artistic products alone.
Features
It is a simple marketplace that allows you to upload and manage your products across multiple channels like Etsy, Instagram, etc. Currently, Zibbet is tied up with 6 channels.
They also provide sellers with a lot of useful information that helps them handle their inventory, track sales, manage orders and much more. However, Zibbet does not have the option to tie to a domain, which could affect store branding.
Design
The lack of design options could be considered one of the major drawbacks of Zibbet. You can still customize your online store. However, you need to possess some design skills in order to create your own store banners and other graphics for the store.
In order for a more personalized-looking online store, you can edit the store title, create a detailed welcome message for text appeal and add a store banner for the visual appeal.
Ease of Use
The ability to upload products on a single platform and have it appear across 6 different platforms is pretty amazing. Makes the seller's job very easy.
You can keep a uniform look and feel of the store by creating a similar kind of product listing. Handling the inventory across multiple platforms may be a little challenging, however, Zibbet's timely insights can help you with this.
Pricing
Zibbet is a very affordable platform. There are no listing fees or transaction fees of any sort on the platform. You can list as many products as you want to.
There is a nominal subscription fee of $5 per month per sales channel. You are required to have a minimum of 2 sales channels on the platform, which means the subscription fee will be $10 per month.
Why choose Zibbet over Etsy?
1. No listing fees.
2. Sell specialized products.
3. Comprehensive dashboard.
7. Bonanza
Best for integrated analytics and marketing tools.
Pricing starts at $25 per month.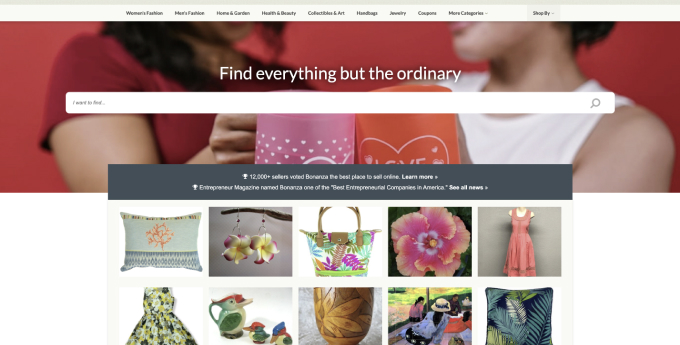 Bonanza is a combination of eBay and Etsy. You can either use it as a marketplace to list all your products or build an online store and sell your products through it.
It also allows easy integration with multiple platforms like Amazon marketplace, Etsy, Facebook, etc.
Features
One of the best features of Bonanza is its simplicity and transparency. You can create and manage your listings very easily on the platform.
It also allows you to import your listings from other platforms like eBay, Etsy, Amazon Handmade, etc. which makes it easier for you to add products to your booth on Bonanza.
Design
With the Bonanza booth, the design options are pretty limited. You can use this feature to list and sell your products on the platform, but there will be no sense of branding involved.
However, you can choose to create a web store on Bonanza, which is like your own online store with a personal domain.
Ease of Use
Bonanza as a platform is very easy to use. Be it creating your booth or web store, it is very simple and takes less time too. You can also integrate your Bonanza store across multiple platforms in a few simple steps.
Bonanza also displays traffic analytics on your booth as well as listing pages. This urges the customer to browse through your store for longer, increasing your conversion rate and sales.
Pricing
Bonanza Booth: No subscription fees or listing fees. This works on a commission basis where you pay a 3.5% fee on every sale for up to $500. Once you have crossed a sale of $500 on the platform, an additional 1.5% commission will be added.
Bonanza Web Store: $25 per month (Annual plan at $255)
This is for hosting your store on the Bonanza platform, the domain is free. There are no extra charges involved here apart from the subscription fee.
Why choose Bonanza over Etsy?
1. Freedom to sell either with marketplace or store.
2. Supports personalized goods.
3. Transparent seller policies.
8. Aftcra
Best for US-based artisans.
Pricing – 7% transaction fee on every sale.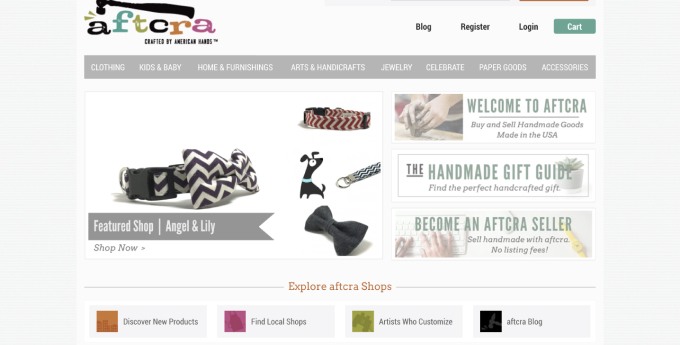 Unlike Etsy which has mainstreamed over the years, Aftcra is a small, family-owned business that is dedicated to US based artisans.
Their platform attracts art lovers from across the world, especially because it is dedicated to selling handmade products alone.
Features
Aftcra is a smaller platform that encourages people's artistic skills. Selling on Aftcra can be really profitable for creators as you will have access to streamlined traffic.
Since the platform is dedicated to handmade products and people coming on the platform will have higher buying intentions.
Design
There is not many design option available on Aftcra as it is a small-scale platform compared to the rest. It is a simple online marketplace where American artists and creators can list and sell their handmade products.
It is up to you to make your listing page look professional and put together with the help of great product images and detailed descriptions.
Ease of Use
Creating a store on Aftcra is pretty straightforward. All you have to do is register yourself and your business on the platform and get started. You will have to provide your credit card information so the platform can use it to collect the transaction fee.
There is no limit on the number of listings on the platform. You can list the product and then select the number of units of the product available.
Pricing
There is no subscription fee for selling on Aftcra. However, a flat rate commission fee of 7% is applicable to every sale made on the platform. If you want to sell your product for $93, then you should list it at $100.
Why choose Aftcra over Etsy?
1. Appeals to handcrafted goods niche.
2. Pay per sale.
3. Free listing.
9. Storenvy
Best for a small-scale seller.
Pricing – 15% commission on every sale.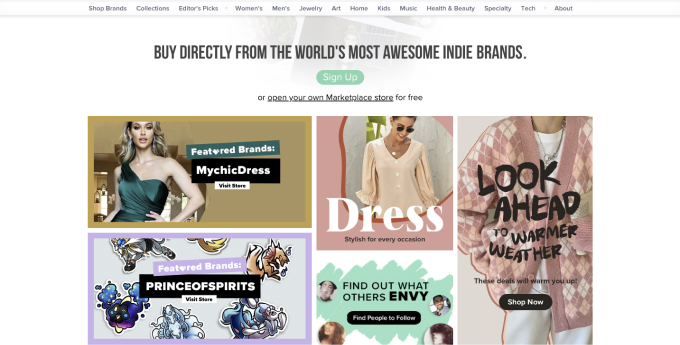 Storenvy is a rather unique marketplace that encourages sellers to create handmade products that are quirky and out of the box. For this very reason, they cater to younger demographics who are into trendy, off-beat products.
Features
Storenvy is a pretty straightforward platform where you can create an account and start selling your handmade products. It also provides access to its marketplace where you can sell your products on an international platform.
They have a range of marketing tools like discounts and offer generators, social media banners, etc. To access these facilities, you will have to pay extra.
Design
Customization options on the platform are pretty limited, especially when your business starts to scale. You cannot design a custom homepage, add a blog, add a product page, etc. for your online store.
They have very limited preset templates, which are easy to customize. But the lack of design options may affect the business in the longer run.
Ease of Use
The platform is known for its ease of use. Creating an account takes just a few minutes and you can start listing products immediately.
Setting up your store and customizing it is as easy as filling in the blanks. All you have to do is to enter the store name, bio, pictures, and a color scheme. Immediately, your store will be personalized to your brand.
Pricing
The pricing for the Storenvy marketplace is as follows:
Free Plan: No subscription fee- limited to 1000 products.(15% commission per sale)
Plus Plan: $14.99 per month- limited to 2000 products.
Pro Plan: $29.99 per month- limited to 5000 products.
Why choose Storenvy over Etsy?
1. Easy to use.
2. Managed marketing feature available.
3. Sell using an independent store on the marketplace.
Conclusion
Yes, we have provided you with the best alternatives to Etsy where you can sell your handmade products and make some money out of your hobby.
We understand that creating a product from scratch takes a lot of time, energy, patience and passion.
When you sell a product that you are invested in, it should not be considered as one among a million other such products. It simply is not fair to you or your efforts.
For this very reason, we think that starting your own online store could be your best option.
With everything getting more digitized by the day, eCommerce is here to stay and grow. So, why not take advantage of this huge market and set up your own online store?
FAQ's
Which platform is similar to Etsy?
There are a lot of marketplace sites similar to Etsy, like Dukaan, Bonanza, Amazon handmade, Shopify, etc.
Is there a cheaper version of Etsy?
If you are looking for an open-source platform, WooCommerce can be the one for you. However, if you lack the technical expertise, go for Dukaan. It is way more cost-effective than Etsy!
Is Shopify cheaper than Etsy?
No. Shopify is expensive compared to Etsy, especially in the initial investment. However, Dukaan is even more affordable when compared to Etsy.
Why are Etsy sellers leaving the platform?
The major problem sellers face on Etsy is bad seller support. That combined with the large competition and lack of ways to create a strong brand identity on Etsy is the reason people are looking for alternatives.
Is it worth trying to sell on Etsy?
If you are not serious about making a business out of your creativity, Etsy can be a good place to start. However, if you want to start a business that can grow and scale up into a brand, it is not worth selling on Etsy.