So you are here to learn about how to start an online clothing store. This article will give it to you straight with 7 easy steps to starting your own online clothing store.
When someone says, "let's go clothes shopping" the first thing that comes to your mind is an online store or app, rather than a physical retail store.
That is the revolution created by the internet and grown to fruition during the pandemic period.
Due to the fear and restrictions imposed due to the pandemic, most of us have started shopping online without having to step out of our houses, and this trend is expected to become the new normal.
This is a factor to rejoice, especially if you are passionate about the fashion world and would like to venture into starting your own online clothing business, and why not!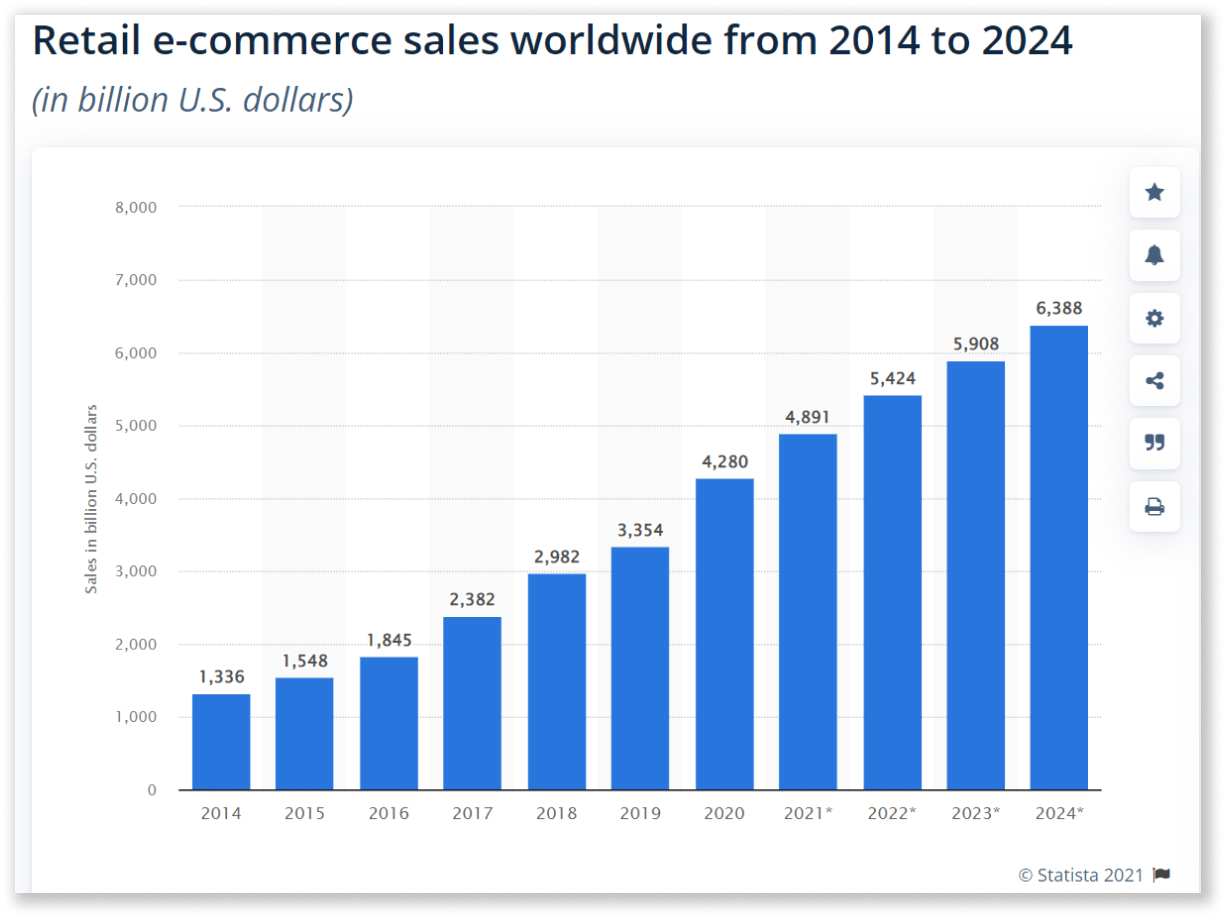 In 2020 alone, the online retail market has accounted for $4.28 trillion sales. And the forecast suggests that the trend will continue upwards leading to a sales of over $5.4 trillion in 2022.
So if you were waiting for a sign, this article is it!
In this article, I will give you a detailed guide on how to start your online clothing store in 7 easy steps.
Difference between selling clothes online vs offline
Once you are setting out in the direction of starting your own business, it is important that you have compared all of your options and chosen the best.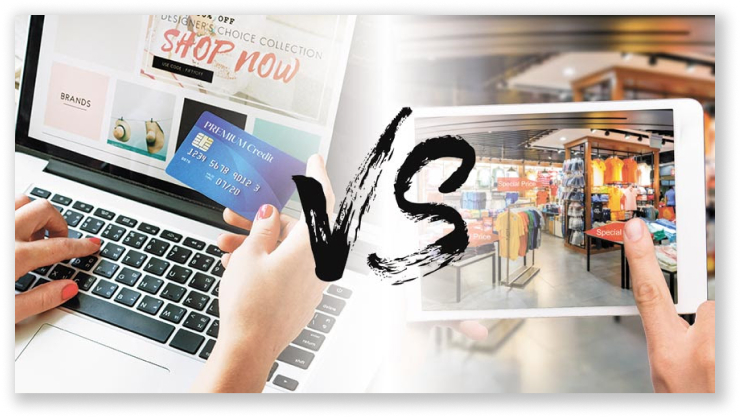 That said, when it comes to a clothing store, one of the major decisions is to choose between starting an online store or an offline store.
Though offline clothing stores or the traditional stores are still retaining their hold in the market, with evolving time and technology, the online business is also finding its place in the market quickly.
Anyone who owns a smartphone will prefer to browse through an online store for anything that they want to buy, place an order for the products and get it delivered to their doorstep. This way they get a lot more choice of stores and products too.
With more and more millennials preferring eCommerce stores compared to visiting a physical retail store, it seems like an obvious better choice to go with starting an online clothing store.
Also, it is really easy to start an online store in today's world, compared to opening up an offline store. That is the reason why a lot of young entrepreneurs choose eCommerce platforms to start their own business.
Why is it the right time to start your online clothing store?
As I have mentioned above, the pandemic period has opened up a huge opportunity for eCommerce businesses.
So, if you have a passion for clothing and you have an entrepreneurial flair, it makes most sense to cash in on this opportunity when you can!
However, you also need to know and understand that clothing retailers have been using the online platform for over a decade now and hence, there is a lot of competition in the field.
Those who managed to take their stores online a decade ago, just at the start of the eCommerce evolution, have already established themselves as leaders in the online clothing business.
Do not let this fact demotivate you though because there is always a place for you and your business idea in this market, all you have to do is to research and find that place.
People sell everything through online platforms, from clothing to shoes, food items to grooming products, salon services to fitness coaching, and so much more.
Even courses are being created and sold online today, who knew that was possible? Sky's the limit when it comes to choosing your niche and starting your online business.
With that kind of potential, you do not have to worry about starting an online clothing store or about being able to run it successfully!
Furthermore, this article will give you a clear strategy for starting an online clothing store, which you can customize to your needs.
How to start an online clothing store in 2022
Here is a quick guide to get started on your online clothing store in 7 easy steps.
1. Find your niche
2. Create a business strategy
3. Choose an eCommerce platform
4. Create your online store
5. Launch your online store
6. Promote your online store
7. Running the store efficiently

1. Find your niche
I am sure you have heard the word 'niche' or even the phrase 'find your niche' more than once, and it is always the first step to any kind of business plan.
Niche helps you focus your efforts down to a smaller target. By selecting a niche, you will be able to display your unique set of skills to potential customers with specific interests. It simply increases your chances of success.
Be unique and be yourself
When there are so many clothing stores online, even in the niche of your choice, the only way to carve out a place for yourself is by being unique and authentic.
Examine where you can make a difference, in which area of clothing you can add something unique, identify any gaps in demand and cater to it.
Choose something you are passionate about
An idea that excites you is the most likely to succeed. Think of it like this, if you wouldn't want to pay for the kind of clothes in your store, then no one else will.
Also, think from a consumer's point of view. What is trending, necessary clothing, seasonal clothing, etc. and transfer that to your business.
Choose something with earning potential
Even within your chosen niche, choose product lines that has a higher earning potential. At the end of the day, when you start a business your goal is to profit out of it.
Choosing something with earning potential allows for quicker growth and the ability to earn money.
Choose the products for your store
Through the previous steps, you should have closed in on the kind of products that would go on your store.
When you are starting out in a clothing store, it is always better to start small. As your business grows, your clothing line can grow too.
Some clothing niche ideas for you –
Sustainable clothing
Retro fashion
Bohemian fashion
Gender neutral clothing
Thrifted fashion
2. Create a business strategy
The next step after selecting your niche and finding the product line with an earning potential, the next step is to sketch a business strategy.
Every business needs a strategy, so here's how you go about creating one for yours.
Study the market
Market research is a must when it comes to starting a business. When you are studying the market, you are not just looking at how other stores in your niche have succeeded, but you also study if any store in your niche has failed and why!
While it may be depressing to do that, you are never going to repeat the same mistakes with your online clothing store.
Study your competitors
Next step is a comprehensive study about your competitors, their strengths and weaknesses, their unique selling points (USP) and more.
This gives you a chance to peer into the market, past your competitors, and look at the ways in which you can gain an advantage while entering the market.
Choose a business model
When it comes to clothing stores, there are 4 common business models to choose from –
Print on demand – Taking a blank apparel and creating custom digital prints on it like logo, graphics, quotes, etc.
Custom cut and sew – Involves creating a clothing piece from scratch, customized to a customer's measurements and needs.
Private label clothing – Sourcing apparels in wholesale and then customizing them with your private label, logo, prints, etc.
Dropshipping – Acting as a middleman between customer and manufacturer. When an order is placed, you place an order for the same product from the manufacturer. They ship out the order and you pocket the margin.
3. Choose an eCommerce platform
Creating an online store needs an eCommerce platform that suits all your business needs. With a fully functioning online store, it is easy for you to add products, delete them, manage orders, manage inventory and much more.
Here are a few factors that can help you choose the right eCommerce platform for your online clothing store.
Pricing
When you are starting out, it is always the smartest thing to find budget friendly options. The same applies to finding an eCommerce platform too.
Especially considering you may have to pay a recurring fee per month or per annum, starting with a low budget platform will help you go a long way.
Scalability
When you are setting up your online store, designing layout, choosing a name, etc. you should leave room for growth. You do not plan just for the present but for the future of your business too.
Having a clear view at the future goals for your business will help you choose an eCommerce platform that is scalable accordingly.
Additional features
Small businesses have a lot on their plate to deal with. Hence, finding an eCommerce platform packed with a lot of useful features will be of huge help to you, especially in the beginning.
For example – Dukaan has a lot of free tools like product description generator, terms and conditions generator, invoice generator, slogan maker, etc. that immensely helps the store owners on our platform.
Our recommended eCommerce platforms are –
4. Create your online store
Now that you have chosen your eCommerce platform, it is time to create your online clothing store.
Work on branding (store name, logo, about us, contact, etc.)
People think that branding is something that they can eventually get to. However, I am here to tell you that branding is one of the first things you should strategize while starting your business.
Simple things like brand colors, brand name, logo, etc. will go on to become the identity of your business. It will be your guiding line while choosing the theme, designing your store front, etc.
Choose themes that suit your business
This is one of the most important decisions you will make when creating your store. Your store, its design, and user-friendliness are as important as the product you are selling.
It should catch the shoppers eyes immediately and make them stay. These features can get shoppers browsing and eventually buying your product, building a sense of trust.
Customize your store front and make it attractive
Making your online store front look attractive and accessible makes a lot of difference. An online store with well-planned sections and tabs will make it easier for the buyer to navigate.
Some important tabs and pages like about us, contact us, search engine, shipping information details, return policy, terms and conditions, checkout/ payment details, help center etc. should be clear and easy to find.
Products & Pricing
When your store-front is ready, it is time to fill up your store with your products. As mentioned above, start slow with just a few trending products in your niche. You can always add more products to your catalogue.
Another important thing is pricing your products right. This needs a lot of market research. Find out how your competitors are pricing their products and decide on competitive pricing accordingly.
Create policies for shipping, cancellation, return, refund, etc.
When it comes to your online store, you are your legal advisor and you are your rescue. Of course, as the business grows, you can decide to hire someone to do these legal activities for you.
However, when you are starting out, it is a smart thing to create a few policies for shipping, cancellation, return and refund etc. On Dukaan, you will find free tools to help you out with this!
Run a test order
Before going live with your store, it is mandatory to run a test order, just to see if everything works fine.
Create a dummy account or use your friend's account to get on to your online store, see if everything is in place, and also check how your store front looks on different devices.
Also find out if you are able to see all details about the product. Place an order for a product and see if your payment gateways are integrated correctly.
Approach your store as a customer and see if you are satisfied with how everything works. Only then, is your store ready for the launch.
5. Launch your online store
At this point, most of your leg work is done and it is time to go live with your store. Now, you are all set to go ahead with your new business.
Strategize the launch
This step is all about getting people to know that you have got a brand new online store all set up and ready to launch.
Come up with fun and attractive things like privileged invites, discounts for first few orders placed, free gifts for orders above X amount, etc.
Integrate social media accounts
Ensure that you have a social media presence created for your brand and that it is integrated with your online clothing store.
It is easier for you to share any and all news about your store directly on your social media handles.
Create a buzz
We all know how helpful social media can be when you want to get the word out about something.
Find that high school friend, or your college classmate, that distant cousin who talks a lot, your uncle who supports your every decision, and so on. Tell them the news about launching your store and ask them to share it around.
6. Promote your online store
Creating a buzz is just the beginning of promoting your online store. You should have stronger strategies in place for promotions and marketing for your business.
Organic marketing
Organic marketing is the kind of marketing that you do not spend any money on. It is tougher and takes time but also the most effective and reliable way of getting quality leads for your business.
Have a strong content marketing strategy in place. Reach out to people with blogs, vlogs, useful fashion tips, etc.
Email marketing
Over the years, email marketing may seem like it has lost its lustre. However, it still remains one of the most effective digital marketing techniques.
Building an email list of all your customers, potential customers, and anyone interested in your products can help you a lot in future.
You can get directly in their inboxes with updates about your store and keep them coming back for more.
Paid advertising
Google has its own paid advertising platform called Google Adwords, which you can use to market your store. Try running 'shopping ads' for your store, provided you have that kind of budget set aside.
Social Media platforms also have various paid ads that you may use to promote your business. Apart from the regular social media channels, there are a plethora of business tools out there to help you establish your brand online like a pro.
7. Running the store efficiently
Setting up your online store and launching leads you to the start of a perpetual activity which is running your business successfully and efficiently.
Active on social media accounts
Sales is important for every business, but so is building a following for your brand. You can do this by being active on social media platforms.
You can create interesting content, show BTS of your business, get in on the trends, create contests and giveaways, etc.
Create a staffing plan
As your business grows, you may need to delegate some tasks so that you can focus on more important things.
It is important to realise when you need some help and create a staffing plan accordingly.
Manage your inventory
Inventory management can save you a lot of time and energy, making it easy to run your business efficiently.
Being organized with your inventory leads to lower turnaround time on orders, better order management and very happy customers.
Learn more about inventory management and its importance, if you want to know how much it can help your business.
Interact with customers on live chat
Having live chat integrated into your online store can help you interact with your potential customers on a real time basis, answer their queries and actually convert the chat into a sale.
The only thing that lacks while shopping over online platforms is the human contact, which can be rectified with a live chat option.
Join online clothing store community
Being around people with similar interests and similar problems will help you learn a lot and grow your business.
Find out if there are any online clothing store communities where you can interact with other business owners. Build relationships with them and see if you can come up with business arrangements that work as a win-win for both of you.
So, there you have it. Seven steps to building your own online clothing store and running it efficiently.
3 Best performing online clothing stores on Dukaan
These Online clothing stores on Dukaan are killing it at the eCommerce game. Check them out if you are looking for that extra little nudge towards starting your own store.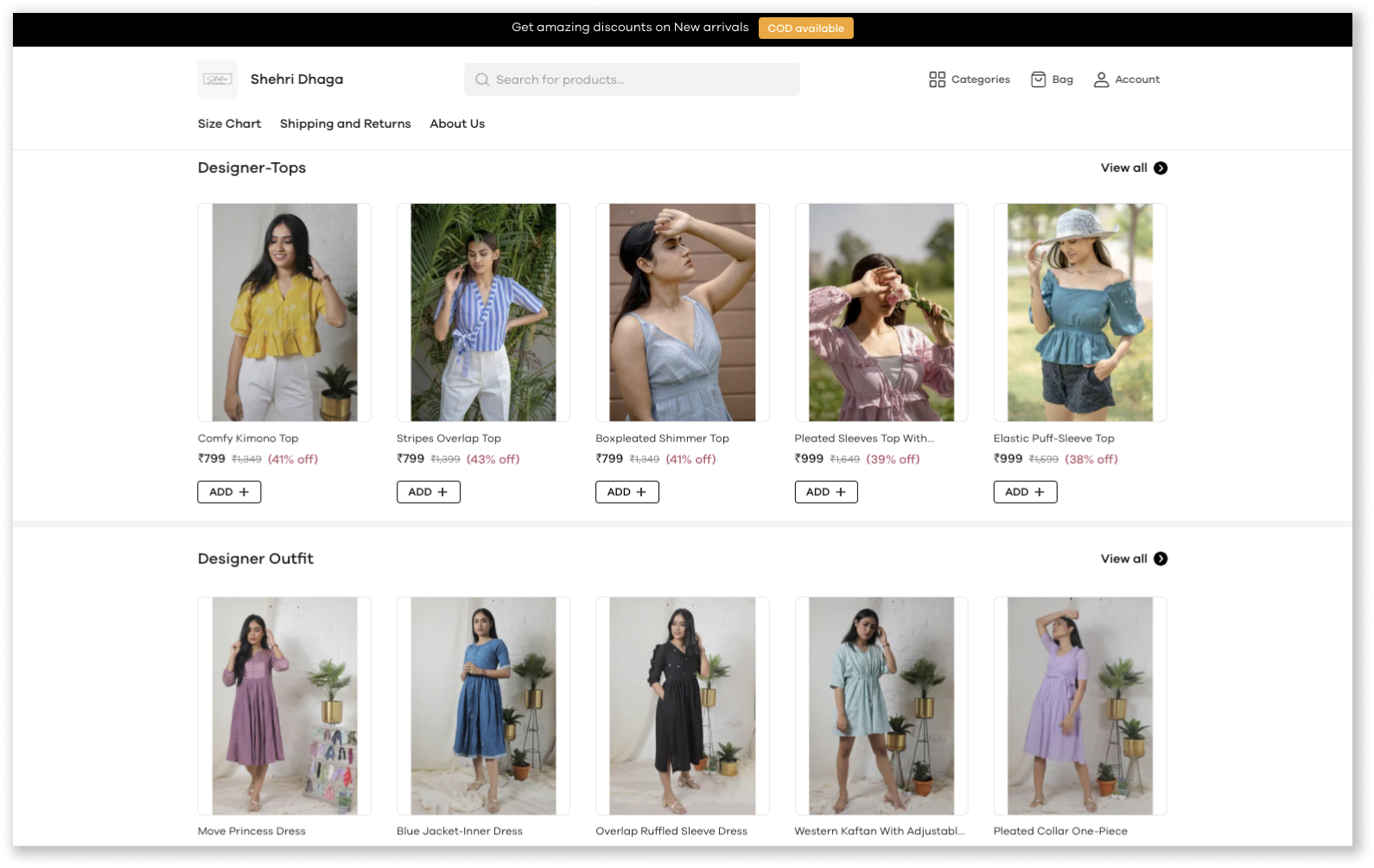 Shehri Dhaga is an Indo-western online clothing store with a range of outfits that are simple, elegant and practical too.
The brand name is a culmination of two hindi words, 'shehri' means 'city' and 'dhaga' means 'thread'. The name represents the brand perfectly as their collection is a combination of contemporary and traditional.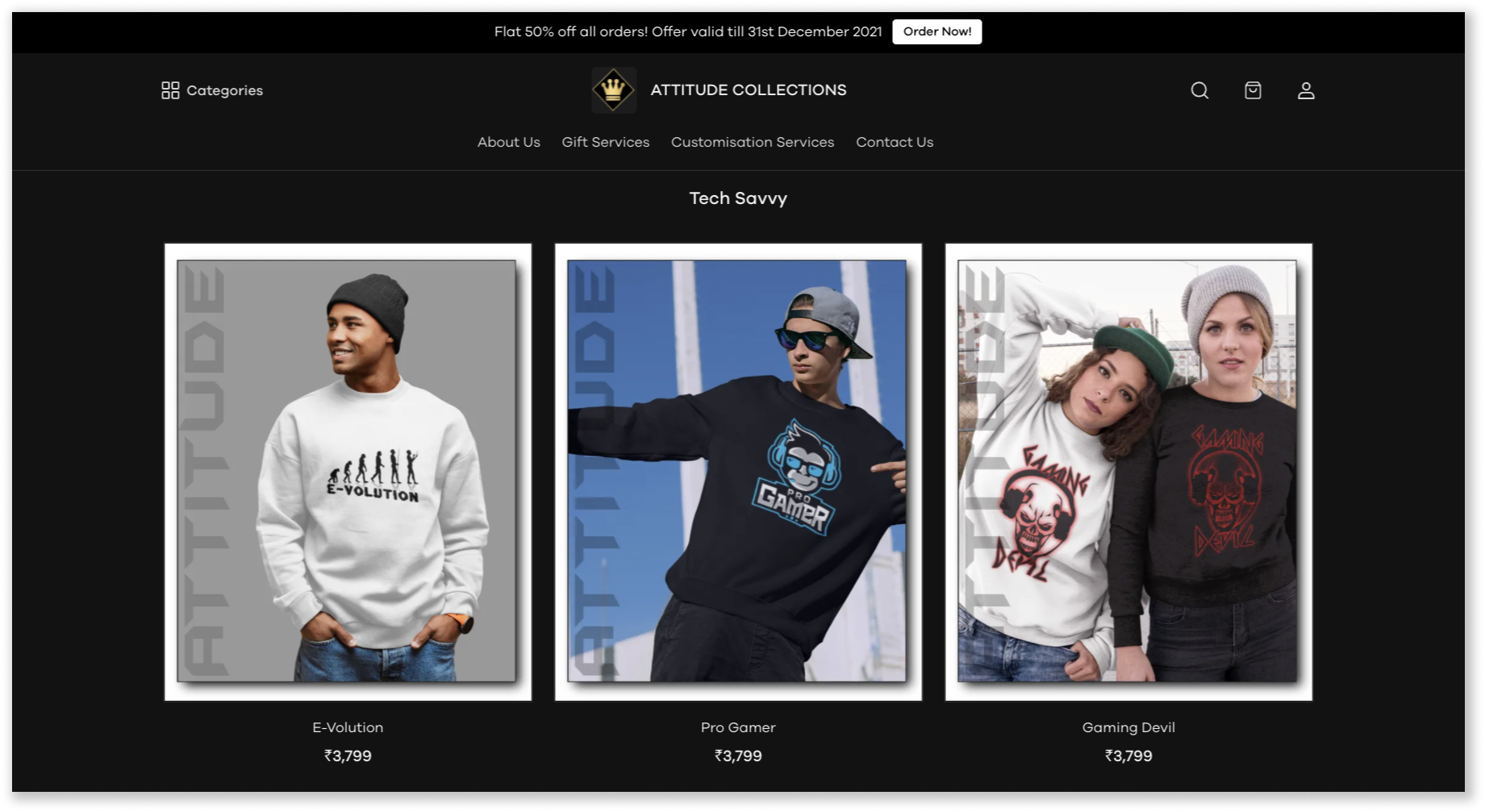 Attitude collections is your one stop shop to "own your attitude and wear it with pride" as the store motto goes!
They sell a range of printed outfits under super swag categories like Powerful, Artistic, humorous, roady, transcendental, etc.
They also take in custom order for prints. Check out their store right away!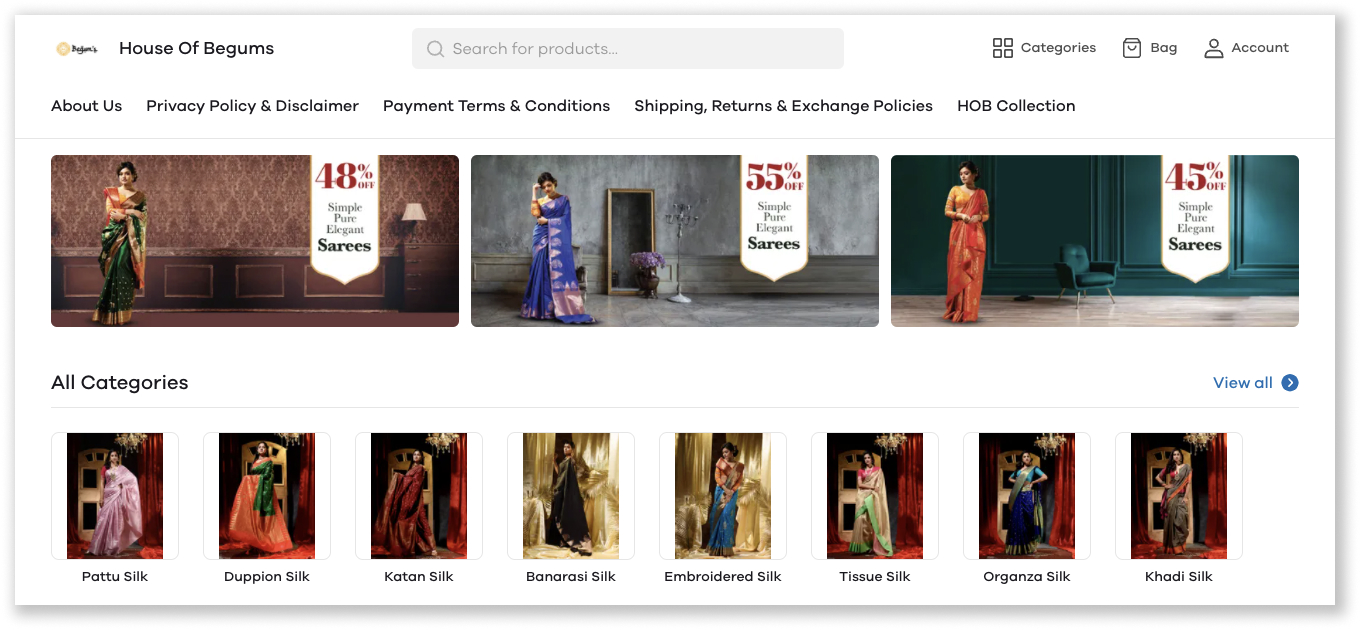 House of Begums is the ultimate paradise for saree lovers. They have a range of traditional silk sarees that are famous to various states of India.
The best part about this store is that it is founded and run by a family of weavers who have been a part of the weaver's society for generations. Hence you can rest assured that every product you find in this store is carefully curated by expert craftsmen.
Conclusion
With the boom in the eCommerce industry, it is the right time to ride the wave. Start your online clothing store today.
In this article, I have taken you through 7 steps which will help you set up your online business, launch it, promote it and run your business more efficiently.
I have also given you a little dose of inspiration with some of the online clothing stores on Dukaan that are doing so well for themselves.
There is an amount of legwork that goes into starting a clothing business, be it online or offline. It does not need to be complicated and confusing too.
On Dukaan, you can create your online clothing store, add products, design the layout and launch your store in a matter of minutes. You do not need any technical skills or design experience to create an attractive online clothing store with Dukaan.
Here is how you can get started –