You have made up your mind to start online clothing business, but the million dollar question that remains – how to start an online clothing store?
E-commerce is, without a doubt, one of the booming industries. According to Statista, in 2021, e-retail sales were reported to be about USD 4.9 trillion and are expected to reach USD 7.4 trillion by 2025.
If you dive deep into the statistics, you will find fashion is the largest B2C eCommerce market segment, expected to grow from USD 752.5 billion in 2020 to reach USD 1.16 trillion by 2025.

While setting up your online clothing store may seem like a daunting task in the beginning, with the right tools and resources, you can pull it off easily.
In this blog, we have covered 12 important steps that can assist you in starting your online clothing store quickly. Let's get started!
How to Start an Online Clothing Store in 2022
Here are 12 simple steps you can follow to start your online clothing store.
Let's take a look at them one by one:
1. Target a Niche
Firstly, you will need to pick a niche or category for your store. A niche is a specific segment of the market that you can target.
You can either opt for a particular type of clothing, such as women's wear, men's wear, or kids' wear. Or you can also go for a specific style, like formal wear, semi-formal wear, or casual wear. Here is how choosing a niche can benefit your business:
Makes marketing easier and more targeted
Provides competitive edge
Increases the chances of success
When choosing a niche, make sure that you consider the following factors:
Target audience
You need to think about your target audience. Who are they? What age group do they belong to? What is their gender? What are their interests? Once you know the answer to these questions, it will be easier for you to choose a niche.
Competitors
Thoroughly analyze your competitors and see what type of products they are selling. This will give you an idea of what's already available in the market and help you choose a niche that doesn't have too much competition.
Passion
It's important to select a niche that you're passionate about. This way, you will be able to connect with your customers and build a successful business.
Earning Potential
Last but not the least, you need to consider the earning potential of your chosen niche. Can you make good profits by selling products in this niche?
2. Vet and Select Vendors
The next step is to vet and select vendors. When it comes to online stores, there are two types of vendors:
Manufacturers
These are the companies that design and produce clothing items. You can either buy products from them or get them manufactured according to your own designs.
Wholesalers
Wholesalers are the companies that purchase products from manufacturers in bulk and then sell them to retailers at a lower price. As an online retailer, you can buy products from wholesalers and then sell them at a higher price.
You need to be cautious while selecting vendors for your store. Consider the following factors while selecting vendors for your online clothing store:
Quality of Products
You need to make sure that the products you're selling are of good quality and meet the needs of your customers.
Pricing
You need to find vendors who can provide you with products at a competitive price. This way, you will be able to sell them at a higher price and make profits.
Delivery Time
Make sure that the vendors you're working with can deliver products on time. This is important because it will impact your business negatively if customers have to wait too long for their orders.
3. Choose & Register a Domain Name
Now that you have decided on your niche and selected a vendor, the next step is to choose and register a domain name. It is the address of your website on the internet. You should choose a memorable domain name because that is how people will search for your clothing store on the search engine.
Here are 3 tips for choosing a good domain name:
Make it easy to pronounce and spell: The domain name should be easy to pronounce and spell. This way, people can remember it easily and type it correctly when they want to visit your site.
Make it short and straightforward: A concise domain name is more memorable than a long and complicated one.
Avoid using hyphens: It's best to avoid using hyphens in your domain name. This is because people might forget to include them when they type your address, and as a result, they will be directed to a different website.
There are two ways to purchase a domain name. One way to purchase a domain name is through a website builder of your choice. The other way to buy a domain name is through a reputed domain registrar like Domain.com, GoDaddy, etc.
How do you decide whether to purchase your domain name through a website builder or a domain registrar?
Purchasing a domain via a website builder is very convenient. Builders usually have tie-ups with domain registrars that drastically reduces the time to purchase a domain as compared to purchasing it directly from the domain registrars where you have to undertake several extra steps.
4. Select a Website Builder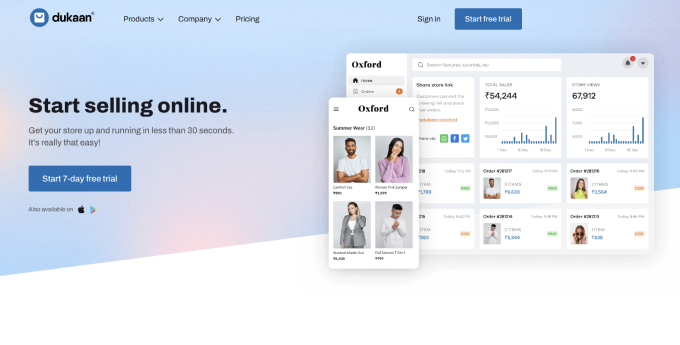 The fourth step in the process would be to select a website builder for your online clothing store. A website builder is a platform that allows you to create and design your own website.
There are multiple website builders in the markets, and there is no straight answer for which one is best for you. However, here are some factors that will help you pick a suitable website builder for your online clothing store:
Your requirements
The first step is to evaluate your needs. You should consider what features you need for your clothing website and what kind of budget you have. Once you know what you need, you can narrow down your choices and select the right website builder for your business.
Ease of use
The website builder you choose should be easy to understand. Choose a platform that provides comprehensive resources like video tutorials and forums so that you don't get stuck in any process.
Flexibility and customization
The platform should allow you to design your website the way you want. It should also provide options to customize the website as per your business's requirements.
Scalability
Choose a website builder that can grow with your business. The platform should allow you to add new features and functionalities as your business expands.
Security
Select a website builder that offers robust security features. That's because you will be storing sensitive customer information on your website, and you need to ensure that it is safe from attackers.
SEO Capabilities
Choose a platform that offers a wide range of SEO (Search Engine Optimization) features. With the help of these features, your website will be able to rank higher in search engine results, and more traffic will be generated.
Pricing
Most website builders offer different premium plans that come with various features and add-ons. So it is essential to select a website builder that provides value for your money.
Customer Reviews
Check out the platform's customer reviews before making a decision. This will give you an idea of the experience other business owners have had with the platform.
Based on the above factors, you will be able to make an informed decision when choosing a website builder.
5. Do Not Compromise on Your Website Design
After choosing a website builder, It's time to start designing your website. The website design plays an important role because it will be the first thing that people see when they visit your site.
Studies have shown that 94% of the users form first impressions about a business by looking at the website design.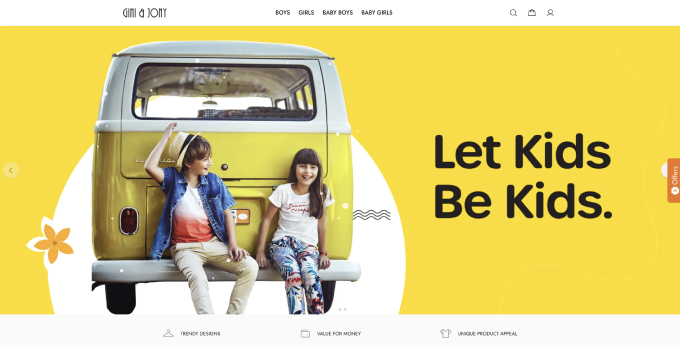 Here are some tips for designing an effective website:
Make sure the design is responsive
The website design should be clutter free and responsive, meaning it should be optimized for all devices, including smartphones, tablets, and laptops.
Choose a theme that is appropriate for your business
Select a theme that resonates with your brand's image and ethos. For example, if you are selling women's clothing, choose a theme that is related to fashion.
Include high-quality images
Your images should be relevant to your products and help give people an idea of what they can expect from your store. Ensure that the images are optimized for their technical format (.jpeg or .png) and are not too big in size as large-sized images affect the website's loading time.
Make your website user-friendly
The design of your website should be easy to navigate. People should be able to find what they are looking for without any difficulty.
Add Call-to-Actions
Include call-to-actions on your website so that people know what you want them to do. Use power words and keep them concise. For example, to encourage customers to check your product portfolio, add positive-sounding CTAs such as 'Explore Now' or 'Start Your Journey Now'.
These are just some of the things to keep in mind when designing your website. Remember, the goal is to make an impact on visitors so that they feel motivated to buy from you.
6. Add Products
The sixth step is to add products to your online clothing store. Adding products by using any eCommerce platform is an easy task. Dukaan, come up with own catalog builder, which simplifies the whole process of uploading product pages.
When uploading products on your online clothing store, make sure to include the following information:
SKU name
The product's name should be descriptive and include keywords so that people can find it easily when searching for it online.
Product description
The description of the product should also be keyword-rich and give people all the information they need to know about the item.
Dukaan provide tool that automatically generate descriptions for your products by just entering the product name.
Include size information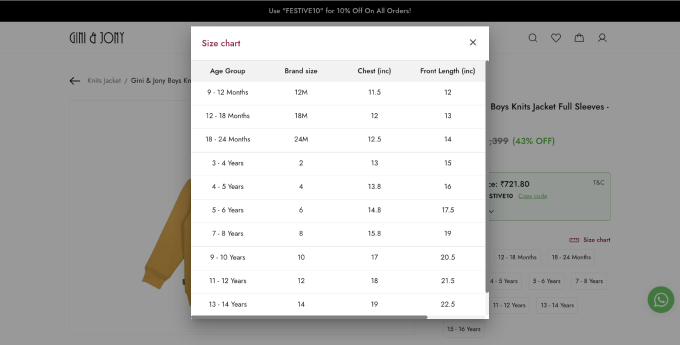 Include sizing information so that people know they are ordering the correct size.
Product images
Add high-quality photos of the product. Ensure that the image is clear and shows the clothes from different angles.
Use Models
If the budget allows, use models in your product photos to show how the clothing looks when it's being worn. This will enable customers to visualize how the item will look on them.
Highlight the product image
The image's background should complement your hero product. One of the ways of doing this is by taking product pictures against light-coloured and simple backgrounds.
Zoom-in feature
Add a zoom-in feature to your product photos so that people can get a closer look at the details of the clothing.
These are just some of the things you should consider when adding products to your online store.
7. Set-up Payment Options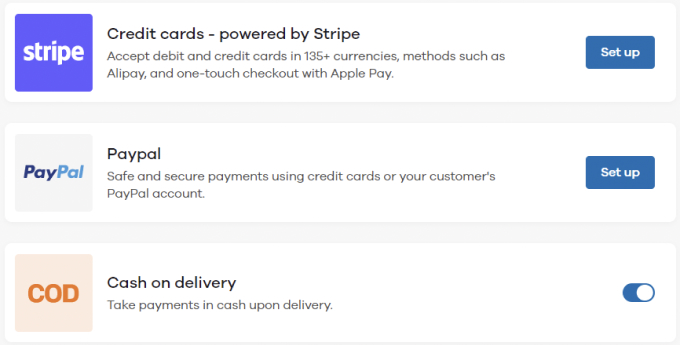 Once you add products to your online store, the next step is to set up payment options. For this, you would first have to set up a payment processor on your eCommerce platform so that you can accept payments online.
Paypal is one of the most popular international payment processors that allows merchants to accept payment through various methods, including credit/debit cards. It is easy to use and offers secure payment gateways.
While choosing a website builder, you should also consider whether the platform supports payment methods that are globally popular. Here is a list of popular payment methods for online purchase:
Credit/Debit Cards
Paypal
Stripe
Amazon Pay
The more payment options you offer, the more convenient it will be for your customers to place orders on your online clothing store.
To establish trust with your customers, you should also offer payment options like Cash-on-Delivery (CoD) and Buy-Now, Pay-Later. These options are especially advantageous for an online clothing store, where customers prefer to physically see and try the items before making any purchase. It will enhance the shopping experience, which will inevitably result in increased sales.
Further Reading
8. Create an Optimized Pricing Strategy
Pricing strategy holds the key to ensure that your store achieves profitability in the long run. There are many things you need to consider while creating a pricing strategy; some of the key factors are:
Cost of the product
Price of similar products
Target market
Profit margin
It's essential to maintain a balance between these factors so that you can make a profit while still offering competitive prices.
Some businesses choose to offer discounts and sales on their products. This is a great way to attract customers and boost sales. However, you should ensure that you don't discount your products too much, as this can eat into too much of your profits.
Here are a few more pricing strategies that you can opt for:
Competition-based pricing
This strategy is used to offer better prices than your competitors. It will allow you to attract more customers who are looking to save money. There are several tools, like Price Intelligently, Prisync, etc., that can assist you in conducting market research and setting prices based on your competitors.
Dynamic pricing
With dynamic pricing, you can keep changing your prices based on demand. As the demand for your products increases, you can increase your prices. This will allow you to gain profits over time while still offering competitive prices.
Quick-delivery pricing
This strategy is used to attract customers who are willing to pay a monthly or yearly fee to access your products and want their products delivered quickly. You can offer a higher price for quick delivery and use this to your advantage. It is also a great way to build loyalty with your customers. E-commerce giant Amazon has been very successful in applying this pricing strategy.
Loss-leader pricing
As the name suggests, the loss-leader pricing strategy is used to attract customers by selling products at a very low price. If customers are satisfied with your product, they are willing to buy other products from you at a premium price, making up for the loss on the initial product.
A good pricing strategy will play a huge role in attracting more customers and boosting your sales.
9. Be Transparent About Your Return & Refund Policy
Did you know that displaying your return & refund policy on the website can also increase your sales?
Customers appreciate brands that let them know upfront whether the products they are buying have any scope of refunds or return. This is especially crucial for an online clothing store, where customers cannot try on the clothes before making a purchase.
It's important to have a return and refund policy that is fair and transparent. Here are some points which you can use while creating your return and refund policy:
The time frame in which a customer can return an item
Whether your customer will receive a store credit or a full refund
The condition of the item when it is returned
By having a clear and transparent return policy, you will be able to build credibility with your customers.
According to a survey conducted by Narvar Consumer, 49% of customers actively check the return policy of the retailer before making the purchase. The report further added that the customers who were proactively informed about their return and refund rights were more likely to make the purchase.
10. Market Your Online Clothing Store
You've created a great website, set up your store, and listed all your products. You're now ready to start selling! But wait – how will customers find out about your store? This is where marketing comes into the picture.
There are various marketing ways that you can use to market your online clothing store.
Here are some of the most effective ones:
Social Media Marketing
This is a marketing strategy where you create engaging content and promote your clothing store on social media platforms like Instagram, Facebook, YouTube, etc. These platforms allow you to reach a wide audience and connect with them much more easily.
Influencer Marketing
Partner with influencers who have a large following. This way, you can reach a larger audience and generate more interest in your store. For example, you can sponsor an Instagram influencer so that they can post photos wearing clothes from your store and give your brand a shout-out.
Email Marketing
Email marketing is another effective way to reach out to potential customers. By sending out monthly coupons and special offers, you can encourage people to visit your store. Email marketing is a great way to and keep your customers updated on what's new at your store.
Content Marketing
This is an effective way to attract customers and build awareness of your brand. You can create blog posts, articles, infographics, etc., that provide value to your customers and help them to make informed decisions about their purchase.
Paid advertising
You can use platforms like Google AdWords and Facebook Ads to create paid advertisements that are targeted to your audience. Another form of paid advertising is PPC or pay-per-click. This is a method of generating inorganic traffic on your website, by bidding on relevant keywords, and ensuring that your website appears at the top of search results.
SEO
Search engine optimization is a great way to drive organic traffic to your website. By doing your thorough research using tools like Ubersuggest and Ahrefs and then adding the right keywords to your site, you can increase your chances of appearing on the first page of Google search results. This will help you get more visibility and attract more customers to your store.
11. Create a Customer Engagement Strategy
The key to a successful online clothing store is to create long-term relationships with your customers. You should aim to engage with them and build a rapport. Here are some of the ways to drive customer engagement for your store:
The key to a successful online clothing store is to create long-term relationships with your customers. You should aim to engage with them and build a rapport. Here are some of the ways to drive customer engagement for your store:
Offer loyalty programs
Customers love being rewarded for their loyalty. You can start a loyalty program where customers can earn points for every purchase they make. Once customers have collected certain points, they can then redeem them for discounts or free products.
Example: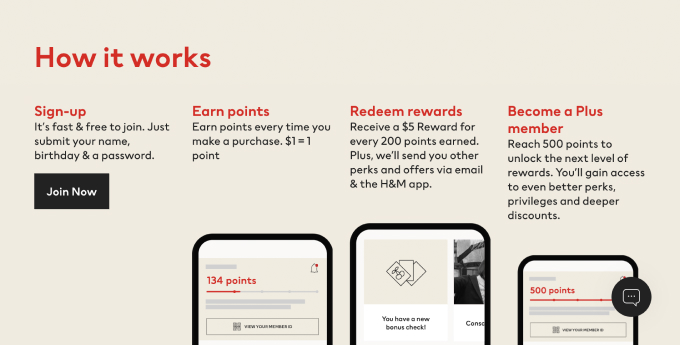 Be active on social media channels
Social media has opened several opportunities for businesses that were non-existent earlier. You can leverage social media platforms like Instagram, Twitter, Facebook, etc., to engage with your target audience and promote your brand in creative ways.
For example, you can organize live sessions and social media contests where you can ask customers to share their photos wearing your clothes and tag your store in the photo. The best photo will win a prize. This is a great way to increase brand awareness and get people talking about your store.
Educate & engage with blog posts
Your blog is a great platform to share your knowledge about the latest fashion trends, tips on how to style certain clothes, etc. It is one of the tested and proven ways to engage with your customers and get their feedback.
For example, you can post a poll on your blog asking people's opinions on a particular topic. This can also help you understand your customers better and give you insights into what they are looking for.
It will allow your audience to see you as an industry expert, which can build trust and loyalty among your customers.
12. Provide Prompt Customer Service
Prompt customer service is essential to offer a good customer experience. Your goal should be to resolve their queries and complaints as soon as possible. This will show your customers that you value them and are willing to go the extra mile to keep them happy.
Implement the following customer service strategies for creating a more customer-centric shopping experience on your clothing website:
Create a knowledge base
A knowledge base is an excellent way to provide self-service options to your customers. You can create an FAQ section on your website where you answer customers' common questions. This way, your customer service team will save a lot of time as they won't have to keep answering the same questions repeatedly.
Use chatbots
Chatbots are a great way to provide efficient customer service. They can answer common customer queries instantly, 24/7. This will save you a lot of resources required to offer customer service and also free up your team to focus on more complex issues.
Offer multi-platform customer service
In today's day and age, customers expect brands to provide multi-platform customer service. This could be via phone, email, social media, chat, etc. You should make sure you have a presence on all the popular platforms so that you can cater to your customer's needs.
Don't limit yourself to the above strategies. You can be creative and find other innovative ways to provide good customer service.
Conclusion
So, there you have it! Twelve steps to starting your very own online clothing store. We hope this guide has been helpful and has given you the confidence to take the plunge and start your own business.
Starting an online store takes time, dedication, and a lot of hard work. But it is definitely worth it in the end! So, what are you waiting for? Start building your store today!
Dukaan is an eCommerce platform that allows you to start your online clothing store in just 30 seconds. On top of that, with Dukaan, you can get access to various plugins that can assist you with marketing, analytics, store management, and several other things.
FAQs
How much time does it take to start an online clothing store?
Most website builders usually take 3-4 days to set up an online clothing store. With
Dukaan
, you can get started in just 30 seconds.
Is an online clothing store profitable?
Yes! As said earlier, the fashion eCommerce industry is growing rapidly and is expected to reach the value of 1.16 trillion by 2025. That means, there are plenty of opportunities for you to grow your business. However, it can take some time to build a customer base and generate sales. You need to have patience and should be prepared for the long haul.
How much cost is involved in creating an online clothing store?
The cost of setting up an online clothing store depends on a number of factors, key being the category of clothes you are planning to offer and your vendor relationships. Smart bargaining with vendors can help you get started with low inventories, and hence a low working capital. If you are planning to use the dropshipping model, then the website builder costs is all you'll need to think about.
What are some effective tips to take pictures for my online clothing store catalog?
Good question! Picture quality plays a huge role in driving buying decisions and it's important that you don't neglect this aspect. While using your smartphone might seem like the best option at the outset, we suggest you avoid it. Instead, hire some basic tools like a tripod, mini-lightning equipment, and an invisible mannequin to set up your very own mini studio. With proper lighting and flat lay photography, you can rest assured of getting pretty pictures for your portfolio.
Is it mandatory to have a return policy for my online clothing store?
It is common for online clothing stores to offer a return policy since customers cannot truly try their clothes for size fitment before making that purchase. However, it is not mandatory, and if you are dealing in innerwear, then you should clearly highlight that returns are not acceptable.