Antiques age just like fine wine (and sell like one too!). If you are considering entering this lucrative business, we have the perfect guide on how to sell antiques online.
Selling antiques is among the more intriguing online business ventures you can launch right now.
Interacting with people who have fascinating stories, looking for unusual stuff, and learning a little bit about the past make up a very satisfying combination. It can take some time to learn how to sell antiques online if you're new to the business, but it's one of the easiest reseller markets to get started in.
There are numerous advantages to selling antiques online.
It's no secret that vintage and antique items are always in demand. If your piece is distinctive or interesting enough, you can find customers from around the globe who will be interested in it.
You make more money when you sell your items online. In fact, you may be able to easily recoup your investment in your antique, up to 100%. Local shoppers might not appreciate your pieces as much and be unwilling to spend as much on them, but someone shopping online might adore them and be eager to pay more.
And not to forget, selling online frees you from the physical burden of picking up and moving your items! By going online, you may avoid wasting time and causing unnecessary damage to the items that could reduce their value.
So join in and launch an online antique selling enterprise. Here is all the information you need to sell antiques online.
Learn How to Sell Antiques Online in 2023
1. Identify the types of antiques to sell online
Selling antiques is a little different from selling new goods since some pieces will be more enticing to the customers. Given below are some examples of items that will appeal to internet buyers. If your item fits into one of these groups, selling it online is a wise decision.
Vintage furniture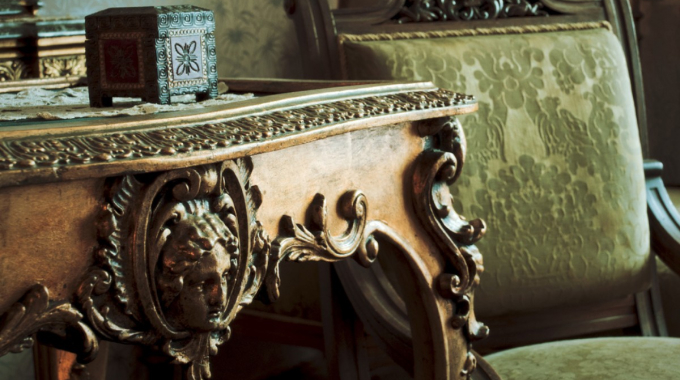 Pieces of vintage furniture are some of the most sought-after antiques. Many people are still shopping for antique furniture to utilize in their homes, even though other customers might prefer more contemporary types.
As they say, "One man's junk is another man's treasure." You can find numerous antique furniture pieces that may not be of much value to you but will be priceless to someone else.
Vintage dolls and toys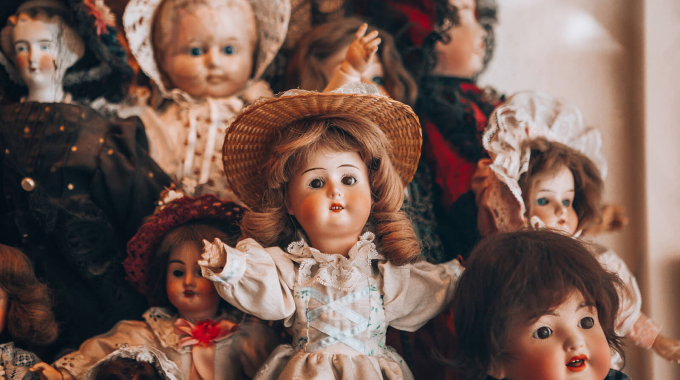 Vintage dolls and toys are popular subjects for hobbyist collecting. They are wonderful conversation pieces and, for some consumers, even bring back pleasant childhood memories!
Since the cost of these things can vary, it is best to conduct some research to determine how much to charge for your particular product.
Antique jewelry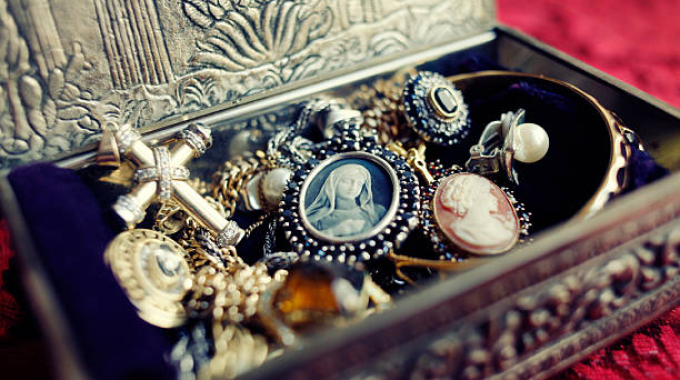 Many pieces of antique jewelery are handcrafted and one-of-a-kind, which makes them ideal for online sales. Many purchasers are eager to pay top dollar for vintage jewelery to add to their collections.
Just be careful not to sell your fake items as antique jewelery!
Houseware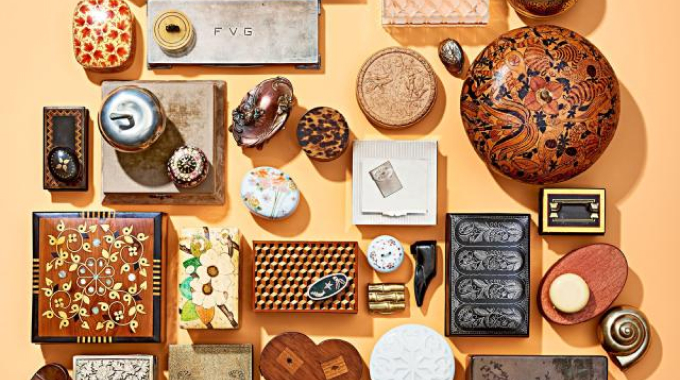 Every kind of kitchen or home accessory falls under the umbrella phrase "housewares." Dishes, glasses, cups, gadgets, and more fall under this category. If you locate the correct pieces, you may be able to sell them online for a higher price than you would get if you tried to sell them locally.
2. Source your antiques
Once you have selected your niche, the next thing you need to understand is the sourcing process for antiques.
Undoubtedly, the most important aspect of running an antique business online is sourcing unique and good-condition pieces. Unlike other businesses where bulk of a product is available, antiques are mostly one off or very limited in quantity. This makes finding appropriate pieces require much more effort and time for curation.
When it comes to locating antiques, there are several alternatives. Let's take a look at what they consist of.
Thrift stores & Yard sales
The best chances to find antiques at a good price are at yard sales and thrift shops. Yard sale and thrift store owners are more likely to be amenable to bartering because their primary goal is to sell as many commodities as they can in the shortest amount of time.
The biggest advantage of buying your antiques from a thrift store is you can find many valuable pieces for low prices since many sellers are unaware of the prices.
There are certain drawbacks, though. You'll need to know what you're looking for in order to separate the garbage from the gems when searching for antiques at yard sales and thrift shops.
Additionally, a good knowledge of what price to pay for the antique that you are eyeing becomes crucial here. Another important thing would be knowing when you need to walk away from an antique if it is priced too high by the seller.
Flea markets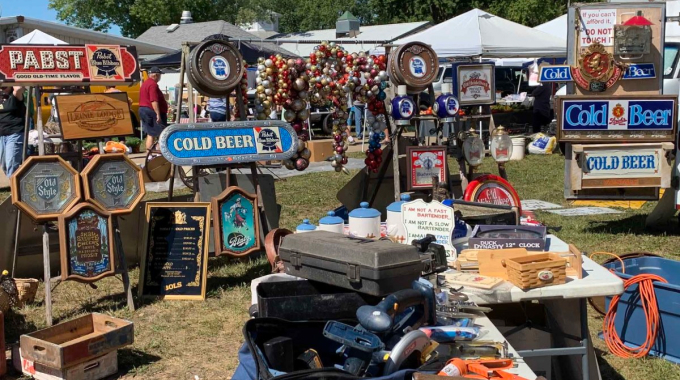 Flea markets can be a great place to find affordable antiques. These markets, which often only sell older items like antiques, could be less time-consuming than thrift shops and yard sales.
But it is harder to find a true bargain at flea markets because the vendors are more likely to understand the value of the goods they sell. Thus, there's little to no wiggle room for bargaining when curating from flea markets.
Auctions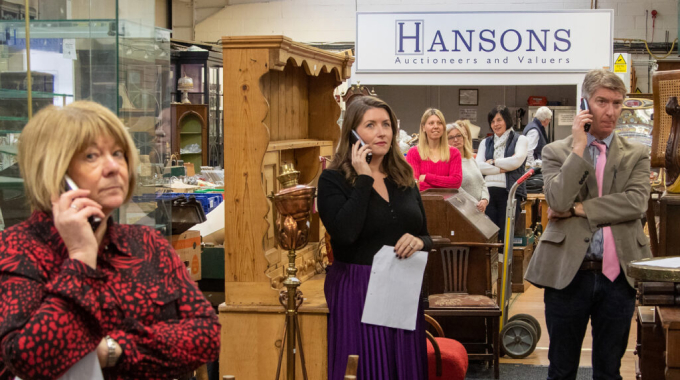 Auctions have been a mainstream source for antiquing. It's no surprise that many antique dealers regularly participate in auctions.
Auctions are popular as you're more likely to come across antiques with great value that can be sold for a profit online, depending on what auctions you visit.
Success at auction depends on knowing how much you can actually resell an antique for. Making a profit is quite challenging because it's easy to be sucked into a bidding war with several other collectors or dealers and end up spending too much.
Other antique dealers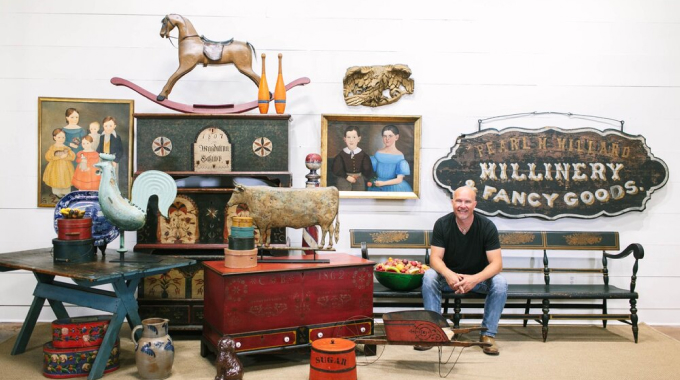 An excellent strategy to source antiques is to buy them from other retailers. But it can be challenging to turn a profit because other vendors at this level are probably likely to have a firm grasp on antique values.
This antique source may make sense if you have a competitive edge by specializing in a specific antiques category.
3. Create a brand
In the antique industry, building trust through your brand is crucial. Before customers make a purchase, they must have faith that you are offering them genuine goods at a fair price. This is why building your brand is so crucial.
Your brand should make it easier for your company to express its ideals. For instance, choosing hues like gold could assist in conveying the opulence of what you're selling. By conducting research, you can examine the colors, logos, and website styling of other online antique dealers.
Consider them from a buyer's perspective and ask yourself, "Would I shop from them?" Then, take the elements that work and utilize them as an inspiration to develop your brand.
4. Price your antiques fairly
Putting a value to your antiques can prove to be a really slippery slope, owing to every piece's uniqueness. Even if you have two similar antiques, the antiquity and condition of each product can result in a significant difference in the price you may be able to set for them.
Pricing is crucial because you don't want to overprice your antique and risk losing money on the sale, nor do you want to lowball it and risk finding no customers.
When determining the price of your products, add up all the expenses involved in producing and bringing them to the market, add your profitability on top of those costs, and then list your prices. Consider the specific condition of each antique item you're selling as well.
Remember, prices can fluctuate over time. Keep a close tab on the prices in the market and adjust accordingly whenever needed.
5. Create content to showcase the antiques
There are two types of content that you need to create to convince the customers to make a purchase.
Product photos
High-quality product photographs are fundamental for selling antiques online. Studio-style lighting should be used for clear product shots.
Here are a few product photography tips to keep in mind:
Photography your products against a contrasting or a neutral background to bring out its details.
Color correct or edit the images wherever necessary to make them look more appeal.
If needed, stage your antiques to enhance your customer's viewing experience.
If your antique is rich in details, consider shooting a high-definition 360° video for a complete view.
Play around with angles and lighting to determine what works for your products.
As customers can't personally inspect and touch the items, clear and detailed photos will make buyers feel more confident in their purchases.
Unlike ordinary products, antiques don't come in pristine condition. Make sure to take pictures of any flaws or damage on the items to prevent dissatisfied customers and refunds. This transparency in your business dealing will help in inculcating trust in your customers, prompting them to favor your store when making a purchase in the future.
You too can benefit from this dynamic by asking for reviews to post in your store. A customer satisfied with your business transparency is bound to leave favourable reviews and ratings.
Product descriptions
Writing clear and descriptive product descriptions play an essential role in optimizing your sales conversions. A properly written product copy will help your customers in making an informed decision.
Especially with selling antiques, product descriptions help in describing what makes your item unique and worth investing in. It is a great marketing tool that goes a long way in convincing your customers to purchase items for your store.
A report by Salsify states that great product copy can influence customers to place an order. Product descriptions also make for great SEO marketing tactics.
Two essential components should be included in your product description:
Details about the item, including its size, age, history, condition, and functionality.
Inspirational writing to help potential customers visualize having that special antique in their house.
6. What is best place to sell antiques online?
Now that you know how to source your antiques and set a price for them, it's time to create your store online and start selling.
You have a variety of options when it comes to selling antiques online. We've enlisted the benefits and drawbacks of each option below, so you can make the best choice.
Let's take a detailed look at them now:
Online marketplace
Online stores like Etsy and eBay give antique dealers a simple opportunity to market their goods online. These platforms spend a lot of money attracting eager and willing clients to their websites, which you may use to increase sales.
But online markets usually demand greater transaction fees on each sale you make in return for this audience. And you don't get any opportunity to build your business into a brand.
Social media
If used properly, Facebook and Instagram may be fantastic platforms for selling antiques. Social media platforms are a great option if you have a sizable and engaged social media following because they make it easy and convenient for your customers to make purchases.
However, there are issues that are similar to those seen with marketplaces, as you don't have ongoing control over many of the site's features. Your sales capabilities are also affected by the change in algorithm.
Online store
The preferred method of selling for antique merchants is an online store. The level of customization and control that you get with online stores over your business is incomparable to marketplaces and social media.
The sophisticated features of dedicated eCommerce platforms are valuable for a business to manage and scale their operations. There are numerous platforms available for building high-quality online stores.
Dukaan is one such platform using which you can start a fully-functional online store in under a minute. It has all the advanced eCommerce features needed to sell products online, while giving you flexibility to customize it as per your liking.
It is a highly intuitive platform to use. You do not need any prior design experience or coding knowledge to run, manage or scale your store using Dukaan.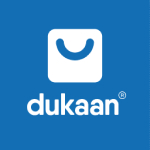 Launch, scale and manage your online business with just $14.99 on Dukaan. Annual plans start at $149.99 only.
7. Packaging and shipping
Compared to everyday products, antiques are very fragile and highly prone to scratches, so packaging and shipping them requires the utmost care.
When packaging and shipping orders, make the security of your antiques your topmost priority. Sometimes, even a single tiny scratch can destroy an item's worth. It would be a shame if a product that takes such effort and diligence to source get damaged due to negligence during shipping.
Packaging
It would be a mistake to wrap an antique item straight in plastic, as some materials, like wood, can be stained by plastic. Instead, pack your antiques with paper. You can cover the paper with plastic to ensure double protection.
Also remember to choose a box that is a bit larger than the one you would typically use, and then stuff it with just enough package filler to make sure everything fits perfectly.
Shipping
You will need to take great care when shipping your antiques. Only cooperate with reputable shipping firms that provide adequate protection for the kinds of antiques you're selling.
Although spending a little extra for each shipment may seem inconvenient, if you deal in high-value commodities, one missed or damaged shipment might cause you serious financial hardship, in addition to hampering your relationship with the customer.
8. Market your antiques online
If no one ever sees your business, you won't ever generate sales even if you have the finest store in the world and provide the most amazing antiques at the best prices.
Here is where effective digital marketing may help. Implementing tried-and-true strategies for marketing your antiques will help you attract new customers, make sales faster and build your brand awareness.
Let's take a look at a few marketing tactics that you can employ:
SEO
Search engine optimization (SEO) is the practice of driving traffic from organic (or unpaid) search results in browsers. It seeks to improve your website's ranking on SERPs.
SEO marketing is important as the more people see your store when searching for antiques online, the more sales you will generate.
Here are some best SEO practices:
Optimize your store for both mobile-responsiveness and loading speed.
Write compelling title tags and meta descriptions.
Use blogs and write through and compelling content to drive traffic.
Use relevant keywords in your meta tags, descriptions and titles.
Add internal and external links to relevant pages.
Social media
The utilization of social media platforms to engage with your audience is known as social media marketing. It helps you develop your brand, boost sales, and increase traffic to your website.
Platforms like Instagram, Facebook, and Pinterest are great social media platforms to start building brand awareness. Social media platforms are a great resource to connect with your customers on a one-to-one level.
You can leverage algorithm-supported content formats like reels, stories etc. to show behind the scenes of your business and humanize the brand. There's also an option of running ads and repurposing user-generated content on your social media handle.
Paid ads
Pay-per-click ads may be profitable because you only pay when someone clicks on the ad. Targeted advertisements can be created for Facebook and Instagram, and these networks will run them for a certain amount of time and money.
You can also consider investing in Google Ads if you'd like an easier way to access Google's home page.
Conclusion
It's time to start selling antiques online now that you know the steps you must take before selling your first antiques. Just keep in mind that it often necessitates a little more effort and perseverance for you to be able to trade your goods for a fair price and recover the majority of your costs.
We'll again emphasize on the importance of selling antiques with your online store, if you are serious about creating a brand out of it. It might sounding intimidating at first,  You can start your online store with Dukaan in under a minute.
If you need more insights about what steps you need to take to launch your antiques store online, we have the perfect video for you.
FAQs
1. What is the best way to sell my antiques online?
The best way to sell antiques online is through your own online store. You can create your custom thrift store using
Dukaan
. There are also other marketplaces like eBay and RubyLane, and speciality websites like 1stDibs where you can sell antiques. However, these sites are densely populated, making it harder to sell antiques on them.
2. Is it profitable to sell antiques?
Yes, antiques find many takers since they are unique and no longer in circulation, making them highly profitable to sell online. The better you become at curating antiquing, the higher your profit margin becomes.
3. What vintage items sell best?
Vintage records, advertising signage, jewellery, signs, lamps, porcelain dolls etc. are the best-selling items right now. Apart from these, collectables like comic books, trading cards, toys and action figures also sell fast.
4. Is it worth it to sell on eBay?
It is only worth selling on eBay if you plan to do this short-term and are not interested in creating a brand out of your business. And not to forget that these marketplaces are crowded with other sellers, so getting visibility also becomes much more difficult.
5. How do I price antiques?
To determine the price of your antiques, calculate all the costs you incur right from sourcing to marketing and add your profit margin to it. The internet also has a lot of resources that provide a rough estimate of the value of products.