If you want your crafts to continuously fly off the virtual shelf, you got to market them the right way. This comprehensive guide will teach you everything to know about how to sell crafts online, broken down into eight easy steps.
Many people want products that aren't identical to the ones their neighbours and friends have and aren't made by big-box retailers. Handcrafted products are enjoyed by people for their uniqueness. Not only are they fun to possess, but also make for great gifting ideas.
As a result, there are a ton of opportunities for creative people of all kinds, whether they have a lifelong passion for making crafts and are just starting out, or are business owners with a sharp eye for finding and curating handcrafted products.
The following attributes and values are frequently connected by consumers with crafts:
Crafts are distinctive, personalized, innovative, and creative—the opposite of the uniform, "cookie-cutter" products made by corporations.
They help the community.
They are environmentally friendly.
Additionally, craft sales have surged 133% since the pandemic, according to research on eCommerce growth over that time.
The internet has quickly overtaken traditional retail as the most successful channel in the last two decades.
Here are some of the benefits of selling crafts online:
Comparatively lower cost than in-person sales.
Greater profit margins than consignment sales at brick and mortar stores.
Greater flexibility in terms of working hours.
Large customer base—you can reach consumers 24/7 from around the world who would not have otherwise heard of your product.
You may respond quickly and swiftly to market swings by altering prices dynamically.
Hence, the best moment to sell crafts online is right now, with all the new prospects for success that have emerged in the online handmade goods market.
To prevent the drawbacks and maximize the benefits of eCommerce, however, it is essential to do your homework and prepare. The steps listed below will help you position yourself for success and create what will ideally turn into a successful business.
How to Sell Crafts Online in 8 Steps
Let's quickly jump onto how you can start selling your crafts online, while methodically decoding every aspect of the process.
1. Find a niche and source your crafts
It's a widespread misconception that having a large selection of products and providing many options can bring more customers, especially when you're just getting started. But in reality, your store and social media channels will feel jumbled if you attempt to please everyone.
Concentrating on one thing makes it simpler to identify your target market, focus your marketing efforts, develop your craft, and establish yourself as the go-to artist for that particular product or style. Selecting a niche and focusing on it will give direction to your business.
Make sure you factor in everything from your interest in the niche to the expertise required to its demand in the market before finalizing something.
Here is a list of the top varieties of crafts to make and sell online.
Jewelry and accessories, including bracelets, earrings, scrunchies, and resin jewelry.
Clothing, including caps, sweaters, totes, and enameled pins
Home furnishings such as tablecloths, candles, carpets, artwork, and dream catchers
Food items like jams, pickles, desserts, and spices.
Personalized invitation cards, gift baskets, and photo boxes.
Clothing, curtains, and pillowcases with embroidery.
Paper crafts including cards, origami flowers, and scrapbooks.
Stationery like bookmarks, diaries, and postcards.
Environmentally friendly items
Traditional crafts
Phone Accessory
Pottery
Downloadable artwork, templates, stock pictures, and plugins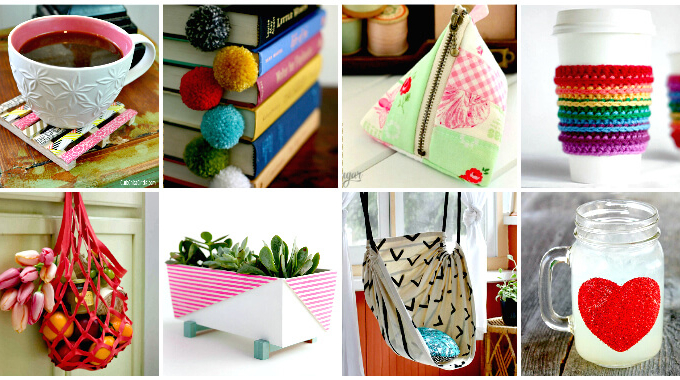 Once you have decided on a niche, you need to decide how you will source your crafts.
You have two options here. You can either make your crafts yourself or source them from other retailers online or offline, or both. If you are going with the former, you can make crafts if you know how to do so, or you can always learn how to make them.
At this point, it is advisable to conduct thorough research to analyze who your competitors are, what they offer and how you can differentiate yourself from them to drive sales.
Making crafts is a skill that can be easily learned, especially in the age of YouTube tutorials.
2. Create a brand
The most lucrative brands devote time and resources to creating a distinctive identity. Even if you're a small business, having a strong brand will benefit you, as customers are more likely to connect with you when you have a strong brand identity.
It's a good idea to consider branding from the beginning so that, as you continue, your product photographs and promotions will have a cohesive tone.
You need to take into account several factors when building a brand, such as:
Understand what makes your brand different from competitors.
Understand your intended audience.
Come up with a unique, relevant, and catchy brand name.
Design a logo
Select an appropriate theme for your online store.
Having a strong brand identity goes well beyond having a name and a logo. It involves knowing who you are, what makes your craft products unique, and what your story is.
It also includes projecting those values and principles in everything you do, from the Facebook pictures you post, the voice you use in your descriptions and on media platforms, and the way you style your web store.
A consistent tone, voice, and style will make it easier for customers to understand your brand and hasten the process of developing a loyal following.
3. Price the crafts
Concerns about pricing are common when starting any kind of business.
To sell your product and turn a profit, you must find that "perfect balance." It's time-consuming to get your price correct at first, but it's worthwhile if you want a successful business. If not, your firm will fail even if you generate a lot of sales.
Be sure to account for everything, from manufacturing and labor costs to packaging and shipping costs. However, don't stop there. You should also include profit margins to ensure you earn some money from the sales.
Also, remember the potential rewards that you will provide to your customers. If your profit margins are thin, it will be difficult for you to offer good discounts (and consumers do enjoy a good deal!).
For instance, you'll need a little room in your prices if you wish to be able to offer customers special incentives to promote repeat sales, free or discounted shipping, or run Christmas offers.
You should also consider where you'd like to stand in the marketplace. Is your product a premium one, or would you prefer to provide accessible art for everyone?
Additionally, it would be smart to examine the prices of the goods that other artists who make similar crafts sell. Check your pricing to see if it adheres to industry norms.
4. Product photos and listings
You've made crafts for your potential buyers and established fair pricing. But before selling them online, there is one more step to be completed.
For your products to draw online customers in the virtual world, you need to market your handmade goods on your online store in the best light possible.
And to do so, you need three things: attractive photos, intriguing titles, and concise descriptions. These things become vital when selling online, since the customers can't physically inspect the products and relies absolutely on the information and imagery that you provide.
Let's see how you can use the above-mentioned tactics to put your best foot forward when representing your crafts to your potential client.
Product photos
Taking professional-looking photographs of your crafts is essential if you plan to sell your handcrafted goods online. These product images will be what potential consumers would see as they browse through a lengthy list of items, so they need to be distinct, appealing, and engaging.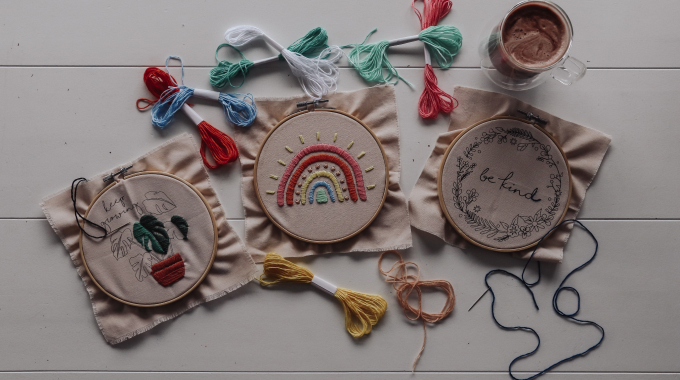 Try to follow the guidelines for product photography. Usually, this entails photographing the object against a simple white background from the best angle. This approach ensures that nothing in the picture would detract customers from the item. Also, a plain and bright background also gives excellent results.
You can also include images of your product in use or style them using props to give your photographs an extra dimension.
Another good idea is to include videos of your products that show a 360° view of your product.
Listings
The product name and description are both included in the listings. So, paying attention to the language and tone you use in your product listings is another technique to increase sales.
Product name
When coming up with the names of your products, try to come up with something catchy, that appeals to the customers and can be recalled easily.
It is also a good practice to involve your target audience's search phrases in your product description when choosing a name for a listing.
Product description
A product description is a marketing and sales tool. The objective of including a product description is to accurately describe the product to your customers in terms of its purpose, quality and justify what makes it a good purchase.
Consequently, the item's product description in your listings needs to be written clearly and precisely. Make sure to include everything your customer might benefit from knowing. And refrain from giving out any false information.
5. Decide where to sell crafts online
Where to sell is just as important as what to sell and how to sell. At this stage, you have to choose where you'll sell your handmade goods online. Once you start looking deeper, there are endless options to choose from to get you started, but we've put up a quick guide below to help you choose the best places to sell crafts online.
Online marketplaces
Utilizing an established online marketplace is a simple alternative to selling your crafts online.
For instance, Etsy is highly popular among crafters, but you can also sell your goods on more open markets like eBay or Amazon.
With online marketplaces, you have access to a sizable customer base that is prepared to buy your products, but you will be required to pay charges that are typically associated with each sale. Online marketplaces are a good option if you are testing new products or diversifying your sales channels.
But there are also issues associated with selling on marketplaces. Your business has to compete with other sellers in a crowded space and thus, creating brand recognition becomes a challenge. Additionally, you have no control over the site's functionality, and fees can change suddenly and without warning.
Social media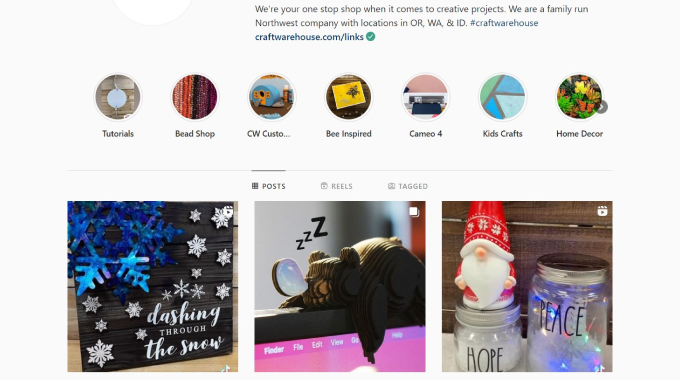 Social commerce is a newcomer to the eCommerce sector, with platforms like Instagram, Facebook, and Pinterest now enabling retailers to sell to customers directly without them ever needing to leave the platforms.
The benefits of selling over social media are that you get to interact with your customers directly and sell to them on a platform that they are comfortable with. It's also easy to inculcate buyer trust via social media since you can also repurpose user-generated content on your social media handle.
But not everything is as rosy with social media as it seems. Despite social media having fewer additional expenses than many other marketplaces, one of its major drawbacks is that you won't have any influence over the platform's functionality.
Online store
Even though many platforms have advantages, your online store is probably the best way to sell your crafts. Not only do you have total control over your store's aesthetics and functions, but you also get to build brand recognition and scale your business. Significant advantages come with owning and running a web store, such as:
Total control over your business.
Lower costs.
Complete access to the full customer journey (ensures the best user experience and funnel retention).
Opportunity to increase sales and expand your business with a ton of integrated business features.
Setting up an online store to sell crafts is a rather simple process. Anyone can quickly create an online store on the Dukaan platform in under a minute, and that too with no coding expertise. It is an easy-to-use, mobile-responsive software solution that makes selling products online easy and convenient.
With Dukaan, you can fully customize your store from aesthetics to functionality. If you're transitioning from selling goods offline to online, Dukaan is a great platform to sell stuff from.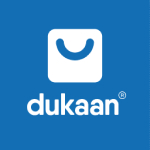 Launch, scale and manage your online business with just $14.99 on Dukaan. Annual plans start at $149.99 only.
6. Mention your policies
When you manage an online store, make the extra effort to ensure that customers are aware of your business policies before they purchase something from you.
For instance, make it obvious to customers that they shouldn't anticipate receiving a card in the mail if they purchase a digital gift card from your store. You should also be clear about how gift cards may be used in your e-commerce store; say whether they can be used on all of the items you sell or just some of them.
When you offer crafts, some customers might not fall head over heels in love with each item's distinctive peculiarities. For this reason, making your policies and commitments on your website easy to find is a smart move.
Keeping your consumers' expectations in check will enable them to fully appreciate the special features of each product and be thrilled to own a one-of-a-kind masterpiece. Remember to declare your return period and the reasons you will or won't accept requests for a return or exchange in your return policy.
7. Packaging and shipping
Ensuring your products are delivered to the customer swiftly and in excellent condition is crucial when selling crafts online. The packaging must keep the item safe so that it reaches the customer in the same state as when it left your possession. How well you package your crafts is a reflection of how much you care about your customers.
What's more, people anticipate beautiful and distinctive packaging from a crafts business. So, customer satisfaction and corporate growth are both greatly aided by attractive packaging.
If you package your products in something other than a plain brown box, customers will adore it and will remember your brand. Using bright-colored papers, adding personalized messages, and even small freebies provide a special touch that will have customers coming back for more.
Additionally, the packaging is a fantastic way to utilize extra materials like scraps of yarn or burnt beads. These small extras can keep your packaging consistent without spending additional money on supplies!
Next comes the shipping. Make sure your shipping and order tracking procedures safeguard your products.
At times, it can be challenging to find a reliable delivery partner for your online business. Therefore, things like the availability of COD, delivery costs, and overall efficiency need to be taken into account. Visit your local post office to learn more about the packaging supplies, boxes, and shipping insurance that are offered.
8. Market your business
It's no secret that selling crafts online is extremely competitive. In order to make sales, you need to market your business online. Marketing your online store ensures that people can discover your amazing artwork because nobody can buy your goods if they aren't aware of them.
Here are a few digital marketing tactics you can implement.
Search engine optimization
You can leverage SEO to boost the number of individuals who visit your online store. When customers look for crafts online, they should be able to find your store.
Therefore, making your website search engine-friendly will aid in people finding you. Ensuring that your online store is mobile-responsive and optimized for speed is also very essential.
Here's a helpful SEO marketing starter guide for your online store.
Social media
Facebook and Instagram are excellent sites to launch your crafts business's marketing campaign. Start by publishing high-quality photos with thought-provoking text. Be sure to use appropriate hashtags so your social media posts will appear in feed suggestions and search suggestions in your niche. You can also engage in influencer marketing.
Content marketing
Spending time generating content is probably among the best decisions you can make for your business.
The easiest way to improve your brand's search engine presence and ensure a steady flow of store visitors is to add blogs to your website and keep them updated regularly.
Share your blog entries on social media to increase the return on investment of your content creation efforts. You can also look into securing backlinks to further boost traffic to your blog.
Paid ads
Paid advertising is another strategy for promoting your online craft business. Think about experimenting with some inexpensive Facebook and Instagram advertisements to quickly reach a highly targeted audience.
You can also utilize search engine ads to appear in search engine results for certain keywords related to your line of work.
Conclusion
It's finally time to launch your crafts business online. We sincerely hope this post is helpful and it aids in moving your creative business in the direction you desire!
Remember that you'll undoubtedly make a few mistakes when you begin selling your goods online. This is both natural and a great approach to honing your abilities. Don't let failure discourage you; instead, use it as a learning opportunity.
If you ask for your opinion, the best way to sell your crafts online is by starting your own store, and then scaling it into the brand you always envisioned it to be.
Curious about what it takes to start your online store? Here's a video that might help.
FAQs
1. What is the best way to sell crafts online?
You can sell handmade crafts via your own store created using
Dukaan
, signup on niche websites like Etsy and eBay, and third-party marketplaces like Amazon as well as social media sites. You can also sell your handmade articles to other sellers wholesale.
2. How do I turn my crafting into a business?
If you already have a great product that sells, the fastest way to turn your crafting into a business is by starting your own online store. Selling using your own store helps in building credibility, establishing a loyal customer base and creating brand awareness. You can start your online business using
Dukaan
.
3. What is the most profitable craft to sell?
Handmade jewellery, art, photography, signs, art prints, DIY bath bombs, crocheted items etc. are the most profitable crafts to sell.
4. Can you make a living selling crafts online?
Yes, you can make a living selling crafts online. It becomes more profitable especially if you are selling using your own online store since you have greater control over your profits and marketing. To supplement your income from selling crafts, you can also list your business on other marketplaces like Etsy, Bonanza etc.
5. How do I price my crafts?
When pricing your crafts, consider the costs of manufacturing, shipping, fulfillment and marketing to the profit margin you would like to gain per sale. It is advisable to compare your pricing to the market average. You can adjust your pricing as market prices fluctuate.