Just like plants need pampering to flourish, your plant business also needs efforts to thrive. Ready to learn how to sell plants online and grow your business' roots all across? Our article lists everything you need to know.
This comprehensive tutorial will cover practically everything you need to know about how to sell plants online, ensuring that you can launch your online plant selling a business without any problems.
One of life's most enjoyable experiences is growing and caring for plants since they have the power to relieve stress. Time seemed to stand still after the pandemic hit, and for many of us, supporting growth emerged as a remedy.
Naturally, the number of people searching for "buy plants online" increased in the month of March 2020, when retail stores and greenhouses all over the world were closing their doors in response to the first wave of COVID.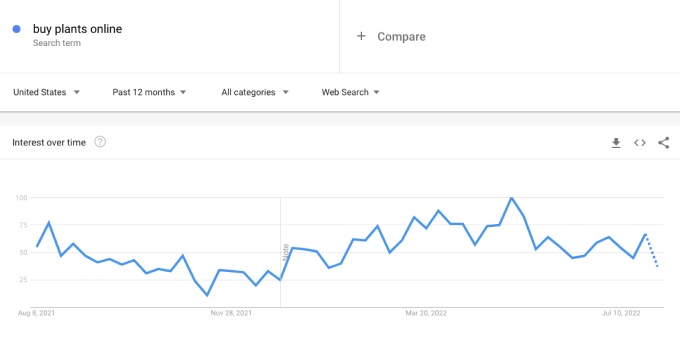 And as the phrase goes, there exists a supply for every demand. There are a lot of internet vendors who are solely focused on selling plants. The best aspect is that it also qualifies as an excellent business opportunity.
Plants are in high demand to brighten both indoor and outdoor settings. It's a demand that doesn't appear to be dwindling. It's high time to learn how to start a business to sell plants online if you enjoy nurturing plants and have been looking for a means to launch your plant business.
Why Should You Sell Plants Online?
If you are passionate about plants, you can easily turn your interest into a profession with an online plant store. Online plant sales are not just a trend; they are the way of the future for plant commerce. According to research, the market for online plant nurseries is worth $100 billion.
The urge for greenery to liven up a place is overpowering as living spaces get smaller and smaller with tinier bedrooms. Additionally, there's no denying that succulents make for a decent Instagram moment.
Due to the pandemic, several vendors selling plants on the web have seen a significant increase in online orders for both indoor and outdoor plants.
They also stated that the majority of their audience is made up of millennials between the ages of 25 and 38. Millennials these days are enjoying taking care of plants and cultivating their own food in their backyards.
In addition to purifying the air in our homes, houseplants can lift our spirits, stimulate our creative thinking, and encourage us to unplug from electronics. That might have been the main driving force behind millennials who were stuck at home purchasing plants in the first place.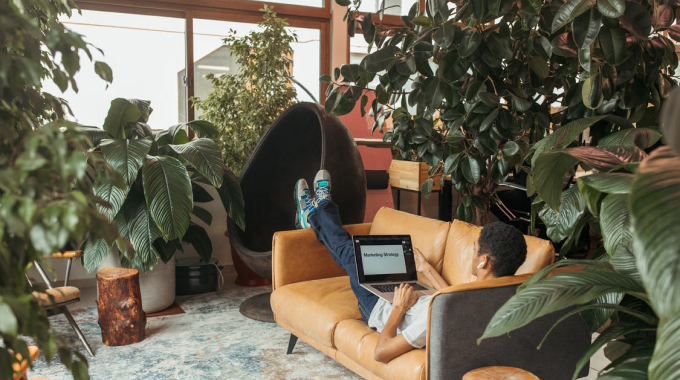 Simple accessibility, low upkeep requirements, and cost efficiency are boosting demand for online plant purchases. Customers have the opportunity to locate better prices, more plant varieties, and species that are unusual or exotic in their areas by shopping for plants online. Moreover, selling plants online provides the vendor with increased exposure, sales, and earnings.
Although the offline industry may be greater, the expansion of online plant sales is a positive indicator for those looking to begin selling plants online. There is a burgeoning market for the sale of plants online.
Therefore, if you have a deep love for the natural world and a passion for gardening, you might consider launching an online plant startup to help others realize their desire to spend as much time as possible around plants.
How to Sell Plants Online in 8 Simple Steps
Here we have listed 8 easy steps for you to start selling plants online.
1. Finding a niche and the right set of plants to sell
People will expect that since there are so many different kinds of plants, your business should sell them all. But incorporating every plant in your store is not possible, so it's crucial to decide what specialty or types of plants you would like to sell via your online store.
Therefore, the first step in learning how to sell plants online is to decide what you want to sell.
Your ability to access wholesale greenery or growing space, your local environment, and the amount of money you're ready to put up front will all influence how you define your plant products.
If you don't already have any particular plant type in mind, doing initial market research might assist you in choosing a good niche. Additionally, you can use keyword research tools to keep tabs on what consumers are looking for right now in the plant sector.
The information below will assist you in selecting the varieties of plants to sell online:
Your affinity for a particular plant
Your region
The types of plants that flourish in your region
The degree to which an indoor garden may be maintained.
Your intended market
The supply-demand balance in the market
For starters, consider the following selection of plants:
Houseplants (If you're a beginner, succulents and aloe vera are your best bets. They can withstand shipment and need little care. But you can also choose cacti, air plants, etc.)
Therapeutic plants
Herbal Aromatics
Decorative grasses
Garden plants
Water plants
Vegetable and flower seeds (they have the highest profit margins and are the easiest to ship).
You can make plans to expand the product offering as the sales increase. You can broaden and sell more items as an upsell tactic.
Plant-care items: Think about growing media, lighting systems, soil, and fertilizer. Along with working effectively as an upsell approach, these products can also be sold commercially with live plants.
Decor items: fancy plant trays, swinging planters, and pots can all be offered alone or with the plants they hold.
Herbicides and fertilizers.
Gardening tools.
Since any business has expenses, plant costs are also something to take into account when selling plants online. It's crucial to understand which plants require little upkeep and a lot of maintenance, which are high-quality plants, and which plants are rare and sensitive. Low-maintenance plants are the best to start with because they are simple and easy to find.
2. Stocking up
You must first have plants to stock in order to begin selling. For starters, consider the following options for plant supplies:
Option 1: Cultivate your own plants
If you want to sell plants on a modest budget (usually as a hobby) and have the time and space to grow seedlings into healthy plants, cultivating your own plants is a great choice. It's ideal if you want to keep tight control over your supply.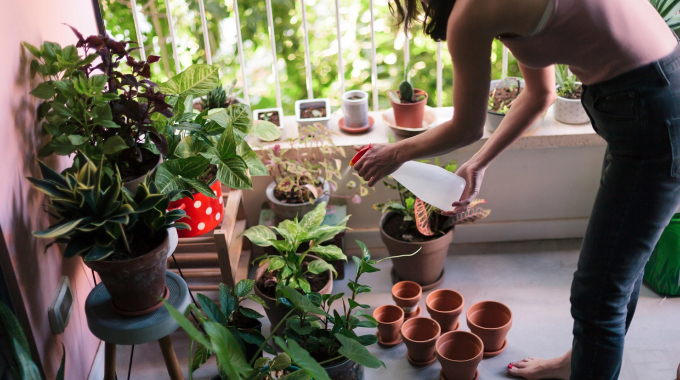 Additionally, it reduces the additional expense and complication of using several suppliers to fulfill demand.
In addition to renting space at an allotment, you can also grow plants in your own garden or build a greenhouse. It takes extensive knowledge of how to care for various plant species to grow plants. If your order volume goes up, you'll also need to think about how you'll scale up production.
If you want to grow your plants, be sure to estimate the cost of the necessary tools and time. If you want to cater to the more costly end of the market, cultivating your own plants is a wonderful alternative because you can explain the history of each plant and show how much care and love went into its cultivation.
Option 2: Purchase your plants in bulk from a wholesaler
Another option is to purchase your plants from a nearby nursery or a wholesaler. You can find a nursery nearby as your supplier. Since they can grow plants at a much lower cost, buying from a wholesaler or a nearby nursery can often be less expensive.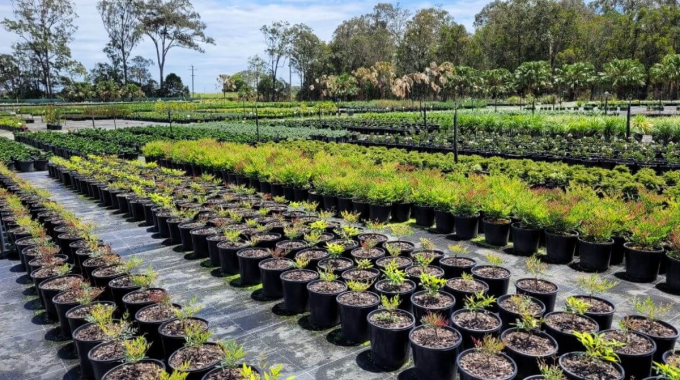 However, unlike when you produce your own plants, you will only be able to sell the plants that the wholesalers have in stock at any given time, limiting the diversity of your online store and limiting your capacity to satisfy client needs.
The following are a few things to keep in mind when trying to choose the best source of plants:
1. Compare prices. Different benefits may be provided by different suppliers. There are some with minimums for the number of plants you must purchase. Others may provide further consulting, assistance, or services.
2. Discover the local farmers. Since local vendors don't have to invest as much in shipping and storage, they frequently offer better prices.
3. Make connections. Make an effort to establish a good rapport with your provider. Better and long-term deals could result from a positive supplier connection.
4. Research wholesalers online. Look for online vendors if you reside in an area where a dependable place to buy wholesale plants isn't available.
5. Understand seasonality. Think about the varieties of plants that various suppliers will have on hand at specific times of the year. You could also need to switch suppliers during the course of the year.
6. Have a variety of vendors. You'll be in a lot of trouble if you exclusively work with one supplier and then something unexpected happens with your products. By using several providers, you may access a greater variety of products and ensure that you have a backup. Work with multiple vendors to ensure that if one vendor is out of a popular plant, another might have it in stock.
No matter how you choose to operate, you will need to have your own gardening space. If you choose to start growing plants from scratch, you will need a dedicated nursery area in your home or close by so you can easily take care of your plants.
If you choose to purchase plants from local wholesalers, you will still need some room to store them before you can sell them.
3. Inventory management: keeping your stock alive and thriving
After successfully sourcing your plants, the next thing you must decide is where to put them. It's essential to maintain your inventory while selling plants online.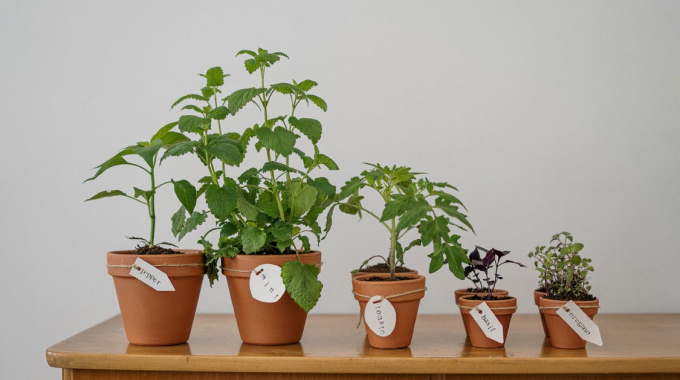 It is necessary to ensure that your inventory contains the necessary quantity of plants and saplings. You can prepare for future demand more efficiently if you have a positive relationship with your suppliers.
Keep in mind that the plants must be placed in locations where they will have adequate space to grow and breathe. Additionally, you'll need a space that can not only hold them but is also climate-controlled.
You can build your own tiny portable greenhouse, garden, or plant enclosure, but make sure they have access to ample sunshine. This will guarantee that no plants are lost while being stored.
Since you are managing a business that might have items come in and go out of stock on a seasonal basis, you should also come up with a strategy that will assist you in identifying and managing inventory. You may keep inventory organized by using a consistent naming and numbering system and classifying plants according to their sizes.
For instance, if you sell different types of houseplants, you could want to create an SKU system with three letters for the category, three letters for the plant type, and two letters for the plant size.
Example: SUC-ALO-SM can stand for a small succulent aloe plant.
4. Pricing your plants
If your company is new, pricing any product, especially plants, can be a challenging task. Overpriced plants will be difficult to sell, and you won't turn a profit if you price them too low!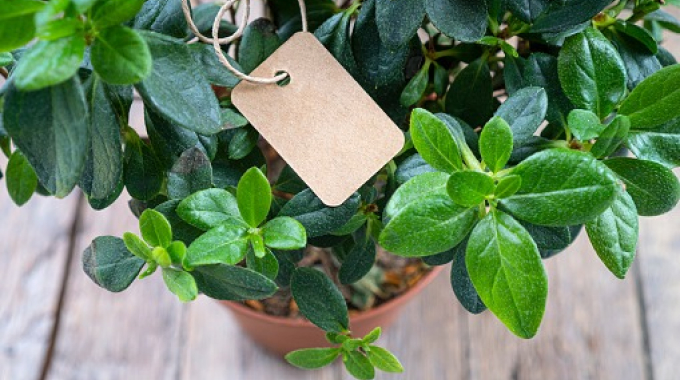 You should be able to adjust your rates so that they are comparable to those of other plant vendors in your area by taking into account the amount of income you are seeking and how much you are investing in supplies for the plants.
Take into account the following when determining plant prices:
How much does it cost to buy or grow the plants?
How much does it cost to operate your business, including the cost of storage, your website, marketing, and shipping?
How much time do you spend working on your company? Be sure to account for labor expenditures when determining your fixed costs. Even if you aren't paying someone to help you grow
and take care of plants, your efforts should still be considered.
There are numerous variables that can affect plant prices. Consider the following additional plant-specific pricing factors:
1. What are the prices at which other companies in the market are selling the same (or comparable) plants? Even if your brand sells incredibly high-quality seeds and plants, the price should still be comparable to what buyers can get elsewhere online.
2. What price range do customers have in mind for the plants you sell? You can set appropriate prices by determining which plants are the most popular with your target market.
3. Setting your prices will require careful evaluation of your target market. Some high-end plant and flower enthusiasts will be ready to spend extra for a rare plant in good health, while others may prefer to buy in bulk for a reduced cost.
4. What impact does seasonality have on prices? You might charge even more if you sell plants that are exclusive or special for a given season. Prices can rise as a result of supply and demand.
Cost of expenditure (fixed cost) plus variable cost plus profit margin is a general formula for determining plant prices.
5. Setting up an online store
The aforementioned topics highlighted the groundwork required to sell plants online. Let's now look at how to put together your store's internet component.
Setting up an online store is the first step. The most prominent choice when it comes to selling plants online is to do it on your own eCommerce or online store.
Using a platform like Dukaan, which will assist you in creating your online store without having to write any code, is the simplest way to get started.
In addition to creating a visually appealing store for you, the Dukaan online store offers features including safe payment methods, a smooth user experience, customer service, shipping, and marketing tools.
The goal of Dukaan is to make it as simple as possible for anyone to launch an online business. It's simple to launch your online store with Dukaan.
Register with Dukaan
Set the URL for your store.
Choose a theme for your store and make it unique to represent your business.
Upload your product portfolio.
Configure the payment gateway.
Start selling by going live!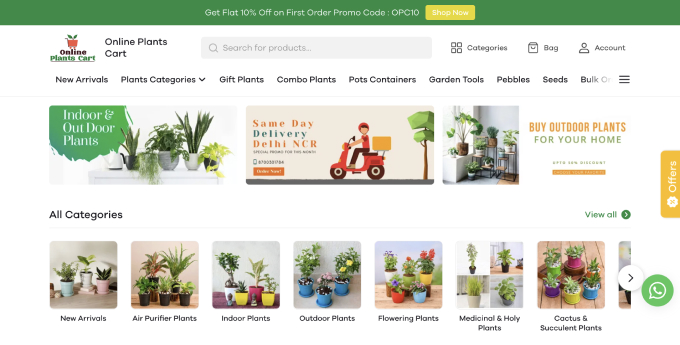 Dukaan is, without a doubt, the most user-friendly eCommerce platform out there. It is a very simple and uncomplicated platform. Every activity is quite straightforward, from setting up your store, registering for an account, and designing your store, to managing your orders.
Additionally, the platform offers a variety of plugins for added functionality and a variety of no-cost business tools to help you operate your business more adeptly.
Dukaan provides both mobile and web-based platforms, so you can easily manage your business online from any location at any time. You can take orders, add products, transfer funds, and handle deliveries, all from the convenience of your phone.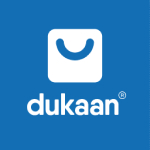 Launch, scale and manage your online business with just $14.99 on Dukaan. Annual plans start at $149.99 only.
6. Photograph your plants
Product photos are essential to capturing the interest of your audience. This is particularly the case for visually appealing and bright objects like plants! Your online clients can not touch the plants and view them from all angles like those who visit your actual plant nursery.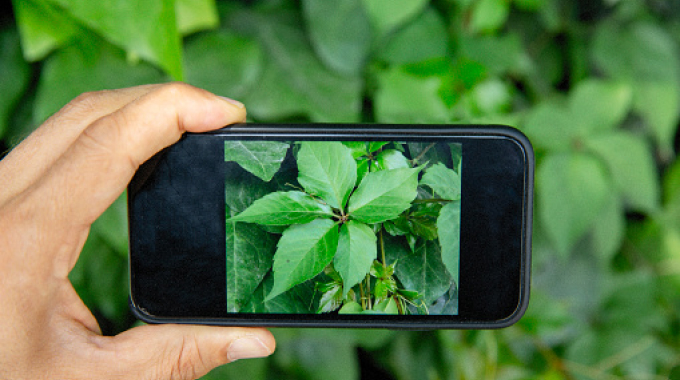 Therefore, it is important to provide the visitors with a good sense of the plants so that they may understand what to expect from their purchases.
Here are some pointers for taking your plants' pictures correctly:
1. Making a buying decision can get easier if your customers are able to see multiple photos of a plant. Additionally, we suggest that you have at least one photograph of the plant in its actual state after planting and blooming. Many websites that sell plants only let you see the plant as it is right now, which is frequently uninspiring. Include dynamic photos that motivate your audience.
2. You must set up the plants in a way that makes them look Instagram-worthy or photo-worthy. You may either carefully arrange them and take a shot of them altogether, or take a photo of each plant separately with a distinct background and styling to draw the attention of your buyer.
3. There are plenty of additional ways to portray the plants well. A wonderful solution is offered by augmented reality. Visitors to your eCommerce store can test out the plants in their living area or yard using augmented reality without purchasing them. Utilizing AR will also decrease the number of returns while also increasing conversions.
4. Take photos using natural lighting. Your client's perception of the plants you're selling will become much more accurate thanks to photographs captured in natural light. Avoid filters because they may lead to unsatisfied customer expectations.
Concentrate on the details. Take one close-up picture to better display the hues and intricacies of each plant.
7. Marketing your store
By investing money in marketing, you can get in front of customers who want to buy your goods. No matter how excellent your plants are or how reasonably you have priced them if you don't have a solid marketing plan in place, your prospects are unlikely to even discover your plants, much less buy them!
You will be totally responsible for generating your website traffic if you decide to develop an online store. Here are a few effective ways to accomplish this.
Paid advertisements (search engines and social media platforms)
SEM is one of the most well-liked and popular types of paid advertising. Users that enter specific keywords into search engines like Google and Bing see your advertisements and can click on them to visit your website. But you must give the search engine a nominal fee for each time your advertisement is clicked, directing a user to your website.
Keyword research and selection, construction of PPC optimized landing pages, and campaign and ad group management are just a few of the numerous stages that go into building a successful PPC campaign.
Advertising on social media sites like Facebook, LinkedIn, Instagram, Twitter, TikTok, YouTube, Snapchat, and others is referred to as "paid social media marketing."
There are a lot of individuals on these networks who might end up becoming your clients. The networks have the potential to target particular interests and demographics.
Paid social media marketing can be used to either "enhance" already-posted organic content or to make a completely new post just for advertising. Both of these options are available to anyone who manages a company page, and they can be used to target particular populations in an attempt to connect with a larger audience than is feasible organically.
Search Engine Optimization (SEO)
The science of enhancing a website to make it more visible when people search for services or products is known as search engine optimization.
The SEO process seeks to improve a company's organic search results by increasing organic search traffic to the website. The likelihood that a brand will succeed in attracting customers increases with the presence a website has on search engines.
On-page SEO, sometimes referred to as on-site SEO, is the process of optimizing website pages to raise a website's position in search results and attract organic visitors.
On-page SEO involves optimizing your headings, HTML elements (title, meta, and headers), and images in addition to posting relevant, high-quality content.
Another crucial element of SEO is link building. Simply explained, link building is the process of obtaining backlinks from other websites to your own. Building links should be a goal for all business owners who want to enhance referral traffic and the authority of their websites.
Organic Social Media Marketing
Any free content, including articles, videos, photos, and more, can be shared on social media profiles through organic social media marketing. By offering free guidance on plant care on social media, you can position yourself as an expert in the industry. Sales can be generated by attracting organic traffic, and long-term returns can be expected from content marketing investments.
Organic social media marketing can be used to:
Define your voice and personality.
Establish connections through disseminating educational, amusing, or inspirational content.
Engage clients at each level of the purchasing process.
Provide customer assistance to customers.
The potential to expand your eCommerce plant business is endless with the correct SEO, SEM, and social media strategy.
8. Packaging and shipping plants
Finding a reliable shipping partner is an essential step to selling anything online. However, this aspect of selling online is a little more challenging when you're selling plants.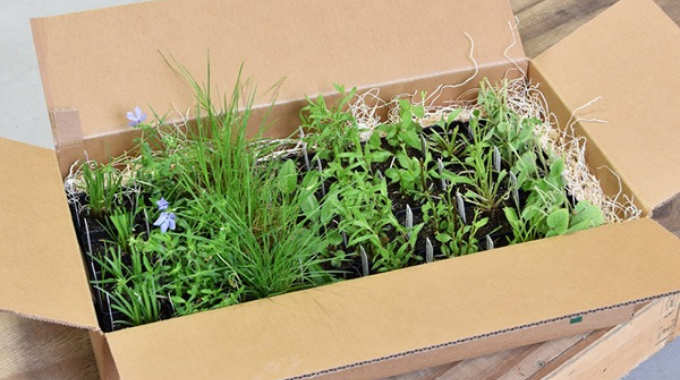 Most plants are delicate and need special packaging material and should be packed carefully. Fortunately, when it comes to packaging plants with care, there is a ton of help available online. Here's a superb video on the subject. Alternatively, if you are more of a reader, here's a simple yet detailed article on the matter.
Since plants require special packaging materials, the cost of such materials will also have to be accounted for, when you are deciding on selling prices.
Once you have figured out the packaging, you will still need to figure out shipping.
Pack and Ship your plants at ease by following a few very simple things.
The packaging of a plant is not very similar to the packaging of any other item. As plants are delicate items to transport, it requires you to consider a few things while packaging.
You need to have the correct size box in which you are sending the plant. (For ex: for a succulent plant you can use a 4*4 sized box while sending a palm tree will require a bigger box.)
The box should be of good quality to handle the weight of the plant. Else the packaging may be damaged in transit which may result in higher returns and customer dissatisfaction.
Always leave a few holes in your packaging to ensure enough air for plants to survive the transit period.
Mention the side of the box which needs to be opened. This will ensure proper unboxing for the user.
For shipping, If you choose to sell from your website, then you need to contact a third-party delivery agency for this task. However, if you decide to sell plants online with Dukaan, you can choose the most suitable partner for your shipping needs from a single dashboard.
Shanu Choudhary – Plantsouk
Conclusion
Plants may not be the most sought-after product to sell online, but they have a market and may generate a good income if the value proposition is sound. Additionally, there has never been a better moment to raise greens than today, as more and more individuals are showing an interest in being plant parents.
Starting a business has become much simpler thanks to technology, especially with the aid of platforms like Dukaan. However, it is preferable to be equipped with information. You may quickly set up and open your store using the aforementioned instructions.
Ultimately, the profitability of your online plant business will depend on the quality of plants you sell and the trust you develop with your consumers. Keep in mind that all businesses take some time to turn a profit. You will be putting the money back into the company to run paid advertisements or acquire stock.
Start with reasonable expectations and pay close attention to your finances. You might need to change your pricing approach or cut costs; this is all part of expanding a new business.
FAQ's
1. Can anyone sell plants online?
Yes, anyone can start a business online. All you need is business know-how (plant care, in this case) and a passion for your business. The best way to sell plants online is with a dedicated eCommerce platform like
Dukaan
, which helps you start, run and manage your business.
2. Can you make money from plants?
Yes, selling plants online is a very profitable business. How much you gain out of your plant business depends on what plants you sell, how well you market your business and ofcourse, how you sell plants. The most lucrative way of selling plants is using a dedicated eCommerce store.
3. Is it legal to sell plants online?
Yes, it is absolutely legal to sell plants online. However, the laws regarding selling and shipping organic matter and soil might differ from place to place. We advise that you look into your region's rules and regulations to avoid any complications in the future.
4. Where can I advertise my plants?
You can advertise your plant business over social media and run ads to boost its promotions. You can also create your own online store and promote it to multiply your sales channels. Additionally, you can use SEO to make your store show up on Google when people look up plant businesses.
5. What plants can I sell from home?
The types of plants you can sell from home are subjective to what plant care conditions are available at home. Consider space, sunlight, water and shipping constraints when selecting the plants. For beginners, we advise you to start with succulents as they are tough plants that need little care and can be shipped easily.