Teespring vs Shopify? You have come to the right blog if you are confused between the two platforms. We will walk you through the ins and outs of both so that you can choose the right platform for your business.
If you want to start selling POD products online, two of the most popular platforms you'll come across are Teespring and Shopify. Both platforms offer a number of features and benefits that can be extremely helpful for businesses. But how do you know which platform is right for you?
In this article, we'll compare Teespring and Shopify side-by-side, covering everything from usability to customer support. By the end, you should have an idea of which platform is the best fit for your business.
Let's get started!
Teespring Vs Shopify: What Are These?
Teespring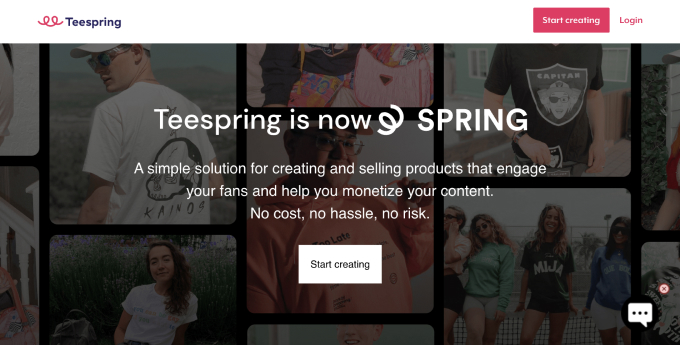 Teespring is a platform that specializes in print-on-demand (POD) products. With the help of this site, you can create and sell custom-printed products without having to invest your time or money into inventory because they handle all aspects of production and fulfillment.
Teespring is ideal for people who want an easy way to create unique items that they can offer their customers at affordable prices, as well as promotional tools which will help promote these goods on social media channels like Facebook and Twitter.
Shopify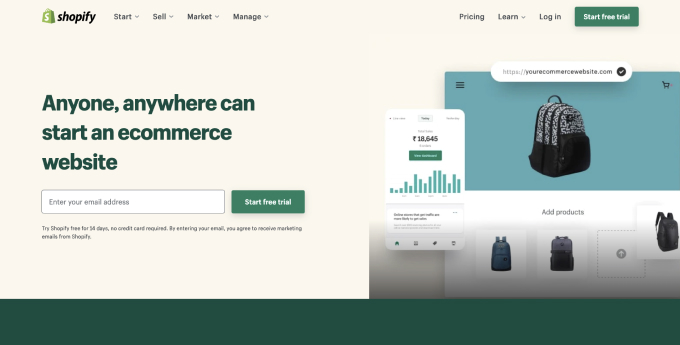 Shopify is one of the leading ecommerce platforms, and for good reasons. It offers a great set of features that will help you start your business quickly with little effort required from yourself.
With everything from hosting and domain names to design templates, payment processing options, and features for maximizing your online presence, Shopify has it all!
Teespring Vs Shopify: An Overview
Here is a quick comparison between Teespring and Shopify:
| Teespring | Shopify |
| --- | --- |
| Teespring is a platform you can use for creating and selling products. | Shopify is an e-commerce platform to help businesses and brands of all kinds. |
| Teespring is 100% free with no upfront or monthly charges. | Shopify has several subscription plans. |
| Teespring has a built-in design tool for POD products. | Shopify does not offer a built-in design tool for POD products. |
| Customer support is active during business hours. | Customer support is active 24/7. |
| Teespring has no option to integrate other online marketplaces. | Shopify has the option to integrate other online marketplaces. |
Teespring vs. Shopify: Key Differences
Let's take a look at a few key distinctions between Teespring and Shopify.
Ease of Use
Design Flexibility
Pricing
SEO Capabilities
Payment Methods
Reports and Analytics
Online Marketplace Support
Customer Database
Customer Support
We will delve deeper into each of these key differences.
1. Ease of Use
Teespring
Teespring offers a print-on-demand (POD) service, which means you can create and sell custom products without worrying about inventory or shipping.
Their platform is designed to be incredibly user-friendly, so you won't waste hours trying to figure out how to use it. In short, Teespring makes it easy to start and grow your own business and share your creativity with the world.
Shopify
Shopify is a popular ecommerce platform available in the market today. Its ease of use is one of its major selling points, as it allows users to create and manage their online stores with minimal hassle, even if you're not a tech-savvy entrepreneur.
The platform provides everything that users need to get started, including an easy-to-navigate interface, templates, third-party integrations, and more. Whether you're just starting with ecommerce or looking for a platform that will make managing your store easier, Shopify is definitely worth considering.
Our Verdict for Ease of Use:

Teespring
2. Design Flexibility
Teespring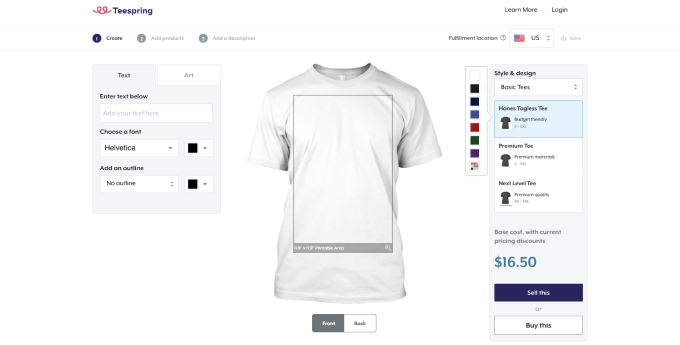 One of the key features of Teespring is its design flexibility. Users can upload their designs or choose from a library of ready-made designs. They can also customize the colors and text of their products.
In addition, Teespring offers a wide range of sizes for products for both men and women. As a result, users can create unique products tailored to individual styles.
Shopify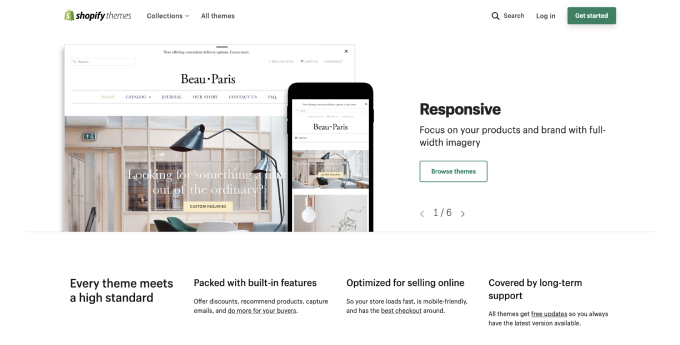 Unlike many other ecommerce platforms, Shopify does not require businesses to use a specific template or design. Instead, businesses can create custom designs that bring out their brand's individuality — the ability to create a truly unique online store that reflects their brand theme and philosophy.
Our Verdict for Design Flexibility:

Teespring works better for POD businesses with a built-in design tool, whereas Shopify has more customization options.
3. Pricing
Teespring
Teespring does not charge any upfront or monthly fees and only takes a commission on sales. For instance, if you sell a t-shirt at $30 with a base cost of $10, your gross margins stand at $20. The base cost of the t-shirt already includes Teespring's service fee so you don't have to pay anything over and above it.
So, Teespring makes money every time you earn from selling your products. This makes it an appealing option for anyone looking to start their own online store.
However, it is essential to note that Teespring prices are not always the same as traditional retail prices. In many cases, Teespring prices are actually lower than retail. This is because the company uses a print-on-demand model, meaning that items are only printed once ordered. This eliminates the need for inventory storage, a high cost for traditional retailers.
As a result, Teespring users can often offer their products at a more competitive price point.
Shopify
Shopify has three main pricing plans: Basic, Shopify, and Advanced.
Basic: $29 per month
Shopify: $79 per month
Advanced: $299 per month
All three plans come with a 2% transaction fee on sales unless you use Shopify Payments, which is only available in certain countries.
In addition to the monthly subscription fee, you will also need to pay for things like domain registration, page builder apps, or a G-suite account.
Domain Registration: $14
Page Builder apps: Around $15 per month
G-Suite Account: $3 per month
Fortunately, plenty of free options are available, so you don't need to spend a lot of money to get started.
Overall, Shopify is an excellent option for anyone looking to start an online store. And with its flexible pricing plans, it's easy to find a solution that fits your budget.
Our Verdict for Pricing:

Teespring
4. SEO Capabilities
Teespring
Teespring has made several improvements to its SEO capabilities in recent years, such as customizable URLs for your listings. On Teespring, all your products will be indexed and made searchable for Google. This has resulted in improved search engine rankings for Teespring's products.
Shopify
Shopify is an SEO-friendly ecommerce platform. Shopify comes with several features designed to help your store rank higher on search engine results pages.
Every Shopify store is automatically given a unique URL, which is essential in determining search engine rankings. In addition, Shopify generates dynamic sitemaps, which help search engines index your website more quickly and efficiently.
Finally, each Shopify store comes with built-in SSL encryption, which helps to boost your website's security and improve your ranking in Google's search results. So whether you're just starting with ecommerce or looking to take your existing store to the next level, Shopify is a great platform to consider.
Our Verdict for SEO Capabilities:

Shopify
5. Payment Methods
Teespring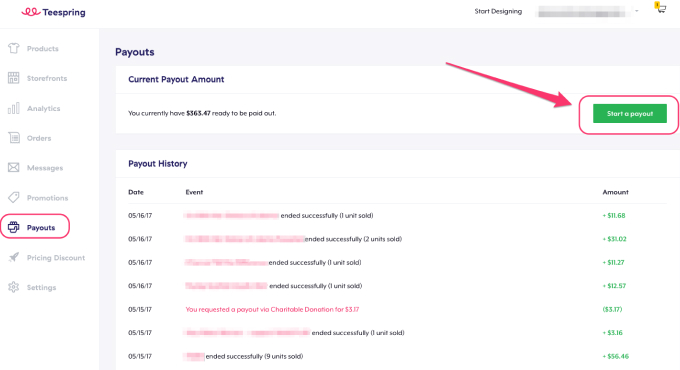 On Teespring, you can accept payments via PayPal or Payoneer, and these options can be easily set up from your account settings.
Additionally, Teespring does not charge any fees for processing payments, so you can keep more of the money you earn from sales. With its easy payment options and low prices, Teespring is great for selling custom products online.
Shopify
For ecommerce businesses, having a robust and easy-to-use payment system is essential. Not only does it make it easy for customers to pay for their orders, but it also helps to streamline the order process and reduce mistakes.
Shopify offers several features that make payments easy and efficient. For starters, Shopify supports many payment methods, including Stripe, PayPal, and more.
In addition, Shopify offers instant checkout, allowing customers to complete their purchases in just a few clicks. Shopify also supports multiple currencies for businesses that need to accept international payments. As a result, Shopify makes it easy for businesses to offer their customers a convenient and hassle-free payment experience.
Our Verdict for Payment Methods:

Shopify
6. Reports and Analytics
Teespring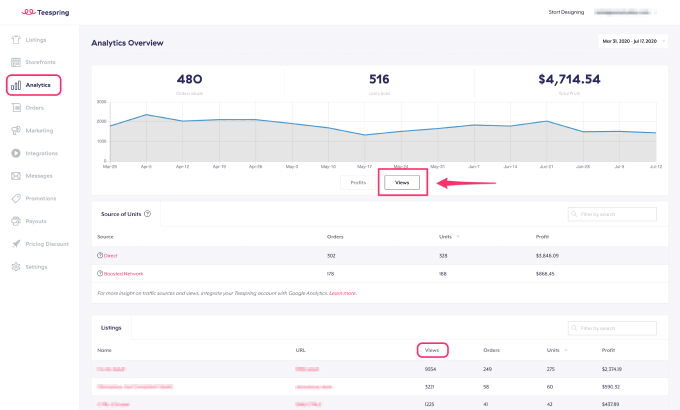 Teespring offers a sales analytics dashboard to provide a comprehensive insight into how your POD business is performing. You can check the number of product orders you have received, the number of products delivered, and your profit.
You can also check page views for each of your products, traffic sources, and more by sorting the data into specific time ranges. You can also link Teespring with Google Analytics to get more insights.
Shopify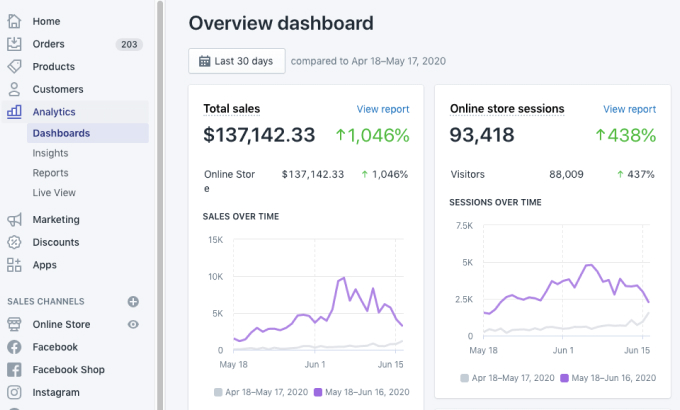 You can get insights from the Shopify dashboard for analytics and reports. Shopify analytics has several categories, such as top products, the total number of orders, the total number of sales, the average order value, and more.
You can also get real-time insights into your store activities. Like Teespring, you can also link Shopify with Google Analytics.
Our Verdict for Reports and Analytics:

It's a tie!
7. Online Marketplace Support
Teespring
If you are using Teespring, third-party marketplaces like WooCommerce, eBay, Amazon, and others cannot sell your products because Teespring does not let you integrate with other online marketplaces.
The only way to promote your business is through social media platforms like Facebook, Instagram, and YouTube.
Shopify
The Shopify app store has a lot of integration options, where you can integrate your store with other marketplaces like Amazon, Etsy, Walmart, Wish, eBay, and more. You can also integrate social media platforms like Facebook and Instagram to promote your business. However, not all of these apps are free.
Our Verdict for Online Marketplace Support:

Shopify
8. Customer Database
Teespring
You cannot own the customer database if you are using Teespring, and since you will have little access to your customer's email address and other information, you may find it difficult to curate targeted engagement and marketing strategies for promoting repurchases.
Shopify
Shopify, on the other hand, gives you complete control over your customer records, which means you can easily send promotional emails, create campaigns, and promote your products to increase your customer base.
Our Verdict for Customer Database:

Shopify
9. Customer Support
Teespring
Teespring's customer support team, available during business hours, i.e., Monday to Friday, 9AM – 5PM EST, will help with questions concerning product design, order fulfillment, and shipping. In addition, the team can also assist with billing and account issues.
Shopify
Shopify's customer support team is available 24/7 to help entrepreneurs with any issues they may encounter. Whether it's a technical problem or a question about billing, the customer support team is always there to help.
Furthermore, Shopify also offers a wealth of online resources, including a knowledge base, community forums, and email support. So no matter what issue an entrepreneur faces, Shopify has them covered.
Our Verdict for Customer Support:

Shopify
Conclusion
Both Teespring and Shopify have their own unique set of features that make them excellent choices for businesses. However, a few differences between the two platforms should be considered before making a decision.
And which platform is right for your business? It ultimately depends on your specific business needs and requirements. If you're selling custom-made products, Teespring may be the better option.
However, if you're selling a wide variety of products, Shopify may be a better fit.
Further reading
Teespring is a good POD platform, but not without its shortcomings. If you are looking for its alternatives, here's a list of Teespring alternatives for you.
Shopify may seem a little complex to use, especially for beginners. So, we have put together a list of eCommerce platforms like Shopify that you can try instead.
However, there is one more option you can consider.
Dukaan is a seamless platform that allows you to build your online store in just a few easy steps. All you need to do is visit our website, add your store and products, and you are ready to run your business! Visit Dukaan today to avail a 7-day free trial.

FAQs
1. Which platform has a better payment method, Teespring or Shopify?
Teespring supports only two payment options, whereas Shopify supports several options. So, if you are looking for payment flexibility, choose Shopify.
2. Which platform is more budget-friendly?
Teespring does not have any monthly or upfront charges, which can be a great option for beginners looking to start their small apparel business.
3. Which platform is better for POD businesses?
Teespring offers POD services with built-in design tools to create your own products, and hence, is a better platform for POD businesses than Shopify.
4. Does Teespring integrate with Shopify?
No, Teespring does not integrate with Shopify, since the former is a POD marketplace and the latter is a dedicated eCommerce platform that does not require integration with any third-party platforms to sell products online.
5. Does Teespring do dropshipping?
We would not advise for you to do dropshipping with Teespring as it does not contain any advanced eCommerce features needed to handle the business aspects of dropshipping. If you want to try your hand at dropshipping,
Dukaan
is the perfect platform to start your online store with.