Having trouble deciding whether Wix or Squarespace is right for you? In this comparison of Wix vs Squarespace, we explore what both platforms have to offer.
You need to choose a platform that will allow you to create a professional, efficient, and easy-to-use website for your customers. However, choosing a platform can sometimes be an overwhelming process.
That's why, in this post, we'll compare the different aspects of Wix and Squarespace so that you can make an informed decision.
Let's get started!
Wix vs Squarespace: An Overview
Here is a quick comparison between Wix and Squarespace:
| Wix | Squarespace |
| --- | --- |
| Wix is a drag-and-drop platform that doesn't allow coding. | Squarespace is a drag-and-drop platform that allows coding. |
| Allows automatic back-ups. | Back-ups have to be performed manually. |
| Offers a free plan. | Doesn't offer a free plan. |
| 24/7 customer service via live chat and callback service. | 24/7 customer service via email, social media, and live chat; phone support is unavailable. |
Wix vs Squarespace: Key Differences
Here are some of the key distinctions between Wix and Squarespace:
Design Elements
Ease of Use
Mobile Application & Add-ons
E-commerce Options
SEO Capabilities
Customer Support
Let's take a look at them one by one.
1. Design Elements
Wix
Wix gives you complete freedom to design your website the way you want. You can either start from scratch or use one of their professional templates. The platform also lets you optimize your website design for mobile devices. It doesn't allow you to use HTML or any other coding to access design elements; hence it can be an excellent option for beginners.
However, you should note that once your website is live, you won't be able to change your template. Wix will still enable you to make minor changes, like changing fonts or colors, but no major changes can be made.
Squarespace
Squarespace also offers a range of stunning templates that you can use to create your website. All of their templates are responsive, meaning they will automatically adjust to fit any screen size. Contrary to Wix, Squarespace allows you to use CSS or HTML to alter the look and feel of your website.
The design elements offered by Squarespace are more rigid than Wix, which can sometimes cause difficulty while designing.
One similarity with Wix is that you cannot completely change your template once the website is live. Although, Squarespace does give you the liberty to make small tweaks here and there even when the website is live.
Our Verdict for Best Design:

Wix
2. Ease of Use
Wix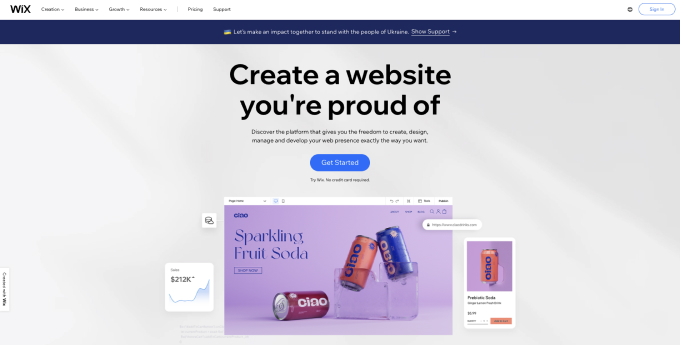 Wix is a drag-and-drop platform, which makes it one of the easiest website builders to use. The platform also offers a range of tutorials through videos and blogs to help you get started with building your website.
One amazing thing about the platform is that it offers an AI-powered tool called Wix Artificial Design Intelligence (ADI), which asks you a couple of questions and recommends a design depending on your answers in just a few minutes, making it easier to begin your work.
Squarespace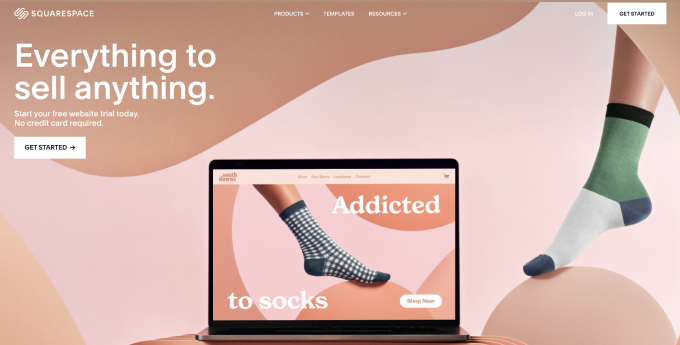 Squarespace is also a drag-and-drop platform, but the grid-based design systems can cause difficulty in moving the elements. Still, one can appreciate the structured design approach offered by Squarespace, with its predetermined locations of columns, rows, and boxes.
You can also access tutorials on the Squarespace website, but they are not as comprehensive as Wix's.
Our Verdict for Ease of Use:

Wix
3. Mobile Application & Add-ons
Wix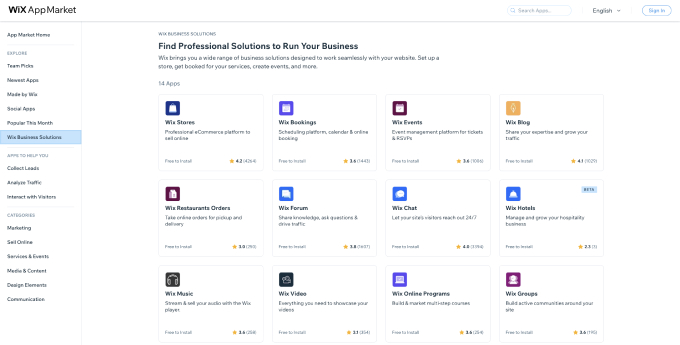 The Wix mobile application allows you to manage your website on the go. You can use the app to add new content, view analytics, and perform several other tasks.
If we have to point out one drawback, it would be the app's inability to modify the web pages.
Wix also offers a range of add-ons that you can use to extend the functionality of your website. Some of their most popular add-ons include:
Wix Bookings: Wix's appointment booking system allows you to schedule and manage appointments online.
Wix Contact Form: This add-on can be used to create custom contact forms for your website.
Wix Chat: With Wix Chat, you can interact with your customers and solve their queries.
Squarespace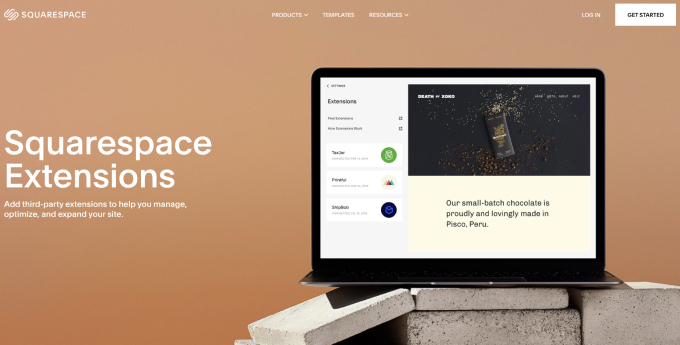 The Squarespace app is also similar to the Wix app. Unlike Wix, it does allow you to modify your pages. You can also customize the metric dashboard according to your preference directly from the app.
Squarespace also offers a marketplace with numerous plugins. Some of their most popular plugins include:
Lightbox Anything Plugin: The Lightbox Anything Plugin allows you to create pop-ups from any text, button, or image link.
Social Media Plugin: As the name suggests, the plugin can direct the users to your social media channels.
Counter Plugin: This can be a good addition to the website design, as the counter makes up for a better user experience.
Our Verdict for Best Mobile Application & Add-on:

Wix
4. E-commerce Options
Wix
Wix eCommerce allows you to sell your products online. It has multiple payment gateways along with features to manage to ship, calculate and manage taxes, etc. With Wix, you can add up to 50,000 products to your online store. It also allows you to create a business logo and provides business name suggestions.
Squarespace
Squarespace Commerce is the E-commerce platform of Squarespace. Though it has lesser payment gateway options than Wix, the platform comes with features like a live carrier cost calculator, gift card creation, etc.
Our Verdict for Best E-commerce Options:

Wix
5. SEO Capabilities
Wix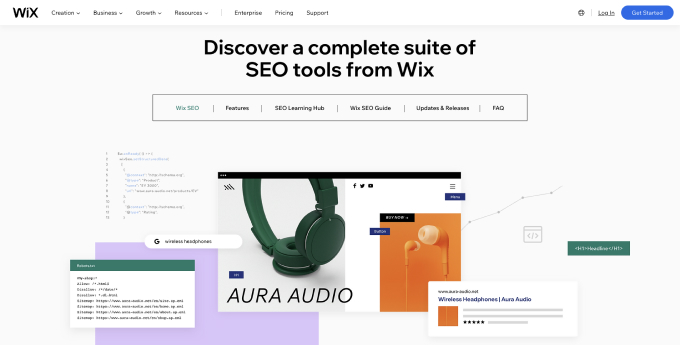 Wix offers a tool named "SEO Wiz" that can assist you in improving your Google search engine rankings. The tool has several useful features that are essential to optimize your website, such as URL customization, image optimization, Google Search Console integration, etc.
The tool also lets you add Google Analytics to your Wix website so that you can measure the success of your SEO strategy, besides providing access to several learning resources to improve your SEO knowledge.
Squarespace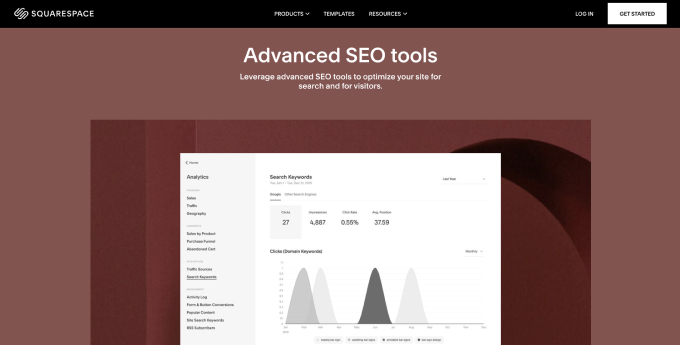 Squarespace is also a good platform for SEO and offers the same features as Wix. The platform also allows you to add Google Analytics to your site and provides customizable headings. In the SEO match of Wix vs. Squarespace, we would say that both platforms have equal capabilities.
Our Verdict for Best SEO Capabilities:

It's a tie!
6. Customer Support
Wix
Wix offers 24/7 support via live chat and callback service. You can also find a Wix forum where you can find answers to your queries from other Wix users. However, Wix's support department isn't prompt. It is difficult to get in touch with them, and you might have to rely on forums and FAQs to solve your doubts.
Squarespace
SquarespaceYou can contact Squarespace support staff 24/7 through live chat and email. Even though the platform doesn't offer phone support, Squarespace staff is more prompt than Wix when it comes to replying to your queries via email.
Our Verdict for Best Customer Support:

Squarespace
7. Pricing
Wix
Wix provides a free plan that allows you to create a website while displaying Wix ads. The plan has limited features. If you want to get rid of the Wix ads and access more features, upgrade to one of their paid plans. The starting price for Wix paid plan is $16 per month and goes up to $59 per month.
| Plan | Monthly | Yearly |
| --- | --- | --- |
| Combo | $23/month | $16/month |
| Unlimited | $29/month | $22/month |
| Pro | $34/month | $27/month |
| VIP | $49/month | $45/month |
| Business Basic | $34/month | $27/month |
| Business Unlimited | $38/month | $32/month |
| Business VIP | $64/month | $59/month |
Squarespace
Squarespace also has a similar pricing model to Wix. However, the platform doesn't offer a free plan. Their basic plan starts from $16 per month, and the premium plan goes upto $49 per month, which comes with various features. Take a look at the table below to know the prices of different plans offered by Squarespace:
| Plan | Monthly | Yearly |
| --- | --- | --- |
| Personal Plan | $23 | $16 |
| Business Plan | $33 | $23 |
| Ecommerce Basic Plan | $36 | $27 |
| Ecommerce Advanced Plan | $65 | $49 |
Our Verdict for Best Pricing:

It's a tie!
How to Choose the Right Platform for Your Business Website?
1. Budget
The first thing to consider is the amount you are willing to spend on your website builder. This amount should also include costs that will be required for things other than paid plans of the platform. For example, you will need to estimate the costs required for domain registration and hosting.
You may also need to spend money on making compelling web copies and uploading quality images. It is good practice to know all such expenditures beforehand.
Once you have an idea of all the expenses, you can start comparing the paid plans of the website builder and choose the one that fits your budget.
2. Needs and Expected Outcomes
The next thing you need to consider is what you want from your website. Here are some of the more questions that you can ask yourself to get clarity:
What kind of website do you want?
Do you need a simple website with a few pages, or do you have a website with hundreds of pages? Once you know this, it will be easier for you to find the right platform.
Does the platform offer essential functionality for the outcomes you expect?
If you are looking to create an online store with your website, then the platform should consist of the features and templates that are essential for it. For example, an online store must have the functionality of adding shopping carts.
What type of content do you intend to publish on your website?
If you want a website with video content for promoting your products, it is advisable to choose a website builder that provides better support for this type of content.
3. Resources and Support Offered by the Platform
The resources and support offered by a platform are also important factors to consider while zeroing in on the platform. Even though website builders were created to simplify the process of designing, there may be times when you don't fully understand how to utilize the design elements of the platform. That's because each platform has its own learning curve.
In such cases, the resources and comprehensive training materials provided by the platform can be indispensable.
It is also possible that even after going through the resources, you have several doubts in your mind. Hence, a platform with prompt support staff can be very beneficial.
Ultimately, we would advise you to go with the platform that you can easily understand.
4. Customer Reviews of the Platform
It is essential to read customer reviews of the platforms. These reviews will give you an idea of how other business owners have utilized the platform and if they have been able to achieve their goals with the website builder. You will be able to find customer reviews on Google easily.
Knowing all the shortcomings of the website builder beforehand is much better than encountering them in the later stages of your website creation process.
Wix vs Squarespace: Conclusion
To answer your question, Wix vs Squarespace: Which One is Best For Your Business?
Well, when it comes to choosing the right platform for your business, there is no one-size-fits-all answer. It will depend on your requirements.
If you want more creative freedom while designing your website, Wix is the better choice because of its sleek drag-and-drop site editor. Similarly, if you have experience in designing and prefer using CSS or HTML while creating your website, Squarespace would be a better choice for you.
Both Wix and Squarespace are excellent website builders with their own set of pros and cons. However, there is another much simpler way to build your website.
Dukaan, an eCommerce enablement platform, allows you to set up an online store in just 30-seconds. All you have to do is go to our website, add your store name, add products— your online store is all set!
Visit Dukaan and sign up to get a 7-day free trial.
Further Reading
FAQs
Which platform is more customizable, Wix or Squarespace?
Wix gives you much more design freedom than Squarespace. So, if you are looking to make some lengthy customizations, Wix should be your go-to platform.
Which platform is better for beginners?
Wix's drag-and-drop editor is much more user-friendly than Squarespace, coupled with its pocket-friendly starter plan making Wix the ideal choice for beginners.
Can you switch your website from Wix to Squarespace?
There are no tools or plug-ins available that can assist you in transferring your website from Wix to Squarespace or vice versa. You will have to do it manually.