Interested in launching an eCommerce business without much investment? Our detailed AliExpress Dropshipping Guide will guide you through the process.
Every successful eCommerce business owner is in on the secret that AliExpress is the place to go for starting a dropshipping business without any hefty investment. After all, AliExpress dropshipping is the safest business model that makes it easy to run an online store without holding the inventory.
Take the example of Anthony Agyeman, an entrepreneur whose "rags to riches story" is a testament to the levels of success one can reach with dropshipping.
He put in the time, money and the patience required to start and scale a dropshipping business and is currently generating over a million in a month.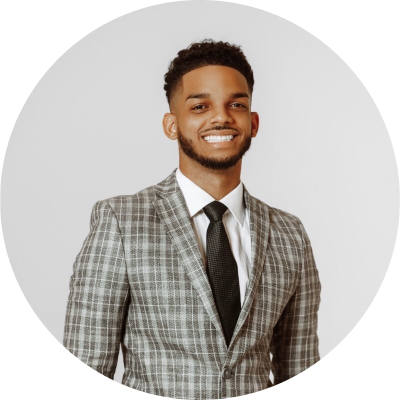 Every dropshipper should know that they are possibly just one product away from changing their entire life.Anthony Agyeman
And he's not the only one who's dominating the dropshipping sphere. Folks like Irwin Dominguez, Aloysius Chay etc., are further proof that even the sky's not the limit with dropshipping!
Want to join their ranks with your own AliExpress dropshipping business? This article will walk you through everything you need to start, run and manage your AliExpress dropshipping store.
Before we jump onto the AliExpress dropshipping, let's touch base with both what dropshipping and AliExpress is.
In a nutshell, dropshipping business model eliminates two of the biggest challenges: inventory maintenance and logistics. If you need to read more about it, here's an article we recommend.
Now, coming onto AliExpress.
What is AliExpress?
AliExpress is a significant and renowned name in the eCommerce circle. Founded by Jack Ma in 2010, it has become the holy grail for dropshipping businesses.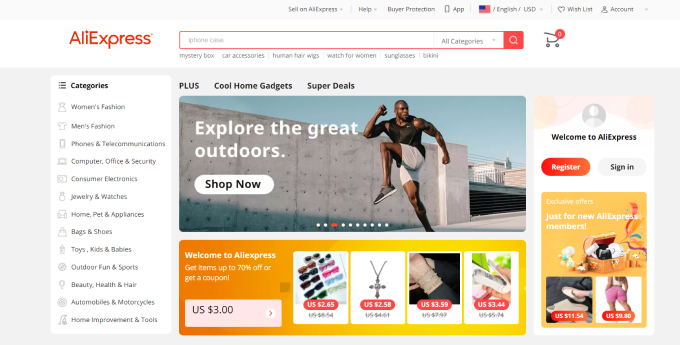 Basically, AliExpress is a platform that hosts third-party individuals or companies. It's home to more than 100 million products, across a wide range of accessories. You can find products for every dropshipping niche on AliExpress, from women's apps to automobile parts to home improvement. If we had to summarize it in a line, we'd say that there's no niche whose suppliers you won't find on AliExpress.
AliExpress dropshipping model is based on the idea of buying from overseas suppliers selling at lower price.
Because the platform's international sellers manufacture goods in bulk, you can reap significant profit margins by marking up the products you intend to dropship.
Since it mainly focuses on catering to dropshippers, AliExpress offers features like single order placement and buyer protection.
Aside from these, AliExpress is a great place to find trustworthy sellers for your dropshipping model.
What is AliExpress Dropshipping?
Now that we are well-versed with how AliExpress works let's jump onto AliExpress dropshipping.
With AliExpress, you won't have to worry about handling inventory or bearing the costs of the catalogues for your online store. In layman terms, you can dropship from AliExpress without buying the products yourself.
AliExpress makes dropshipping extremely easy. All you need to do is add the products you are interested in selling on your store. Now set up a price point that is marked up (remember to include your commission here). At this point, you're all set to market your store to receive orders.
Upon receiving an order from a customer, you simply pay the product's wholesale cost and the corresponding seller ships it directly to the customer.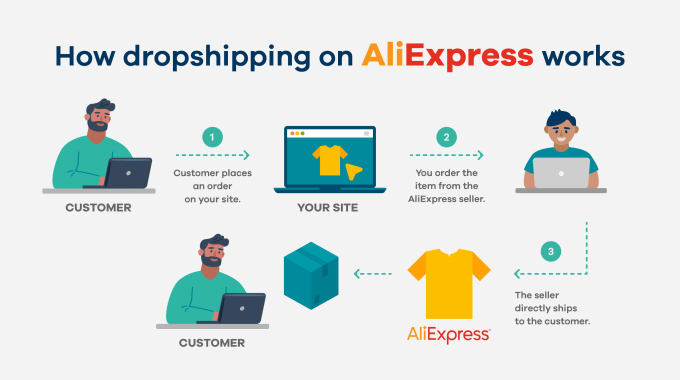 Thinking about what makes this AliExpress dropshipping model successful?
Most sellers on AliExpress understand that their customers are dropshippers and are discrete with their shipping. This means the customers will get their products without any invoice or receipt indicating that it is coming from the AliExpress vendor and not the seller. Thus, there is no way of knowing that their order has been dropshipped.
What You Need To Know as an Aliexpress Dropshipping Beginner?
AliExpress is the best place for every dropshipping entrepreneur to source their products from. Because the platform requires no start-up fees and has an inexhaustible list of vendors. (and expanding as we speak)
If you are just starting out in the dropshipping game, here are a few things you should know about AliExpress dropshipping:
Like other dropshipping models, you do not need to invest anything to start AliExpress dropshipping business.
AliExpress is the perfect platform to start dropshipping. Its features like no minimum order requirements, credit card payment integration are ideal for seller validation.
You will need your own online store to start your dropshipping business on AliExpress.
Until you get an order on your store, you don't have to spend a single penny on your business.
Having sharp product photos and explanatory product descriptions on your store goes a long way. Every effort you put into creating concise product copies and uploading sharp product photos/videos will benefit your store in the long run.
While it might be tempting to go with the seller offering the lowest price, it is feasible to maintain quality control with goods for your business in the long run. Another great benefit of buying from reputed suppliers is that you'll always have a pool of sellers to fall back on.
Be clear about the shipping and return policies in your store. Explicitly state what delivery timeline your customers should expect (depending on the shipping option), along with the conditions on which returns would be accepted. Remember customer relations is integral to every business, especially AliExpress dropshipping.
Don't get married to a particular niche if it isn't well-performing. Nothing is stopping you from switching your dropshipping niche if your business model is in place. AliExpress dropshipping is essentially a game of patiently waiting and analyzing the prospects of your products.
Dropshipping businesses take time to flourish. Do not stop trying due to frustration. Sure, it takes time to master the craft of dropshipping, but the rewards are worth the time and effort.
Avoid selling counterfeit branded products. It might lead to legal trouble down the line.
📚
Recommended reading:
15+ Expert Dropshipping Tips You Should Know in 2022
15+ Best Dropshipping Niches to Try in 2022
Why Would Someone Buy From Your Store if They Can Buy the Same Products on AliExpress?
This is a very valid concern for all AliExpress dropshippers. And rightly so!
As we have learned thus far, neither your products nor their prices will be the USPs of your dropshipping business.
But here's the deal: No customer is willing to put their time and effort into buying from a platform like AliExpress, given its track record of often sending faulty or wrong products. Even if someone can get the same product at lower price directly from AliExpress, it's not worth the hassle of dealing with suppliers in case of faulty or wrong order delivery.
This is how we would broadly categorize the hesitations people have about shopping on AliExpress:
1. It's easier to buy from a reputed store
People prefer to buy from established dropshipping stores than from a random AliExpress store. With dropshipping stores, they are assured of the credibility of the products, which is not the case with random sellers on AliExpress.
We can't stress enough the importance of having a well-built store. We'll expand more on this later in the article.
2. Unawareness about the platform
AliExpress isn't popular in many parts of the world. Infact, roughly 8% of the traffic that AliExpress gets is from America.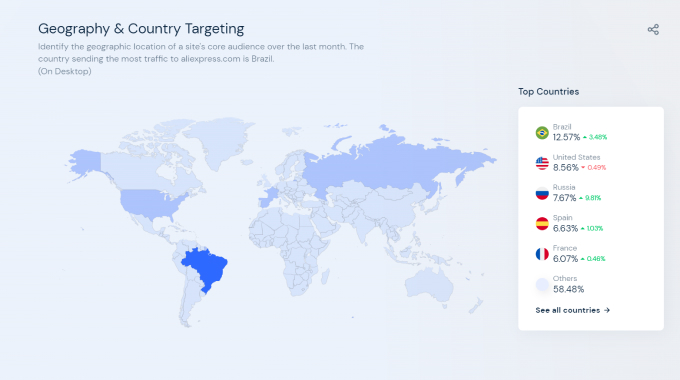 This goes to show that there are many demographics that either are unversed with or uninterested in the platform.
Ideally, you should focus on unlocking the potential of this untapped demographic.
3. Lack of trust
Placing an order on a marketplace from a foreign seller that one knows nothing about doesn't make for the best shopping experience.
That's why people prefer to buy from dropshipping stores instead of directly from AliExpress because they are more comfortable doing so when there is a face involved. It's easier to buy from a store when you know who to reach out to incase of any trouble.
And that's where you come in as a dropshipper. How efficiently and conveniently you get the orders delivered to your customers will help you sail ahead of your competitors in this domain.
Your marketing and customer support skills can make or break the reputation of their store.
Why are People Dropshipping on AliExpress?
Hands down, AliExpress is the preferred place for dropshippers to source their products from.
As a marketplace, AliExpress wouldn't be the sensation it is today without these advantages:
1. Multiple reputable sellers
To run a dropshipping enterprise, you need a pool of multiple reputed suppliers. And they can be easily found in abundance on AliExpress. The platform does a tremendous job of connecting many suppliers from China and other Asian countries for you to dropship to a global audience. With so many vendors available, order fulfillment is never an issue.
To better understand how to choose a credible dropshipping supplier, here's an article we recommend.
2. Availability of high-quality goods in every niche
Every entrepreneur knows the importance of maintaining consistent product quality. Whatever your niche might be, there's no shortage of good-quality products on the platform.
Pro Tip 💡
To search for legit products, don't forget to check out the reviews and the supplier rating.
3. High profit margin
Most of the products available on AliExpress are made in bulk by suppliers. This results in a vast price difference between the same product that's listed on Amazon versus AliExpress.
Dropshipping cheaper items allow you to compete on price without lowering your profit margin. That's a major reason why everyone gravitates to AliExpress as their choice of dropshipping platform.
4. No minimum order quantity restrictions
One of the best features for dropshippers on AliExpress is their no MOQ policy. That means you can even order just one item, no matter how inexpensive it is. In this way, you can easily arrange a single item that your customer ordered without any difficulty.
There is another great advantage to this. As a dropshipping beginner, it makes it easier to test out different suppliers and their products. Without shelling out a considerable amount, you can place a single order and check the quality of the product, its packaging and how alike it is to the pictures uploaded by the seller.
5. Easy shipping options
Is your customer located on the opposite end of the globe? Worry not, because with AliExpress, you can ship listed products anywhere globally. Although AliExpress dropshipping takes considerable time (14-45 days), it is compensated for by the free shipping that the customers get.
And for customers who require their orders in a hurry, premium shipping is also available. This gets the shipping period down to 7-15 days.
To avoid any complications regarding the same, ensure you explicitly mention the delivery timeline on your store.
How to Start Dropshipping With AliExpress?
If you know the correct way to get started, dropshipping with AliExpress is as easy as the ABC. For grasping the basics of dropshipping with AliExpress, you must read this article.
Ready to learn all the advanced secrets of the trade now? Let's get started!
1. Set up your store
For your customers, your store is the cornerstone of your business. Do not underestimate your online store's importance in shaping the future of your business.
Think of it as the equivalent of a physical store. The better your store is in terms of aesthetics, the more reliable it looks to the outside world. As the first point of contact, your website should be mobile responsive, user friendly and load faster.
As stated earlier in the article, you'll need your own eCommerce store to start your own AliExpress dropshipping business. What platform you choose to launch your store has direct consequences, so mull over this decision thoroughly.
Now there are many platforms out there that you can use to create your online store (read about them here), but we recommend Dukaan over the others.
Why you ask? Because with Dukaan, you can launch your fully-functioning online dropshipping store in under 30 seconds. The platform is user-friendly, intuitive and best of all, involves no learning curve. (unlike other platforms like Shopify)
We mean, think about it. Would you sit there learning how to use an eCommerce platform or work towards marketing your dropshipping store?
To put it into perspective, here's a broad comparison between Dukaan and Shopify.
| Dukaan | Shopify |
| --- | --- |
| One-time payment in the form of subscription fees. | Has multiple hidden charges on top of monthly subscription charges. |
| Intuitive and straightforward to use. No learning curve required. | Requires technical expertise to run and manage your store properly. |
| Store comes loaded with in-built tools, integrated plugins, marketing materials and an SSL certificate. | Many features are hidden behind paywalls. |
| Plans start from $99.99/year. | Plans start from $29 per month with additional charges. |
2. Choose the right/trending products to sell
Running a successful eCommerce store begins with choosing the right niche. Every dropshipper is in search of the next "top selling" product that will skyrocket their business. But in reality, choosing what product or niche to dropship in is not throwing darts in the dark, but a calculated move.
Choosing what products will sell isn't only a matter of identifying what's trending at the moment. It also means understanding what you can market and its long-term feasibility. Some products might trend today and fade tomorrow, while the demand for others might peak on a periodic basis.
Thus, it's important to understand what trending products are before we discuss how to find them for dropshipping.
And how do you find that out?
Well, there are a couple of ways. Let's take a look at them:
Sell "hot" products
AliExpress has its own category of the most-trending products, or "hot" products, saving you the effort to research what's best-selling on the platform.
In addition, you can browse the platforms' product categories to find products in the niche you want to specialize in.
But this isn't a full-proof way to ensure you get sales on your platform.
Ideally, your product category should be based on your personal interest, current trends and availability. Here's what we recommend you do instead.
Recommended read:
📚
Recommended reading:
100+ Best Dropshipping Products to Sell in 2022
Search for trending products on Google Trends
It can be used to determine the feasibility of the niche you are interested in based on its search volume. Not only it is useful in ascertaining current trends, but it can also be used to predict upcoming fads.
What are trending products?
Trending products are those whose popularity (or sales) register a spike in interest or demand, directly converting to increased sales. This growth can be seasonal, gradual or sudden.
Let us illustrate with an example:
Sudden
Fidget spinners were all the rage a few years ago. Their demand was sudden, and so was their decline. If you talk about current times, they are nowhere to be found.
Seasonal
The demand for Christmas decorations rises every year between the months of November and December. This spike is predictable and is bound to repeat its intensity every year, with varying measure.
Gradual
Leather jackets are a perfect example of products that have been gradually increasing in their popularity year after year. Considering the constant increase in their demand, their need in the market is definite.
Do a thorough sweep of social media to spot the trends in what people are buying these days.
It is also advisable to keep an eye on your competitors' pages and track what advertisements they are running.
Once you have checked off all the options on this list to narrow down what you want to dropship from AliExpress, this is the stage where you need to finalize a particular niche that you want to go ahead in.
3. Find the right suppliers for your AliExpress dropshipping store
Among the many suppliers populating AliExpress, how do you find out which ones are legitimate? Every dropshipper who is just starting has been plagued by this question.
Here are our best suggestions to help you in dilemma:
Check the positive feedback on the sellers' profile.
Here is an example of a seller with over 90% positive feedback. That is a good rule of thumb to gauge who is a legitimate seller.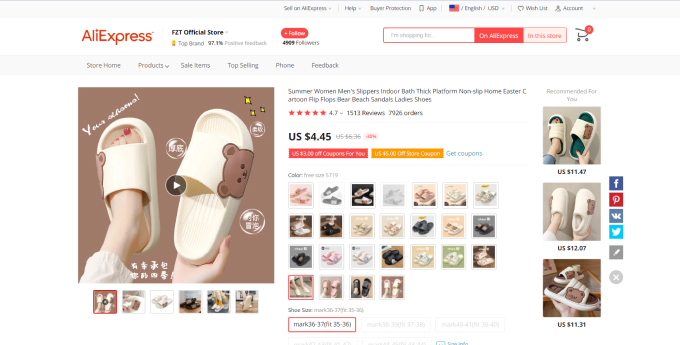 Check the number of orders placed with the seller
A good indicator for identifying who a legitimate seller is to checkout the number of orders placed with them. Ideally, anything over 1000 is great.
Read the seller review
Reviews left by people on the seller's page are a great way to determine their product quality. Not only do you get to know what people like about it, but also where most of their orders come from and the target audience making the purchase.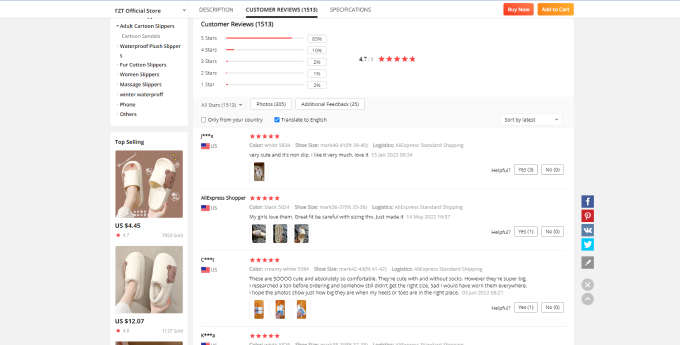 Talk to the seller
The best way to gauge compatibility with the seller is by contacting them. If they are responsive, professional and helpful, take those as positive signs and try to establish a relationship with them.
There's nothing better than ordering the product for yourself to verify the authenticity of the product with regards to its aesthetics and build quality.
Factoring that you will never see the product in actuality for yourself, it is advisable to place a dummy order to check its quality. These orders will also help you in clicking product images for your store later.
4. Add products to your store
Once you have nailed down all the above-mentioned details, it's time to add products to your store.
Now you have the option of manually adding products one by one. Which is time-consuming and clerical.
It is also impractical if your store houses a variety of products across different niches. There will be too much back-and-forth with catalogue building, dividing your attention from putting in your efforts to advertising and marketing your products.
There's a simpler and more practical alternative. You could create a Dukaan-powered store and upload your entire catalogue conveniently.
Here are a few pointers to keep in mind while adding products to your store:
Make sure that you add high-quality product images from all angles. To understand more about it, read this article.
Ensure you include proper product titles, copies and descriptions in your store. This helps in building credibility and increasing sales. Our product description generator tool is highly beneficial here.
5. Market your dropshipping store
At this point, your store is ready to be showcased to people. The next step is to market your store to people. This can be done in a variety of ways.
The following pointers will help you step up your dropshipping game, whether you're a beginner or a seasoned pro.
Create a brand identity for your store. Your customers are more likely to order from you based on how reliable your store looks. Stores created using Dukaan are fully-customizable in terms of themes, colours, design etc.
Utilize Facebook and Google ads to promote your store and its products. Our platform is equipped with inbuilt plugins like Google Merchant center, Privy etc., to efficiently market your store across social media.
Maintain customer engagement with email marketing and opt-in offers. Our platform integrates MailChimp to ease this process.
Optimize your store for SEO. Your sales will increase multifold if your product pages rank on search results and are seen by your intended target audience.
Integrate a blog section in your online store to advertise your products. Not only will this help with SEO, but it will also accelerate your conversion rate.
With all of these things in place, your dropshipping store is ready to receive orders from your customers.
Pro Tip 💡
If your store looks like a dropshipping storefront, don't expect orders to flood in. The most important thing to remember is to make your dropshipping store look like any other eCommerce store.
How to Generate More Sales from Your AliExpress Dropshipping Store
So now your dropshipping store is fully optimized and you know how to market it properly.
But do you know how to milk it to its full potential?
Considering how highly competitive the dropshipping industry is, even the best dropshipping stores need a special boost in order to get those first orders rolling in. Once the momentum is built, you can shift your focus from advertising to diversifying your store's catalogue.
Enough said, let's jump to what you can do in terms of putting your best foot forward with your dropshipping store:
1. Target your ads to the right audience
If your ads do not reach the intended audience, all of your marketing endeavours are a failure. Trust us, you don't want to make a mistake here.
Not only does this lead to discouragement, but also wastage of expenditure on those ads you were running.
For example, even in the pet products niche, if you advertise dog collars to cat owners, it will not generate any sales for you.
Having a well-thought out and planned marketing strategy is essential before you set up your Google ads. Know who to target (in this case, specifically dog owners) and market only to the relevant audience.
2. Add customer reviews
If people lack trust in your business, there's no doubt that they'll hesitate before placing an order.
In order to gain credibility and trust in the eyes of customers, you must add customer reviews for your store.
Running after customers to leave a review for their order can be quite hectic and time-consuming. But not if your store is created using Dukaan. Our "Product Reviews and Ratings" plugin makes the whole process a breeze.
3. Accelerate your website's loading time
Are you not witnessing sales even after targeting the right audience with a well-designed dropshipping store?
The problem could be your slow-loading website.
Take our advice at face value when we say that even your most loyal customers will not wait for your slow website to load. Not only will this impact the sales you make, but also drive away the customers that have reached your store from your advertisements.
Ofcourse, if your eCommerce store is created using a reputed platform like Dukaan, your store will already be optimized to load at the most efficient speed.
4. Focus on one product/ niche
Often observed with new dropshippers, they tend to juggle multiple products in hopes of their business taking of quickly. It's the most common rookie mistake, and one that can be easily avoided with the correct guidance.
This approach backfires due to the following loopholes:
It pulls your focus away from your flagship product (the main product you are dropshipping), scattering your attention from where it really needs to be.
Advertising for a single product is always more efficient than advertising for multiple products across niches at once.
5. Create a "FAQ" section
Even with the most descriptive of webpages, the customers can have unanswered questions. And if the customer is confused, high chances are they will not place an order.
To win the complete confidence of the customers, you can create an FAQs page that answers the common queries that customers have in regards to the products.
The common points to cover in this section includes shipping time and costs, product details, return/refund policy, payment details, shipping option etc.
6. Test different variants of your advertisements
Many seasoned dropshippers recommend running multiple variants of the same advertisements.
Why you ask? Because what you might find compelling, may not catch the other person's eyes. The end goal is to make the customer gravitate towards your store by catching their attention with your ad.
There's no harm in giving your audience variety especially when it could lead to increased sales in your store.
7. Lure existing and new customers with discounts and coupons.
Who doesn't love discounts and exclusive deals? Especially when it comes from a store that you previously shopped from.
It is good practice to keep your customers engaged by offering them discounts. The best part is that since the markup on AliExpress products is high, it won't put a dent on your pocket while keeping your customers happy.
There are many pre-designed marketing templates on our platform that you can use to share promotions with your clients.
What Successful Dropshipping Stores Look Like
All these pointers got you confused? Take inspiration from these well-designed dropshipping stores for how to spruce up your own dropshipping store.
1. Notebook Therapy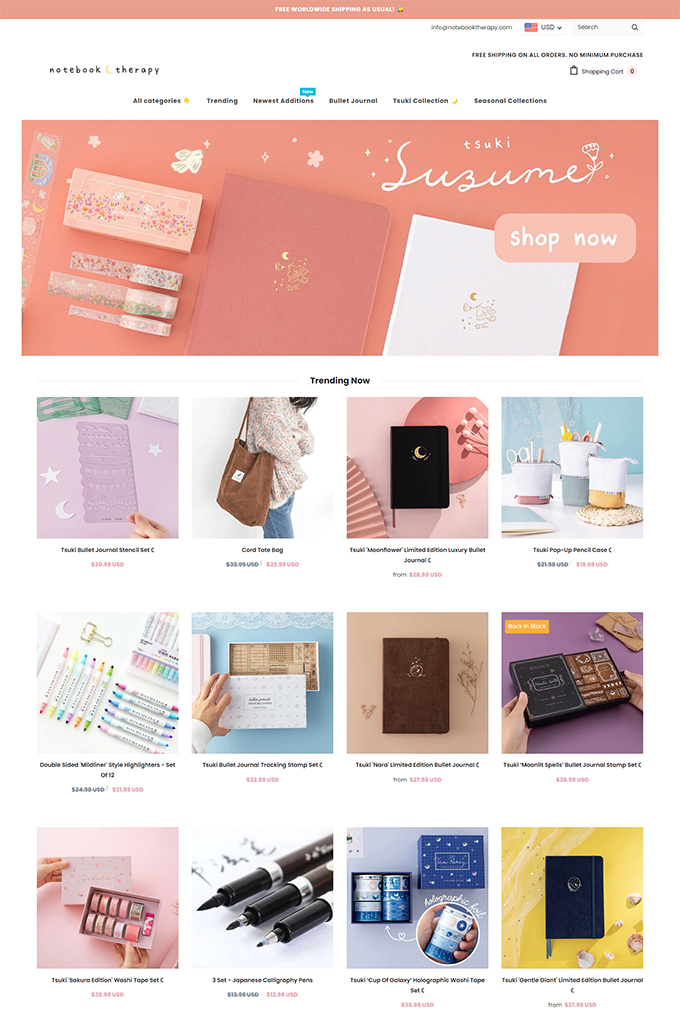 With great aesthetics, crisp product images and descriptions, an opt-in mailing list and a clear niche, Notebook Therapy hit the bullseye when it comes to managing a dropshipping store.
2. Inspire Uplift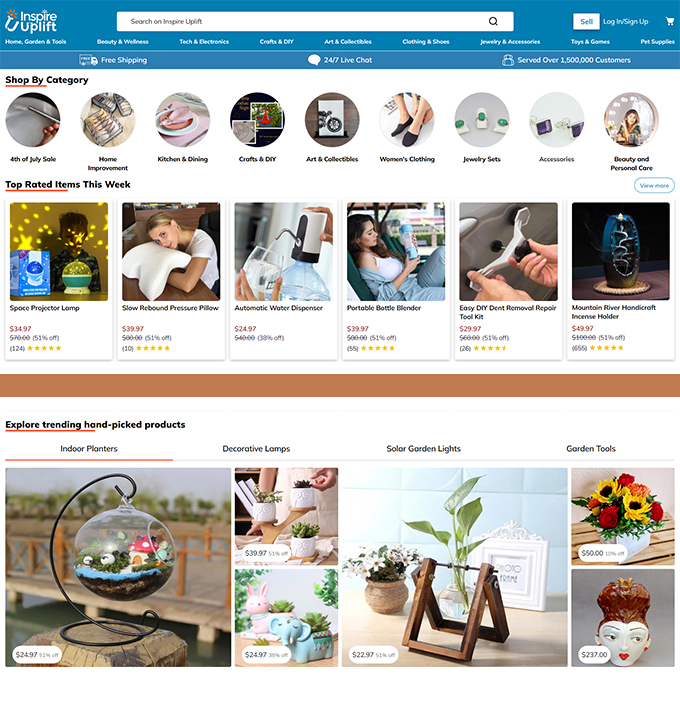 A dynamic social media presence, strong hold on the niches they cater to and excellent customer support, Inspire Uplift is a perfect example of a dropshipping store that deals in multiple niches.

FAQs
1. Will my customers know if the products are dropshipped from AliExpress?
No. AliExpress sellers do not include any invoice or receipt of the order, making it impossible to ascertain the same. And if you use a standard pool of sellers, you can let them know you plan to dropship the items so that they can check for any branding or identifiers.
2. How to price AliExpress products for dropshipping?
It is entirely up to you to markup the base prices of the products you find on AliExpress. In this regard, you have complete freedom of your profit margins.
3. How can I decrease shipping times when dropshipping from AliExpress?
You can opt for express delivery (which comes at a cost) if you want to decrease the shipping time from the usual 15-45 days. There's also an option of ordering from the nearest seller if that's possible for your case.
4.How to set up dropshipping with AliExpress?
Setting up a dropshipping business with AliExpress is pretty easy. All you need is your own eCommerce store to sell and market your products to your customers. Rest of the relevant information that you need to know is contained in the article.
Conclusion
Throughout the course of this article, we saw how easy it is to start your entrepreneurial journey with AliExpress dropshipping. We hope this article leaves you with concrete steps that you can take to launch your own dropshipping business right away.
AliExpress dropshipping model makes it feasible to start an online business with a small budget. All you need is an online store and clarity about how you want to manage and scale your business. Everything else, including inventory and logistics, is taken care of by the sellers on AliExpress.
As for your dropshipping store, choose a platform that takes care of the intricacies of running a business among the likes of multiple secured payment gateways, mobile responsive design, custom domain etc.
Again, we'd suggest you start your journey with Dukaan to avoid any hiccups along the way. Dukaan truly makes selling anything easier!
And if you need more clarity about how to start your own online business, here is a video that will help you immensely get started.