So you want to start a dropshipping business with AliExpress but don't know how? Or Are you wondering can you even do dropshipping with AliExpress as it's banned in India? In this article, you will find your answers.
When we were in college, we all wanted some extra cash, right?
Ankit Patra, a student of computer science, was no exception. All he wanted was to have some extra money. One thing leads to another, and he soon finds himself running a dropshipping business with AliExpress. After a few months of gruelling work, he managed to earn over $50000( INR 36 lakh) in 6 months. In 2021, as a 22-year-old he earned over $170000 (INR 1.2 crore).
Ankit is one of the thousands of Indian online dropship entrepreneurs who are making big. They come in all sizes and shapes- some are college students. Some are doing 9-5 jobs. Some are housewives.
No matter what their background is, they all cracked the code of a successful dropshipping business with AliExpress. You can follow their footsteps and be successful too.
Want to know how you can get a slice of the pie too by starting a dropshipping business with AliExpress? Or How to further grow your dropshipping business? Or is there any platform that can be even better than AliExpress?
In this article, we will answer your questions.
What is Dropshipping?
If you are reading this article, you probably have a decent grasp of how dropshipping works. You basically open an online storefront and list some items. Unlike the eCommerce business model, you don't need to maintain any inventory. You just need to take care of all the marketing and conversion.
Here is a brief breakdown of the dropshipping business model:
You open a website, start connecting with suppliers and list their products on your website. Suppliers can be both manufacturers or resellers.
You run ads on social media and target specific keywords for attracting customers.
When a customer finds your website, they place an order.
You pay off your supplier (both price of the item and shipping cost) and pass them the order request. You keep your profit.
Your supplier processes the order. Once processed, they pack, ship and deliver to your customer's address.
You take care of the customer service.
With Dropshipping business model, you no longer have to deal with the two biggest challenges of an eCommerce business: inventory maintenance and logistics. Suppliers will take care of those on your behalf. And the best part is, you can serve customers from any country as long as your suppliers can ship to those locations. For example, It's possible for an Indian entrepreneur to serve the Australian market provided her suppliers can ship to Australia.
No wonder, this model drastically reduces the capital required for your business. You can start with as low as a few thousand rupees. These make dropshipping models extremely popular among small entrepreneurs. There is little risk, high profit and you get to learn marketing and sales first hand.
Why choose AliExpress as a platform?
To run a dropshipping business, you need multiple reputed suppliers. And they can be easily found on reseller marketplaces.
AliExpress is one such marketplace that connects resellers from China and other Asian countries with a global audience.
If you search for any items on AliExpress, you will find the sellers who are offering those items.
Though AliExpress is branded as a marketplace, you will find the site is very well suited for dropshipping businesses.
Why is AliExpress so sought after among online entrepreneurs even when there are other options, including Amazon itself?
Very cheap products
First of all, the products on AliExpress are damn cheap. I mean ridiculously cheap even by Indian standards. Chinese manufacturers produce in bulk thanks to cheap labour and an abundance of materials. To give you an idea, you can get a PU leather jacket for around $40 dollars. The same item will be priced around $100-$125 on Amazon. Cheaper items allow you to compete on price without lowering your profit margin.
Easy shipping option
Secondly, you can get listed items shipped almost everywhere through AliExpress sellers. Usually, the arrival time is quite long, around 14-45 days. However, there is an option for premium Shipping. With this option, expect a 7-15 days delivery. Now you worry about amazon's 2 days shipping. But remember, there are many reputed eCommerce brands that take 7-15 days or more ( For example, Myntra takes 7-15 days within India). Moreover, many customers are not in a hurry and they would prefer free shipping instead.
No MOQ
AliExpress also doesn't have any minimum order quantity(MOQ), unlike its competitors. That means you can just place an order for a single item, no matter how cheap it is. In the beginning, you want to purchase a few products you want to sell. Having no MOQ allows you to buy multiple products without spending a lot. Also, if your customer orders a single item, you can arrange it without any trouble.
Now at this point, some of you might ask " Why bother with my website or the whole dropshipping business, when customers can buy directly from sellers on AliExpress?"
It's a sincere question. However, don't worry.
As a dropship business person, you want to spend resources and time on marketing and brand building. Good marketing is a huge business advantage.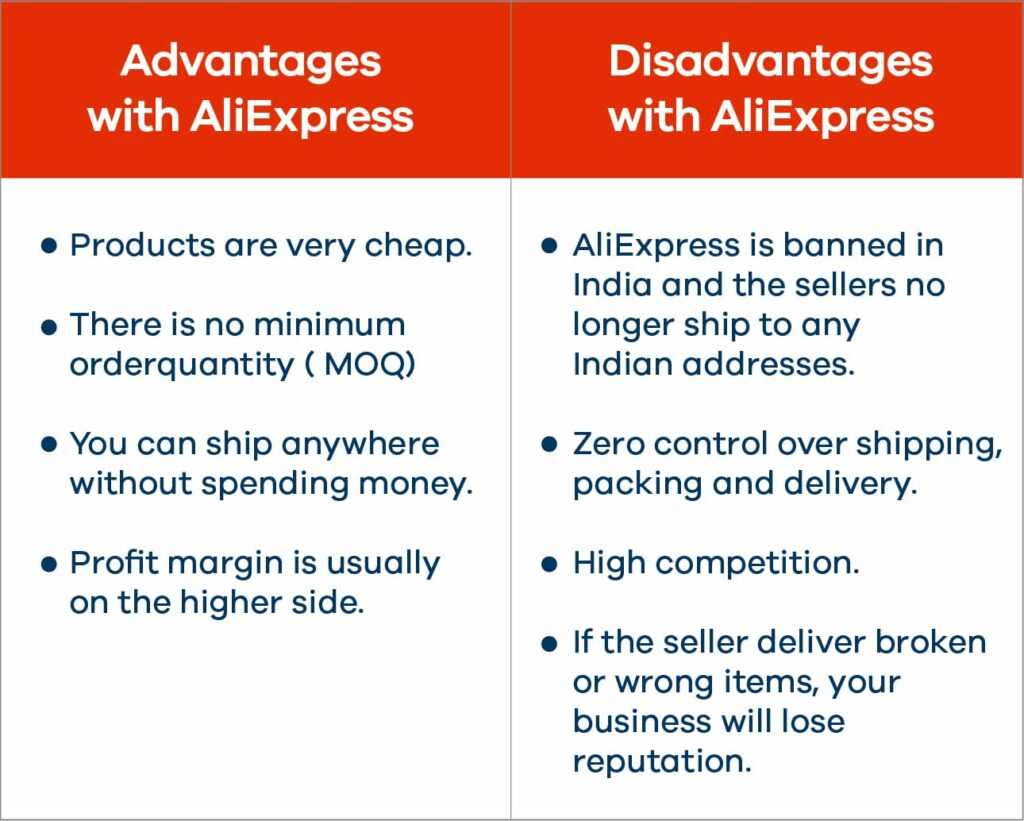 If done right, you would come across reliable and credible. People prefer to do business with a credible brand that charges a bit higher than a foreign brand with a non-existent online presence that offers a slightly lower price.
Also, in the beginning, you will be getting most of the traffic through social media advertisements. People who would respond are the ones who are actively looking for similar products.
Customer service is a great differentiator too. You can quickly build a good reputation by answering customer's questions and resolving their problems. Process all the return and refund requests Overall, you are good to go.
How to start Dropshipping with AliExpress
AliExpress is a great option to source your items from. But how do you roll up your sleeves and actually set up a dropshipping business?
1. Set up your store
Your online store is the cornerstone of your business. Visitors will place their orders through your website. Your website should be mobile responsive, user friendly and load faster.
To set up your online store, you need a domain name. It will be the address where your customers can find your store. Once that is sorted, focus on website setup. There are some good options like:
Dukaan
Shopify
Big-commerce
Woocommerce
All of these can work. You can read more about other eCommerce platforms here.
However, our recommendation is the Dukaan. Not because we want to toot our horns ourselves.
With Dukaan you can set up a website in 30 mins. Mobile responsive design, great product listing option, multiple secured payment gateways, custom social media post design tool- you will get everything you will ever need.
You can easily integrate Email marketing or chat tools. All of these are at only INR 6,999/ year. Other options are neither as intuitive nor as affordable.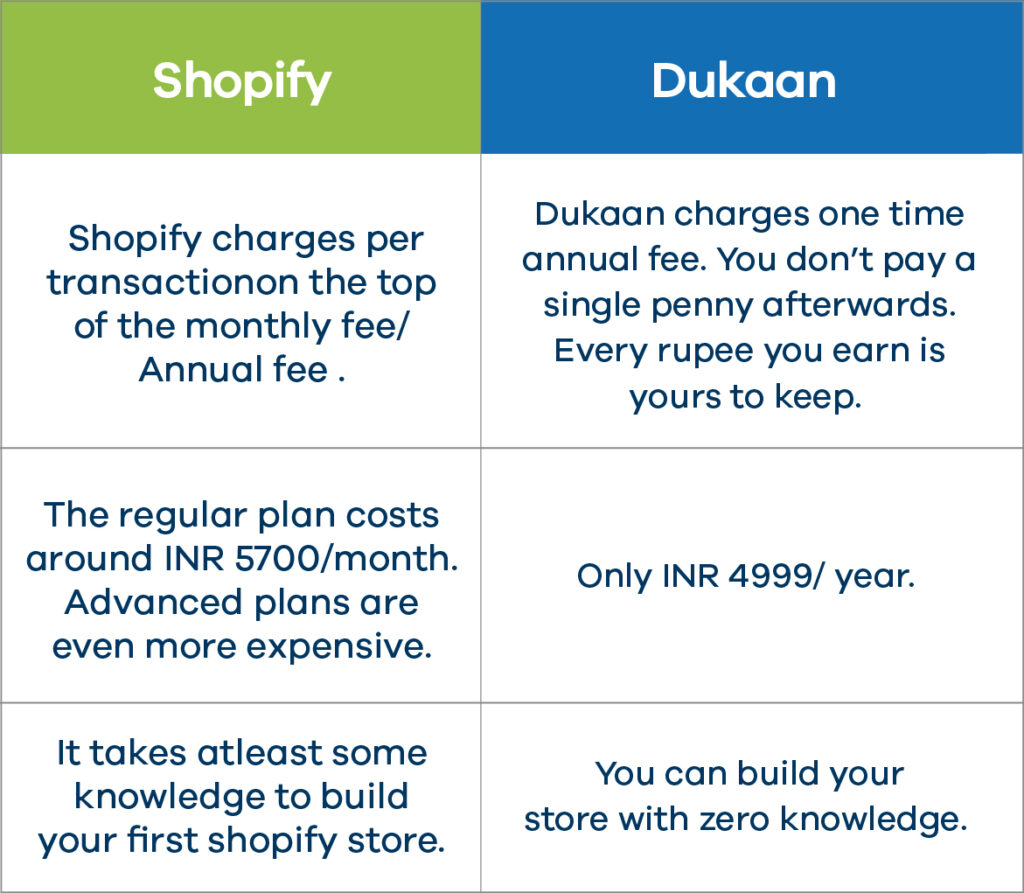 2. Focus on your copy and images
Some dropshipping business owners laser focus on bringing traffic from social media. As important as that is, traffic alone does not lead to conversions.
Your visitors are real people who will do business only if they trust you first. This is where the art of copywriting becomes super relevant.
Your website content, product description must be persuasive. You will find enough free material on the internet to learn copywriting from.
Ideally, your copy should address buyers' problems while evoking an emotional response at the same time.
Don't try to copy-paste the product descriptions from your AliExpress seller's account.

Often these product descriptions are written by mediocre writers. You are better off writing your own or hiring a competent copywriter. You can use Dukaan's free product description generator.
Your copy also should clearly mention your product specification, condition and other relevant information. Don't forget to use social proof either. You can use social proof in many forms but reviews from verified purchasers trump all. Allow your existing customers to leave their reviews and upload images.
Speaking of images, your product images deserve your full attention.
Since on an online store, there is no way to actually "feel" the products, images (and videos) offer the next best alternative. Product images should be high resolution, taken from a flattering angle and professionally edited.
3. Is dropshipping with AliExpress legal?
You can operate as an individual with PAN and TAN. Alternatively, you can go for a sole proprietorship.
You do need a GST registration. The GST will be calculated based on your turnover.
You are liable to pay income tax based on the commission you earned.
As you are serving customers outside of India, it is counted as an export of the service. An IEC is required for both import and export of the services.
4. Find products/suppliers on AliExpress
By this stage, you should have a decent idea of what product you want to sell. Your ideal product category can be based on your personal interest, current trends and availability.
Now just knowing what product you want is not enough. There could be multiple suppliers on AliExpress offering the same products. Which one should you contact?
Here are a few tips for finding the best products/suppliers on the platform:
Try the products yourself:
The last thing you want is for your customers to receive items that don't match with your listing ( and their expectation). The only way to resolve that is to order and examine those yourself first.
As mentioned above, AliExpress allows single item orders. So you can order a few items before you list. In case you have a low budget and can't order many items, just order only the items you want to promote on social media.
In most cases, the store owners have to try their luck with a few products before they find one that sells like hot cake. So be ready to order a few.
Pick sellers with high ratings:
It's tempting to go for the seller with the lowest price. However, the lowest isn't always the best. There are shady sellers on the platform who lure unsuspecting dropshippers with extremely low prices. Instead, stick to sellers with over 4.5 ratings.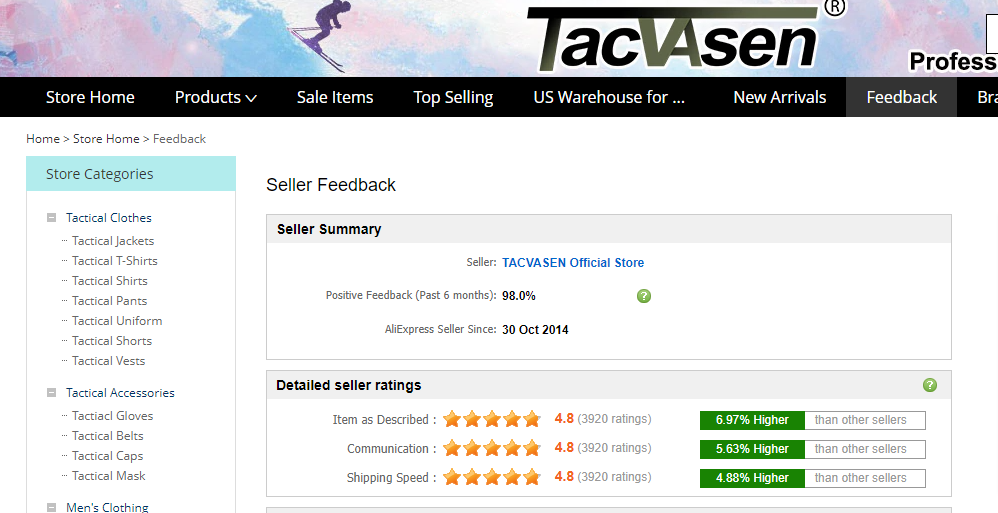 You can find seller ratings under the feedback tab. Usually, a good rating means the seller has been responsive, offered reliable shipping and is more cooperative.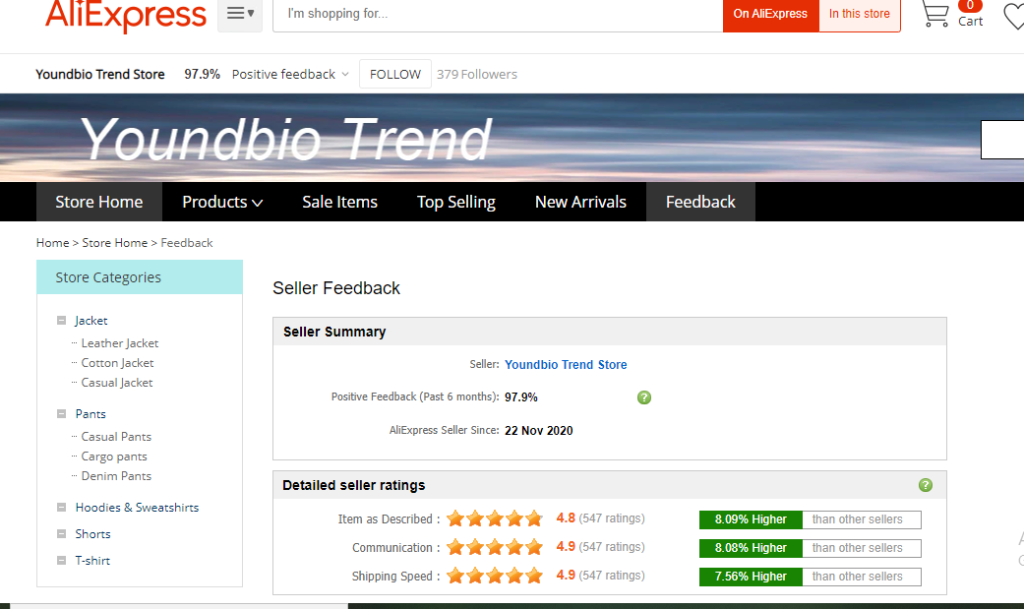 Order products with a high number of previous orders: Once you find a reliable seller, your next goal should be spotting the best products for you. A product with a high enough rating is no brainer. At the same time, you also want to look at the number of orders. Products with a high number of orders are clearly in demand.
Usually, high order numbers come from at least some repeat purchases. So a high order number indicates the seller is reliable.
Products with clear images:
Multiple clear high-resolution pictures of the product give you a good "feel" of the product. Since you can't order all the products you want to sell, always stick to products that leave no room for unpleasant surprises. You also want to do a reverse google image search to ensure those are actually taken by the seller and not collected from random corners of the internet.
Look for products with the best shipping option:
Depending on your product and customer expectation you might prefer free shipping or premium shipping. Whatever is your preference, don't forget to double-check the available shipping options available.
Talk to the seller: The best way to gauge compatibility is by contacting the seller. If they are responsive, professional and helpful, take those as positive signs.
5. Handle return and refund requests
It truly sucks when a customer refuses to take a product and request a refund. But no matter how unpleasant it may feel, return/refund requests are parts of dropshipping business reality. You want to be prepared for any refund request.
Your first step should be having a clear return policy on your website for everyone to see. Point out under which circumstances return/refund requests are applicable. If your customer is eligible for a return/refund, ask about their issue and resolve it if possible.
Tip: You can create custom refund policy pages on Dukaan
In case of a refund request, you need to get the refund from the seller first. To do so you need to open a dispute in AliExpress. You will find the option under the "my order" tab. You have 15 days from the date of the delivery to the customer. Once submitted, the seller would want to know if you want to resend the product or refund.
In case of refund, once you obtain the seller's part, add the profit you earned and return the total sum to the customer.
6. Be active on social media
It has been repeated so many times yet it still deserves a mention. Social media influences 71% of consumer purchase decisions.
Chances are good they check your social media handles before visiting your site. Lack of engagement, irregular posting and irrelevant content-these things can turn off your customers in secs.
That's why you should be active on social media. Maintain a content calendar and stick to it. Post visual and written content. ( FYI, if you use the Dukaan, you will have a social media post design tool inbuilt for your convenience).
Many marketers make the mistake of leaving social media comments unattended, especially the negative ones. It's in your best interest to respond and address issues in public.
Some customers prefer to contact businesses on social media. If you find a customer message in your inbox, do reply promptly.
Social media advertisement is one of the best ways to build traffic. Either hire a professional or get educated on the art of social media advertising before you start spending. Feel free to start by reading our Facebook advertising guide.
Is AliExpress the best for you?
AliExpress is one of the most popular dropshipping platforms. The products are cheap, overhead is low and you get to ship anywhere in the world.
We know, it sounds tempting. But don't come to such a conclusion too soon. Despite all of its perks, AliExpress, as a dropshipping platform, has some serious flaws.
AliExpress is banned in India: What to do with it?
Last year the Indian government banned almost 200 apps as the tension between India and China continues. AliExpress is among those apps. Considering the current international political situation, it's unlikely that the status of AliExpress will change anytime soon. How does it affect online business owners? Well, you can't place an order if the shipping address is in India. Aliexpress officially stopped exporting goods in India.
As an Indian citizen, however, you can still ship to anywhere else in the world. If you are planning to run an international drop shipping business, you can still use AliExpress.
Problems with Shipping:
Yes, sellers on AliExpress do offer free shipping but that comes with another type of cost- your time. On average, it takes 15 to 45 days to deliver the ordered items.
Over 60 days aren't unheard of either. Such ridiculously long shipping times hurt customer satisfaction big time. Many of them cancel the order after waiting for days.
Also in some cases, customers receive broken items or even no items at all. By working with reputed Sellers ( sellers with "top brands" badges and/or 4.5 plus ratings) such situations can be avoided though, to some extent. Still, the shipping issue is one of the major drawbacks.
Things look somewhat better with the premium shipping option. However, premium shipping options cost you "not so trivial" amounts which defeat the whole purpose of picking AliExpress.
Bad products:
The Internet is full of horror stories of the arrival of products completely different from what was shown on AliExpress. Obviously, if such things happen to your customers, it's very bad news.
That's why you better avoid sellers who offer absurdly low prices or have anything but a stellar rating.
However, if you are selling multiple items, you might not find great sellers for everything. In that case, you have to settle for a mediocre one.
No control over anything:
This is probably the biggest disadvantage of AliExpress dropshipping. You have almost no control over how your seller packs, ships and delivers to your customer.
You have to trust them with fulfilment and the entire delivery process.
All you can do is carefully examine whom you want to do business with based on rating and reviews.
Sellers with good ratings are reliable but you can't bet on that. If something goes wrong because of your seller's action, you will be responsible for everything.
Competition:
Dropshipping with AliExpress is not a new thing. People have been using this platform for years.
No matter how niche you go, there are already thousands of competitors chasing your target customers. Since the barrier of entry is so low, expect more competitors in future.
There are only two ways to stand out: 1.) Branding 2.) customer service. Many casual business owners don't take branding or customer service very seriously for various reasons. You can stay ahead of the competition by doing your best in these two areas.
Alternative to AliExpress: Dukaan Plus
The Indian online economy is thriving. By 2025 Indian eCommerce marketing will touch $ 200B. Tier 2 and Tier 3 cities will drive the next online retail economic boom. In order to help you to become a part of that growth, Dukaan recently launched its social selling platform, Dukaan plus.
And why should you bother to learn about it?
Dukaan Plus have very reputed D2C brands like Bewakoof.com acting as sellers. You can easily join the platform, start listing the products, sell those on social media and earn a fat commission.
Like the AliExpress dropshipping model, you don't have to think about shipping. It's on Dukaan to ship your products in no time. There are already 20+ D2c brands, 20k resellers and 25lakh buyers on Dukaan Plus.
In this social selling platform you get everything that you can't get on AliExpress:
It's based on the Indian market. You will have no problem with shipping.
Shipping is Dukaan's responsibility. Thanks to our sophisticated supply chain, your orders can reach super fast.
Suppliers are well reputed and well known. Zero chances of getting scammed.
You can earn as much as your dropshipping business.
The platform isn't saturated yet.
Conclusion
Starting your entrepreneurship journey is easy with AliExpress dropshipping. You can start with a small budget and sellers on AliExpress take care of inventory and logistics. AliExpress can be a good dropshipping platform. However, it's now banned in India and you can't serve the Indian audience. Apart from that, this platform has some serious limitations. But overall it's worth a try.