Talking about eCommerce, the one question that definitely pops is which is the best eCommerce website builder? We are right here to help you, so let's dive.
What is an eCommerce website builder?
An eCommerce builder is a software that helps you create and manage an online store. Some of the best eCommerce builders offer drag-and-drop features to make the process of setting up your store as easy as possible. Some also have advanced features such as customizable themes, built-in SEO functionality, and analytics tracking tools.
Why do you need an eCommerce website builder?
Launching your own eCommerce website has never been easier, thanks to eCommerce website builders. Several eCommerce website builders function so intuitively that you don't even need to hire a developer.
In 2021, taking your store online is vital to its success. Why? The pandemic has certainly disrupted normal business functioning. A boom in online stores has made it a necessity with a surge in contactless operations. Small business owners who have adapted to these changes have seen a bigger market and boost in sales significantly.
Popular eCommerce website builders combine themes with plugins and layouts to offer customized packages. They facilitate the creation of websites without requiring programmers to have any experience. In this article, we'll examine some of the most popular eCommerce online store builders.
With such ease at your fingertips, why wait? Let's remove the curtain of suspense and go ahead with the best eCommerce website builders.
Best eCommerce Website Builder 2021
Dukaan – E-commerce, made (incredibly) easy
Wix — The fastest website builder
Zyro — The best website builder for beginners
BigCommerce — The best multichannel site builder
Squarespace — Best-in-class website templates
Square Online — Best suited for brick-and-mortar business
Shopify — Website builder with the most customization options
Weebly — Ideal for small businesses
Shift4Shop — The most affordable enterprise-level builder
1. Dukaan
When talking about website builders, Dukaan is the simplest and easiest one ever. That is because, unlike other eCommerce website builders, Dukaan doesn't come with any builders. If you're planning to take your store online, you can do it in three simple steps and under one minute.
If you are a business owner with no technical know-how, looking to go digital/ online with a comprehensive and easy-to-use app, Dukaan is for you. Startups, small and medium businesses struggle with hiring an outside agency to manage their websites or host their servers. Other platforms come with hard-to-understand interfaces.
How to register your business on Dukaan?
Step 1 – Name your store
Step 2 – Add your products
Step 3 – Start Selling!
What? Unbelievable, right? Well, that's Dukaan for you. So much in so little of a time – eCommerce made unimaginably easy!
What's more in store?
Design tools: Get marketing materials for your store made lightning-fast from simple templates right within Dukaan.
Unique themes: Choose from a variety of stunning designs and templates to make your store distinctive.
Custom Domain: Let your store stand out by using an easy-to-remember domain name.
Simple Pages: Create and edit a wide variety of custom pages using simple templates, which are readily available and easily customizable.
Restaurant dining: Increase your customer base by offering an easy-to-use table reservation service through Dukaan.
Online payments: Increase sales with Dukaan's easy and seamless payment options.
Addon plugins: Provide customized features and functionality to your store by selecting from a list of pre-built plugins.
Your own app: Increase customer loyalty by offering your own mobile app that allows them to buy directly from you.
Customer list: Engagement with your best customers can help you grow your business. Creating a list of customers based on pre-built lists can make it more approachable to their needs.
2. Wix
A well-known platform for creating websites, Wix is among the most popular. Building a website has never been simpler and more enjoyable. The interface is very intuitive. With Wix, you only need to envision what you want, and Wix will lead you through the process step-by-step.
It is the quickest way to launch an online store that looks professional. The simplicity of Wix makes it easier to set up a new eCommerce site without any experience. You don't need to have any web development experience to use its versatile platform.
It is easy to design your site with the tools provided and intuitively placed. With the drag-and-drop builder, you can easily arrange everything using a wide selection of colors and fonts. The only thing you need is your vision, not code. The first step is to select a template framework and adapt it until it becomes your own.
Your site will grow and generate leads with its many features. Ensure your products and services reflect your brand. It won't take you long to figure it out. Also, Wix stores offer 100% commission-free online payments. It's a HUGE benefit.
Additionally, Wix's eCommerce plan offers the following features:
500+ templates
Mobile optimization
SEO tools
Multiple payment methods
Wix chat
Coupons and discounts
Global shipping
3. Zyro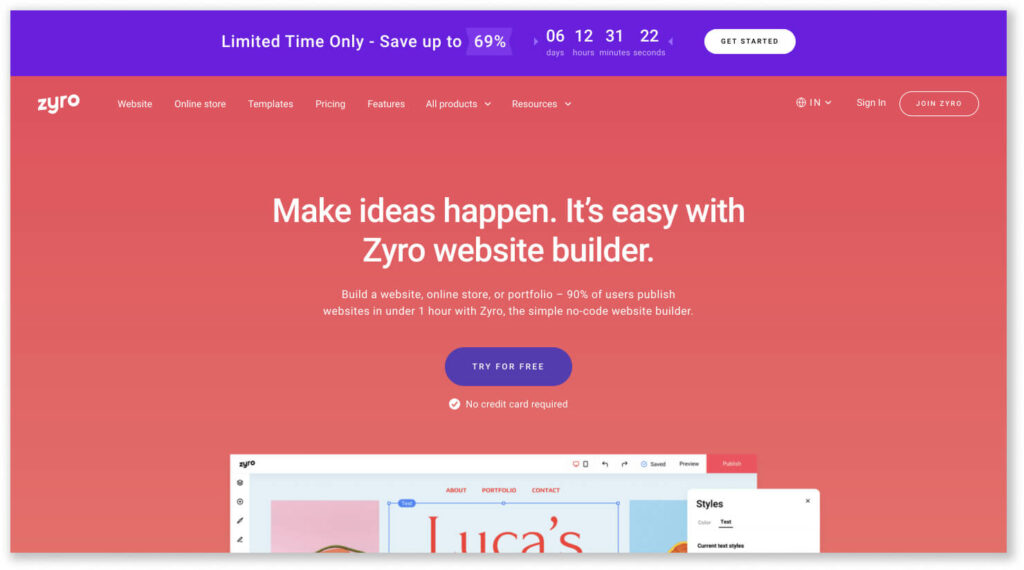 Zyro provides a highly affordable and user-friendly experience for beginners. It's a drag-and-drop platform that allows you to design your website exactly how you want it to look and see that it changes as you play with it. The process for setting up a website is relatively quick and easy.
Building a website using this method is sometimes referred to as the "What You See Is What You Get" approach. Coding knowledge is not required. You do not need to switch between "preview" and "edit" modes. To customize the elements, merely drag and drop them in place.
The AI business tools are one of the things that set Zyro apart from its competitors. By leveraging machine learning and artificial intelligence, you can create your brand identity by:
Generate business names
Creating a slogan
Logo maker
AI content generator
AI heatmap
AI content generators provide your website with SEO-friendly content. That's the perfect solution for those who might be a little uncertain about their word choices or new to writing copy for the web.
4. BigCommerce
The BigCommerce website builder is a reliable and trustworthy tool.
Additionally, it is very versatile. Several business-specific features are included, including bulk pricing rates, quote management, customer groups, and custom pricing lists.
With BigCommerce, you can sell across multiple channels. All plans come with social selling capabilities across Instagram, Facebook, Pinterest, eBay, Google Shopping, and Amazon. A lot of features come by default in BigCommerce.
The feature list on this platform is probably the most comprehensive among the other options on this list. But it's not the easiest website builder for beginners. Due to the extra features, things tend to become more complex.
Scalability is critical for big eCommerce sites. When you're just getting started, you'll most likely have to pay for features you won't use. For those who would like large eCommerce and website customization features for a reasonable price, BigCommerce is an excellent choice.
Security and high uptime are features that come standard with all BigCommerce stores. You can contact customer service via phone, live chat, or email 24/7.
5. Squarespace
Many traditional website builders do not integrate eCommerce functionality into their plans. Squarespace does. They're popular, however, because of their beautiful, award-winning templates. They have a solution for your needs no matter what your business is.
You can manage and edit your Squarespace website on the go using the Squarespace mobile app. If you have physical stores, it can transform them into a POS system. The Squarespace platform includes tools for SEO, blogging, analytics, and just about everything else you'd need to make your online store successful.
Squarespace has hundreds of built-in apps. A one-click installation is not available in the app store or market, however. As a result, if you would like to add an app unavailable in Squarespace, you will have to use code injection.
Business planning is the key to online selling. However, the Basic Commerce option is ideal for most people. You will want a tool like this once you begin selling online because it offers 0% transaction fees, eCommerce analytics, POS, and customer accounts.
6. Square Online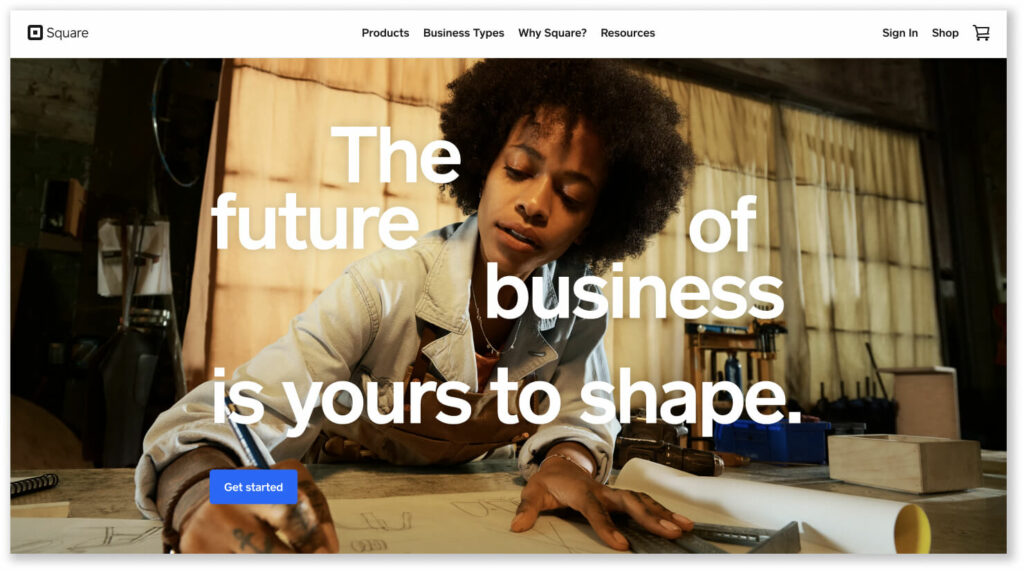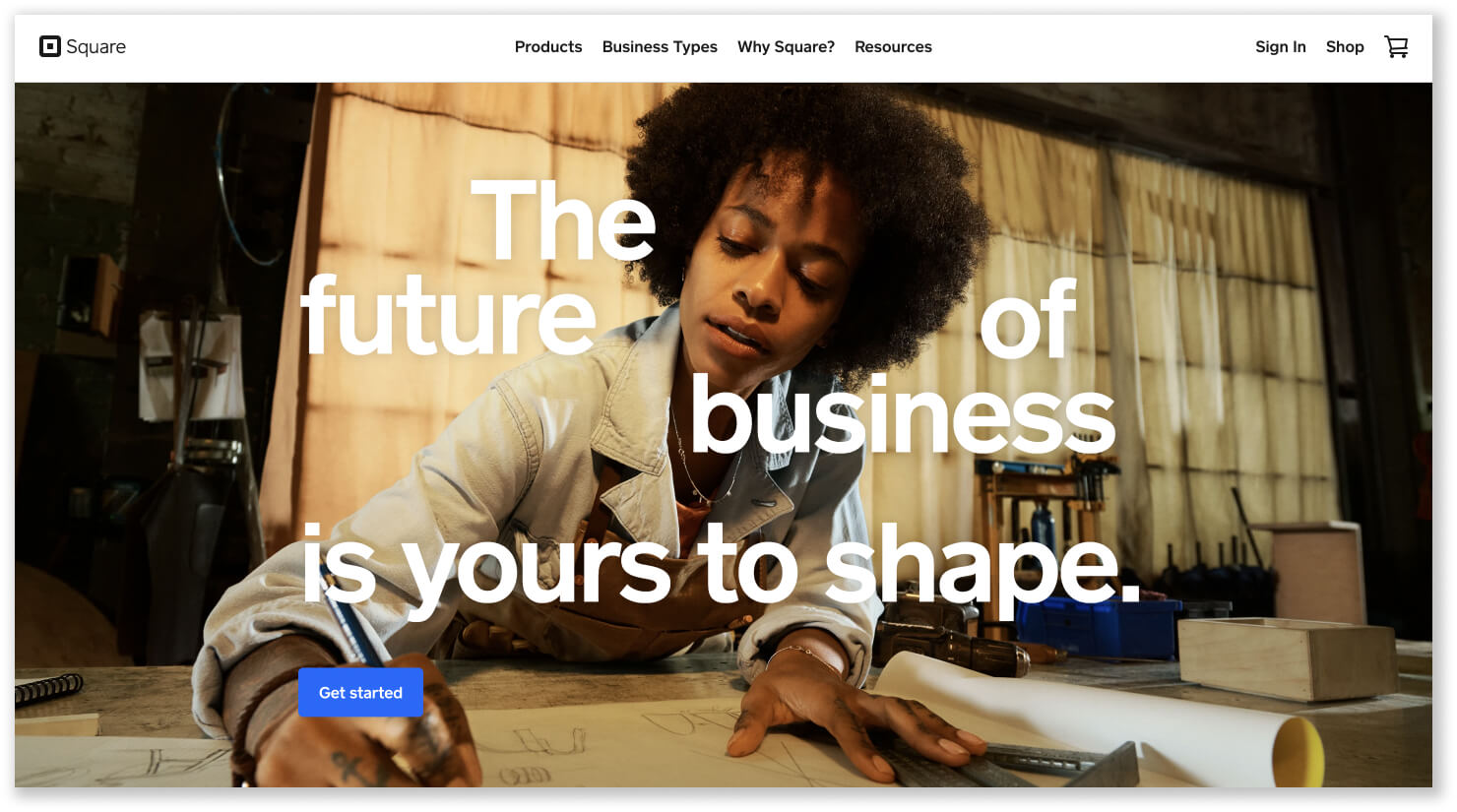 The Square Online company is best known for its POS software (which, by the way, is terrific). Additionally, they offer a free website builder that comes with tons of features. Square is a good choice for retail stores that use the Square POS system already.
The Square POS will seamlessly integrate with the website. It accepts all major credit cards, as well as streamlines the process of inventory management. You will be able to see your real-time inventory when you're using Square POS and the Square website builder together.
In this way, you can avoid overselling, and your customers will be happy. In addition, you will create a centralized sales database. One system allows you to enter sales data every day, week, and month instead of manually entering them. Using their reporting and analytics tools, you can get a deeper understanding of your sales metrics.
With Square, you can sell on Instagram, through your website, or even through local pickup and delivery. You do not need anything more than a computer or mobile device to begin. The website can go live in a snap and need no coding.
7. Shopify
Among the most popular platforms for eCommerce, Shopify is among the best. Due to its enormous power, it is easily one of the most effective eCommerce website builders available. CMS that you can use to create and manage an online store.
Shopify offers 70+ free and premium themes. The platform handles all payments directly. You won't need to use any other third-party payment processors if your Shopify plan includes a Payments gateway. Thus, you can sell right away.
Shopify allows you to choose from over 100 different payment processors as a payment gateway. All plans include unlimited email forwarding, hosting, bandwidth, and a content delivery network. Also included are marketing, SEO, and analytics tools. Live chat, phone, and email support are all available at Shopify.
You can manage customer accounts, dropshipping, in-store POS systems, and shipping rates through Shopify. It's easy to integrate any feature you want into the Shopify App platform.
If you find the above steps complicated here are a few Shopify alternatives.
8. Weebly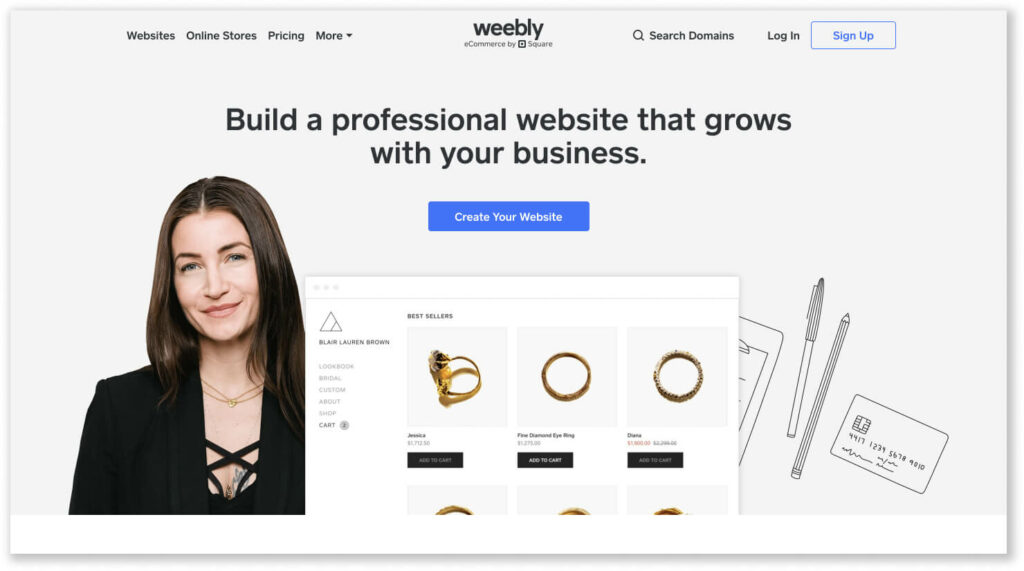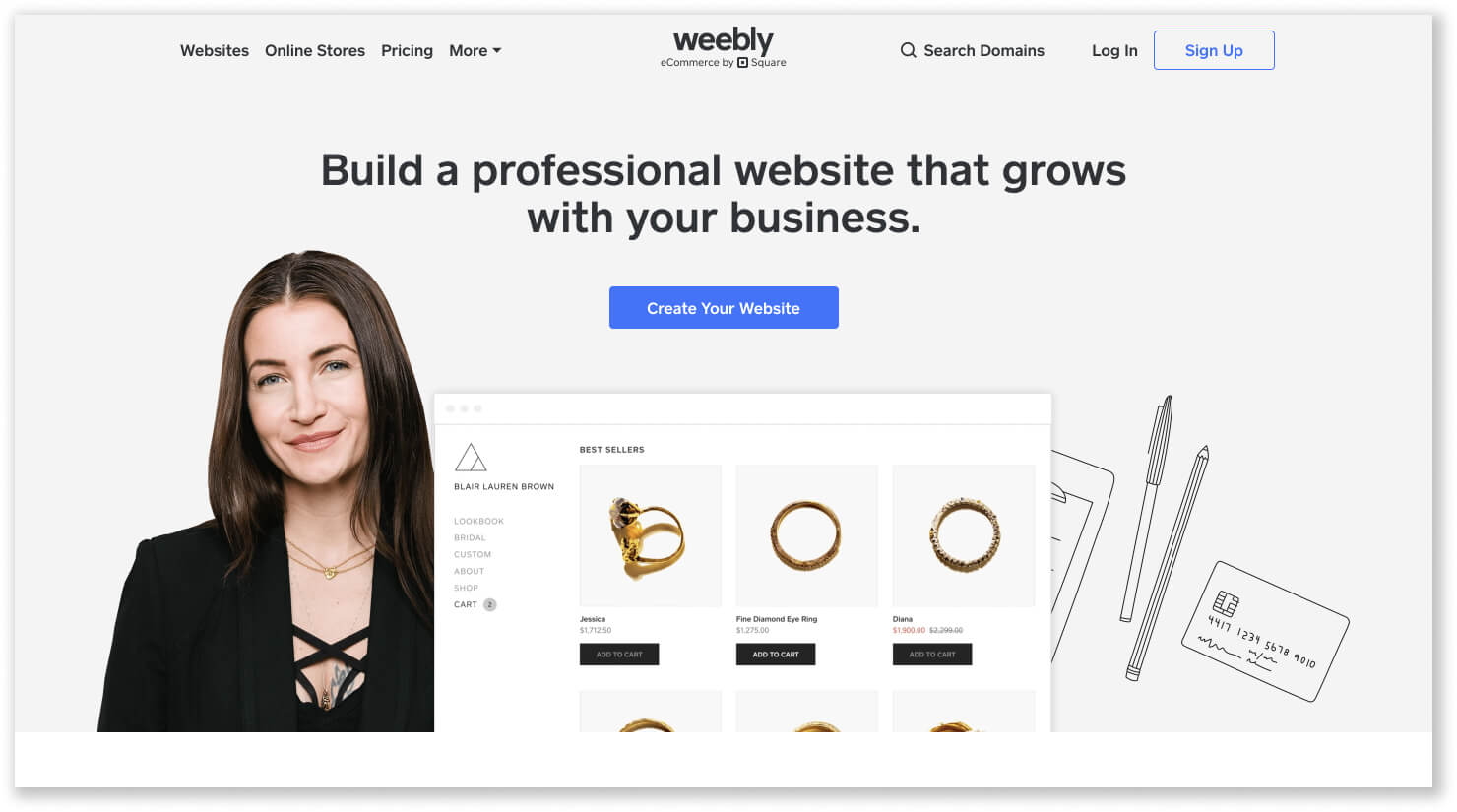 One more ever-free website builder is Weebly. Quite simply, this program is a free website builder available. Unfortunately, you cannot use eCommerce with the free plan. Weebly allows you to test out its platform in advance of paying for it. They are still one of the lowest-priced eCommerce solutions. Thus, Weebly is one of the affordable options on the market.
Payment gateways like PayPal, Square, and Stripe enable you to accept money. Online presence and eCommerce are both made easy in Weebly. Weebly would be a feasible option for small and local businesses. The Square POS integrates very easily with Weebly since it is powered by Square as well. Managing products and inventory will be a breeze.
Launch your store quickly and without coding using the drag and drop site builder. The tools you get will help you manage email, SEO, shipping, inventory, and more. Add Weebly's product search to your online store and help your customers find your products. Badge those products that go on sale or when they become scarce.
9. Shift4Shop
Shift4Shop (previously 3DCart) might not be the most popular platform, but there's nothing to ignore. In fact, it offers even a free enterprise-class plan. Now we know what you think, if the app is free, it must be skimpy on features. Not at all.
Using the Shift4 payment platform is the catch (hence the new name). The eCommerce plan is also only available to citizens of the United States of America.
In addition to these features, Shift4Shop offers:
Unlimited products
API access
Mobile-ready themes
Unlimited bandwidth
Web hosting
Built-in blog
No transaction fees
Final Words
So, with so much knowledge on all the best eCommerce website builders, it might be overwhelming to select the best among these. We recommend Dukaan as a go-to platform. Because you don't have to encounter any builders in the first case. Second, you have built-in themes available at your fingertips. So, no more spending hours of time designing your online store. Thirdly, it is as simple as plug and play. Plus, those features like design tools, custom domain, online payments, and a lot more interesting things are absolutely free of cost. So, why wait?
Get started with Dukaan to explore the best of an online store. It is simple, easy, and your store can go live in under 30 seconds. Wonderful right? Jump ahead to create your store today.