Thinking of starting a reselling business? This comprehensive guide will teach you everything you need to know about how to become a reseller.
Reselling is referred to both selling pre-loved products as well as brand new products. Either way, you do not need to create/ manufacture the products on your own. You are only selling products that are already manufactured!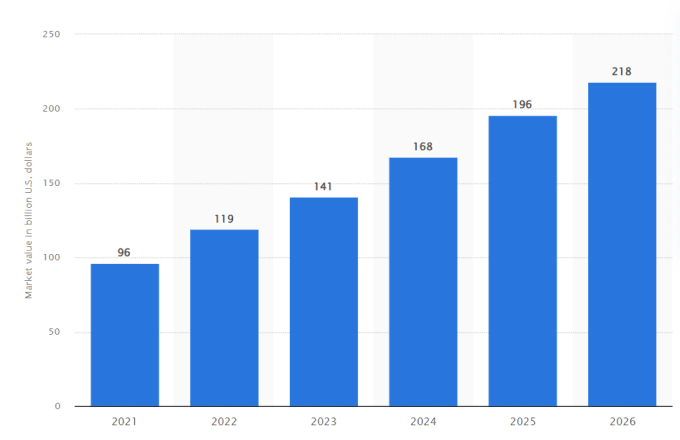 That said, reselling is not limited to a single category of products, you can sell any product from any category.
You will need a solid business plan, choose the right product for your target audience in order to run your reselling business successfully, and that is what this article is all about!
By the end of this guide, you'll know how to become a reseller and have all the tools and knowledge you need for your reselling business.
What is Reselling?
Reselling is all about sourcing different types of products from distributors, wholesalers, and suppliers and selling them all under one roof.
The word in itself holds the meaning- your supplier sells the products to you and you sell them again, 'Re'- selling!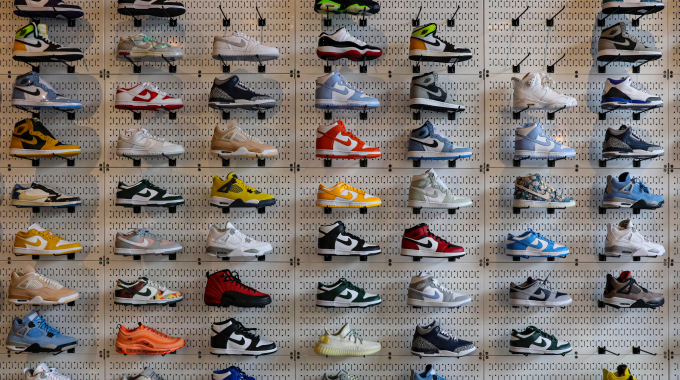 For example, you want to sell sneakers in your store.
You will find a supplier who is selling a range of well-designed sneakers at lower margins and place a bulk order with them. You will then list it in your online store at a marked-up margin. With every sale, the margin will be your profit!
In the reselling business model, you do not need to manufacture the products. You will be dealing will fully manufactured products only.
What matters the most is to find a reliable supplier who is selling the products at a lower margin so that you can sell them in your store at a marked-up price.
Now, if you are thinking that reselling sounds a lot like dropshipping, then you are not wrong.
Reselling is a kind of dropshipping business, but you have the choice to either hold the inventory of products and ship them to your customers or get your supplier to ship out orders to your customers.
Why is Reselling Profitable?
Here are the benefits of an online reselling business:
1. It requires little to no investment
Manufacturing products require you to invest in equipment, raw materials, labor, and other overhead expenses.
A reselling business just requires you to purchase and sell products eliminating almost all expenses. Moreover, you don't have to spend on maintaining an inventory.
2. Start your business immediately
Yes, you can start your business immediately with an online store.
Once you set up your online store (which takes you just a few minutes thanks to eCommerce platforms like Dukaan), you can start selling online and making profits depending on your sale.
3. Sell a wide variety of products
As a reseller, you can dabble in several products. Your products need not necessarily be related. As long as there is a demand for them, you can sell them.
It is up to you to find the trending products to sell to the right target market, and you can easily make a profit.
4. Be your own boss
As mentioned above, there are no fixed rules in the reselling business. You can choose the products you want to sell and you can set the margins you want to earn.
The only thing you need to worry about while pricing your products is how your competitors have priced their products. You need to set your margins accordingly to stay competitive.
5. Offers incredible flexibility
You can operate your business from just about anywhere in the world. All you will need is a smartphone and a good internet connection.
This means that your business continues to run, whether it is day or night, whether you are at home or on a vacation. You also have the flexibility to fix open and close hours for your online store.
And these are just a few advantages of the reselling business. The business model in itself makes it very easy to get started on your own business and start earning money.
That combined with a fully functional online store, you can handle the business effectively, reach out to a larger audience, and build a brand.
How to Become a Reseller
Now that we have established that reselling business can be very easy to start as well as very profitable, let us quickly take a look at how to become a reseller.
1. Creating a solid reselling business plan
Every business needs a solid plan so that you have a goal and a direction to reach there!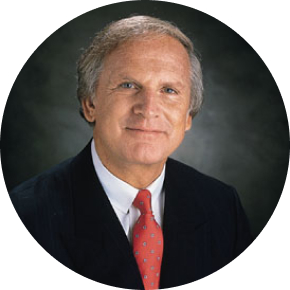 The reason most people never reach their goals is that they don't define them, learn about them, or even seriously consider them as believable or achievable.Denis Waitley
When you are setting off to become a reseller, you should have a few things sorted out based on the available resources. That is what a business plan is all about.
Your business plan need not be a long, technical document that contains too much detail. Especially when you are starting out, having a clear, concise business plan, will help you better.
A solid business plan contains details of the 4Ps: Product, Price, Place, and Promotions.
Product:
Start by researching the market, as well as have an eye out for what speaks to your passion. Based on this, you can finalize the category of your business and what kind of products you will sell in your store.
Fixing your business category will save you a lot of time and also provide you with a direction for branding your business.
Price:
Once you have found products in your business category that has a lot of demand, your next step is to find your competitors. Research how they have priced their products and who are they targeting.
In the beginning, you will need a competitive advantage, and hence have to price your products accordingly. It will help to find a supplier that offers your products at lower prices.
Place:
Where is your business located, where are you going to operate your business out of, and what is your target area? Though the online store can give you the freedom to sell anywhere, it is not the optimum way to run a business.
With proper research, you can lock in on a location, and targeting this location will be highly profitable for your business.
Promotions:
You can have the most trending product, but without the right promotions, buyers will never know that they can find the said product in your store.
We will be discussing marketing and promotions in detail later, but at this point, you need to put aside a budget for your marketing activities.
2. Sourcing the products to sell
Finding the right products to resell depends on whether you are planning to sell new products or thrift products. If you are hearing the word 'thrift' for the first time, then this article can clear things about thrift stores.
A lot of people are creating online thrift stores for a range of products like clothes, books, home decor, etc. This reduces waste, and at the same time, you can make a profit out of it.
You can get pre-loved products at really low prices and it doesn't take much to clean and sanitize these products, too. You can then list them at a reasonable margin in your online store.
Here are a few places to hit to source thrift products:
Your own home
Friends and family
Local thrift stores
Garage sales
Flea markets
Export rejects
Clearance sales
Consignment auctions
That is out of the way, now, if you want to offer only new products in your store, then you can do that too.
Start by researching what products you want to sell. This is, of course, after closing in on your business category, so the products you choose must be in this category.
Once you have found the right products to sell, the next step is to find the right dropshipping suppliers for the products. Here are some places to find suppliers:
Local online directory:
A local online directory is a goldmine when it comes to finding suppliers and wholesalers in a particular region. A lot of these wholesalers may be small but carry high-quality products at competitive prices.
Due to the competition, these smaller wholesalers become almost invisible. If you can fish out one such supplier, then you are set for life!
You can also connect with local manufacturers and strike a deal with them to supply products to you at low prices.
Online wholesalers:
We are sure you have heard of the online wholesale giant, Alibaba. They are undeniably the most popular organization where you can find any kind of product known to humankind!
However, there are a few other sites similar to Alibaba, like 1688, DHgate, TradeIndia, etc.
You can source products directly from these sites, or take time out to interact with a few suppliers that offer the products of your choice. You can build a personal relationship with these suppliers and maybe even get the products at even lesser prices.
Social media groups:
A lot of wholesalers and suppliers are using social media groups for some visibility. Online directories sometimes charge a lot and not everyone can afford them. Social media groups, on the other hand, are free of cost and open to use!
Take the time to interact with a few suppliers and wholesalers before choosing the one that suits your needs.
Pro Tip 💡
Always do a test run before finalizing your supplier. Order a product from the supplier anonymously to check the quality of the product and shipping time.
3. Creating a strong brand
In the reselling business, you will not have a direct connection with the products you are selling as you are not the one manufacturing them.
This disconnect will be a lot more if you choose to go for the dropshipping model and get your supplier to ship the product out to your customers.
This will reduce the hassle of holding product stock and handling logistics. However, there is absolutely no way for your customers to know that the products they received are from your store!
In the longer run, building a connection with your customers is what will help your business grow. They should recognize and relate to your business. A little effort towards building a brand can help with this.
The major part of building a brand for resellers starts with creating a custom online store. It may sound like a chore, but with your own online store, you can get a custom domain and app, which will help solidify the identity of your business.
Here are some branding tips for your reselling business:
Choose a professional business name. It should be relevant to your business category and be easy to remember.
Buy and register a domain ID with your business name. Some eCommerce platforms offer free domain registration with your subscription.
Finalize your brand colors based on your business category. This will help you in designing the perfect eCommerce website for your business.
Design your business logo. Include your brand colors and design elements that relate to your business category.
Come up with a catch-phrase for your business. Something simple and catchy, like "Your OOTD partner-in-crime" for an apparel business!
Once you have the branding part done, you can go right ahead with creating your online store.
4. Choosing right eCommerce platform
At this point, you have a business plan, selected the right product, found a reliable supplier, and have all the brand elements in place.
Now all that's left out is to create a store where you can display the products, and promote it to bring in potential customers.
You always have the choice of setting up a traditional brick-and-mortar store. However, the initial investment and overhead charges will be high. You will also have to invest in buying products from your suppliers and stocking up the store.
Instead, if you choose to create an online store, you can get started quickly, easily, and with the lowest investment. There is a range of eCommerce software that enables you to create your online store without any coding skills.
The legacy platforms like Shopify, BigCommerce, etc. make for a great option. However, very few platforms are well-suited for a small-scale business that is just starting up.
The right eCommerce platform for a reseller will check all these boxes:
Suitable for a small business
Requires no technical expertise
Easy to get started
Offers a free trial period
Has budget-friendly subscriptions
Provides room to scale
Has all eCommerce functionalities
These are just a few of the features you would look for while choosing the eCommerce platform to set up your online business.
What if we tell you that there is a platform that checks all these boxes and more?!
Yes!
Dukaan is a very easy-to-use platform that is best suited for small businesses. It is well equipped with all the necessary eCommerce features and, additionally, it also offers:
Over and above all, you can start your online store on Dukaan at less than $12 per month!
What are you waiting for, go ahead and create your online store right away!
5. Setting up online store and marketing
Well, we are at the final step to become a reseller which is to set up your online store and start selling!
Here is how you arrive at a good-looking and fully functional online store:
Step 1: Create your account
We are going to assume (with good reasons) that you have chosen to build your online store on Dukaan!
You can set up your online store on Dukaan in under a minute. You simply need to fill in details like your business name, phone number, and business category, and your store is created!
Step 2: Customize your store
What you have on hand right now is just a basic online store. You can go ahead with this store as well.
But, if you want to build a brand, you should customize your online store with your brand elements like colors, text, logo, tagline, etc.
Start by choosing an aesthetic theme and spend some time personalizing the theme. Change the colors, change the layout, play around with the design elements, etc.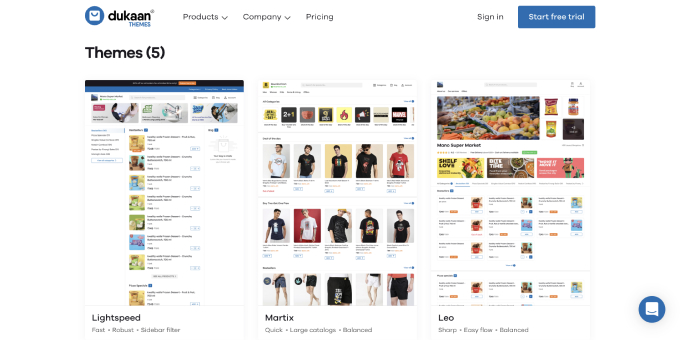 Step 3: Add products to your store
When you have a fully customized store, you can start adding your products to the store.
While listing your products, see to it that they are accompanied by an HQ product image, SEO-friendly name and description, and all other details.
Another important factor is the price of your product. As discussed before, you need to price your products smartly in order for them to sell easily while being profitable.
Here is an example of a store on Dukaan. The choice of theme, customization, product listings, etc. are totally on point!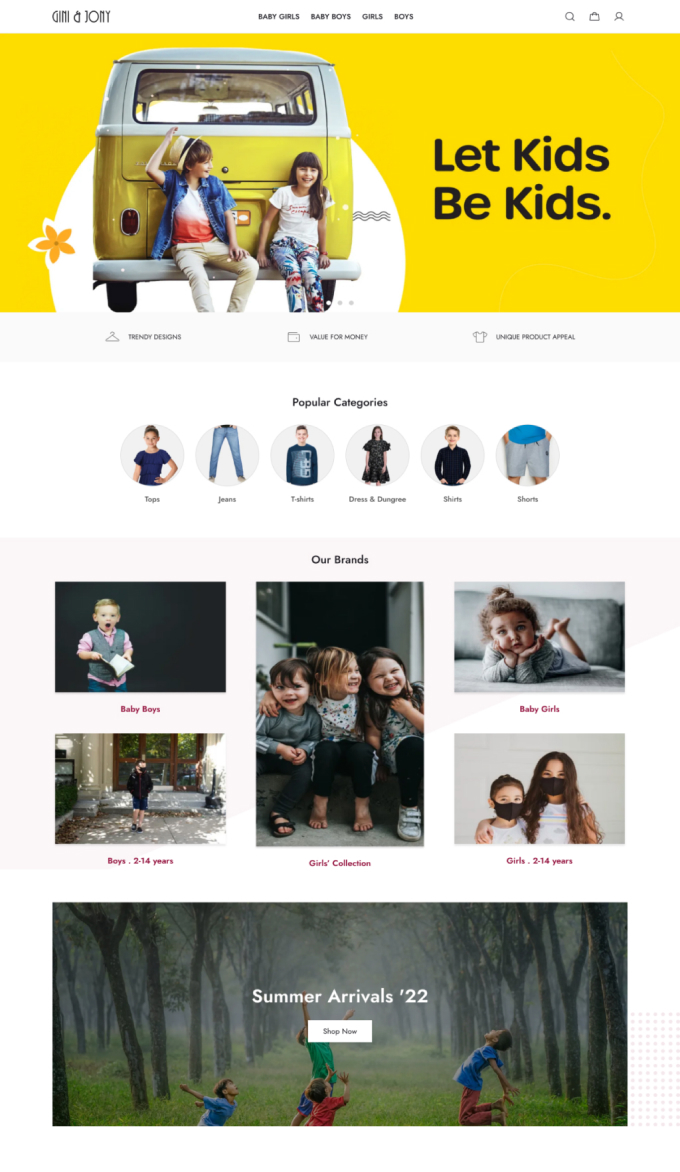 Step 4: Add Payment options
Payment gateways act as an intermediary platform to process your customer's payments securely into your account.
Having reliable payment gateways integrated into your store increases your credibility and customers will be more open to making a purchase.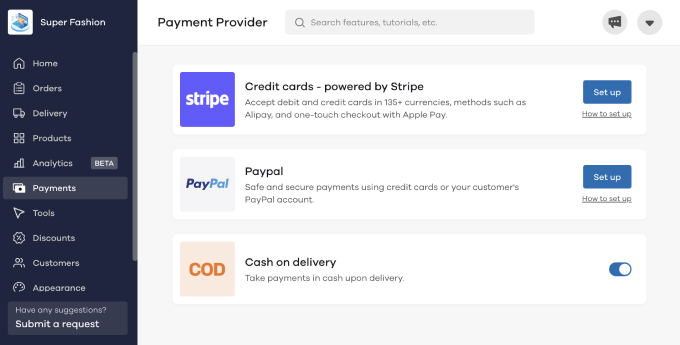 Step 5: Handle inventory and shipping
Handling inventory may not be your concern if you are dropshipping products. But if you are holding the stocks, then ensure that you have integrated inventory management into your online store.
Finally, ensure you have tied up with a trustable logistics partner who will ensure timely delivery of the products to your customers. Even if you are dropshipping products, ensure that your suppliers provide quick shipping!
And there you have it. If you followed up till here, then you have a high potential reselling business on your hands.
What is left out is an equally amazing marketing strategy to get the word out there and get in customers to your store.
Branding = draws people to you.

Marketing = asks people to check you out.

Sales = takes your offer to them.

You need all 3 to grow your business.

— Jason Vana (@jasonvana) February 11, 2021
These are a few things you can do to market your online store:

Ensure that your online store is SEO friendly
Create social media accounts for your business
Post relevant content on social media
Promote your store on WhatsApp
Create a WhatsApp group for your business
Use branding elements in shipping package
Run email marketing campaigns regularly
Offer timely discounts and offers
Run paid ads on Google ads and Facebooks ads
And those are a few tips to get you started with marketing your business successfully.
Pro Tip 💡
Leverage customer reviews and ratings. It adds credibility to your store and encourages other people to purchase your products.
How to Make More Money as a Reseller?
Once your business ideas are in place and your online store is live, your goal is to make money quickly and well.
Well, here's what you can do to ensure your online reseller shop remains profitable and grows:
Price your products wisely
Make sure your products cover the cost of purchase, marketing expenses, and overhead expenses if any.
By under-pricing yourself just to remain competitive, there are high chances you will run into losses or fizzle out soon. Overpricing in a bid to earn more isn't a good move.
The idea is to price the products in a way that they stay competitive without denying you a good profit.
Use Whatsapp & social media smartly
Regularly updating products and offers on WhatsApp stories and social media platforms can attract new customers and build brand loyalty.
If you are wondering how to do that, hop onto Dukaan. We offer ready-made templates that can be customized and put up on your Instagram stories, Facebook ads, and WhatsApp stories.
Garner more feedback
Customers truly are the king. If you make sure they are happy with your store, there is no looking back for your business.
Check their feedback regularly to know what problems your customers are facing regarding the purchase or the quality of your products. Keep improvising based on that and see your business grow.
FAQ's
1. How much money do resellers make?
The profit range in reselling business depends hugely on the business category and choice of products. However, on average, resellers are known to make anywhere between $5000 to $7000.
2. Where can you buy items for reselling?
There are a lot of places and methods to source your products for reselling. For reselling thrift products, you can source them from flea markets, garage sales, consignment stores, etc.
For new products, you can find suppliers through online directories, and social media groups. You can also source products from online wholesalers like Alibaba, DHgate, etc.
3. How to store and ship products?
You can start a reselling business through the dropshipping business model too. In such a case, you do not have to store or ship the products. Your suppliers will take care of it for you.
However, if you want to hold the stock for your products, have a solid inventory management system in place.
4. Is reselling business profitable?
Yes! Reselling business is very profitable, especially because it can be started with little to no investment. You can price your products at a margin and target the buyers of your choice in order to make maximum profit.
5. How do I attract the first few customers to my online reselling store?
It's simple. Take the help of family and friends to spread the word about your new business. Also, set up social media accounts and engage with your audience. Once the first few customers start flowing in, you can create offers and invest in other promotional activities.
Summary
The online reselling business is hugely profitable and incredibly convenient. You can peruse this guide and start off on your reselling journey right away.
If you are fraught with worries over the process of setting up your store, stop. Dukaan can help you set up your store in a few clicks and a matter of a few minutes. Being an entrepreneur has never been easier.
What are you waiting for? Start now.
This video will help you get started: