Want to be an entrepreneur and start your online business right away without spending on renting a place, manufacturing or even setting up your store? You've come to the right place. A reselling business is a great way to start off on an entrepreneurial journey as a newbie. It is profitable and low-risk, making it a popular business idea. Read on to know how to start an online reselling business, the easy way.
Who is a Reseller?
A reseller is a person or Company that buys goods from wholesalers and distributors and then resells them at a margin to end-users.
As a reseller, you don't have to make the goods, rather just serve as a middleman between a manufacturer and a consumer. You can mark up the goods, add value to them or sell two or more products as a package. The best thing – you can sell a wide variety of products through this business model.
Isn't that what a distributor does?
No. Firstly, Distributors generally buy products in bulk, directly from the manufacturer and hold on to the stock physically till they can sell it to wholesalers, retailers and resellers. They usually have a strong relationship with the manufacturer compared to resellers.
Secondly, in order to competently sell the products, distributors hold and manage a huge inventory of stock. As a result, they need to have warehouses and storage units at their disposal. A reseller's business is a demand-based one and hence they do not need large storage facilities to stock up on products. They can just buy what their customers order for.
The Advantages of Reselling
Owing to the Covid-19 pandemic, more businesses have been going online than ever. Online businesses have a wider reach. Although a reselling business can be based out of a physical location, an online reselling business can be a more worthwhile option.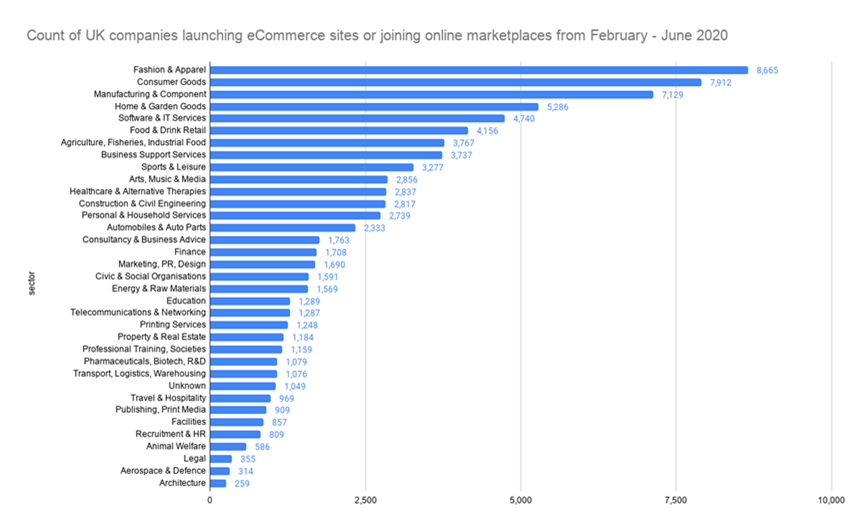 Here are the benefits of an online reselling business:
1. Requires little or no investment
Manufacturing products require you to invest in equipment, raw materials, labour and other overhead expenses. A reselling business just requires you to purchase and sell products eliminating almost all expenses. Moreover, you don't have to spend on maintaining an inventory.
2. Start your business right away
Yes. Once you set up your online store ( which takes you just a few minutes thanks to platforms like Dukaan), you can start selling online and making profits depending on your sale.
3. Sell a wide variety of products
As a reseller, you can dabble in several different products. Your products may or may not be related. As long as there is a demand for them, you can sell them.
4. You are your own boss
You can choose the products you want to sell; you can set the margins you want to earn. There are no fixed rules in the reselling business. It is a wise idea though, that you check the price of the products in the online market and then decide on a margin to remain competitive.
5. Offers incredible flexibility
You can operate your business from just about anywhere. All you will need is a smartphone and a good internet connection. This means that your business continues to run whether you are at home or on a vacation.
6. Requires less time than a conventional online business
If you hop onto a great platform, most processes of your reselling business will be automated. What's more, you don't have to invest time in packaging and shipping the products. This means you can run a successful business without it taking up all your time.
How to Start an Online Reselling Business
Here's a step by step guide to start an online reselling business.
1. Establish business details
Decide the products you will be dealing with. Although a reseller can deal with several varied products, it is a wise idea to deal in products that have a common thread. They should either belong to the same industry or complement each other. For example, if you are dealing in clothes, you may want to add accessories to your list rather than electronics.
Decide on your target audience. Narrowing down your target audience will help you make better decisions regarding the marketing and pricing of your products.
Make a thorough competition analysis and understand the present-day business practices. External factors such as this play a huge role in determining the success of your business.
2. Source your products
While purchasing online is the most convenient and profitable way to conduct a reselling business, some resellers prefer to physically procure their products. If you are one of them, you can source your products from:
Local handicraft markets
Flea markets
Friends and family
Consignment auctions
If you wish to source your material online, consider the following sources:
Manufacturers
Distributors
Social media groups
3. Set up your online store
This is easy peasy if you choose the right platform. You may come across options on the internet that require you to pay through your nose or tire yourself with the complicated procedure in setting up a store. Let's face it, if your programming skills and technical know-how is zilch, it may be a rocky road ahead.
Well, here's where eCommerce platforms like Dukaan can be your saviour. All you need to do is –
Step 1 – Sign up for Dukaan – Web Version | Android App | iOS App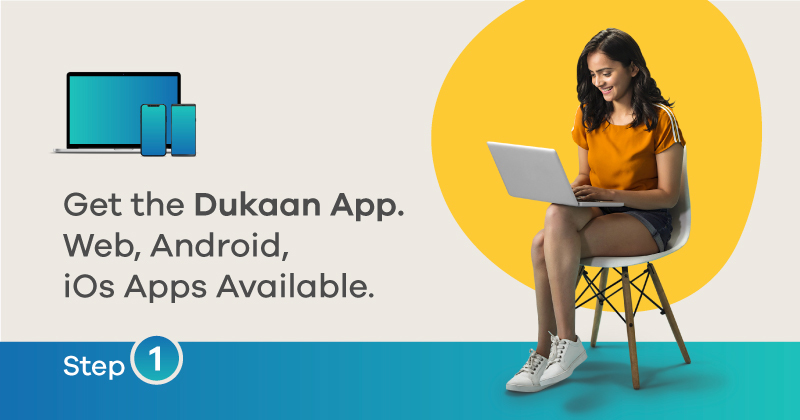 Just give your mobile number, verify OTP and you're in.
Step 2 – Choose your store name and category.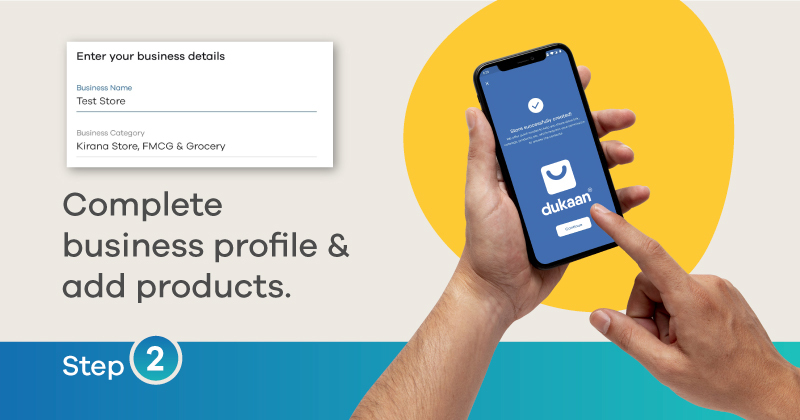 Step 3 – Upload your products.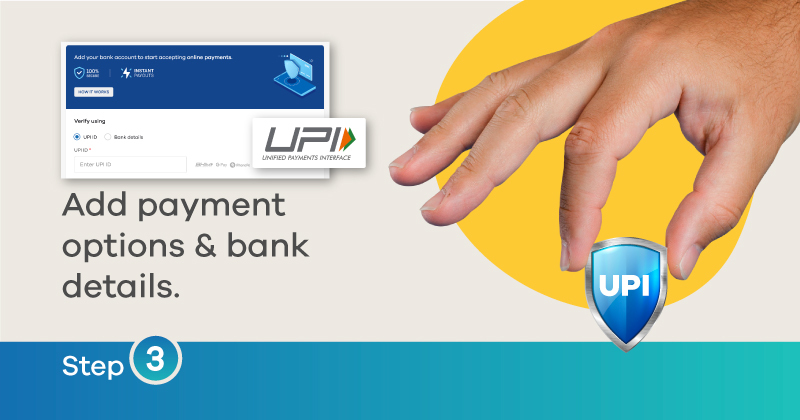 Step 4 – Promote your Dukaan store.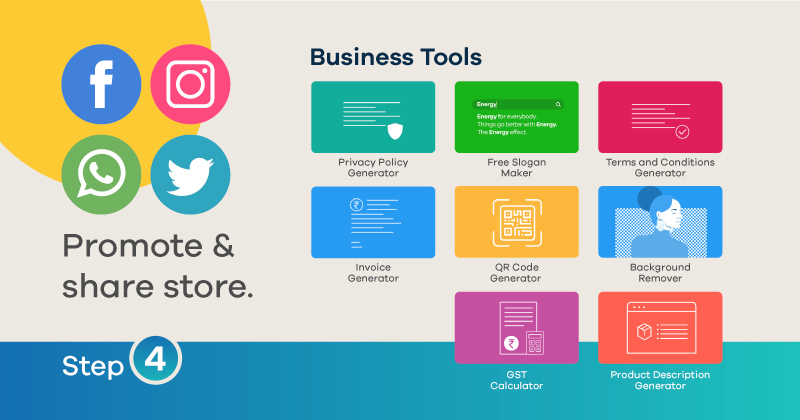 Simple! Isn't it?
4. Establish a payment gateway
So, you have set up your store, you have listed your products and you have marketed your business. Now you need to set up your payment gateway so customers can start flowing in and purchasing your products.
Payment gateways are secure and safe to use while being extremely efficient and cost-effective.
Dukaan helps you set up a payment gateway in a few clicks. It's as easy as a walk in the park – only, quicker.
5. Promote your store
Setting up an online store can help you get started but it isn't enough to draw customers. You will have to promote your store to get more people to land your store and purchase from you. Here's how you can do that:
Get a custom domain name that is easy to remember and suits your business.
Promote your store on WhatsApp and social media. You can use ready-made templates from Dukaan to create your WhatsApp status and Instagram stories.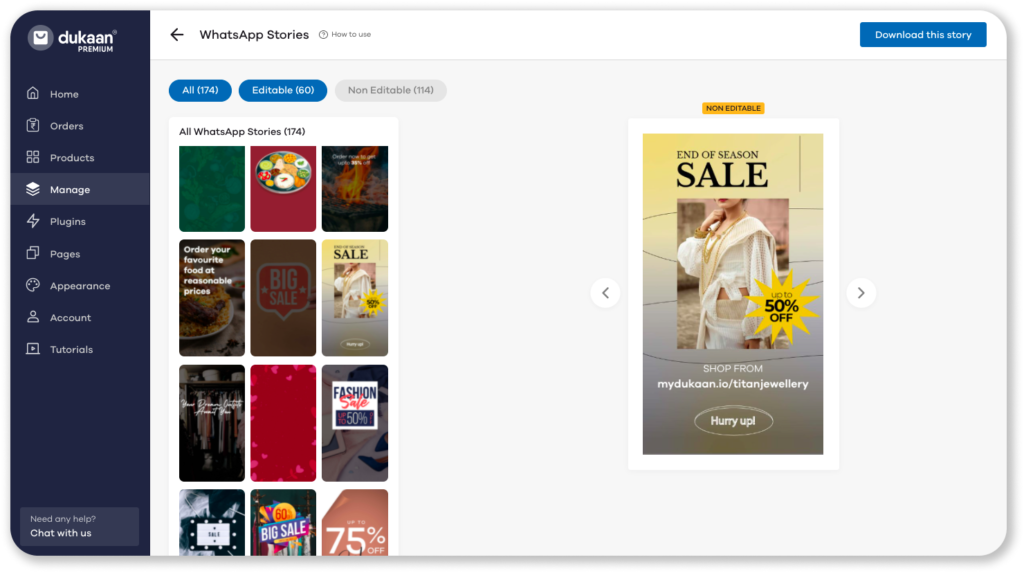 Offer discount coupons to new or existing customers to build customer loyalty
Read: How to Get Your First Sale in 30 Days
Reselling Business Ideas
The product options for a reseller are endless. You can start reselling just about any product and go on to add more products to your repertoire. Here's what our research tells us, are the timeless niches you can start with to heighten your chances of success:
1. Clothing
The global fashion market is predicted to grow from $25.09 billion in 2020 to a whopping $30.58 billion in 2021. If trade experts are to be believed these figures are going to see a surge of CAGR 7% by 2025. Therefore, if you want to start a reselling business, apparel seems like both a convenient and safe option.
There are a plethora of niches you can explore in clothing depending on the audience you want to cater to. If a particular type or style of clothing doesn't perform, you can switch it up or remove it without incurring any expense.
2. Beauty/Makeup essentials
This business is seeing steady growth owing to the sudden spike in eCommerce. The whole self-care trend and the rise in men turning to grooming products, is causing the boom.
What's with beauty influencers causing a shift in demands of certain niches, it's a great idea to explore this industry to start your reselling business. Since the order volume is high and the margins great, a beauty business has the potential to be incredibly profitable to the reseller.
3. Automobile accessories
There has been a global chip shortage and that is increasing the demand for used automobiles more than ever. This has led to a huge surge in car auto parts and accessories. It is a lucrative business opportunity we say!
There are a host of accessories and parts you can choose from such as wheel alloys, audio system, seat covers, gear covers, transmitter, storage bags etc. Experiment with a few to study the demand of the products and then choose what you can focus on.
4. Pet supplies
The global pet market is valued at more than $220 billion. Loneliness, mental stress and home-boundedness have led to an increasing pet adoption rate. This rate is only going to go up in the coming years if experts are to be believed.
The pet supplies market, therefore, is booming and this is a great time to start a reselling business in the same. Your product range can include anything from pet food to grooming products, from food bowls to leashes, and from pet clothes to toys. The options to choose from are endless.
5. Jewellery
Before the pandemic hit the world, the jewellery industry was expected to reach $480.5 billion by 2025. Though Covid-19 brought a host of challenges, jewellers transformed the way they market, exhibit and sell their products to beat them all.
More and more consumers are now exceedingly comfortable making their jewellery purchases online ensuring the demand for jewellery stays steady. It is a wise option therefore to start a reselling business in jewellery.
6. Sarees
This evergreen ladies garment has seen a plethora of variants but has always been in demand. It is a traditional Indian attire and is worn by women across age groups and cultures.
Due to its ever-growing demand, several housewives and small retailers are entering the saree reselling business to make quick bucks. If a business in textiles interests you, this option is worth considering. It may be one of the ancient forms of apparel known to mankind, but the whole nine yards are here to stay!
Here's step-by-step guide that can help you to sell sarees online.
How to make money with a reseller online shop?
Once your business ideas are in place and your online store is live, your goal is to make money quickly and well. Well, here's what you can do to ensure your online reseller shop remains profitable and grows:
Price your products wisely
Make sure your products cover the cost of purchase, marketing expenses, and overhead expenses if any. By under-pricing yourself just to remain competitive, there are high chances you will run into losses or fizzle out soon. Overpricing in a bid to earn more isn't a good move. The idea is to price the products in a way that they stay competitive without denying you a good profit.
Use Whatsapp & social media to market your store
Creating your business account on WhatsApp and other social media platforms and regularly updating products and offers on stories can attract new customers and build brand loyalty. If you are wondering how to do that, hop onto Dukaan. We offer ready-made templates that can be customised and put up on your Instagram, Facebook and WhatsApp stories.
Garner more feedback
Customers truly are the king. If you make sure they are happy with your store, there is no looking back for your business. Check their feedback regularly to know what problems your customers are facing regarding the purchase or the quality of your products. Keep improvising based on that and see your business grow.
Summary
Online reselling business is hugely profitable and incredibly convenient. You can peruse the guide above and start off on your reselling journey right away.
If you are fraught with worries over the process of setting up your store, stop. Dukaan can help you set up your store in a few clicks and a matter of a few minutes. Being an entrepreneur has never been easier.
What are you waiting for? Start now.
FAQs
Is reselling business profitable?
Yes! More so, when the reselling business is online. There is little or no investment that you have to make, there is the freedom to quote prices that suit you and there are a host of options available to market your business.
How do I attract the first few customers to my online reselling store?
It's simple. Take the help of family and friends to spread the word about your new business. Also, set up social media accounts and engage with your audience. Once the first few customers start flowing in, throw in generous offers to retain them and pull new customers.
I have an existing business. Can I still start reselling as a side hustle?
Oh yes! Gone are the days when setting up an online reselling business required effort and cost an arm and a leg. Dukaan helps you set up your store in a jiffy and you can start your business from day one. The selling process is automated so you don't have to invest a lot of time in the business. Whatsmore, it is free!