It's possible for your homemade cookies to sell by a baker's dozen, but only if you know the tricks to market them correctly. Curious to know how to sell cookies online? Our article teaches you that in 7 simple, actionable steps.
Cookies are among the best-baked items to sell since they are customizable, transportable, and easily loved. If customers enjoy your tastes, selling them can eventually turn into a very lucrative business. There is sufficient demand for many cookie sellers to be viable, but not enough that buyers are overrun by choice.
Bakers and business owners are often hesitant to launch a cookie business because they don't know how to approach potential customers. The internet is useful in this situation.
According to Statista, approximately 4.66 billion people, or close to 60% of the global population, were online in 2020. In the United States, it is anticipated that the internet meal delivery market will generate $26,527,000 in sales in 2020. And Statista projects that between 2020 and 2024, the online food delivery market in the US will expand at a 7.5% CAGR. No doubt, the era of online product sales is here!
Furthermore, if you sell cookies online, you can potentially reach a larger audience and receive more orders. Cookies are a preferred baked product to sell online because they have a stable shelf life. There is minimal to no risk of them dissolving, cracking, or breaking when shipping them practically anywhere.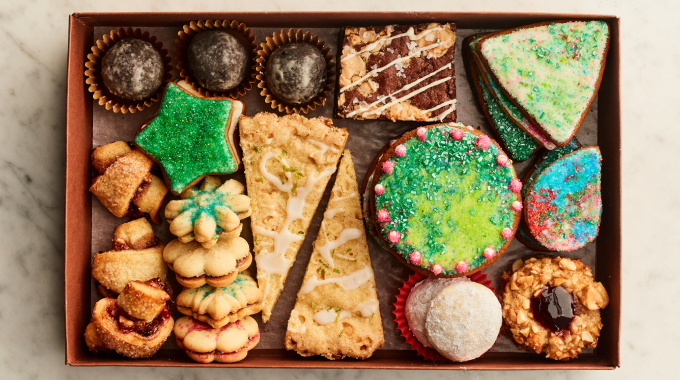 As soon as you understand what is required of food business owners, selling cookies online becomes simple. Keep reading to learn the fundamentals of this delightful business concept.
Steps to Sell Cookies Online the Right Way
1. Select a niche
Although there is a sizable market for online cookie stores, there is also competition. The easiest way to be noticed is to specialize and narrow your products to a particular niche. This way, you will have fewer competitors and be able to target a specific audience that does not have many options.
Do you want to go all out and make unique cookies? Consider diet-specific cookies, such as those that are organic, kosher, vegan, gluten-free, or loaded with vitamins and antioxidants.
You might also choose to sell customized and decorated cookies, like creatively iced sugar cookies and multicolored pinwheels, for your online cookie shop to stand out from the competition. There's also an option of making cookies for each holiday to give customers something more to look forward to.
2. Get familiar with the laws and obtain licenses
According to the Food and Drug Administration (FDA), anyone launching a food business must be familiar with FDA laws as well as those of state and local health authorities. This Food and Drug Administration portal is a good resource for more information on national regulations for operating a food business.
Cottage food rules at the state level govern whether you are permitted to prepare particular food items in your home kitchen for sale to customers. Remember, different states have different laws, and they could change over time. So pay special attention to local laws that apply to you.
A business license is required in order to follow cottage food laws. You might also need to conduct an examination of your kitchen and obtain a food handler's permit to completely comply with local requirements. If not, you risk being quickly shut down and even receiving significant fines.
In addition to requiring a license, local cottage food laws may also govern how you promote, package, and label your cookies. In some states, you may even need to change the way you decorate your baked cookies to avoid getting in trouble with the law.
When setting your cookie prices, you should take into consideration the cookie size, the cost of the ingredients, labor costs, branding and marketing costs, and the prices of comparable cookies. A 25–30% profit margin is the norm for businesses selling cookies.
Price your confections in accordance with consumer demand and what they are willing to shell out for similar cookies. If you've never sold cookies before, look at the prices of cookies at supermarkets and farmers' markets. These are reliable resources for information on customer-friendly retail prices.
Don't make the error of thinking that a lower price is always better when comparing products to competitors. High-quality products might command a higher price from consumers. On the other hand, if you target customers who believe that the cookies sold by your competitors are expensive, you could intervene and provide them with a more affordable substitute.
4. Brand your business
Building a brand is a crucial step. A strong brand identity allows customers to understand what your business is all about.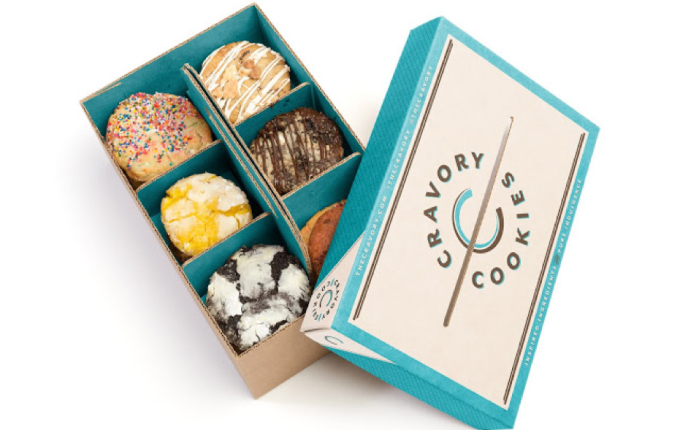 Your brand name, logo, website, marketing content, and other customer communications form the foundation of your brand identity and can be shaped to be distinctive and attractive to your target audience if you make thoughtful decisions.
The simplest way to start this process is to succinctly describe the attributes you want your brand to represent. Is it cool, sociable, and casual? How about strong, superior, and trustworthy? Could it be fun, lively, and young? A business that sells personalized cookies can have an artistic, distinctive, and appealing brand.
5. Product content
You must showcase your products on your online store in a way that attracts visitors. Here's how you can achieve it with product photos and descriptions.
1. Product photos
Your pictures ought to achieve two things: make the cookies look appealing and ensure that they are consistent with your brand's aesthetic.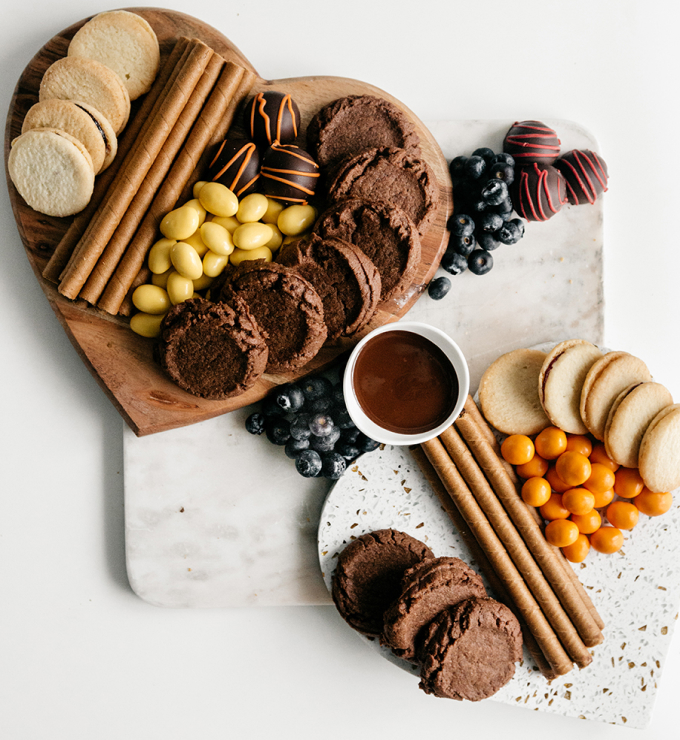 You don't need the finest, most costly equipment if you're going to be taking the pictures yourself. Some amazing photographs can be captured on many modern smartphones these days.
Keep the following in mind to get some high-quality photos:
The lighting should be bright: Use natural light, store lights, or lamps with shades off. You can also purchase a low-cost lightbox to take bright photographs.
Be mindful of the angles: For better results, take some close-up photos from eye level rather than photographing the cookies from above.
Emphasize the details: Every photo doesn't have to include the complete product. Take a picture of the details of your cookies to make your customers fully aware.
Don't just upload a single image, but select a signature photo and several detailed photographs for each cookie product.
2. Product descriptions
The product descriptions must be thorough but simple enough for a busy consumer to scan quickly. Here are a few pointers to keep in mind:
Write an attractive headline: Instead of merely calling a cookie a "Chocolate cookie," give it a specific name that explains what it is to customers and search engines, such as "Chocolate chip eggless cookies."
Be concise: Busy people frequently click away when they see long paragraphs of text. Just a few brief paragraphs are sufficient.
Include topic headings: Headings can organize the page and make it easier to scan. Some readers will merely skim the headlines and not read the material underneath. Therefore, where feasible, use enticing, descriptive language in your headings.
6. Packaging, shipping, and labeling
Choosing the appropriate packaging is crucial if you want to deliver your cookies safely to the customers.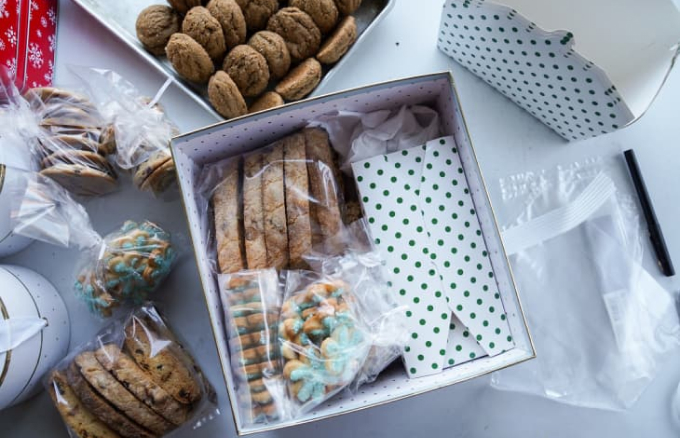 Your cookies can be packaged in a variety of ways, including:
Cello bags: They are a good choice if you're just starting or have a tight budget to deal with because they're quite inexpensive.
Paper bags: The brand of paper bags that has a poly liner is the one you need. Your consumable products are shielded from moisture, air, and dust by the poly liner, which stands between them and the paper layer.
Stand-up Sachets: They are the pinnacle of retail packaging since they not only safeguard your cookies and increase shelf life, but can also elevate your product to a new level with the appropriate print and design.
Expedited shipping is probably your best choice since you'll be shipping perishable goods. If you look for other shopping options, remember to take into account the prices and lead times associated with
them.
While some people don't give the ingredients in their favorite cookies a second thought, others might scrutinize each one in great detail. The Food, Drug, and Cosmetic Acts, as well as the Fair Packaging and Labeling Act, are relevant when it comes to labeling your packaged food items such as cookies.
Labeling for packaged food and drink products must be accurate and not deceptive. State legislation could also impose extra requirements. Ingredients, nutritional info, a description of the product, the amount and weight of the ingredients, and the name and location of the person or company who creates and packages the cookies should all be listed on the label.
7. Set up an online shop
If you intend to sell your cookies online, you need a platform where people can buy your cookies. You can offer products in an online store and let buyers select the flavors they want.
An advantage of having an eCommerce store is that, unlike online marketplaces and social media, you have total control of your business and can customize the store in whatever way you want.
With eCommerce builders like Dukaan, it's easy to create an online store without having any coding skills. You get additional marketing tools and plug-ins to take your business forward. You can manage orders, accept payments, and carry out other tasks from a single dashboard.
Customizing your store to meet your needs and brand is also easy. You will get attractive designs to support your brand. Dukaan truly makes selling products online hassle-free and convenient.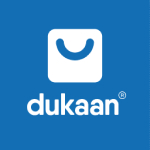 Launch, scale and manage your online business with just $14.99 on Dukaan. Annual plans start at $149.99 only.
8. Market your business
There are numerous ways to present your goods to potential buyers after your online store is ready to sell cookies:
Search Engine Optimisation (SEO): Your cookies must appear in the search results when potential customers are looking for them on search engines like Google. Therefore, it is essential that you follow some SEO best practices to appear high in SERPs (search engine result pages).
Social media: As a startup business owner, you must establish a presence for your cookie business on social media sites like Instagram, Facebook, and Twitter. The purpose of developing social media accounts is to interact with potential consumers and raise brand awareness. It helps connect with prospective customers and also sway their purchasing decisions through the two-way contact provided by social media.
Influencer marketing: About 63% of consumers place greater faith in influencer messages than in brand statements. Influencer marketing is thus a fantastic channel for a digital brand since it allows you to present your items to people through a credible source. It involves sending free samples to "celebrity-like influencers" in your industry and asking them to write reviews so that more people can learn about your products.
Paid advertising: If you want to see a sharp increase in the number of high-quality visitors to your website, you can invest in paid advertising. Pay-per-click advertisements make it easier for you to promote your products online. There are several forms of paid ads, but the 2 most popular ones are social media and search engine ads.
Conclusion
A crucial element of success is having a fantastic product. So, you'll be off to a terrific start if you can start with delicious cookies.
Even though it may appear difficult, it's worth learning how to successfully sell cookies online before you start living your goals. It will help you keep your cookie business profitable and on track. Once you master the craft of selling cookies online, it's only a matter of time before you will be selling your cookies by the bundle.
FAQs
1. How do I start an online cookie business?
Launching your own store is the best way to start your online cookie business. Running your business with a custom store gives you complete freedom over your business' growth, and helps brand building and managing customers. You can start your online store with
Dukaan
in under a minute.
2. Is an online cookie business profitable?
Yes, an online cookie business is very profitable. It can be started with a small investment and is a fast-moving product. You can also scale your cookie business into a brand by selling from your own store.
3. How to set prices for cookies before selling them online?
To set prices for your cookies, consider the costs you'll bear towards producing, branding, shipping and marketing. This base price can then be marked up to include your profit margin. Ensure that your pricing is relatively close to what your competitors charge for their products.
4. How much do homemade cookies sell for?
There are no standard rates for selling cookies. How much your cookie sells depends on your business' brand value, competitor pricing, the size of your cookie and its novelty.
5. Can you sell homemade cookies online?
Yes, you can sell homemade cookies online. It is an evergreen business idea and has many takers online. You can sell homemade cookies over marketplaces like Amazon, on social media like Instagram and your own online store.