In a world where everyone is judged first by their footwear, people are willing to spend good cash on trendy shoes. This comprehensive guide will break down how to put your best foot forward and sell shoes online successfully.
Are you considering growing your shoe-selling business and reaching a wider audience of customers? Have you considered selling online?
The footwear industry is lucrative and offers significant returns on your investment. The graph below shows the size of the worldwide footwear market was estimated at $365.5 billion in 2020 and is projected to grow at a CAGR of 5.5% from 2020 to 2027, reaching $530.3 billion.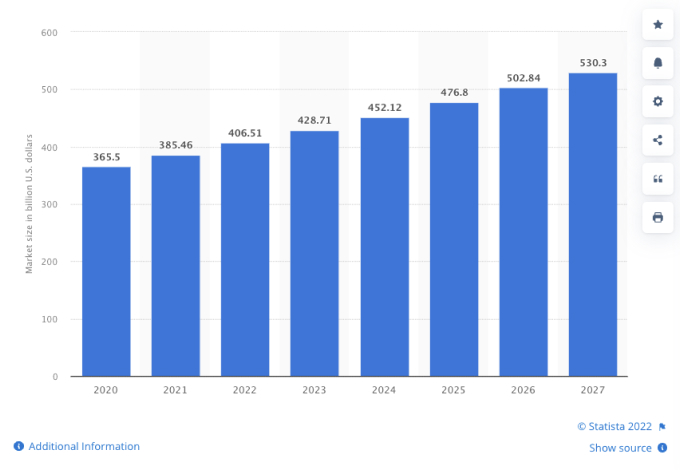 Here are some additional stats provided by Statista to support the previous assertion:
In 2022, the global footwear market will generate $488.3 billion in revenue.
From 2022 to 2025, the market is anticipated to increase by 7.65% per year.
In terms of global comparison, the U.S. generates the largest revenue ($94.53 billion in 2022).
As a result, the footwear sector is appealing due to the variety of opportunities it offers and has the potential to be extremely profitable. There is a market, and it is expanding quickly. Starting an online shoe store now is the perfect move.
But what kinds of shoes are you going to sell? How are you going about selling your shoes online, and where will you get your shoes from? There's no need to press the panic button as we have you covered on every front. Let's get going!
Profitability of Selling Shoes
An internet shoe business offers more income than an offline one does. You may make a solid profit by selling directly to customers all around the world.
An average online shoe store generates over $100,000 in pure internal profits from sales of roughly $800,000. Therefore, if you are thinking about opening an online shoe store, you can expect a significant return on your investment of up to 50%.
The footwear industry is a multi-billion dollar industry. Selling shoes online is a smart business concept due to the steady market expansion and the tendency for improvements in this industry. You might launch a market-defining eCommerce business if you address the situation with the necessary expertise and commitment.
How to Sell Shoes Online and Make Money
1. Pick your niche and target audience
Before you begin selling shoes online, you must decide on two things: the kind of footwear you plan to sell (your stock) and the audience you plan to sell it to (your target audience). You can choose a specialty to concentrate on or select a variety of shoe types and market them to a wider customer base.
It is a difficult task to immediately construct a megamall with every type of shoe. Therefore, you should start modestly and then expand. Specializing in items like high heels or soccer shoes could be an excellent approach to entering the world of online commerce.
You can, in fact, also choose to sell used shoes online. Remember that if you strive to satisfy everyone, you will end up satisfying no one!
So if you focus on selling a particular category, how do you pick from the varied options? You can choose from the following list:
Depending on whether they are worn by men, women, or children:
Women's shoes: Women are the ones that purchase shoes the most frequently.
Men's shoes: The market is still strong, even though men's shoes are less varied than women's.
Kids' shoes: You may count on getting the most active clients in this area. Kids require new shoes on average every few months since they grow up so quickly!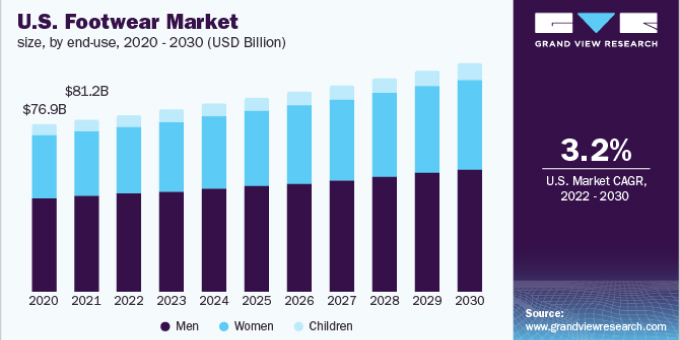 Depending on the category of shoes:
Classic footwear: Includes flats, sneakers, high heels, boots, sandals, and a variety of other styles that never go out of style. Their demand never diminishes.
Sports shoes: This is a fantastic niche with a clear target market! Sports enthusiasts frequently purchase athletic shoes.
Indoor shoes: Selling cozy indoor shoes like slippers and flip-flops is also a smart business move.
Unique shoes: This category includes footwear made to withstand adverse weather, extreme situations, or is worn by specific professions. Hiking boots, climbing boots, and rain boots are a few examples.
Handmade shoes: If you are skilled in shoemaking or know where to find a supply of customized shoes, it will help you a lot. The likelihood of the business concept of selling customized shoes online being successful is very high.
Next comes identifying your target audience. It is an important step because the more you understand your customers, the more effectively you can sell your products, particularly in the digital age. When determining your target audience, keep the following in mind:
Age and gender.
Average earnings
Do they prefer traditional shoes or eccentric, vibrant ones?
Frequency of shoe purchases.
2. Source your shoes
It's time to decide how you'll source the shoes you would like to sell after you've decided what kind of shoes you would like to sell and who your target customers are. Let's examine the choices that are available.
Find a trustworthy wholesale supplier
You can purchase shoes in quantity from one or more wholesale suppliers, then gradually sell them all. You will also get a variety of shoes to choose from.
Using a simple Google search or online business directories, you can identify wholesalers and suppliers of footwear for your online business. Although the risk is slightly higher than drop shipping, you will have less reliance on the producer.
Make your own collection of shoes
You are in charge of designing, locating raw materials, and producing this model. You will, in essence, own your own shoe business. As a result, you have the chance to create a distinctive brand and thereby cut out a lot of competitors.
Dropshipping
The best possible way to launch an online shoe company without inventory is by dropshipping. In the dropshipping model, you serve as a mediator between the customer and the shoe manufacturers.
It is your responsibility to market the shoes, receive orders, and forward those orders to the supplier so they can pack and ship the products.
The main benefit of dropshipping is that you don't have to worry about manufacturing, warehousing, packaging, or shipment, and you only need a minimal amount of or no start-up money.
3. Price your shoes
Another essential component of any online shoe business is pricing. While a low-cost strategy can reduce profit margins, high prices can turn away customers. It all comes down to finding a balance.
Take into account elements including product cost, competitive pricing, and your profit objectives when deciding on shoe prices. The following are some tips to bear in mind:
Manufacturer's Suggested Retail Price (MSRP): This is the suggested retail price for new shoes determined by the wholesalers or manufacturers.
Keystone Cost: This entails asking twofold of the shoes' wholesale price.
Competitive Pricing: Examine the prices set by your competitors and set your prices according to those figures.
Calculate the cost of each pair of footwear you purchase. Utilize the pricing techniques mentioned above to study and settle on your prices.
It is a terrific idea to list your goods at a low price if you are a newcomer to this industry. Although customers may have viewed the same products on other websites, they are most likely to buy them from one where the pricing is competitive.
However, if you are confident in the product's great quality, sell it for the appropriate price. Make sure your credit is not diminishing.
4. Build a brand concept
Nothing beats a brand concept that has been carefully crafted. With its assistance, you may strengthen your company and demonstrate to customers that you provide them with more than a product. It makes a huge contribution to the recognition of your brand and forges a strong emotional connection with your audience.
Nike, a global sports apparel and footwear conglomerate, is a company that not only offers shoes but also transmits a message. Nike's catchphrase, "Just Do It," exhorts users to greatness and drives them to accomplish their goals while donning Nike footwear.
So how can you outsmart your competitors and develop a brand concept as enticing as Nike's? First, think about the following factors:
Mission
Your company should establish a clear objective for the problems that your products can solve. These problems may directly relate to your products but may also be connected to unrelated issues. For instance, your shoe company promotes family values and urges customers to devote more time to their families while also being structured around the convenience of movement.
Name
Any brand's name, which customers see initially, is its foundation. The name of your company should be memorable, true to you, and reflect who you are.
Voice
Your brand's essence emerges at this point. You converse with your clients using these words. For instance, the tone must be more formal if you manage a line of upscale footwear.
Slogan
This component perfectly captures the character of your brand. It is a brief, catchy phrase that captures the essence of a brand. "Come As You Are" is the motto of Crocs, an American manufacturer of foam clogs.
This suggests that you should wear Crocs since you can accomplish anything when you're comfortable. Use a slogan maker to create a catchy slogan.
5. Decide where to sell shoes online
Choosing where to sell is the next step in creating a successful business. Multiple options and combos of customer touchpoints are available to you. You may, for instance, sell solely offline, both offline and online, or only concentrate on your online presence.
Pay special attention to these 3 main sales channels and choose the most suitable one or a mix of them based on the business knowledge you have already obtained. If you want to sell shoes online, there are three main options available to you:
Online Store
One of the best ways to start your own shoe business is to build an online store. You'll have total authority over your company. An online store is a necessity for any modern company. It is currently regarded as one of the best places to sell shoes online.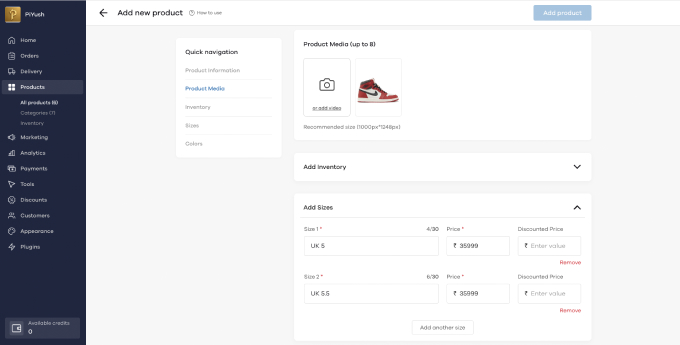 Business owners can successfully create an entire empire using the numerous e-commerce solutions now available on the market. In addition, choosing this option will give you the freedom to build on your brand concept without being dependent on outside parties like social media or marketplace platforms.
With an eCommerce website builder like the Dukaan, you don't need any technical knowledge to create your eCommerce website. You can quickly build a well-organized online shoe store with Dukaan.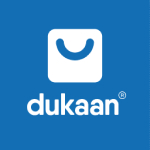 Launch, scale and manage your online business with just $14.99 on Dukaan. Annual plans start at $149.99 only.
The platform provides a personalized domain, marketing tools to help you advertise your store and track visitors, and a single dashboard to handle your orders. It also provides a free custom domain, so you don't need to worry about setting it up yourself.
Additionally, it gives your customers a variety of payment alternatives, such as UPI, debit, cash on delivery, etc., making it simple for them to make payments. This platform enables all shoe stores, shoe manufacturers, wholesale shoe distributors, and other retailers to expand their shoe sales online with minimal costs.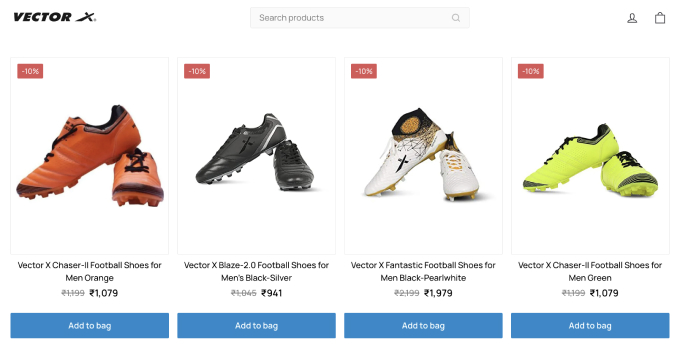 Social Media
Owing to how simple it is to start up a store on platforms like Facebook and Instagram, the majority of people choose social media as their first choice for selling.
The practice of conducting business on popular social media sites like Instagram or Facebook is expanding. Such platforms provide all the capabilities required for seamlessly closing transactions and connecting with the right customer at the right moment.
Social media is a common place for startups to launch their e-commerce firms because it provides a conducive setting for growing an audience.
Your store will be operational as soon as you create an Instagram, Facebook, or Pinterest page, but your customer base and marketing options will be restricted to the social media network you are selling on.
Marketplaces
A more sophisticated method of selling shoes online is by using a marketplace like Amazon or eBay. A marketplace is a venue that connects sellers and buyers. It has the benefit of being full of people who have already shown an interest in purchasing shoes.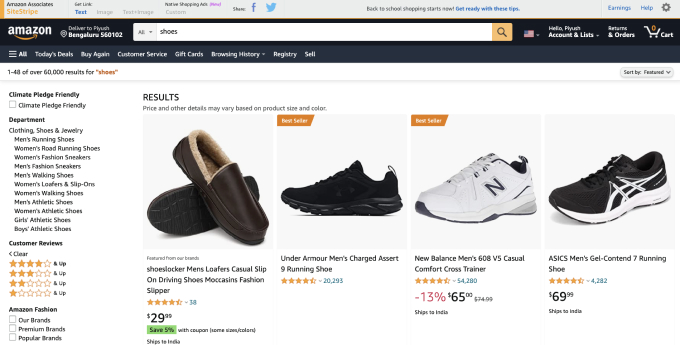 However, since these marketplaces frequently charge substantial fees, your spending will go up. These expenses include the price of publishing the listing itself as well as the charges associated with each shoe sale you make on the marketplace.
6. Showcase your shoes
You cannot increase your shoe sales without drawing attention to your eye-catching footwear. You must demonstrate the quality of your shoes to prospective customers, describe how they feel, and encourage them to make a purchase. There are two essential elements that will facilitate this:
Product images
Invest in high-quality images to make the encounter as aesthetically pleasing as possible. Use the expertise of a professional photographer, and ask them to capture your product from these angles on a white background:
3/4 view (this is typically your main product shot)
Side view
Aerial view
Back view
Front view
Closeup shot
View of the sole: This is frequently overlooked, but it will stop your buyers from writing you to inquire about the sole!
On-foot shot: Arrange this carefully and, if you have the resources, turn it into a video.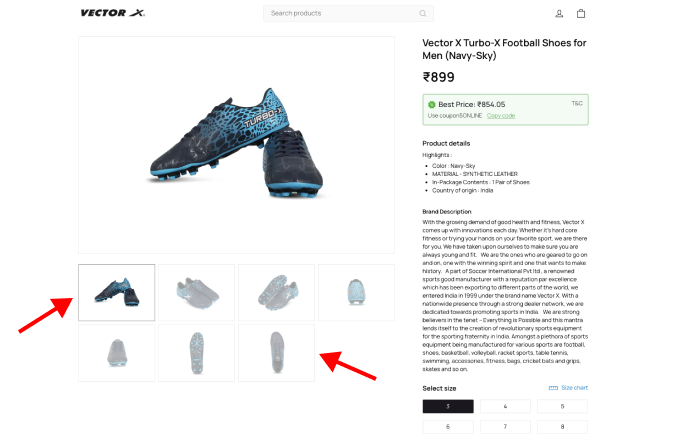 Hire a photographer and a stylist to take some lovely lifestyle photos once you have the necessary functional images.
They are photographed on a model or another suitable subject and utilized as banner images. These lifestyle photos can also be used as supplements on product pages, social media posts, press releases, etc.
Product Description
Your product description should accurately express the shoe's qualities, advantages, and limitations. Here, excellent copywriting will have a significant impact.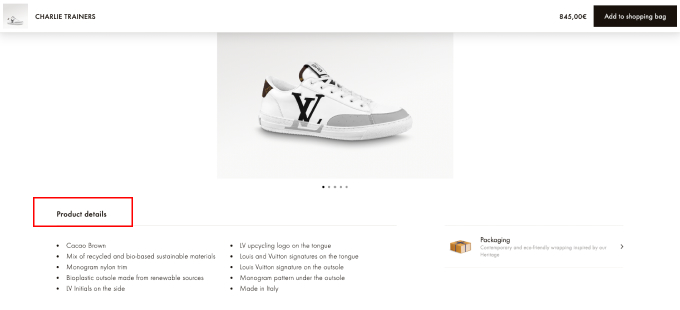 You should be aware of what your target audience wants, use language that appeals to them, and use your product copy to skillfully address any worries or objections.
Include information about sizes, measures, and materials in bullet points.
Add a brief paragraph following that in which you describe how wearing the shoes will help your customer.
7. Package and ship your shoes
Your online shop is ready to go. You must now make plans for your shoes' shipping and packaging.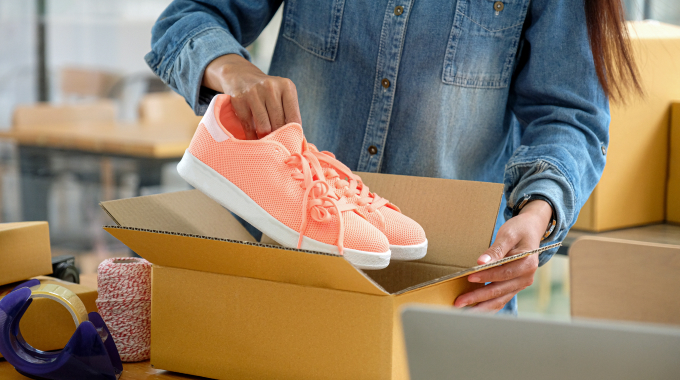 In order to safeguard your shoes from harm and to give off a good impression of your brand, you must use good packaging. Your packing supplies must be sturdy, of the right size, and relatively light in weight.
8. Market your shoe business
Even if you follow all the proper trends and have the right inventory and prices, you will still fall short of several of your competitors if your marketing is weak. The cornerstones of your marketing strategy are:
SEO
It's important to know where your online store appears in search results. Therefore, when selecting the features for your website, keep SEO best practices in mind.
Email marketing. This strategy entails sending promotional emails to customers who have consented to them. Businesses use email marketing in a variety of ways, including to inform customers about impending discounts or other marketing initiatives or to remind them of items in their shopping carts that have been abandoned.
Social media
Social media is a platform that makes it simple to connect with a large audience. You can advertise your goods, enhance brand visibility, and appeal to a broad market. See what works best for you by experimenting with different content formats, such as video, carousel, gifs, and infographics.
Stay updated on what's working and what isn't as you run these initiatives so you can concentrate on the channels that will yield the highest return and let go of the others!
How to Sell Used Shoes Online?
You can sell used shoes online for a variety of reasons, apart from monetary gains.
It's a great way to declutter your closet. You are doing the environment a favor by rehoming your old shoes. Then there are vintage shoes whose value increases as time passes.
There's a big misconception that selling old shoes requires extra effort. We guarantee that everything mentioned in the article above is sufficient for selling both new and old shoes. Trust us when we say that you need to follow the same protocols while selling old shoes.
Quick Tip
Just keep in mind to thoroughly clean the shoes before shipping, upload high-quality photos of the shoes and accurately describe the condition of your shoes in the product description.
Best Places to Sell Shoes Online (New & Old)
Best for selling handmade, customized, used and upcycled shoes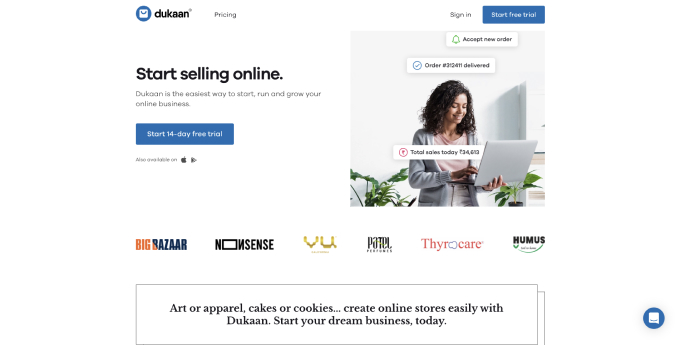 Looking for a convenient platform where you can sell everything from handmade to vintage to customized shoes effortlessly? Dukaan is the best platform to bring your business to.
You need to create your customer store to sell with Dukaan. You can launch your Dukaan-powered online store in under a minute. To create your store, you just need to input an email address and the name of your business.
Dukaan platform provides helpful tools like product description generator, image enhancer, terms & conditions generator etc., to ease the process of setting up an eCommerce store. In addition, it has a variety of integrated marketing and analytics plugins to boost sales.
The best aspect of selling on Dukaan? You can run your own reselling, dropshipping or manufacturing business on it.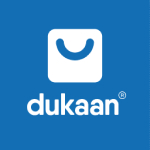 Launch, scale and manage your online business with just $14.99 on Dukaan. Annual plans start at $149.99 only.
Best for selling shoes under budget
OfferUp is a great marketplace for anyone looking to sell shoes on a tight budget. It doesn't cost anything to list your products on the platform. There's no commission on sales as well.
You can also pay a small fee to the platform to promote your listing more frequently over others on the marketplace. Also, the platform has an in-built free messaging channel to help buyers and sellers communicate conveniently.
Shipping is a little tricky on OfferUp. If you use the platform's services, it sends you a prepaid shipping label that the buyer pays for. But if you ship an item yourself, you'll also have to pay a commission between $1.99 and $12.9, depending on the sale value. Give this platform a try if you want to sell shoes locally without much effort.
Best for reselling designer footwear in pristine condition
If you are looking for a platform that takes away the work from selling, consider reselling your designer footwear on Flyp.
To sell on FlyP, you need to upload pictures of your products on the platform and create a "lot". The platform then connects you with "Pro Sellers" that analyze your articles. You can partner with them if you agree to their pricing and commission.
These "Pro Sellers" facilitate faster selling your goods for a commission. Pro sellers handle all aspects of the sale, including pricing, staging, listing, negotiating with potential buyers, packaging and shipping. You just have to send your lot.
When your products are bought, the funds are transferred to the app after 30 days when your products are purchased (which you can withdraw into your account). In addition, it offers a 90-day seller protection policy and a variety of options if your goods fail to sell.
Best for selling used designer and luxury shoes
If you are looking for a hassle-free place to sell slightly used designer and luxury shoes, Poshmark is ideal for you. All you have to do is take pictures of your products, add a description and set a price to sell on the app.
The platform has an active community of buyers searching for quality articles. Meaning there are high chances of making good sales on the platform. Another perk of selling on Poshmark: the buyer incurs all shipping charges, and you don't have to worry about the sales tax.
The platform does not charge any listing fees, but be mindful that the platform does take a commission from every sale you make. Poshmark takes a flat commission of $2.95 on every sale under $15. Above that, the commission rises to 20%.
Once you make the sale, you can ship the parcel using the prepaid shipping label provided by Poshmark.
Best for reselling collector-edition sneakers
If you are looking for a platform where you can sell anything from modest walking shoes to limited-edition air jordans, Kixify is the place for you. Infact, it is touted as the largest platform for selling shoes online.
Many sellers prefer Kixify as it allows sellers to set up their policies regarding shipping, returns, exchanges etc. You need to create a storefront to sell on Kixify. The platform does not charge any setup, subscription or listing fees, but you'll have to pay an 8% commission per sale.
You also need a PayPal account if you plan on selling on Kixify. The earnings from your sales are directly transferred to the seller's PayPal account.
Conclusion
Like any other e-commerce company, creating an online shoe store involves a thorough grasp of the market and the demands of potential customers. Write a business strategy before you start to sell shoes online, stay away from typical traps, and have faith in the sustainability of your venture.
The above-mentioned steps will help you launch and grow your shoe business while cultivating a following of devoted customers, from selecting the best shoes to sell to providing an excellent shopping experience.
FAQs
1. Where can I sell shoes online
There are many good ways of selling shoes online: on a marketplace like StockX, with an eCommerce platform like
Dukaan
or websites like Amazon and eBay. However, the best way to sell shoes online is through a dedicated eCommerce store.
2. Is reselling shoes still profitable?
Yes, reselling shoes is always going to be a profitable business model. Footwear is never going to go out of vogue. You can earn good money by reselling shoes with an efficient eCommerce platform like
Dukaan
.
3. How can I promote my shoe brand?
The first step to promoting your shoe brand is to sell using your own store. Next, you need to focus on marketing your store, customer management, running ads across various social media platforms, providing customer support and offering quick shipping and fulfillment. Dedicated eCommerce platforms like
Dukaan
are perfect to run, promote and scale your shoe brand.
4. Where can I sell custom shoes?
You can sell your custom shoes both online and in person. Although, we advise you to sell online using a dedicated eCommerce store or on a marketplace. You can also use your social media profiles to advertise your custom shoes and redirect your audience to your store.
5. How much should I sell my shoes for?
Pricing your shoes fairly depends on a combination of factors. Make sure you factor in your total manufacturing cost, advertising charges, shipping and fulfillment charges (if inclusive), and the profit margin you would like to gain. Ensure you also check the market rates while setting up your cost.