Looking to start a new business, but not sure what or where to start? Look no further. Here are some of the best business ideas for students.
The entrepreneurial bug can bite anyone, anytime. Success in the entrepreneurial line does not discriminate based on age or gender, which means anybody can give it a shot, irrespective of their age.
The youth is definitely buzzing with ideas and energy. Channelising that energy and resources to start a side hustle is a great way for students to earn an extra income. If you are looking for ideas to use your free time to earn some extra bucks, and build your entrepreneurial muscle, here are ten business ideas for students like you. Also, a little extra money never hurts anyone! 🙂
Business Ideas for Students
Let's start with the first one. Something very close to us here at Dukaan and probably voted the top among best business ideas for students.
1. Start a Website/Blog
Starting an own website or a blog is one of the most rewarding things for the new digital-age student. With a wide range of options with respect to free website and blog hosting platforms, it becomes even easier! Once up and running there are further options to monetise these properties.
Affiliate marketing, taking up sponsored posts, running ads etc are few of the many ways one could monetise a website/ blog. One great example of how successful you can become by starting a website is Umer Qureshi. He made a business out of affiliate marketing which makes about 50L a year – all at the age of 15!
2. Become a YouTuber/ Start Vlogging
Yet another high returns business idea is to become a Vlogger! Setting up an YT channel doesn't take any investment. All you need is some familiarity with the platform and knowing the nitty-gritties of how it works.
The next few steps include understanding your target audience, finding your niche, branding yourself uniquely, and a basic setup that will help with the shoots and production. Once you are all set up and established, consistency in creating creative content is key. In no time, you will see a spike in followers and brands approaching you for paid promos.
Carryminati is an inspiring example to many. He started his YT channel about ten years ago in 2010 and is today the number one vlogger in India. Doesn't his growth story speak volumes about the scope this business offers?
3. Resell Books
Many students are clueless about what to do about their used books and many go to trash. A better and a more benefitting thing to do would be to resell the used books every year/ semester. And whoever complains about some extra pocket money?! 😉
With many online platforms out there selling/ donating your books or any item that is not of use anymore, has become way easier and hassle-free. Read more about reselling business here.
4. Sell on Online Marketplaces Like Fiverr, Gumroad, Dukaan
Who said you need tangible products to be able to sell? How much ever niche your talent or ability is – you will have someone seeking your services/ consultation.
Be it logo designing, website development, UX/ UI designing, mascot building, animation, doodling, customized illustration.
And with digital platforms like Fiverr, Gumroad, and Dukaan, the gap between service provider and the seeker has been narrowed like never before.
5. Become a Model for Stock Photographs
Many students aspire to become models. What if we told you that you could start modelling while you are still in your school/ college and even earn money for it? That's right. Modelling for stock photographers is something that students can explore. The good part is there's something for everyone – and there are no strict standards that you need to meet in terms of height of physique. Stock photography is something more natural and realistic.
You could search for photographers on the stock photography websites and write to them directly expressing your interest in modelling. These modelling projects will not only earn you money but also groom and prepare you for professional modelling if you aspire to become a model.
And if you are a person who likes being behind the lens, you could also explore photography, click images, and sell it on digital platforms.
6. Start a Tutoring Service
Teaching is the most novel way of earning some extra money for students. Imparting knowledge is the best way a student can give back to society. Pick your favourite subject and start an online tuition business. It is as simple as that. This fosters a two-way growth – it not only helps those who are seeking external help with a subject they struggle with but also helps you learn and grow better.
Reaching out to the student is also easier – a simple flyer or word-of-mouth within your circle of friends/ school/ college itself will help you gain enough traction.
7. Event Promotions
If you are a social media junkie and have a boast-worthy number of followers, you could simply promote events happening in and around your city. This is a commission-based business idea.
Many event organisers are on a continuous lookout for economic, organic, and creative ways to market their events – be it exhibitions, parties, flea markets or weekend popup-stores.
They often handover the task to those with good followers on social media rather than investing heavily on paid ads. Again, a win-win for both parties.
8. T-Shirt Business
One thing that never goes out of fashion is unarguably the T-Shirts. Regardless of their size, colour, material, and brand – there will be takers. T-Shirt wearers are more like a cult. Most of the trending t-shirt styles don't belong to the big labels. Most of the designers are young quirky heads – even school/college students. Realising its money-making potential, students have turned t-shirt designing into a full-fledged business that includes printing, dying, and customization.
Artists and business owners can make creative designs that range from quotes to artwork depicting superheroes and pop culture, and print them on t-shirts. These can then be displayed and sold through various online channels. It's a simple model that doesn't require a lot of investment.
Learn how to start a t-shirt business online.
9. Food Preparation Business
If selling T-Shirts online was too easy, there's the food business for the passionate.
Among the few businesses that flourished during the pandemic is the food business. Demand for simple, healthy and home-cooked meals is high, now more than ever. If cooking is your forte, you could use your free time to cook some basic homemade food or plan a limited menu to start your food business. You may even take help from the elders at home with the dos and don'ts of planning, cooking, packaging etc.
Healthy snacks are a hotbed for business folks today. You could go niche with sustainably packaged natural and organic healthy snacks.
If you're passionate about starting your own food business, now is the time.
Checkout 30 food business ideas with low investment.
10. Home Baking Business
Hotcakes sell like hotcakes – no kidding!
If you are good at following instructions, baking is one of the easiest things to do. Just follow the recipe and measurements, your cake is sure to turn out great. This is another online business idea for students that can grow big and is highly profitable.
If you are determined enough to start your baked goods business, you may even consider enrolling yourself in a baking class.
There are also countless free tutorials available online that break it down well for beginners. To make your cake business a success, all you need is time and continuous upskilling. It may seem to be a simple affair but the art of baking and decorating cakes is getting bigger and more involved every day.
The present-day cake market demands you to be an artist and not merely a baker.
One needs to draw, paint, sculpt, and continuously evolve creatively to stand out from the clutter. Networking is key too – small food businesses thrive on word-of-mouth popularity. Once established, you will need to collaborate with delivery partners if you want to grow your business.
Example: LocalBee India (Mr. Parshwa Mehta from Mumbai is selling home cooked food with help of Dukaan)
11. Social Media Management
Gen-Z is a natural pro at social media and its management. They are absolute experts, and many are turning their social media skills into successful businesses by offering social media management services. Companies have realised the importance of social media and are hiring young students to strategize and manage their social media presence. These students charge monthly retainer fees that make for a good extra income.
To start, you need to have good knowledge of different social media platforms. Investing in tutorials on planning and executing paid campaigns will be a great place to start.
You also need to be hands-on with photo and video editing apps and possess qualitative copywriting skills to get your side hustle up and thriving.
12. Social Media Influencer
This profession has only emerged in the last few years and has taken social media by storm.
Influencers are social media personalities who have a huge following and can potentially influence their followers with their clout. They leverage their social media 'influence' to promote businesses, products, services, and brands and get paid to do so.
Influencers create interesting content to gain followers on social media platforms like Facebook, Instagram, and YouTube. Once you have a large fan following, businesses approach you to do paid promotions of their products, services, and brands.
To be a successful influencer, you need to be consistent with creating content that is original and creative, and posting content online.
You may also need to invest in some of the latest gadgets to improve the quality of your content. Upskilling on photo and video editing techniques and complete know-how of social media marketing also contribute to the overall success of a social media influencer.
13. Freelancer
A freelancer is an expert or professional who offers their service in exchange for a fee. The reason why they are called freelancers is that they only work on project-basis, and are not tied to a particular company or bound by fixed working hours. Freelancers can work on multiple projects with multiple clients, hence they are 'free' in the true sense!
If you are good at writing, you can become a freelance content writer. If you are good at graphics design, you can become a freelance graphics designer, and so on. The key is to be able to manage time, work and clients seamlessly. Freelance business is one of the best things to do as a college student as you can do what you like and set your working hours. Many students moonlight as freelancers by setting up their Dukaan profile and making a good living.
Here are some online platforms where you can register yourself as a freelancer.
Even on Dukaan, there are many folks who are selling their digital services as a freelancer. Look at this guy. ;
Small Business Ideas For Girl Students
14. Sell Handmade Craft like Scrunchies, Mask
If you are one who loves art and crafts and other DIY stuff, this one's for you. It could be something as small as scrunchies, masks, eye masks, stoles, or anything that you love and suits your likes. You could even think of creative ways of recycling stuff that's lying unused at home. Recycling and upcycling are catching up and people are getting more and more conscious about brands that are mindfully selling such products.
Here is an example of a brand owned by 15YO that sells scrunchies and dog tags. All you need is a smartphone to click attractive pictures of your handmade products and dedicated pages on social media to promote your online store. With eCommerce platforms like Dukaan, owning an online store is literally three simple steps and takes under 30 seconds to set up!
15. Jewellery Making
Traditional jewellery is expensive. Many women (and men of course) are opting for new and unique jewellery styles and inexpensive yet eye-catching designs.
Thanks to the world of the internet, today one does not need to be a certified jewellery designer to be able to sell jewellery. Think of a popular new jewellery brand popular amongst teens, and chances are it's founded and run by a teenager! Many students are putting their creative skills to use and making homemade jewellery that's quite different from traditional jewellery.
To start, find your design speciality, like beads, charms, terra-cotta, paper quilling, recyclable products, etc. and look up online tutorials on how to make jewellery.
Once you discover your speciality, start by selling to friends and family to gauge your work's demand. Simultaneously, you could consider selling your products through eCommerce platforms or online stores like Dukaan, making selling easy and hassle-free. Before you know it, you'd be running a successful jewellery business online!
Here are some Jewellery stores on Dukaan.
16. Child Care
Many professionals are returning to work but schools haven't opened. So, who will look after their kids? Child care service is one of the best business ideas for young students. You can take care of children when their parents aren't home and charge a fee for the service.
To start this business, you don't need any investment apart from your time. You may have to create business pages on social media and promote your services online. You need to be good with children and should know the basics of child care – the ability to put them in the stroller, feed them, change the diapers, reading stories, playing safely in their home, etc.
In exchange for your service, you can charge the parents an hourly fee. This is a great business with good earning potential and is in its nascent stage in India.
Conclusion
We, at Dukaan, hope that the above-mentioned business ideas for students will tempt you to jump right up and start your own side hustle. Whichever option(s) you pick, learning and having a business plan will help. Along with a business plan, channelizing your youthful energy and sincere efforts in the right direction will be critical to the success of your business.
For most of the above-mentioned business ideas for students, Dukaan is a great place to get started.
Step 1 – Sign up for Dukaan – Web Version | Android App | iOS App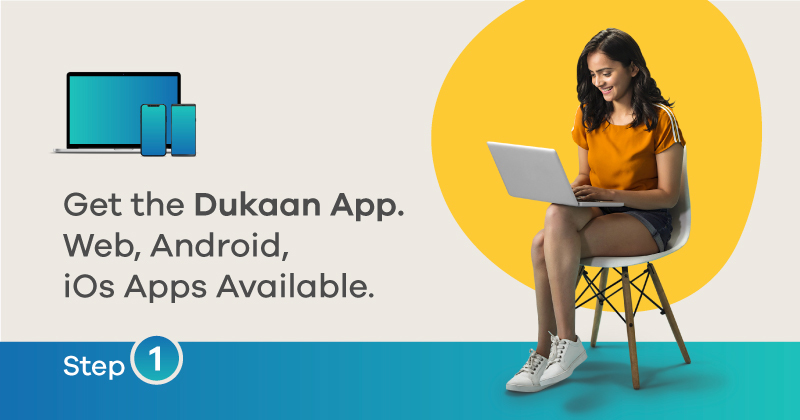 Just give your mobile number, verify OTP and you're in.
Step 2 – Choose your store name and category.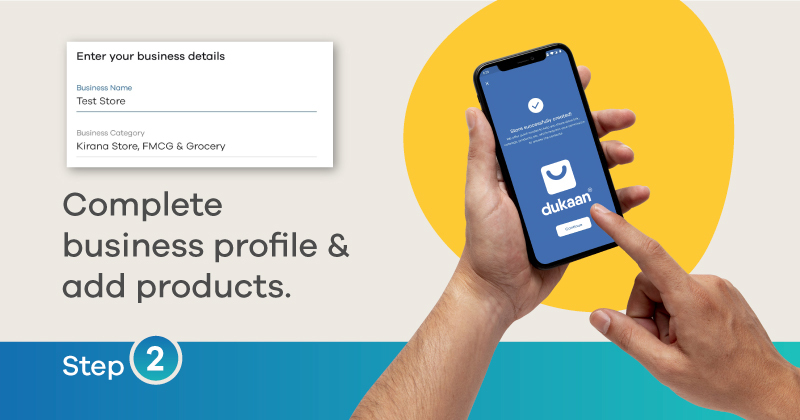 Step 3 – Upload your products.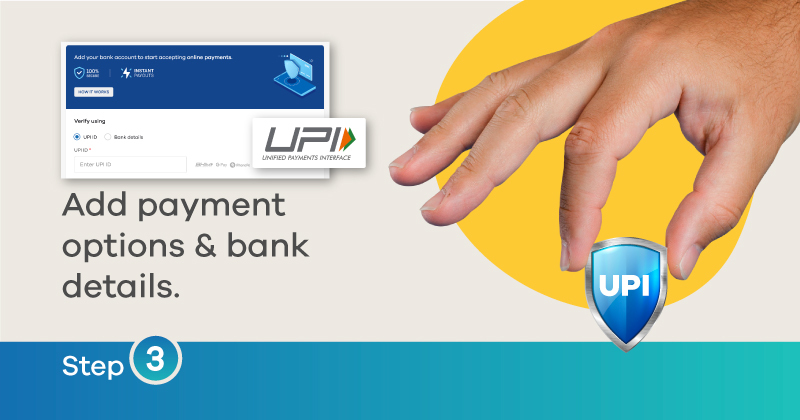 Step 4 – Promote your Dukaan store.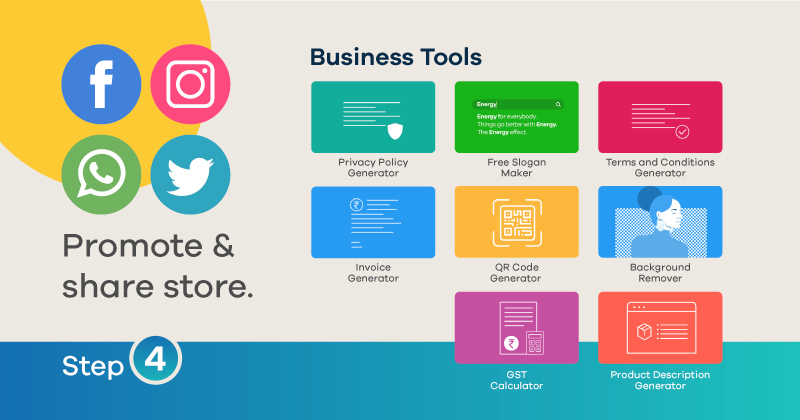 Simple! Isn't it?
FAQs
What can I sell as a student?
From t-shirts and hand-made jewellery to books and baked goodies, there are many things you can sell as a student. To simplify, you can sell anything that does not require government licensing and special permissions.
How can students make money fast?
There are many jobs and businesses that students take up to make money. They can offer freelancing services, become influencers, start their online store/Dukaan to earn ad revenues, work in call centres, become a delivery agent, or sell goods. Thanks to easy access to the internet, money-making business ideas for students are umpteen.
What business can a 12-year-old start?
12-year-olds can start businesses that don't require them to be legal entities or pay taxes. They can start businesses for:
Books & Magazines Recycling
Newspaper & Milk delivery
Social media content creators
DIY tutorial channels
Fun experiment video creators
There are a lot of things 12-year-olds can do. They can even do household chores and get pocket money for themselves.
What business can a 16-year-old start?
In many countries, 16-year-olds are not legal entities, but they can still do many things to earn some extra bucks. Some of them are:
Web Design & Development Services
Social Media Services
Cooking, Baking & Catering Services
Cleaning Services
Babysitting
Pet-sitting
Delivery Services
Tuition & Coaching Classes
Got questions? Ask in comments below.