Planning to venture out as an entrepreneur? With the internet being the biggest marketplace today, here are the most popular eCommerce business ideas to get started. Let's dive in!
Over the past decade, the business landscape, especially for marketing and trade, has changed drastically. And with the number of internet and smartphone users growing exponentially, the potential of marketing through these ever-developing technologies has sky-rocketed.
Statista records the number of internet users in India as of 2021 to be around 845 million, a huge leap as compared to the 92 million back in 2010. These developments in turn have opened up a massive opportunity for eCommerce business owners.
eCommerce is much more than a buzzword, due to the various avenues it opens up, like easier accessibility, wider reach, better security, and the list goes on. And this article will look to elaborate more on this model and also share insights on some of the business ideas that have and will continue to push the bar of eCommerce ever so high.
What is an eCommerce Business?
eCommerce or "Electronic Commerce" refers to the commercial transactions taking place over an online service. To break it down, eCommerce is the buying and selling of products or services over the internet.
The industry really began to grow when the advancements in internet services and digital technology began to accelerate. The easy availability and accessibility of smartphones meant an impressive surge in the number of people using the internet and it also helped increase the exposure to online commercial transactions.
Statista records the market value of the Indian eCommerce Industry in 2018 to have been around $50 billion. That same value is estimated to grow to a whopping $200 billion by 2027.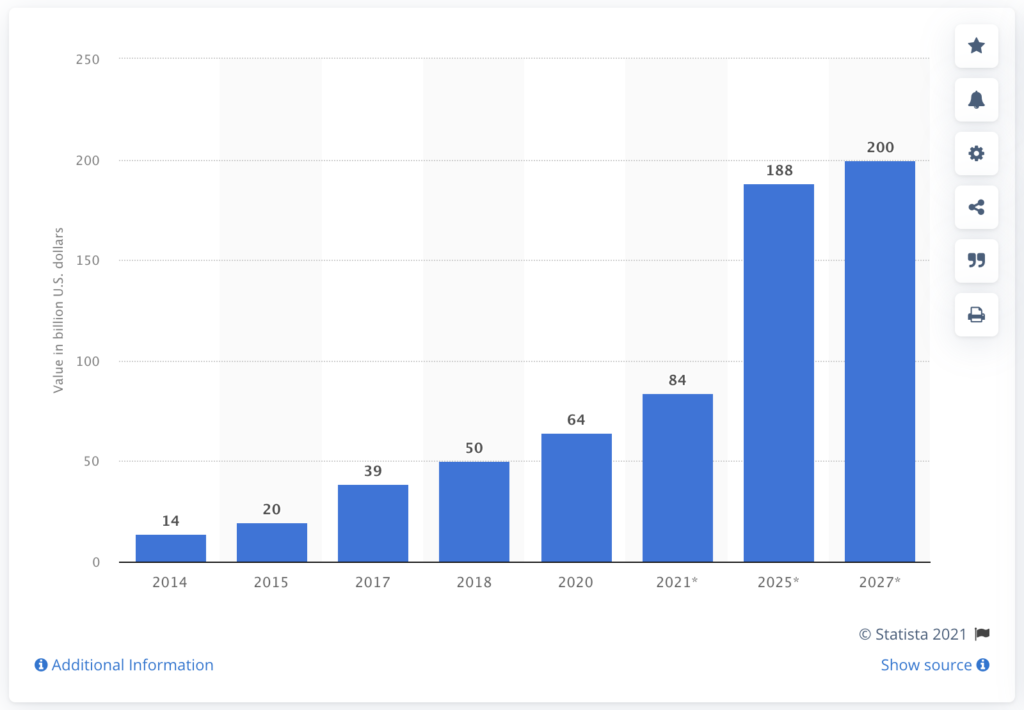 Fig : Market size of e-commerce industry across India from 2014 to 2018, with forecasts until 2027
How has eCommerce helped businesses?
eCommerce has allowed numerous businesses to establish a much larger online market presence by showcasing and selling their products and services to a much wider audience. eCommerce offers a very cost-effective yet efficient marketing channel as compared to the traditional business model.
With the lockdown impacting the operations of physical stores, businesses had to find an alternative in eCommerce and were pushed to invest in opening up their own online stores.
An online store is a website or a mobile application that showcases your products or services to the internet users. Basically, a digital portfolio of what products or services you offer.
The first step while planning your eCommerce business blueprint must be to set up your very own online store. Setting up your business website can be easily achieved through Dukaan, an eCommerce platform that has allowed thousands of businesses to set up shop online and sell digitally.
The different easy-to-use-and-apply features on Dukaan help in setting up an online store in just three steps. You can choose your own custom domain name to design your online store through already in-built templates. This platform can play a vital role in helping you reach your target audience and attract them to your online store.
Ecommerce Business Ideas in 2021
Let's look at some promising eCommerce business ideas to help you venture out!
1. Selling Digital Products
Digital products are an intangible piece of media product that can be sold repeatedly without the need to top-up the inventory. Digital products can be mp3 or audio files, photos, vidoes, softwares, and software plug-ins.
Selling digital goods has always been a brilliant online business venture due to the ease of distribution and popularity. Many now established companies like sellfy and sellwire began with building their business around these digital products.
The other reason why it is one of the good ideas for online stores is due to the growing need among the people. As the global population continues to transform towards a fully digitized world, the demand for digital products will only increase.
2. Electronic Items
One of the world's fastest growing industries is the electronic products industry. In India alone, the electronics manufacturing industry is expected to grow to $152 billion by 2025.
As more and more people buy electronic smart items into their homes, businesses can see the benefits of launching their very own online electronics store.
During the pandemic, the online computer equipment store became a massive hit. With people under lockdown and in need of computer systems and upgrades that would enable them to work or study from home, this eCommerce store segment began to see an increase in demand. A study by Frost and Sullivan forecasts that the online consumer electronics and appliances market is expected to register a CAGR of 24.5 % from 2019 to 2025.
3. Online Marketplace
An online marketplace is an online hub that connects sellers to buyers. A simple example is that of Amazon or Flipkart. It is a portal that allows companies to showcase their products or services and ultimately sell them to potential buyers. In this model, multiple sellers offer their goods on a single storefront.
Owing to the development of artificial intelligence, building and running an online marketplace has become a lot easier.
Coupled with online shopping becoming the new normal, platforms like this and also product exchange websites give consumers a much wider range of products to go through and select as compared to physical stores.
In 2018, 59% of the business to customer retail spend came through online marketplaces further showcasing the changing lifestyle trends. And nowadays, businesses and even entrepreneurs have launched their own online marketplaces for specific items like electronics or grocery or health products or even educational courses.
4. Cakes and Cupcakes Online Store
Now, getting into more specific segments – the online baking store. The online baking industry in India is catching pace. While the demand for baked products, especially cakes and cupcakes, have always been high due to the need and demand for easily accessible foods that comply with the fast-paced lifestyle, providing this service online simplifies things.
The cake shop online ordering system has become a popular go-to for people as it not only saves time and fuel but also allows you to send festive and surprise cakes and cupcakes to your friends and family far off.
Moreover, it is these highly lucrative business ventures that offer new entrepreneurs a brilliant learning experience as you can start off small with a very limited budget and look to slowly make a name for yourself.
5. Clothes Store Online
Another venture in the similar mould to the online baking store is the online clothing store. Easy to set up and the most popular go-to among entrepreneurs, the online clothing marketplace opens up a brilliant eCommerce business for starters.
The fashion market is always on the rise, in fact, the global online fashion market is expected to grow to $765 billion by 2022, a massive 58% increase from this year.
6. Baby-Clothing Store Online
Another online market that has shown a stable compound annual growth is the children's fashion market. A study by unicommerce showed that the kidswear segment in the online fashion market recorded a 200% order volume growth. The last five years has seen the largest growth surge within the sector and ever since many established fashion platforms have begun to include kids clothing in their inventory.
Just like adult clothing, people are turning to buying clothes online for their children. Parents have found buying baby clothing online to be a lot cheaper as compared to physical stores due to the great offers and discounts they come with.
7. Gift Cards Online Store
Gift cards, as of recently, have become a unique way of sharing presents with people. Gift cards are basically prepaid cards that come with a specific amount of money that can be used for purchases.
Gift cards are a go-to for a last minute solution for a present with 33% of customers spending more money on a gift card than a traditional gift.
The demand is slowly on the rise and the business is currently a $619 billion industry with many online stores seeing them as a very powerful growth engine.
Conclusion
The idea and concept of eCommerce is simple to understand, but the main effort goes into strategizing ways to push your business into the online business world and making yourself known. While most of it depends on how you adapt to the demands and trends around the world, the other most important factor is the platform you choose to do your eCommerce business on.
One such platform that has been consistently and effectively helping thousands of small businesses and entrepreneurs to go online is Dukaan.
Dukaan aims to make eCommerce incredibly easy and we achieve this by offering everything – from setting up your online store, advertising and promotion, managing inventories to tracking sales and even marketing campaigns – in a very user-friendly and accessible way.
The platform is built to make the various tools and features easy to understand and implement. Features include design templates and themes to make your online store stand out, pre-built plug-ins to enhance the store, pre-built customer lists to help connect with your specific target audience and many other tools that assist you to easily run, market, manage, and grow your eCommerce business.
So if you are planning to start your own eCommerce business, wait no more. With Dukaan, you can start and run one easily and profitably!